Iran and the P5+1 – Russia, China, Britain, France, the US and Germany – are scheduled to resume talks and exchange views on a host of issues, particularly Iran's nuclear energy program in Istanbul on Saturday.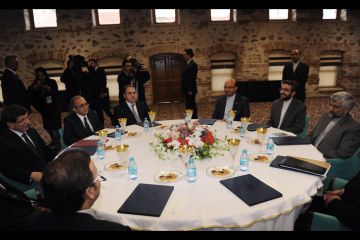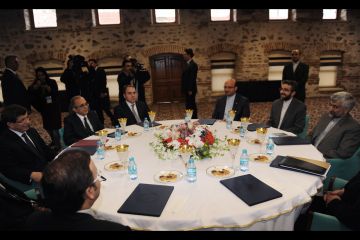 According to Reuters, the meeting is widely seen as a chance for the powers and Iran to halt a downward diplomatic spiral and start to seek ways out of years of deadlock.
Diplomats and analysts played down any expectations of a major breakthrough in the first round of discussions, but said the meeting may pave the ground for further negotiations aimed at resolving the decade-long row.
Furthermore, CSMonitor reporting the news, as Iran nuclear talks resume on Saturday, diplomats say progress is possible, despite a 15-month hiatus punctuated by an escalation of sanctions, covert war, and talk of military strike.
Sitting down on one side of the table in Istanbul will be Saeed Jalili, Iran's chief nuclear negotiator, whose job is to not budge on uranium enrichment, but convince six world powers that Iran does not want nuclear weapons, is able to prove it, and that sanctions should be lifted.
On the other side of the table will be Catherine Ashton, the European Union foreign policy chief, representing the so-called P5+1. Her job – backed up by a host of sanctions that are crippling Iran's economy – is to convince Iran to severely limit its nuclear program, and lay it open to intrusive inspections.
Besides, ahead of the multifaceted talks with the P5+1 in Istanbul, a source close to the Iranian delegation says Iran sees few encouraging points in the remarks of US and EU officials, Press TV stated.
The source added that the Iranian delegation will wait for the official remarks of the P5+1 when both sides sit at the negotiating table on Saturday.
France 24 quoted AFP as saying, the build-up has underlined the levels of mistrust, with a source close to Tehran's delegation saying he was disappointed and discouraged by a statement issued by foreign ministers from the Group of Eight leading economies at a meeting in Washington.
In the statement issued by foreign ministers from the Group of Eight leading economies at a meeting in Washington, the G8 said: "Iran's persistent failure to comply with its obligations… and to meet the requirements of the IAEA Board of Governors resolutions is a cause of urgent concern. The ministers emphasized their desire for a peaceful and negotiated resolution to the nuclear issue."
Although, reporting this news, New York Times has written that Russia and China have been the most reluctant of the six to press for further sanctions on Iran, and Russia's chief negotiator, Sergei Rybakov, deputy foreign minister, has urged a more moderate tone with Iran.
"We really need to find a middle course," he told reporters on Friday. "The negotiations are about renewing confidence" and "the final destination in the near future" of the talks should be to remove sanctions against Iran, he said,