Although, according to the Iranian media, Erdogan's visit to Iran was successful, he had little success in persuading Iran to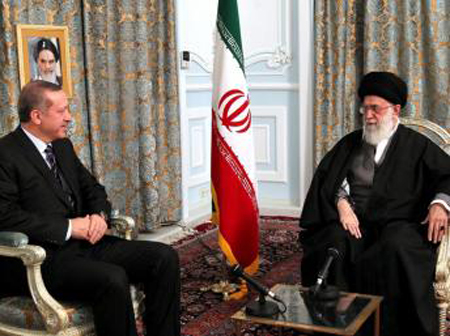 stop supporting the regime in Syria – his main purpose of visiting Iran. 
Turkish Prime Minister Recep Tayyip Erdogan arrived in Tehran on March 28 to review issues of mutual interest and hold talks on the latest regional conflicts particularly those in Syria.
On the second day of his visit to Iran, Recep Tayyip Erdogan held talks with Supreme Leader of the Islamic Revolution Ayatollah Ali Khamenei in which he called for Tehran and Ankara's joint cooperation and a new political paradigm to resolve the Syrian problems.
Ayatollah Ali Khamenei stated, "the Islamic Republic of Iran strongly believes in the expansion of cooperation with Turkey, and, whenever the two countries have stood by each other on various issues, the cooperation has always benefited Iran, Turkey, and the Muslim world."
Erdogan, a one-time close ally of Bashar Al Assad, has urged him to step down to end the violence and more than a year of fighting between Assad's forces and opponents of his rule, also urged Iran to use its considerable leverage with Damascus to persuade the Syrian president to implement a UN-sponsored peace plan, which was developed by Kofi Annan, the special envoy of the UN and Arab League, calls for a ceasefire and national dialogue.
Tehran said it supports the UN plan, which does not call for the removal of the Syrian president.
On the other hand, Iran Supreme Leader, who believed that the regional developments have so far served the interests of Islam and the Muslims and will continue to do so in the future, expressed Iran's support for the reform process underway in Syria.
"The Islamic Republic of Iran will defend Syria due to its (Syria's) support for the line of resistance against the Zionist regime and is strongly opposed to any intervention by foreign forces in Syria's internal affairs," Ayatollah Khamenei stated.
So, facing with Ayatollah Khamenei's tough response, Recep Tayyip Erdogan did not reach the desirable result in persuading Iran to stop supporting the regime in Syria.
Although, being at odds with Tehran over Syria's issue, Turkey strengthened its relations with the Islamic Republic, especially in the energy sector.
Sources: The National , Reuters, Al Arabiya, DW, FNA, Tehran Times