Iran's chief negotiator and Supreme National Security Council (SNSC) Secretary Saeed Jalili replied to a letter sent nearly four months ago by EU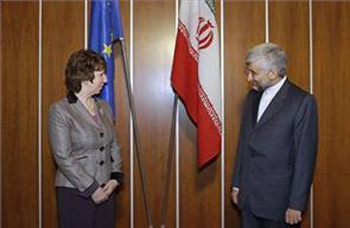 foreign policy chief Catherine Ashton proposing a resumption of nuclear talks with the G5+1.
In a letter, written by chief nuclear negotiator Saeed Jalili in response to Ashton's last October letter, he welcomed the readiness of the P5+1 group to return to negotiations in order to take fundamental steps toward further cooperation,  According to Ali Baqeri, the secretariat of Iran's Supreme National Security Council (SNSC).
Jalili added that the success of the upcoming talks would totally depend on the positive attitude of the 5+1 as well as the initiatives of the Islamic Republic of Iran.
"Iran welcomed a recent remark by Ashton that the European Union respects Iran's right to peaceful nuclear energy," said Supreme National Security Council (SNSC) Secretary Saeed Jalili.
Iran and G5+1 attended three rounds of talks in Istanbul, Turkey, in January 2011.
According to Mehr, Iran's semi-official news agency,
it is more than likely that the new round of talks will be held in Istanbul in the near future.
In a letter to Iran dated October 2011, Ashton announced that the 5+1 group is willing to resume talks with Iran within weeks if Tehran is prepared to "engage seriously in meaningful discussions."
The letter came after Saeed Jalili, Iran's SNSC secretary and chief nuclear negotiator, wrote a letter in September 2011 to Ashton announcing Iran's readiness to resume talks.
Sources: FNA, IRNA, Mehr, Reuters, Deccan herald