Sayyed Hassan Nasrallah, Lebanon's Hezbollah leader,  stressed that Hezbollah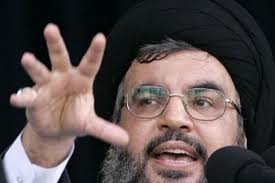 receives from Iran the moral, political and material support in all its available forms since 1982 and that this support was instrumental in the defeat of Israel; however, at the same time Iran had never dictated conditions in exchange for its support, as Nasrallah pointed out in a speech marking the anniversary of the birth of the Holy Prophet Mohammad (pbuh), on Tuesday night.
"The first biggest Arab victory, which was achieved by Hizbullah in May 2005, wouldn't have been achieved if it weren't for the Iranian support", Sayyed Nasrallah stressed.
"Also, the resistance movement, which was steadfast in the July war, wouldn't have succeeded if it weren't for the Iranian support", he added.
"We should thank Iran for its support given throughout the years", Lebanon's Hezbollah leader indicated.
Nasrallah said Iran had not issued orders to Hezbollah since the movement was founded 30 years ago, adding that if Israel attacked Iran's nuclear sites, the leadership in Iran "would not ask anything of Hezbollah."
In the following, Sayyed Hassan Nasrallah asserted that this support was the cause to achieve the prominent Arab victory against the Israeli enemy.
In this context Sayyed Nasrallah talked about the Islamic Republic of Iran's effort to approach between the Islamic sects, noting that the victory of revolution in Iran gave momentum to the project of Islamic unity.
According to the Friday prayers sermons in Tehran by Supreme Leader of Iran, Ayatollah Khamenei, Iran will continue to support any nation or group that fights or confronts the Zionist regime of Israel and are not afraid of saying this, Press TV reported.
Ayatollah Khamenei also described Israel as a cancerous tumor that must be removed. And Israel considers Iran to be its most dangerous enemy. Many fear that if Israel attacks Iran, it would ignite a Mideast war, starting with Hezbollah retaliation.
Indicating the historical Western anti-Iran campaigns, Sayyed Nasrallah affirmed that all the US and western pressures exerted on Iran would be over if Iran abandons the Palestinian cause.
Sources: Reuters, Press TV, Al Manar, Islamic Resistance in Lebanon, Chicago Tribune