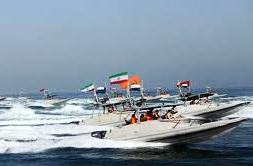 The news of starting of the "Hamiyane Velayat" (Supporters of Velayat) drill in southern Iran has had wide reflection in the world media.  Meanwhile, particularly Western news sites and news agencies have paid special attention to this subject and covered related news about it.
Reporting this news, Washington Post has written that the drill holds near the Strait of Hormuz that Iran has warned to close it if sanctions continue. However it referred to this matter that Iran has as yet made no attempt to close the Strait.
Online newspaper, "The Wall Street Journal" has also reflected the news of the drill in the same article and related it to the recent statements by Supreme Leader based on the stern response to the US threats
"The Wall Street Journal", referring to the Iran's official media content, has considered the drill among a series of drills which hold in the southern Iran by Iranian military forces.
An article which was published in BBC about this drill, stating that the drill is among a series of specialized drills of the IRGC ground force, referred to the drill of Shohaday-e Vahdat (Martyrs of Unity) which was held in Iran's Eastern regions nearly a month ago. And to the drill of Velayat 90, and evaluated the three cases in the same direction.
Testing advanced missile produced in Iran in this drill, is among other things which has been taken the attention of BBC.
Furthermore, "Fox News" news agency, has fully described the drill, and introduced it as "the recent case of showing the power of Iranian Revolutionary Guards near the strategic Strait of Hormuz."
"Fox News", stating that Iran's plans to conduct exercises in the Persian Gulf are underway weeks, said: However, Iran's Supreme Leader recent warnings has had an impact on the story to become serious.
In sum, the most important points of Western media attention about the drill of "Hamiyane Velayat" (Supporters of Velayat) include special attention to the geographical region of holding it near the Strait of Hormuz, relating it to the Supreme Leader's recent statements, referring to Iran's extensive plans to hold drill and extend military presence in the Persian Gulf, and also referring to the matter that Iran has as yet made no attempt to close the Strait.
Of course, most media have tried to instill the matter that what has deterred Iran from closing the Strait of Hormuz are the US and Europe threats. While Iran has repeatedly stated that it has provided security in the Persian Gulf and Strait of Hormuz, and believed that security in this area should be provided by regional countries.
Sources: bbc, foxnews, Washington Post, The Wall Street Journal