By Ynet News
Former prime minister says discussion surrounding military strike 'creating massive public damage,' notes that Israeli officials 'trying to stir up overblown drama.'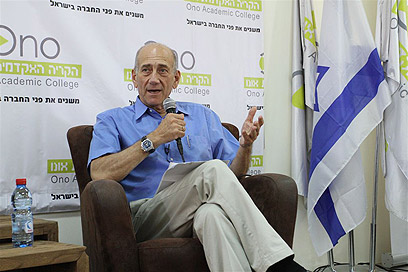 Olmert v. Netanyahu – Former Prime Minister Ehud Olmert on Sunday leveled harsh criticism at PM Benjamin Netanyahu and the government's handling of the Iranian nuclear issue, claiming that Israeli officials are busy "stirring up overblown drama."
During a meeting with students at Ono Academic College, Olmert said that "the current situation does not require Israeli military action – now or in the near future."
"The question is how we deal with it. Back in 2003 they said that in 2007 Iran will have a bomb. Now it's 2012 and there is no bomb. It didn't happen on its own," he noted.
Referring to the public discussion surrounding a potential military strike in Iran, the former PM admitted that he was very worries by recent newspaper headlines. "This issue inflicts massive public damage to Israel. I live among my people; I hear and see the anxiety on the faces of the citizens. This does not contribute anything to our ability to deal with the Iranian threat. (On the contrary) It only makes it harder."
Olmert noted that during his term in office, "we may have faced similar issues, but we dealt with them secretly, effectively, and without anyone saying a work – not before me, during my time or after me.
"I suggest that we also deal with this challenge in a restrained, responsible and discrete manner, so that we don't sow panic or create a confrontational situation with elements that are essential for Israel's security," he added.
Addressing the timing of a military strike on Iran's nuclear facilities, Olmert said that "Iran is far from reaching the threshold from which there is no way back. Statements by which (a strike) is inevitable do not truthfully reflect the current situation from wht is known to the security establishment."
The former prime minister also spoke about Israel's commitment to the United States and its interests in the region, stating that "It would be incorrect and irresponsible to ignore other states.
"There are those who try to create the impression that the United State's position (on an Israeli strike in Iran) is somewhat vague. The attempt to create overblown drama over this matter is not wise or responsible and does not contribute to Israel's strategic security. The relations with the US are no less important," Olmert said.
The Iran Project is not responsible for the content of quoted articles.