Iran Front Page – IFP has taken a look at the front pages of Iranian newspapers on Sunday, December 9, 2018, and picked headlines from 16 of them. IFP has simply translated the headlines and does not vouch for their accuracy.
All papers today covered the second gathering of Parliament Speakers from Iran, Afghanistan, Russia, China, and Pakistan in Tehran, which was focused on fight against terrorism in the region.
A particular focus of headlines today was the comments made by President Hassan Rouhani during the gathering and in meetings with the speakers.
Another top story today was the fresh round of "Yellow Vest" protests in France, which have once again turned violent and ended with hundreds of arrests.
The above issues, as well as many more, are highlighted in the following headlines and top stories:
Abrar:
1- Increased Protests against French Government
2- Zarif: Americans Trying to Disrupt Iran-Europe Relations
3- Number of Iranian Universities More than That of Entire Europe: MP
4- Top Afghan Lawmaker: Terrorists Don't Believe in Any Religion, Faith
---
Aftab-e Yazd:
1- Rouhani Warns Europe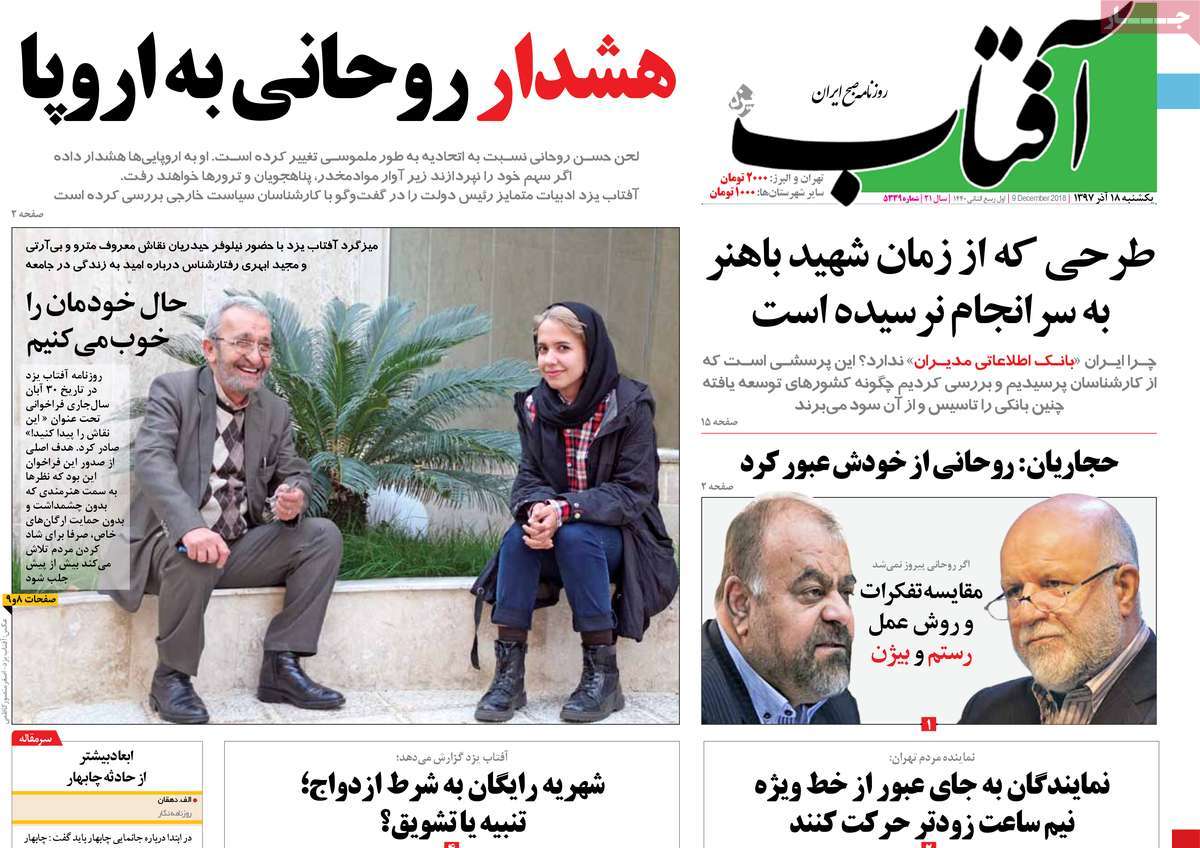 ---
Arman-e Emrooz:
1- Poverty Threshold in Iran Increases to IRR 35 Million: Economic Analyst
2- Trump's Terrorism [Editorial]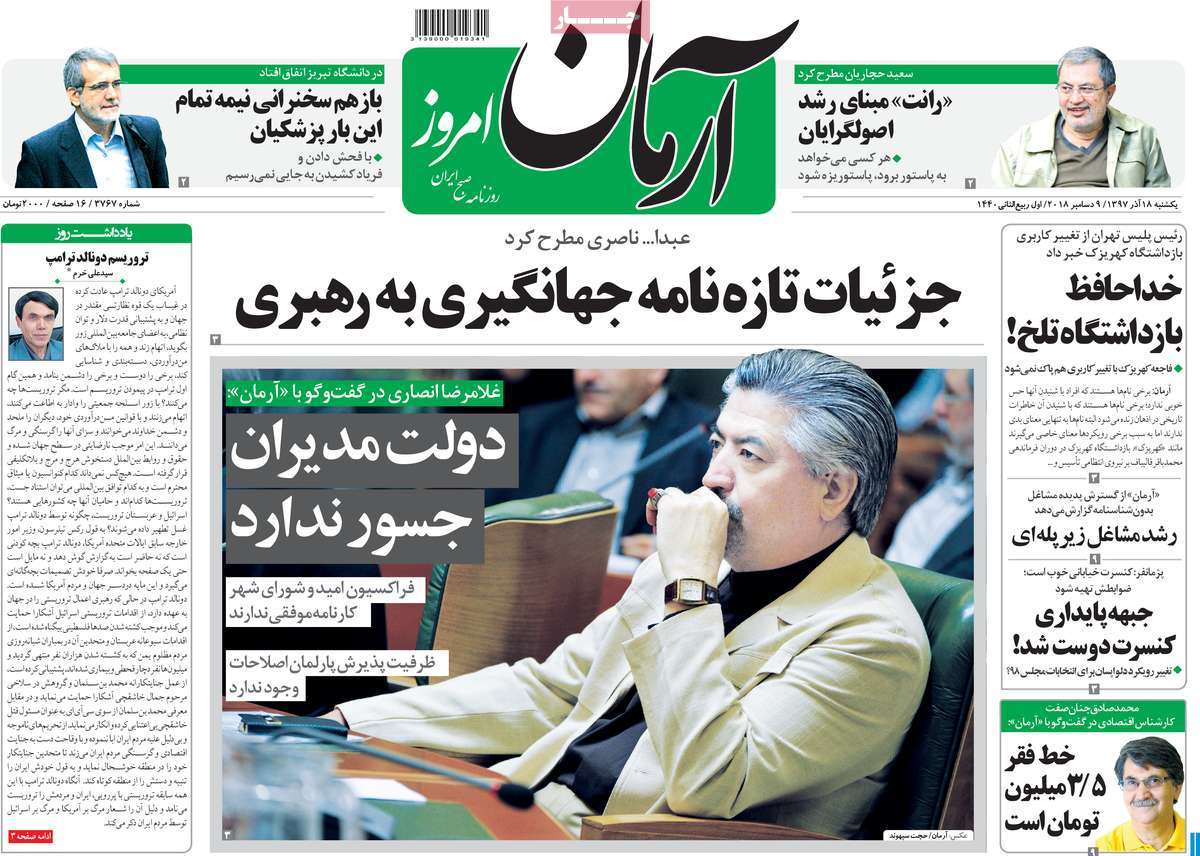 ---
Ebtekar:
1- Trump's Days Full of Tension: US Democrats Call for President's Impeachment
2- Iran Urges Other Governments to Prevent Formation of Terrorism
3- Parliament of Impeachments
Number of Impeachment Bids in Current Parliament Up by 17%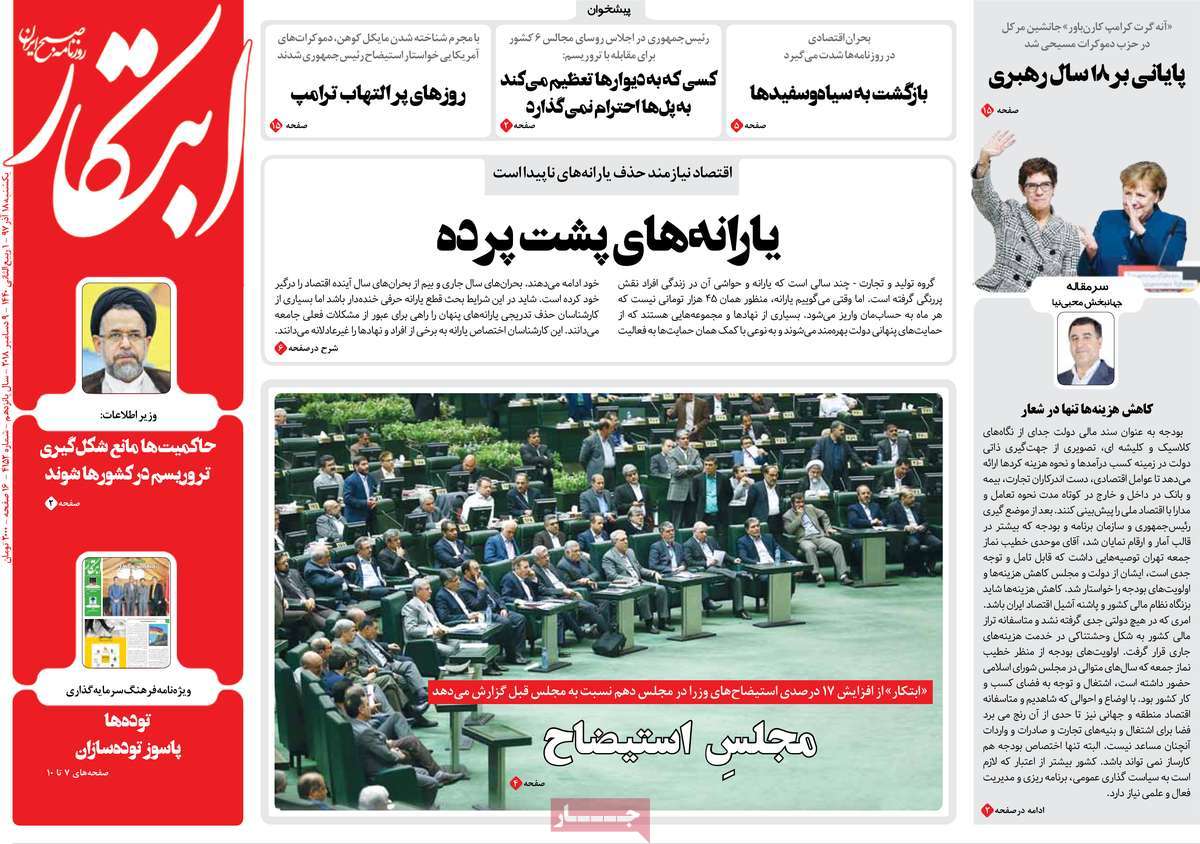 ---
Etemad:
1- Paris; Unending Anger
2- Iran Parliament Speaker: Trump Destroyed Systems of Human Rights
3- Rouhani: US' Cruel Sanctions Amount to Economic Terrorism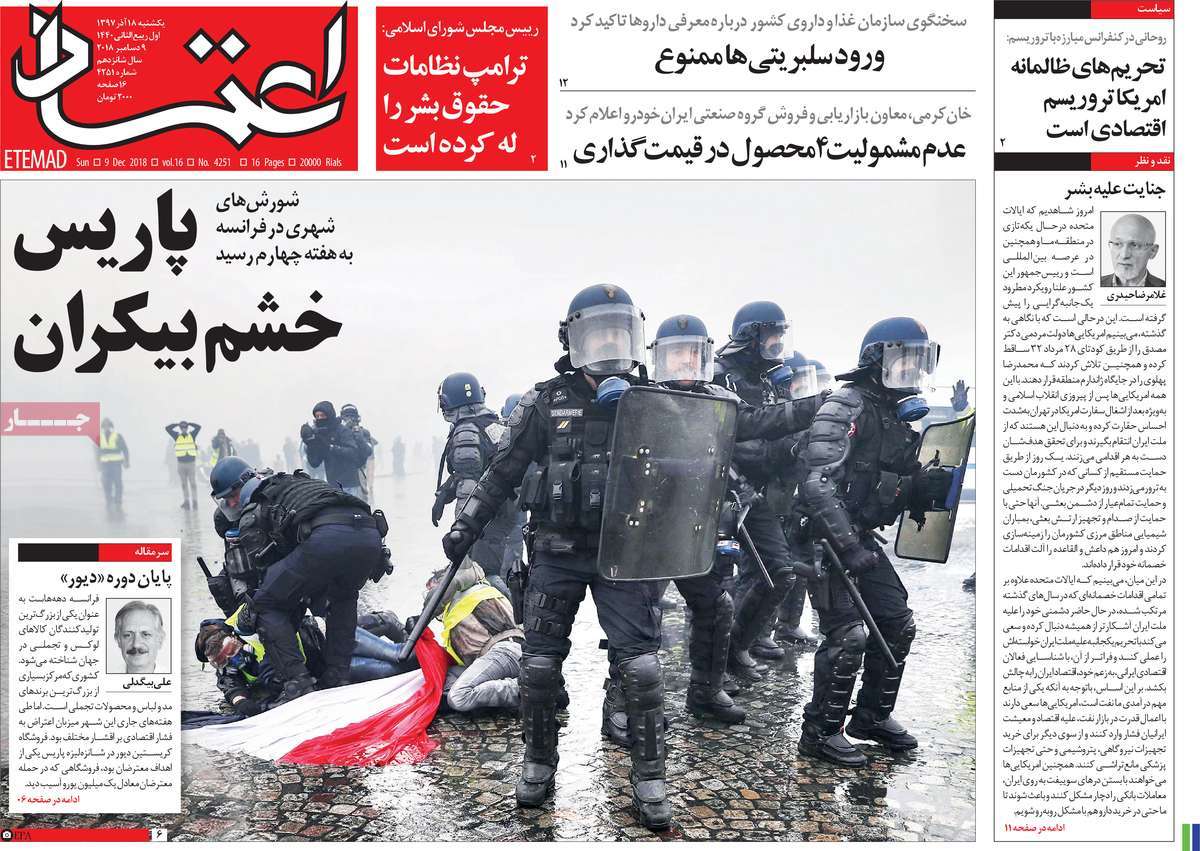 ---
Ettela'at:
1- Rouhani Outlines Eight Solutions for Post-American Region
2- Entire Paris Turned into Battlefield
3- Iran Leader Orders Reinforcement of National Currency's Value
4- Top Cleric: We Should Talk to World with Soft Language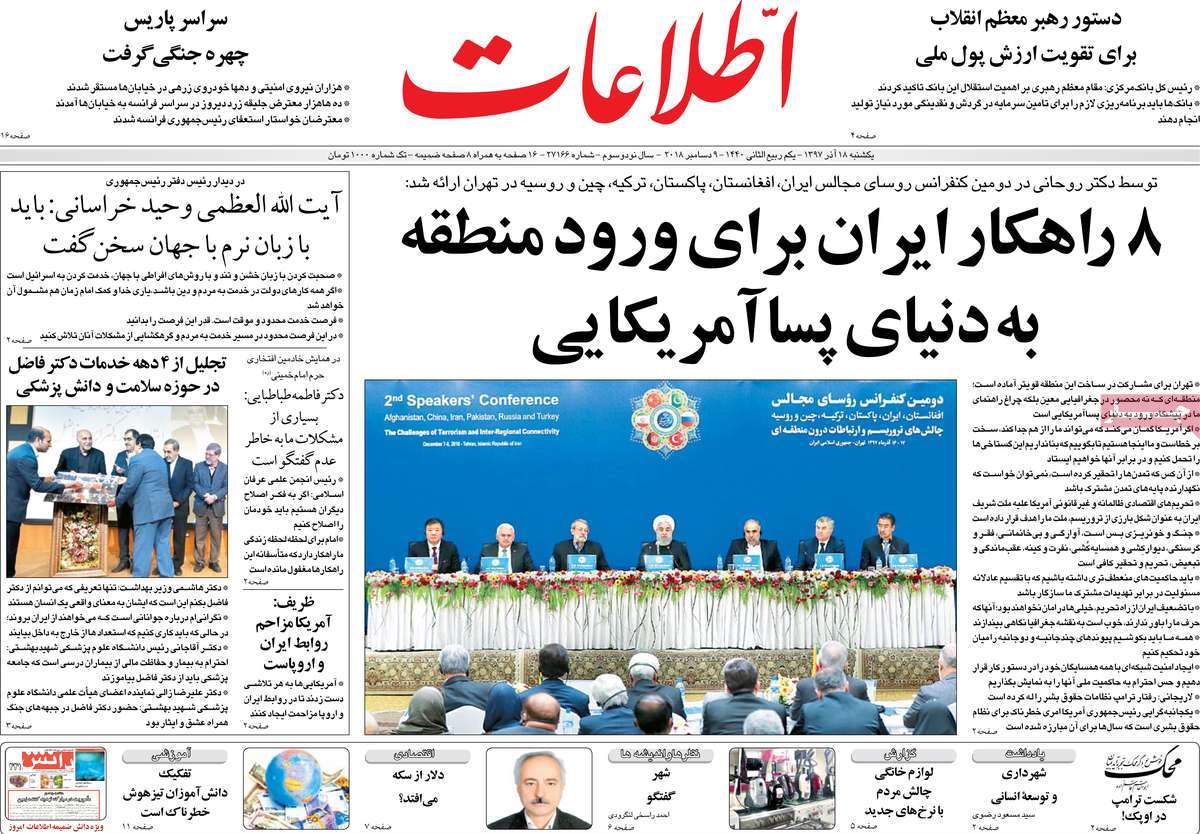 ---
Hamshahri:
1- Sculptures for Streets of Tehran
Sixth Biennial of Urban Sculptures Underway in Iranian Capital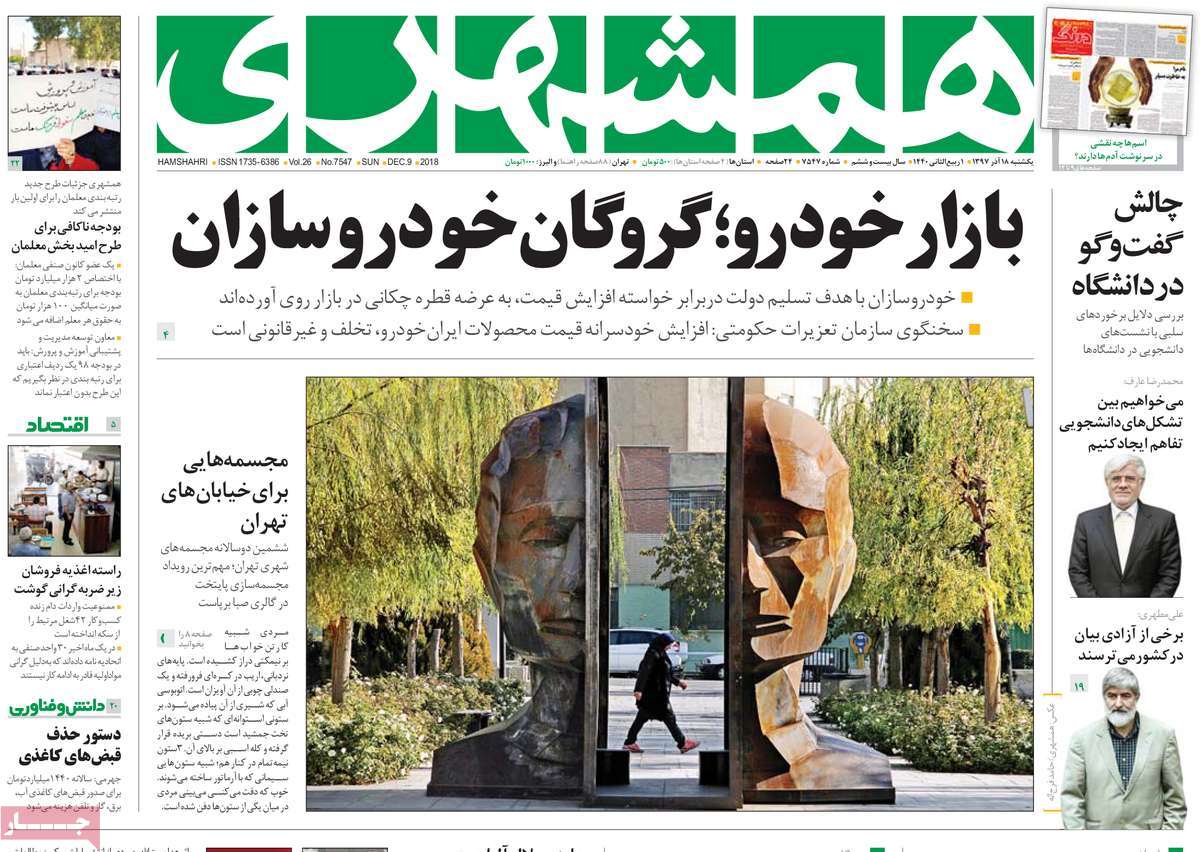 ---
Iran:
1- Yellow Storm in Paris
French Interior Minister Blames Yellow Vests for 'Monster' of Riots
2- Rouhani Warns Western Countries: Iran Sanctions to Harm Many Countries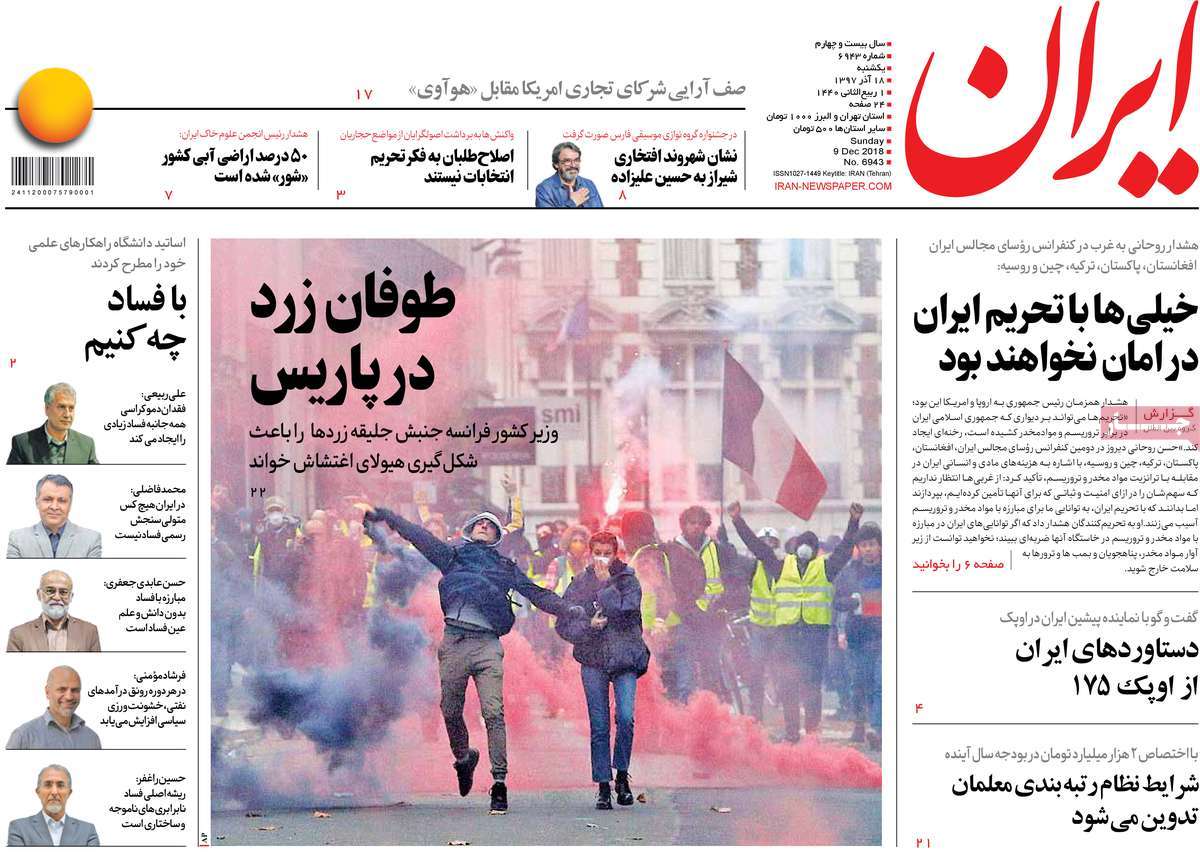 ---
Jame Jam:
1- In Praise of Originality: Iranian Musician Hossein Alizadeh Accepts Shiraz Citizenship
Shiraz Citizenship More Valuable to Me than France's Legion of Honour: Alizadeh
2- Opium Most Popular Drug among Addicts in Tehran: Police
---
Javan:
1- Huge Amounts of Illicit Drugs to Be Smuggled to Europe If Iran Sanctioned
Rouhani Warns Europeans against Harming Iran's Ability to Fight Drugs
2- People: France Must Leave NATO, EU
---
Jomhouri Eslami:
1- French Army Deployed to Suppress Anti-Government Protests
2- West Stunned by OPEC Deal on Output Cut, Iran's Exemption
3- Parliament Speakers from Six Asian Countries Stress Fight against Regional Terror
---
Kayhan:
1- Storm of Yellow Vests in France
Police, Army Brutally Attack Protesters
2- UN: Saudis Kill 123 Yemeni Civilians Every Week
33% of Victims Are Women, Children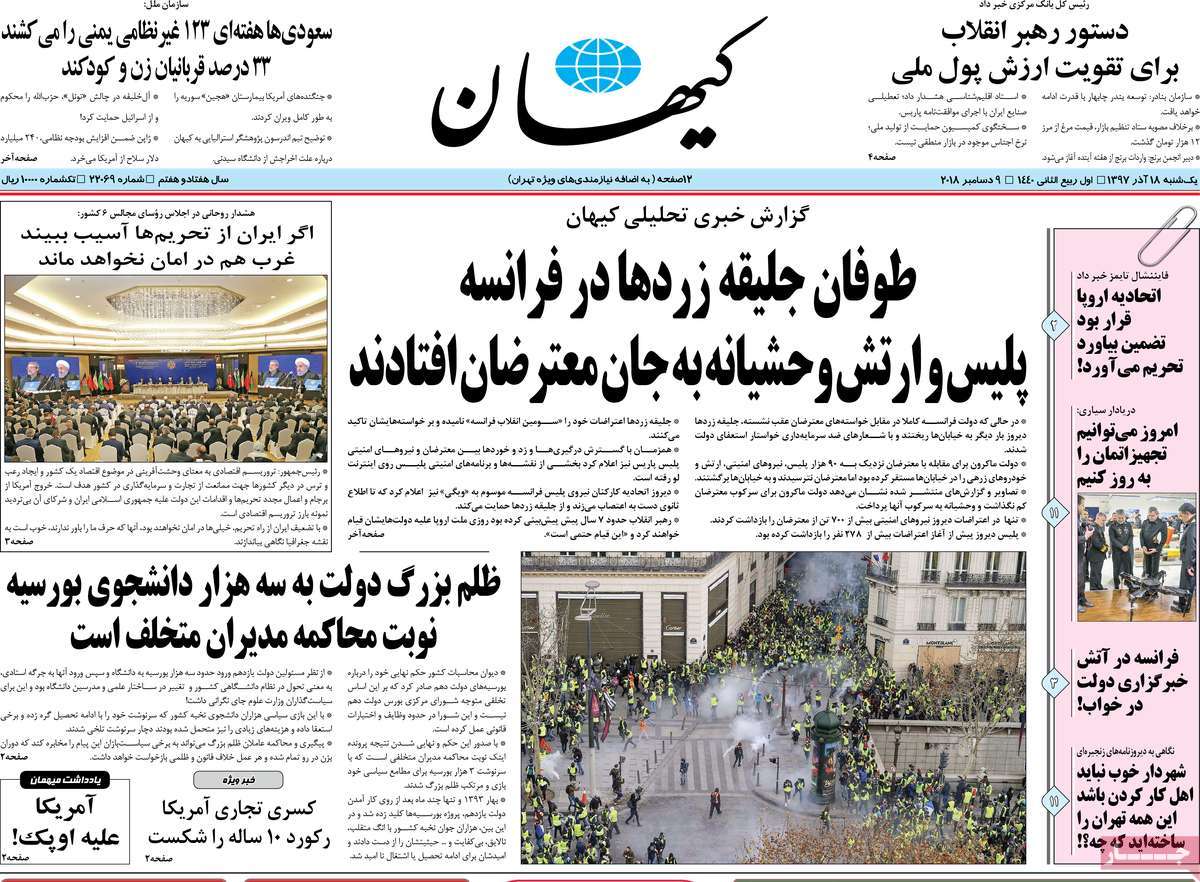 ---
Khorasan:
1- Battle of Guards with Yellow Vests
1,000 Protesters Arrested in Fourth Black Saturday
---
Setareh Sobh:
1- Corruption under Scrutiny of Public Opinion
2- Central Bank to Reinforce National Currency's Value
3- US Congress Divided over Bin Salman
---
Shahrvand:
1- Women's Engagement in Fights Increased in Iran: 10-Year Report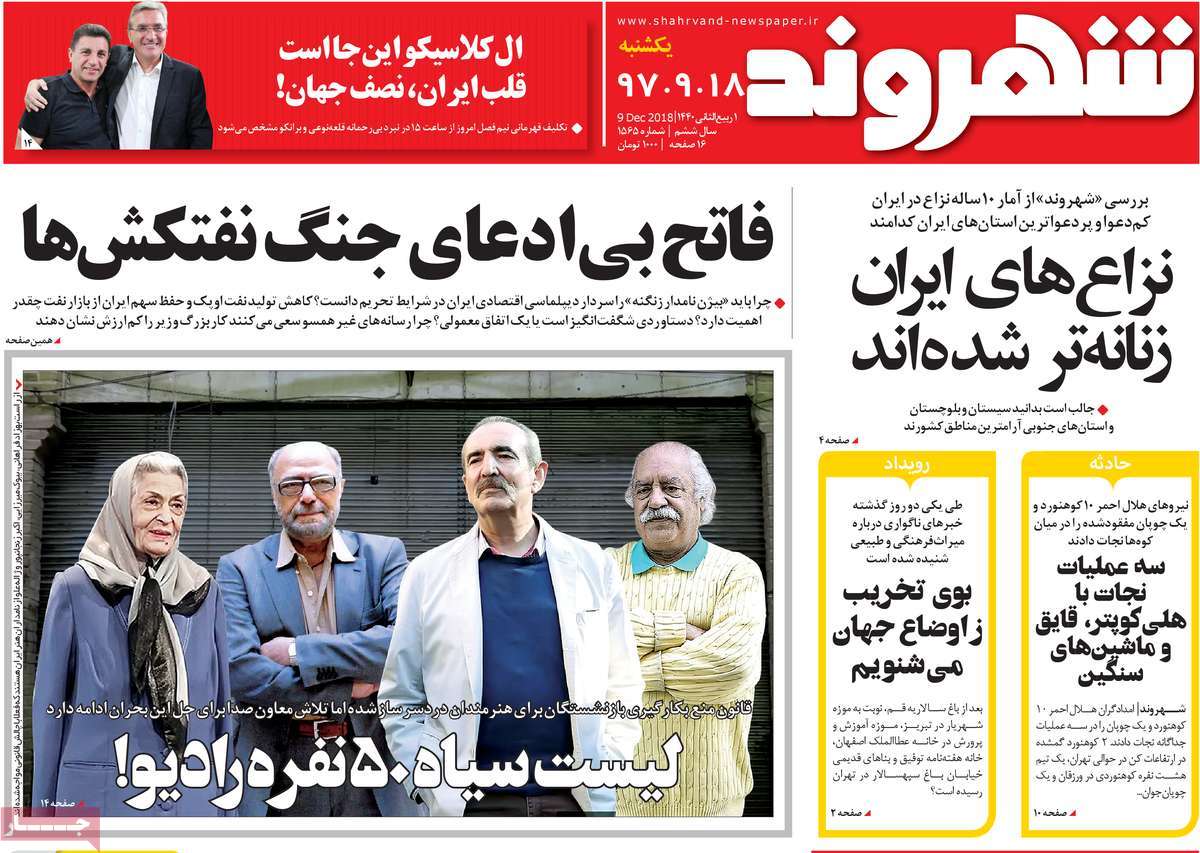 ---
Shargh:
1- Friends of Tehran in Time of Sanctions
Rouhani, Larijani Meet Parliament Speakers of Five States
2- What Trump Wants from Iran, Analyst Discusses
3- ICT Minister: Removal of Paper Bills Saves Billions of Dollars