Iran Front Page – IFP has taken a look at the front pages of Iranian newspapers on Thursday, November 29, 2018, and picked headlines from 14 of them. IFP has simply translated the headlines and does not vouch for their accuracy.
Almost all papers today covered the remarks made by the Leader of Iran's Islamic Revolution Ayatollah Seyyed Ali Khamenei in a meeting with a group of navy commanders.
Also a top story was the regional tour of Saudi Crown Prince Mohammed bin Salman, which was left unfinished after Morocco refused to host him, and people in Egypt and Tunisia held protest rallies against the prince.
The Parliament's bid to impeach Foreign Minister Mohammad Javad Zarif over his claim about 'rampant' money laundering in Iran also remained a top story, after senior cleric Ayatollah Nasser Makarem Shirazi criticized the lawmakers' move, praising Zarif for standing against the enemies.
The above issues, as well as many more, are highlighted in the following headlines and top stories:
Abrar:
1- Guardian Council to Review Government's Proposals on CFT
2- Mogherini's Office: JCPOA a Pillar of Regional Security
3- Japan Seeks Extension of US Waivers for Importing Iran's Crude Oil

---
Aftab-e Yazd:
1- Amazing Source of Water Discovered in Zabol, Southeast of Iran
• The Source Can Supply Entire Country's Water for 170 Years
2- Leader to Armed Forces: Deters Enemies from Even Threatening Iran

---
Arman-e Emrooz:
1- Bin Salman Trying to Get Out of Isolation [Editorial]

---
Ebtekar:
1- Expiration Date of Ambitious Plans
• Challenges Faced by Bin Salman in His Regional Tour ahead of G20 Summit
2- Preparedness of Armed Forces to Deter Threats against Nation: Leader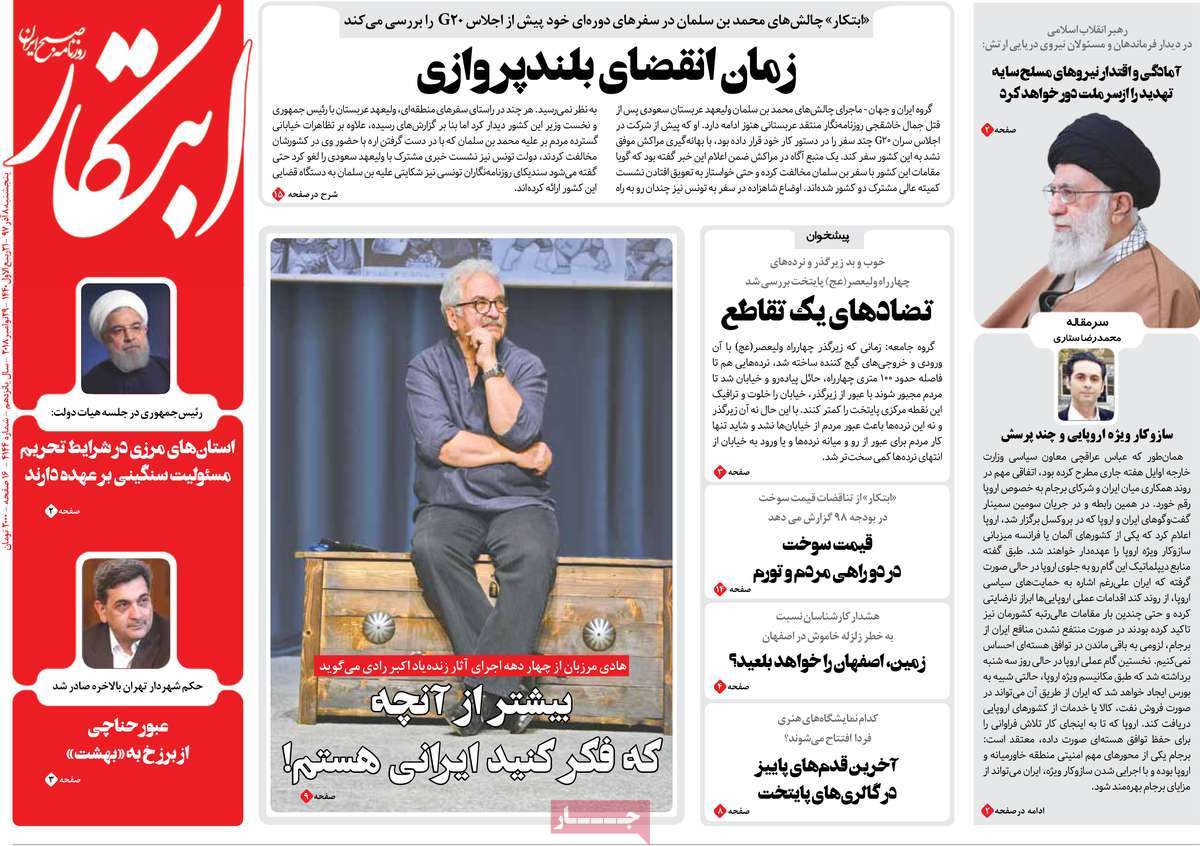 ---
Etemad:
1- Hardliners Defeated in Their Bid to Impeach Larijani
2- A Report on Declining Forex Rates: Taming the Aggressive Horse

---
Ettela'at:
1- Iran Has No Intention of Waging War on Any Country: Leader
2- Ukraine President: We're on Brink of All-Out War with Russia
3- Iran Is Golden Key of Middle East: Nuclear Chief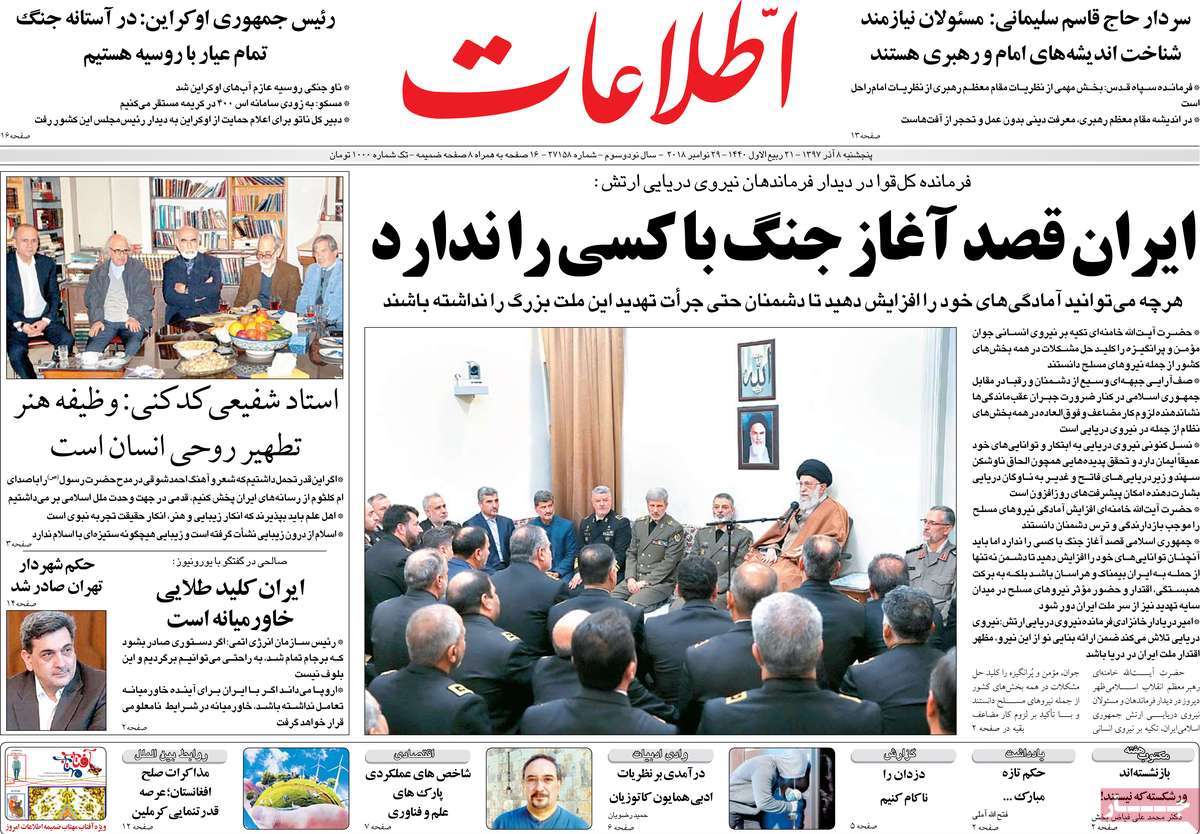 Haft-e Sobh:
1- Iranian Trick to Bypass Trump
• Families of Iranian Students in US Meet Them in Small Library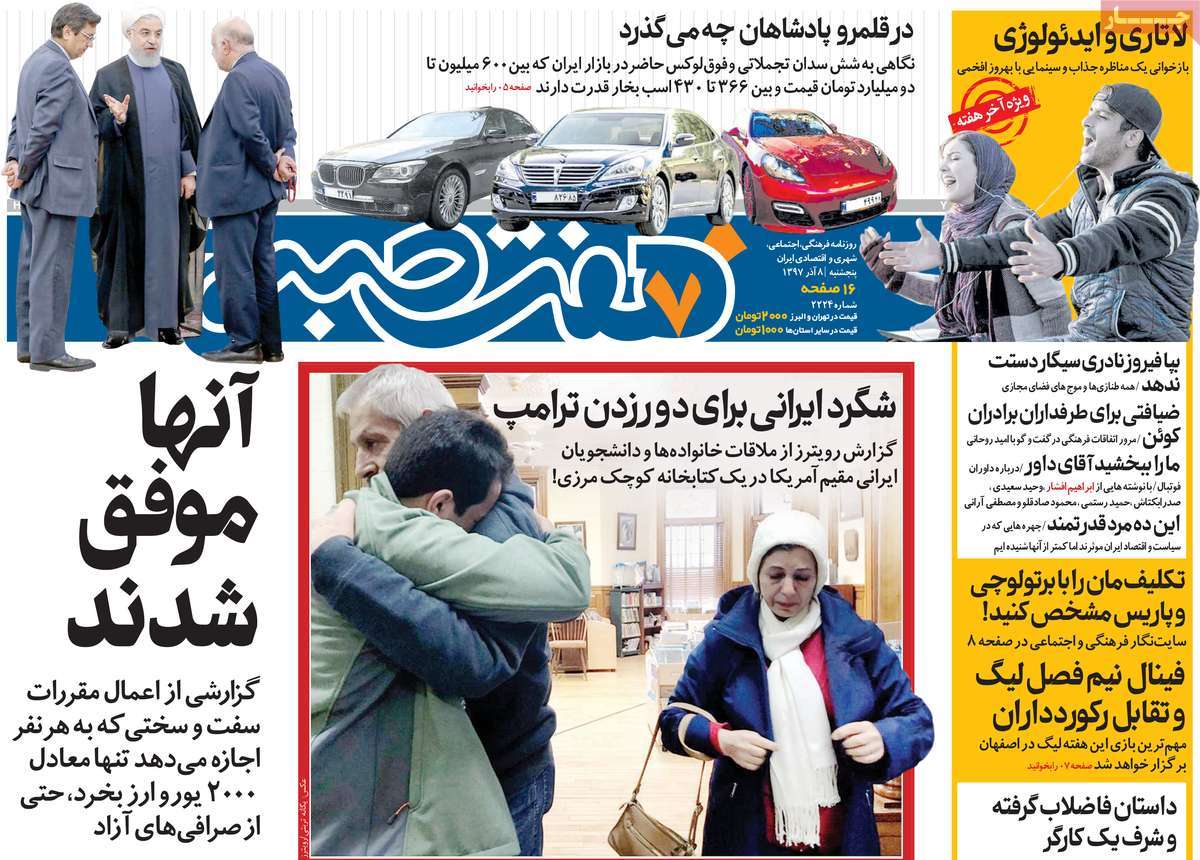 Iran:
1- Ethnic Groups Have Always Supported Islamic Establishment: Rouhani
2- Impeachment Is Wrong; Ayatollah Makarem Shirazi Supports Zarif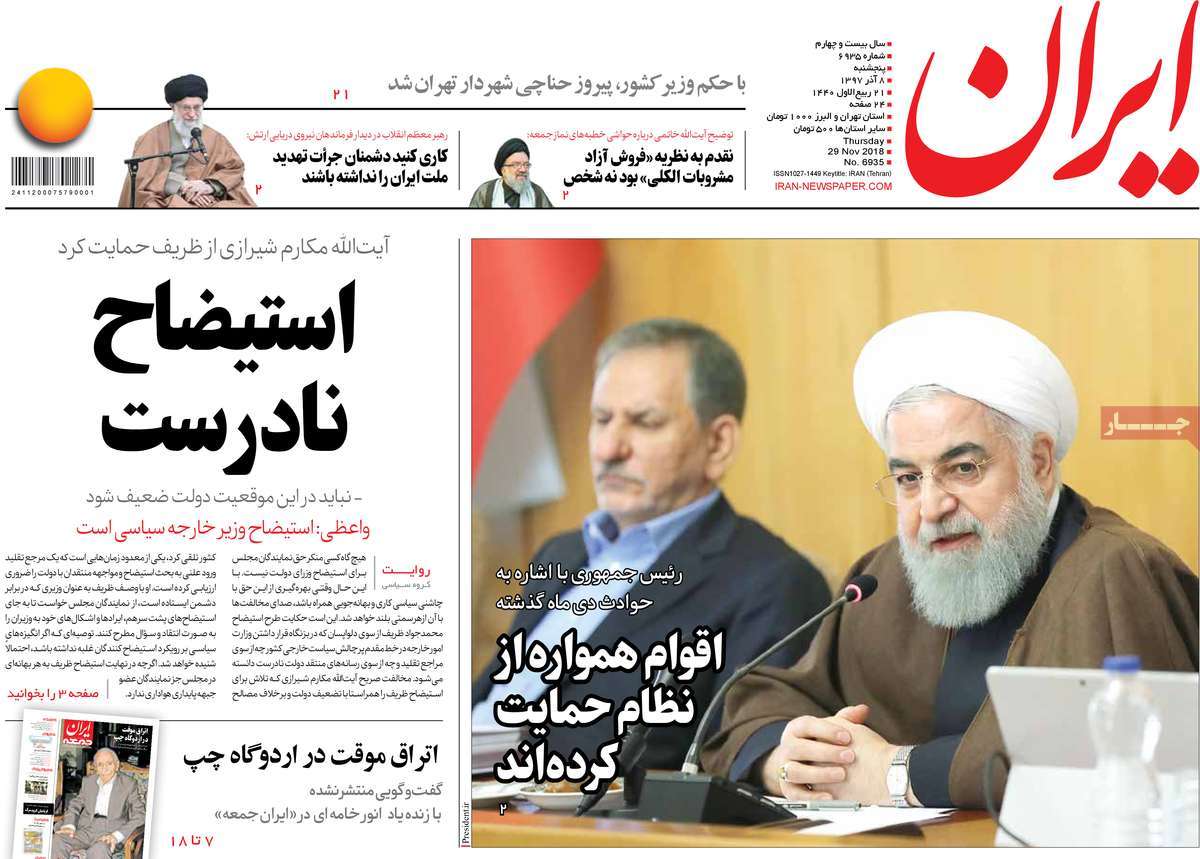 Javan:
1- US Fanning Flames of Ukraine-Russia Tension
• Washington Trying to Stop Europe from Moving towards Russia

Jomhouri Eslami:
1- Human Rights Watch: Justice Will Finally Be Delivered to Saudi Crown Prince
2- Guardian: White House Prevents CIA from Giving Further Response on Khashoggi Case
3- Channel for Iran-China Banking Ties to Be Opened This Weekend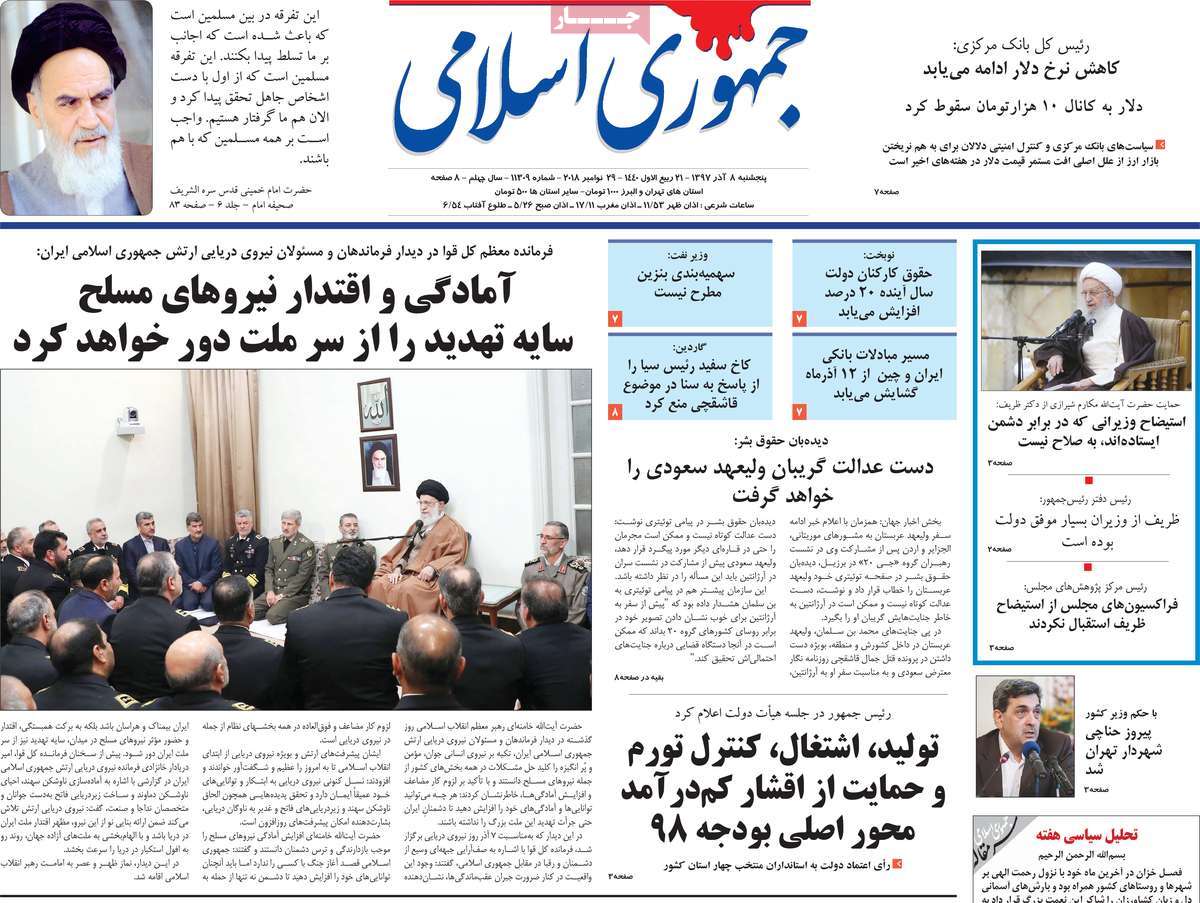 Kayhan:
1- Trump's Priorities in West Asia: First Israel, Then Oil
2- $1,400,000,000,000 Worth of Money Laundering in Europe, US Only in One Year
3- After Embellishing Obama, Now Reformist Papers Start Embellishing Trump
4- Bin Salman's Visit to Tunisia Left Unfinished; Visits of Algeria, Mauritania Cancelled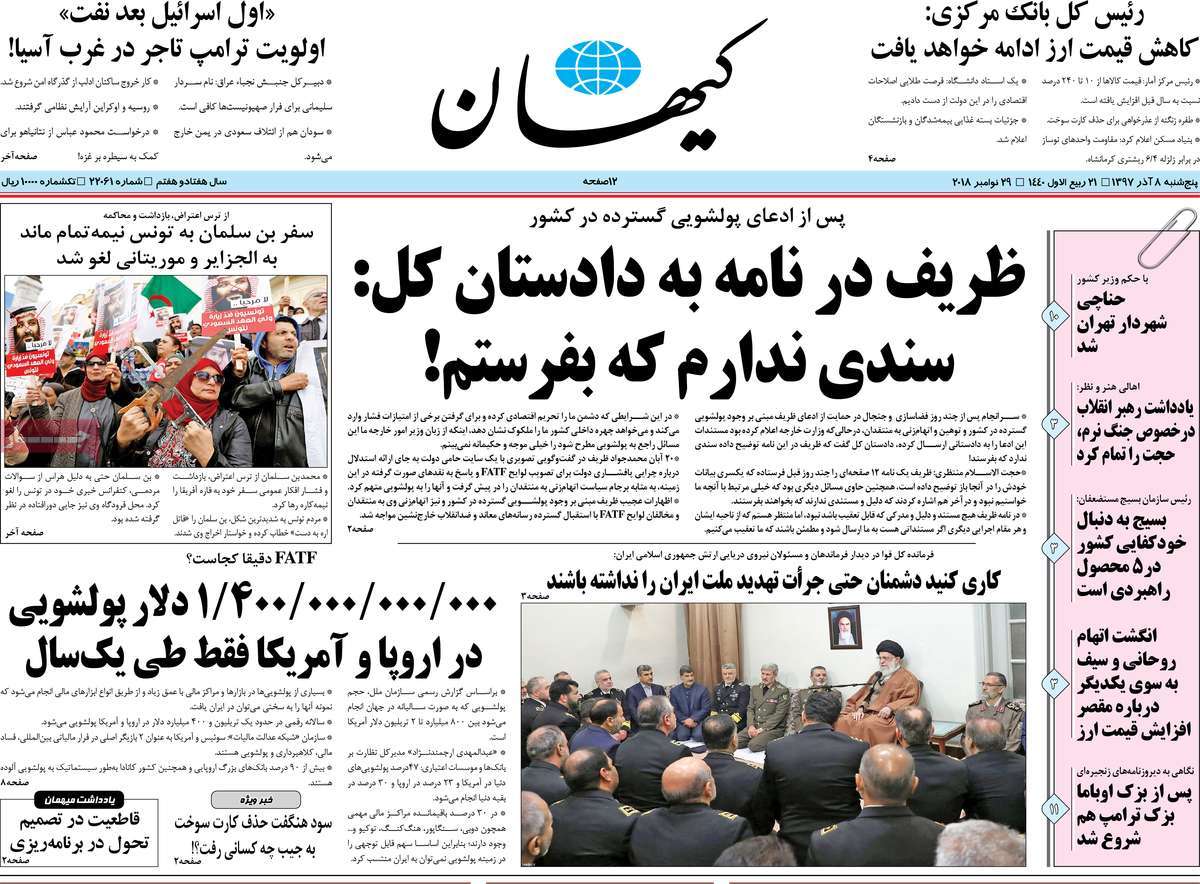 Sazandegi:
1- Tehran Mayor Approved by Interior Ministry
• Hanachi Becomes Third Mayor of Fifth City Council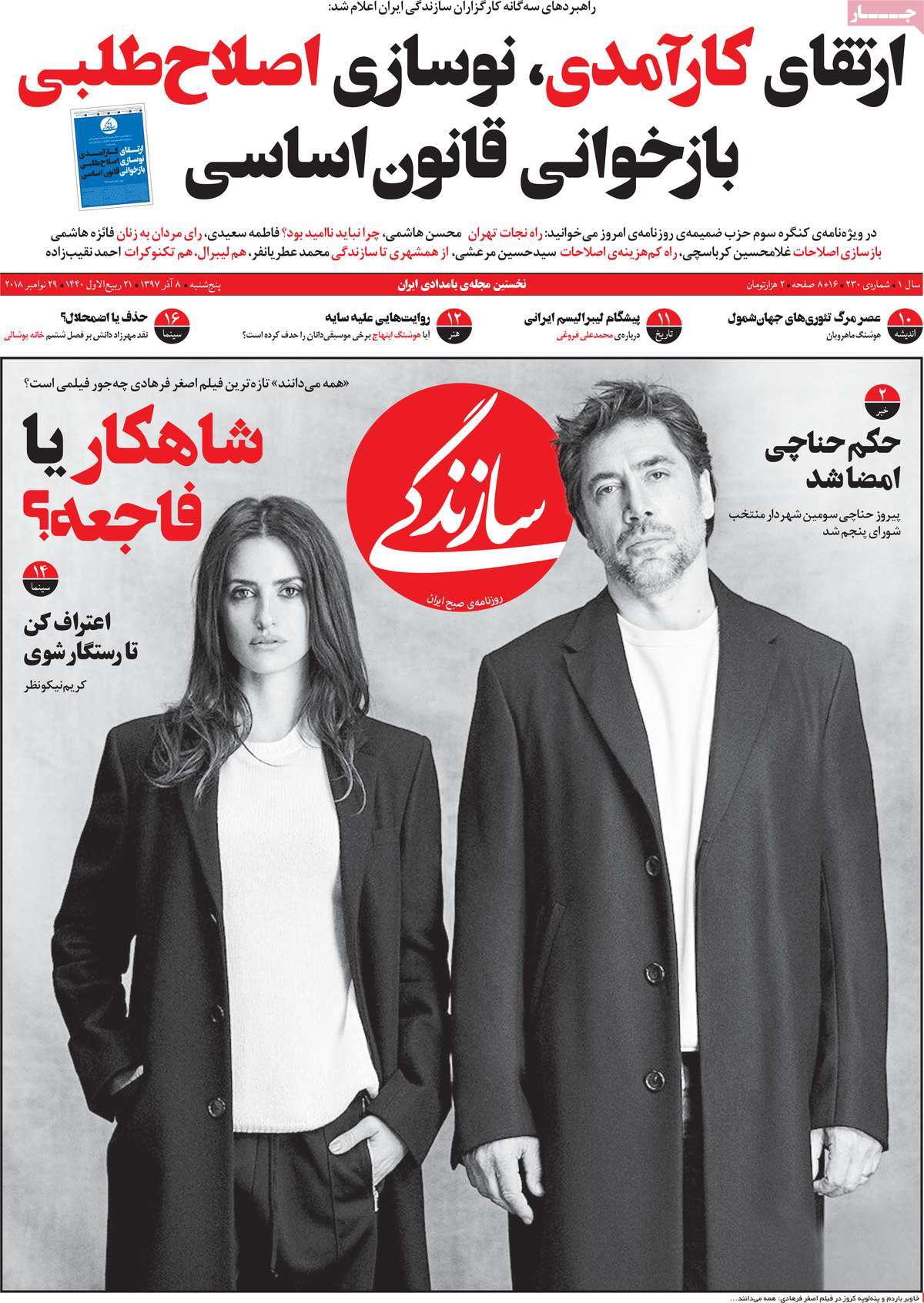 Shargh:
1- Zarif to Appear in Parliament on Sunday
• Ayatollah Makarem Shirazi: It's Not Right to Impeach Ministers Standing against Enemy
2- Boycott: No G20 Leader Will Meet Saudi Crown Prince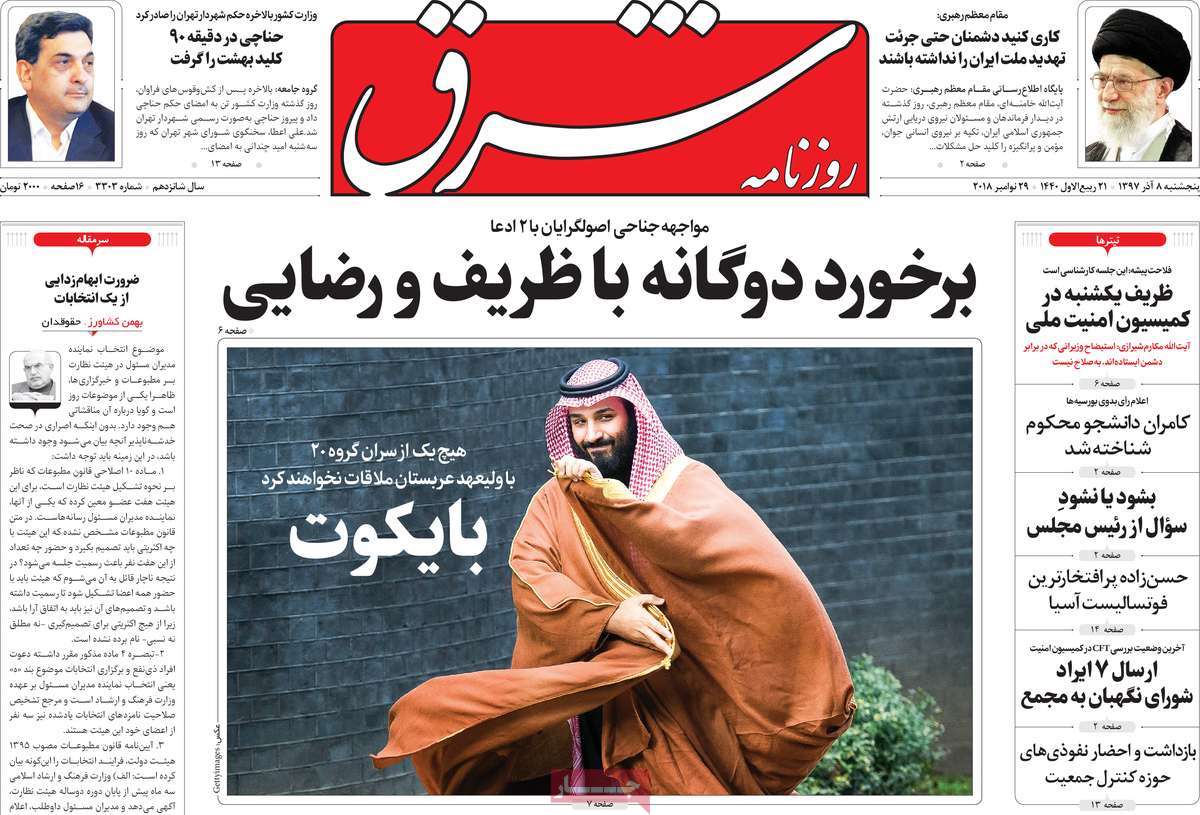 Vatan-e Emrooz:
1- Iran's Security Forces Must Beware of German Spy
• Suspicious Moves of German Ambassador to Tehran