Iran Front Page – IFP has taken a look at the front pages of Iranian newspapers on Monday, November 5, 2018, and picked headlines from 16 of them. IFP has simply translated the headlines and does not vouch for their accuracy.
The top story in all papers today was the nationwide November 4 rallies held in Iran to condemn the US policies towards the country, particularly the sanctions it just re-imposed.
Several papers also covered the Guardian Council's controversial decision to reject a bill on Iran's accession to the Combating the Financing of Terrorism (CFT) convention, which had been earlier passed by the Parliament.
Many reformist papers criticized the timing of the legislation watchdog's announcement, arguing that rejecting the bill on the day when the US sanctions were to be re-imposed was a gift to US President Donald Trump.
The above issues, as well as many more, are highlighted in the following headlines and top stories:
Abrar:
1- Intelligence Minister: New US Plot to Result in Nothing but Failure
2- EU Ambassador to Russia: We'll Work to Protect Iran's Economic Interests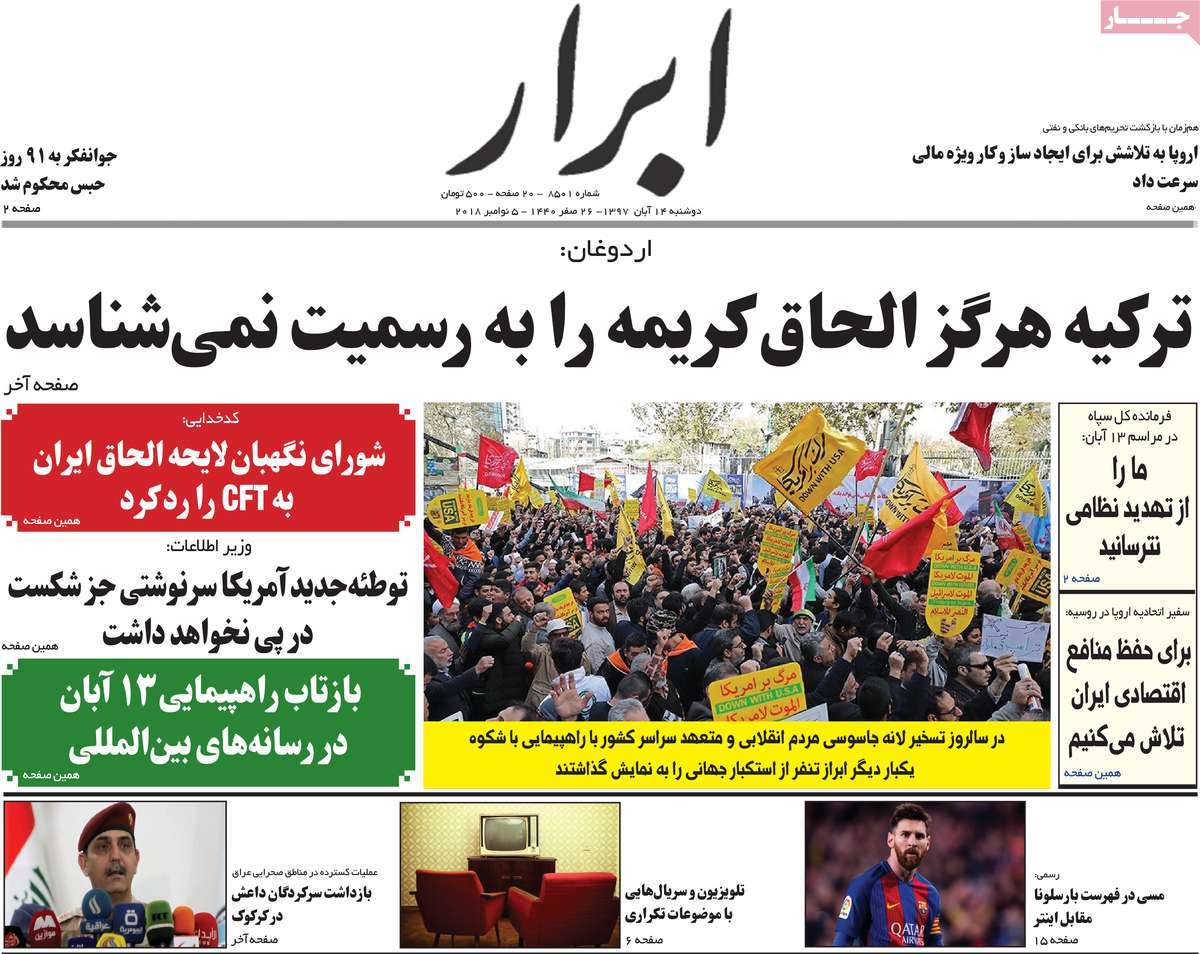 ---
Aftab-e Yazd:
1- CFT Rejected
2- IRGC Chief-Commander to Trump: Don't Ever Threaten Iran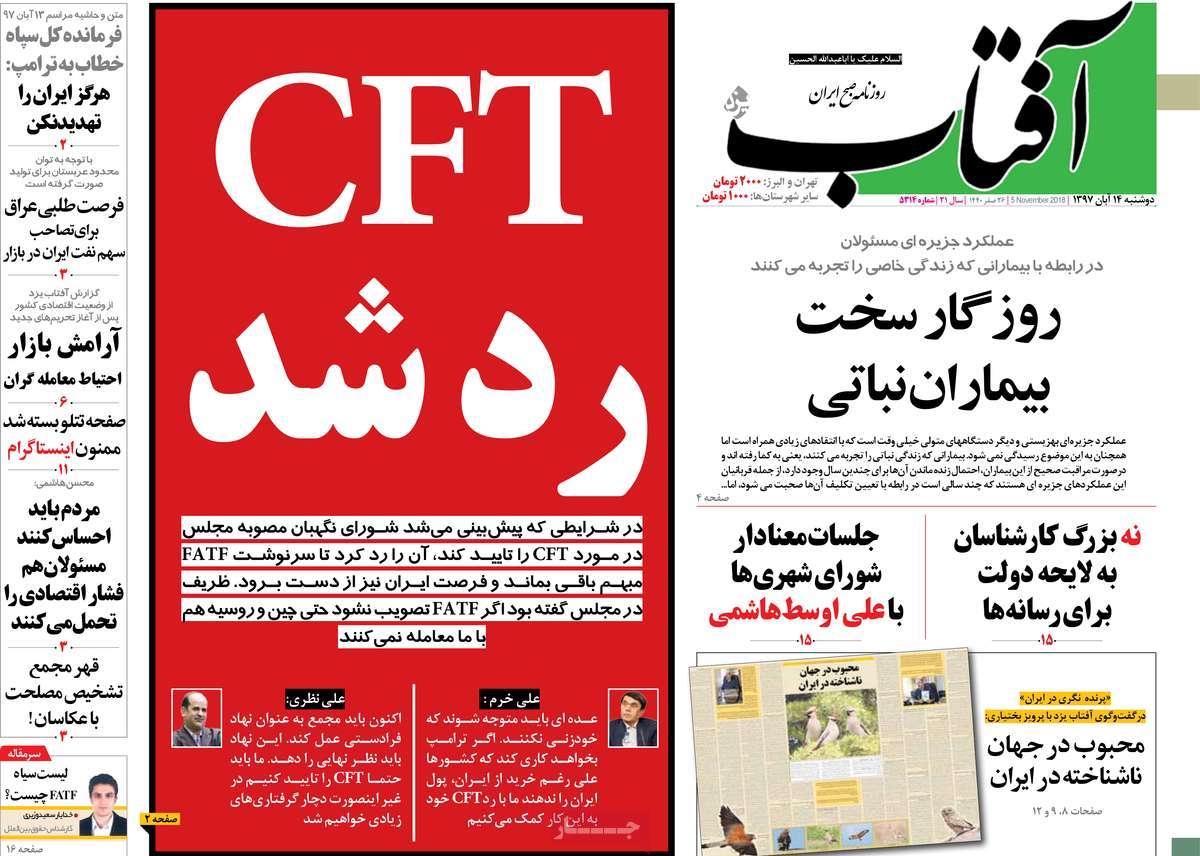 ---
Arman-e Emrooz:
1- Rouhani's VP: Government Will Once Again Revise CFT Bill
---
Ebtekar:
1- Death to American on Day of US Sanctions
2- Risks of Not Ratifying CFT Law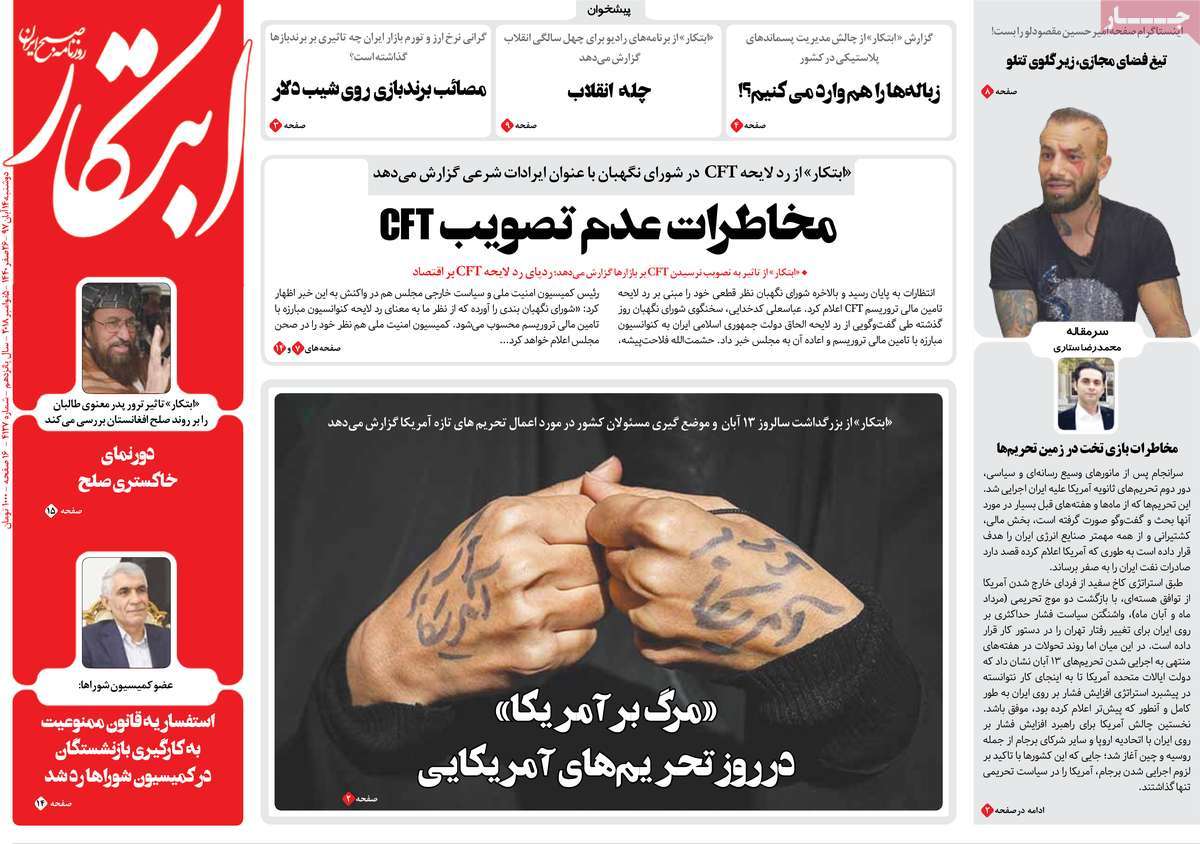 ---
Etemad:
1- Day of Shouting: People Chant Slogans against Arrogance on Day of Sanctions
2- Turkish Ambassador to Tehran: We Told Americans We Can't Stop Oil Imports from Iran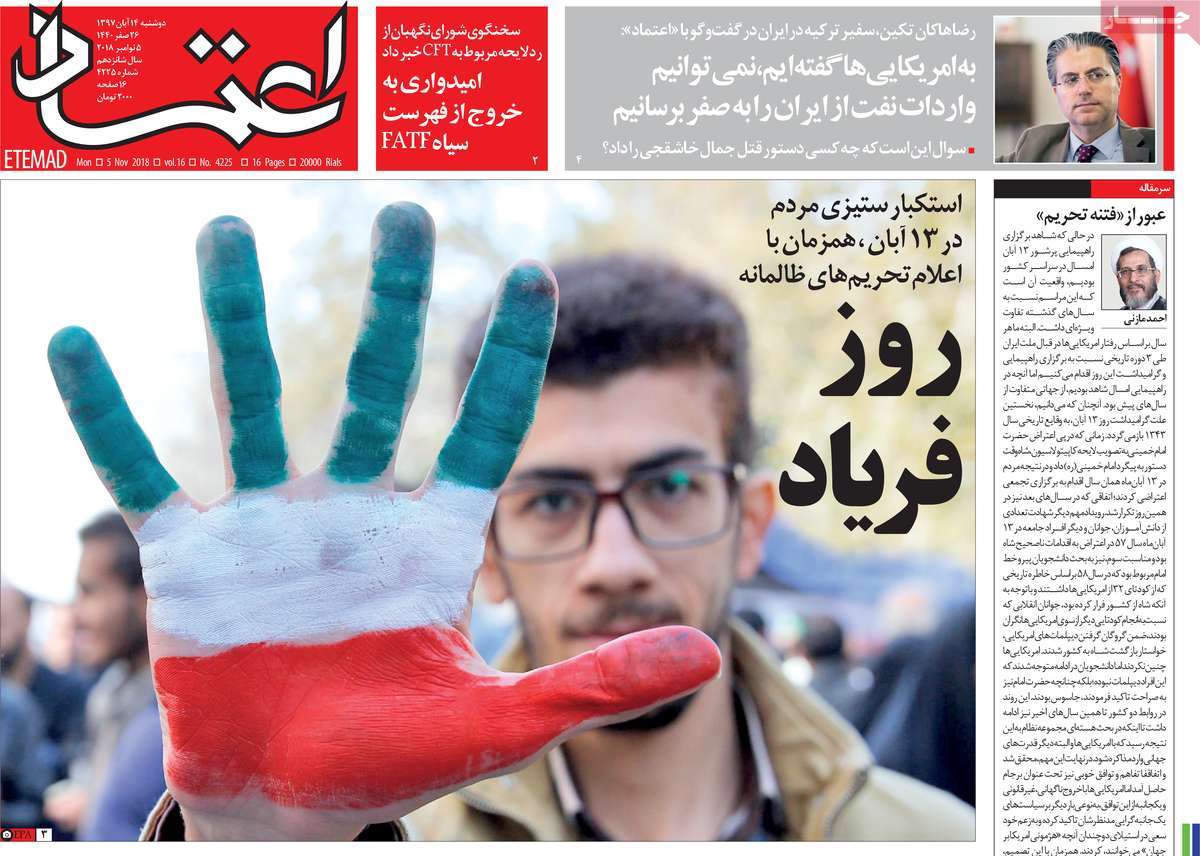 ---
Ettela'at:
1- IRGC Chief-Commander: Enemy's Economic War Doomed to Failure
2- Guardian Council Says Government's Bill on Joining CFT Has 20 Flaws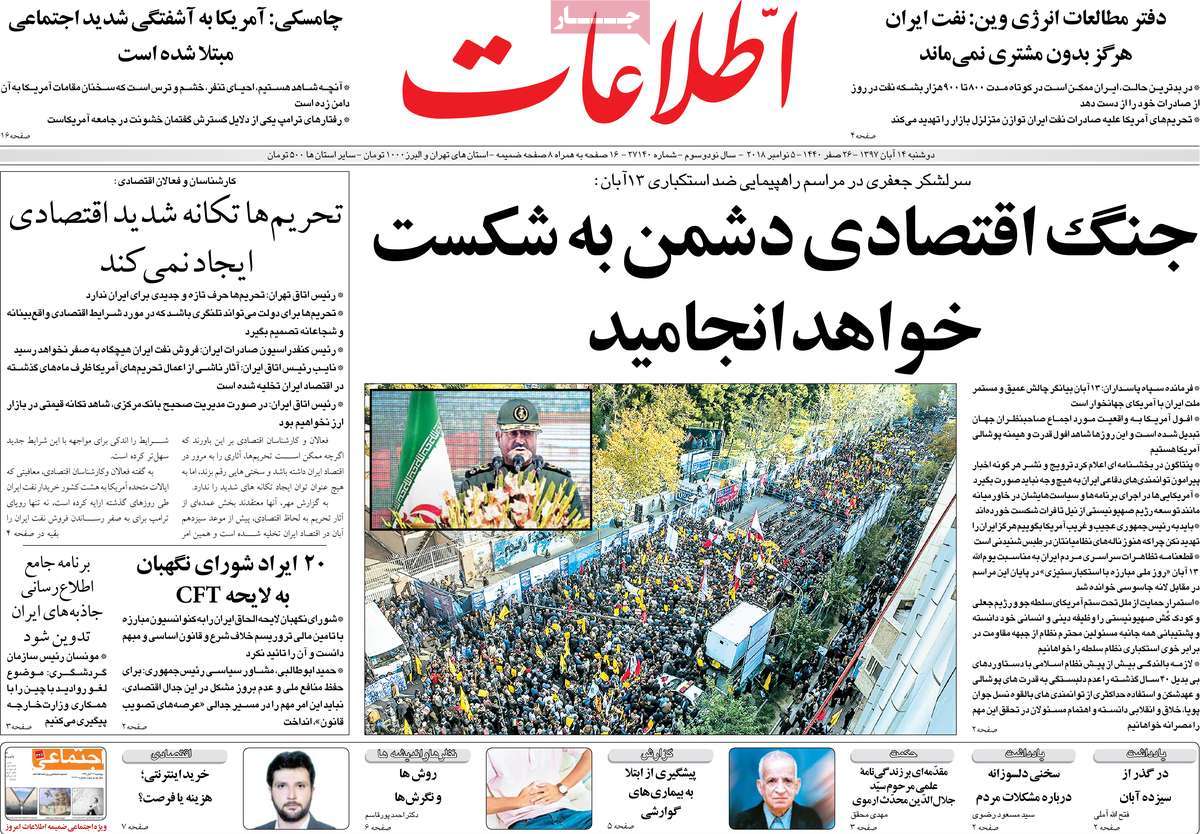 ---
Hamshahri:
1- Guardian Council's Rejection of CFT Bill Leads to Fall of Tehran Stock Exchange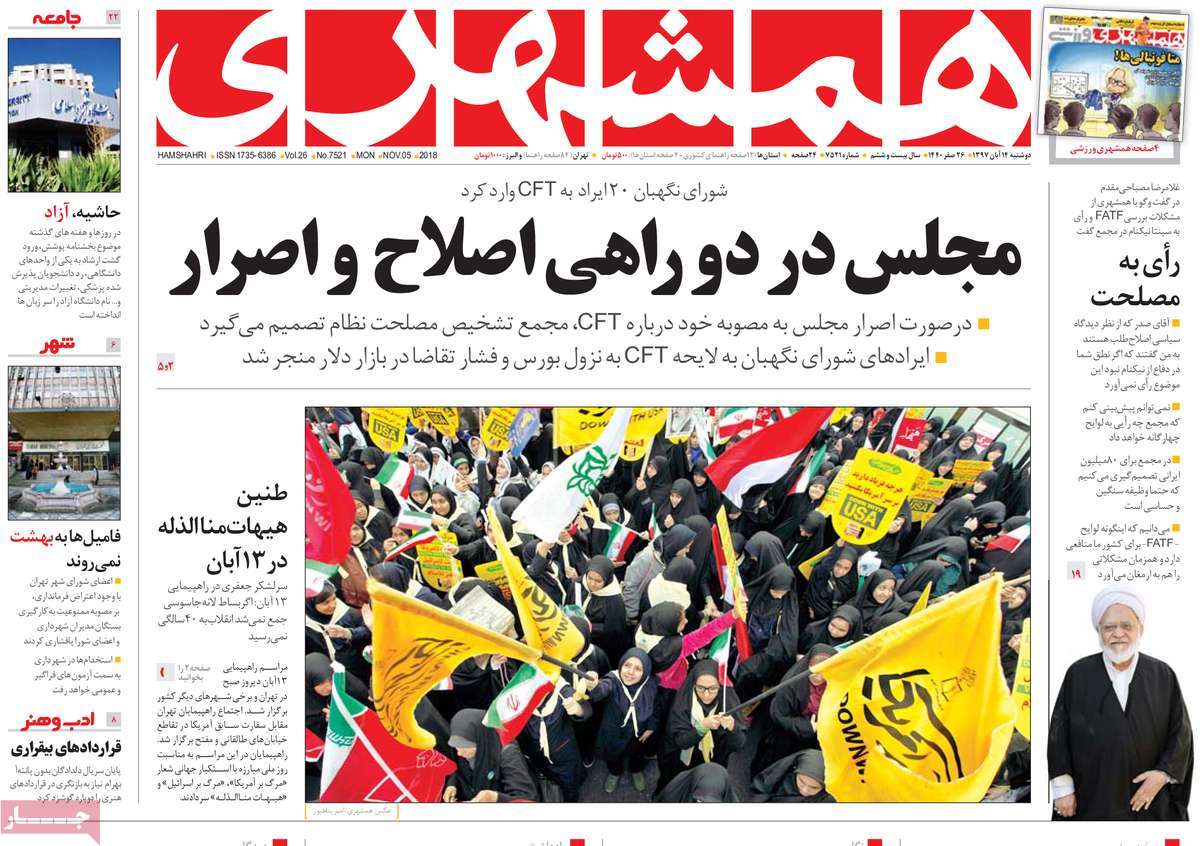 ---
Iran:
1- CFT Back in Parliament
2- Response to Sanctions on Anniversary of US Embassy Takeover
---
Jame Jam:
1- Rejection of CFT Provides Opportunity for Diplomacy
2- Iran Parliament Weighing Plan to Punish Those Cooperating with US Sanctions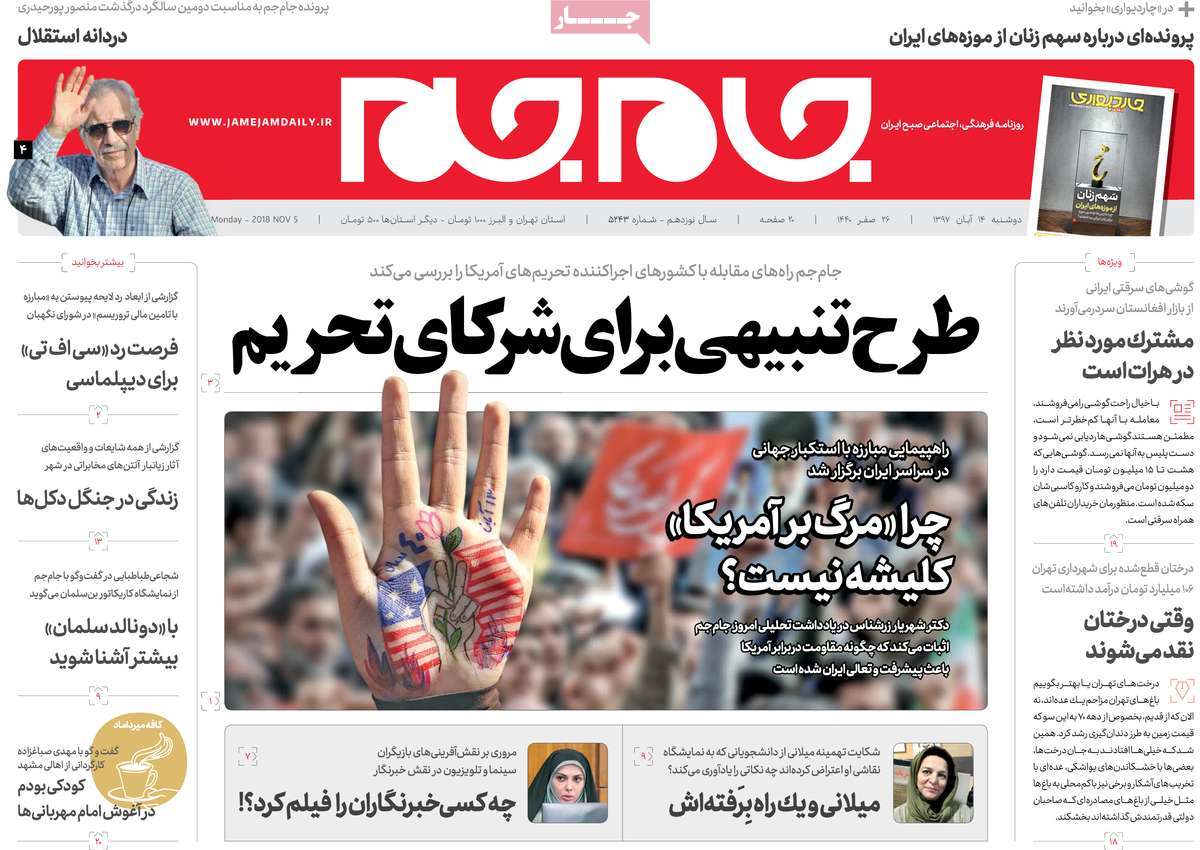 ---
Javan:
1- The Most Anti-American Nov. 4 Rallies Held across Iran
2- IRGC Chief: Revolution Couldn't Survive without Takeover of US Embassy in 1979
---
Jomhouri Eslami:
1- World Bank: Iran's Ranking in Ease of Doing Business to Improve by 45 Positions
2- Europe Accelerates Efforts to Create Financial Mechanism for Iran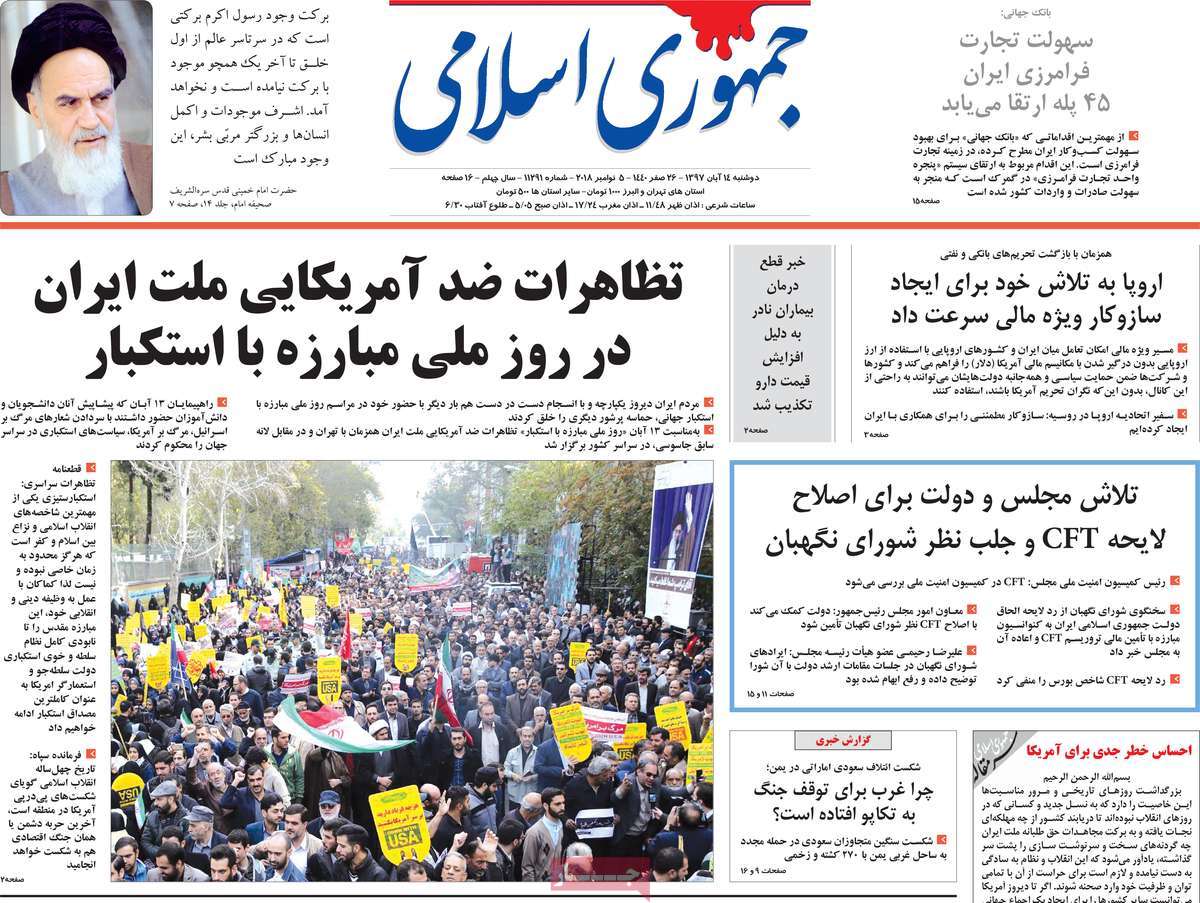 ---
Kayhan:
1- People, Guardian Council Deal Heavy Blow to US on Nov. 4
2- Iran's Oil Exports Still Ongoing on Nov. 4
3- Washington Post: American Forces Afraid of Clash with Iran in Persian Gulf
---
Sazandegi:
1- Suspension of CFT
2- Trump Being Duplicated in the World
Many Call Brazil's New President Bolsonaro another Version of Trump
Trumpism Growing across the World
---
Shahrvand:
1- Guardian Council's Bad Timing for Rejecting CFT Bill
Experts Say Legislation Watchdog's Decision to Make Situation More Complicated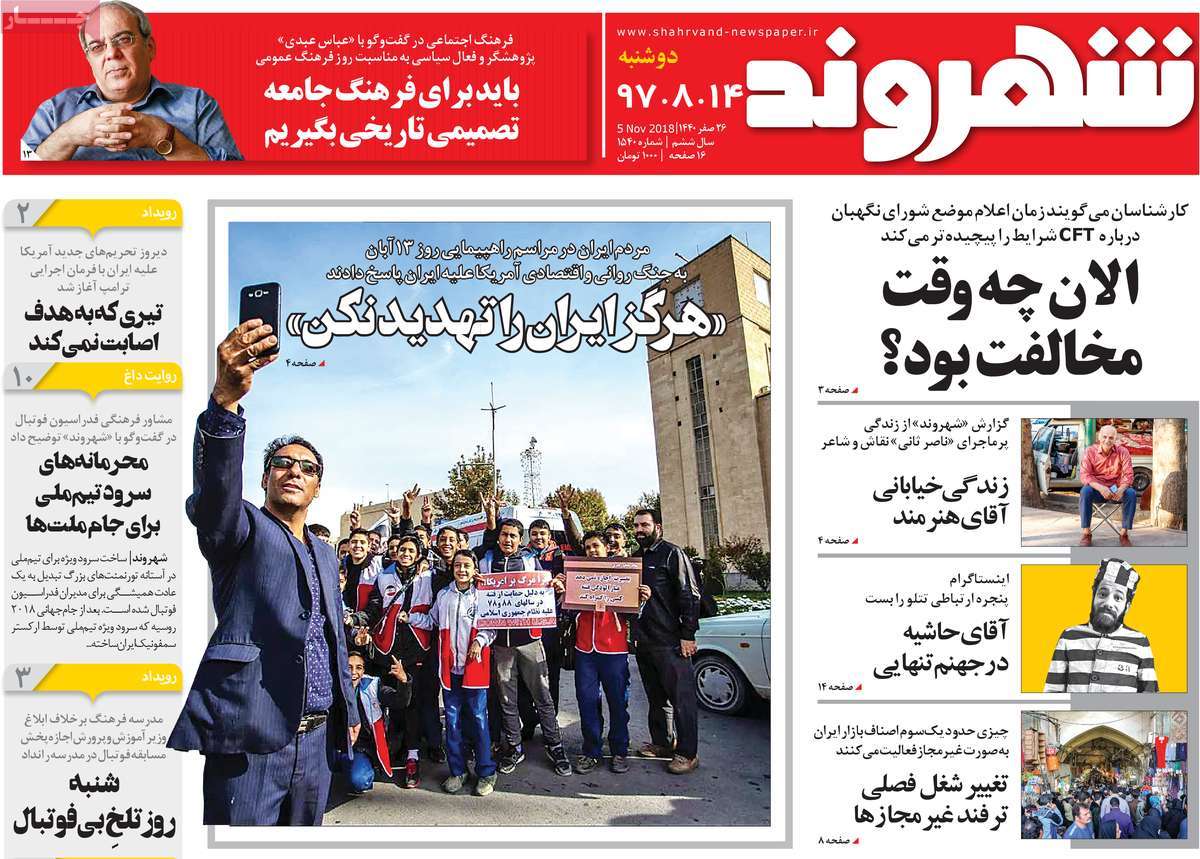 ---
Shargh:
1- IRGC Chief-Commander to Trump: Don't Threaten Us with Military Action
2- CFT U-Turn: Guardian Council Announces Its Decision on Nov. 4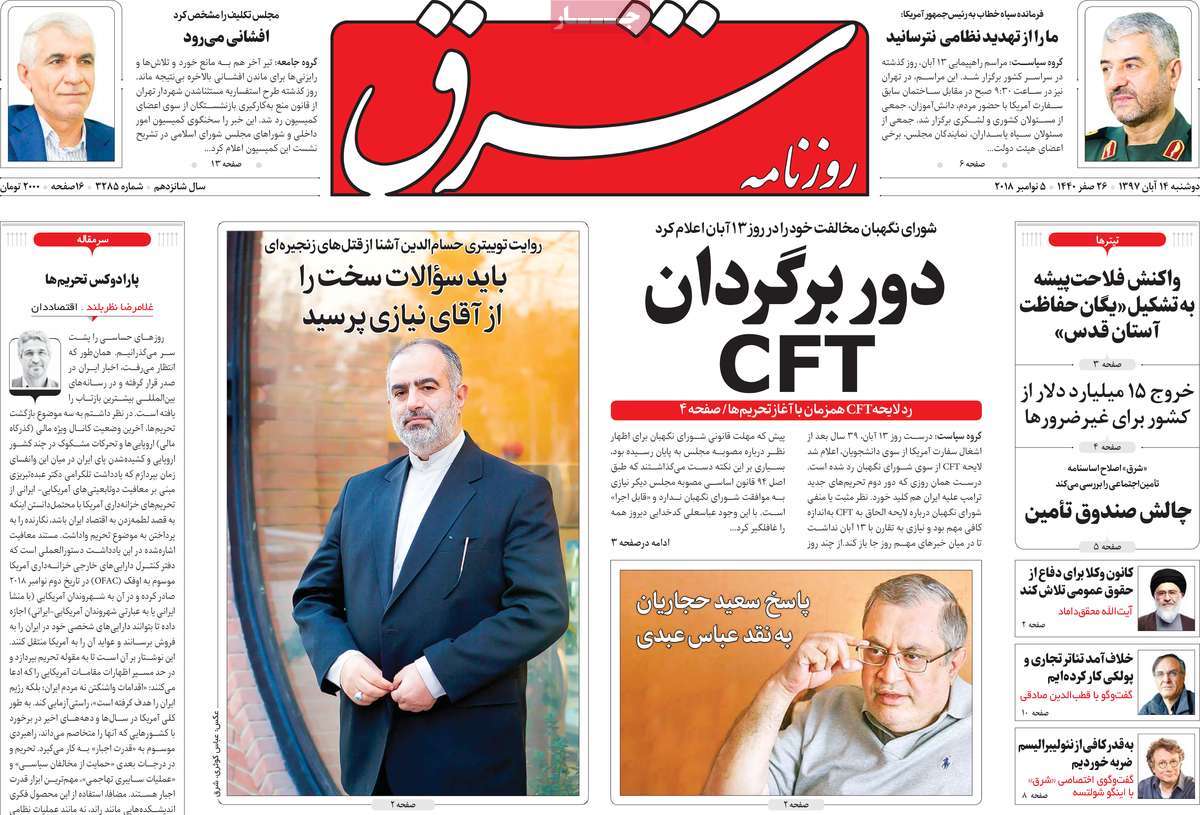 ---
Sobh-e Now:
1- Young Iran in Clash with Old America: Analyst