Tasnim – Iranian Foreign Minister Mohammad Javad Zarif deplored attempts by Israel and its spy agency, Mossad, to sabotage the 2015 Iran nuclear deal, known as the Joint Comprehensive Plan of Action (JCPOA).
"Incredible series of coincidences. Or, a simple chronology of a MOSSAD program to kill the JCPOA?" Zarif said in a post on his Twitter account on Thursday.
He then referred of some of the attempts by the Tel Aviv regime to undermine the nuclear deal, including the announcement of an "Iran nuke file discovery" by Mossad in April a few days before US President Donald Trump pulled his country out of the JCPOA, Mossad's role in what was said to be "foiling Iran's bomb plot in France" on the same day Iranian President Hassan Rouhani began a European tour, and the recent case of what is said to be Mossad "assistance in foiling an assassination plot in Denmark" after Europe introduced a Special Purpose Vehicle to counter US sanctions against Iran.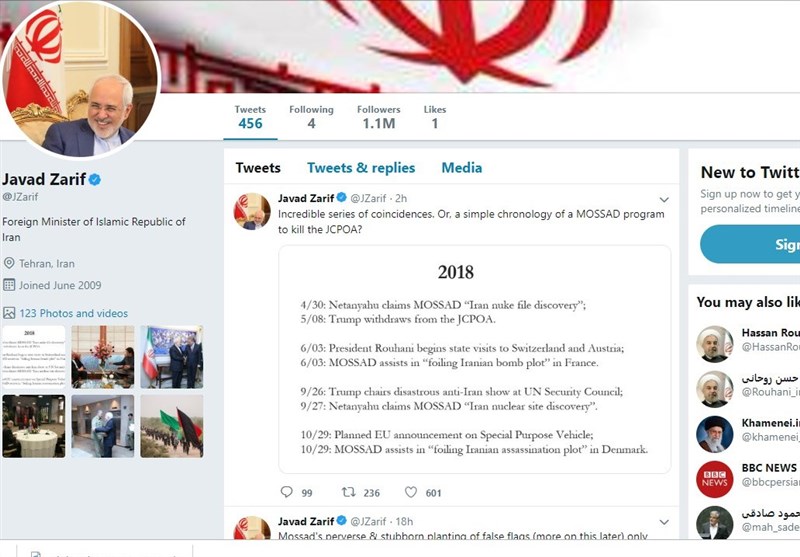 In an earlier tweet, Zarif had censured Israel for its role in raising allegations that Iran had plotted an attempt to assassinate an opposition figure in Denmark.
"Mossad's perverse and stubborn planting of false flags (more on this later) only strengthens our resolve to engage constructively with the world," he wrote in a post on Wednesday.
Earlier this week, Denmark's Security and Intelligence services said they had arrested a Norwegian citizen of Iranian descent for allegedly planning the assassination of the leader of a separatist group that was behind a terrorist attack on a military parade in Iran's Ahvaz on September 22 that killed civilians and military forces.
Iran has strongly denied the allegations. Foreign Ministry Spokesman Bahram Qassemi on Tuesday said such accusations are in line with the conspiracies and plots of the enemies of Iran who cannot stand the good and growing relations between Tehran and Europe in the current special situation.