Tasnim – Iranian Parliament Speaker Ali Larijani blamed the US for obstructing the sale of Iranian gas to Pakistan and stifling a long-awaited pipeline project between the two neighbors.
In a meeting with Deputy Chairman of the Senate of Pakistan Saleem Mandviwalla in Turkey's Antalya on Tuesday, Larijani said certain parties are opposed to cooperation between Tehran and Islamabad.
"Under the contract between Iran and Pakistan, the gas pipeline (on Iran's soil) has reached the border, and the gas (supply) is also ready, but the US is said to be putting obstacles, because it is mad at your (Pakistan's) progress and is against the export of gas to Pakistan," Larijani told the senior Pakistani lawmaker.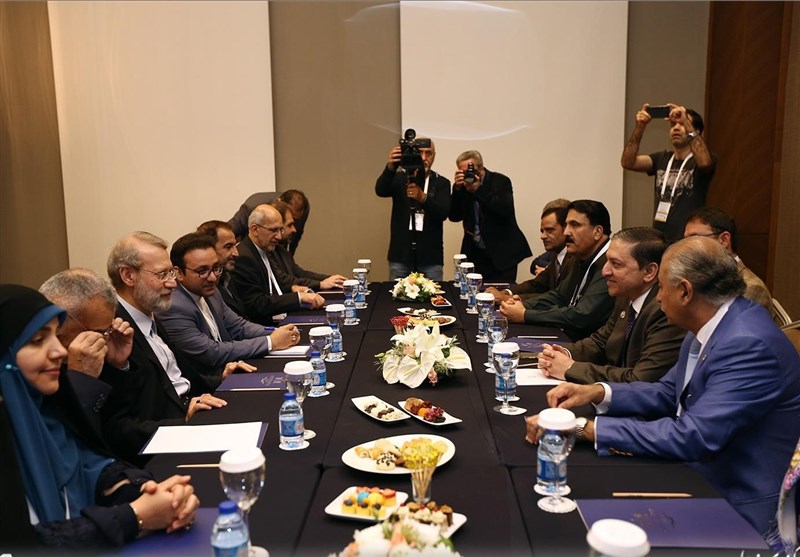 For his part, Mandviwalla underlined that the new Pakistani government and all parties in the parliament are after an immediate completion of the gas pipeline project, voicing Islamabad's support for cooperation with Tehran in various fields.
Iran-Pakistan gas pipeline, which stretches for 900 kilometers only in Iran, has been designed to help populous Pakistan overcome its growing energy needs.
Pakistan has fallen short of constructing the 700-kilometer part of the pipeline on its territory.
In August, Iran's Ambassador to Islamabad Mahdi Honardoost said Iran has spent more than $2 billion on the gas pipeline project and fulfilled much of its commitments, noting that only a 180 km section of the pipeline on the Iranian soil remains to be completed.
"Should Pakistan take a positive step, we will rapidly finish the remaining section," the envoy said at the time.