Bloomberg – Iran's rial dropped sharply and foreign-exchange traders shut shop as concerns grew that authorities may be powerless to defend the currency as U.S. sanctions bite.
Exchange houses in downtown Tehran priced the dollar between 118,000 rials and 121,000 rials, roughly a nine percent fall from Sunday. Half a dozen traders around Ferdowsi Avenue — the heart of foreign-exchange dealing in the capital — put up signs saying they weren't selling or buying the greenback.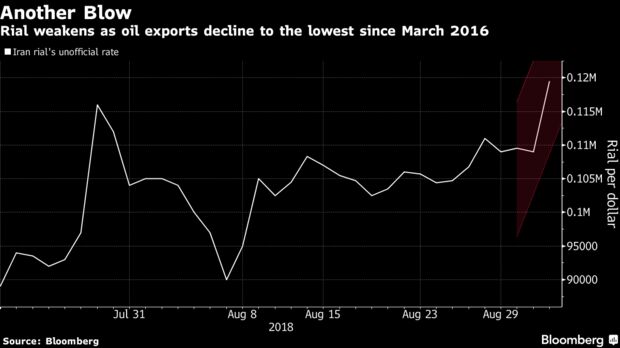 The slide against the dollar was the biggest since early August and came as Iran's oil exports slump weeks before U.S. sanctions on crude sales resume in November. The rial's drop is likely to further ramp up pressure on the government of President Hassan Rouhani, which is already facing growing discontent over rising prices amid a sense of crisis following the U.S. withdrawal from the 2015 nuclear deal.
Iran's central bank has already attempted to defend the rial with a series of steps in August. It let the market determine the rate of foreign-exchange transactions, except on imports of essential goods and drugs. That was a change from a previous system enacted in April where an official fixed rate encouraged a black market and profiteering on arbitrage transactions.
Central Bank Governor Abdolnaser Hemmati said on Saturday that the measures were contributing to "transparency" in the unregulated market, and authorities were determined to prevent further slides in the rial.
"The secondary market is fast becoming more transparent and we will not intervene in the rate," Hemmati was quoted as saying at an economic event in Tehran, according to state-run Tasnim news agency.
Iranian officials have also been seeking to encourage Iranians to deposit their foreign currency in bank accounts, instead of stockpiling it at home.
Groups of Iranians gathered in front of several exchange bureaus in Tehran on Monday but were prevented from entering. Nobody was willing to sell dollars in the current climate, those interviewed said, leading to a shortage of hard currency.
— With assistance by Dana El Baltaji