Iran Front Page – IFP has taken a look at the front pages of Iranian newspapers on Tuesday, August 28, 2018, and picked headlines from 13 of them. IFP has simply translated the headlines and does not vouch for their accuracy.
Several papers today covered President Hassan Rouhani's Tuesday speech at the Parliament, during which he was supposed to answer five question raised by the lawmakers on the country's economic situation.
Also a top story was the upcoming summit of Iranian, Turkish, and Russian leaders in the Iranian city of Tabriz, which is to be held on September 7.
The International Court of Justice (ICJ)'s hearing of Iran's lawsuit against the US over the latter's illegal sanctions against Tehran also received great coverage.
The above issues, as well as many more, are highlighted in the following headlines and top stories:
Abrar:
1- Erdogan to Visit Iran on September 7
2- IRGC Navy Chief: Hormuz Strait Monitored All the Time
3- Macron: We're Ready to Attack Syria
---
Aftab-e Yazd:
1- Everybody Shocked by Car Market Getting Out of Control
2- Last Act: What Will Be Rouhani's Strategy in Parliament Today?
3- Official: Devaluation of Turkish Lira Serves Iran's Interests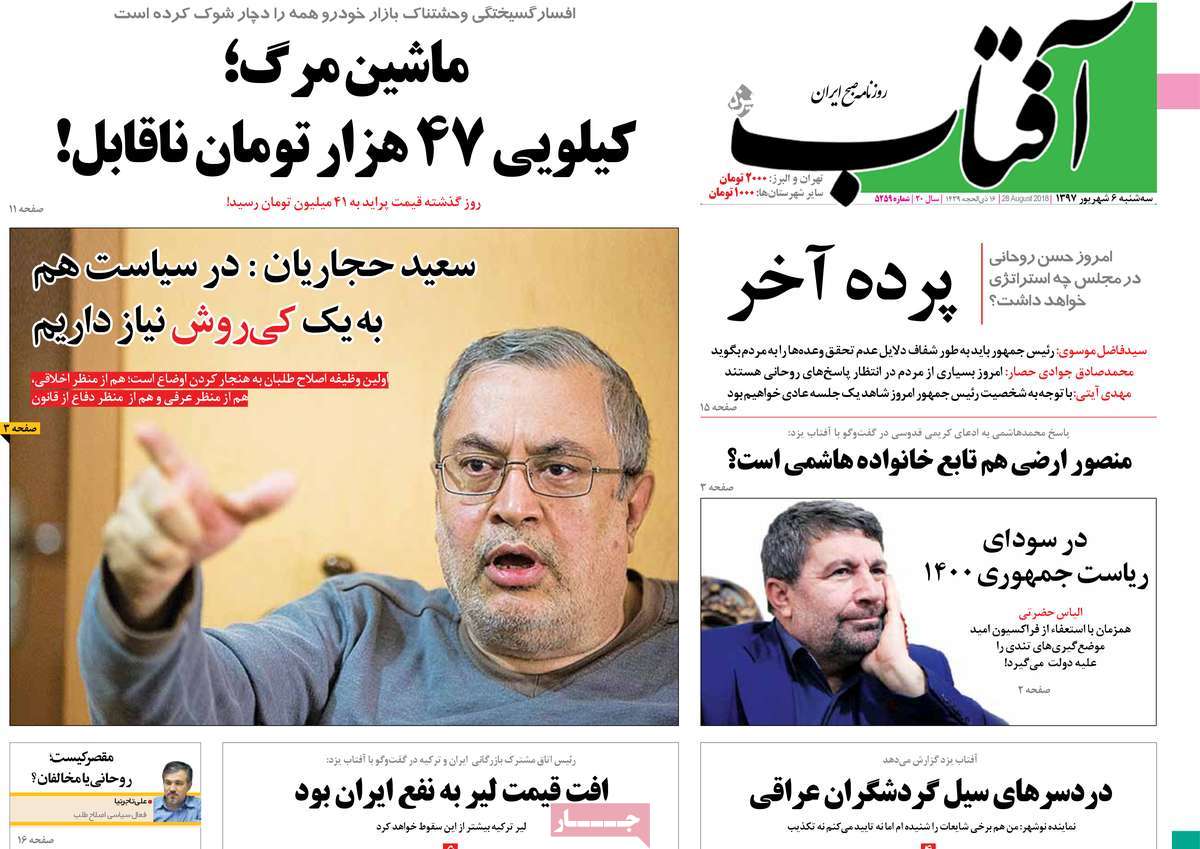 ---
Arman-e Emrooz:
1- Conservatives, Reformists, Hardliners All Seek to Impeach Interior Minister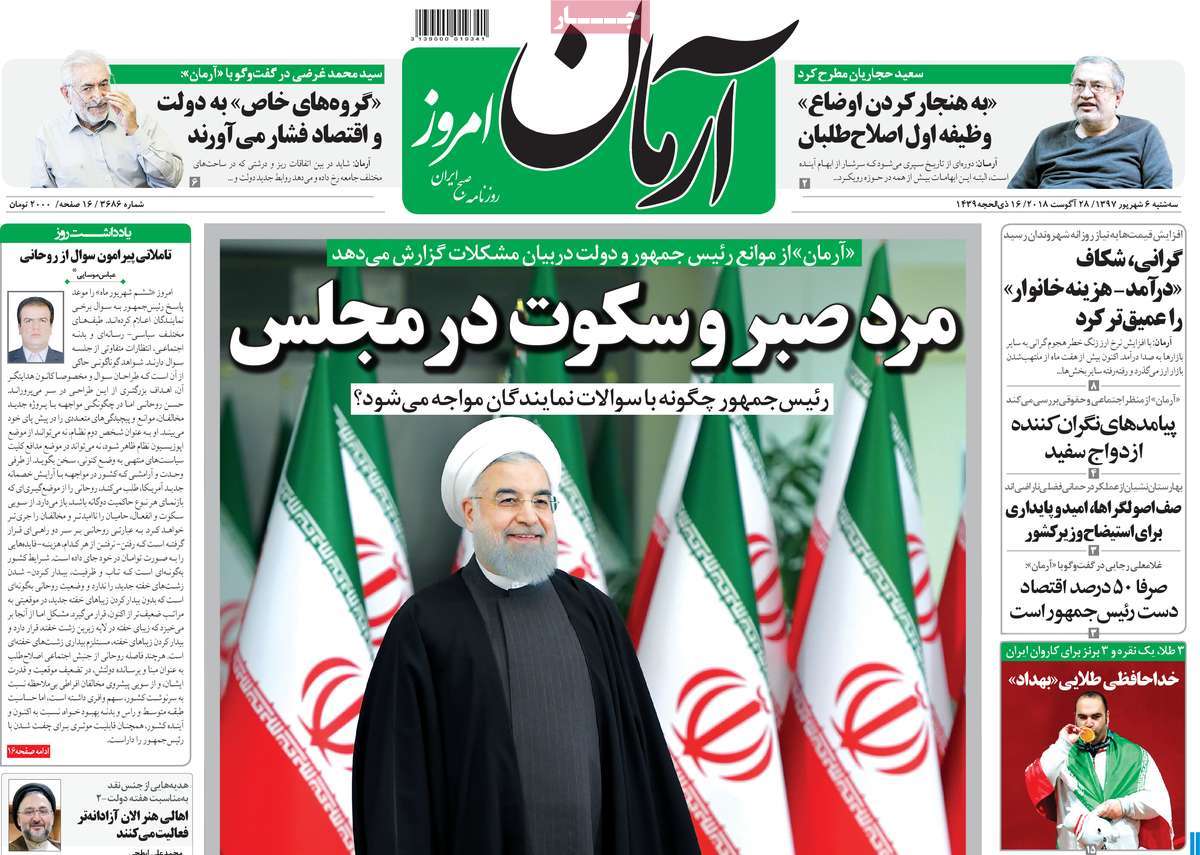 ---
Ebtekar:
1- Tehran vs Washington in The Hague
ICJ Hears Iran's Lawsuit against US
---
Etemad:
1- Escaping Homeland: Escalation of Refugee Crisis in Latin America
2- Parliament, the Way to Save Rouhani?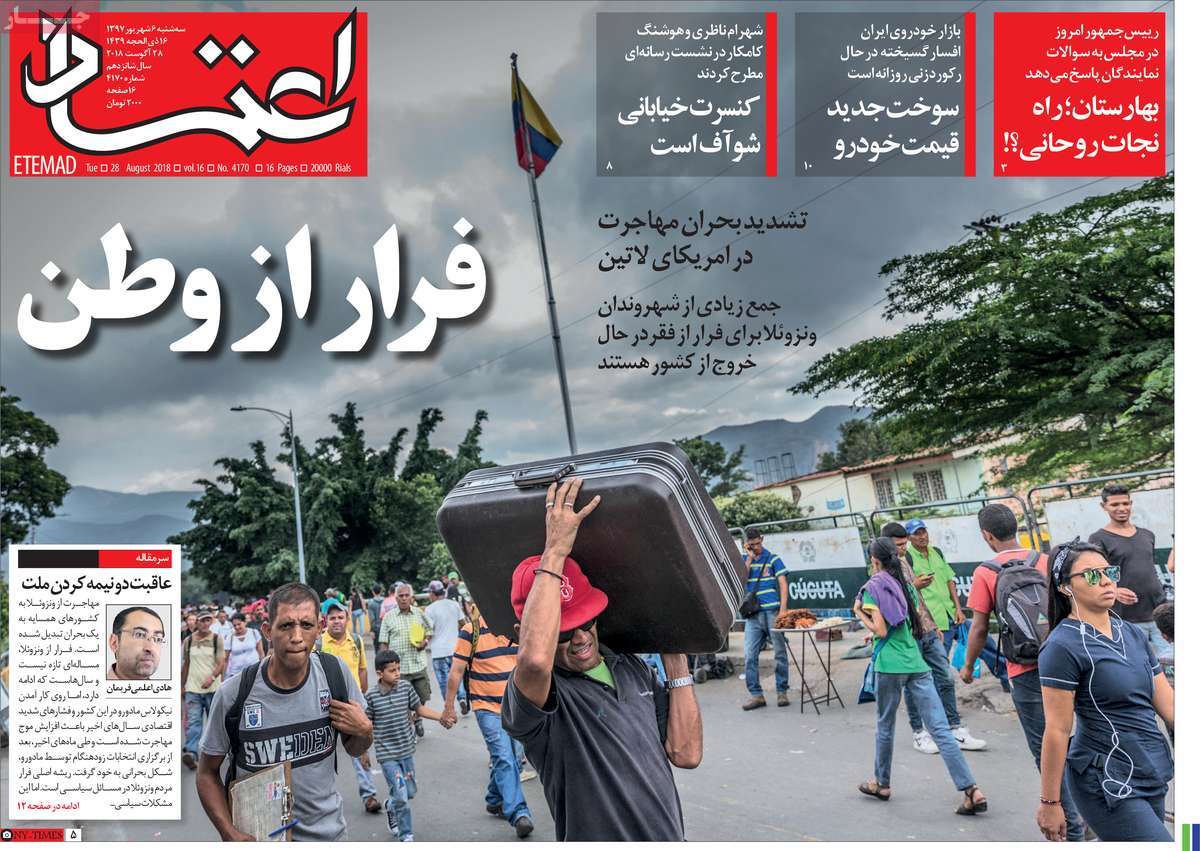 ---
Ettela'at:
1- Rouhani's VP for Legal Affairs: Iran Working on Transparency Bill to Fight Corruption
2- French President: Europe to Implement Mechanism for Trade Ties with Iran
3- Erdogan: West Won't Leave Muslims Alive for One Day If They're Not Strong
4- Iran Probing into Chinese Fishermen's Operation in Iranian Waters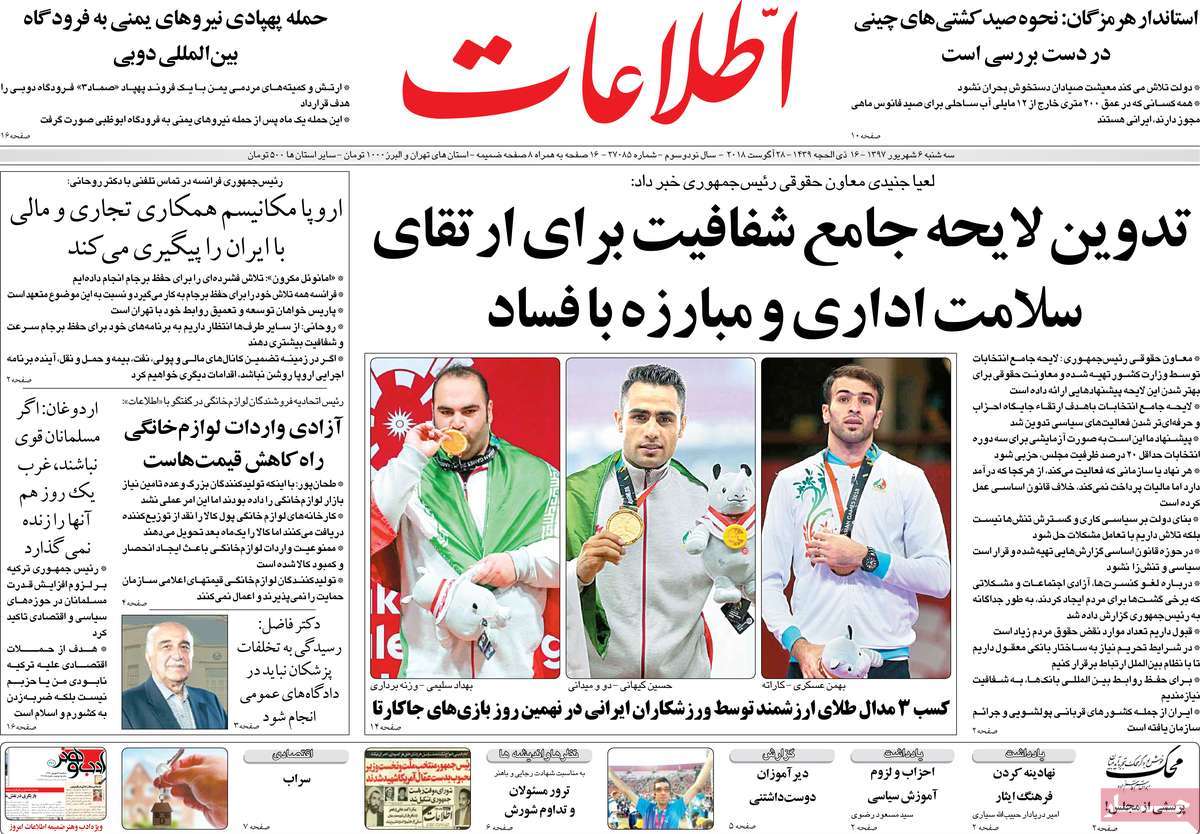 ---
Hamshahri:
1- Iranian Women Achieving Victories despite Discriminations
Why Iranian Women's Brilliant Performance in Asian Games Matters
2- US to Appear in ICJ over Iran Lawsuit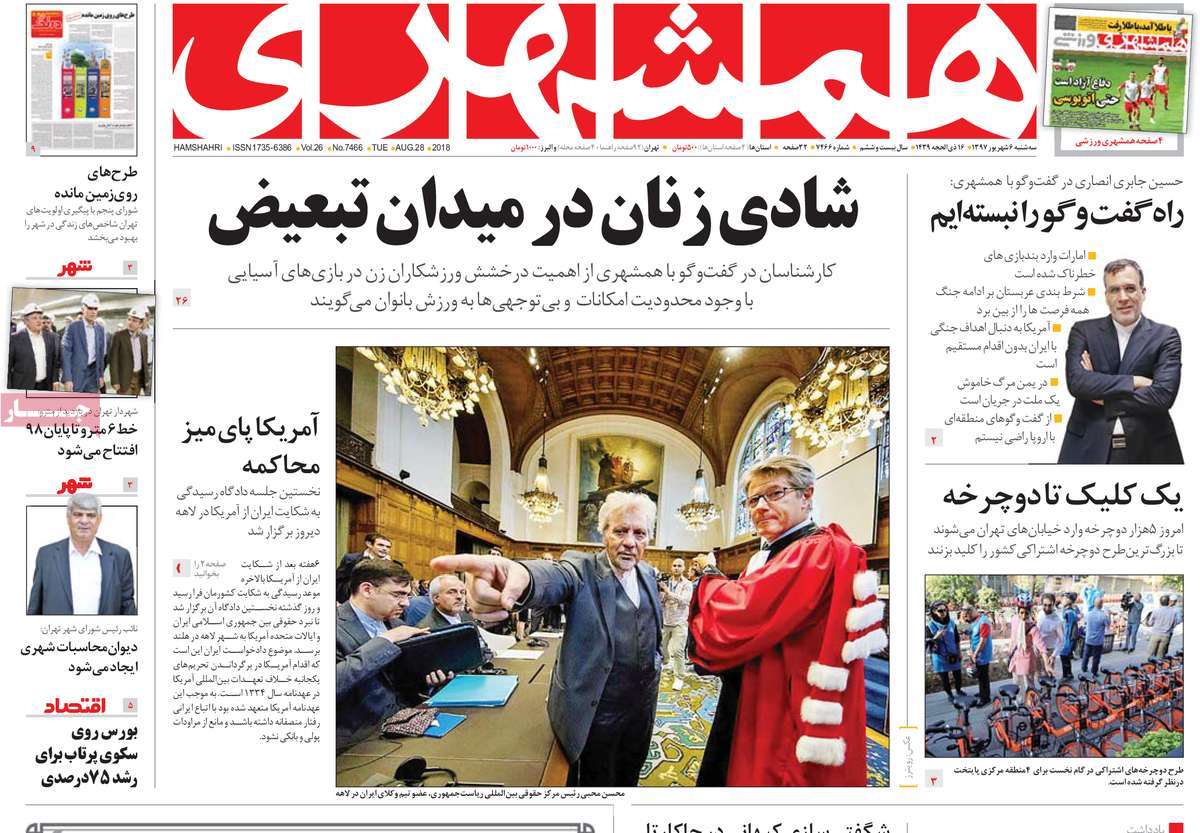 ---
Javan:
1- We're Champion of Overcoming Obstacles
Iranian Runner Keyhani Wins Asian Gold Medal
2- Yemenis: We've Attacked Dubai Airport with Drone
3- Berlin: It's Time for Europe to Change Its Policies towards US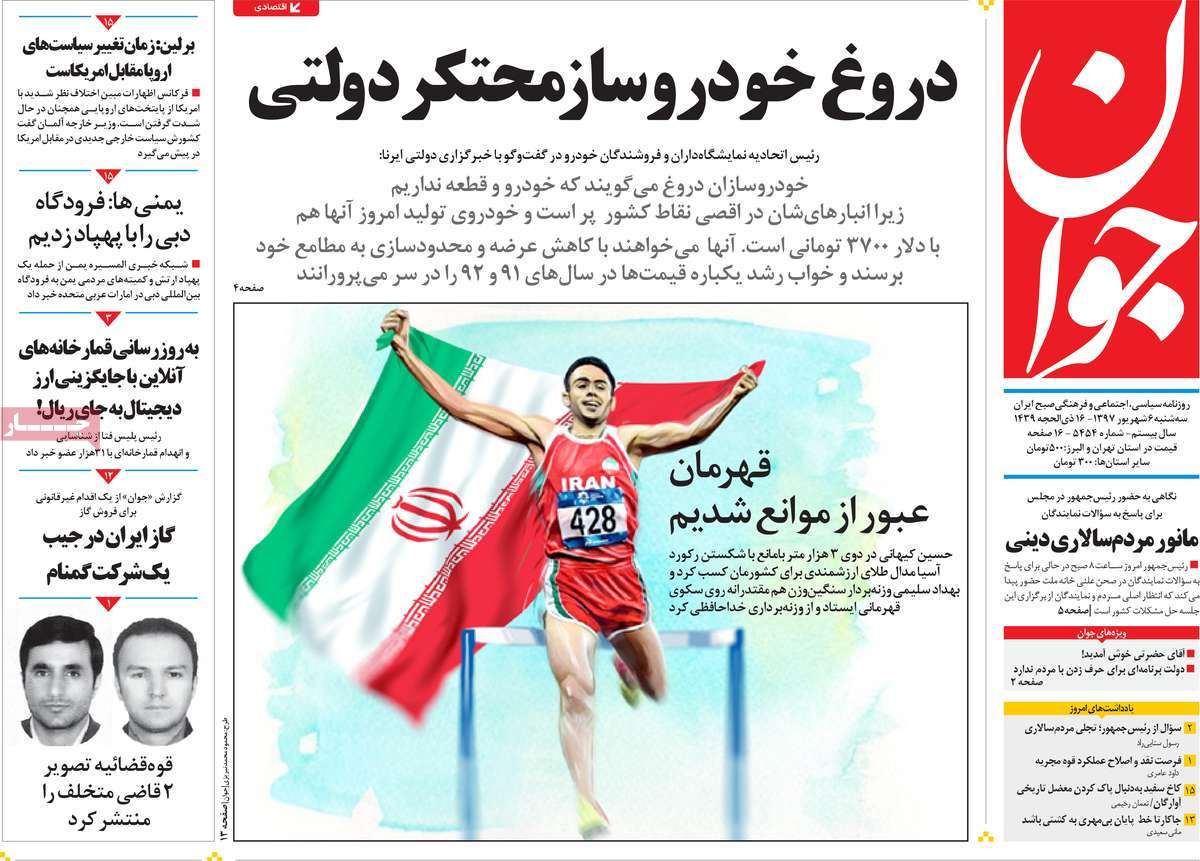 ---
Jomhouri Eslami:
1- Europe to Counter US Sanctions with New Financial System in Order to Save JCPOA
2- ICJ Starts Working on Iran's Lawsuit against US
3- Iranian Energy Minister Inaugurates Iran's Biggest Wind Power Plant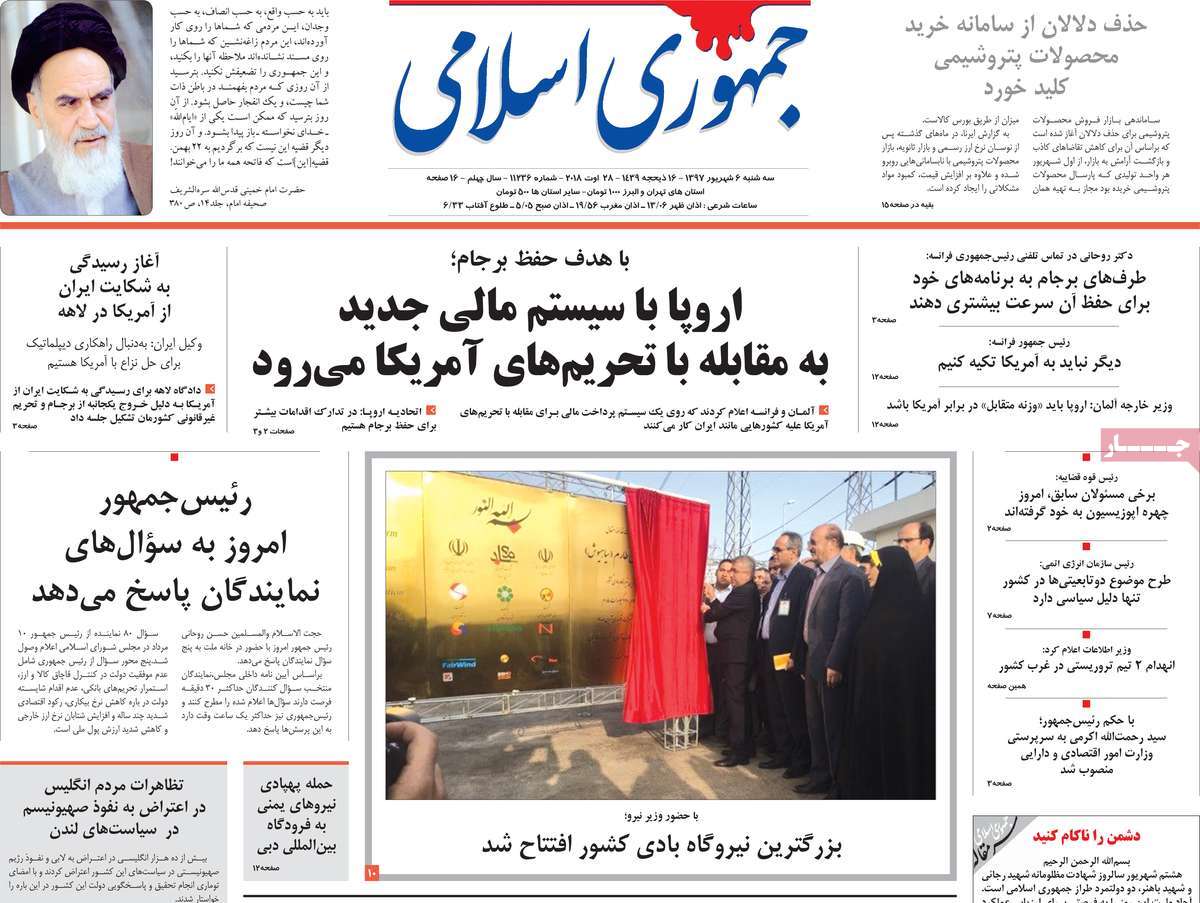 ---
Kayhan:
1- Deputy Minister: Iran's Mining Capacity over $1,000 Billion
2- Macron: When Did I Say Assad Must Go?
---
Khorasan:
1- Terror in Dubai's Sky: Yemeni Drone Attack Hits Dubai Int'l Airport
2- The Hague and Its JCPOA-Related Test
---
Sazandegi:
1- Iranian Judge among Judges of The Hague
2- Rouhani under Fire: President to Appear in Parliament Today
---
Shargh:
1- Tabriz to Host Triangle of Countries under US Sanctions
Iran, Russia, Turkey to Hold Summit on September 7
2- Iranian Hercules Wins Gold Medal and Quits Weightlifting
Behdad Salimi's Emotional Farewell to Weightlifting