Iran Front Page – IFP has taken a look at the front pages of Iranian newspapers on Tuesday, July 31, 2018, and picked headlines from 14 of them. IFP has simply translated the headlines and does not vouch for their accuracy.
The ongoing economic crisis in Iran, particularly the price hikes and unprecedented devaluation of the country's national currency, remained the top story today. Some papers urged the government to break its silence and immediately take appropriate actions to control the situation, and some like Kayhan called for prosecution and even execution of those who disrupt the country's economy.
Several papers also covered reports on Iran-US direct talks, especially after US President Donald Trump's call for talks with his Iranian counterpart without any preconditions.
The above issues, as well as many more, are highlighted in the following headlines and top stories:
19 Dey:
1- Senior Lawmaker: Package Proposed by EU Is Good
---
Abrar:
1- Negotiation with US Not Possible: Iran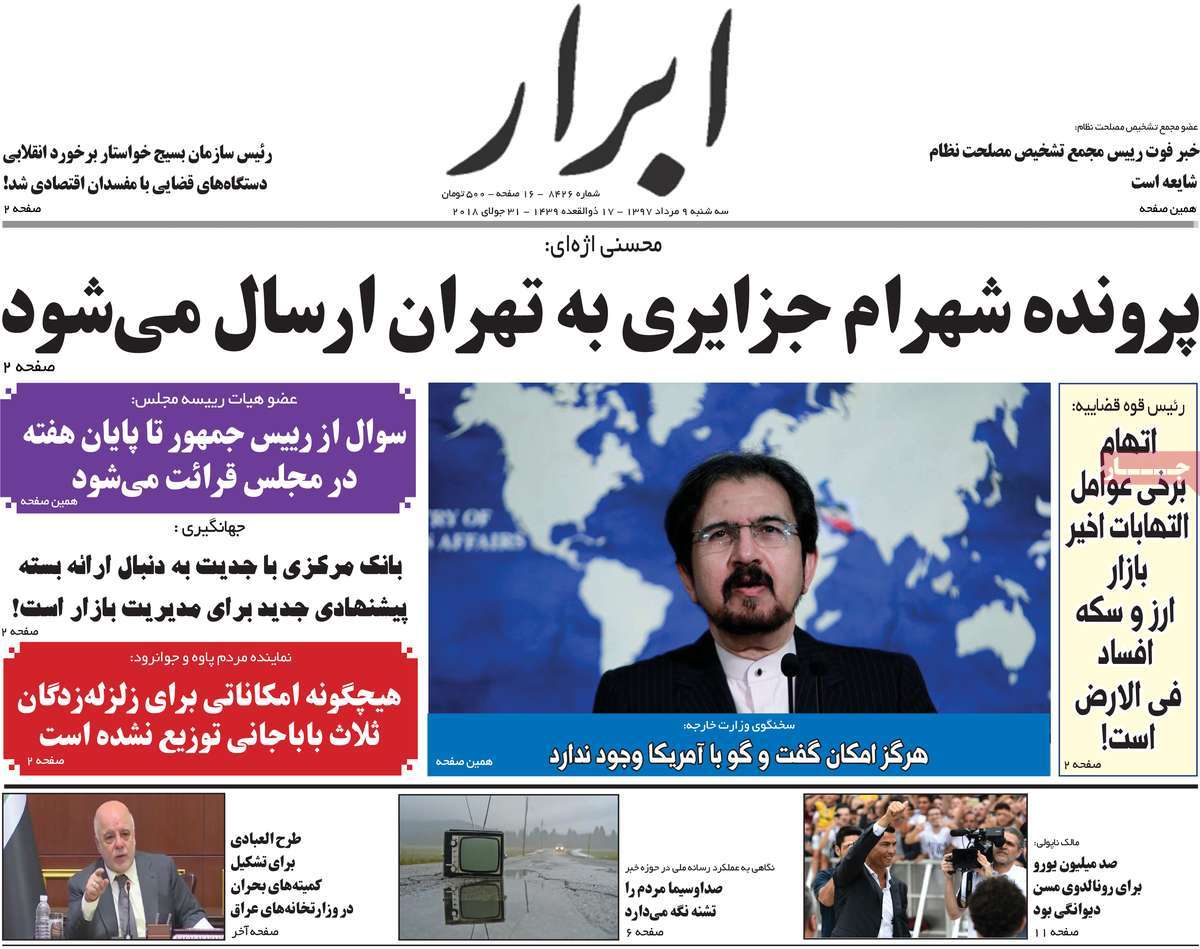 ---
Aftab-e Yazd:
1- Mousavian Gives Details of Trump's Call for Talks with Rouhani
Macron Mediated between Iran, US
France Even Told Rouhani Trilateral Meeting Can Be Held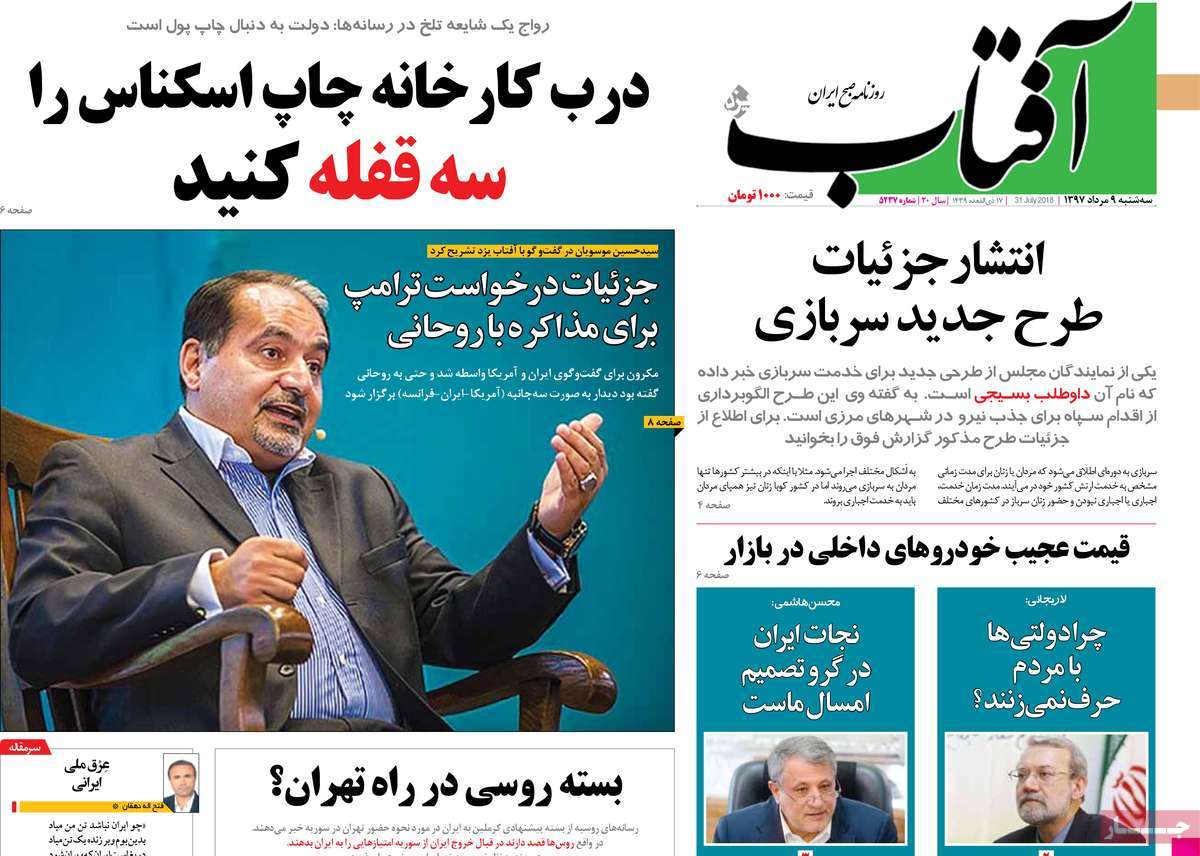 ---
Arman-e Emrooz:
1- Key to Cabinet Reshuffle in Jahangiri's Hands
---
Ebtekar:
1- Iran First VP: New Economic Conditions in Iran Not to Last Forever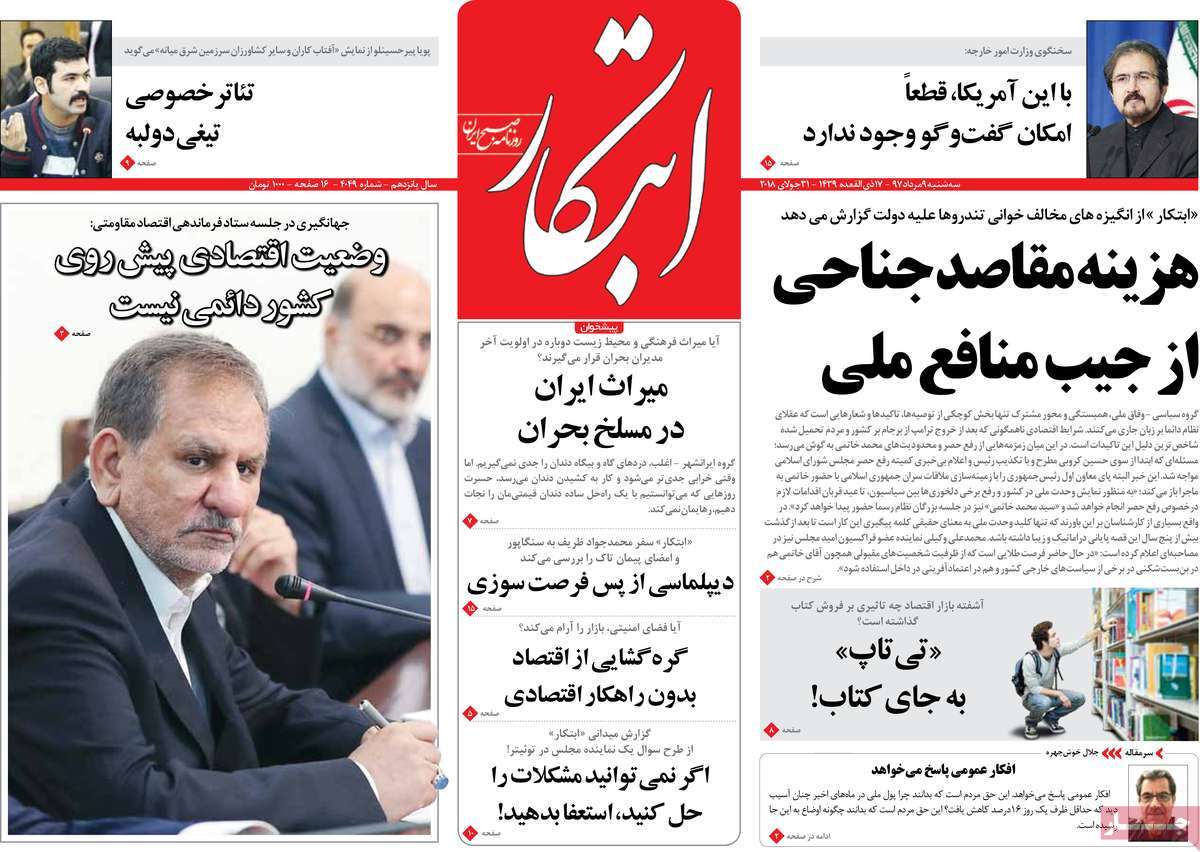 ---
Etemad:
1- Return of Displaced Syrians, New Priority in Syria Talks
Representatives of Iran, Russia, Turkey Meet in Sochi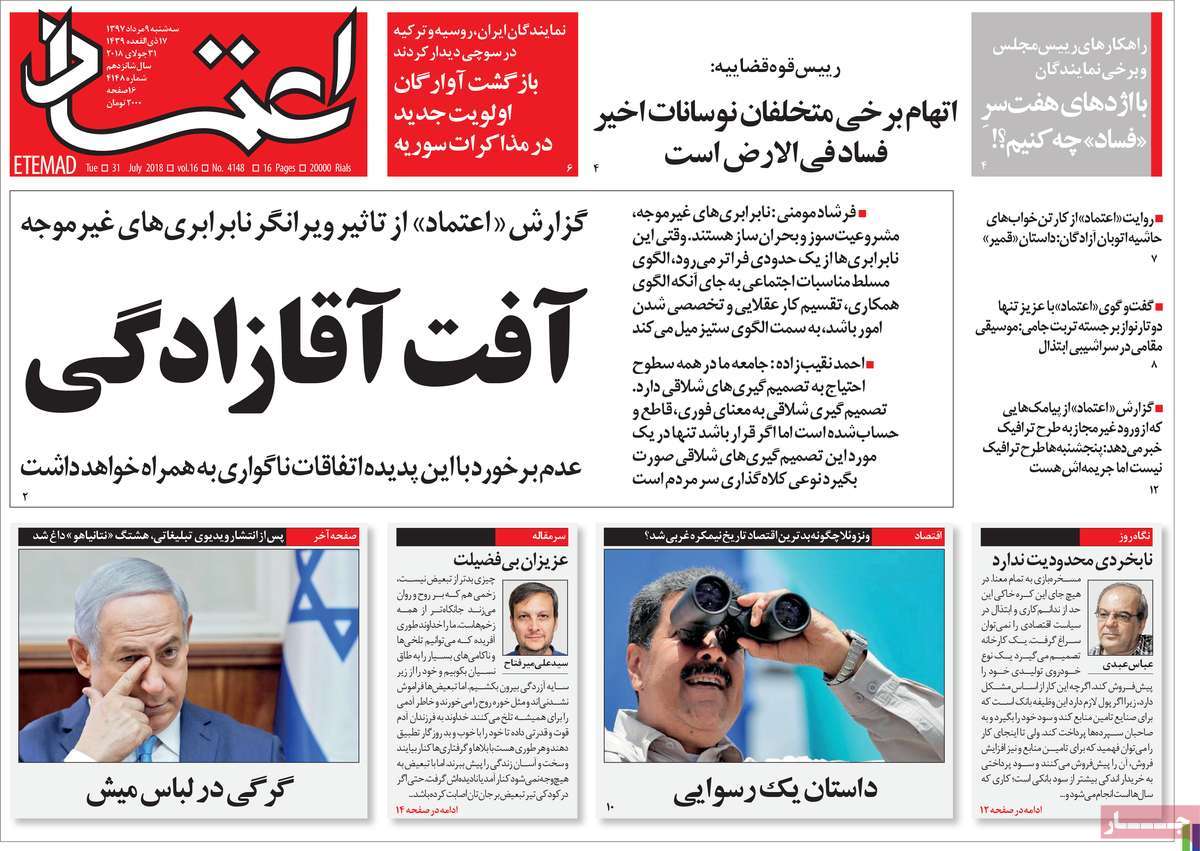 ---
Ettela'at:
1- Iran First VP: The Country's Forex Policy to Be Revised
2- Palestinians' Reaction Forces Saudi Arabia to Back Off from Supporting 'Deal of the Century'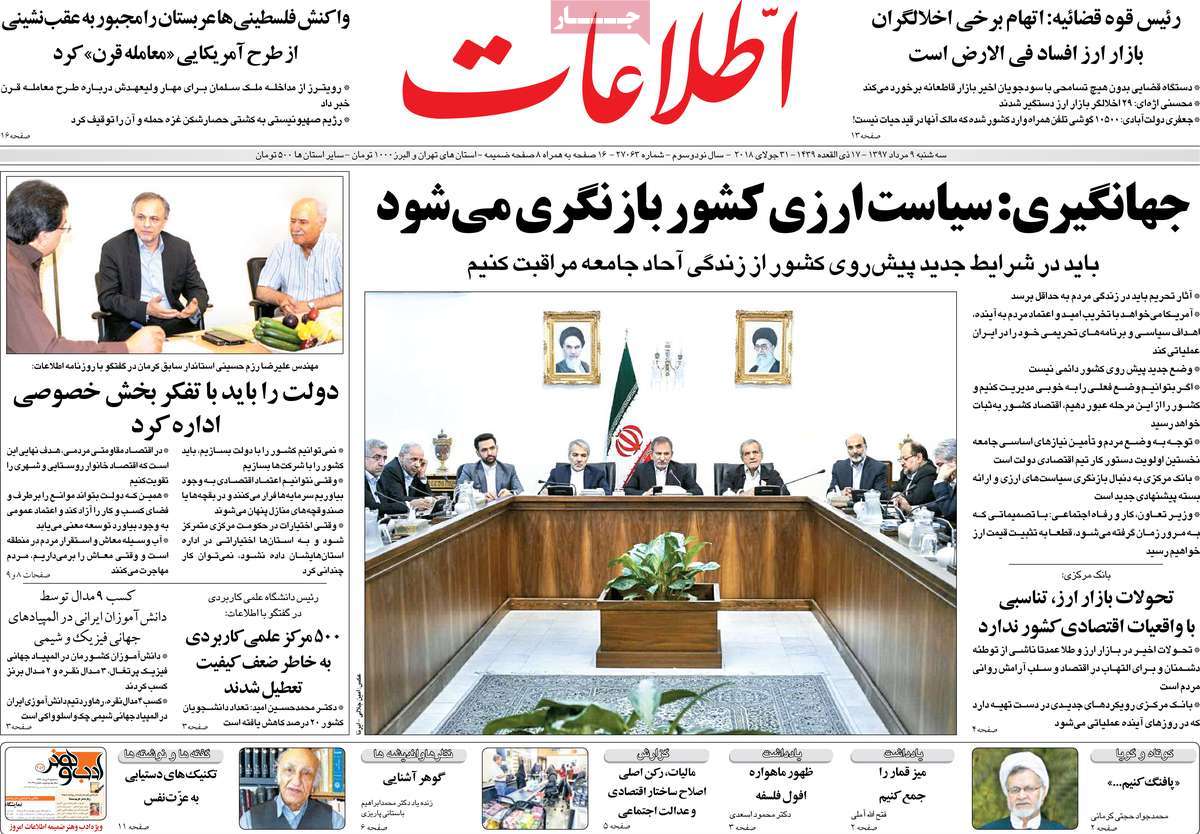 ---
Javan:
1- IRGC to Rouhani: Mr President! Use Your Anger to Resolve Government's Economic Deficiencies
2- 'Basra Region' Project Taking Advantage of Iraq Protests
3- North Korea Delivers Body of American Soldier
Transfer of American Soldiers' Bodies from N. Korea after 67 Years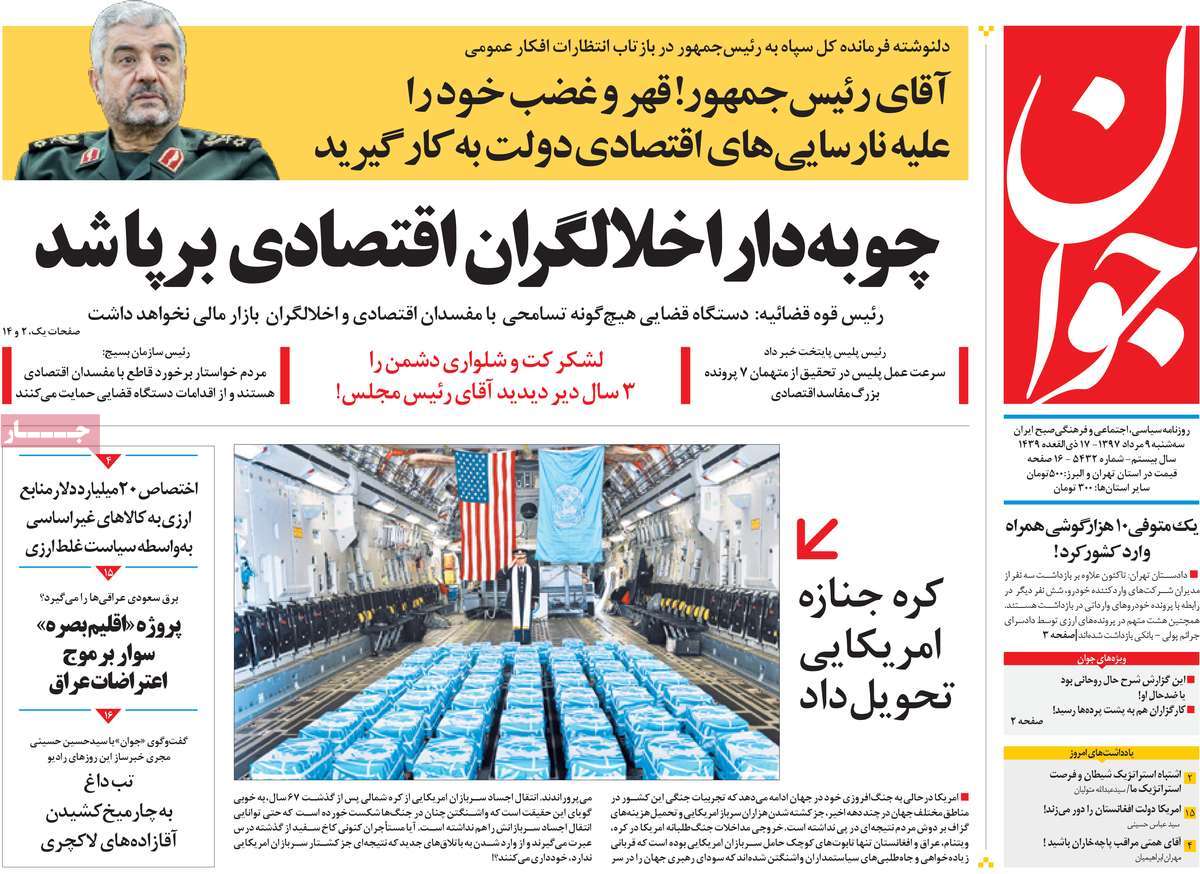 ---
Kayhan:
1- Ansarullah to UAE: You Can't Even Fight against a Village without US' Help
---
Rooyesh-e Mellat:
1- Lavrov: Formation of Equal System in the World Cannot Be Prevented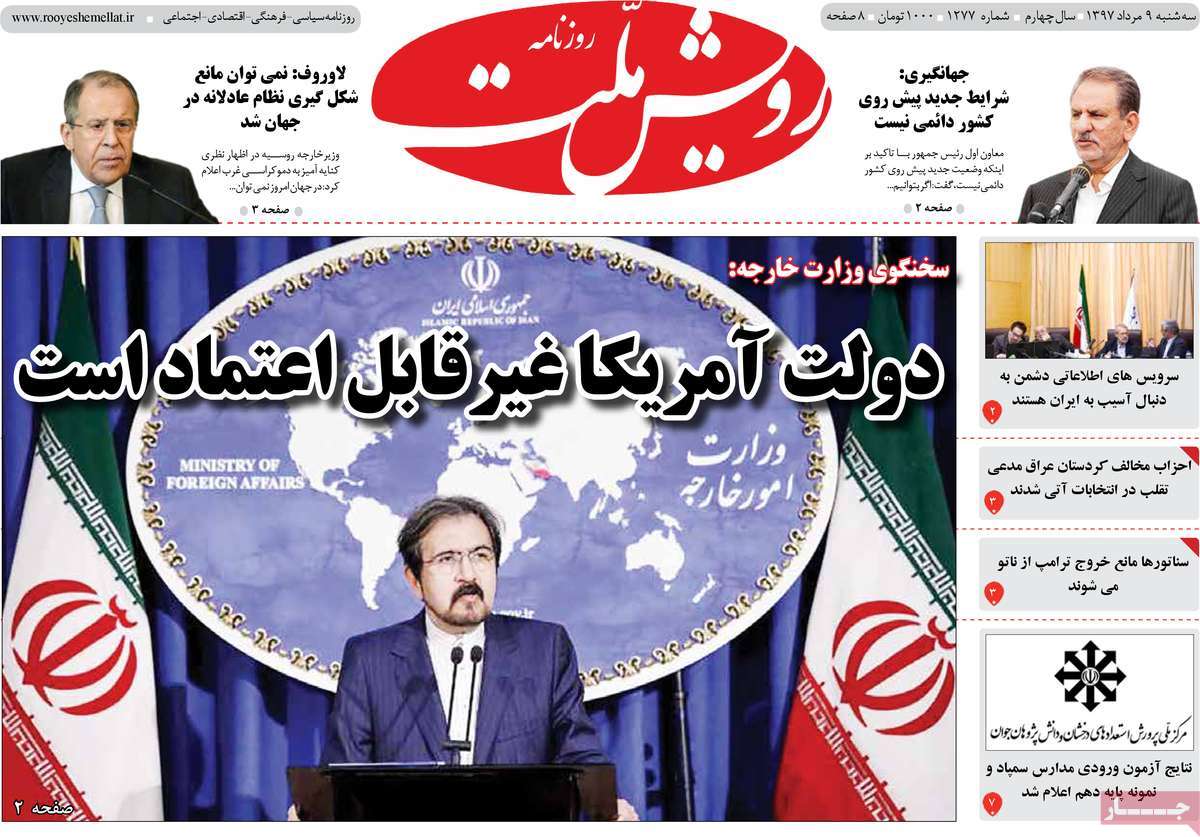 ---
Sazandegi:
1- 400,000 Iranians Poised to Immigrate
2- Trump's Scandal: Ongoing Sex Scandals against US President
---
Shahrvand:
1- One Step to Optional Military Service: MPs Propose New Bill for Professional Military Service
---
Shargh:
1- Reformist, Conservative Activists Urge Gov't to Break Its Silence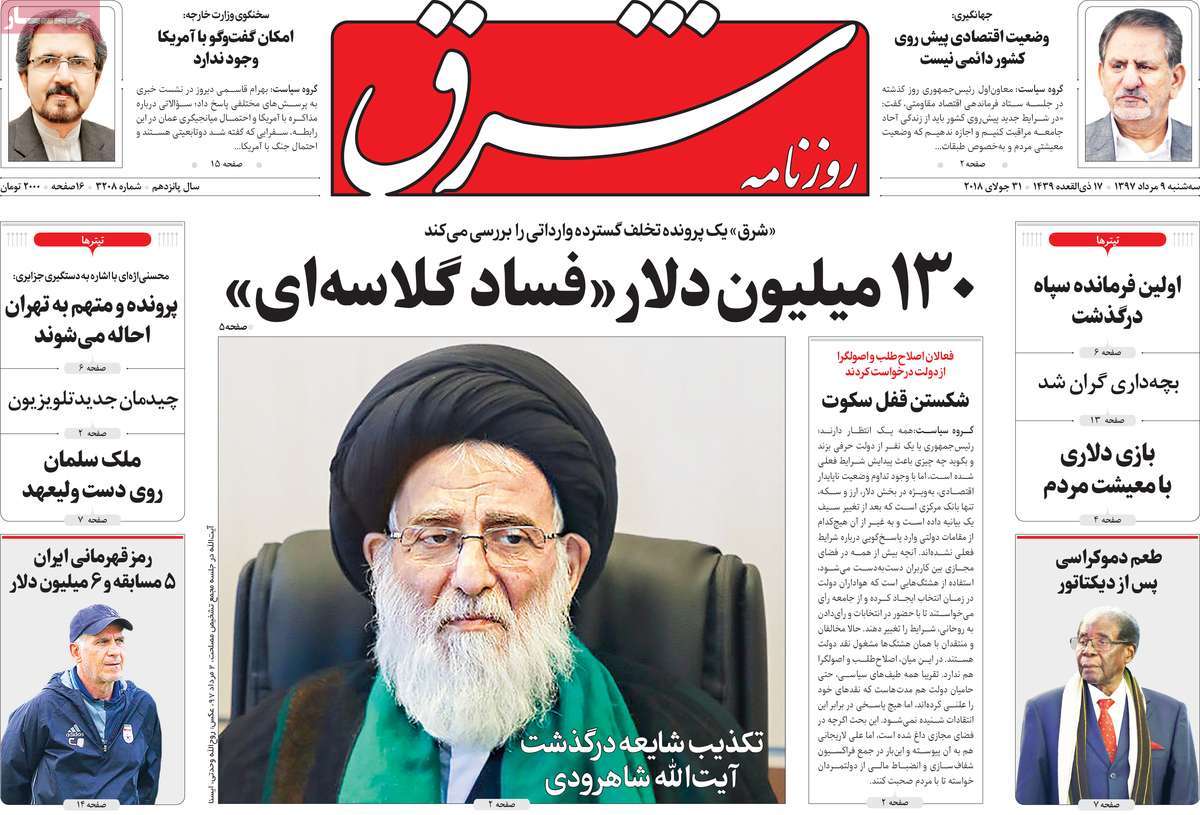 ---
Tejarat:
1- Continued Chaos in Market, Unprecedented Hike in Prices
"Take It Easy" Syndrome in Economy