Iran Front Page – IFP has taken a look at the front pages of Iranian newspapers on Sunday, July 29, 2018, and picked headlines from 16 of them. IFP has simply translated the headlines and does not vouch for their accuracy.
Newspapers today covered the latest developments in the country's foreign currency and gold coin markets as well as the US' efforts to disrupt the country's economy by putting Tehran under severe pressure.
Also a top story today was the remarks by Imran Khan, the Pakistani politician and former cricket player who is poised to become the country's next prime minister.
The above issues, as well as many more, are highlighted in the following headlines and top stories:
Abrar:
1- Even Renault Leaves Iranian Market
Renault: We'll Replace Iran with African Market
---
Aftab-e Yazd:
1- Conservative Website: Iranians Getting More and More Interested in Buying House in Turkey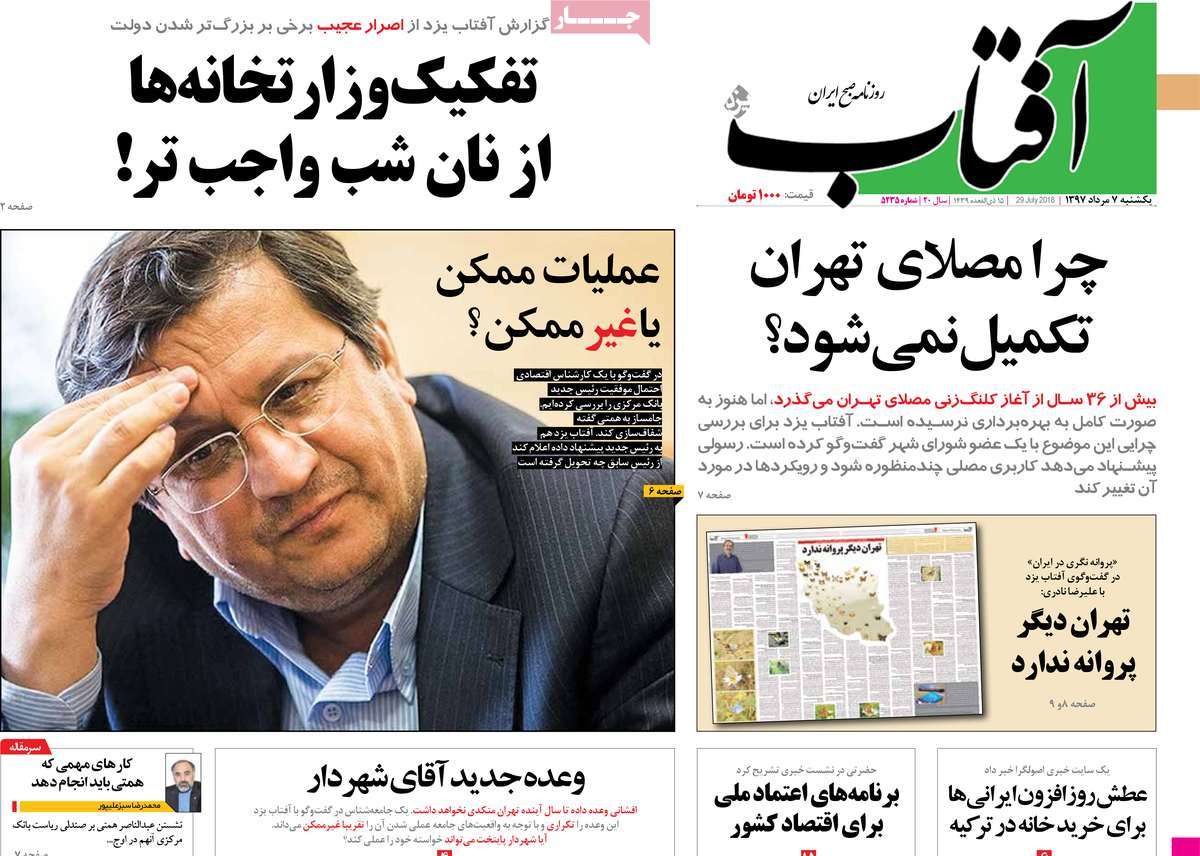 ---
Arman-e Emrooz:
1- Top Iranian Officials, Reformist Leader Khatami to Meet
First VP Jahangiri Looking for Unity among Senior Figures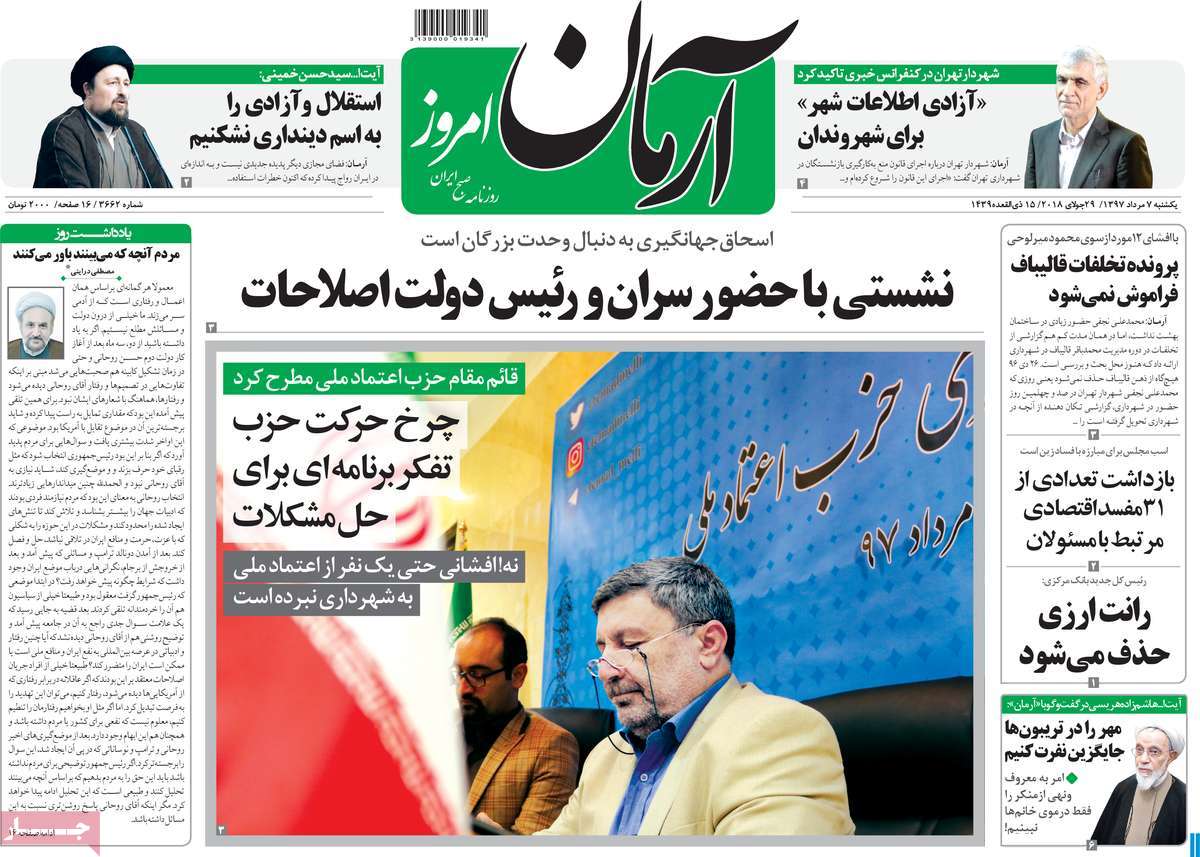 ---
Ebtekar:
1- Last Days of Syria Crisis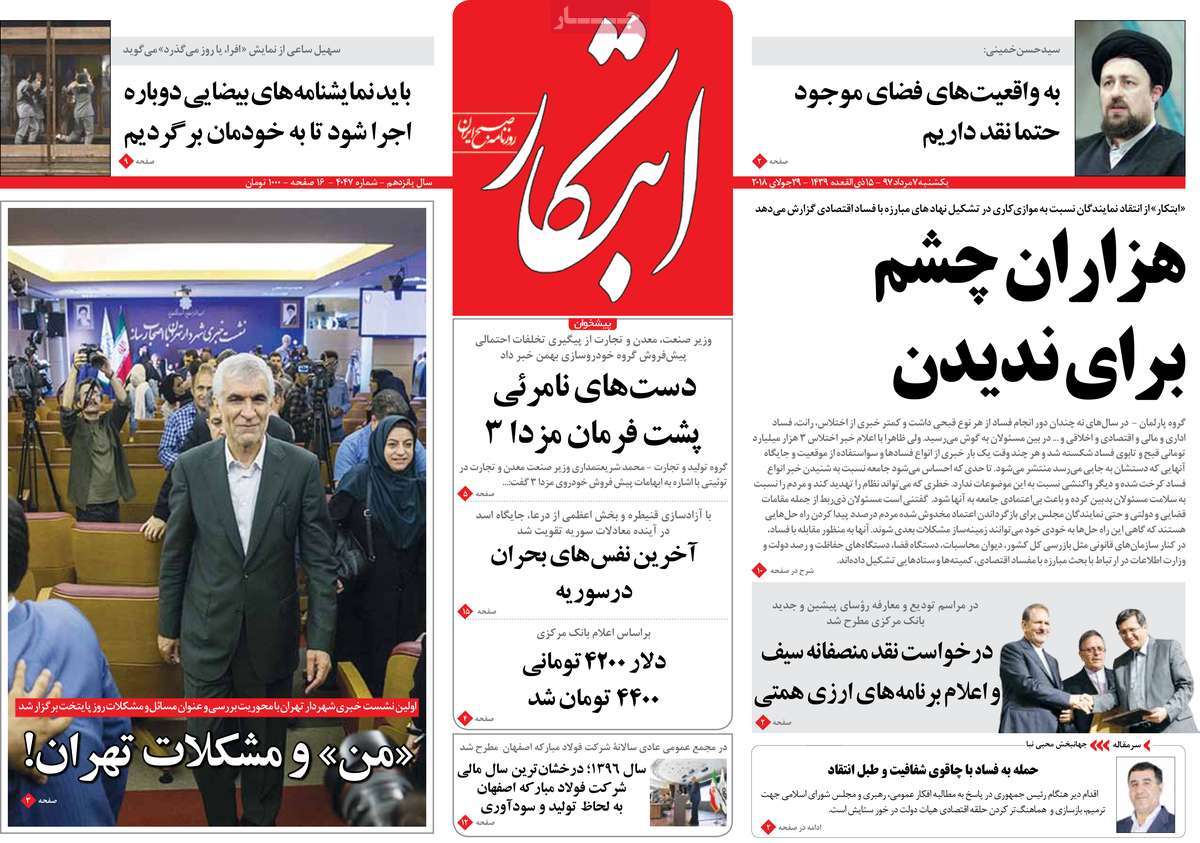 ---
Etemad:
1- Mature Opposition Figures Great Opportunity for Iran's Establishment: Analyst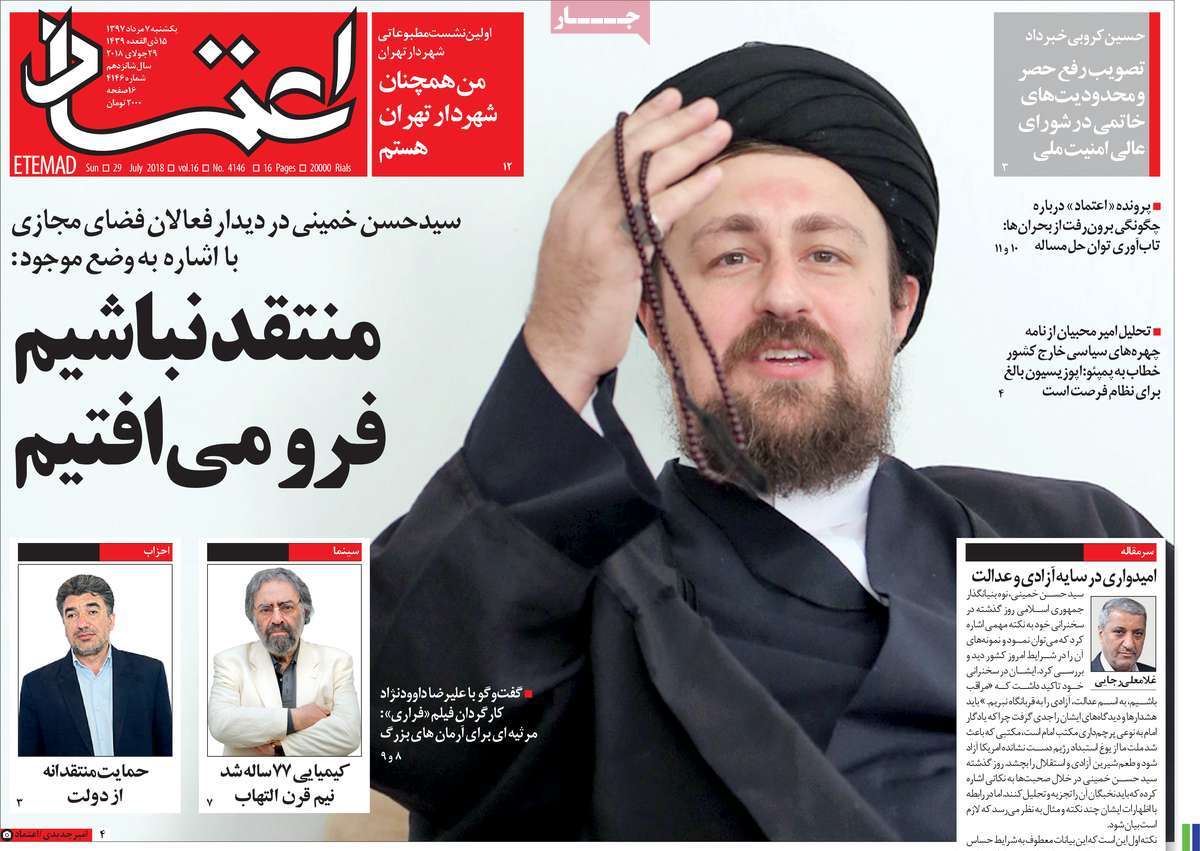 ---
Ettela'at:
1- Imran Khan: We Seek to Reinforce Our Ties with Iran, Revise Our Relations with US
---
Ghanoon:
1- Irrigating Plant of Hope Using Sea of Oman
Transferring, Desalinating Oman Sea's Water Great Strategy to Fight Water Crisis in Sistan and Baluchestan
---
Iran:
1- ICT Minister: Public Dissatisfaction, Corruption Biggest Dangers [Threatening Iran]
2- Tehran Mayor: You Won't See any Beggars in Iranian Capital Anymore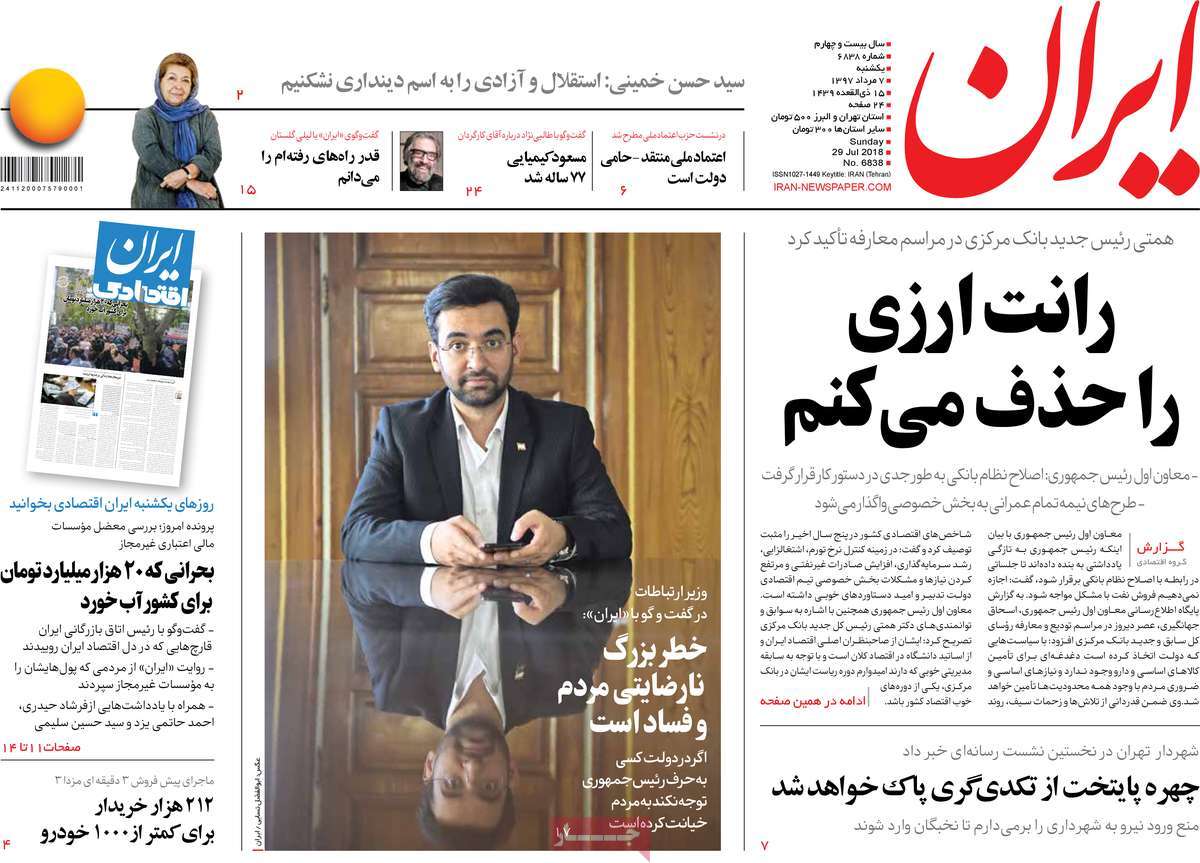 ---
Javan:
1- Top Sunni Clerics of Sistan and Baluchestan: Gen. Soleimani Manifestation of Iranians' Courage
2- Trump Seeks to Milk a Group of Arabs through Anti-Iran Coalition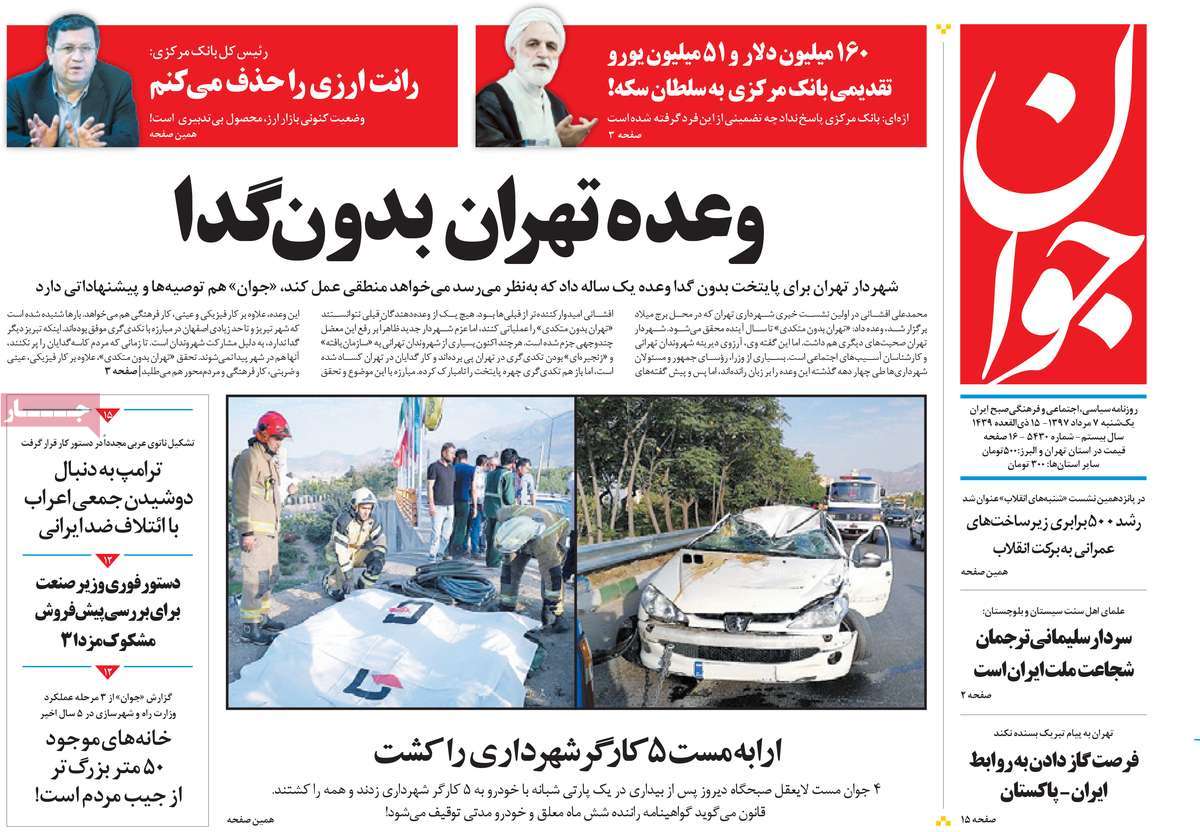 ---
Jomhouri Eslami:
1- Labour Minister: We're Faced with "Stylish Unemployed People"
A Problem Is Unemployed People Not Willing to Do Any Job
Number of These People Growing
2- ICT Minister: Iran's Global Ranking in E-Government Index Improves by 20 Position
---
Ka'enat:
1- What Are Iranian People Looking for? Iranians Spent $668 Million in Turkey in 5 Months
---
Kayhan:
1- Shadow of War Merely a Psychological War; Economic War Underway
2- Imran Khan: US Must Withdraw Its Forces from Afghanistan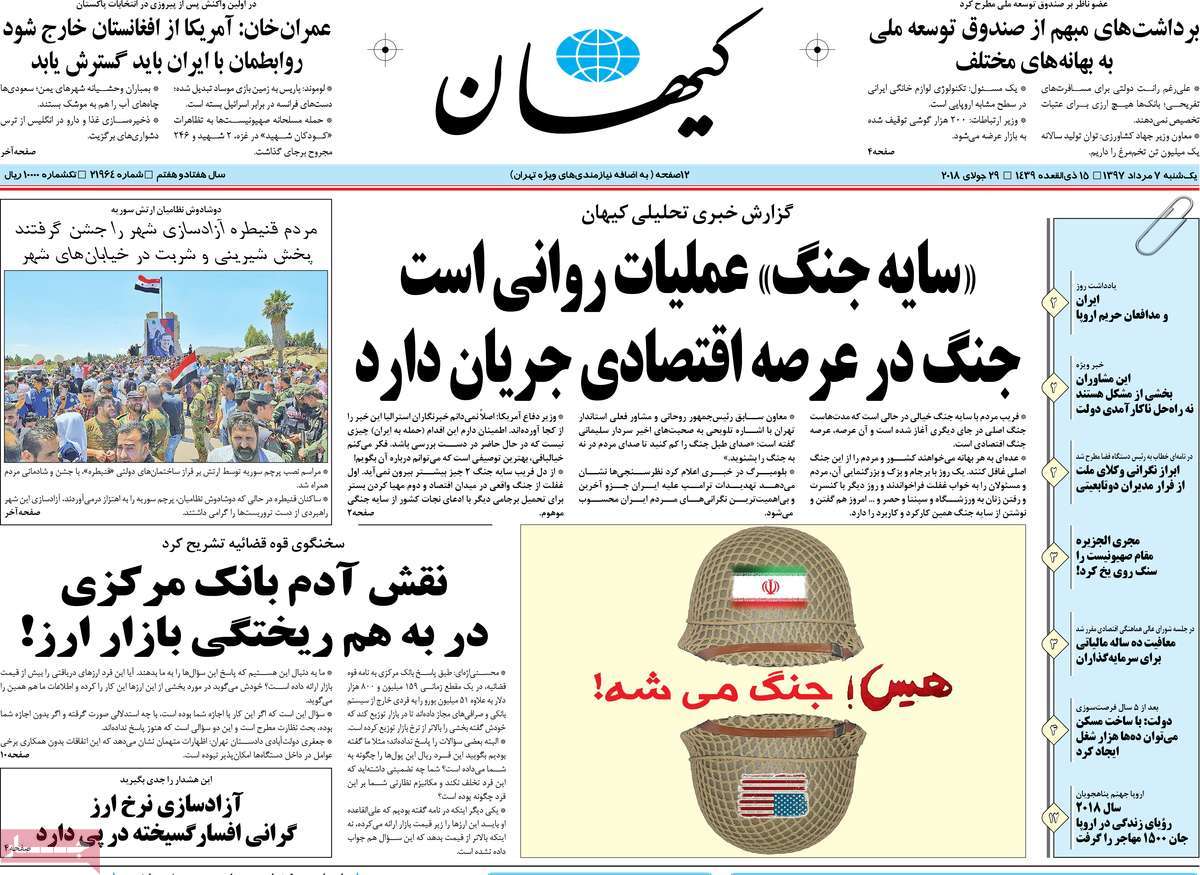 ---
Sazandegi:
1- Mahdi Karroubi's Son: SNSC Has Approved Lifting House Arrest of Opposition Leaders
---
Shahrvand:
1- Iranians Queue Up to Leave Iran! Tickets to Many Countries Sold Out in Iranian Market
2- Bloody Morning in Tehran Highway: Drunk Driver Kills Five Municipality Workers
---
Shargh:
1- Ahmadinejad: Happy Birthday Hugo Chavez! You're So Missed
2- Veteran Reformist: Reformists Are the Problem of Those Seeking Regime Change
---
Siasat-e Rooz:
1- Pakistan Army May Stage Coup