Iran Front Page – IFP has taken a look at the front pages of Iranian newspapers on Wednesday, July 25, 2018, and picked headlines from 13 of them. IFP has simply translated the headlines and does not vouch for their accuracy.
Several papers today continued to cover global reactions to the escalated war of words between Iranian and US officials, particularly President Hassan Rouhani and Donald Trump.
Also a top story was the International Court of Justice's letter to US Secretary of State Mike Pompeo, in which the ICJ urged the US not to make any new move regarding the Iran sanctions given the recent lawsuit filed by the Islamic Republic.
The imminent reshuffle in President Rouhani's cabinet amid an ongoing economic crisis in the country also received great coverage.
The above issues, as well as many more, are highlighted in the following headlines and top stories:
Aftab-e Yazd:
1- Those Seeking Regime Change in Iran United against Reformists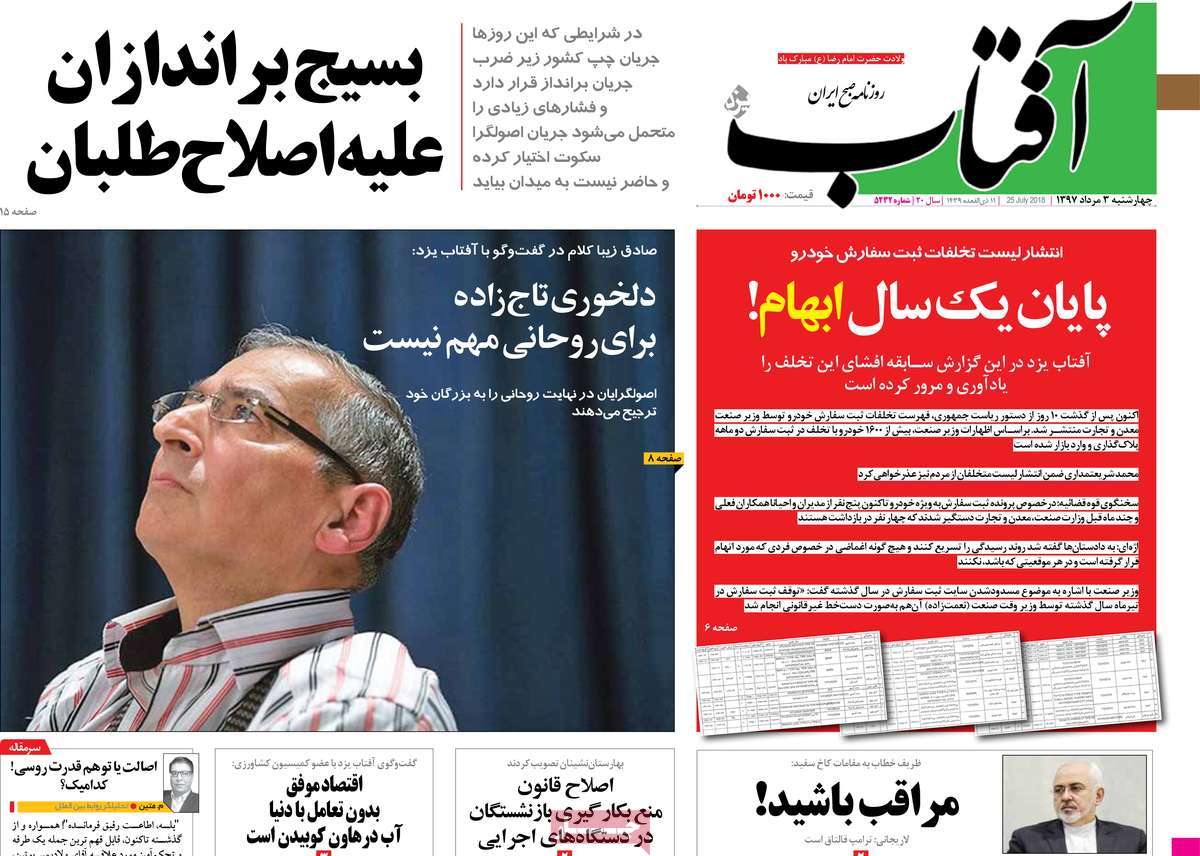 ---
Arman-e Melli:
1- Ultimatum to Those Involved in Economic Corruption
Judiciary Spokesman: Sentences Might Be Commuted If They Give Themselves Up
2- Efforts to Spread Iranophobia Doomed to Fail: Hashemi Rafsanjani
3- Trump's Nonsense Remarks Not Worth a Response: Larijani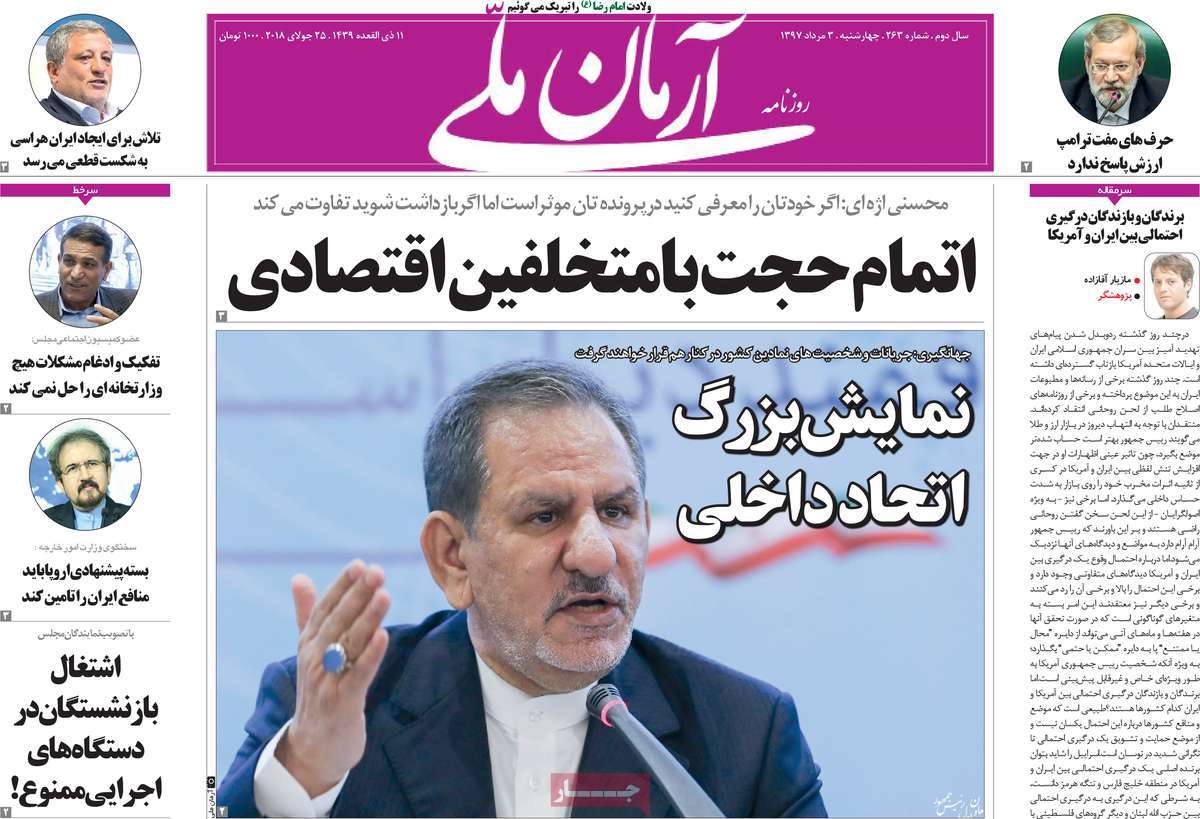 ---
Ettela'at:
1- First VP: Symbolic Figures, Movements of Iran Will Gather Together Next Week
2- New York Judge Rules Persepolis Relic Stolen from Iran Must Be Returned
3- General Principles of Bill to Support Children, Young Adults Approved in Parliament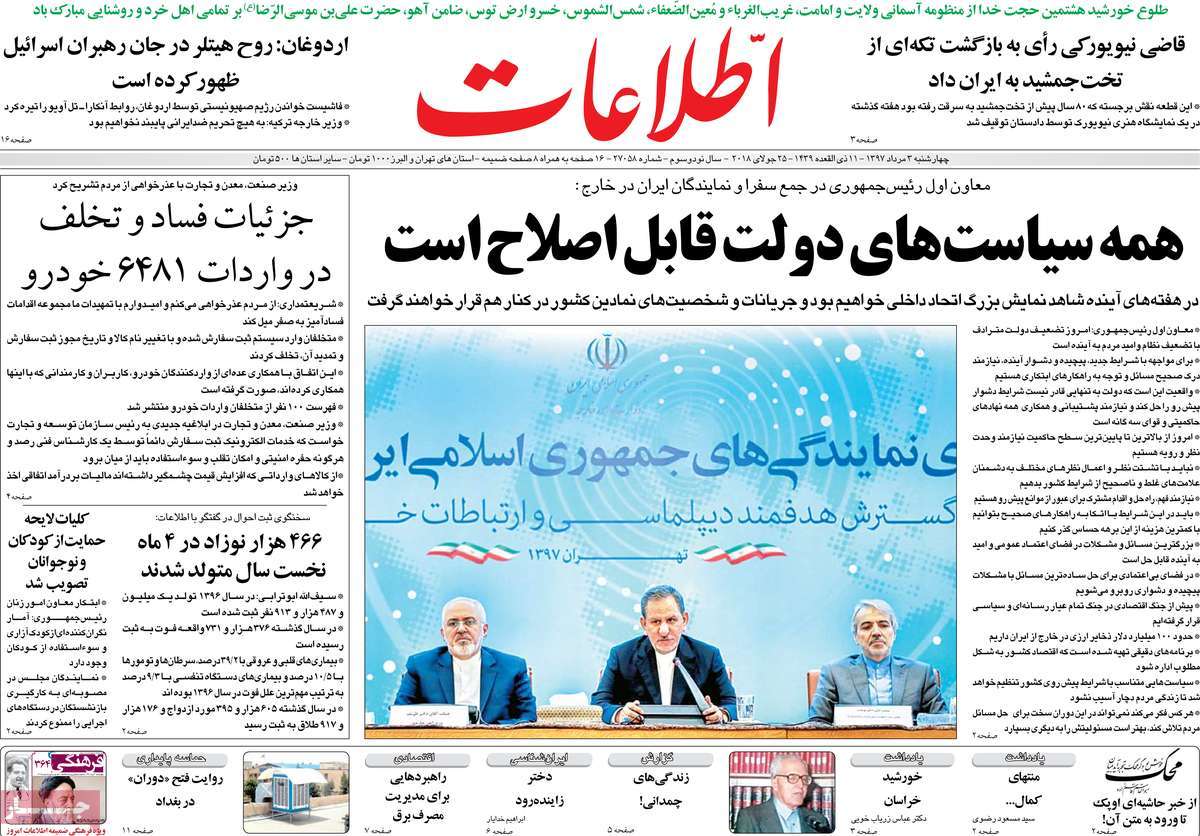 ---
Ghanoon:
1- Strait of Unity
Officials Have Realized Unity, National Solidarity Best Means to Counter Enemies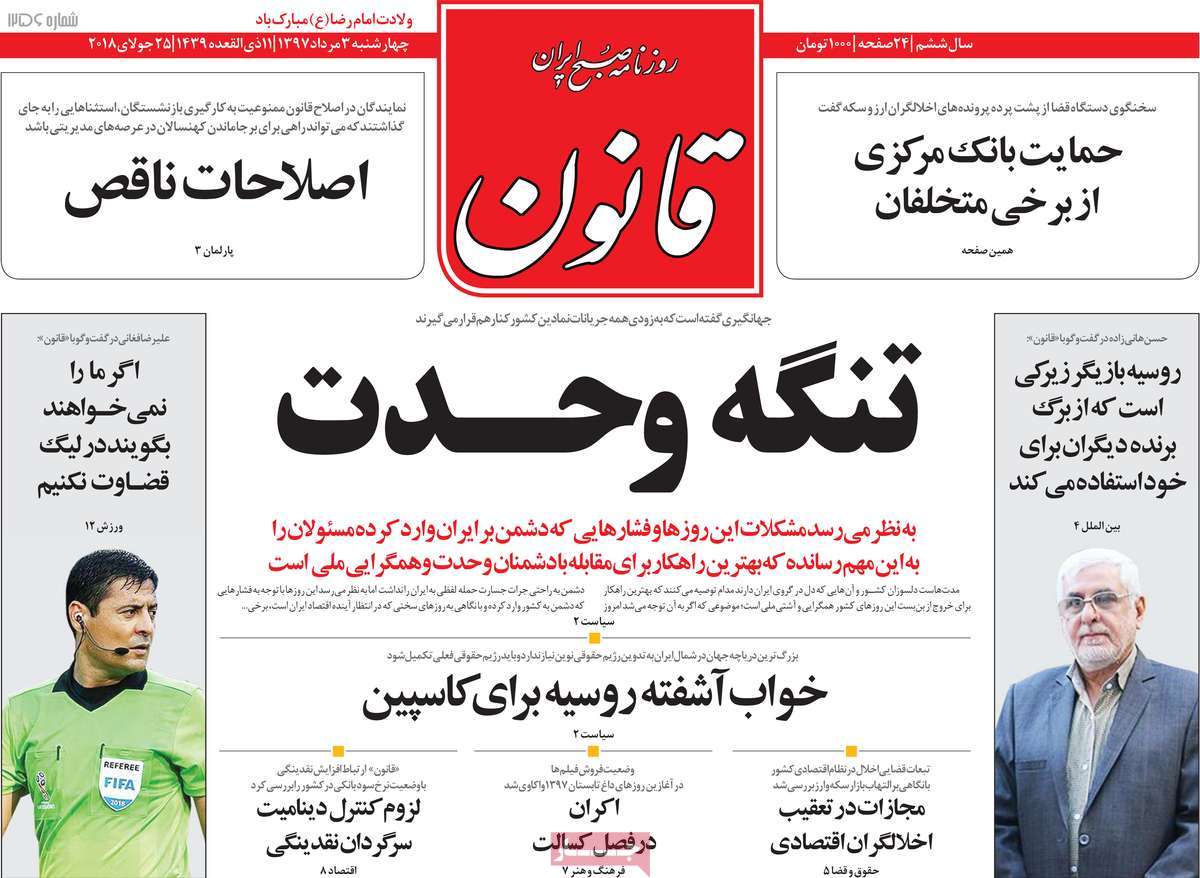 ---
Iran:
1- ICJ Accepts Iran's Complaint, Writes Unprecedented Warning Letter to US on Sanctions
2- Three Important Decisions in Parliament
Retired People Can No More Be Employed in Administrative Bodies
Maximum Time for Keeping People under Arrest Decreased
General Principles of Bill to Support Children Approved after 10 Years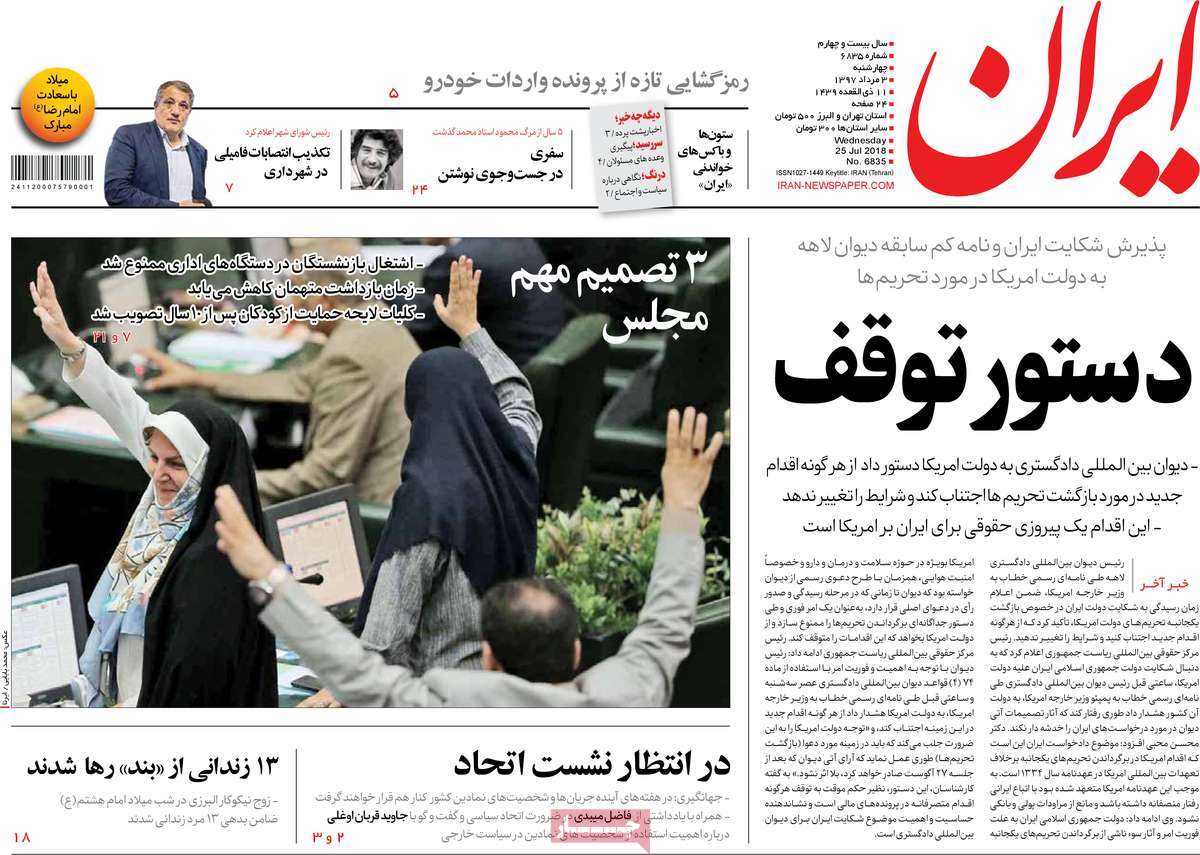 ---
Jame Jam:
1- Who Did Write Pompeo's Anti-Iran Statements?
A Review of FDD's Role in US Secretary of State's Stances
---
Javan:
1- People's Pressure Adds Transparency to Prosecution of Those Involved in Economic Corruption
2- Eastern Iran to Be Supplied with Desalinated Water of Oman Sea
3- Those Accused of Corruption in Central Bank, Trade Ministry Arrested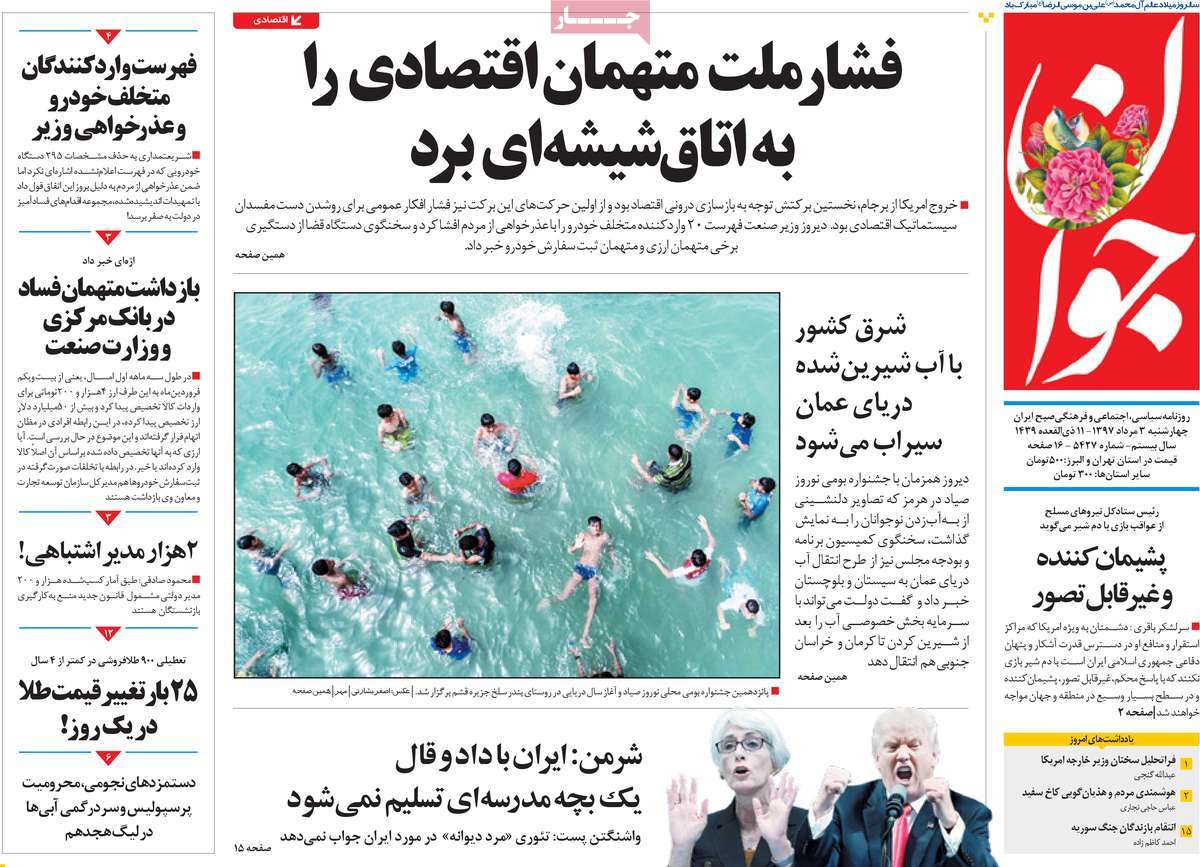 ---
Jomhouri Eslami:
1- Several People Arrested for Offences in Car, Gold Coin, Forex Markets
2- 50 Killed in Greece Wildfires
3- Yemeni Marines Carry Out Successful Operation against Saudi-Emirati Coalition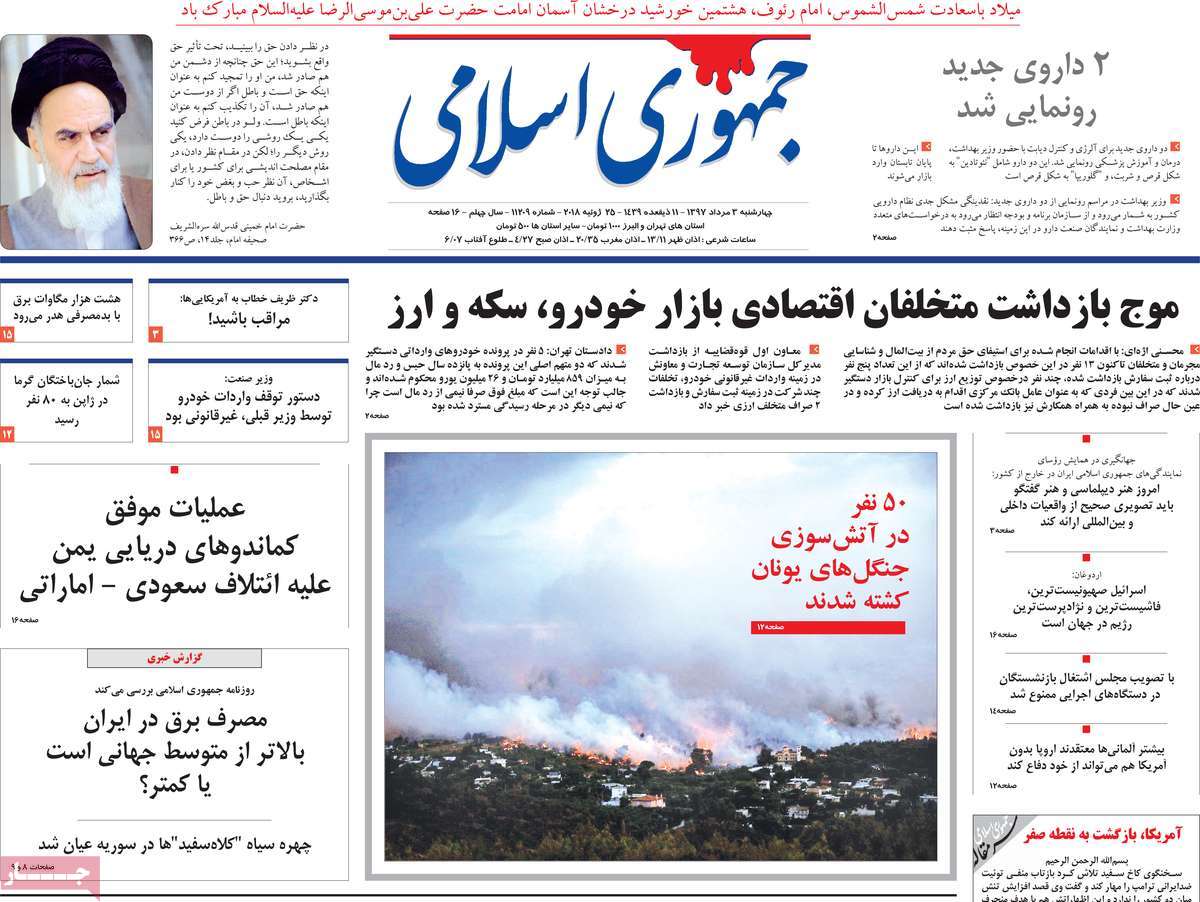 ---
Kayhan:
1- Ansarullah Spokesman to Int'l Companies: Missiles Are Coming!
Yemen Warns: Evacuate Dubai, Abu Dhabi, Riyadh
2- Haley: Global Campaign to Boycott Israel Deeply Worrying
3- Foreign Policy: Syria War Over, US Defeated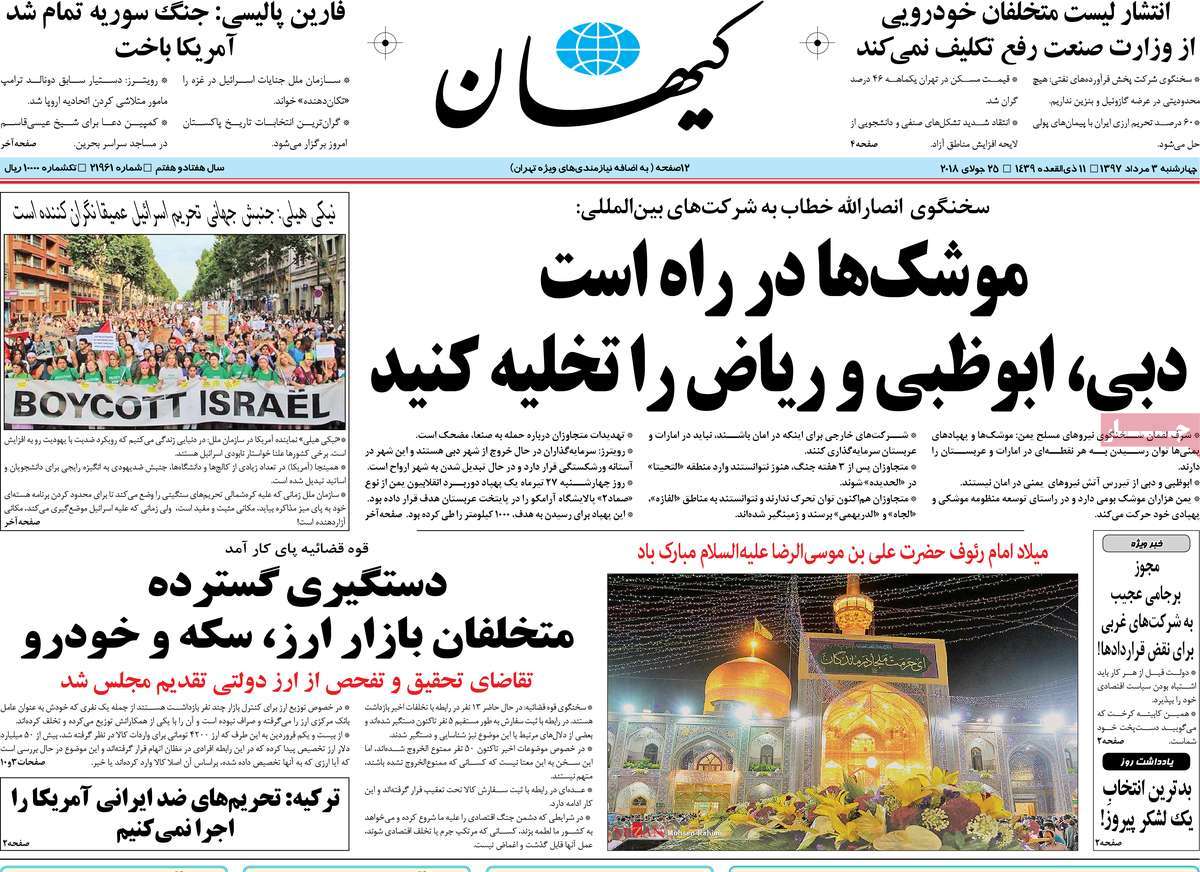 ---
Sazandegi:
1- Cabinet Reshuffle: Nobakht to Leave Rouhani's Government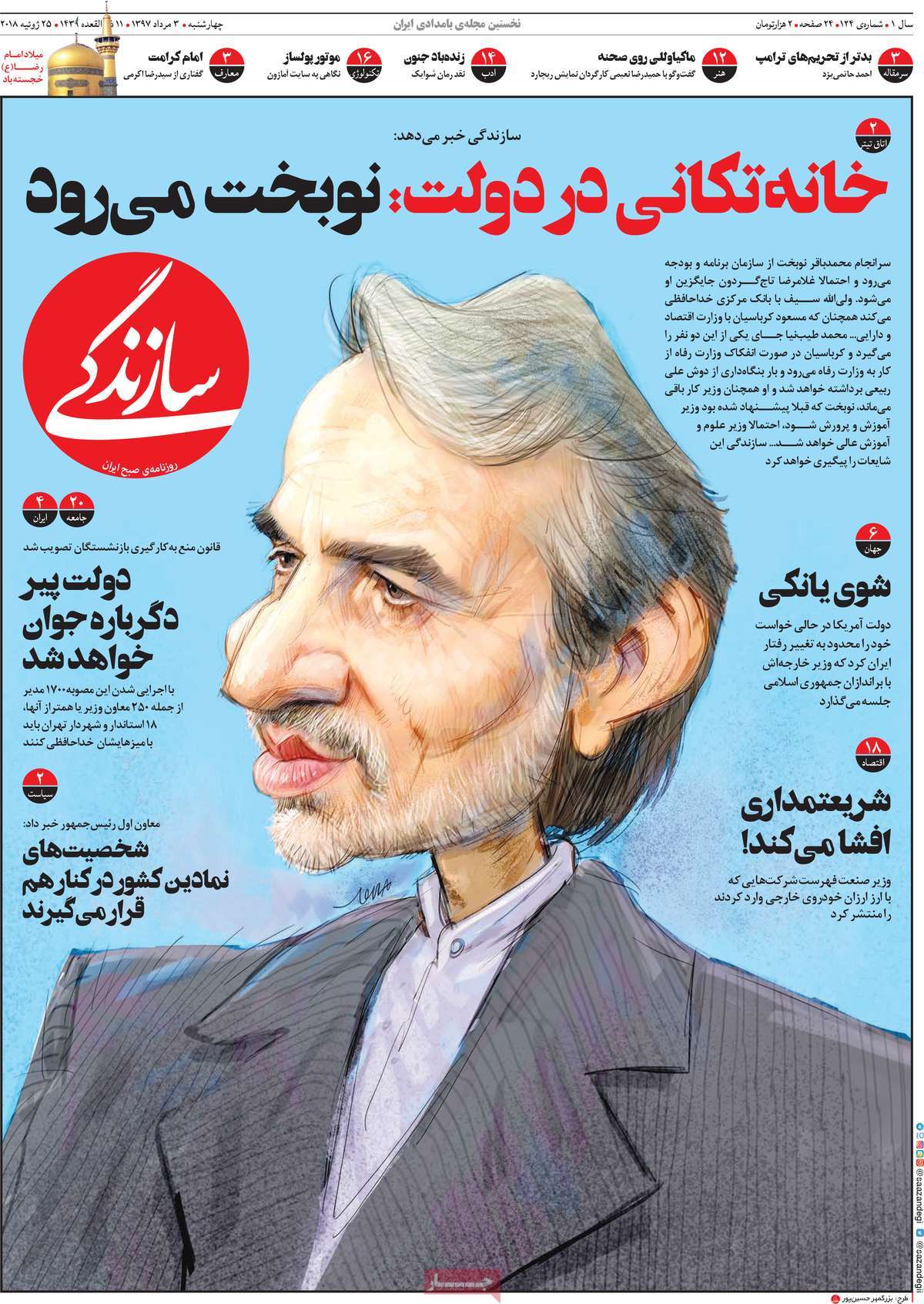 ---
Shahrvand:
1- Duel behind Tribune: Continued Reactions to Trump's Controversial, Hostile Tweet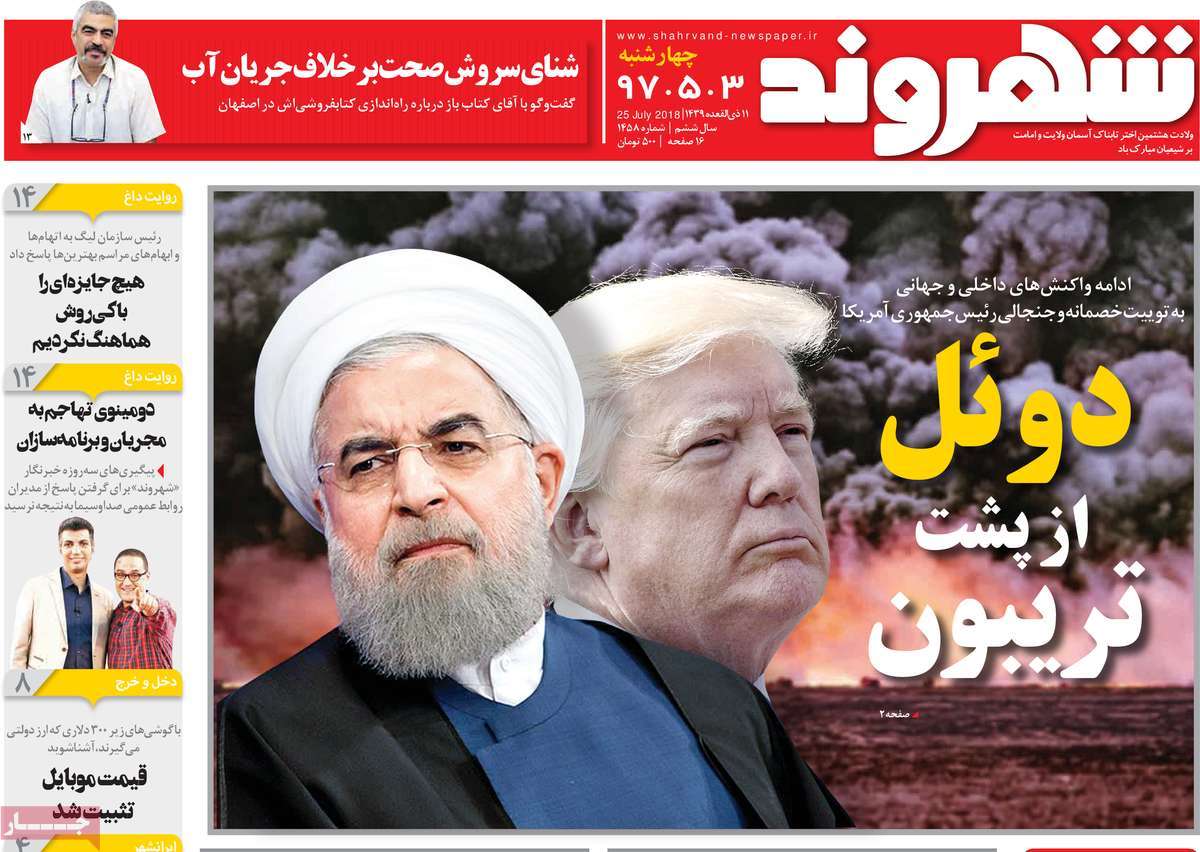 ---
Shargh:
1- ICJ Urges US Not to Make Any New Move on Iran
2- Industry Minister Apologizes over Offences in Car Imports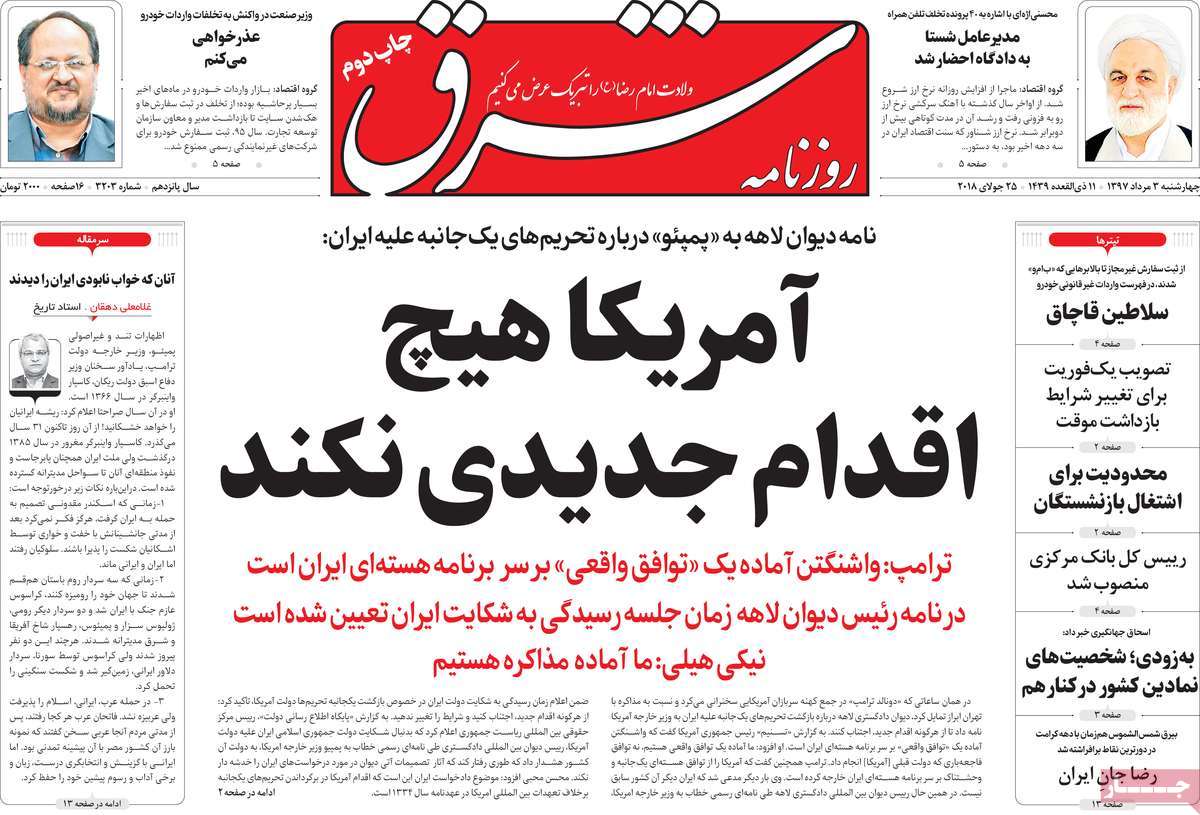 ---
Tamashagaran:
1- Referee of Iran-Portugal World Cup Match Says He Had Been Asked to Take Portugal's Side
2- 29,000 Iranians Visit Bulgaria, 1,000 Bulgarians Visit Iran