MNA – Nikki Haley, US Ambassador to UN, retweeted a post from a notorious terrorist group whose members are known inside Iran as double-faced traitors.
Nikki Haley, United States Ambassador to the United Nations, retweeted a post from MEK terrorist group to prove that she is a jingoist and war-mongering woman like the ringleader of the terror cult, Maryam Rajavi, an Iranian journalist wrote on Monday.
Her blatant support for a terrorist group, whose members are deeply hated by masses of people in Iran, sparked anger among Iranian netizens who did not expect such a rude move by a woman who was speculated to be very close to acquiring the position of the US Secretary of State.
Her history of support for anti-Iranian sanctions and criticism against other countries who backed Iran came once again under the spotlight and some journalists and internet users compared her with Maryam Rajavi, the ringleader of the terrorist Mujahedin Khalq Organization (MKO).
Some other Iranian social media activists have said while Nikki Haley might have never explicitly expressed her opinion about the MKO, her last night move in retweeting a post of MKO demonstrated her support for the Marxist terror cult.
But Nikki Haley is not the first American official who voiced support for the terrorist Mujahedin Khalq Organization as before her US President Donald Trump's lawyer Rudy Giuliani and Trump's third national security adviser John Bolton had explicitly exhibited their support for the hated cult.
A twitter account affiliated with MKO had posted earlier on July 19, "US Ambassador to the UN Nikki Haley emphasizes how #Iran's "horrendous" regime faced massive protests in the Dec/Jan period. And yet the UN Human Rights Council remained silent."
Now that Nikki Haley has retweeted the post, Iranian users of Twitter are angry with blatant expression of support for a terrorist group which is responsible for the deaths of thousands of innocent civilians in Iran.
Some also have said that while the American officials used to support the terrorist group secretly, now they are publicly announcing their support for them.
Here come some of the tweets posted by Iranian users:
US Government is shamelessly supporting a terrorist group, MEK, who stood against their own fellows in 8 years of the imposed war against Iran (and actually the whole western world, who was supporting her) #StopMeddlingInIran SHAME ON U Nikki Haley.
The American government is the single most enduring threat to stability and peace in the world. It's governed by those cartels benefit from Syriazation of other countries. Their new target is Iran. But we, Iranians, won't let it happen! #StopMeddlingInIran
Trump and Pompeo say they support the Iranian people! But they have implemented several policies negatively impacting all Iranians. Iranians worldwide are raising their voice against Trump's Iran policy using the hashtag #StopMeddlingInIran on twitter.
Let's review Trump's actions to judge Pompeo's empty words about supporting Iranian people: Trump imposed a travel ban on Iranians. Against the advice of experts +US allies, he violated the Iran nuclear deal & reinstated sanctions hurting the people of Iran. #StopMeddlingInIran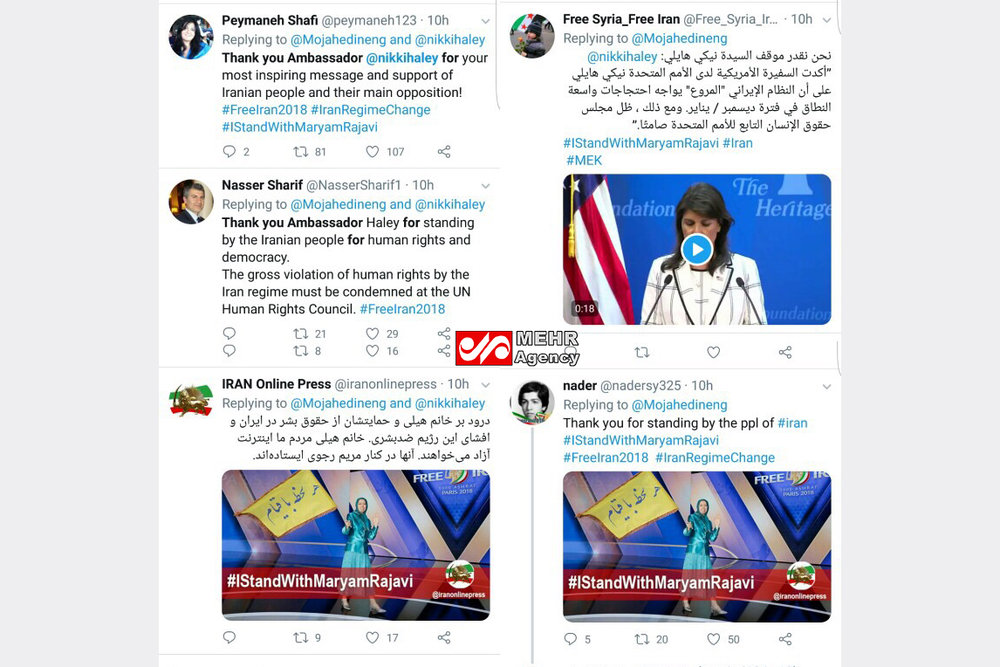 Even a journalist who writes for UK's the Guardian reacted to this move of Nikki Haley, posting "Embarrassing for a sitting US official @nikkihaley to be retweeting the MEK cult".
On the other hand, a squad of fake accounts with no identity started a robotic campaign of support for Nicky Haley's remarks. The interesting irony of the tory was that the so-called Iranian users who pretended to be supporting Nikki Haley were users with no identifiable name and background who used hashtags spread by MEK cult to frame as if Iranian people support Maryam Rajavi.
These robotic users were trying to win credit for domestic protests over the past few months inside Iran as a result of the secret activities of the Mojahedin Khalq terror organization, and called on US officials to levy more sanctions on Iranian people.
They all used the same message, "Thank you Ambassador @nikkihaley for your most inspiring message and support of Iranian people and their main opposition!
The MKO has a dark history of assassinations and bombings against the Iranian government and nation. It notoriously sided with former Iraqi dictator Saddam Hussein in his eight-year war against Iran in the 1980s.
Out of the nearly 17,000 Iranians killed in terrorist assaults since the victory of Iran's 1979 Islamic Revolution, about 12,000 have fallen victim to MKO's acts of terror.
The terrorist group also helped Saddam in his brutal crackdown on his opponents.
The MKO was once listed as a terrorist organisation in the US and Europe and is still widely viewed as a Marxist cult built around the personality of its leader, Maryam Rajavi.
Some of its uncouth practices include forcing the group's male members to divorce their wives and have them married to Rajavi's husband Massoud.
The terrorist group is also known for its extremely suppressive control over members in its camps where access to the Internet and other information sources is prohibited.