Iran Front Page – IFP has taken a look at the front pages of Iranian newspapers on Monday, July 16, 2018, and picked headlines from 22 of them. IFP has simply translated the headlines and does not vouch for their accuracy.
All papers today covered the remarks made by the Leader of Iran's Islamic Revolution Ayatollah Seyyed Ali Khamenei in a meeting with President Hassan Rouhani and his cabinet members.
Also a top story was the championship of the French national team in the FIFA World Cup 2018. The 'Roosters' managed to claim the title after 20 years by defeating Croatia in Moscow.
The Monday meeting between US President Donald Trump and his Russian counterpart Vladimir Putin in Helsinki, Finland, also received great coverage.
The above issues, as well as many more, are highlighted in the following headlines and top stories:
19 Dey:
1- Iran Leader Urges Government to Work Strongly
2- Zarif on Third Anniversary of JCPOA: Nuclear Deal Still Triumph of Multilateral Diplomacy
---
Abrar:
1- Iran Leader: Roadmap Needs to Be Devised for the Country's Economy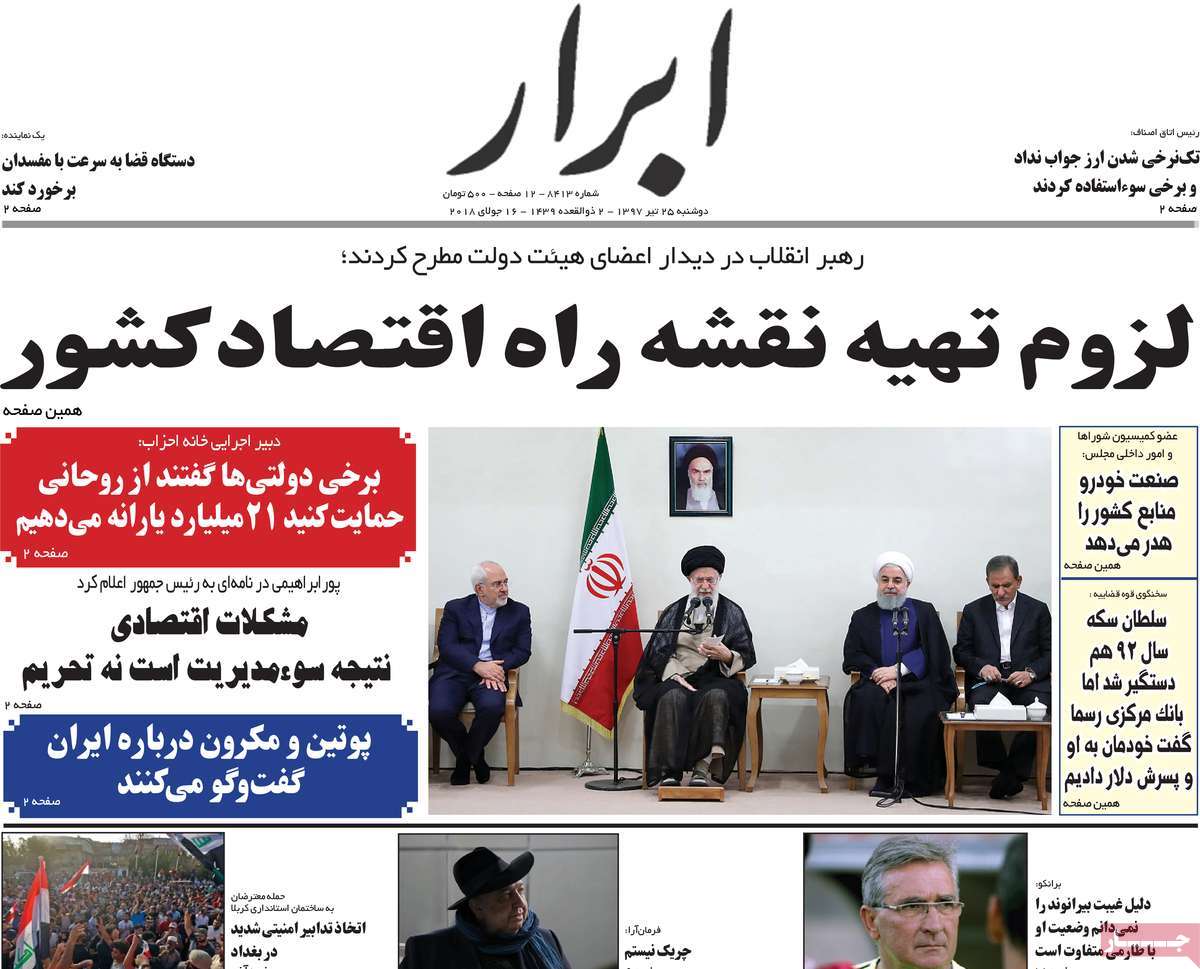 ---
Abrar-e Eqtesadi:
1- 90 MPs Call for Impeachment of Economy Minister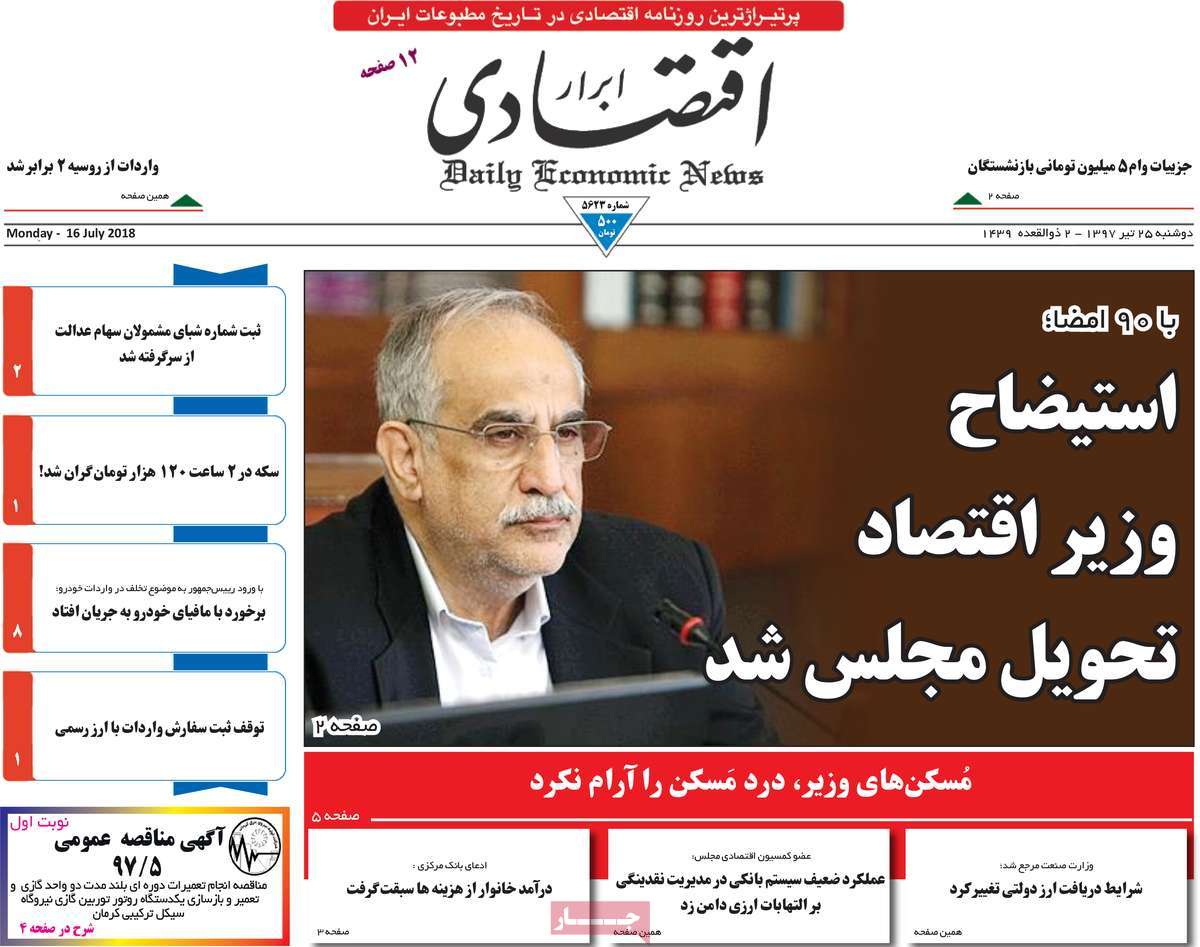 ---
Afkar:
1- Iran Leader: Ties with Both East, West Must Be Reinforced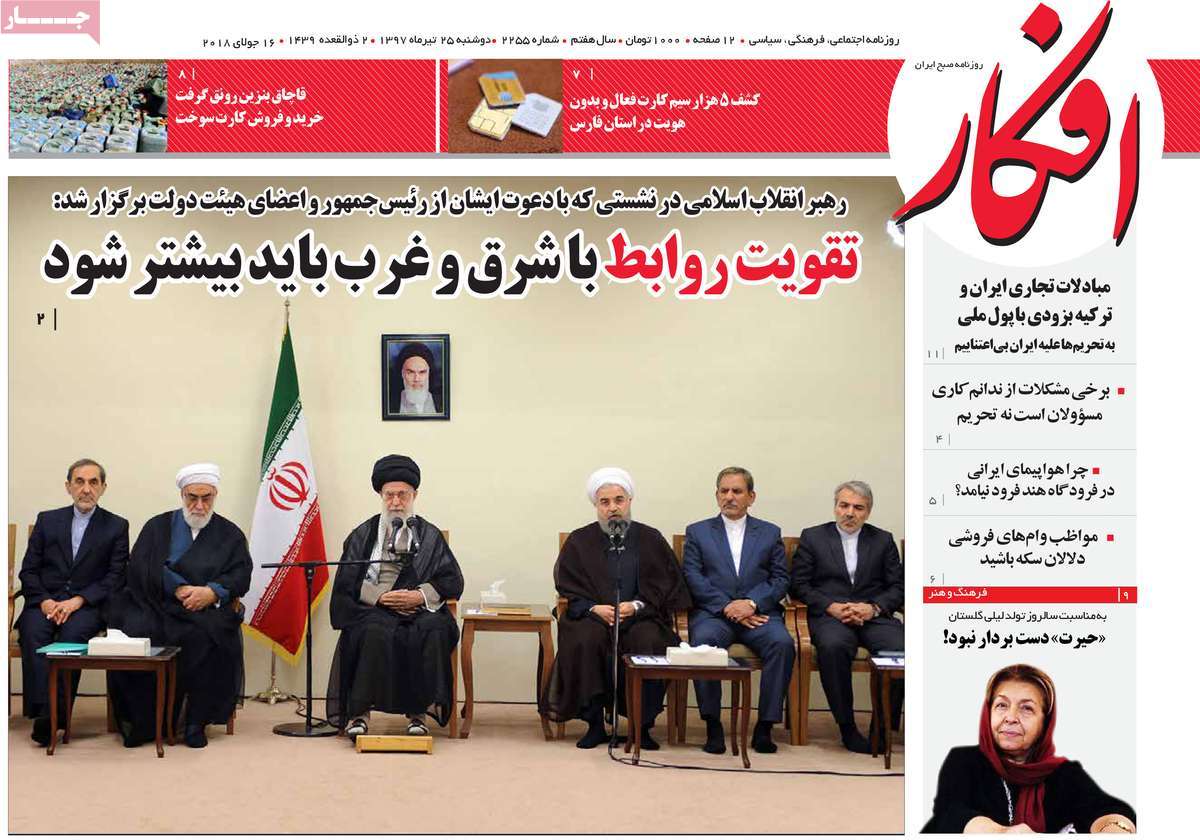 ---
Aftab-e Yazd:
1- Father-in-Law of Rouhani's Son: President Goes Home Once in Every 3 Nights
2- French Roosters Claim FIFA World Cup Title
---
Arman-e Emrooz:
1- Lucky Roosters: France Wins World Cup after 20 Years
---
Ebtekar:
1- Iran Leader: People Must Feel Happy, Calm
2- No Brexit? UK Government Warns about Exiting EU amid Trump's Remarks in London
3- Tsar and Businessman to Discuss a Deal in Helsinki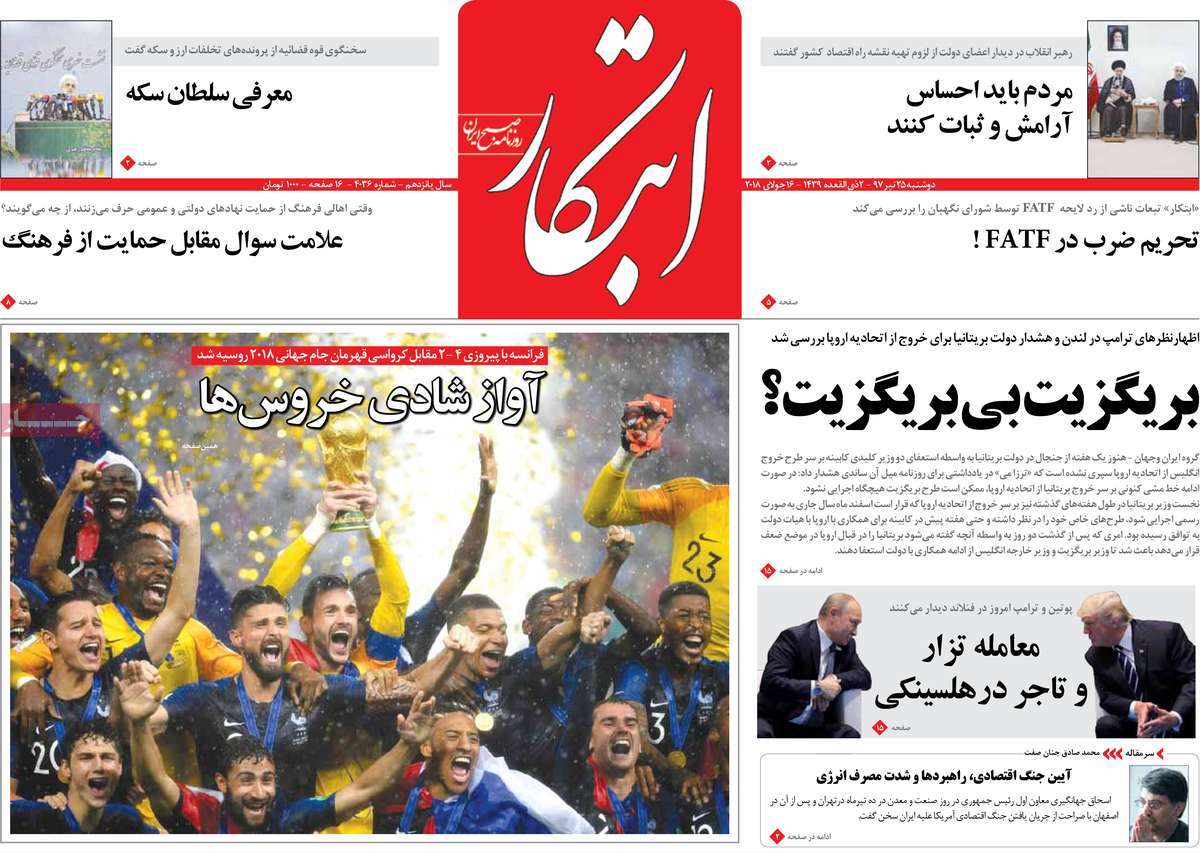 ---
Etemad:
1- French Night: FIFA World Cup 2018 Over
---
Ettela'at:
1- Iranian Karate Players Win Asian Title
2- Trump: EU Is Enemy of US
---
Haft-e Sobh:
1- A Cheap Final: Own Goal, Suspicious Penalty, Goalkeepers' Mistakes, Jimmy Jumps, Six Goals
---
Hamshahri:
1- Forced Migration of Southerners to North
Mazandaran Province in Northern Iran Receiving Highest Number of Domestic Immigrants
People Migrating to North over Worsening Water Crisis
---
Hemayat:
1- Leader: Iranian Economy Shouldn't Be Stalled until Europeans Take Action
---
Iran:
1- Government Can Do It: Leader
Ayatollah Khamenei: I Seriously Believe Government Can Overcome Woes If It Takes Required Measures
Rouhani: I'll Do My Best
---
Javan:
1- Zarif: I Knew US Cannot Be Trusted
Only Zarif Remembered It Was Anniversary of JCPOA
---
Jomhouri Eslami:
1- Iran Leader: Rouhani's Stances in Europe Strong; Fight Corruption Decisively
---
Kayhan:
1- Iran Leader: Those Violating the Law Must Be Countered at Any Level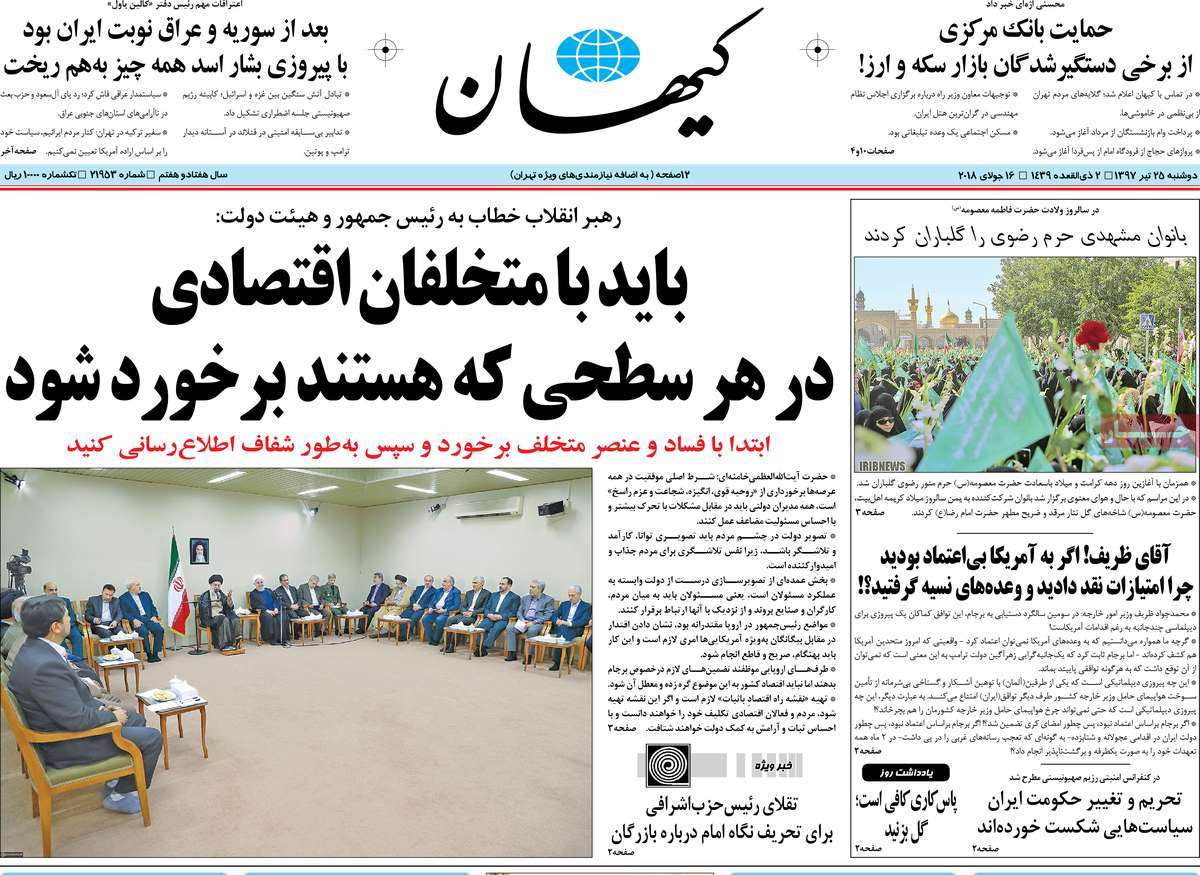 ---
Quds:
1- Persian Qanats to Be Revived
Iran to Revive Ancient Tradition of Using Qanat for Water Extraction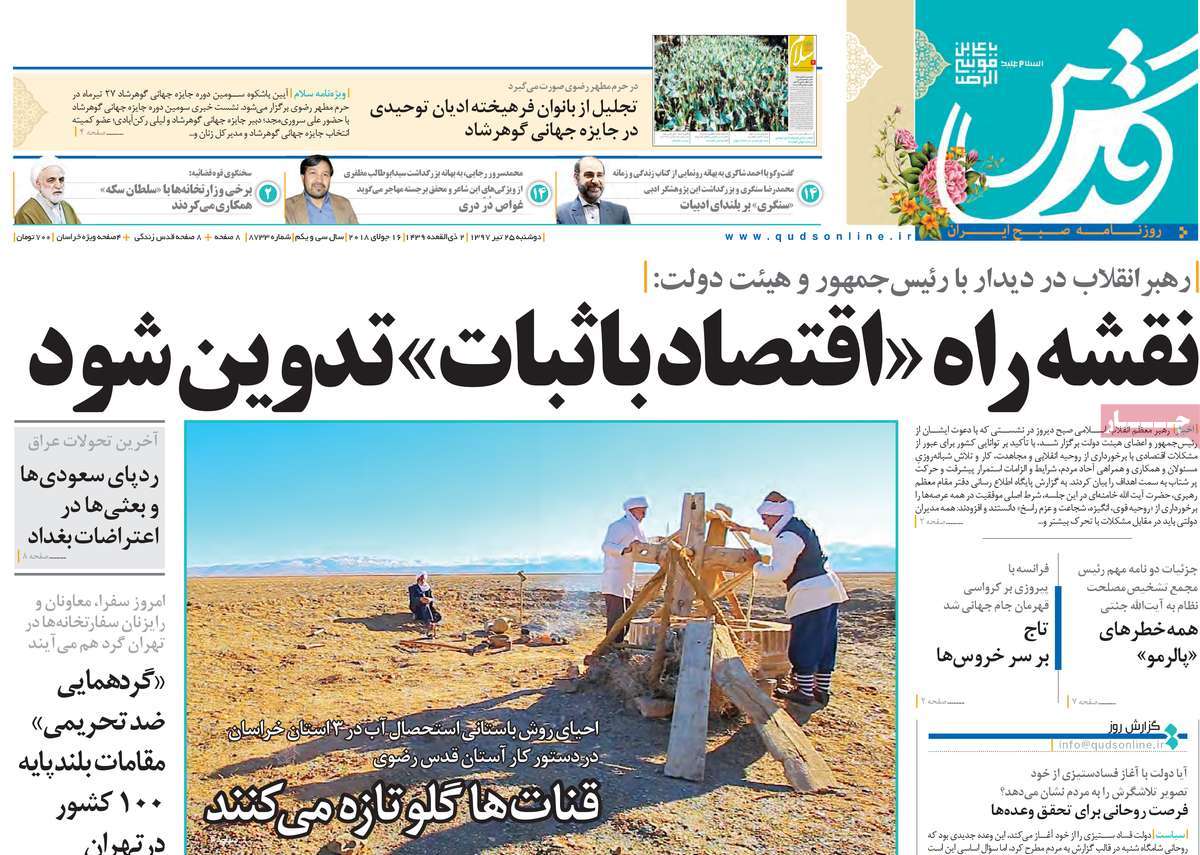 ---
Sazandegi:
1- Conquering Moscow in Summer
Napoleon's Children Celebrate Victory in Moscow after 200 Years
---
Sepid:
1- Gov't Not to Charge Anything for Expensive Drugs of Patients Who Had Kidney Transplant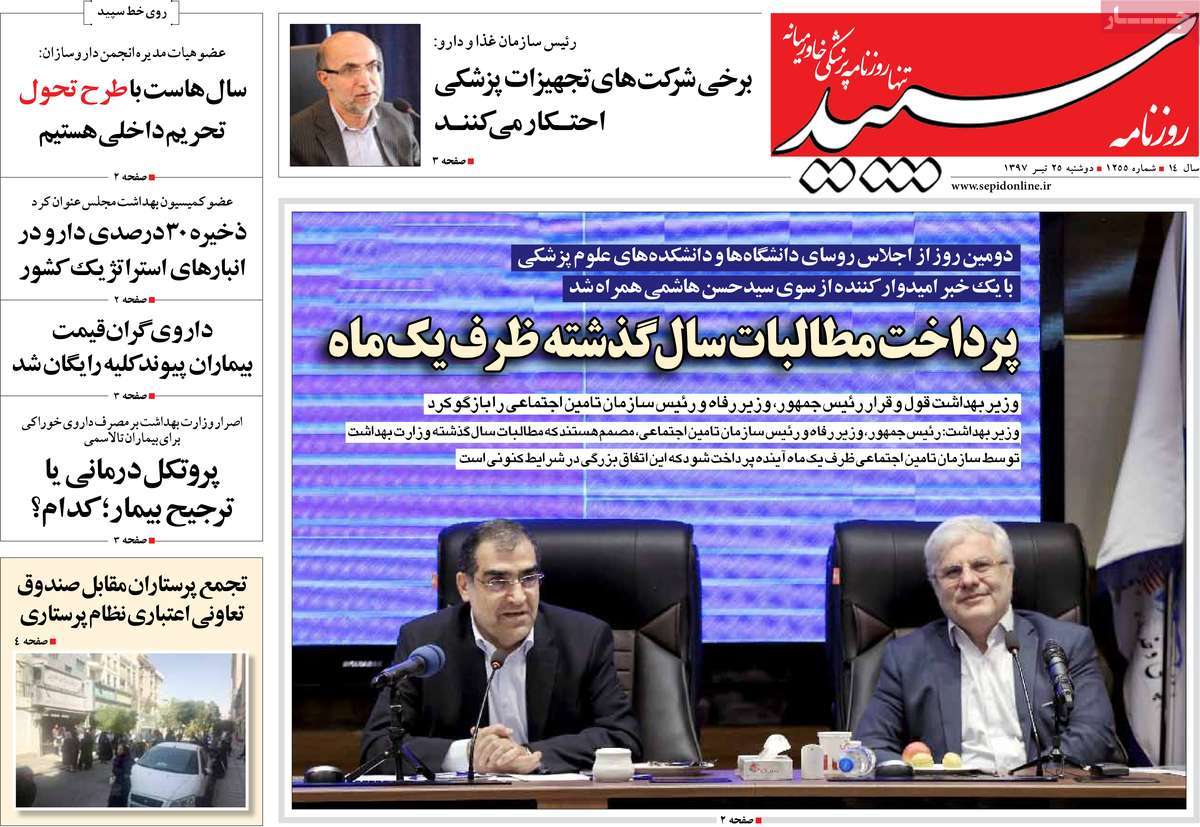 ---
Setareh Sobh:
1- Trump before Meeting Putin: It's Good to Get Along with Russia, China; It's Not Bad!
---
Shahrvand:
1- Rouhani Orders Sports Minister to Continue Allowing Women to Go to Stadiums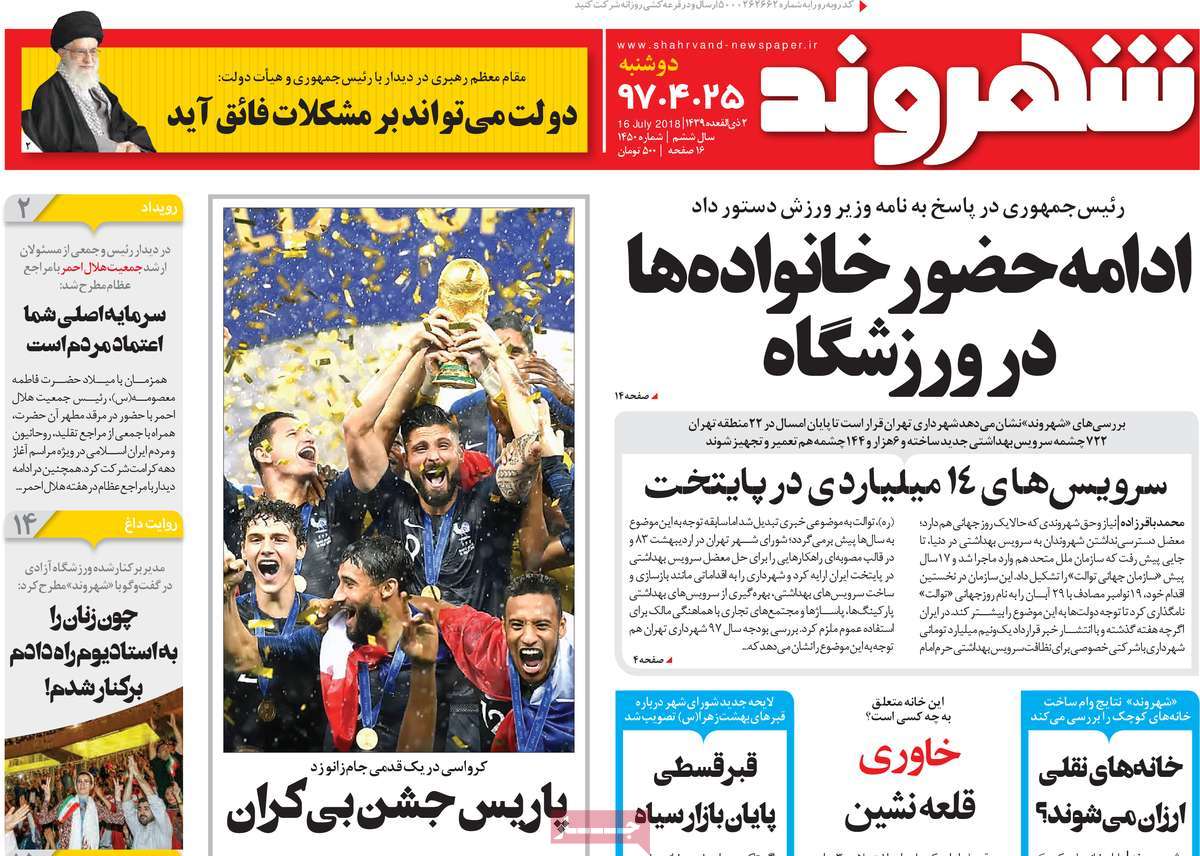 ---
Shargh:
1- Bonapartes Conquer Moscow
2- Turkish Ambassador to Tehran: We'll Try to Minimize Impacts of US Sanctions on Iran