Sputnik– Fans, including women, watched Iran's recent clash against Spain at Tehran's biggest stadium, Azadi, which saw a large display set up to provide better viewing for football enthusiasts.
According to the Egyptian daily Al-Ahram, Iranian women have been allowed to cheer on their World Cup 2018 national team from the stands for the first time since 1979.
Roughly 10,000 football enthusiasts bought tickets to the iconic sports arena Azadi, which cost 2 euros each. Separately, a large number of female Iranian fans travelled all the way to Russia to witness the FIFA World Cup with their own eyes, with many Twitter users sharing their pictures:
Big moment in Iran tonight as Iranian women were finally allowed to enter the national stadium to watch tonight's Iran-Spain game on a giant screen
OpenStadiums
✔@openStadiums
Women/families finally entered to Azadi stadium after 37 years of ban, to watch #IRNESP on screen.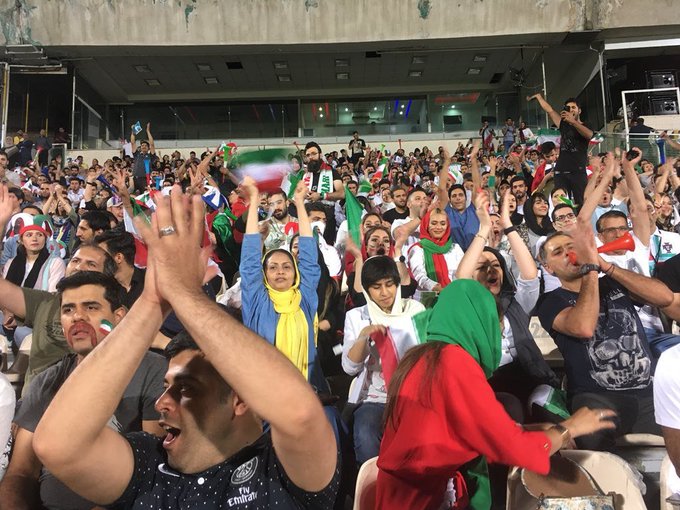 Women in Iran are forbidden from watching football matches in stadiums. The women in this pic have just touched down in Russia from Iran – and for the first time will watch their national team in a stadium #WorldCup2018
HUGE day today in Iran as women were allowed to watch soccer in public after 37 years

Iran lost to Spain in the World Cup with women watching from Azadi Stadium, which broadcast the game live

I love seeing football break down barriers and promote equality.
I loved seeing all the free women of Iran in Russia watching the football. They were free and they were happy. Beautiful sight.
Notably, women were not allowed to attend the live broadcast of the previous match against Morocco, which took place on June 15; instead, female fans had to go to the cinema to see it. In wake of the national team's triumph, fans took to the streets to celebrate, which essentially propelled the city administration to allow women to watch the subsequent match at the stadium.
On June 20, Spain defeated Iran 1:0 in Kazan, with Spain's forward Diego Costa netting the ball and thereby gaining the title of the man of the match.
The 2018 FIFA World Cup Finals kicked off on June 14 and will continue all the way to July 15, with matches being played across 11 Russian cities, from Russia's westernmost city of Kaliningrad to Sochi in the country's south.
Iranian women were last allowed to cheer in stadiums alongside men before the Iranian Revolution of 1978-1979, which saw the overthrow of the 2,500-year-old Persian monarchy, deposing Mohammad Reza Shah Pahlavi.