Iran Front Page- IFP has taken a look at the front pages of Iranian newspapers on Sunday, June 3, and picked headlines from 20 of them. IFP has simply translated the headlines and does not vouch for their accuracy.
Several papers today continued to cover the imminent trade war between the US and the European Union, which will have to accept heavier tariffs to export its steel products to the US after a decision by President Donald Trump.
Also a top story today was the death anniversary of Imam Khomeini, the founder of the Islamic Republic, which will be marked on Monday in his mausoleum in southern Tehran.
Remarks by President Hassan Rouhani in a meeting with top Sunni clerics also received great coverage.
The above issues, as well as many more, are highlighted in the following headlines and top stories:
19 Dey:
1- Imam Khomeini's Grandson: My Grandfather Trusted People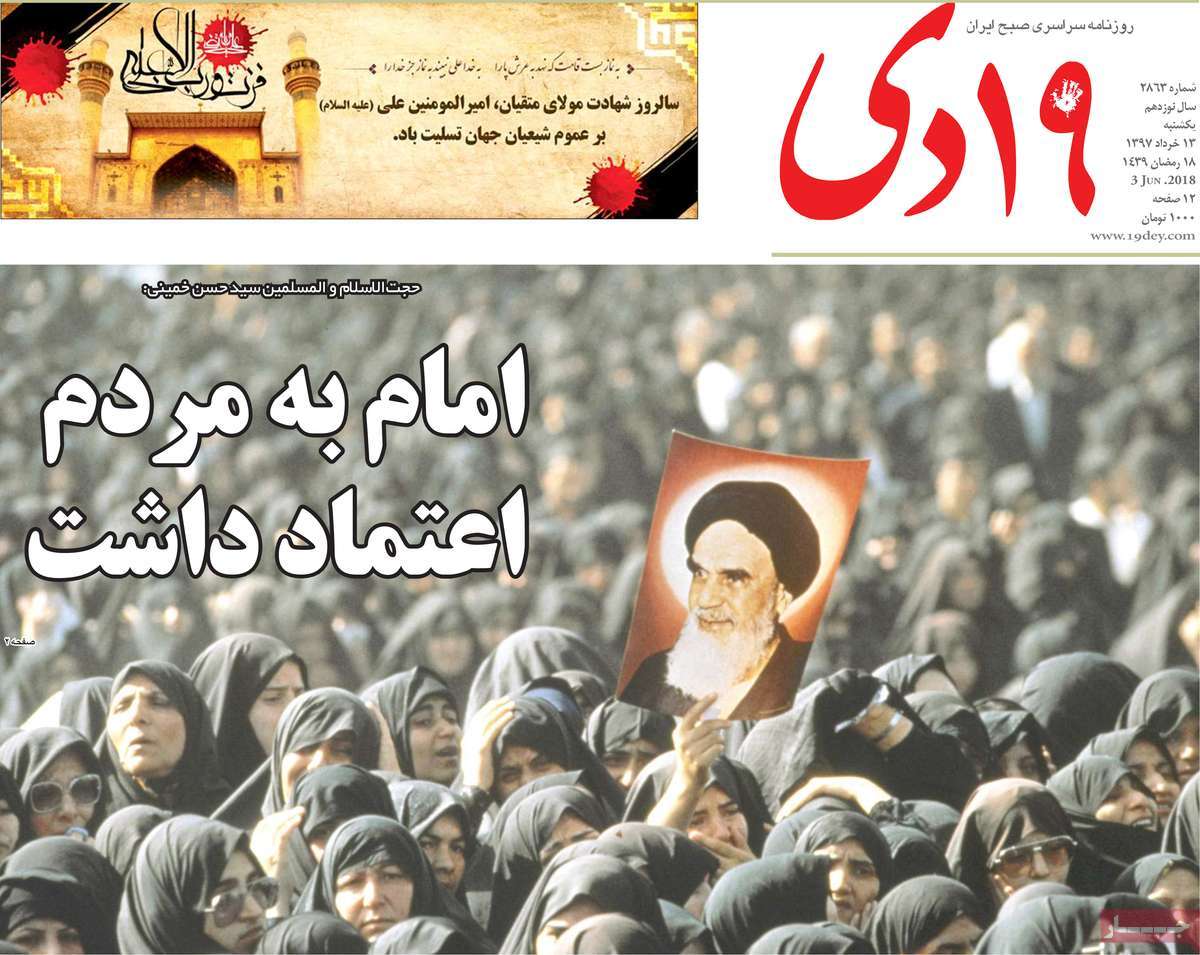 ---
Afkar:
1- Larijani: Interfaith Dialogue Can Pave Way for Global Peace, Stability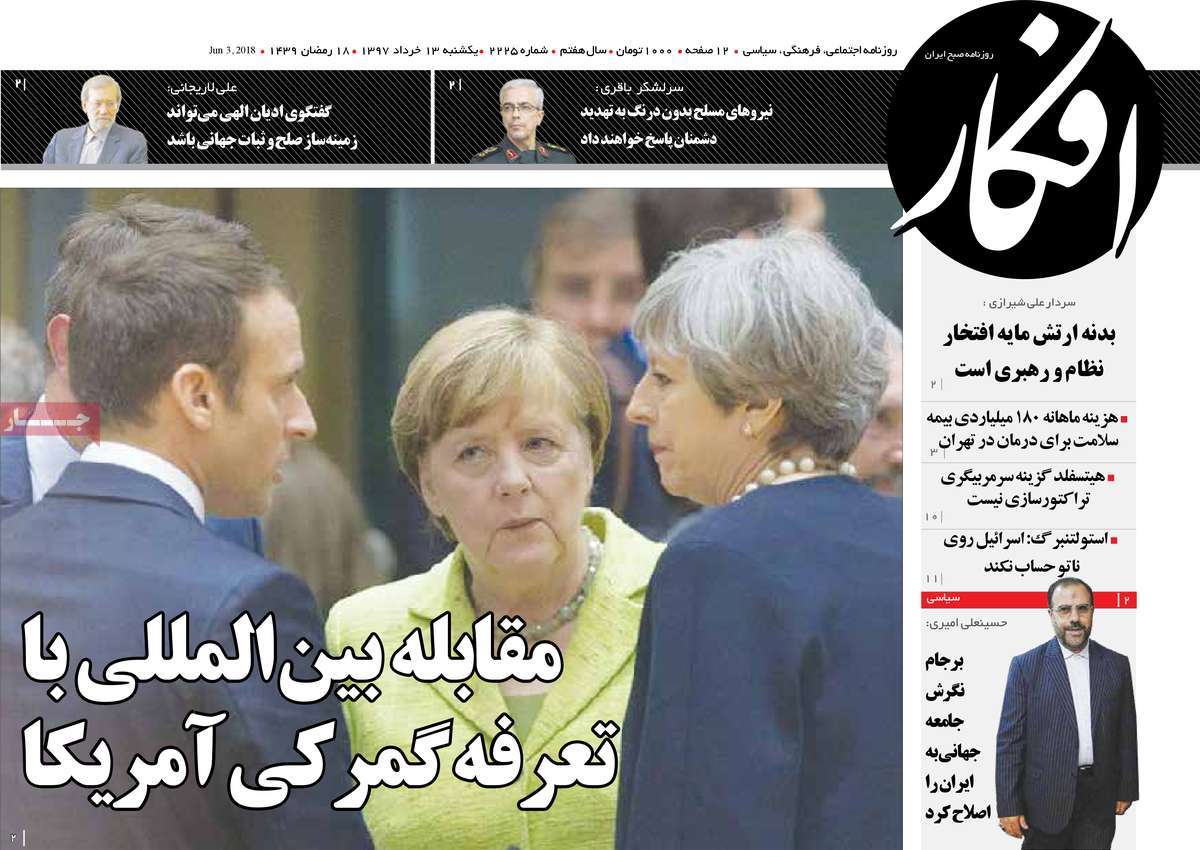 ---
Aftab-e Yazd:
1- Academic: Things to Get Better If Iran Shows Patience on JCPOA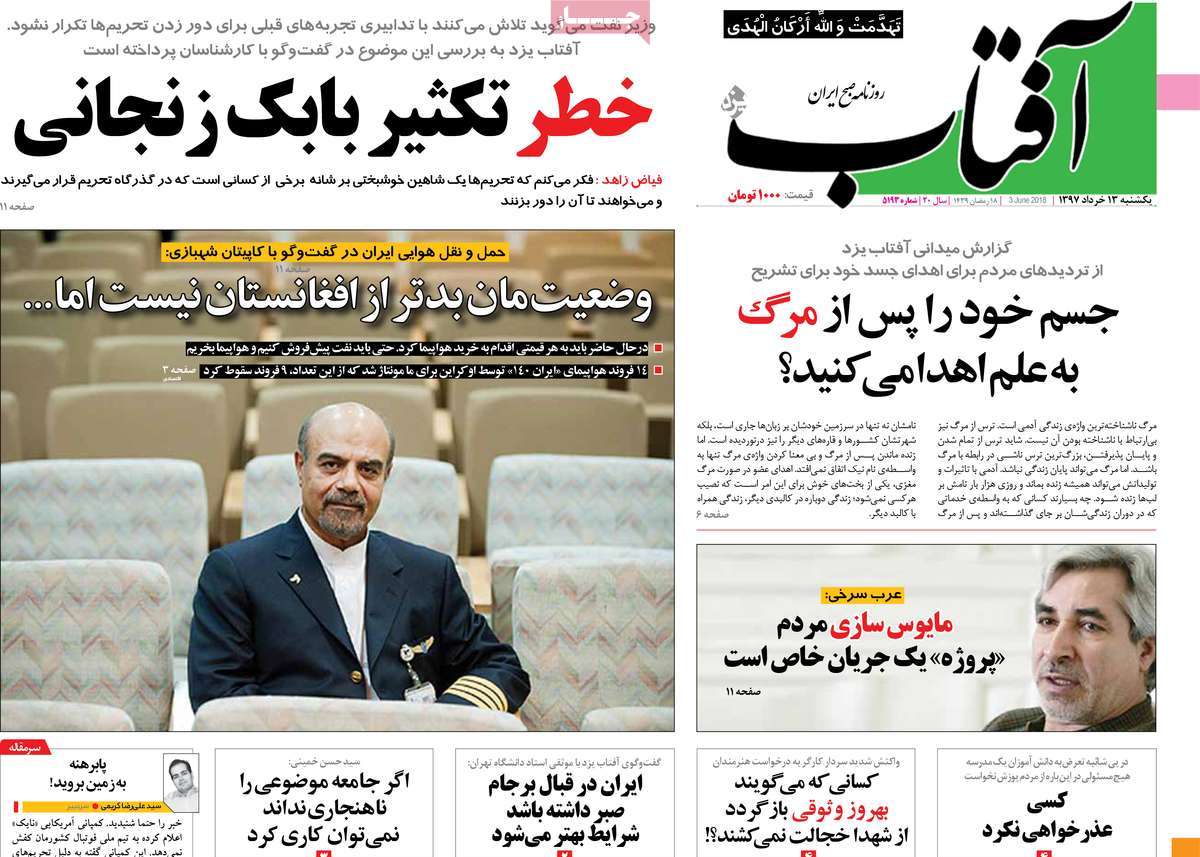 ---
Arman-e Emrooz:
1- Rouhani Underlines National Unity in Meeting with Top Sunni Clerics
---
Bahar:
1- Imam Khomeini Wouldn't Back Off When Faced with Excessive Demands: Grandson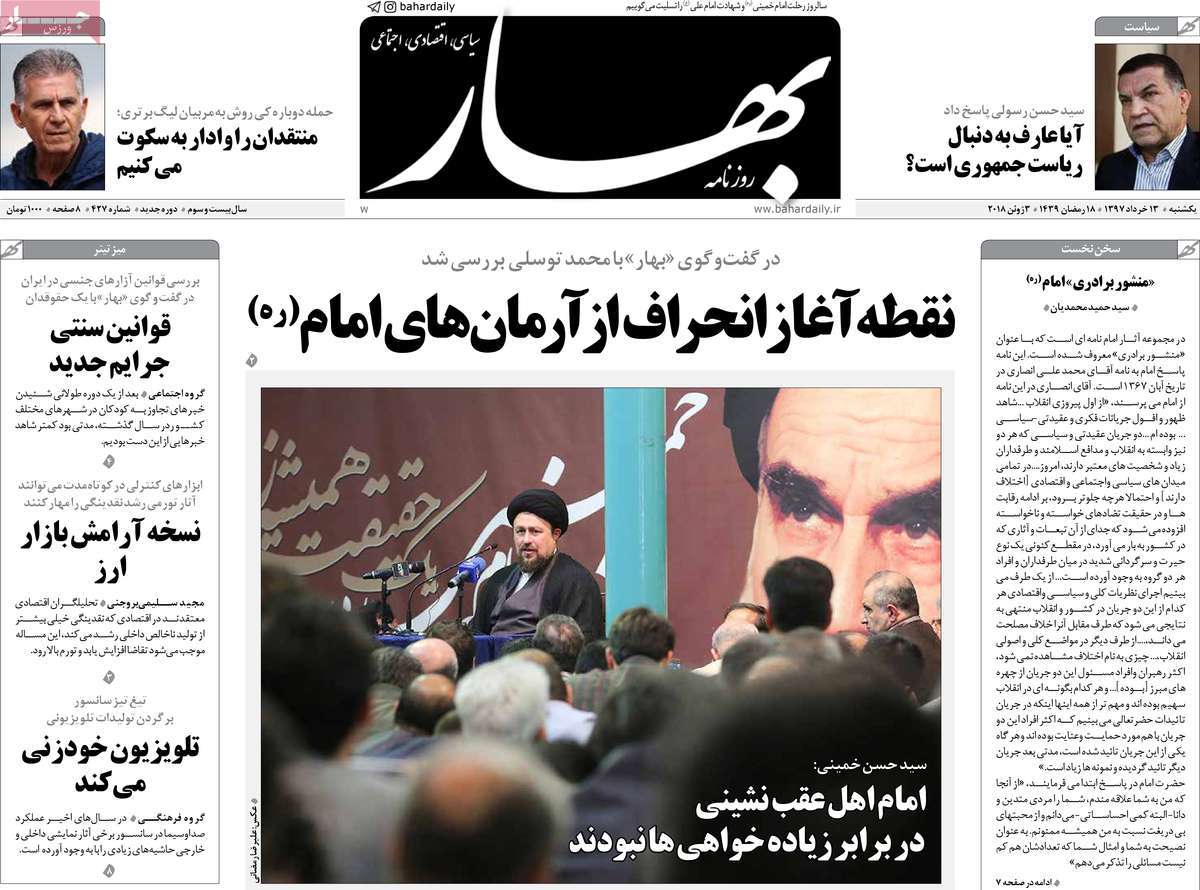 ---
Ebtekar:
1- Washington's Deadly Game with Europe
Can US-EU Trade War Turn into Political Conflict?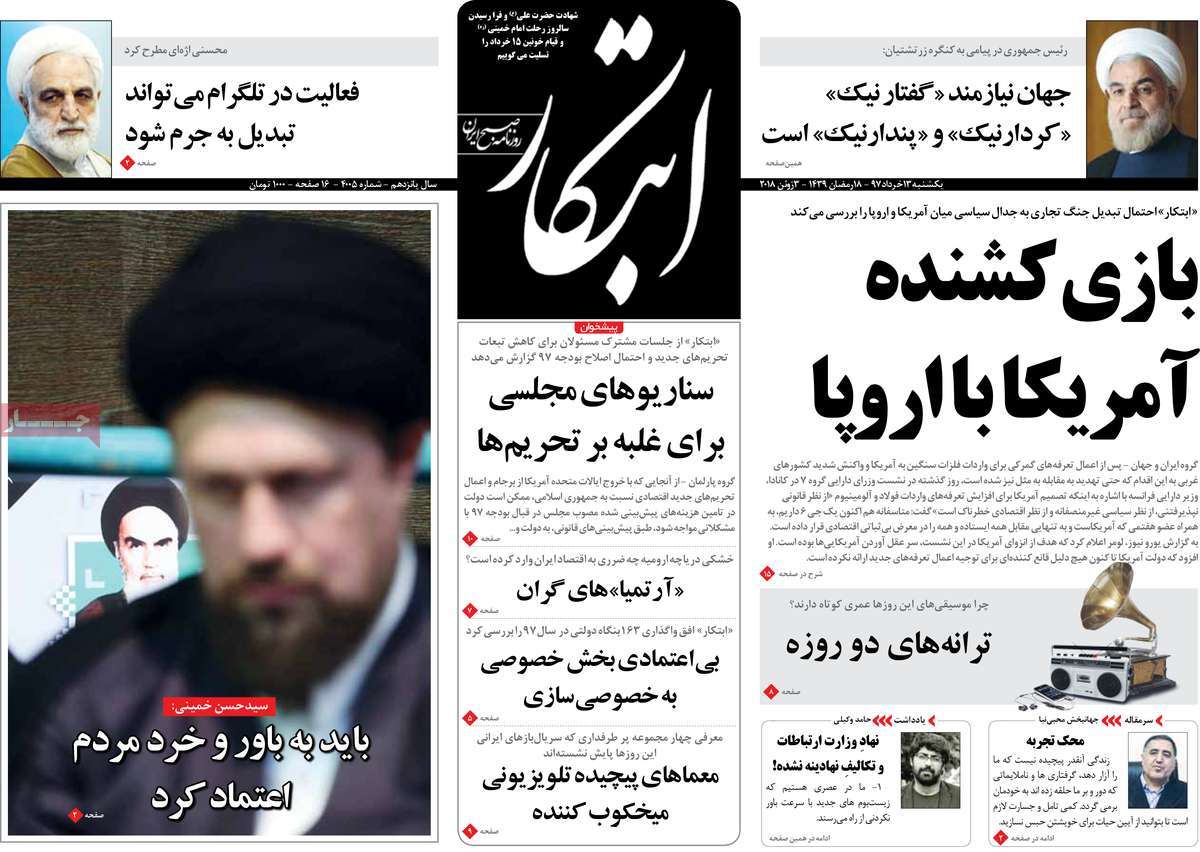 ---
Etemad:
1- Qatar Blockade Consigned to Oblivion: Former Iranian Diplomat
---
Ettela'at:
1- Shamkhani: Iran to Continue Advisory Presence in Syria
2- European Council's Chief: We're Strong Enough to Show Resistance against US
3- Quds Day Rallies to Be Held in 900 Iranian Cities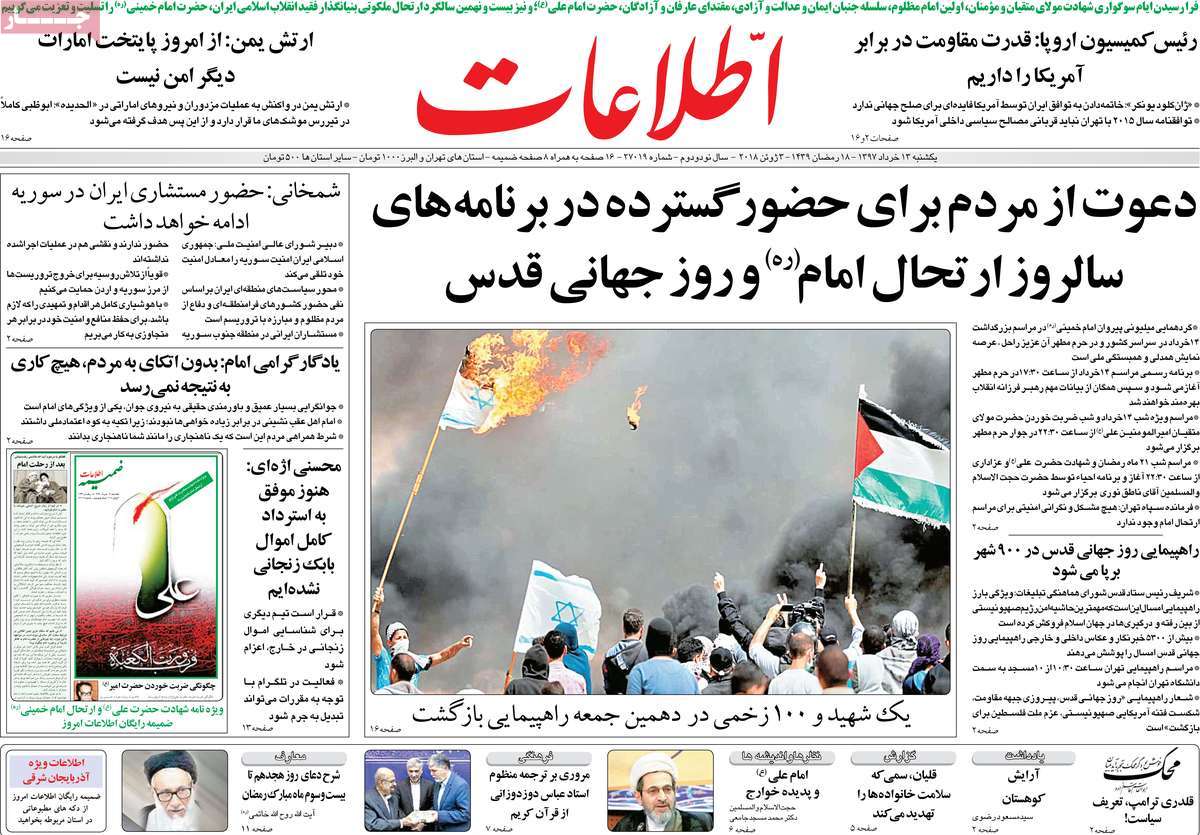 ---
Ghanoon:
1- Senior MP: Iran Won't Stop Helping Syria Even If Russia Is Opposed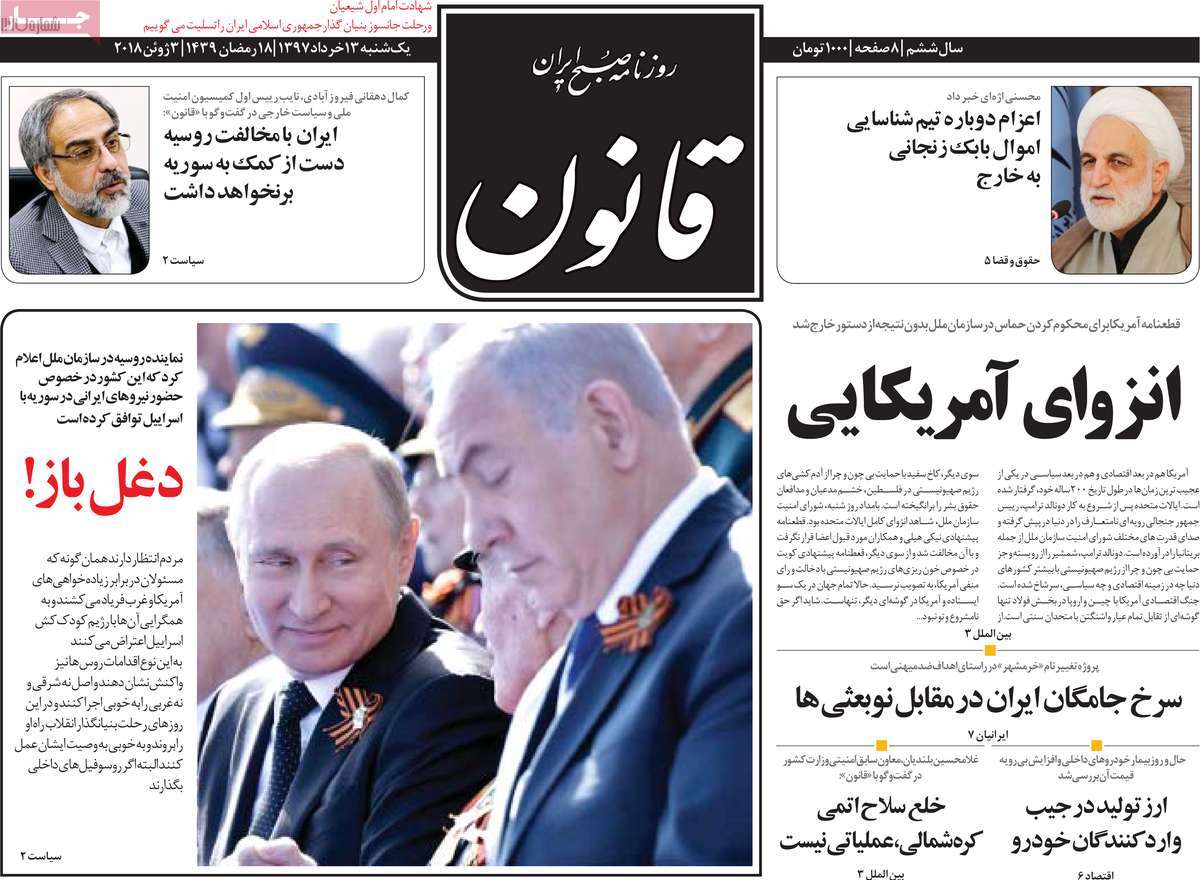 ---
Iran:
1- Rouhani: Sustainability, Victory Achievable with Unity
Every Single Muslim, Iranian Must Enjoy All His / Her Rights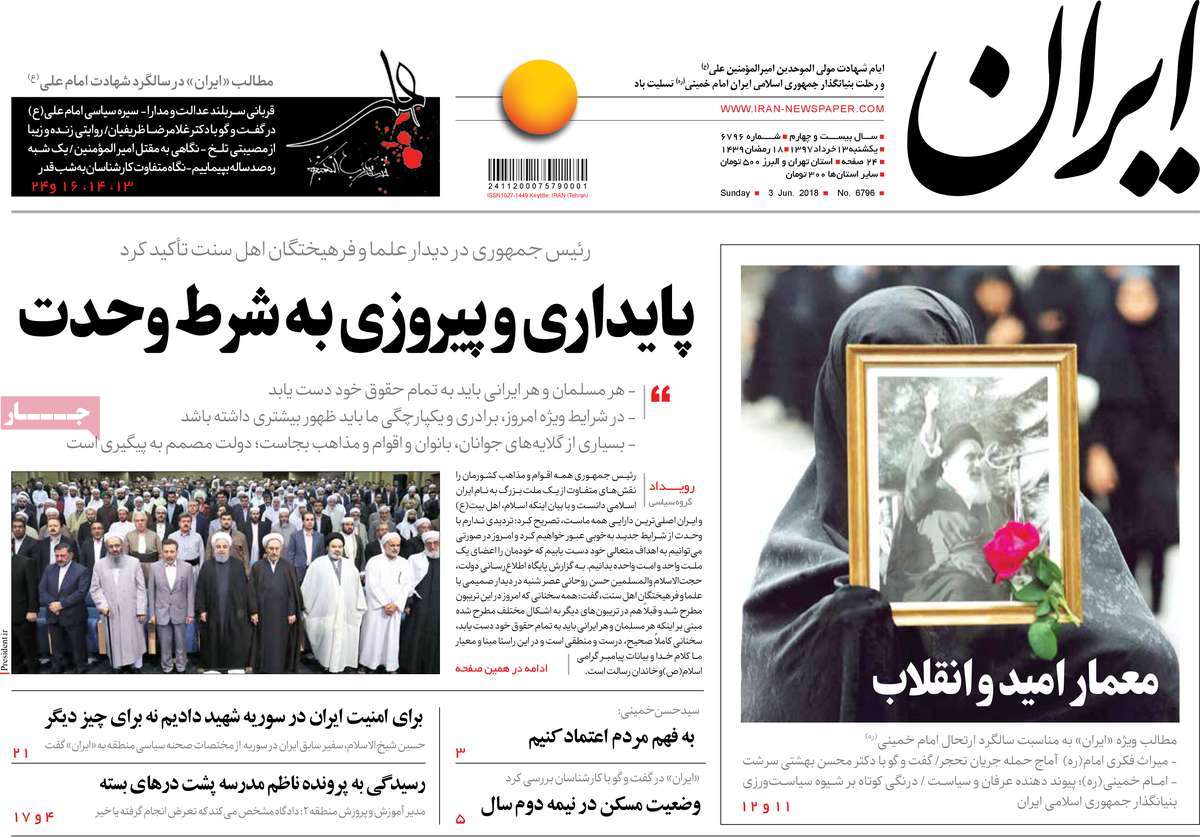 ---
Javan:
1- Iran Nuclear Chief: In JCPOA, We Were a Company, They Were an Army!
In Iran's Negotiating Team, All Burden Was on Zarif's Shoulders
He Made Great Efforts, but One Cannot Be Expert on Everything
2- 2,200 New Classrooms to Be Built in Sistan and Baluchestan's Schools
3- Young Nurse Killed by Israelis Didn't Fear Their Bullets
4- Ansarullah: We'll Turn Red Sea into Graveyard of Aggressors
---
Jomhouri Eslami:
1- People to Renew Allegiance with Founder of Islamic Republic Tomorrow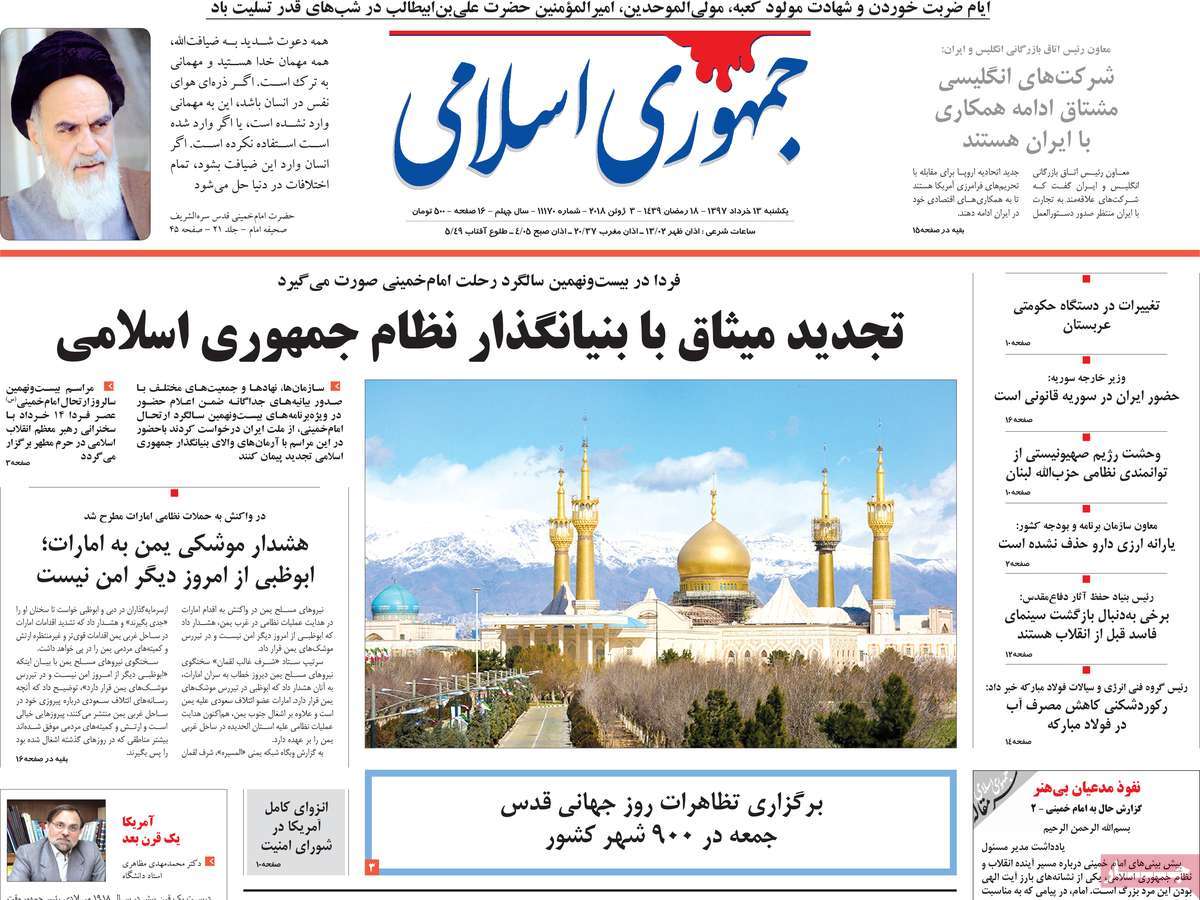 ---
Kayhan:
1- Imam Khomeini: We'll Be Standing Firmly as Long as Struggle Is Alive
2- Ansarullah: Businesspeople Must Take This Threat Seriously; Abu Dhabi Not Safe Anymore
3- Government Executive Admits JCPOA Useless
Iran Air CEO: We Must Send Suitcases Full of Cash to Supply Our Plane Fuel
---
Khorasan:
1- Unprecedented Humiliation of US
US Only State to Vote for Its Pro-Israel Resolution at UN Security Council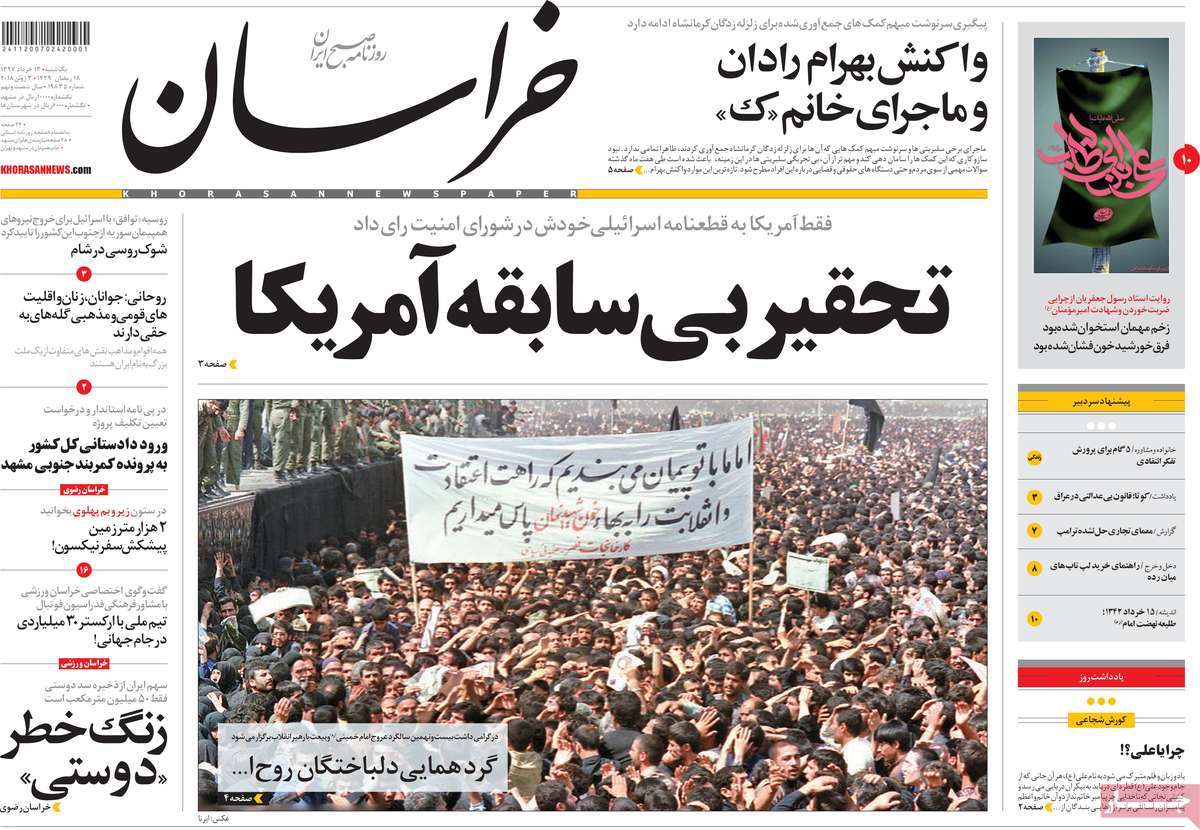 ---
Rah-e Mardom:
1- European Council's Chief: Global Peace in Danger If JCPOA Annulled
2- Rouhani: Zoroaster Source of Pride for Iranians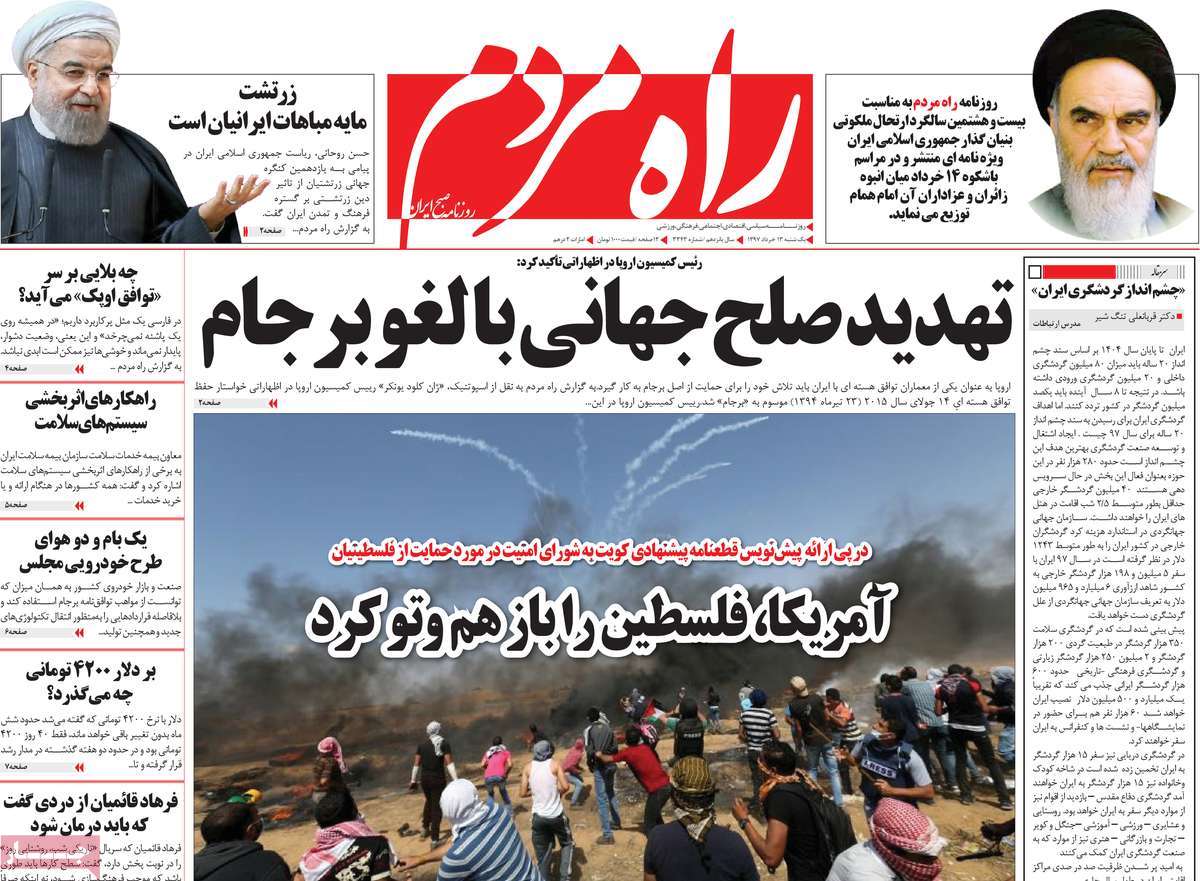 ---
Resalat:
1- France Once Again Betrays Iran
Macron's Dangerous Game in Trump's Court
---
Rooyesh-e Mellat:
1- Iran Nuclear Chief: Lack of Persian Version among Most Important Weak Points of JCPOA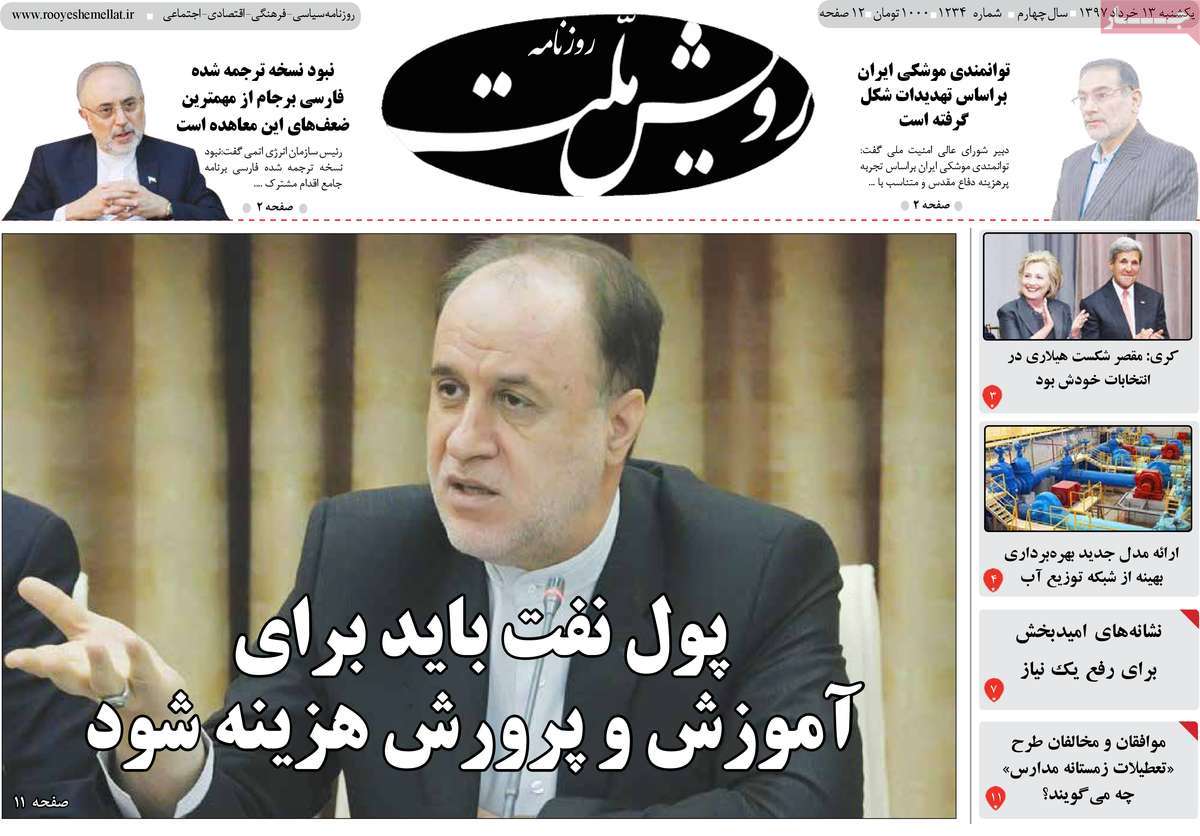 ---
Shakhe-ye Sabz:
1- Syria FM: Iran's Presence in Syria Legal
Syria Appreciates Iranian People, Government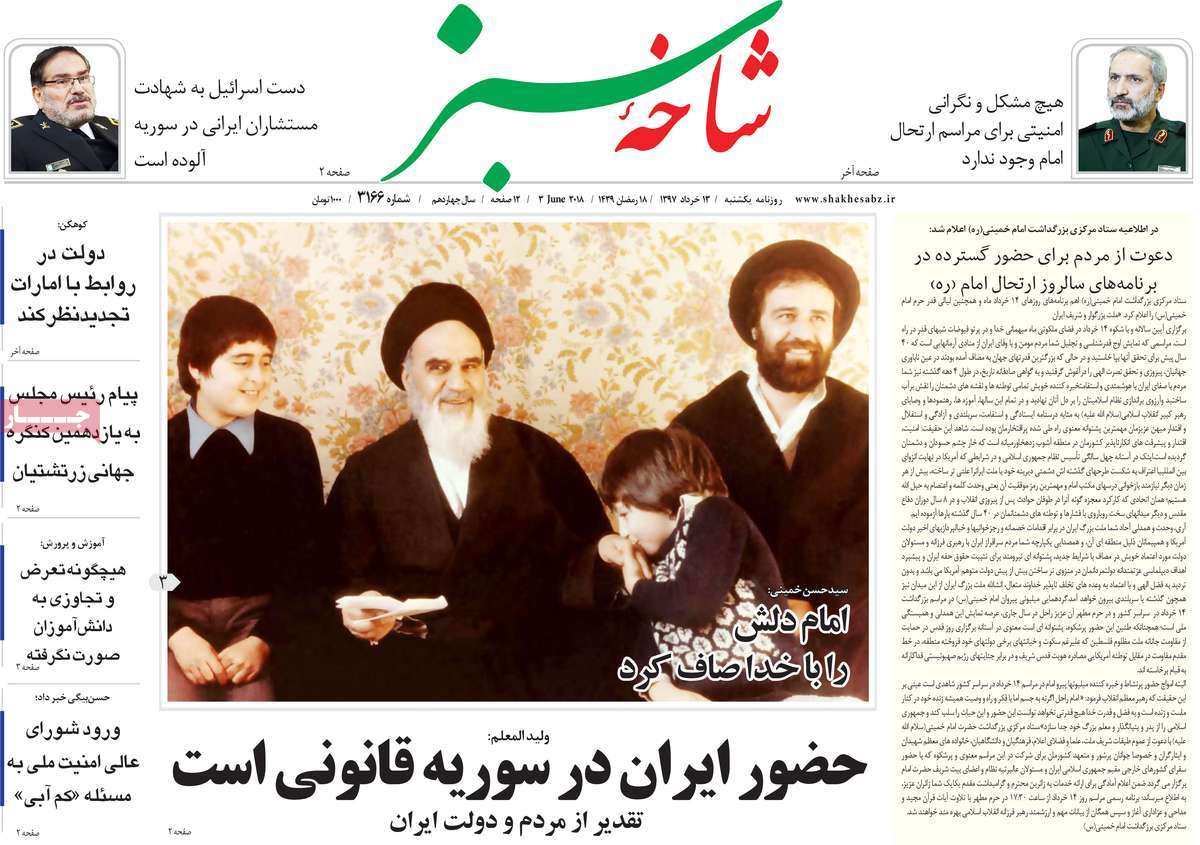 ---
Shargh:
1- Son-in-Law of Former Shah of Iran to Pompeo: Iran Will Never Surrender
---
Vatan-e Emrooz:
1- Silent Contractor: A Report on Jordan's Role in Advancing World Powers' Policies in Syria
2- Nurse Martyred in Tenth Day of "March of Return" Protest Rallies