RTE.ie– As we countdown to Russia 2018, we take a look at all 32 teams and suggest a reason to back them. With 17 days to the big kick-off it is the turn of Iran.
The Asia qualification process is a marathon. To make it to the crucial third round of qualifying you must prevail in a group of five, playing home and away.
Then the serious business begins – home and away fixtures against five of the finest teams in the world's largest continent, contesting with huge journeys as well as opponents fighting for two places from each of the two groups.
After 18 matches in two stages, Iran came out on top of Asian Football Confederation (AFC), conceding just five goals. Amazingly they only conceded two goals in 10 matches against Syria, South Korea, Uzbekistan, China and 2022 hosts Qatar and they came in the final match, at home to Syria, with qualification already secured.
Four 0-0 draws in that final stage suggest a level of belligerence and organisation that Donald Trump can only hope does not extend to the nation's diplomatic corps.
Matched in Group B with Morocco, reigning European champions Portugal and 2010 World Cup winners Spain would make you fearful for Iran, but their coach has pedigree and the ability to organise a team meticulously on the training field. All those 0-0 draws testify to that.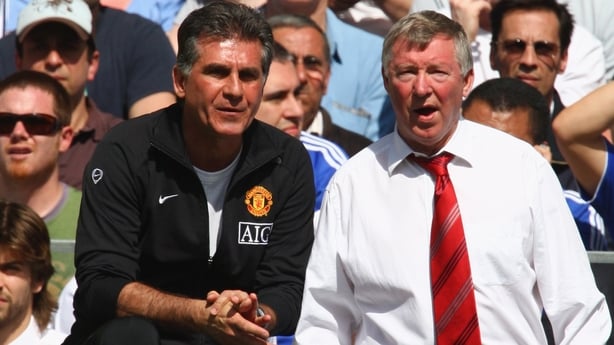 How fitting would it be, with his former boss and friend Alex Ferguson recovering from a brain haemorrhage, for Carlos Quieroz to guide Iran beyond the group stages for the first time at the expense of either his native land or Julen Lopetegui's highly-fancied Spain?
Having led Portugal to a second round defeat at the hands of the aforementioned eventual champions in South Africa eight years ago, the former Real Madrid manager took the silk road less travelled and has been in charge of 'Team Melli' since 2011.
Back when he was masterminding the 2008 Champions League semi-final win over Barcelona by having the Manchester United players stand on meticulously placed mats during training, could Quieroz have foreseen seven years operating out of Tehran?
Probably not, but he is making the most of it. In 2014 he recorded Iran's first clean sheet in four World Cups in a 0-0 (what a surprise) draw with Nigeria and came within an injury-time winner of inflicting the same result on eventual runners-up Argentina before crashing out to a 3-1 defeat at hands of Bosnia-Herzegovina.
Ironically, given the events of the last few weeks, Iran's only World Cup finals victory came against the United States in 1998 and emulating that side would surely provoke a smile from a certain irascible and convalescing Scot.