BBC– BP has delayed work on its Rhum field in the North Sea while it seeks clarity over US sanctions on Iran.
The oil giant co-owns the field – about 240 miles north east of Aberdeen – with the Iranian Oil Company, although BP's stake is in the process of being sold to Serica Energy.
A fresh well was due to be drilled but BP has said that work is now on hold.
Both firms said they remained committed to the deal which is due to be completed in the second half of 2018.
Mitch Flegg, Serica's chief executive, said: "We will be working with our partners and the UK government to identify measures, acceptable to the US authorities, to protect safe and efficient Rhum operations and ensure maximum economic recovery of reserves from this valuable UK resource."
Along with Rhum's neighbouring assets, the Bruce and Keith fields, it delivers about 5% of the gas produced in the UK.
BP is selling its holdings in all three.
'Understand the situation'
The two companies said they were seeking dispensation from any US sanctions and had the backing of the UK authorities.
The sanctions followed US President Donald Trump's announcement that the US was withdrawing from the Iran nuclear deal.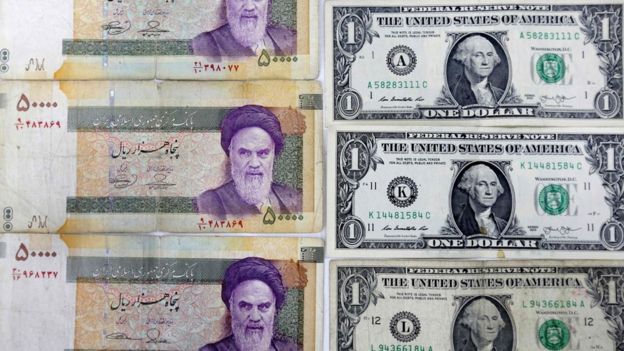 A spokesman for BP said: "BP takes great care to ensure we always comply with applicable sanctions. BP has decided to defer some planned work on the Rhum gas field in the North Sea while we seek clarity on the potential impact on the field of recent US government decisions regarding Iran.
"BP and Serica are now in discussion with the UK and US authorities to better understand the situation and steps that may be required to ensure continued operation of Rhum."
Some support services for the Rhum field are provided under licence from the US Office of Foreign Assets Control (OFAC).
The licence is due to expire at the end of September 2018 and it is unclear whether it will be renewed in the light of US sanctions against Iran.
Serica said meetings are scheduled to take place with OFAC in the coming weeks.
In 2010, the Rhum field was shut down because production could have been breaking European Union sanctions against Iran.