Iran Front Page- IFP has taken a look at the front pages of Iranian newspapers on Saturday, May 12, and picked headlines from 22 of them. IFP has simply translated the headlines and does not vouch for their accuracy.
Several papers today covered the West's reaction to Iran Leader's disclosure of a secret letter by US President Donald Trump to certain Arab countries.
The ongoing efforts by the European countries and Iranian Foreign Minister Mohammad Javad Zarif to save the Iran nuclear deal also received great coverage.
The recent developments in Syria and the Golan Heights were also a top story. Many papers blasted the Israeli regime's attacks on Syrian positions and described it as a move to escalate the tension and provoke Iran into getting engaged in a military conflict.
The above issues, as well as many more, are highlighted in the following headlines and top stories:
19 Dey:
1- World United in Defending Iran Nuclear Deal
2- Iran Leader during Visit to Tehran Book Fair: Book among Necessities of People's Lives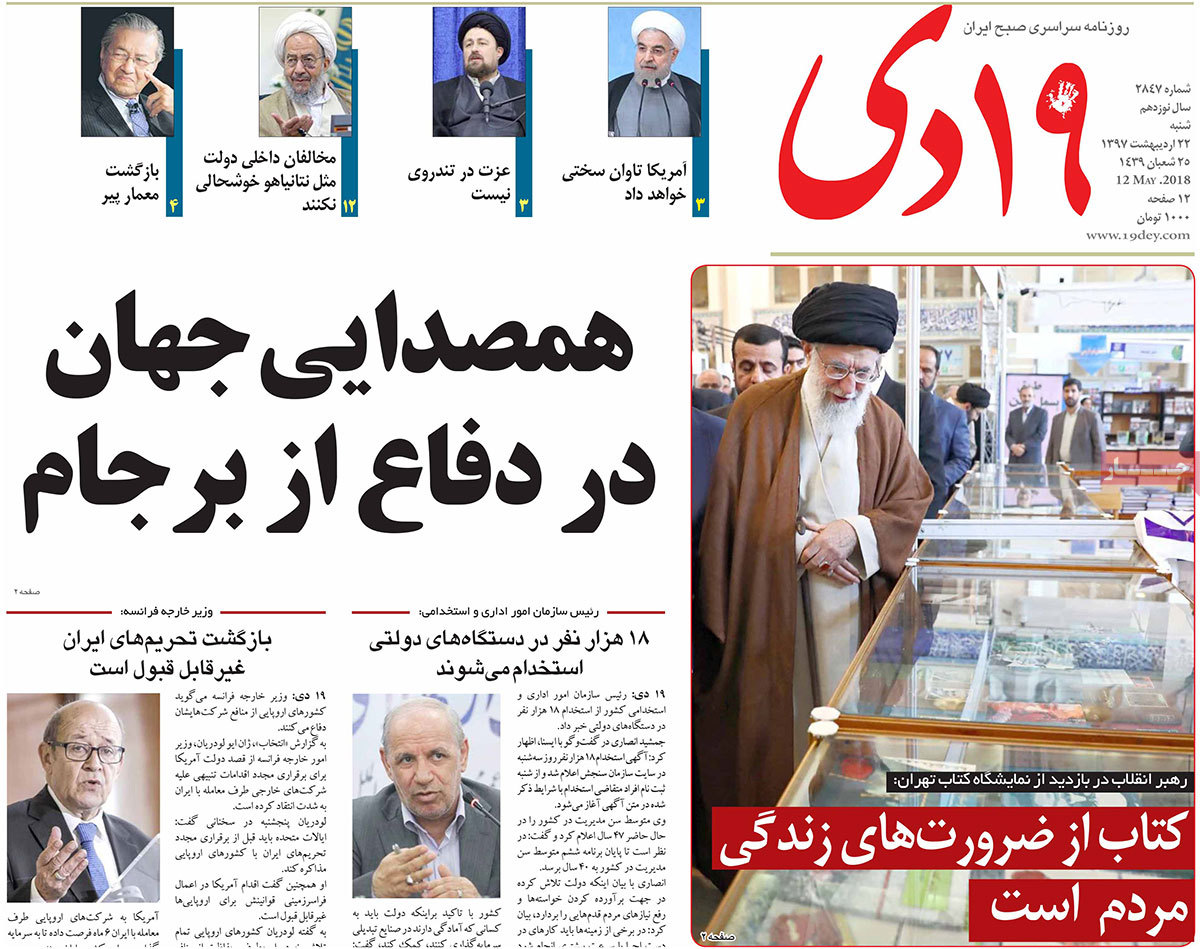 ---
Abrar:
1- Iranians Hold Protest Rallies to Protest US Withdrawal from Iran Nuclear Deal
2- Germany, Russia Agree on Preserving JCPOA, Resolving Syria Crisis Politically
---
Aftab-e Yazd:
1- Ignored by Everyone, Iranian Female Futsal Players Make It to Asian Final
2- Diplomats, from Tehran to Berlin, Working Hard to Preserve JCPOA
3- Water May Be Transferred from Sea of Oman to Three Provinces as of Next Year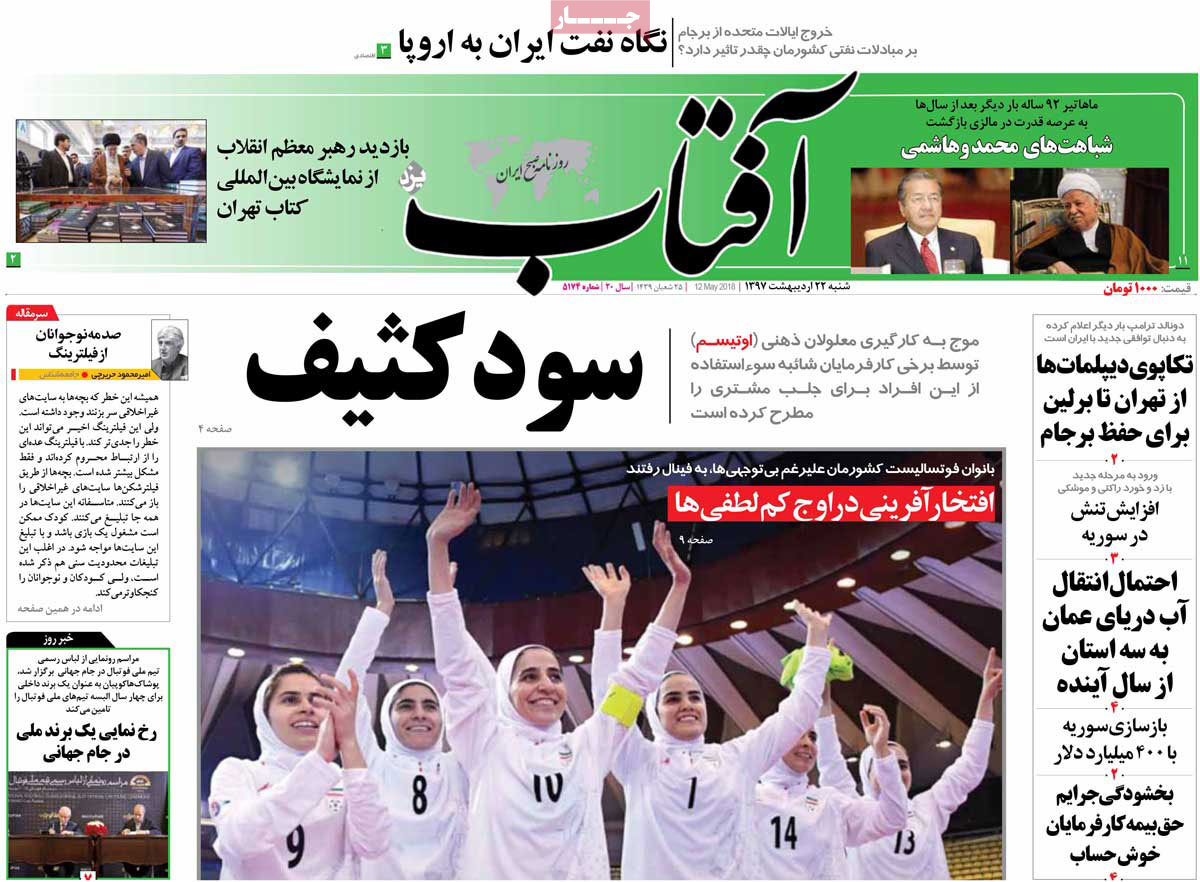 ---
Arman-e Emrooz:
1- Trap of Golan War
Trump's Withdrawal from JCPOA, Putin's Smile at Netanyahu and His Attack on Syria
Possibility of Iran-Israel Conflict Reinforced
2- Self-Restraint Shown by Iranian Officials, Armed Forces against Israel Receive Positive Coverage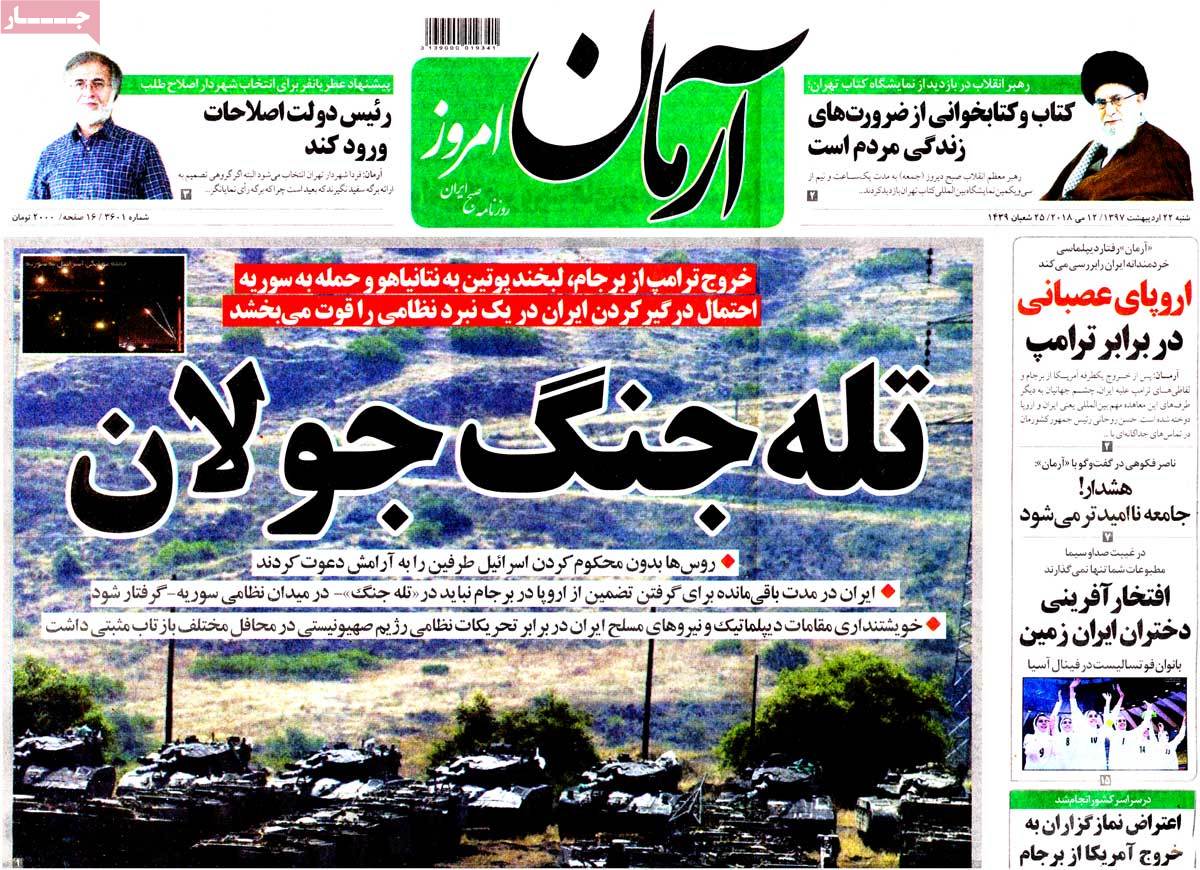 ---
Ebtekar:
1- Israel's Dangerous Game in Syria
After Israeli Attacks on Syrian Territory, Golan Heights Targeted by Missiles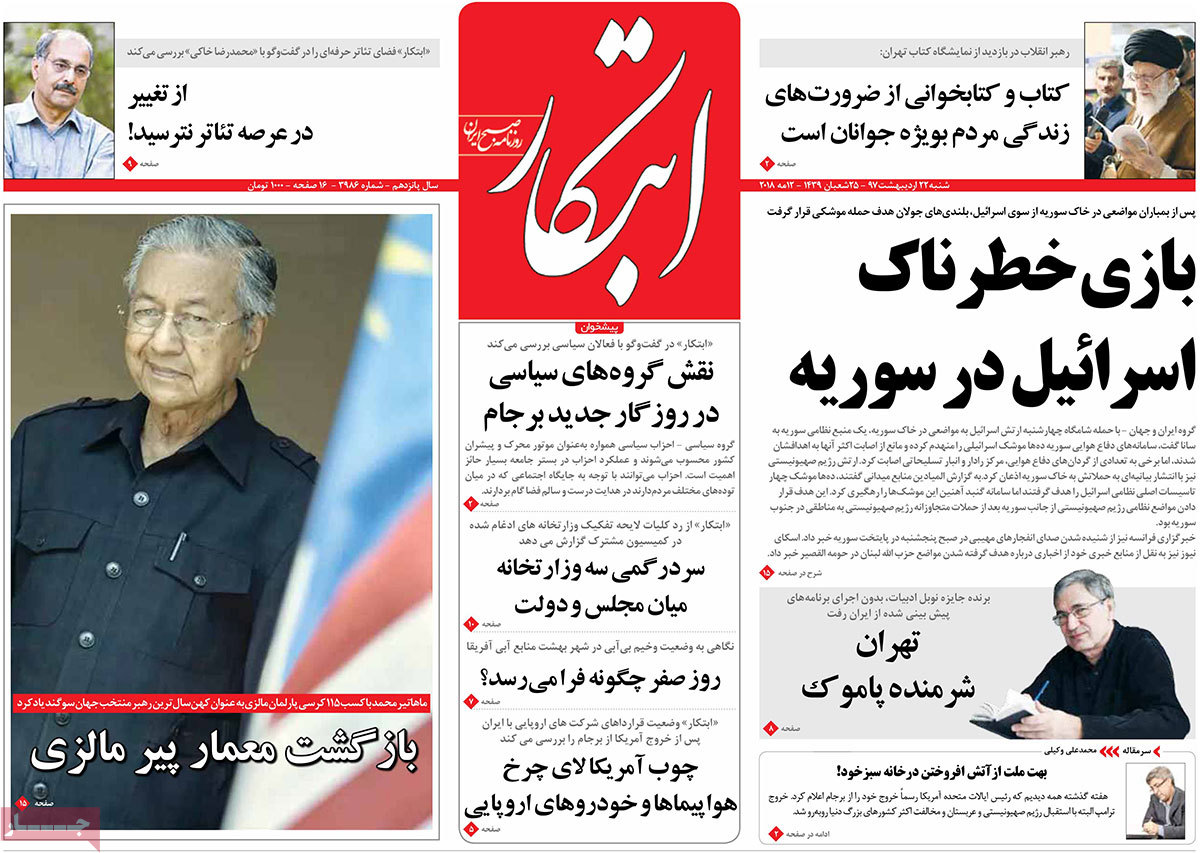 ---
Etemad:
1- Iran Leader: Anyone Familiar with Islam Offers More Social Services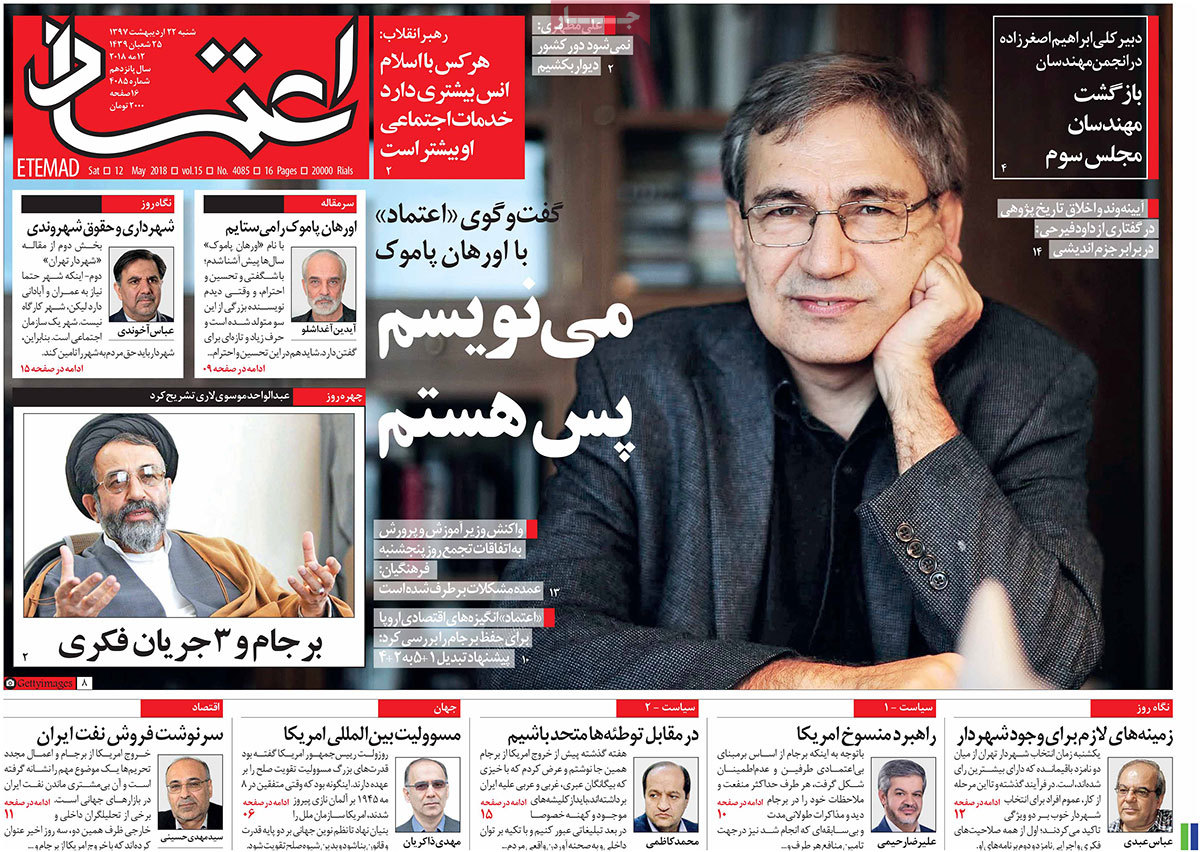 ---
Ettela'at:
1- Oil Minister: We'll Have No Problem in Oil Exports
2- Trump: We Knew Kerry Didn't Have a Chance against Zarif
Iranians Have Always Been Great Negotiators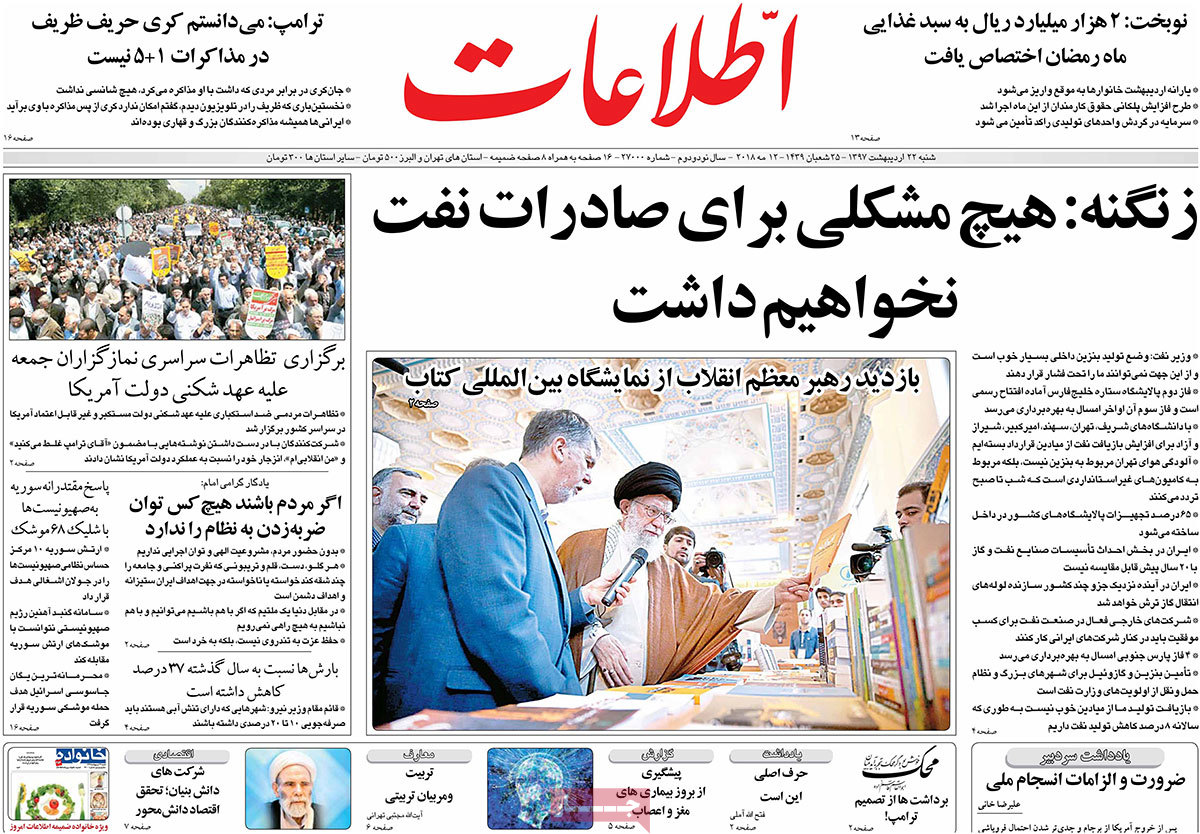 ---
Hamshahri:
1- Europe Poised to Gain Independence from US
European Leaders Take New Approach on US Sanctions on Iran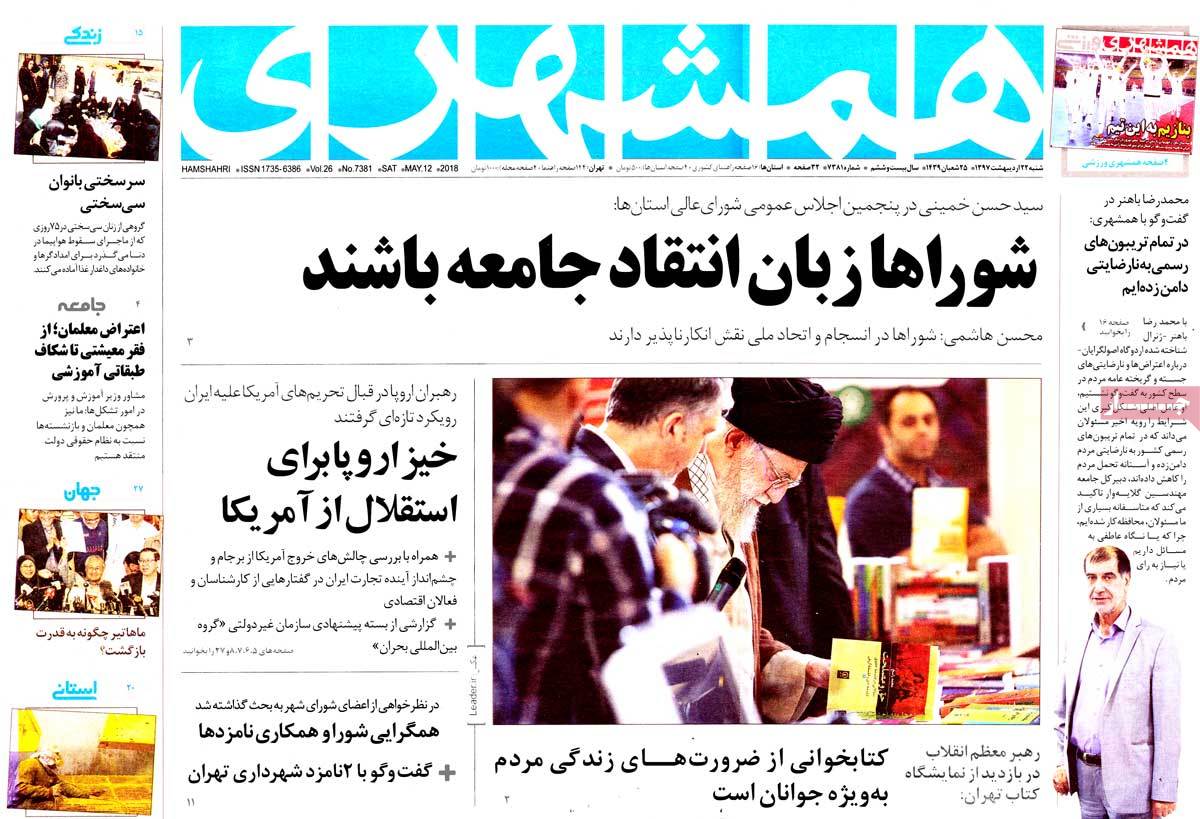 ---
Hemayat:
1- Mohammad-Javad Larijani: Iran Currently Has No Commitment under JCPOA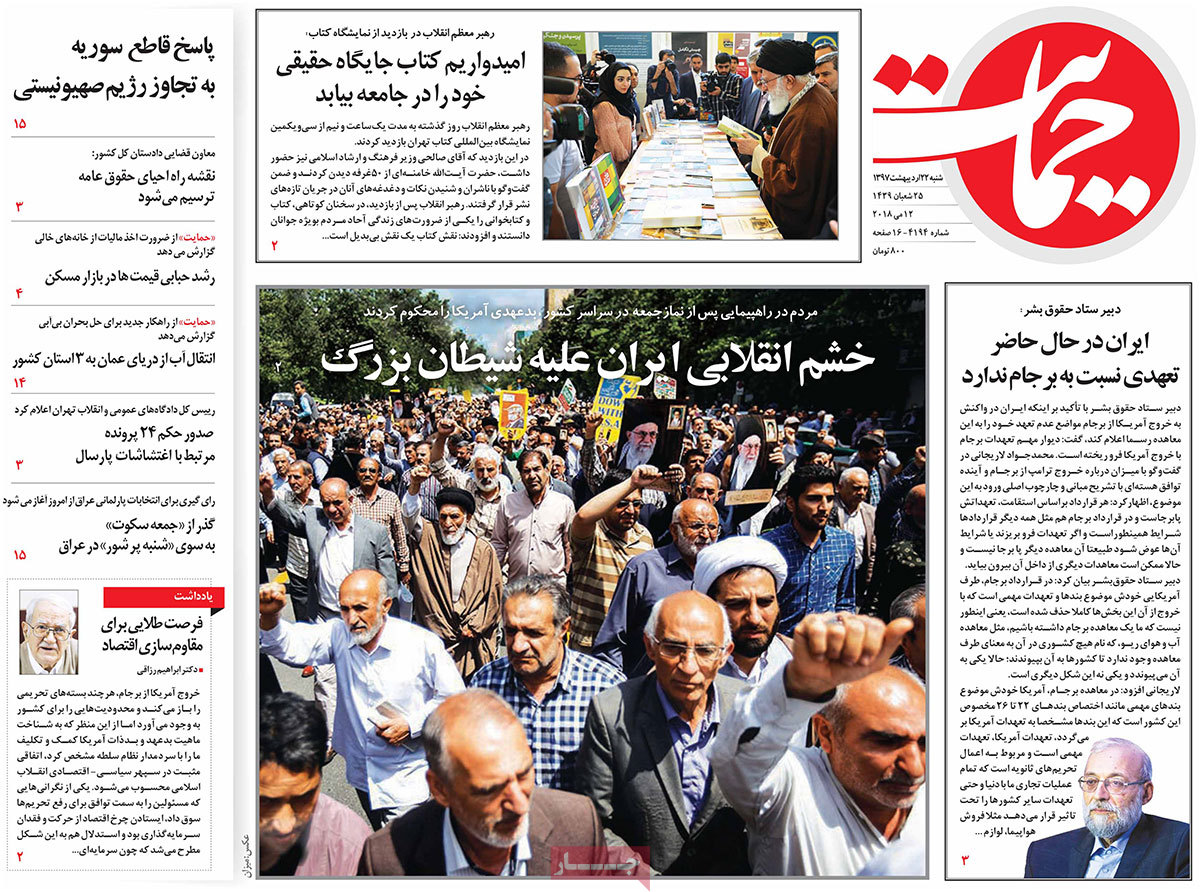 ---
Iran:
1- Europe Working Hard to Preserve Iran Nuclear Deal
2- Israel Flying Missiles on Self-Fabricated Pretexts
---
Jahan-e Eqtesad:
1- Oil Minister: Threats Are Long Gone
---
Jame Jam:
1- Trump's $380-Billion Partners
Comparing Volume of E3's Trade with Iran, US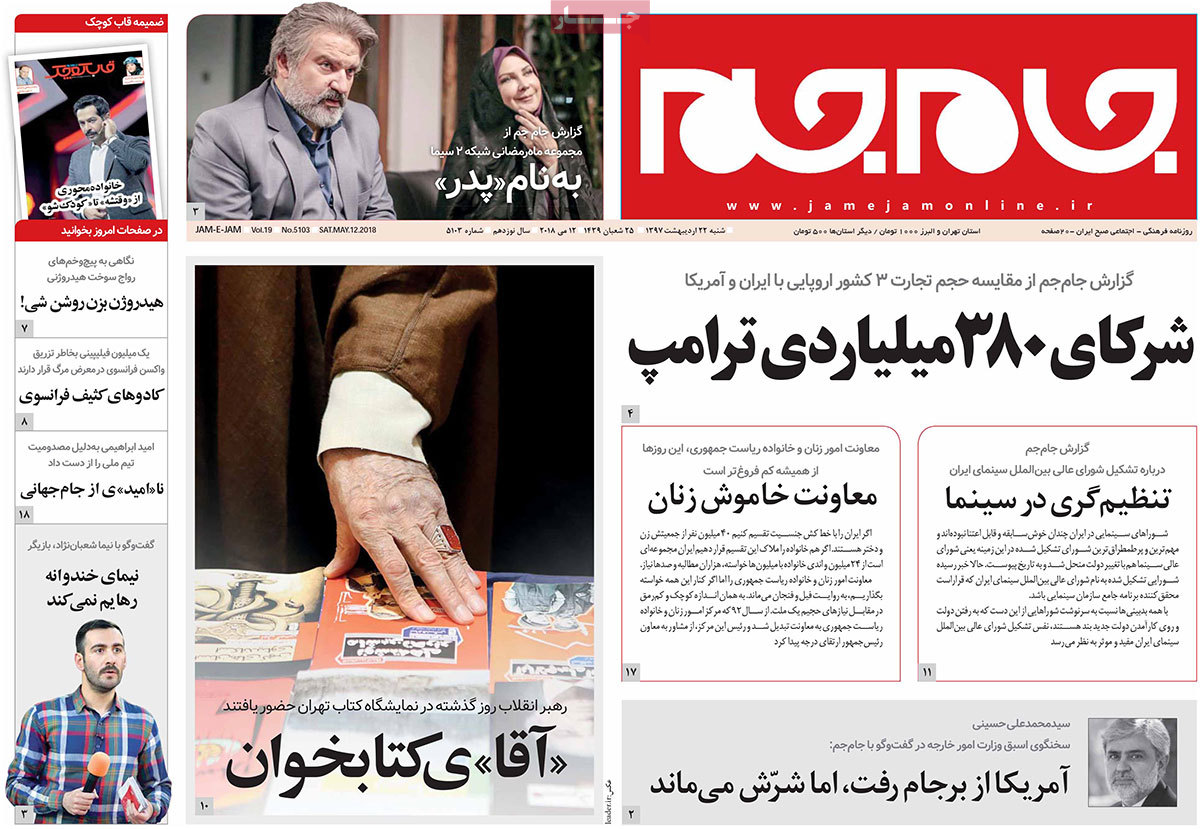 ---
Javan:
1- Night of Missile Retaliation in Golan: Occupied Territories Hit by 68 Syrian Missiles
2- Entire Iran Chant "Trump, Like Hell You Will!"
3- New York Times Confirms Iran Have Received Copy of Trump's Letter to Arabs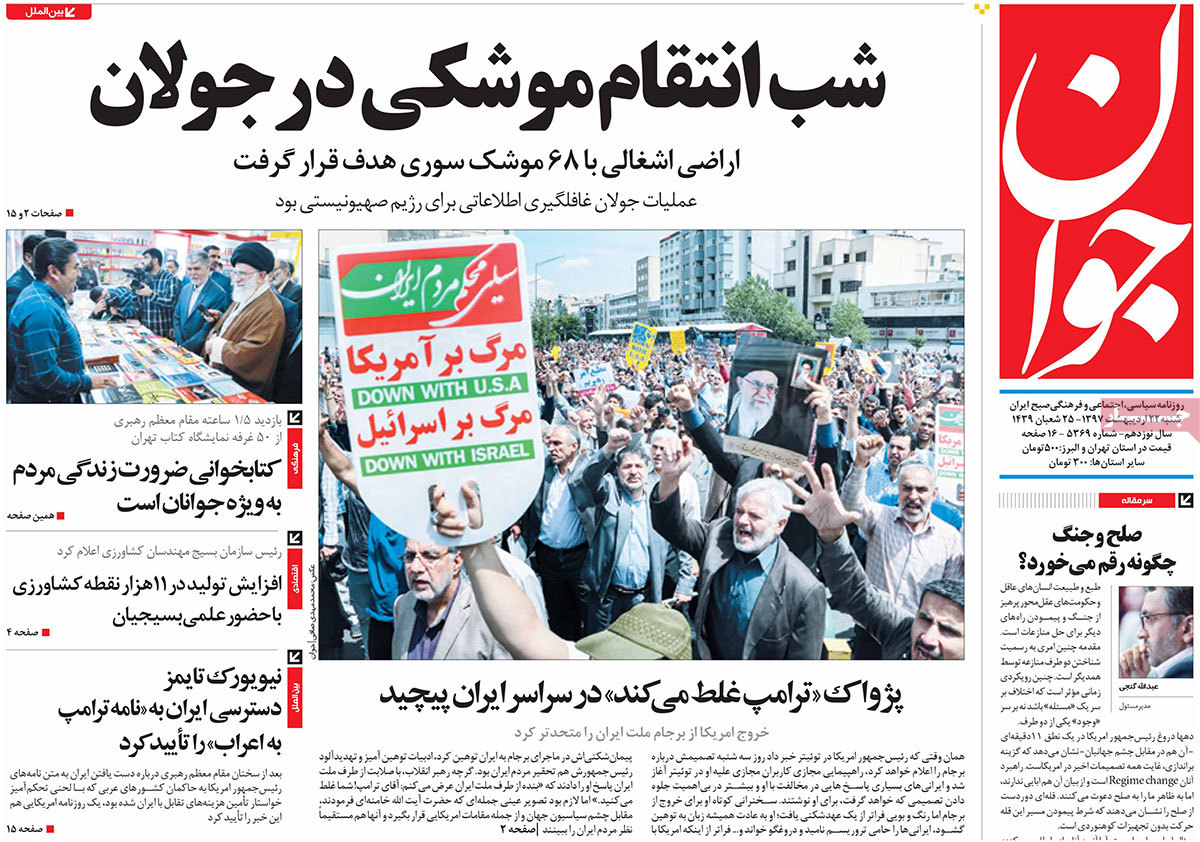 ---
Jomhouri Eslami:
1- Iran FM to Start Negotiations with 5 Parties to JCPOA
2- EU Worried about Awful Humanitarian Situation in Yemen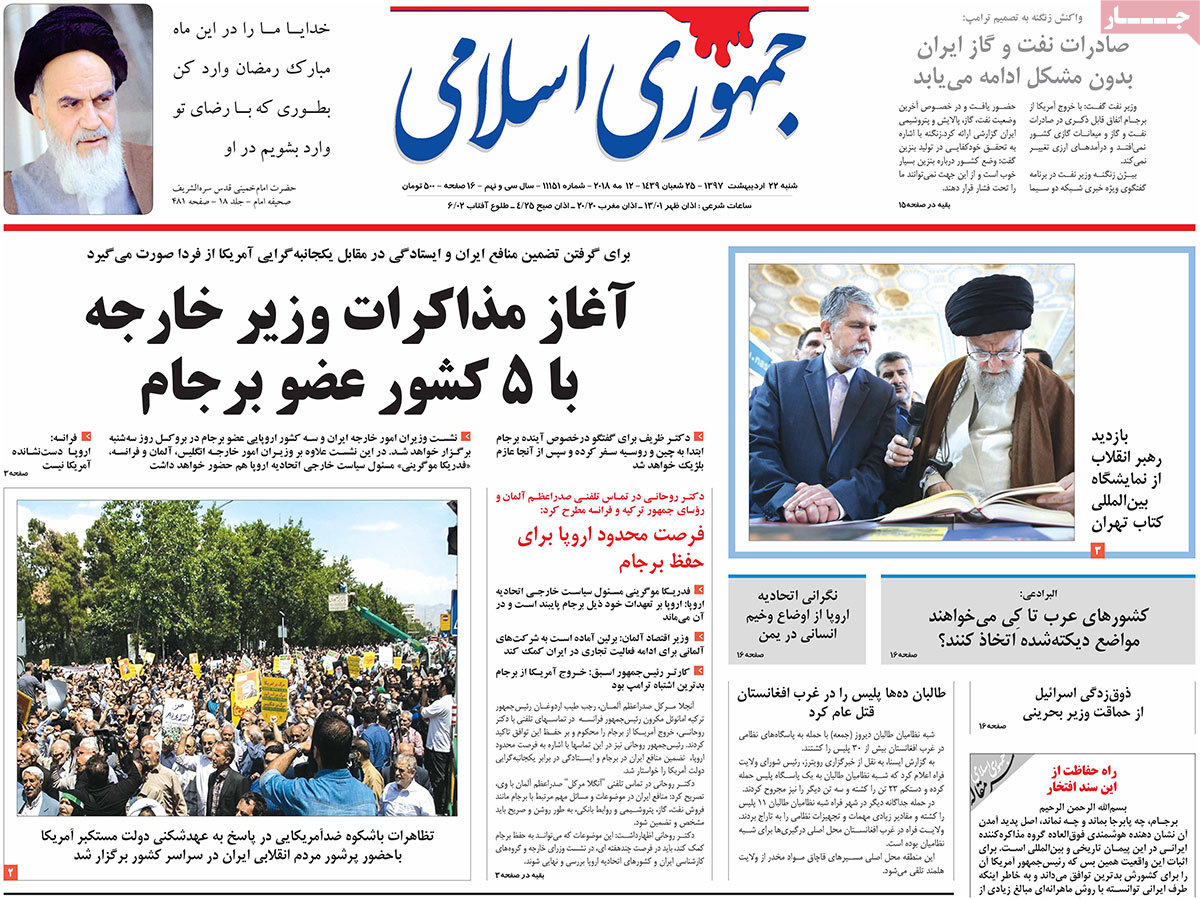 ---
Ka'enat:
1- American Letters!
Trump Has Written Two Letters to Arab Countries
First Letter Disclosed by Ayatollah Khamenei
---
Kayhan:
1- Analytical Review of "Over 10 Lies Told by Trump"
2- Western Media Surprised by Iran Leader's Access to Trump's Letter to Arabs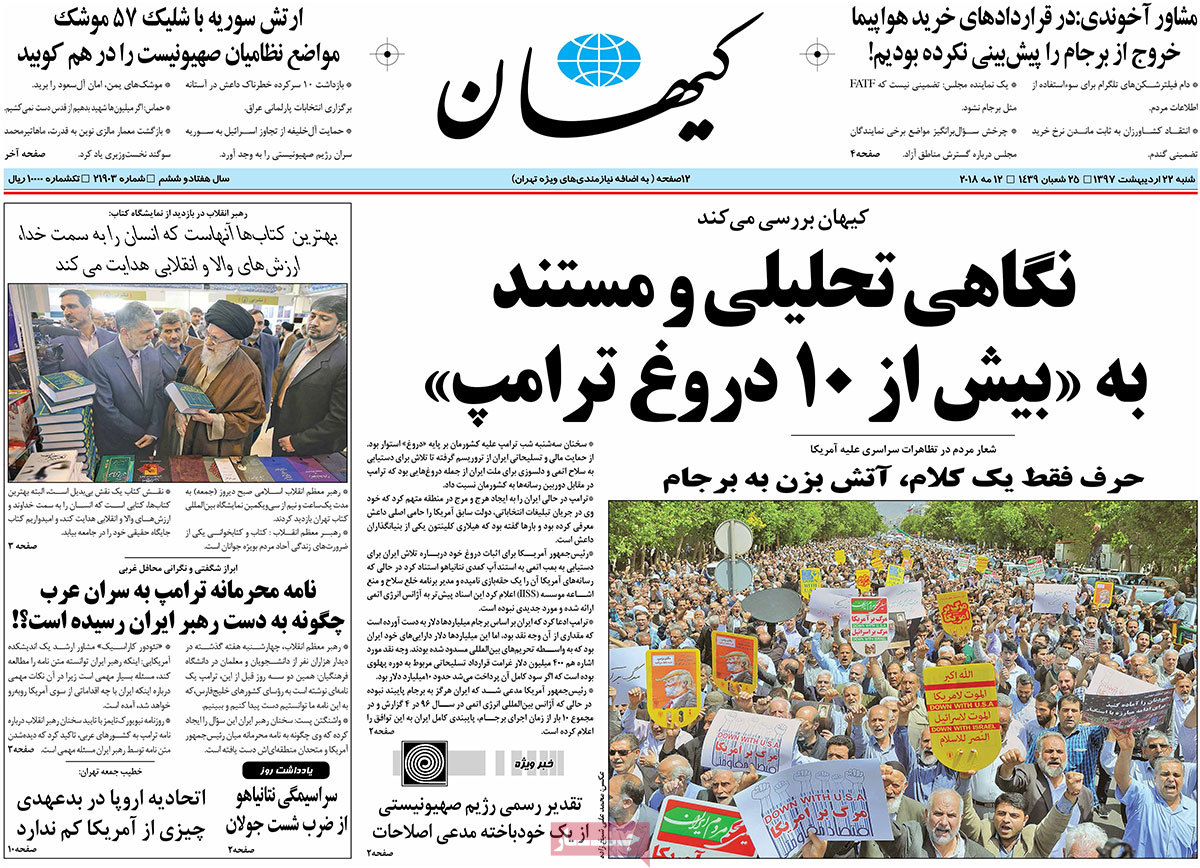 ---
Resalat:
1- Tehran Friday Prayers Leader: Europe No Different from US in Violating Commitments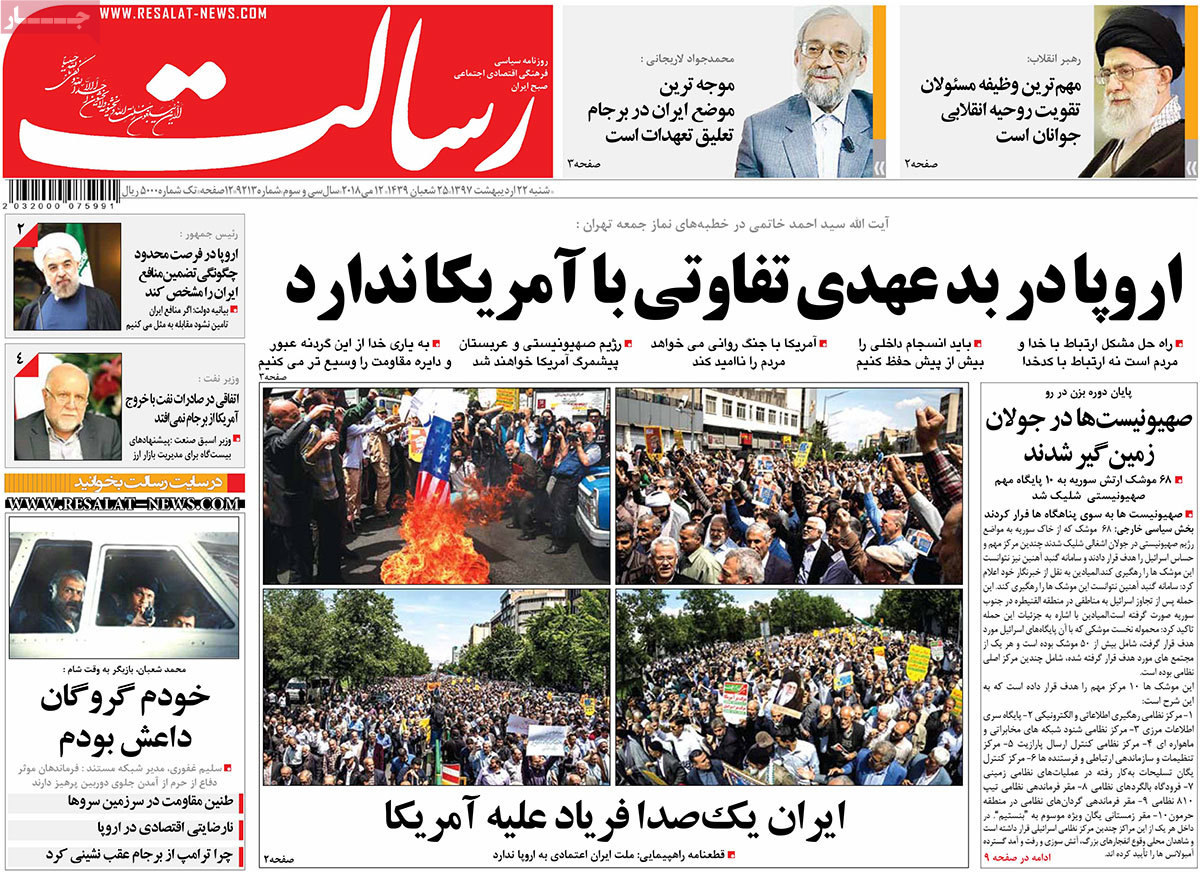 ---
Rooyesh-e Mellat:
1- Araqchi: It's Possible to Save JCPOA If Sufficient Assurances Provided
---
Sazandegi:
1- Return of Malaysia's Father
Mahathir Mohamad Elected as Malaysian PM in 92
---
Shahrvand:
1- Orhan Pamuk in Iran: To Me, Iranian Readers Different from Other Readers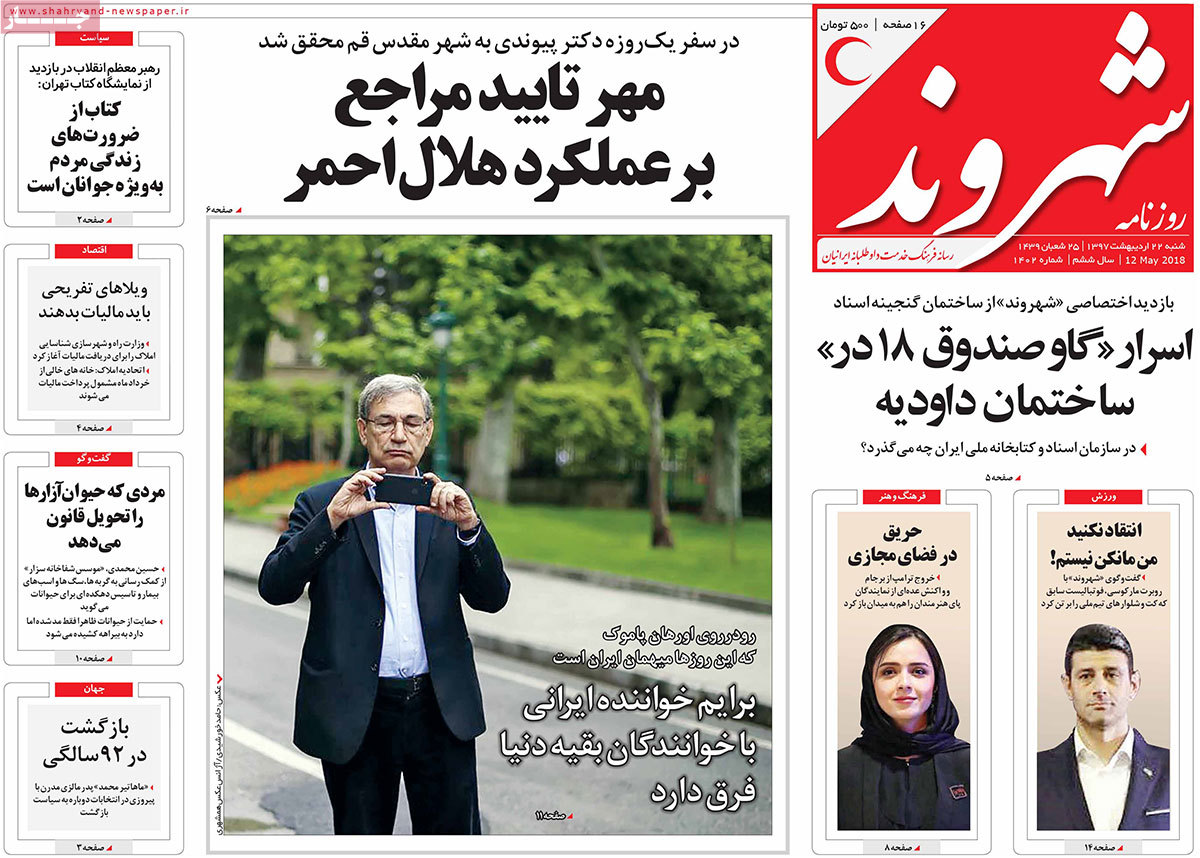 ---
Shargh:
1- Around the World to Save JCPOA
Zarif to Visit Beijing, Moscow, Brussels
2- Intelligence Minister: Environmentalists Arrested Not Spies
---
Vatan-e Emrooz:
1- First Post-ISIS Elections
Political Competition in Iraq Begins with 204 Parties, 27 Coalitions