Tasnim – Troops from different units of the Iranian Army attended a commemorative parade in Tehran on Wednesday morning after a presidential speech to celebrate the Army Day and the Ground Force Day.
The ceremony was held near the mausoleum of the late founder of the Islamic Republic of Iran, Imam Khomeini, with high-ranking officials and senior military commanders in attendance.
President Hassan Rouhani delivered a speech before the beginning of the parade.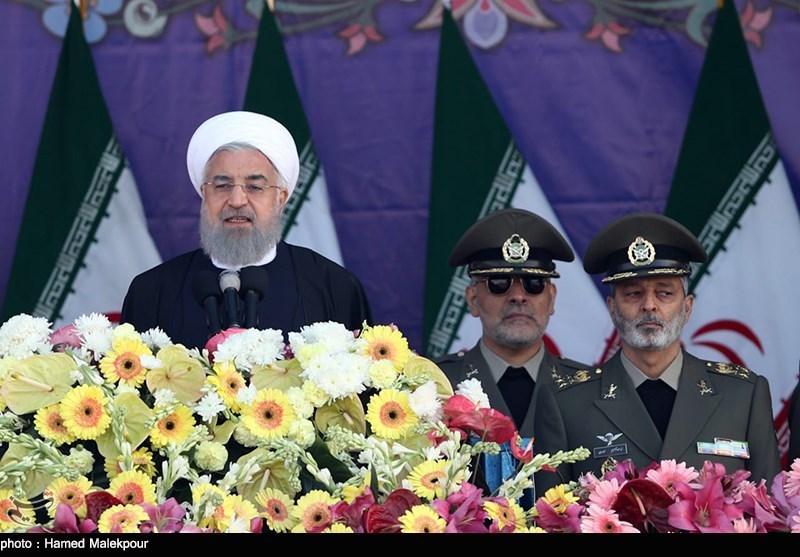 Army Commander Major General Abdolrahim Mousavi, Chief of Staff of the Iranian Armed Forces Major General Mohammad Hossein Baqeri, Defense Minister Brigadier General Amir Hatami, Army Ground Force Commander Brigadier General Kiomars Heidari, and ranking commanders of the Islamic Revolution Guards Corps (IRGC) were present at the ceremony.
A host of Army units put their latest achievements on display in the parade, known as an annual showcase for the Iranian Army's latest achievements, equipment and capabilities.
The military parades in Tehran and elsewhere in the country on Wednesday saw units from the Ground Force, Navy, Air Force and Air Defense Force displaying their missiles, tanks, armored vehicles, rifles, Unmanned Aerial Vehicles (UAVs), fighter jets, radar systems and air defense missile systems.
Leader of the Islamic Revolution Ayatollah Seyed Ali Khamenei has on various occasions stressed the need for boosting Iran's military capabilities to ensure national security.
"Without a moment of hesitation, the country must move to acquire whatever is necessary for defense, even if the whole world is opposed to it," Ayatollah Khamenei said in February.