Bloomberg | Jonathan Tirone: As President Donald Trump threatens to tear up the Iran nuclear deal and tensions flare across the Mideast, his hawkish new national security adviser is preparing to start work.
John Bolton, a veteran of Republican administrations who's called for military action to stop Iran from getting a nuclear bomb, takes over the key White House position on Monday, just as missile strikes on a Syrian military base controlled by President Bashar al-Assad left at least 14 people dead, including Iranians, according to local reports.
The strikes came just hours after an alleged chemical attack on a rebel stronghold near the Syrian capital Damascus prompted Trump to warn Iran and Russia that there'll be a "big price to pay" for backing Assad in Syria's civil war. It wasn't immediately clear who fired the missiles at the Syrian airbase known as T-4. The Pentagon said it wasn't involved and Russia blamed Israel.
As fighting escalated in Syria, President Hassan Rouhani celebrated National Nuclear Technology Day in Tehran with the unveiling of 83 "nuclear achievements" by Iranian scientists before sending envoys to a meeting in Beijing that will underscore China's key role in the country's civilian program.
Trump has set a May 12 deadline to improve or scrap the Obama-era accord that waived sanctions on Iran in exchange for curbs on the country's nuclear activities. Unilateral abrogation would almost certainly trigger a diplomatic crisis between the U.S. and the other signatories — Britain, China, France, Germany and Russia — and could even lead to "military confrontation," according to Foad Izadi, a foreign policy specialist at the University of Tehran.
"The future of the agreement is very much in doubt," Izadi said.
Missiles, Terrorists
Then-President Barack Obama hailed the 2015 Joint Comprehensive Plan of Action for Iran as a milestone for hard-nosed diplomacy, but Trump has criticized the document for not addressing the country's missile program or support for terrorist groups. Some of his staunchest allies, including Iran's regional rivals Saudi Arabia and Israel, have been opposed from the start.
While the U.S. acknowledges that Iran is adhering to all of its commitments, Trump's envoy, Brian Hook, said the country was violating the spirit of the deal by disrupting "regional and international peace and security." He spoke in Vienna after the last session of the committee monitoring the deal.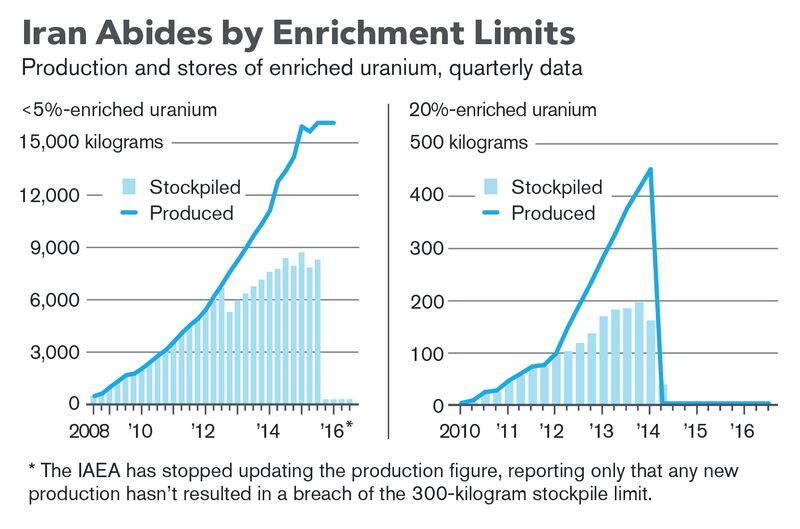 The March 16 meeting focused on concerns that U.S. stonewalling and saber-rattling were preventing Iran from reaping the economic benefits it was promised from major powers, even though inspectors have repeatedly verified its compliance, documents seen by Bloomberg show. Trump's threats to reinstate sanctions hamper the plans of companies eager to invest in Iran, including Daimler AG, Airbus SE and Peugeot SA. Both China and Russia already have major investments in Iran.
Iran is focused on making sure JCPOA countries follow through on commitments to build a reactor for producing isotopes used in high-tech products for industries from health care to engineering, according to the documents. The pledge was key to convincing Iran to destroy most of the reactor it had spent a decade assembling at a facility called Arak, which was designed to produce medical isotopes but could also have yielded plutonium for weapons.
The Atomic Energy Organization in Tehran said last month that it would announce technological advancements related to heavy water, the element that will moderate reactions in its reactors on April 9. Iran has already hired China to help redesign Arak, but the JCPOA has yet to give the sign-off needed to begin work.
"Any failure of the negotiating partners to provide a new design would be a material violation by that side of the deal since Iran has completed its part," said Robert Kelley, a U.S. nuclear weapons engineer and former inspector for the International Atomic Energy Agency in Vienna.
'Dangerous Man'
This is where Iran and other proponents of the deal get nervous about Trump's appointment of Bolton, who has a history of scuttling deals. Back in 2003, as then-President George W. Bush's undersecretary of state for arms control, he successfully pushed for the U.S. to abandon the so-called Agreed Framework to denuclearize North Korea.
Bolton later said he pounced on a U.S. intelligence finding that North Korea had concealed a centrifuge program to convince Bush to back out of the agreement rather than pursue diplomacy. "This was the hammer I had been looking for," he wrote. North Korea then expedited its weapons program and detonated its first bomb three years later.
Izadi of Tehran University said Iranian diplomats are keenly aware of North Korea's experience and Bolton's role, and aren't optimistic the deal will last.
"Bolton is a very dangerous man," Izadi said. "He wants to achieve what he's long been asking for, which is regime change."
— With assistance by Ladane Nasseri