Iran Front Page- IFP has taken a look at the front pages of Iranian newspapers on Sunday, April 8, and picked headlines from 21 of them. IFP has simply translated the headlines and does not vouch for their accuracy.
The top story in all papers today was the growing rate of US dollar and other foreign currencies in Iran, and the ongoing efforts to control it. The Parliament is going to give an ultimatum to the Central Bank while Economy Minister Massoud Karbasian has vowed to return the country's economy to normal.
Several newspapers also highlighted the Friday night's cyber-attacks on major Iranian databases, which were caused by a flaw in the Cisco switch.
The Israeli troops' ongoing violence against Palestinian protesters, which has so far killed dozens of people and wounded hundreds of others, also received great coverage today.
Also a top story was Persepolis FC's second consecutive championship three weeks before the end of the Iran Pro League.
The above issues, as well as many more, are highlighted in the following headlines and top stories:
19 Dey:
Minister: Stability to Return to Iran's Economy Soon
---
Abrar:
Russian Parliamentary Delegation to Visit Iran
IRGC General: No Country Should Test Iran's Strategic Might, Patience
---
Abrar-e Eqtesadi:
US Dollar's Storm in Iran's Economy
Parliament to Give Ultimatum to Central Bank
---
Afkar:
IRGC General: Iran's Policy Based on All-Out, Active Presence in Southern Waters
Senior MP: Iran Will Definitely Pull Out of JCPOA If Sanctions Re-Imposed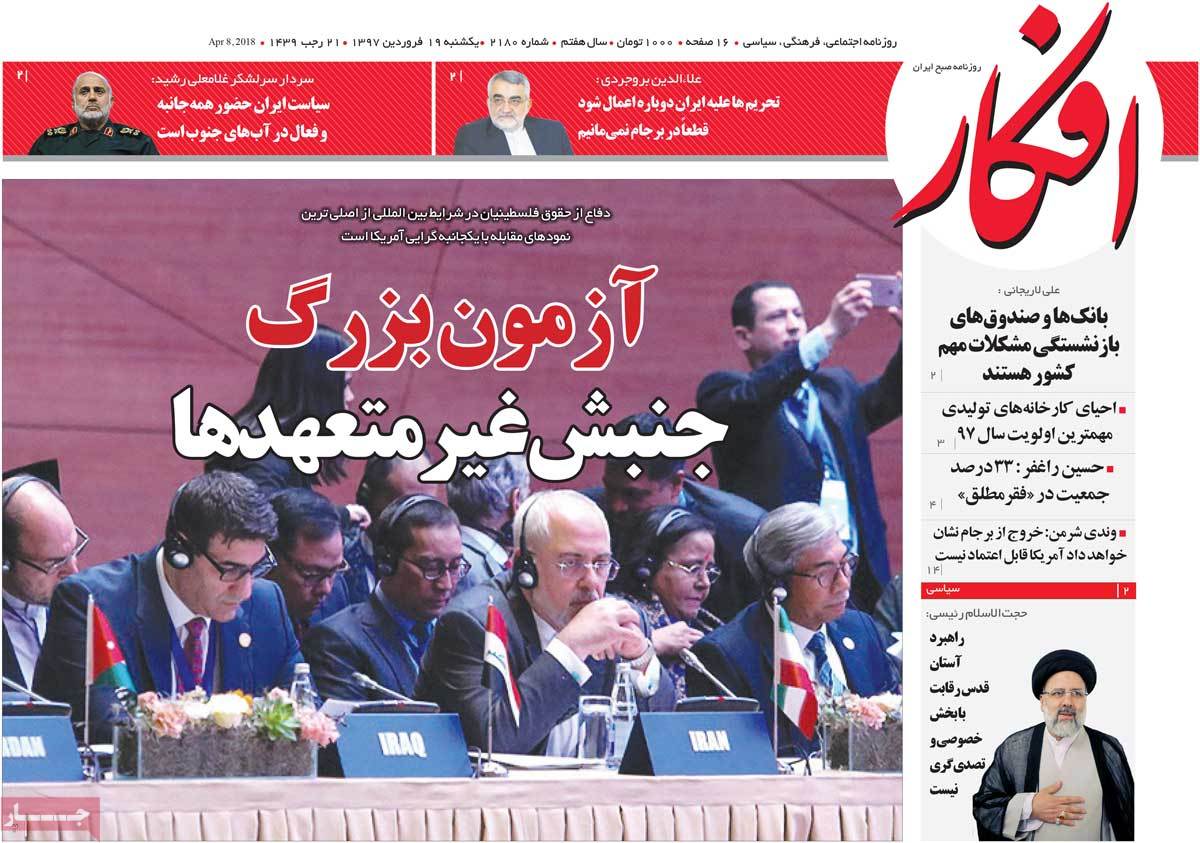 ---
Aftab-e Yazd:
Wild Diplomacy: Hawkish National Security Advisor Bolton Starts Work
Disappointment with Rouhani to Damage Reputation of Reformism: Karbaschi
Persepolis FC Claims Iran Pro League Title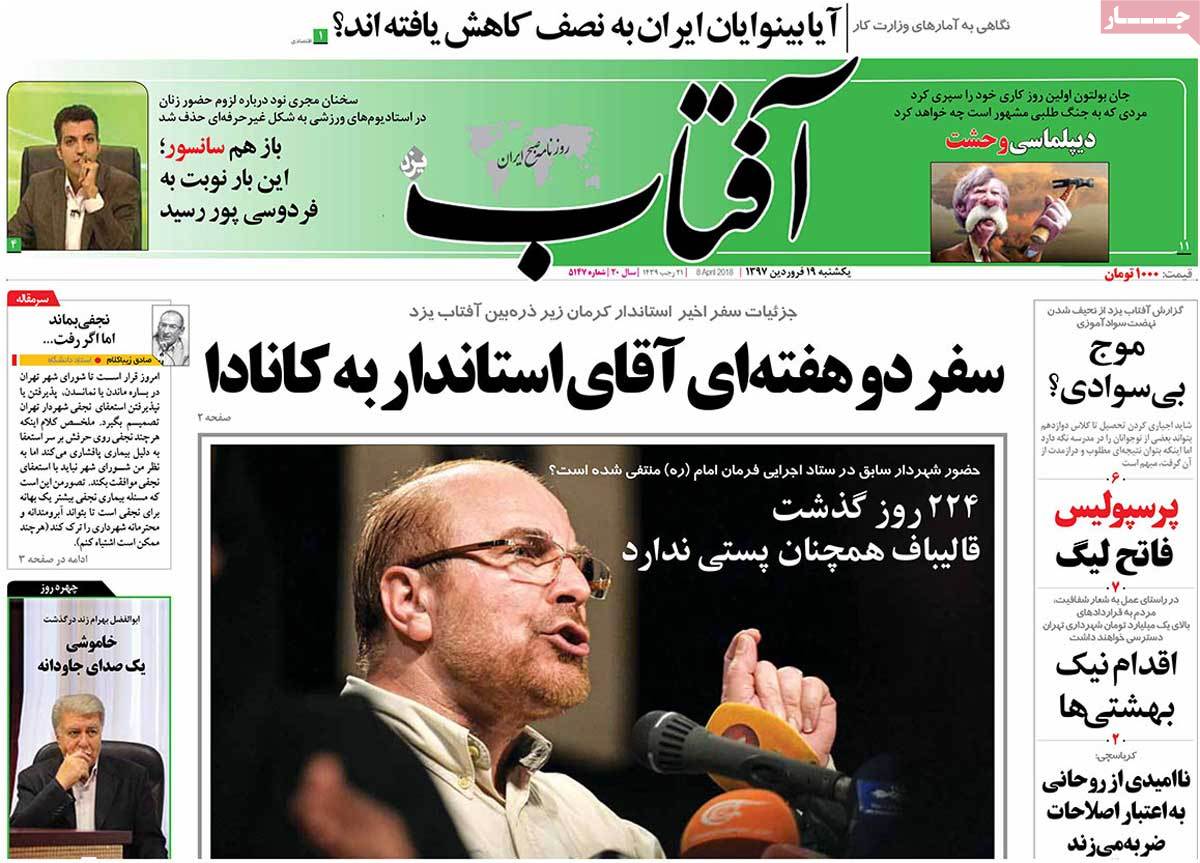 ---
Asrar:
Oil Minister: Trump Has Caused Americans Firms to Lose Their Chance in Iran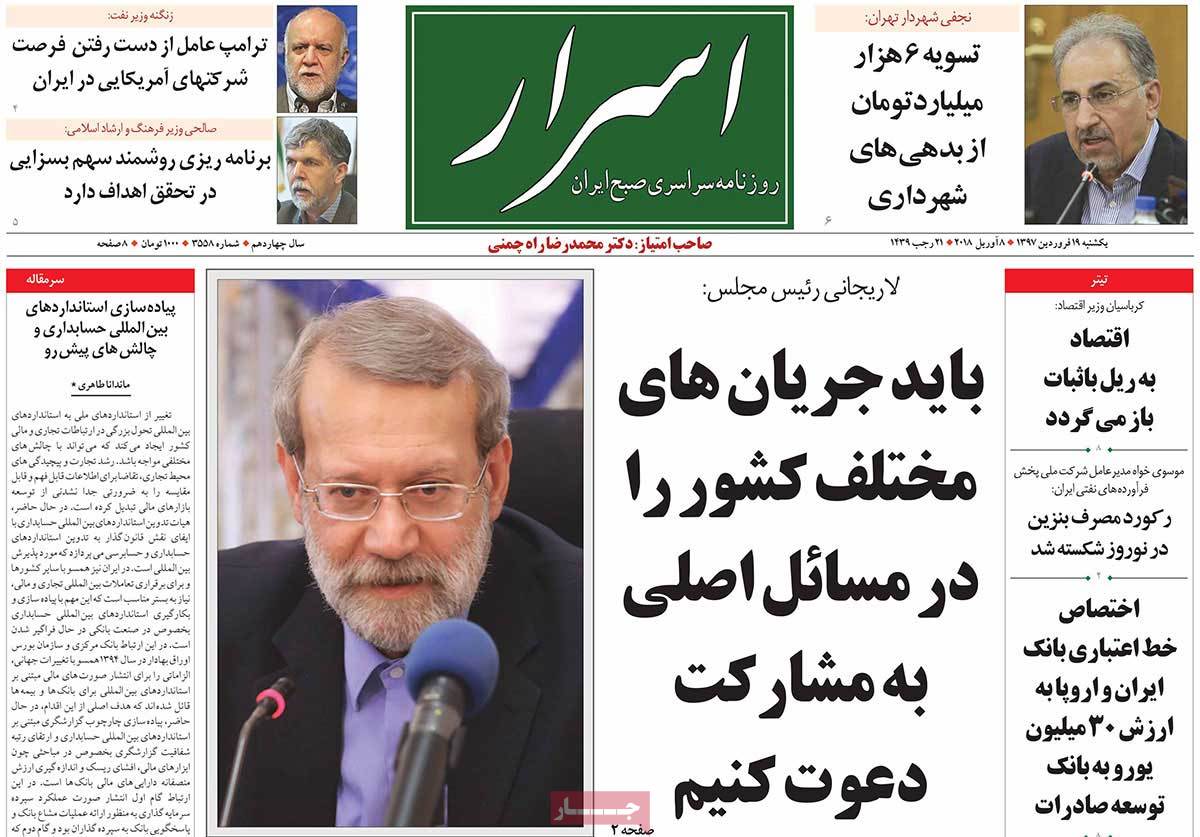 ---
Ebtekar
Economy Used as Weapon in New Cold War
US Blacklists 24 Russian Citizens, 14 Firms for Moscow's Sabotage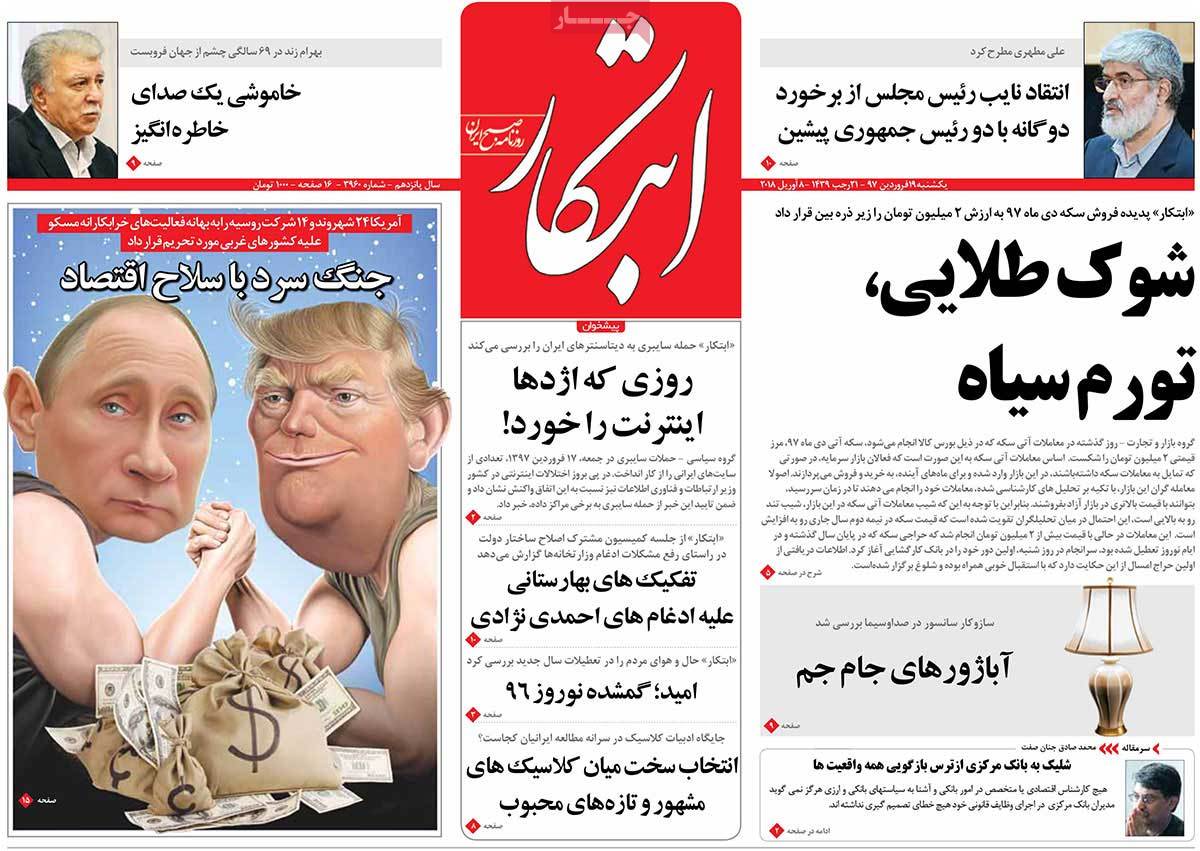 ---
Etemad:
People in Underdeveloped Sistan and Baluchestan Province Are Crying
MP Talks about Consequences of Water Crisis in Province
Impact of Increased Dollar Rate on People's Livelihood
---
Ettela'at:
Economy Minister: Gov't Will Strongly Reconstruct Economy, Fight Corruption
US Blocks UN Security Council Statement against Zionists' Crimes
MP: Mousavi, Karroubi Not after Overthrowing Establishment
Lifting Their House Arrest to Reinforce National Solidarity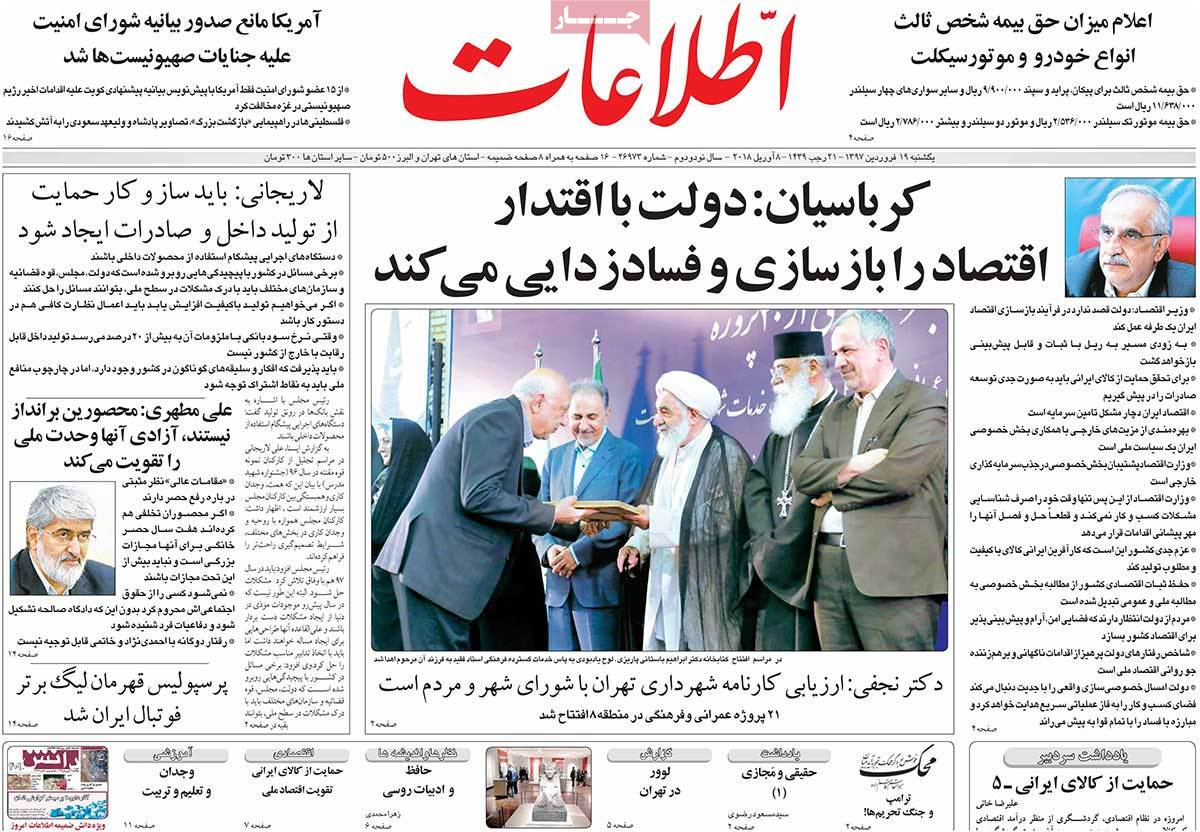 ---
Iran:
Spring Rainfall across Iran
Zoroastrian Councillor of Yazd: My Membership Doesn't Matter Anymore
I'll Pursue Rights of Minorities
Two-Fold Increase in Oil Exports to India
---
Javan:
Iran's Vulnerable Cyberspace
Massive Cyber-Attacks on Friday Night Highlights Need for National Network
Tel Aviv Worried about Spread of Gaza Protests to West Bank
---
Jomhouri Eslami:
Palestinians Urge Int'l Bodies to Prevent Zionists' Brutality
Russia: US Sanctions Not to Remain Unanswered
Saudi Crown Prince: We Have Many Common Interests with Israel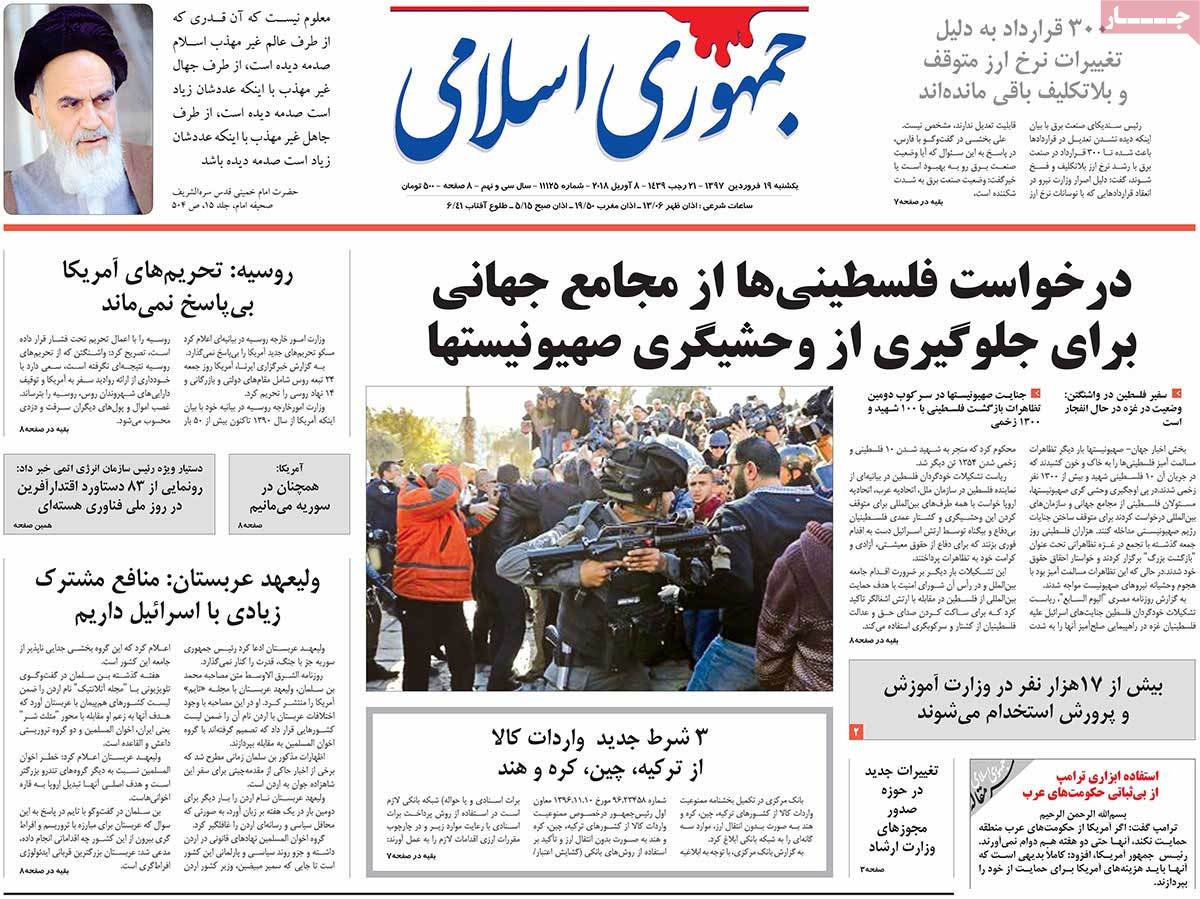 ---
Kayhan:
Government's Reactions to Dollar Rate Hike
Yesterday Described as Rivals' Plot, Today as Economic Necessity!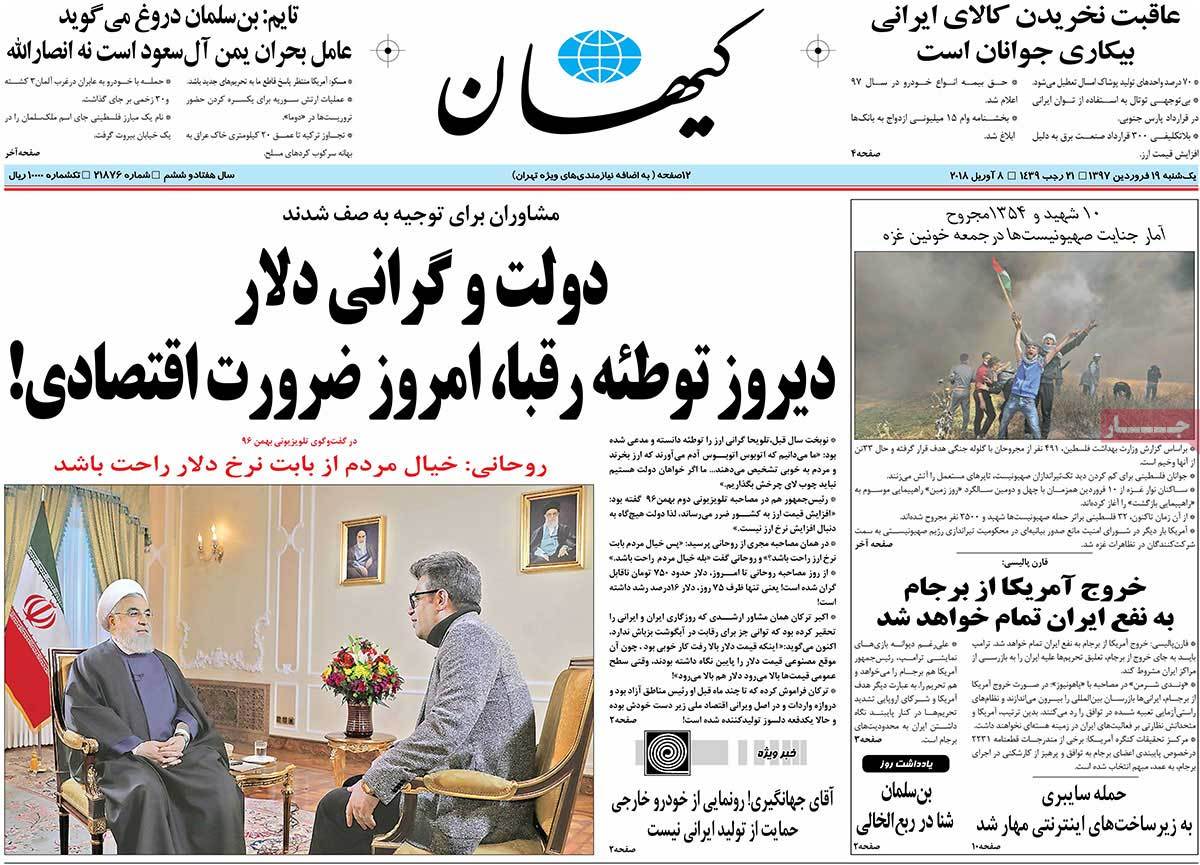 ---
Khorasan:
Parliament's Double-Urgency Motion to Control Forex Rate
---
Payam-e Zaman:
33% of Iranian People in Absolute Poverty
IRR 40m [around $760] Is Poverty Like for People in Cities
Macron, Merkel to Visit US for Talks on JCPOA
---
Resalat:
IRGC General: We're Ready for Any Reaction by Constantly Observing Enemies
---
Rooyesh-e Mellat:
Interior Minister: Iran Most Powerful State Fighting Terror in Mideast
---
Sazandegi:
Turkey's Hands in Iran's Pockets
Iranian Tourists Spend $400 More than Other Tourists in Turkey
---
Shargh:
Billions of Dollars of Dirty Money Taken Out of Iran in Ahmadinejad's Era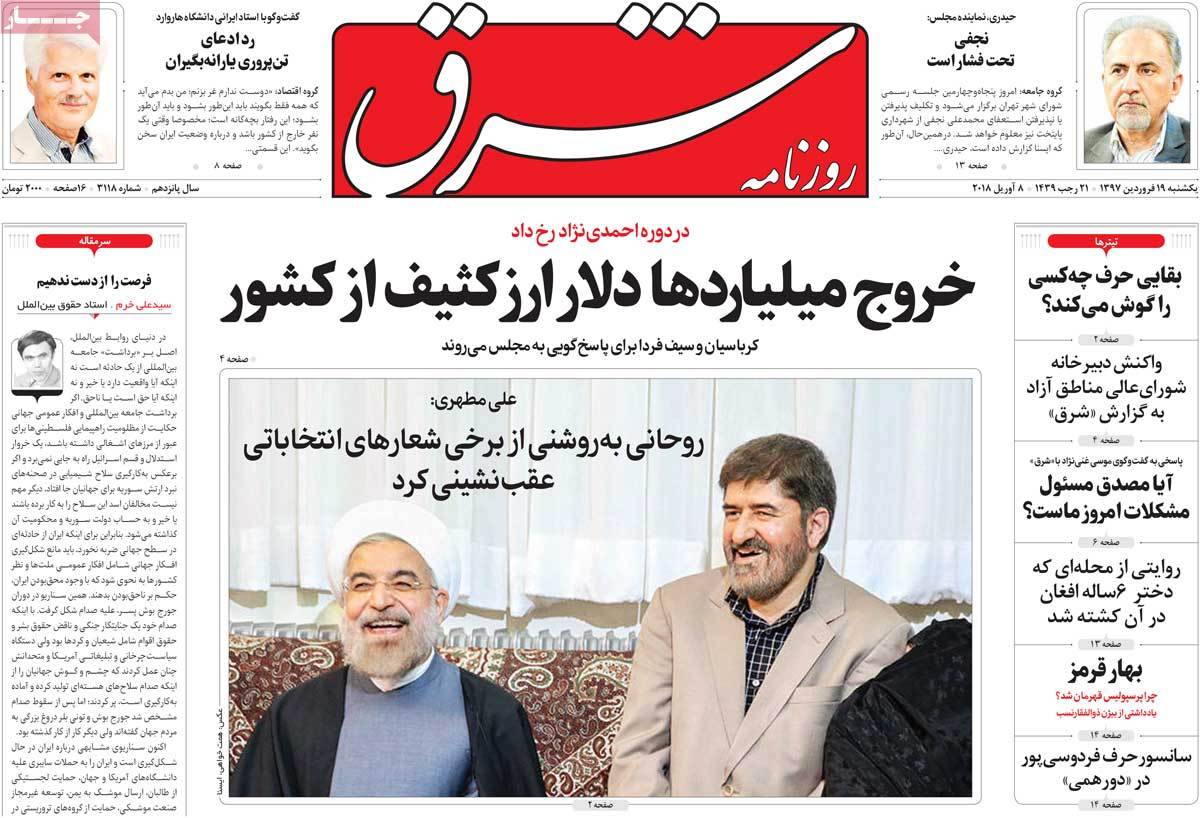 ---
Tejarat:
Iran DM: Saudi Crown Prince Has Illusion of Power
---
Vatan-e Emrooz:
Cyber Stroke: ICT Minister Says Attacks on Iranian Databases Had Global Scope