Iran Front Page- IFP has taken a look at the front pages of Iranian newspapers on Sunday, January 7, and picked headlines from 14 of them. IFP has simply translated the headlines and does not vouch for their accuracy.
The top story in almost all papers today was the recent UN Security Council meeting on the Iran protests, which was held at the request of the US, but led to the isolation of Washington. The Friday meeting turned into a tribune for the member states to express their support for the Iran nuclear deal and to call for avoiding interference in Iran's domestic affairs.
Several newspapers also covered the remarks by former IRGC chief-commander Mohsen Rezaei about the role of an Erbil-based "operation room" headed by a CIA agent in the recent unrest in Iran. Rezaei says Saddam Hussein's brother-in-law and representatives of Saudi Arabia and the MKO terrorist group also attended the Erbil meetings where the unrest in Iran was orchestrated.
The above issues, as well as many more, are highlighted in the following headlines and top stories:
19 Dey:
Conservative Analyst: Those Who Call for Rouhani's Resignation Serving Rioters' Interests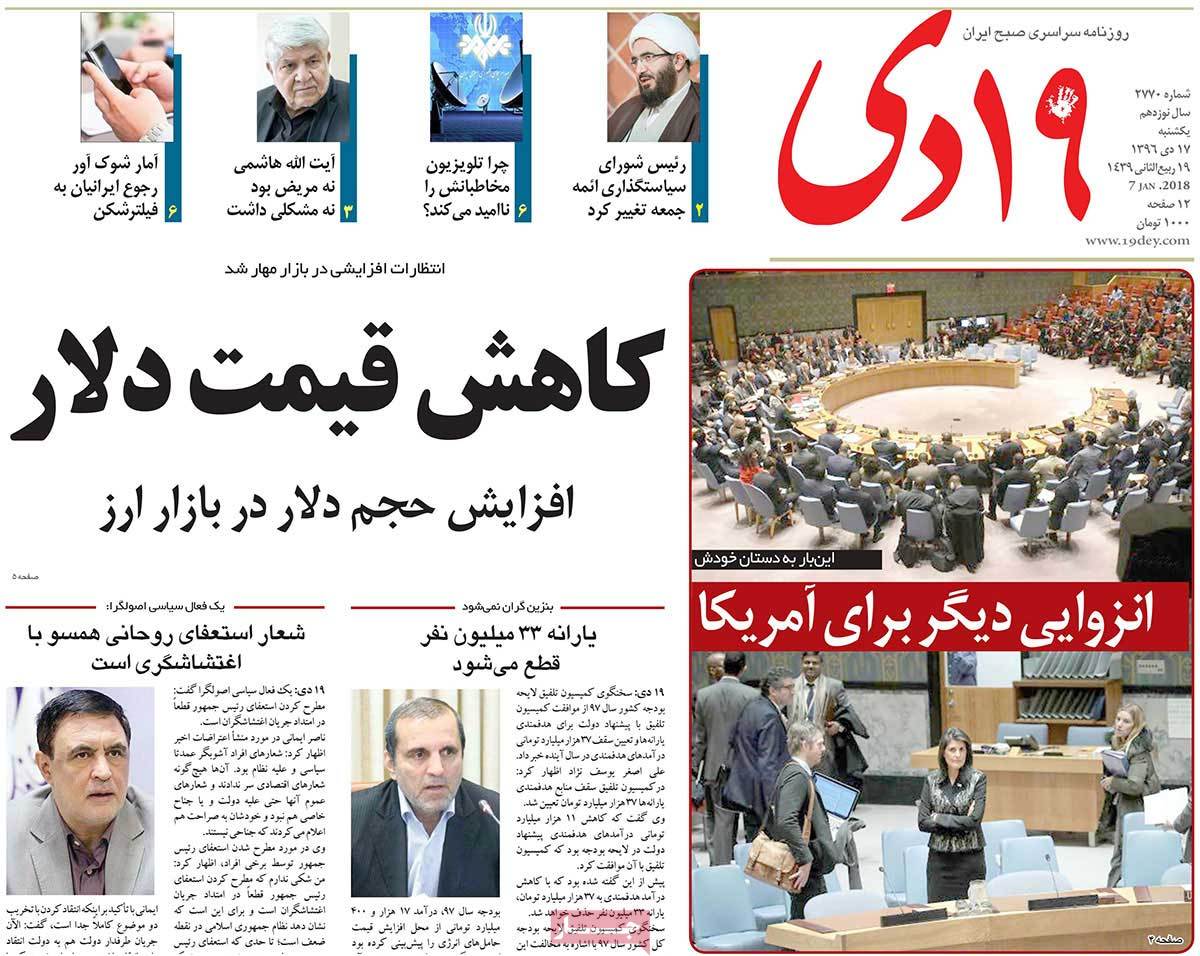 ---
Abrar:
Georgia's Saakashvili Sentenced to 3 Years in Prison
Global News: Representatives of France, UK, Netherland, Sweden Didn't Condemn Iran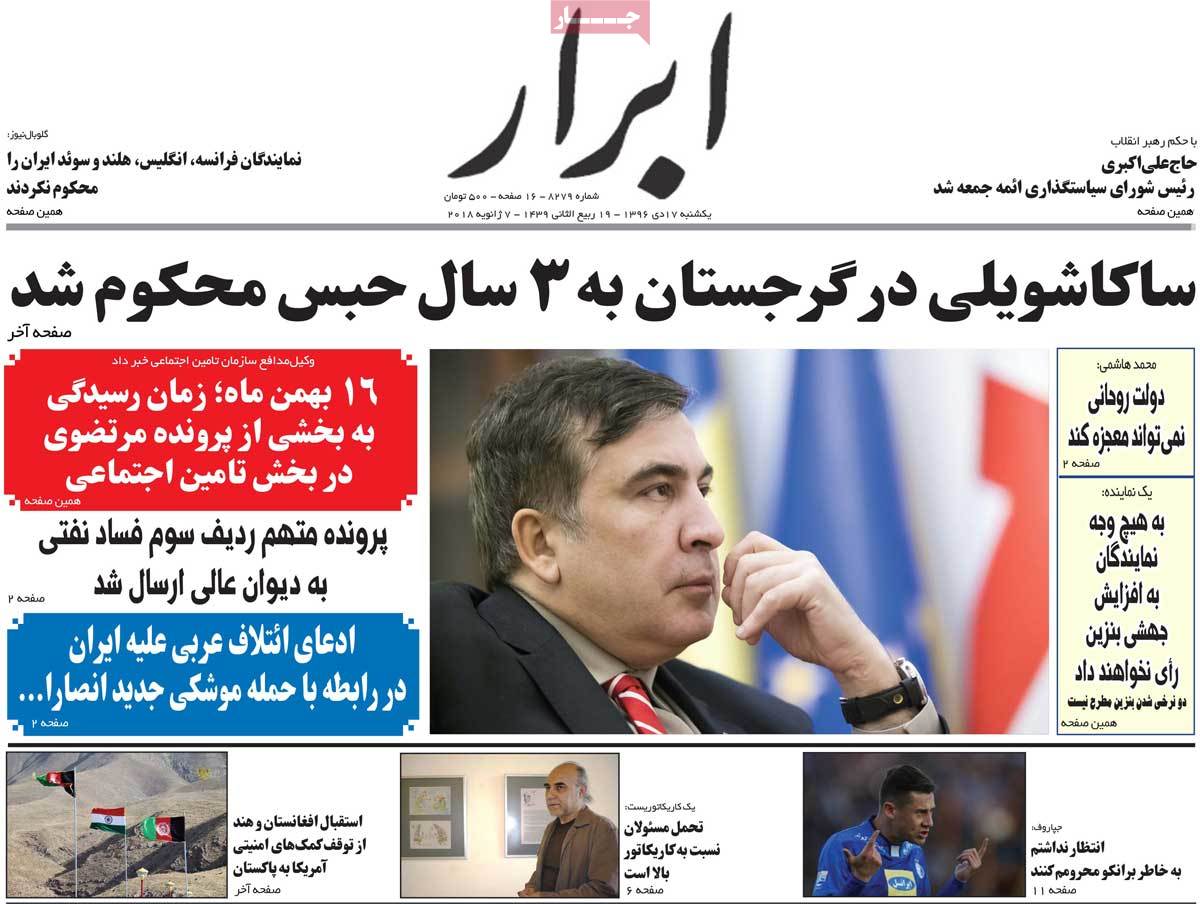 ---
Aftab-e Yazd:
IRGC General Rezaei: Saddam's Brother-in-Law behind Recent Riots in Iran
Story of 10-Year-Old Iranian Genius
Hossein Ataei Has Received Invitations from Tesla, Volvo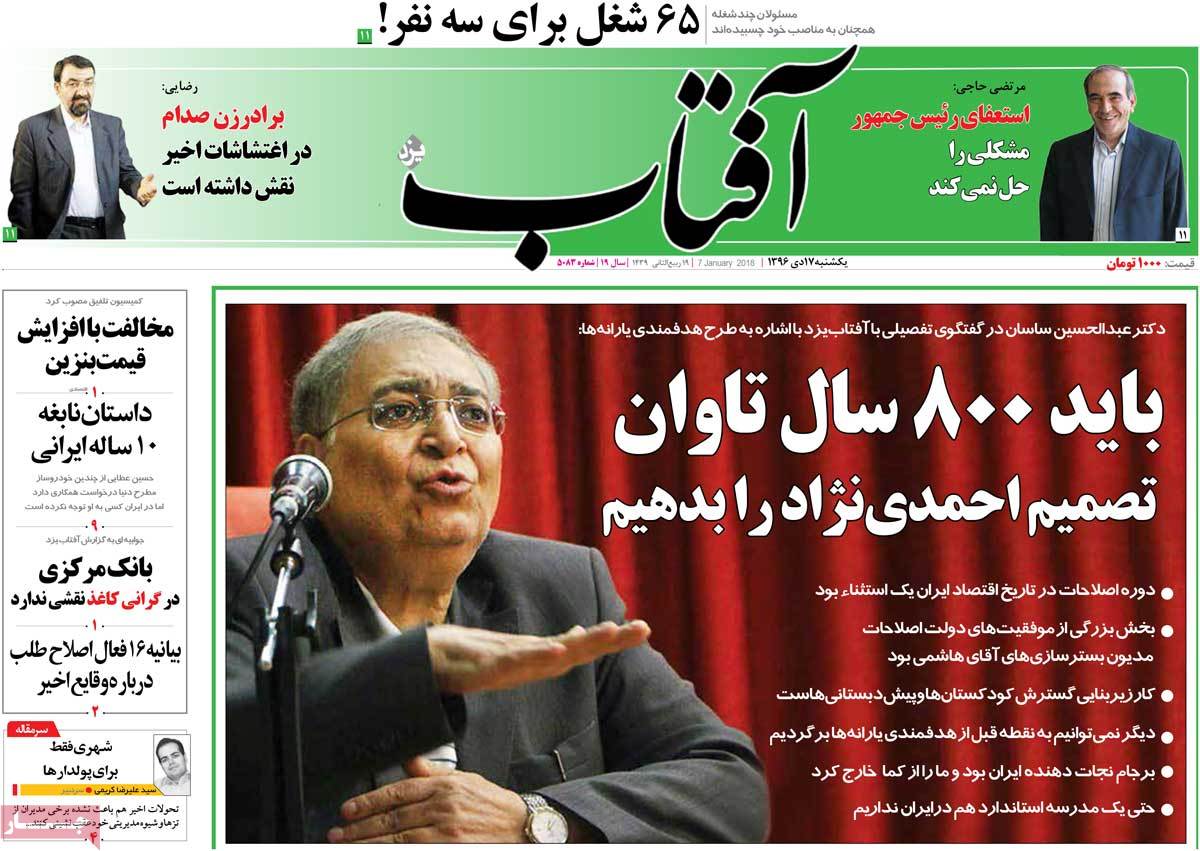 ---
Arman-e Emrooz:
Basij Forces to Start Regular Patrols
---
Asrar:
IRGC General Rezaei: Erbil-Based Meeting behind Recent Unrest
Iran's Gas Exports to Georgia Not Cancelled: Official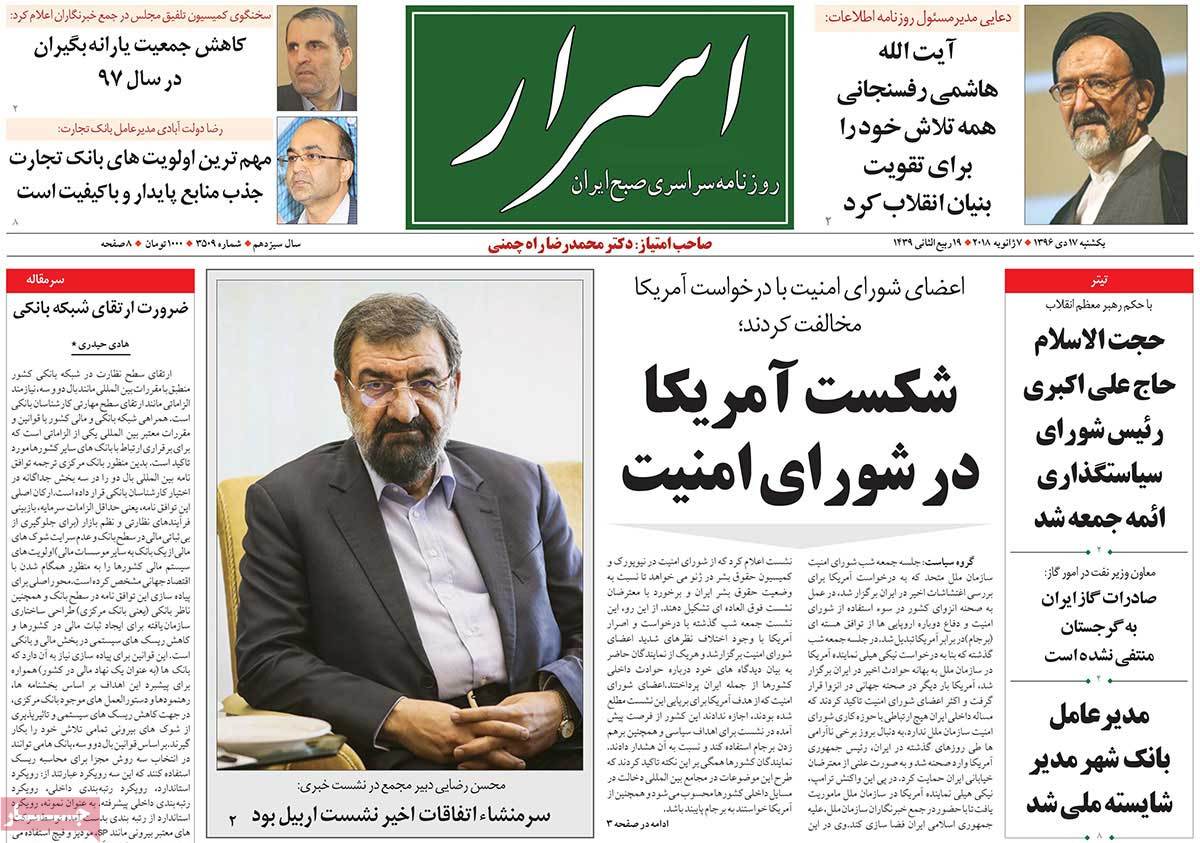 ---
Ettela'at:
CNN: UNSC Meeting Led to US Isolation
Global Coverage of UNSC Meeting on Iran Protests
Bin Salman Holds Emergency Meeting after Yemeni Missile Hit Najran
Rouhani's Gov't Can't Do Miracles: Mohammad Hashemi Rafsanjani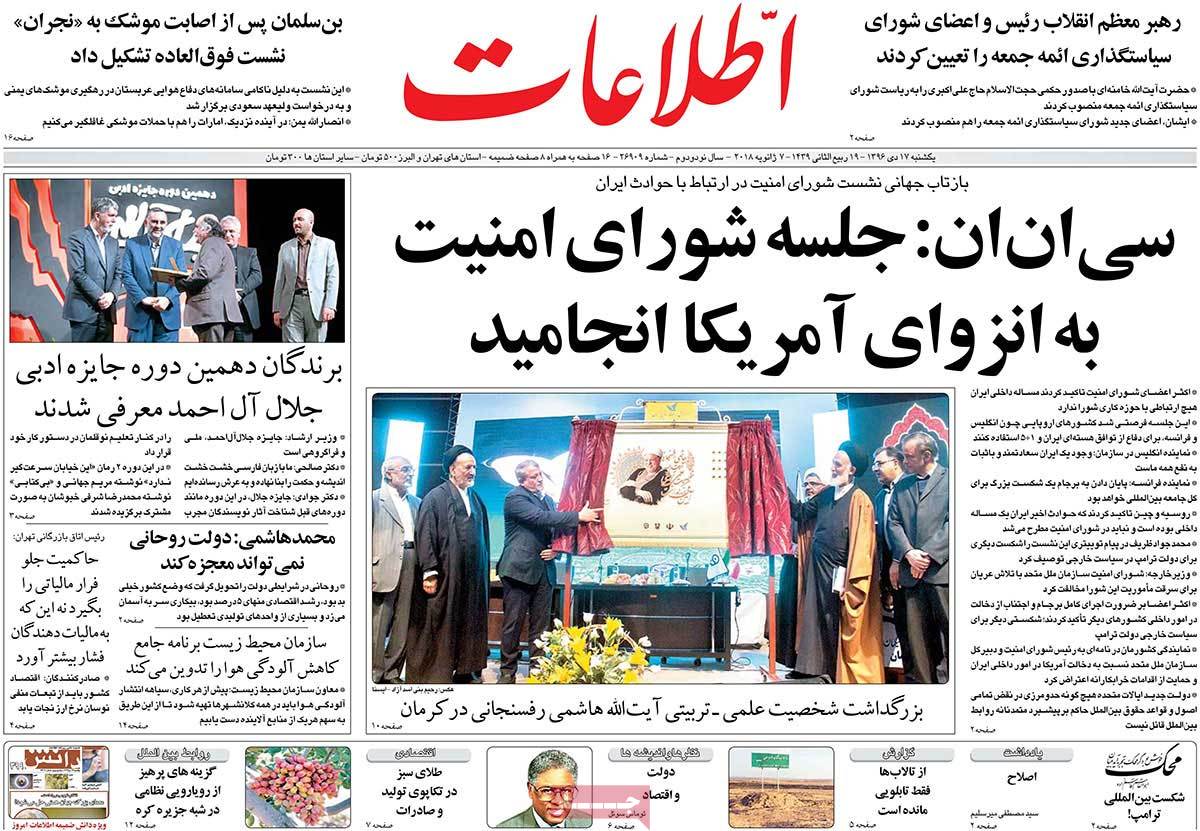 ---
Iran:
"Extraordinary" Isolation of US
UNSC Rejects White House's Request to Support Iran Unrest
Tillerson: We'll Try to Revise JCPOA, Keep US on Board
---
Javan:
US Suffers New Defeat with Its Stupid Mistake
Majority of UNSC Member States Refuse to Support US on Iran
Parliament: Gov't Has No Correct Understanding of House Market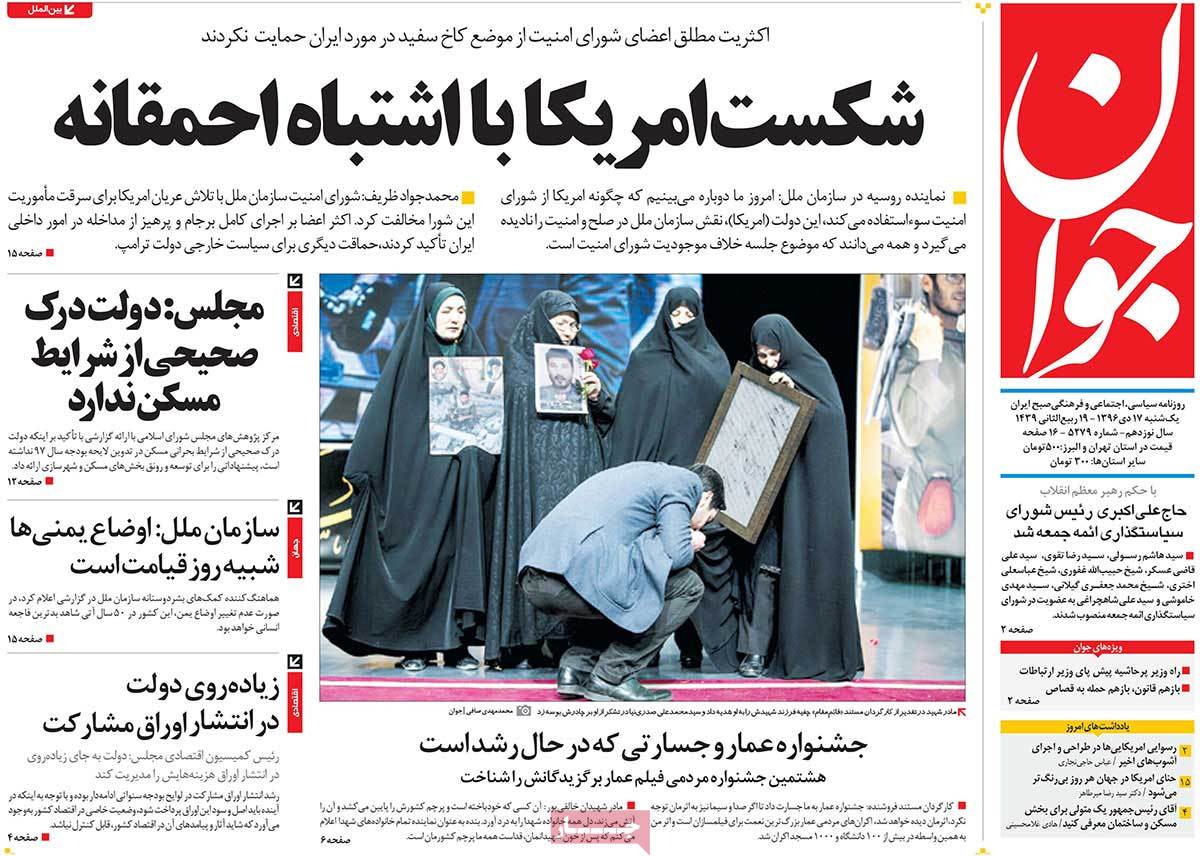 ---
Jomhouri Eslami:
US Suffers New Defeat in UN Security Council
South Pars Gas Field to Supply 85% of Iran's Natural Gas: Official
UN Official: Situation of Yemenis Similar to Doom's Day
---
Kayhan:
Rioters Even More Wicked than ISIS: Kayhan Chief
Economic Woes Once Again Sidelined
Advocates of Reformism Looking for Freedom of Rioters!
Lessons to Be Learned from Pakistani FM
US Always Betrays; We Made a Mistake by Trusting US
---
Khorasan:
Parliamentary Commission Rejects Increase in Fuel Prices in New Budget
---
Resalat:
Ayatollah Nouri Hamadani: Officials Should Try to Localize Cyberspace
Academic: Next Sedition Based on Frustrating People, Introducing Gov't as Incompetent
Tillerson: More Sanctions to Come against Iran
US Won't Change Hostile Stances Even with Tens of Other JCPOAs: Cleric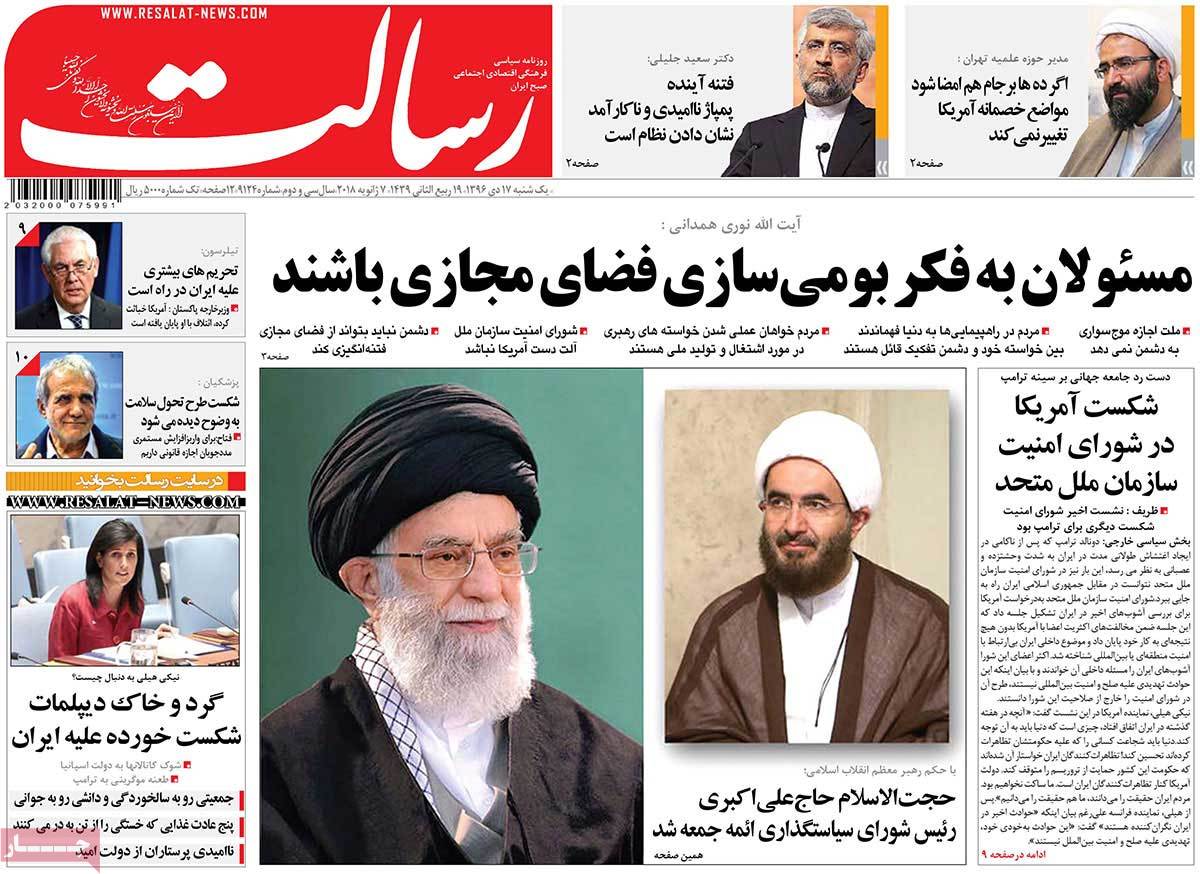 ---
Shargh:
Ayatollah Hashemi Shahroudi Hospitalized in Germany, Visited by Professor Samii
Solution for Protests: 16 Reformist Political Figures Issue Statement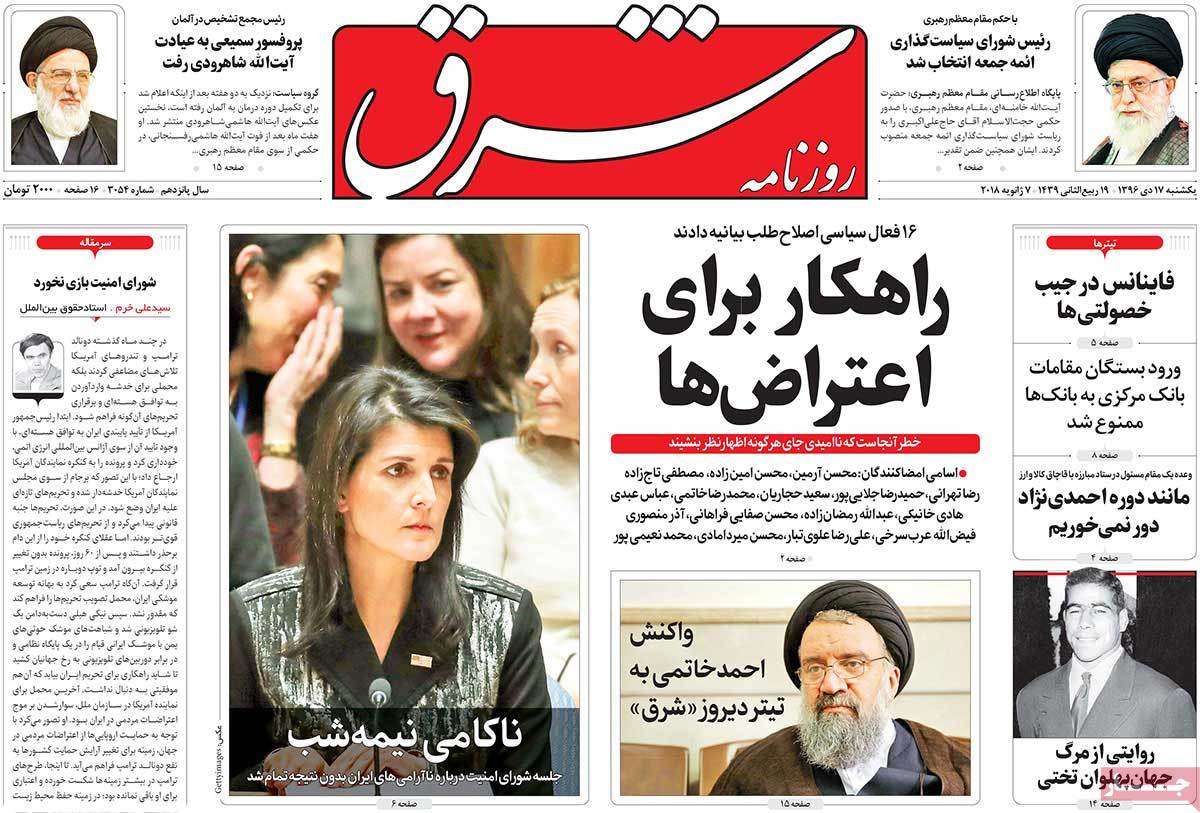 ---
Sobh-e Now:
Return of Calm Thanks to Champions of City
Police Praised for Great Handling of Street Riots
White House's New Scandal
CNN: US Accused in UNSC of Interfering in Iran's Domestic Affairs
Shiites to Be Forced to Immigrate from Bahrain