Iran Front Page- IFP has taken a look at the front pages of Iranian newspapers on Tuesday, December 5, and picked headlines from 19 of them. IFP has simply translated the headlines and does not vouch for their accuracy.
The slaying of Ali Abdullah Saleh, the former president of Yemen, was the top story in all Iranian newspapers today. Many of them referred to the death as a result of his sedition and coup attempt against the Houthi Ansarullah movement.
The remarks made by Iranian Parliament Speaker Ali Larijani and Foreign Minister Mohammad Javad Zarif during their visits to the Russian capital of Moscow also received great coverage.
The above issues, as well as many more, are highlighted in the following headlines and top stories:
19 Dey:
1- Imam Khomeini's Grandson Hassan: Unity among Muslim States Our Only Way
2- Larijani: Iran, Russia Dealt Heavy Blow on Terrorists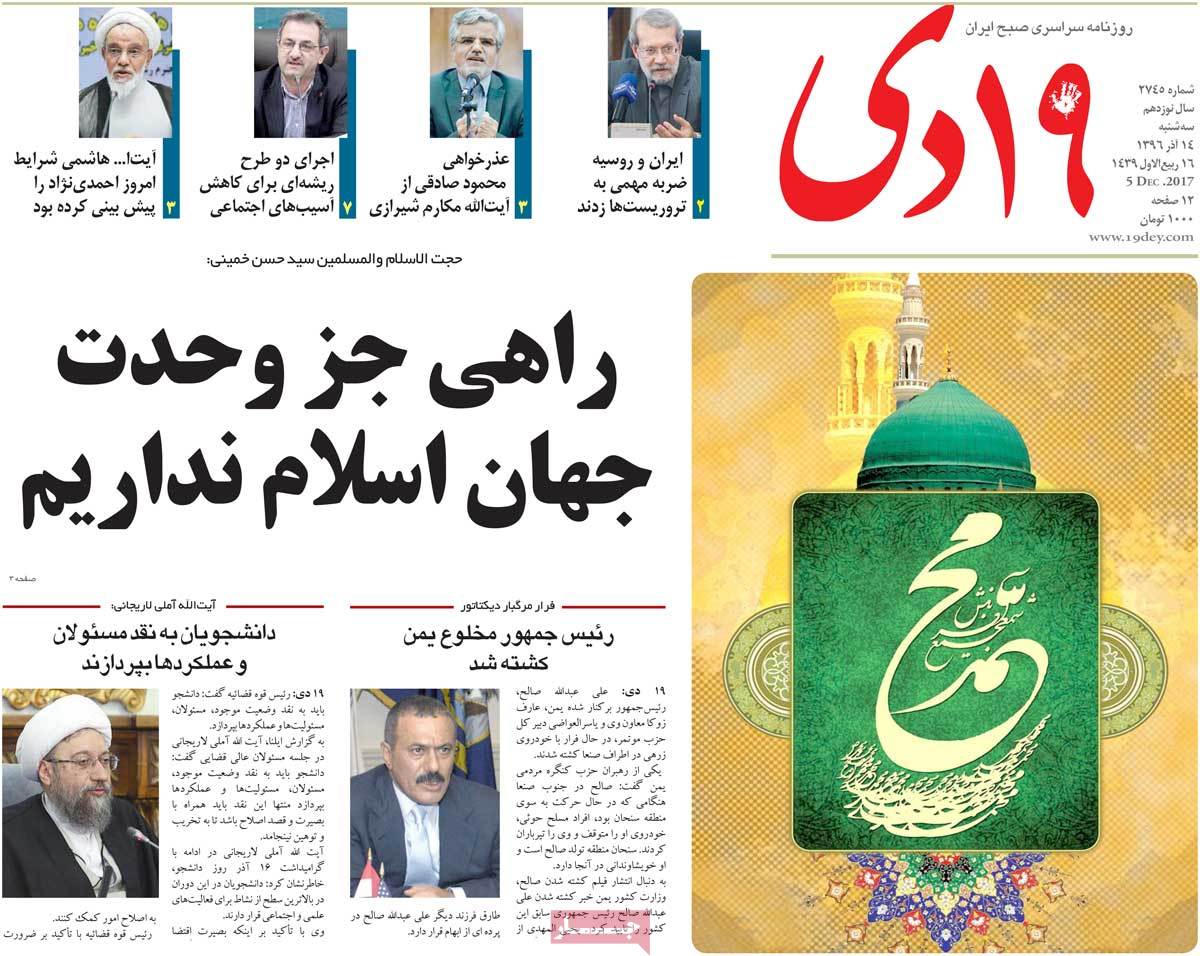 ---
Abrar:
1- Ansarullah: Ali Abdullah Saleh Killed
2- Trump's Advisor: We've Made Serious Progress in Uniting Mideast against Iran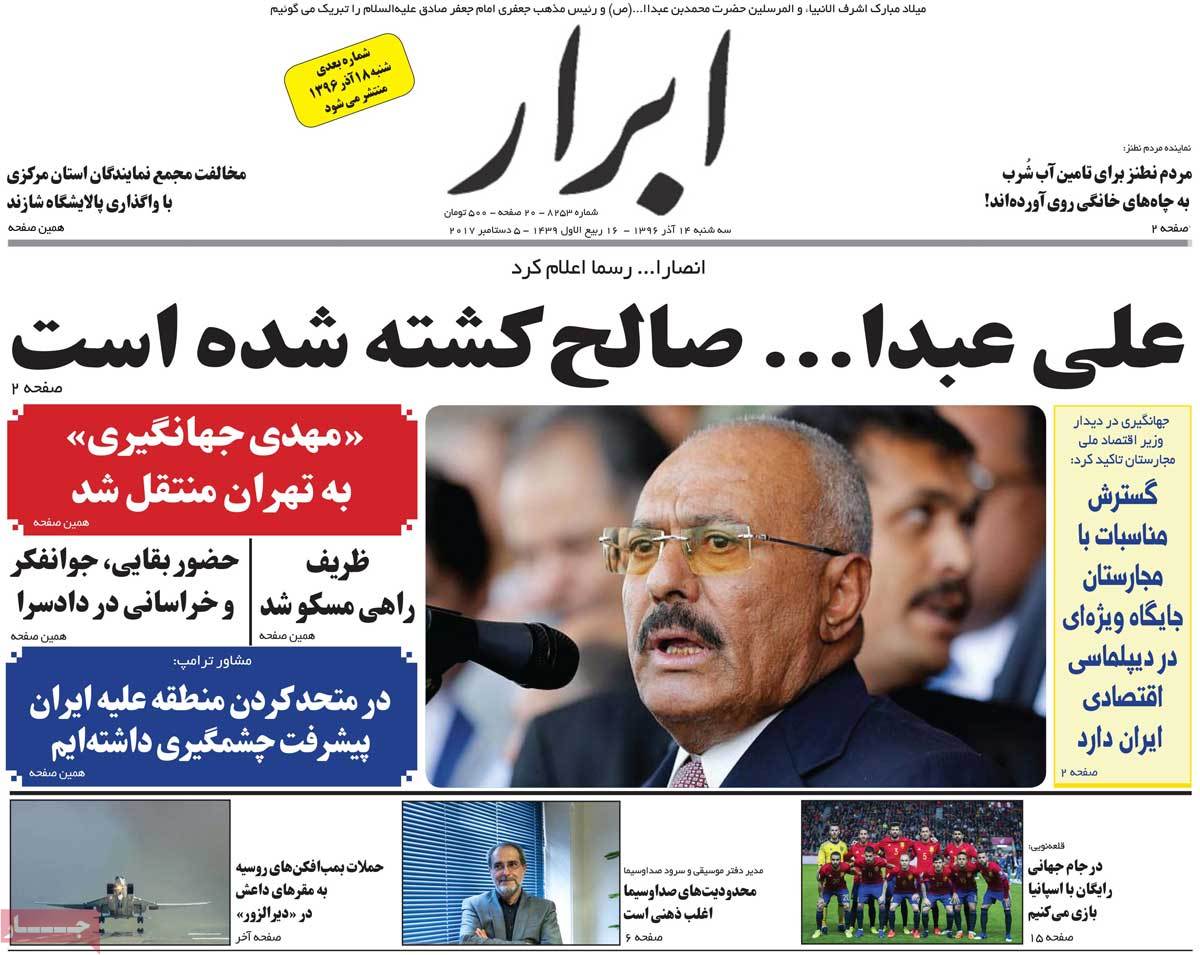 ---
Afkar:
1- Fate of Seditionist: Saleh, the Saudi Mercenary, Burns in Fire of Sana'a Sedition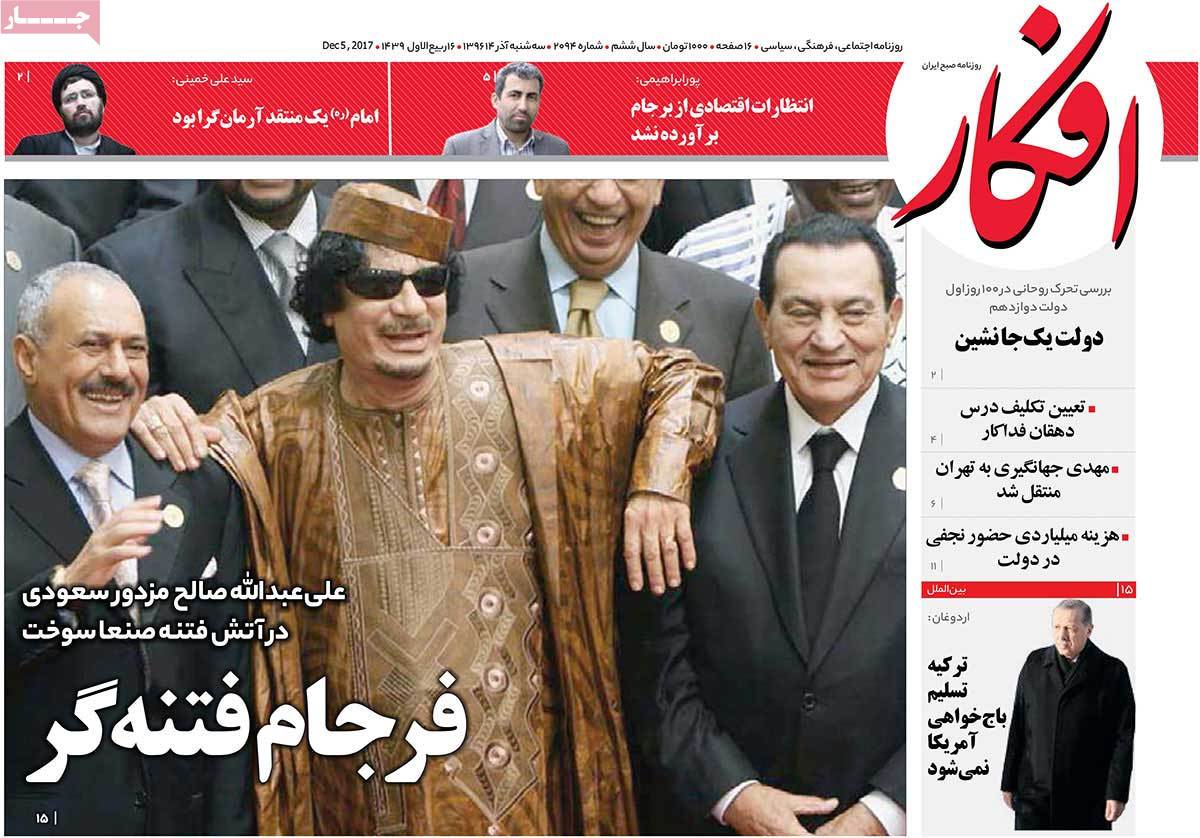 ---
Aftab-e Yazd:
1- MP: On Issue of House Arrest, We're Witnessing Flexibility
---
Arman-e Emrooz:
1- Saleh Victim of Riyadh's Plot
2- Imam Khomeini's Grandson Ali: Status Quo Needs Serious Criticisms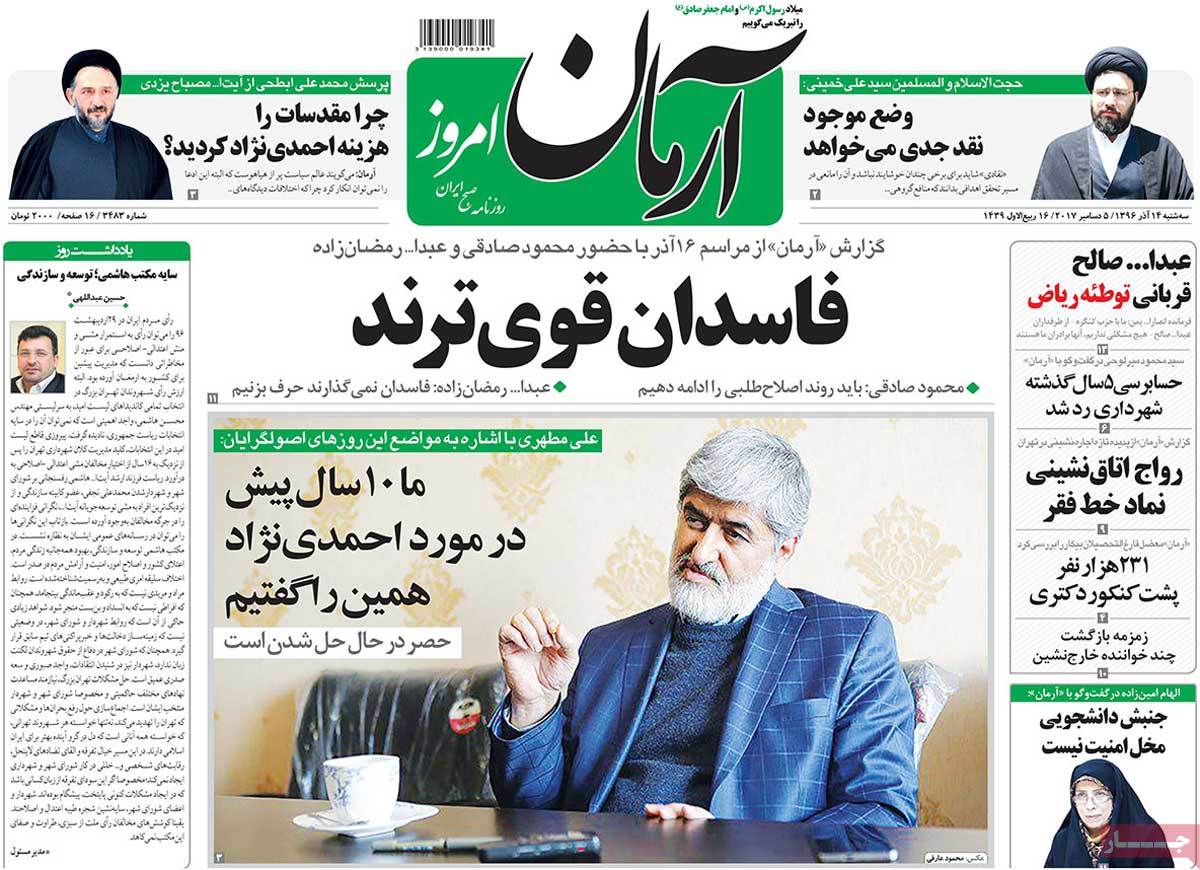 ---
Ebtekar:
1- Tragic End of a Dictator
2- Fears and Hopes for Rouhani: A Report on Decreased Popularity of Rouhani
3- Larijani: NATO Ignoring Heroin Labs, Bombing Wedding Ceremonies
---
Etemad:
1- May His Name Be Remembered Forever: On Prophet Muhammad's Birthday
---
Ettela'at:
1- Ali Abdullah Saleh Killed: Yemen War Enters New Phase
2- Saudi Crown Prince Has Asked Palestinians to Give Up Quds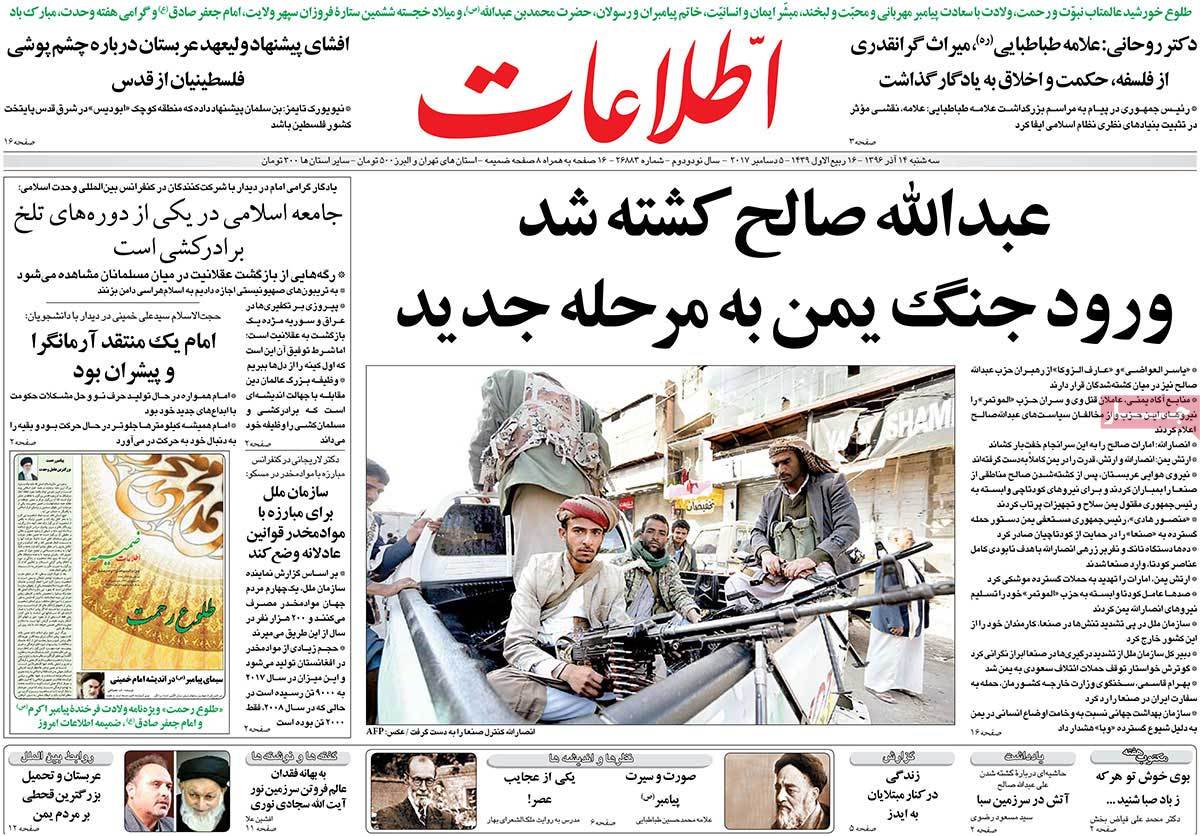 ---
Iran:
1- Imam Khomeini's Grandson Hassan: Unity Key to Overcoming Crisis
2- Zarif: No Foreign Force Allowed to Be Present in Caspian Sea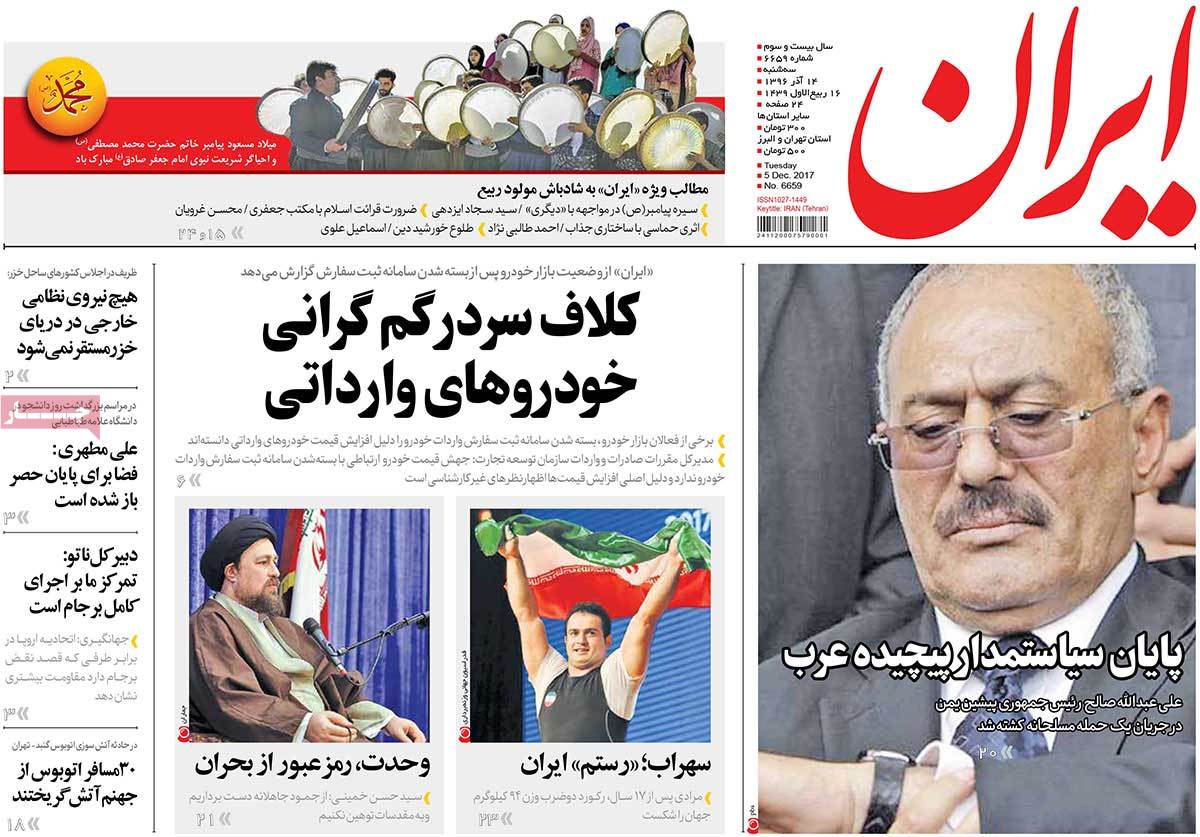 ---
Jame Jam:
1- Saleh's Death: Saudis' Last Winning Card Burns in Yemen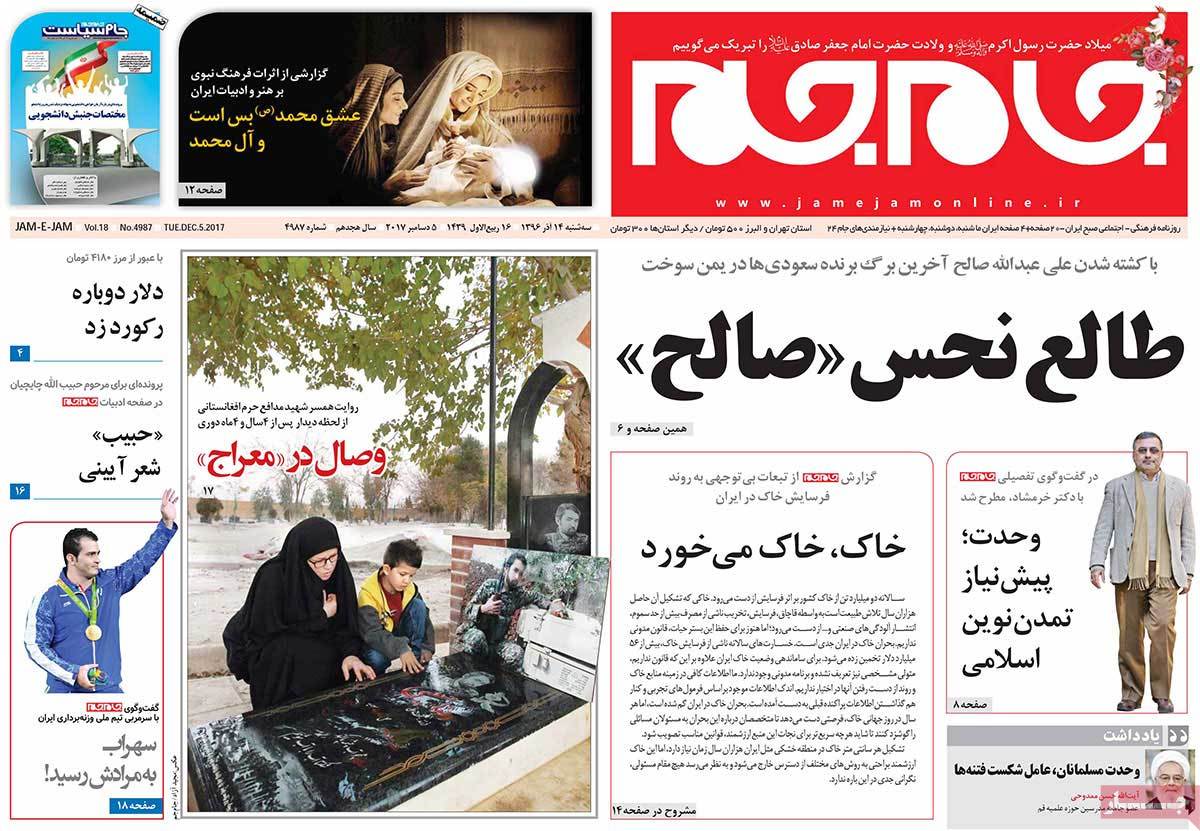 ---
Jame'eh Farda:
1- Unclear Fate of Yemen War
2- Environment Chief: Foreign Loans Only Way to Revive Lake Urmia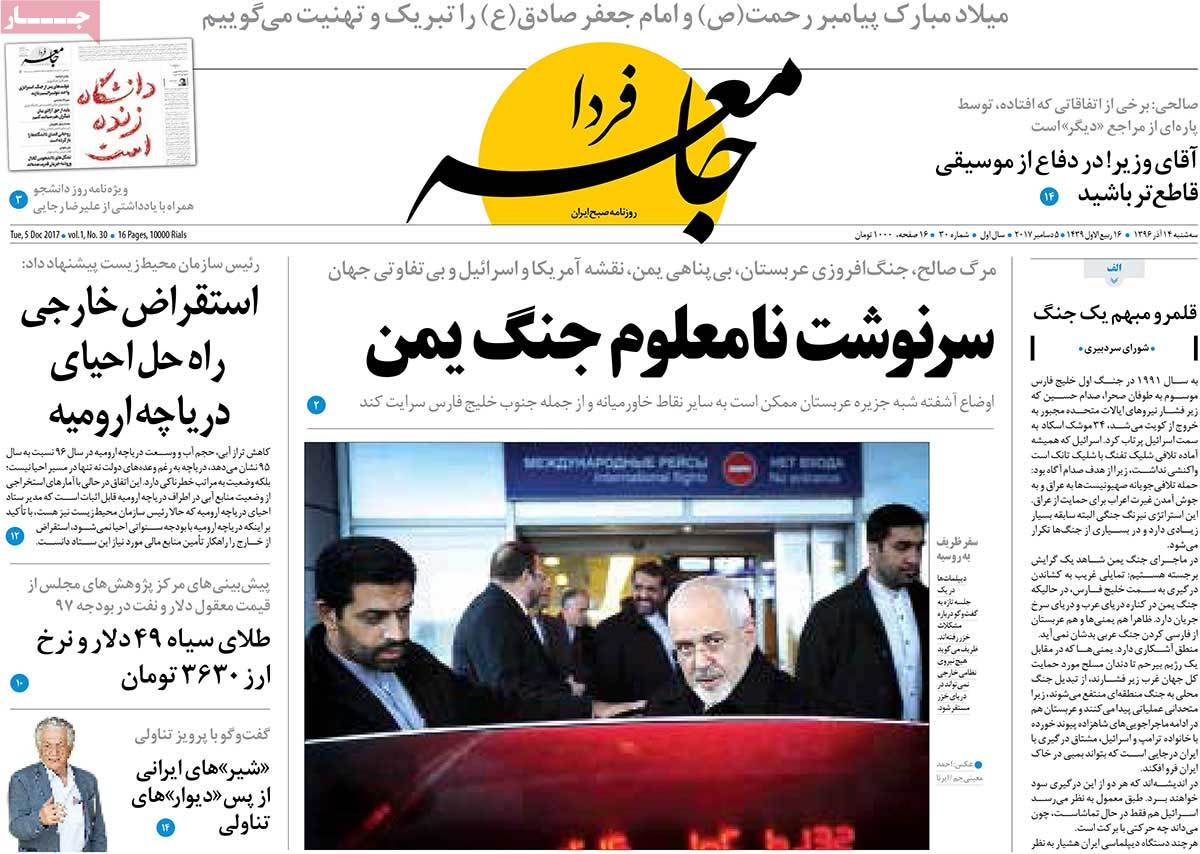 ---
Javan:
1- Fate of Little Saddam's Treason
2- Iranian Weightlifter Moradi Breaks World Record, Bags Three Golds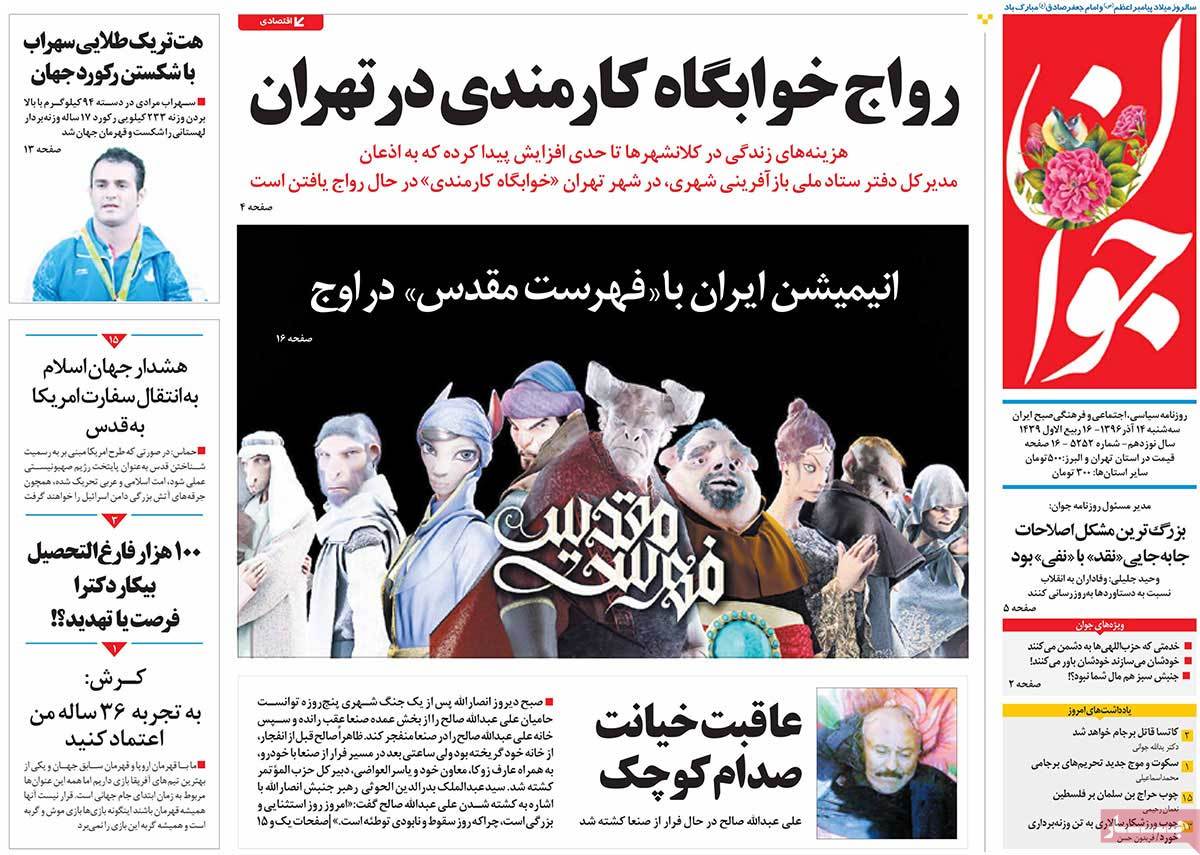 ---
Jomhouri Eslami:
1- Yemen on Verge of New Developments
2- NATO Secretary-General: Our Focus on Full Implementation of Iran Nuclear Deal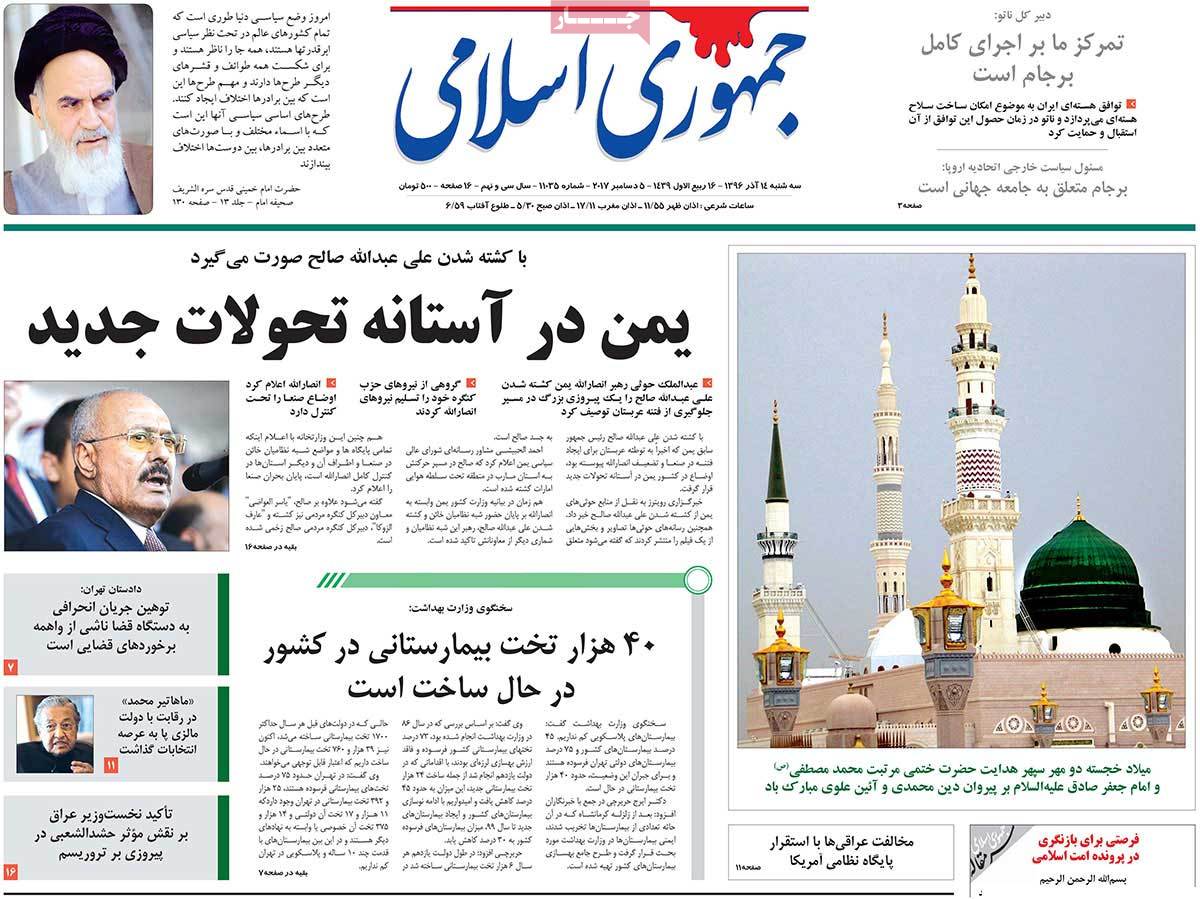 ---
Kayhan:
1- UAE, Al Saud's Pawn Killed: Sana'a Sedition Foiled
2- Transfer of US Embassy to Quds to Increase Palestinians' Unity, Collapse of Israel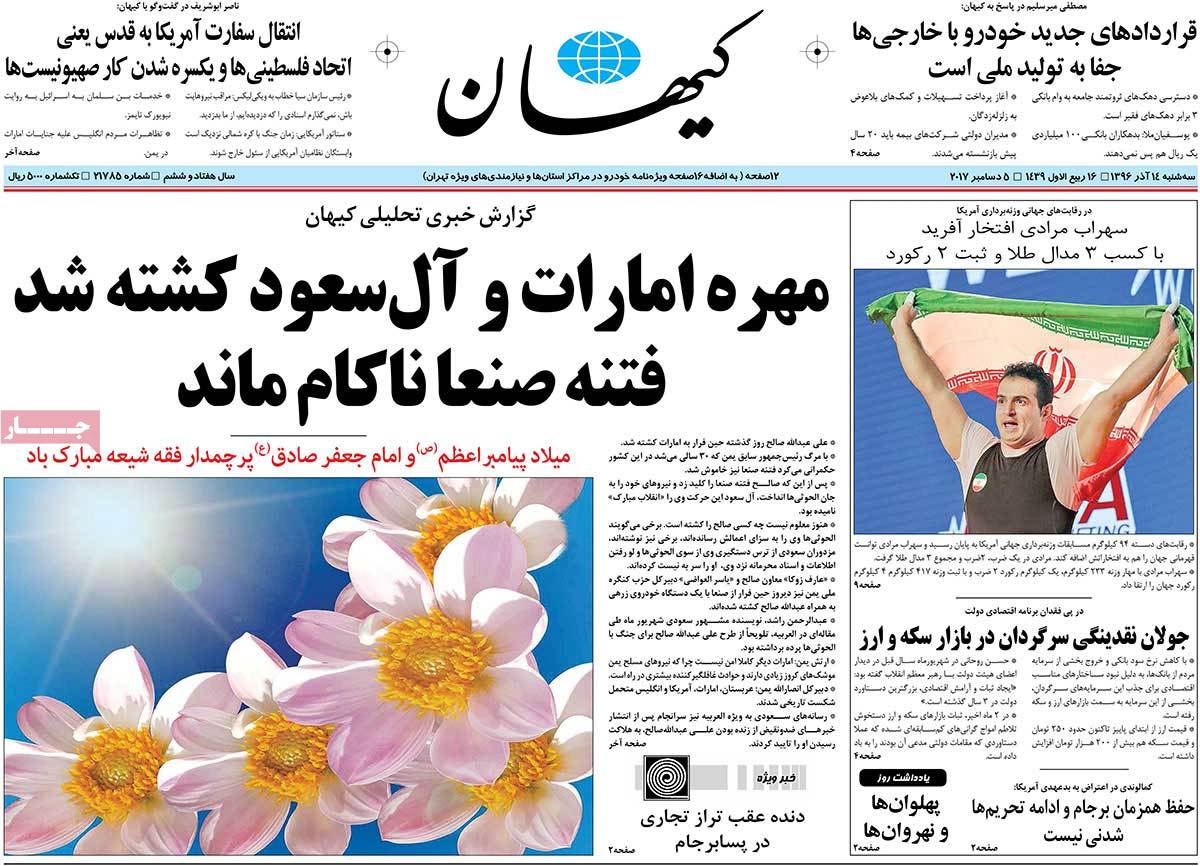 ---
Khorasan:
1- Fate of Saleh like Gaddafi
---
Seda-ye Eslahat:
1- Yemen Dictator Killed
---
Shargh:
1- Bloody Destiny of Oath-Breaker
2- Analyst on Yemen Developments: We Should Be Cautious
3- Kayhan Insists on Its Stance: Riyadh Next Target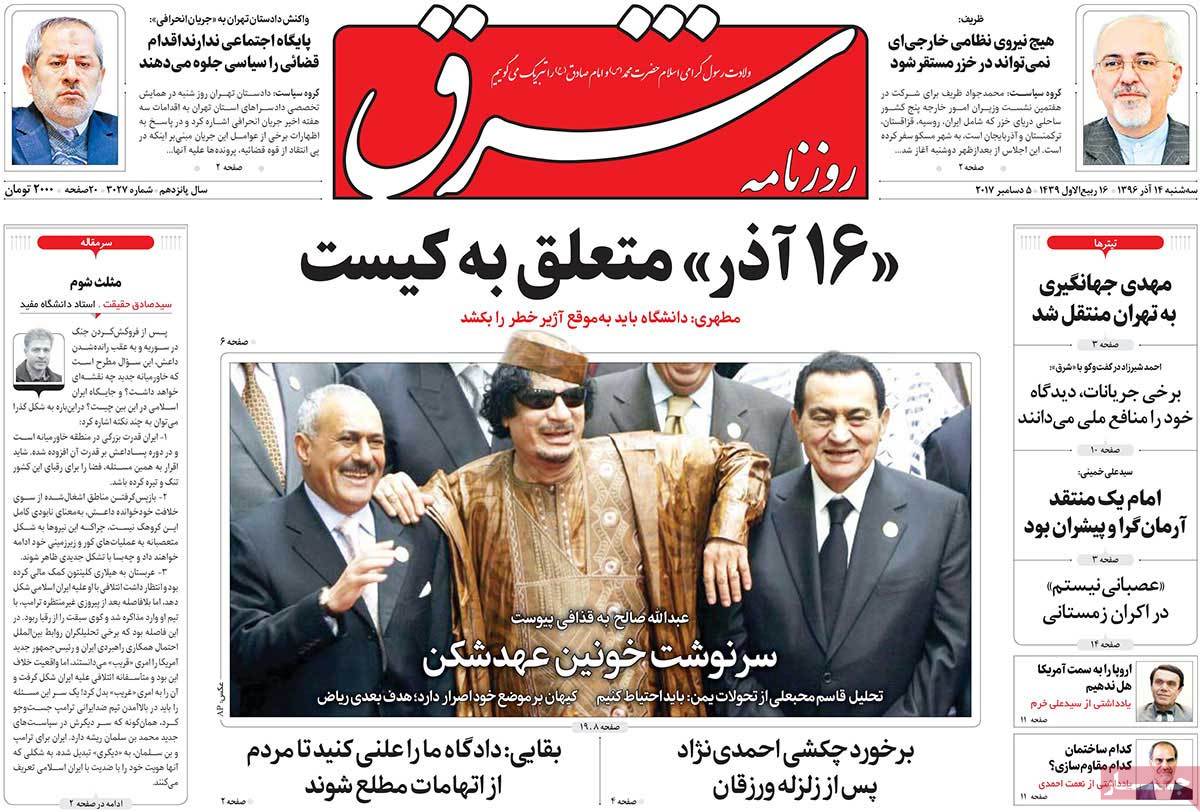 ---
Siasat-e Rooz:
1- Ali Abdullah Saleh Killed While Escaping to Saudi Arabia
Fate of Coup against Nation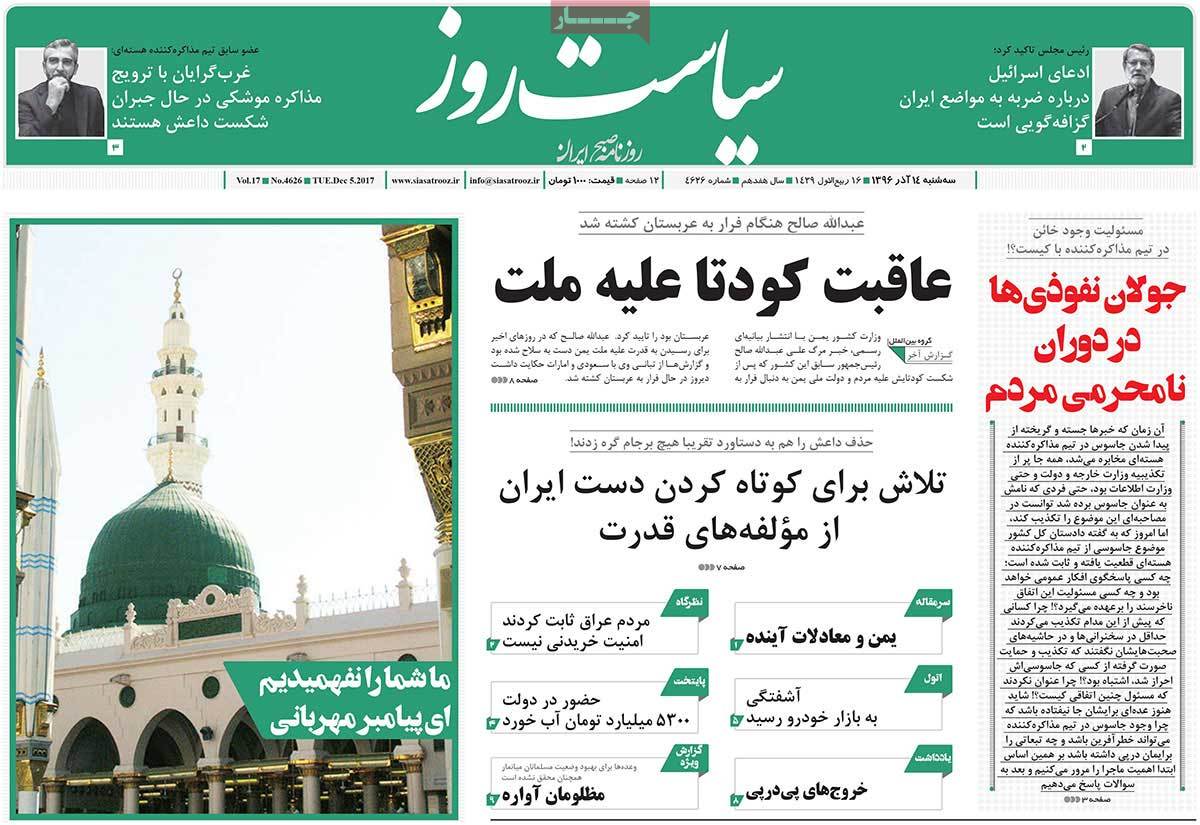 ---
Vatan-e Emrooz:
1- Fate of Sedition
2- Houthi Leader: Yemeni Nation Overcame Great Plot
3- Ansarullah Spokesman: UAE Takes Saleh to This Miserable Fate
4- ICT Minister: US Gov't Restricts Iranian Apps