Tasnim – Germany's envoy to Iran highlighted the initial responsibility that lies with regional players in the settlement of conflicts, saying the international community is also bound to negotiate with the warring sides to help relieve tensions.
In an interview with the Tasnim News Agency in Tehran, Michael Klor-Berchtold stressed the need for negotiated solutions to the conflicts.
Asked about ways to resolve conflicts in the Middle East -as in Syria, Iraq and Yemen- the ambassador emphasized that the regional conflicts should be initially resolved by regional actors, which he said have "a special responsibility".
However, he added, the international community is also responsible for holding talks with the warring parties and should play a role if necessary.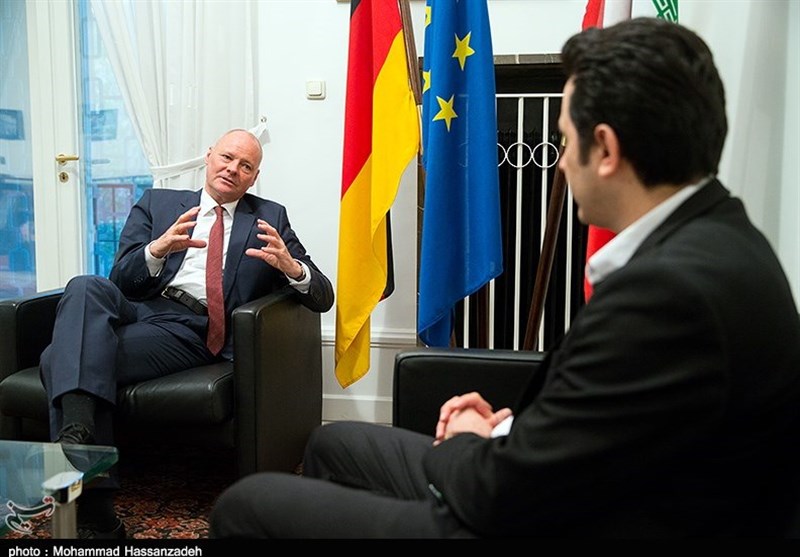 Asked about the threat of terrorism and necessary measures after the fall of the Daesh (ISIL or ISIS) terrorist group, Mr. Klor-Berchtold noted that Iran warned Europe against the threat of terrorism in early stages.
Terrorism is a common threat to the international community, he added, saying all parties -including Europeans who have been victims of terrorism like the Iranian people- should join hands to tackle the threat.
As regards the economic relations between Iran and Germany, the ambassador said the value of bilateral trade exchange is expected to reach 3 billion euros this year, showing a 20 percent annual rise.
Unveiling Germany's long-term plans for trade cooperation with Iran, the envoy pointed to the construction of a solar power plant near the Iranian city of Hamedan, and said the project, financed by a German company, would last for 20 years.
Mr. Klor-Berchtold further reiterated Berlin's support for the Joint Comprehensive Plan of Action (JCPOA), a nuclear agreement between Iran and the Group 5+1 (Russia, China, the US, Britain, France and Germany), saying the European Union has called on the US government to honor its commitments under the accord.
The EU encourages the US to maintain its commitment to the JCPOA and to consider the implications for the security of the US, its partners and the region before taking further steps, he added.
Iran and the Group 5+1 (also known as the P5+1) reached the 159-page nuclear accord in July 2015 and implemented it in January 2016.
The EU, Iran, Russia and China maintain that the JCPOA is a multilateral and non-renegotiable pact that could not be scrapped unilaterally.
The International Atomic Energy Agency (IAEA) has verified Iran's compliance with the JCPOA in all of its reports after implementation of the deal.