Bloomberg | Serene Cheong &  Sharon Cho:  Iran will persist with exporting its oil to global customers, unfettered by Donald Trump's intensifying offensive against the country, according to the Middle East nation's state-run producer.
The OPEC member is shipping a combined 2.6 million barrels a day of crude and the ultra-light oil known as condensate, and expects to export more at the end of 2017, said S. Khoshrou, director of international affairs at National Iranian Oil Co. The country is "not worried" about its ability to send cargoes overseas to Asia and Europe despite rising tensions with the U.S., he said in an interview in Singapore.
President Trump said at the UN General Assembly last week that a deal between nations easing sanctions on Iran and curbing its nuclear program was "an embarrassment to the United States" and Secretary of State Rex Tillerson laid out the U.S. case to European allies about flaws in the accord. Before the 2015 agreement, trade and financial restrictions imposed on the Middle East nation had hampered its crude exports to customers in Asia, the world's biggest oil market, as well as Europe.
While the recent rhetoric from the U.S. may make "some investors worried about the future," refinery customers have a need for Iranian crude and "there is no document from the United Nations that forces them not to work with Iran," Khoshrou said.
Iran currently ships about 2.2 million barrels a day of oil and also exports 400,000-450,000 barrels a day of condensate, he said. About 60 percent of the Iranian crude sent overseas is consumed by Asian processors, while the remaining 40 percent is taken up by those in Europe. The Middle East producer currently isn't storing any crude or condensate supply on tankers at sea, according to Khoshrou.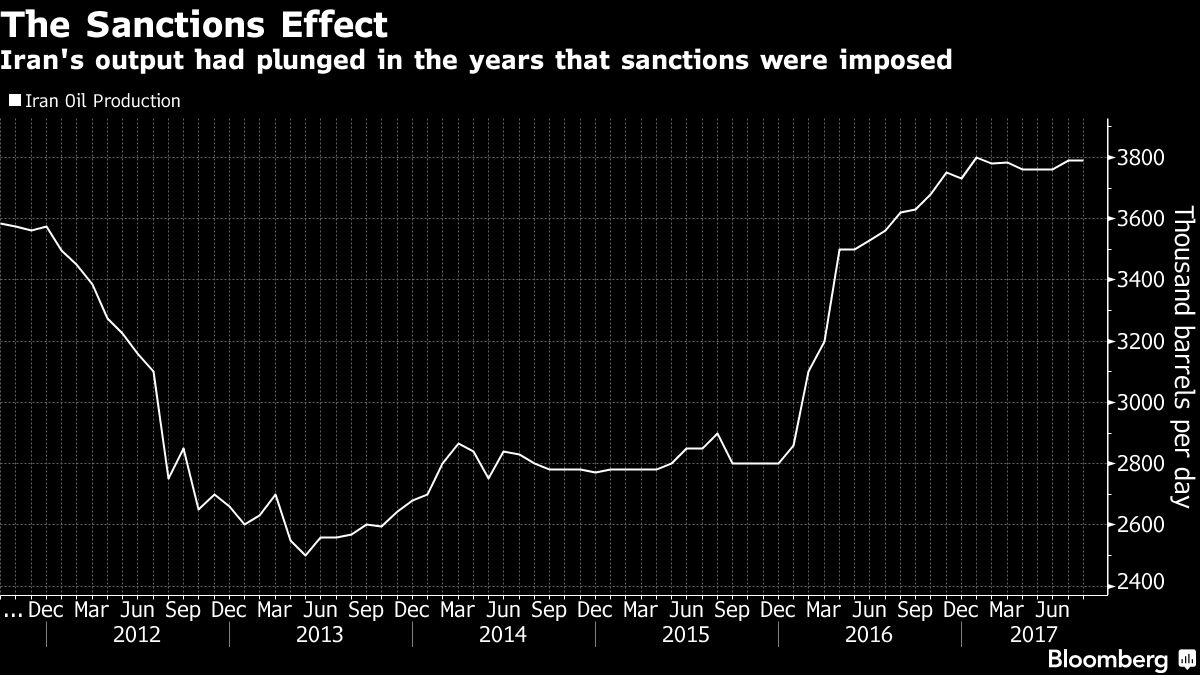 Iran was the second-biggest producer in the Organization of Petroleum Exporting Countries before its disputed nuclear program prompted the European Union to ban purchases of its crude in July 2012. Countries including China, India and Japan had to get a waiver from the U.S. to buy limited amounts of Iranian oil or risk losing access to parts of the global financial system.
Iran's crude oil exports fell to about 923,000 barrels a day in November 2015, according to Bloomberg estimates, as the international sanctions impeded buyers' access to shipping insurance and U.S. dollar-denominated payments. The country's exports have rebounded after the restrictions were eased as part of a pact it signed with the U.S., China, France, Germany, Russia, the U.K. and the European Union after months of negotiations.
Iran also plans to introduce its new heavy crude grade from the West Karoun oil field as soon as six months from now, said Khoshrou, adding that it's now blended with other varieties. NIOC had previously said the new crude would be available by early 2017. In May, Iran Oil Terminals Co. was preparing a marine terminal to export oil from West Karoun, the country's oil ministry news service Shana had reported, citing the company's chief, Pirouz Mousavi.
Trump said last week he's made a decision on whether the U.S. will continue to abide by the Iran nuclear deal, but refused to say whether he intends to quit the accord, stand by it or seek to add new constraints on the Islamic Republic. Tillerson, meanwhile, emphasized that the agreement hasn't stopped Iran from playing a destabilizing role in the Middle East, with its support for the regime of Syrian President Bashar al-Assad, its development of ballistic missiles and its funding of terrorism.
Most countries backing the agreement cite findings by the International Atomic Energy Agency that Iran is meeting the letter of its responsibilities under the accord. French President Emmanuel Macron said in his UN speech last week that the Iran agreement is "robust" and "to put it into question without anything to replace it is a grave error." Germany has a strong interest in the pact and the accord shouldn't be jeopardized "for no reason at all," the nation's Economy Minister, Brigitte Zypries, said.
The "whole Europe won't follow policy of U.S.," NIOC's Khoshrou said. "For exports, I'm not worried about that."