Iran Front Page- IFP has taken a look at the front pages of Iranian newspapers on Monday, September 18, and picked headlines from 17 of them. IFP has simply translated the headlines and does not vouch for their accuracy.
Newspapers today widely covered the remarks made by the Leader of Iran's Islamic Revolution, Ayatollah Seyyed Ali Khamenei, about Tehran's response to the US violation of Iran nuclear deal.
President Hassan Rouhani's visit to the US city of New York to attend the UN General Assembly also received great coverage in today's papers.
The upcoming referendum on the Iraqi Kurdistan's independence also remained a top story.
The above issues, as well as many more, are highlighted in the following headlines and top stories:
Abrar:
1- Parliament Speaker: Terrorist Problems in Region Common Pain of All Regions
2- American Official: We Won't Let Iran Take Control of Syria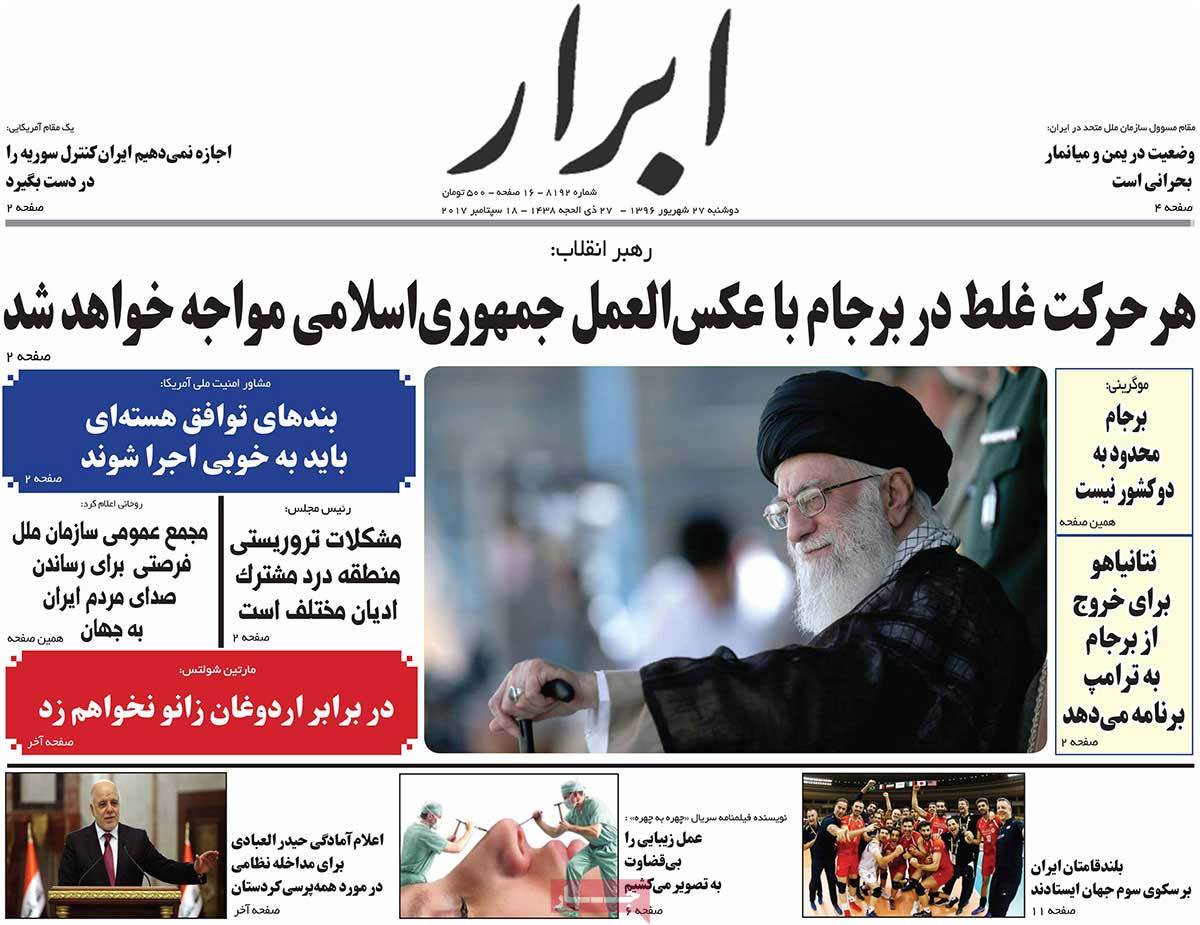 ---
Afkar:
1- Senior MP: Ban on Selling Planes to Iran Clear Violation of Nuclear Deal
2- Larijani: Iran to Continue Nuclear Program More Strongly after JCPOA Termination
---
Aftab-e Yazd:
1- Iran Leader Vows Reaction to Any Wrong Move on JCPOA
2- Rouhani Urges US to Stop Its Bad Behaviour
3- Hamas Agrees to Give up Gaza to Abbas' Government
---
Arman-e Emrooz:
1- Architect of Global Moderation Dialogue in New York
Good Opportunity for Expressing Voice of Iranians
2- No One Is Arrested for One's Beliefs: Judiciary Spokesman
3- Aref: We Won't Form a Coalition in Next Parliamentary Elections
End of Coalition with Non-Reformists
4- Iran Finally Manages to Defeat France, Win World Volleyball Medal
---
Asrar:
1- Rouhani: Nuclear Deal Contributes to Security, Stability of Region, World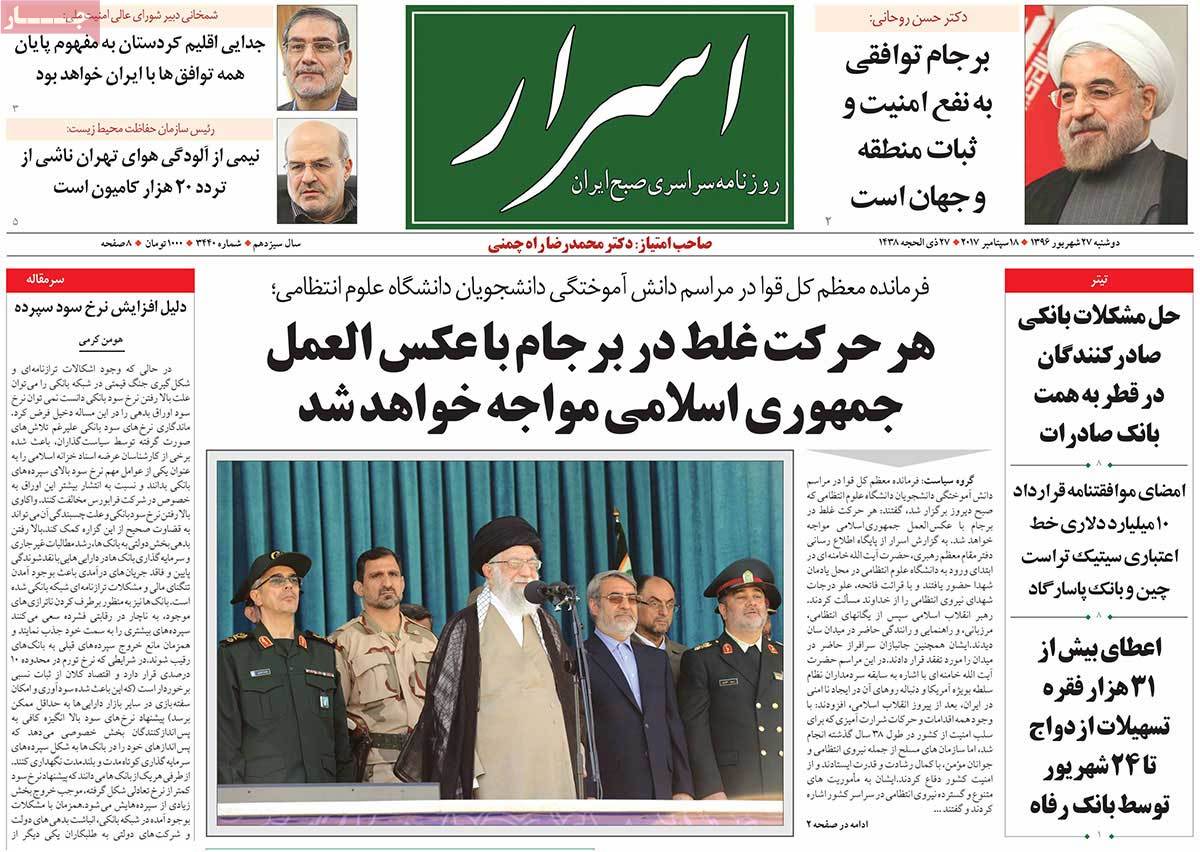 ---
Ebtekar:
1- Challenges of a Referendum: Possible Scenario of Iraqi Kurdistan's Separation
2- UNGA Good Chance for Resolving Ambiguities of West's Public Opinion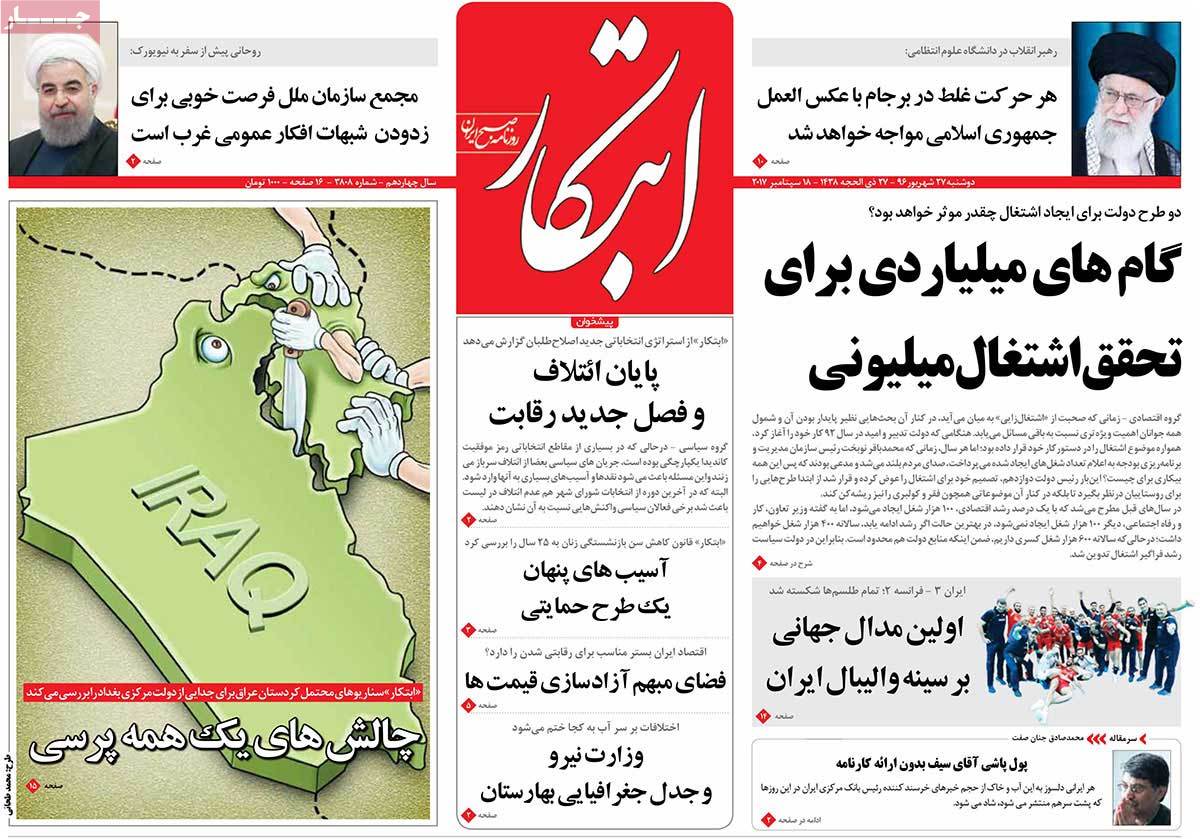 ---
Etemad:
1- Labour Minister: We Have 3.3 Million Unemployed People in Iran
2- Iraqi Kurdistan's Envoy to Tehran: Independence Referendum May Be Postponed
3- Rouhani's Fifth Visit to New York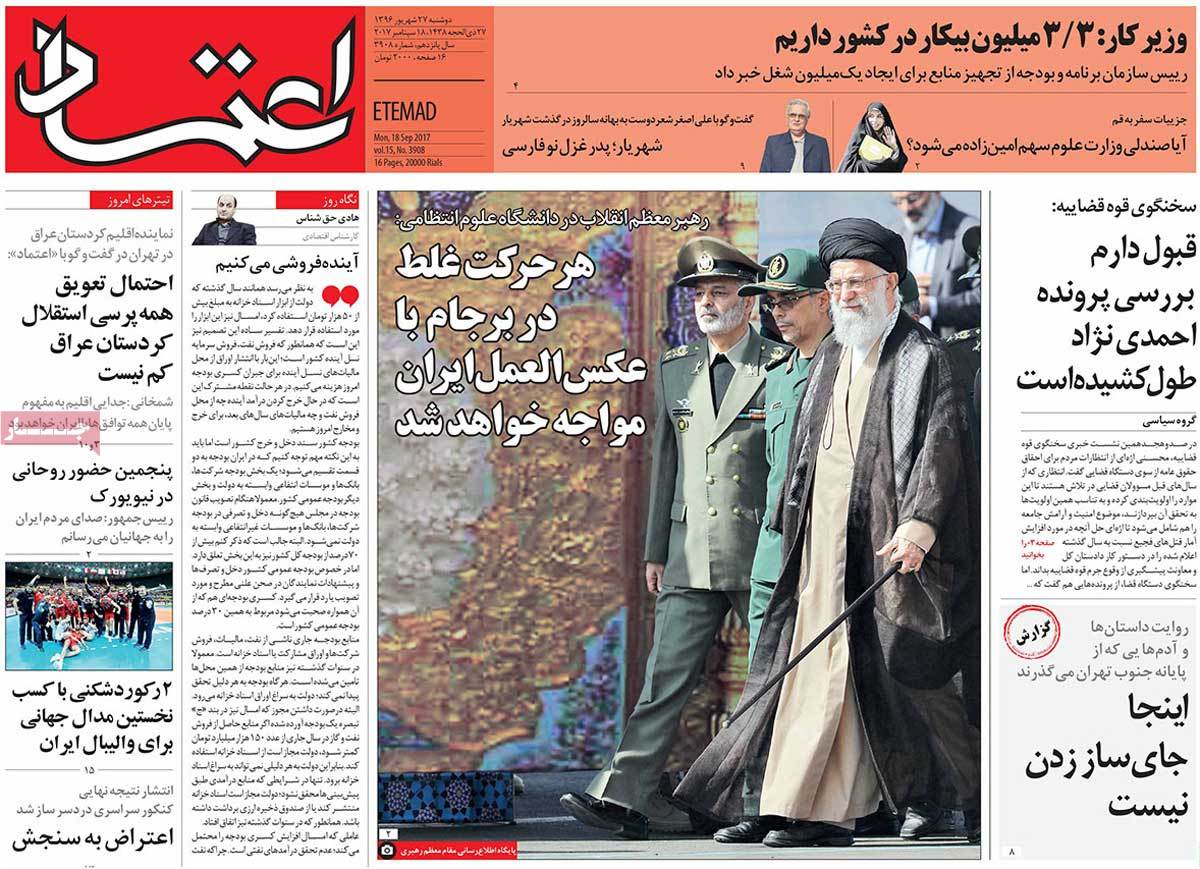 ---
Ettela'at:
1- Increased Int'l Efforts to Maintain Iraq's Integrity
2- Rouhani before Departing for New York: Iran Looking for Interaction with World
---
Javan:
1- Judiciary Spokesman: Increase in Number of Heinous Crimes Caused by Cyberspace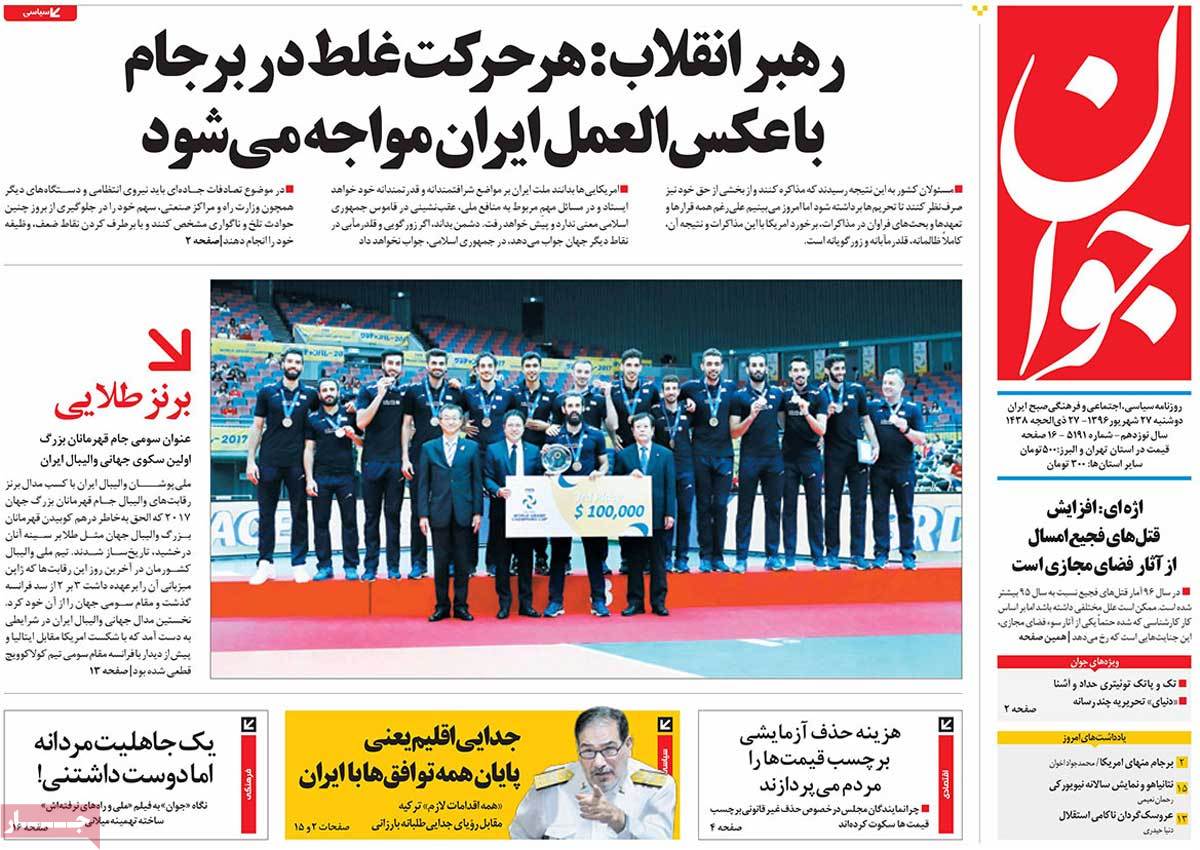 ---
Jomhouri Eslami:
1- Mogherini: JCPOA Not Limited to Two Countries, Is Supported by UN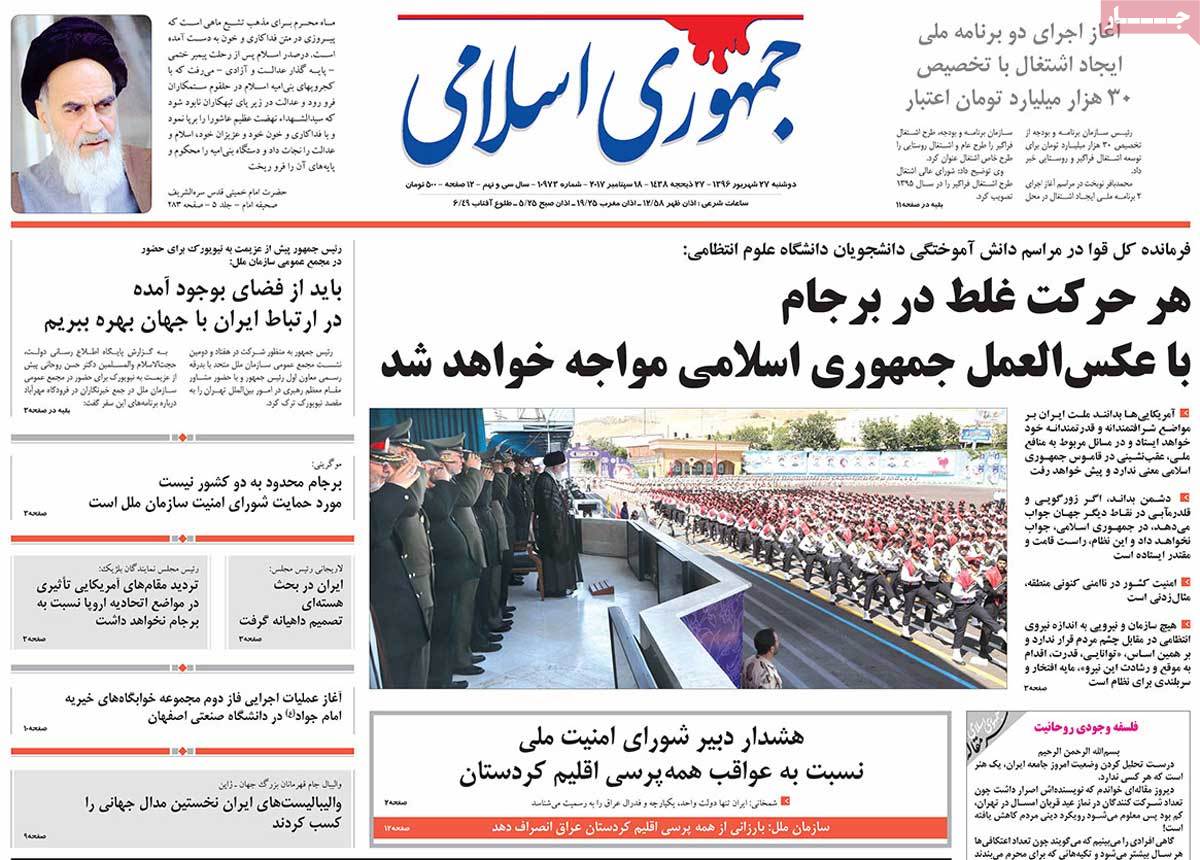 ---
Ka'enat:
1- Warning! Shamkhani Declares Iran's Stance towards Iraqi Kurdistan Referendum
Independence Will Lead to End of All Agreements between Iran, Kurds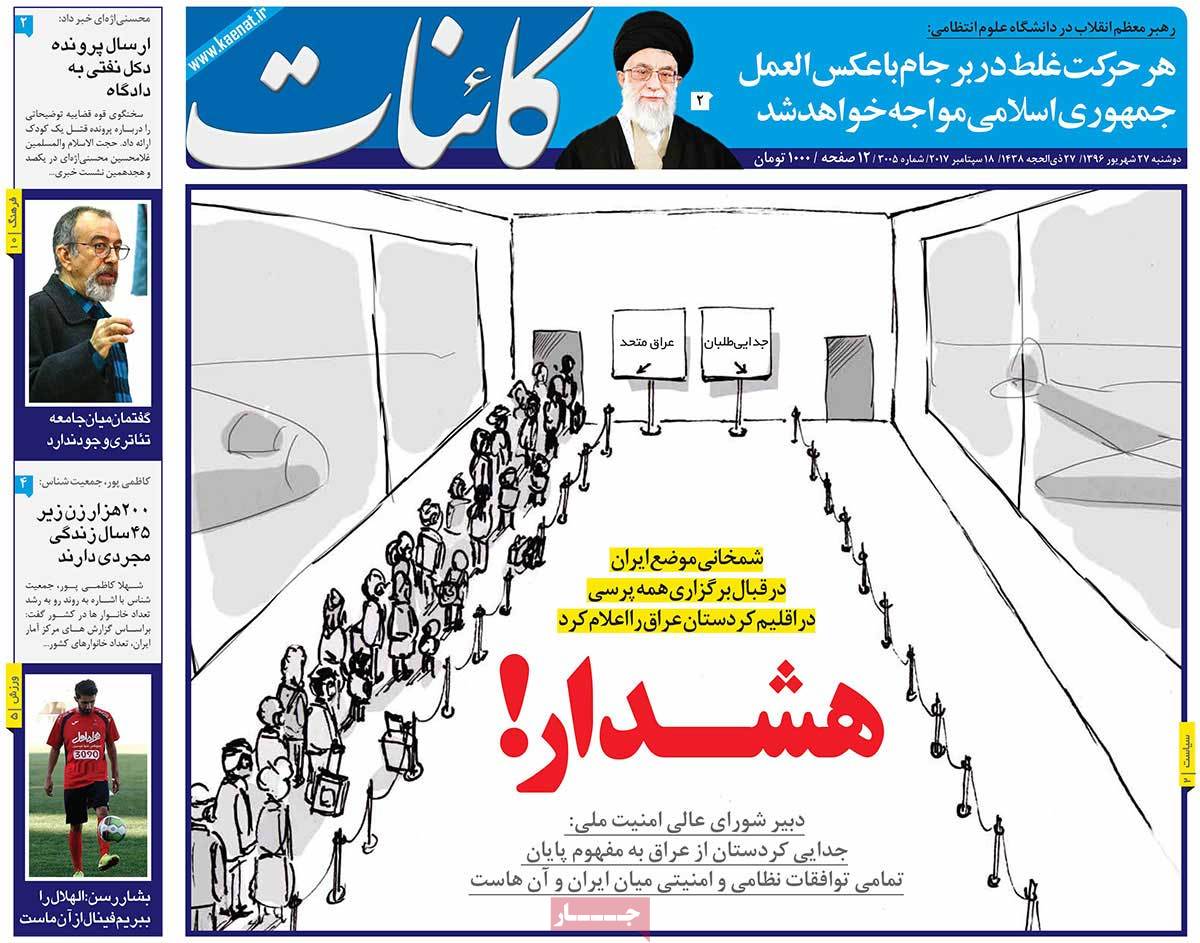 ---
Kayhan:
1- Iran Leader: Nuclear Deal Proves US Is Great Satan
2- Official Statistics: Multiplication of Imports from Europe in Post-JCPOA Era
---
Khorasan:
1- Kalpourgan Village Registered in UNESCO
Sistan and Baluchestan Province Home to First Global Village of Pottery
2- Palestine Moving towards National Reconciliation
---
Setareh Sobh:
1- Leader: Iranian Nation Not to Bow
2- 12 Million People in Iran Living in Absolute Poverty: IKRF Chief
3- Iraqi PM Says Army Ready to Interfere on Iraqi Kurdistan's Separation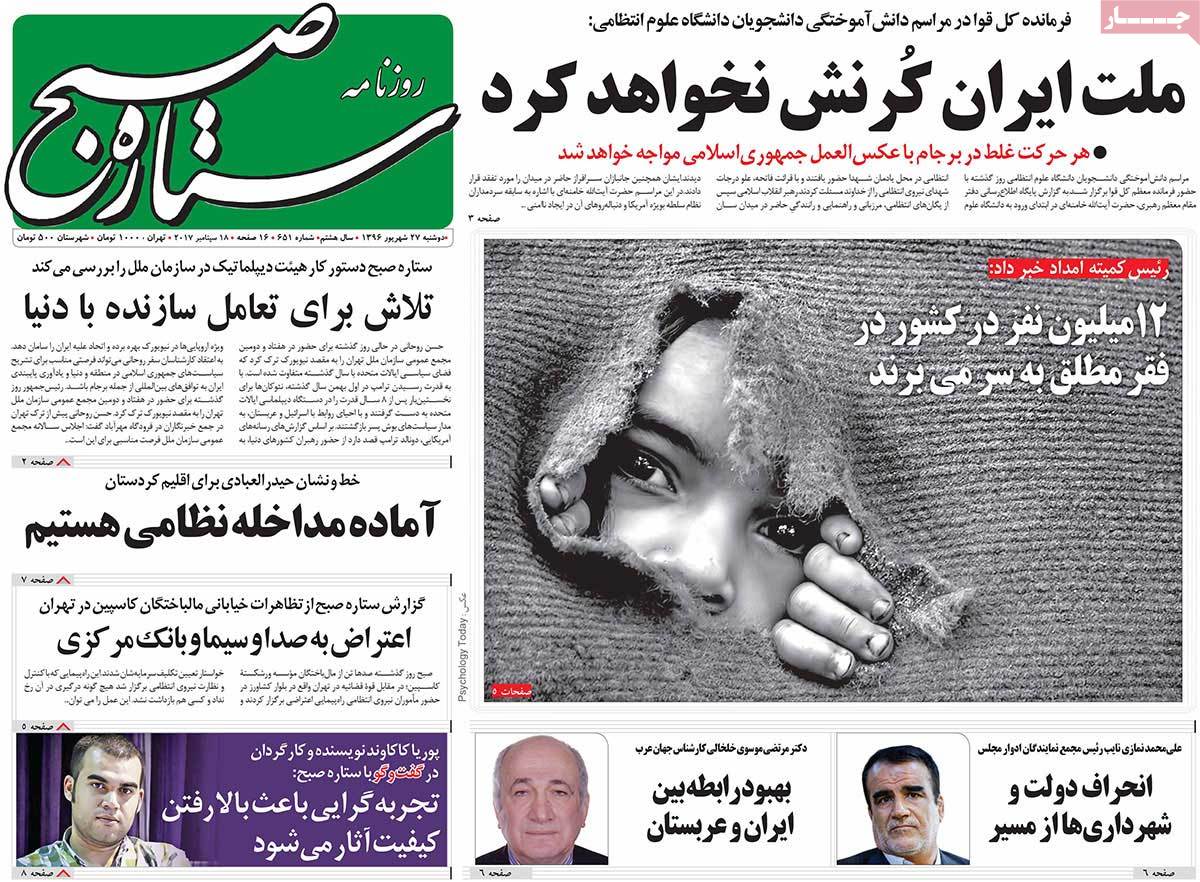 ---
Shahrvand:
1- Leader: Iran Nation Not to Give in to Bullying
2- Providing Relief in Zero Point: A Report on Iranian Red Crescent's Aid for Myanmar Muslims
3- Camp of Wander: A Report on Families Whose Working Children Were Arrested
300 Child Labourers So Far Collected from Tehran Streets
---
Shargh:
1- Gov't Starts National Employment Plan by Allocating IRR 300,000 Billion
2- Shamkhani: We Only Recognize Iraq's Border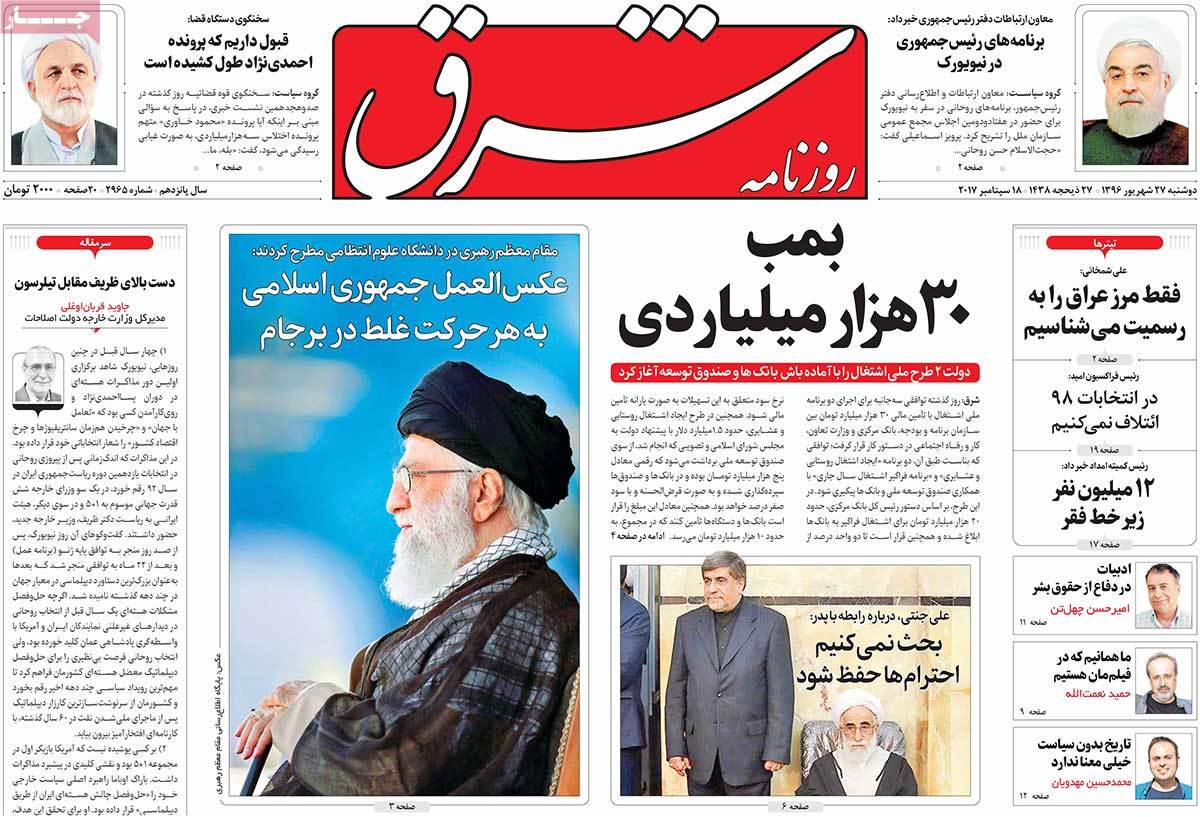 ---
Vaghaye Ettefaghieh:
1- Saudi Arabia Turning to Syria: No One Interested in Assad's Removal Anymore