Iran Front Page- IFP has taken a look at the front pages of Iranian newspapers on Tuesday, July 18, and picked headlines from 15 of them. IFP has simply translated the headlines and does not vouch for their accuracy.
Newspapers today covered the reports on President Hassan Rouhani's brother and top aide Hossein Fereydoun, who was arrested on financial issues on Saturday night, but was later released on bail after a heart problem that took him to the hospital.
The speculations about President Rouhani's next cabinet and the remarks made by both conservative and reformist figures about its line-up also remained a top story today.
Chief of Staff of the Iranian Armed Forces Major General Mohammad Hossein Baqeri also appeared on the front pages of several newspapers after he warned the US against putting IRGC on its list of sanctions.
The above issues, as well as many more, are highlighted in the following headlines and top stories:
19 Dey:
1- The Ones Waiting for 12th Station [Rouhani's Second Term]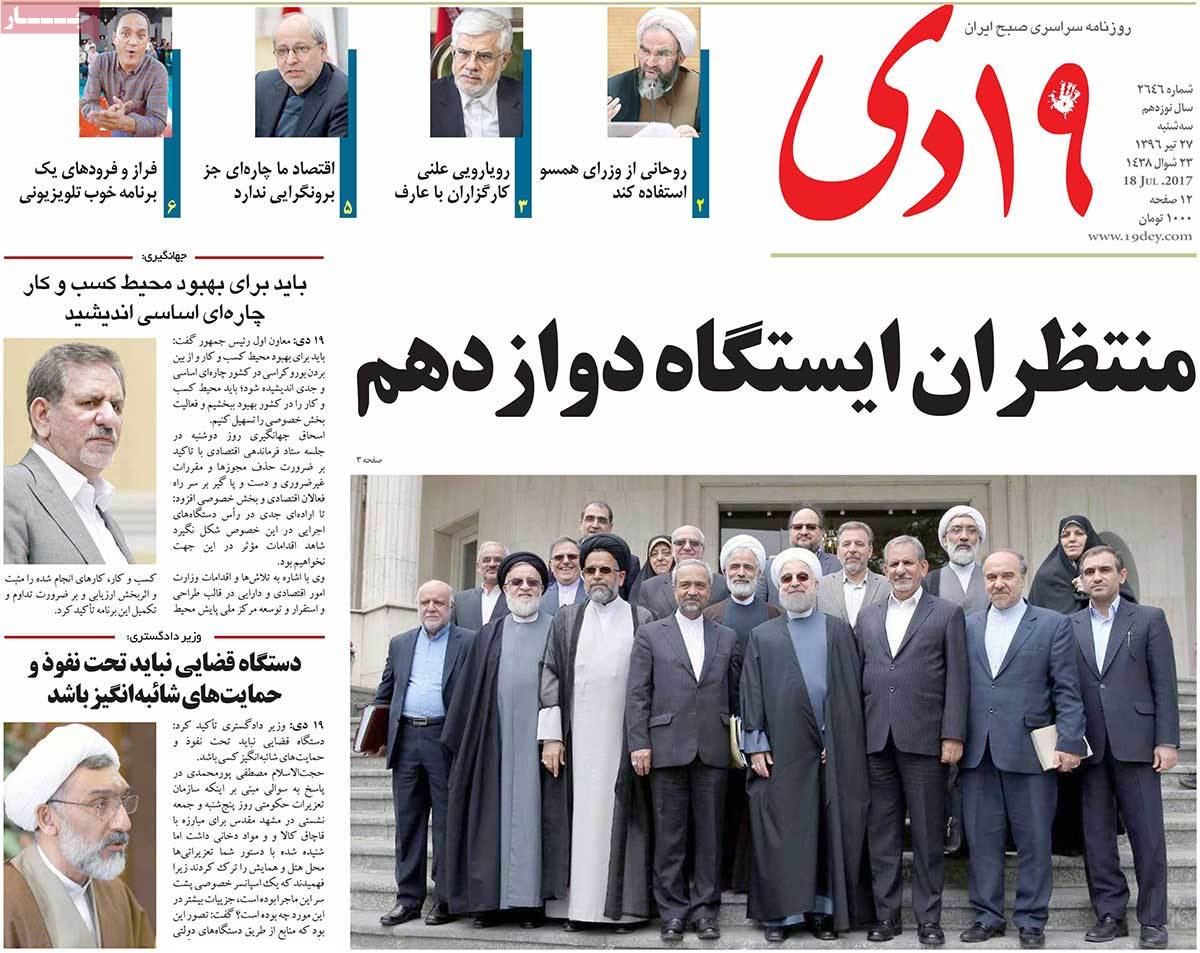 ---
Abrar:
1- Iran's Missile Power Not Negotiable: Chief of Staff of Armed Forces
2- Iraqi Envoy to Tehran: Kurdistan Region's Measures Illegal
3- US Ex-Envoy: Recertification of Iran's Compliance with JCPOA another Mistake
4- Time of Red Lines Over: Rouhani's Brother Arrested
5- UAE: Pressures on Qatar to Succeed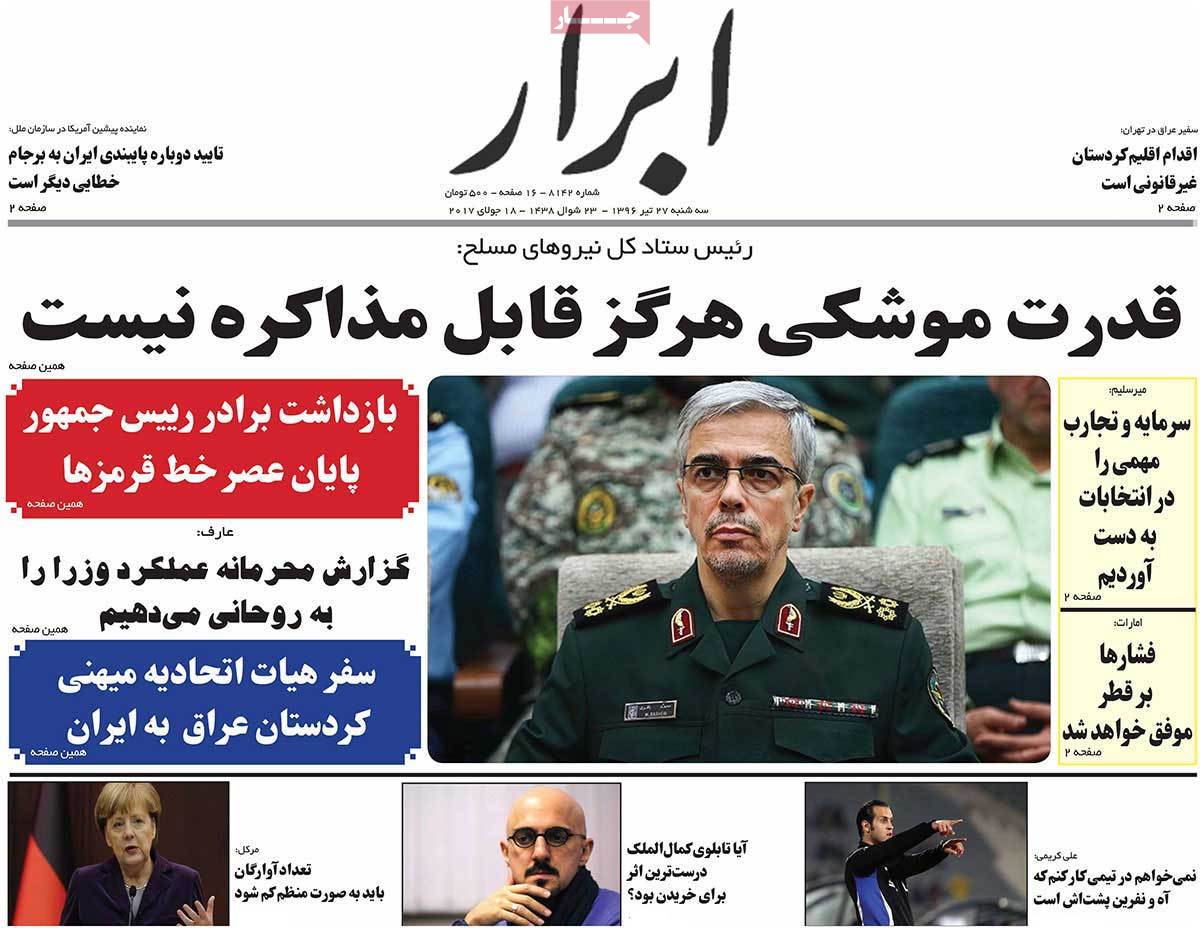 ---
Aftab-e Yazd:
1- Fereydoun Released on Bail
2- Oil Minister: Missing Oil Rig Still Not Found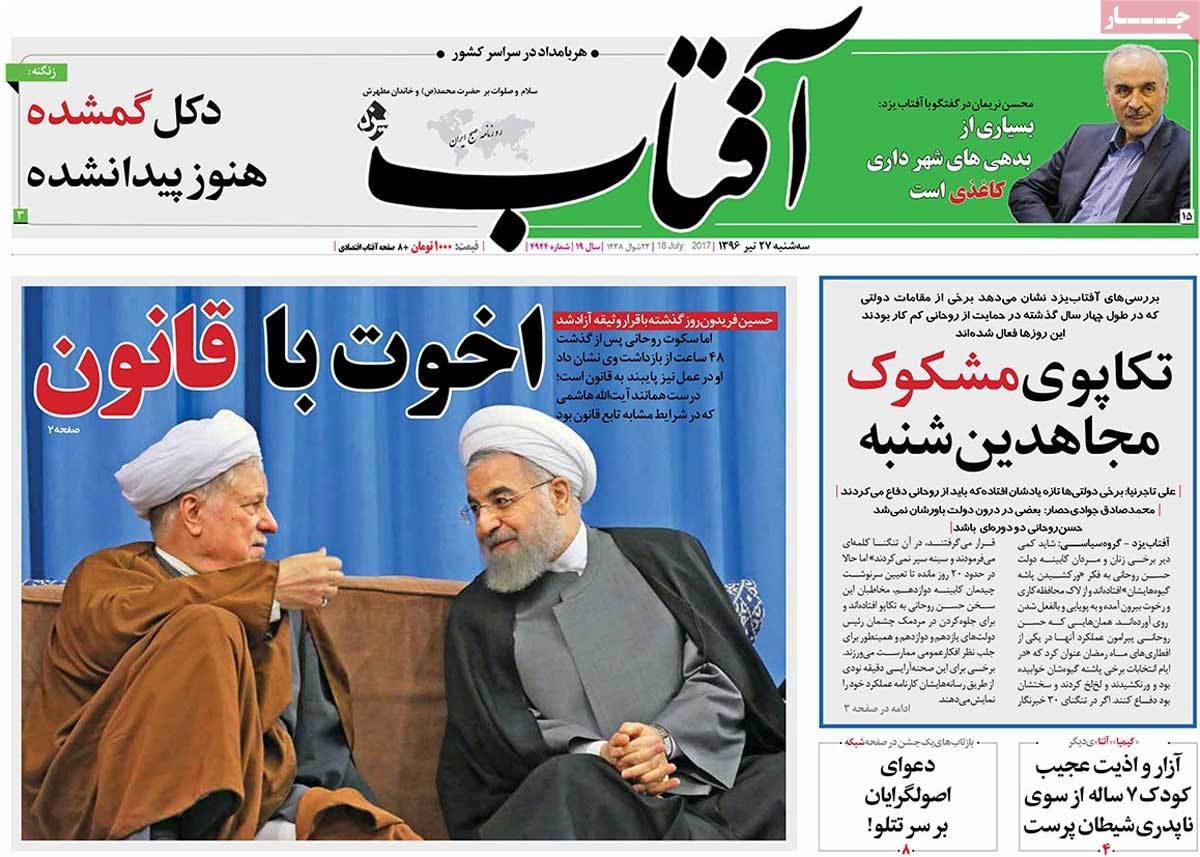 ---
Arman-e Emrooz:
1- Case of Hossein Fereydoun, Test for Rouhani [Editorial]
2- After Zarif, Zanganeh, Now Economy Minister Tayyebnia under Attack
3- FM Zarif's Re-Appointment Is Heart's Desire of Iranians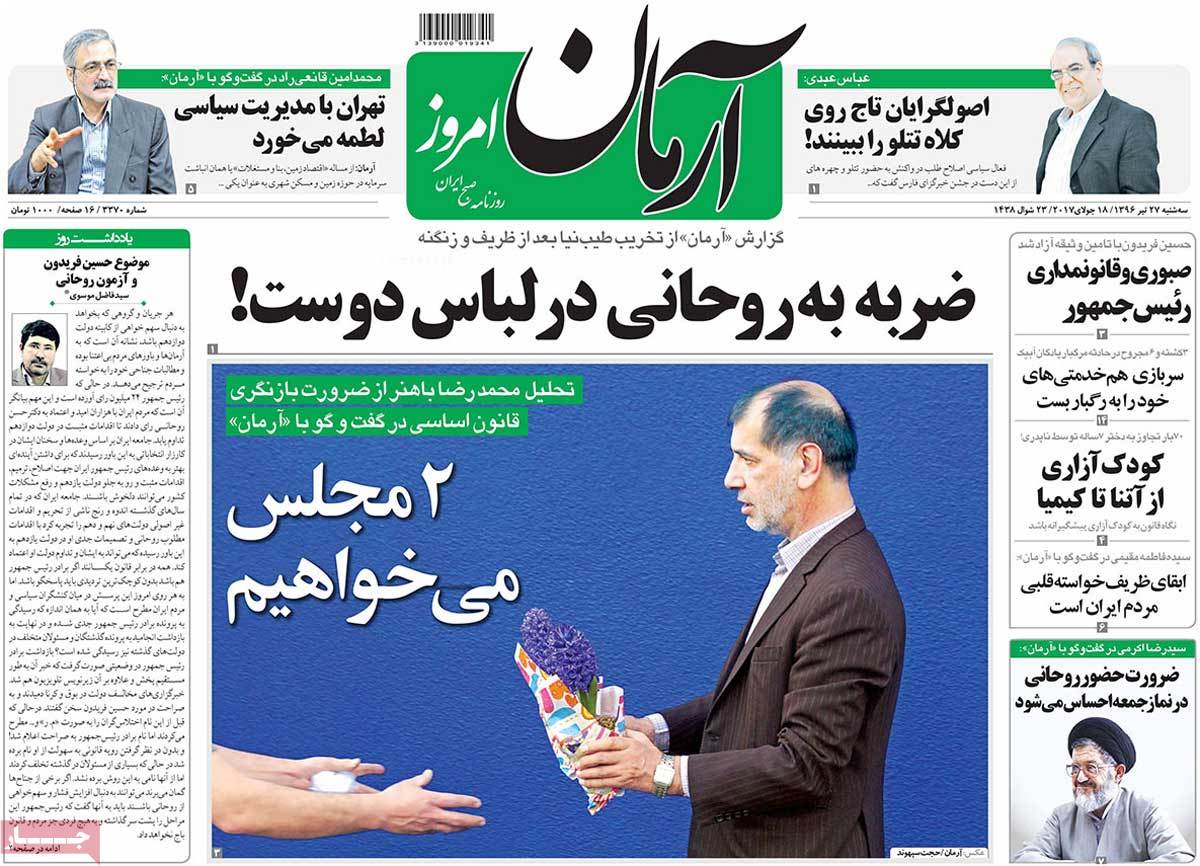 ---
Asrar:
1- Judiciary Chief: Number of Judicial Cases in Iran Way above Int'l Standards
2- Rouhani's Brother Hospitalized for Heart Problem
3- Over 2,400 Cases of Child Abuse in Iran from March 2016 to March 2017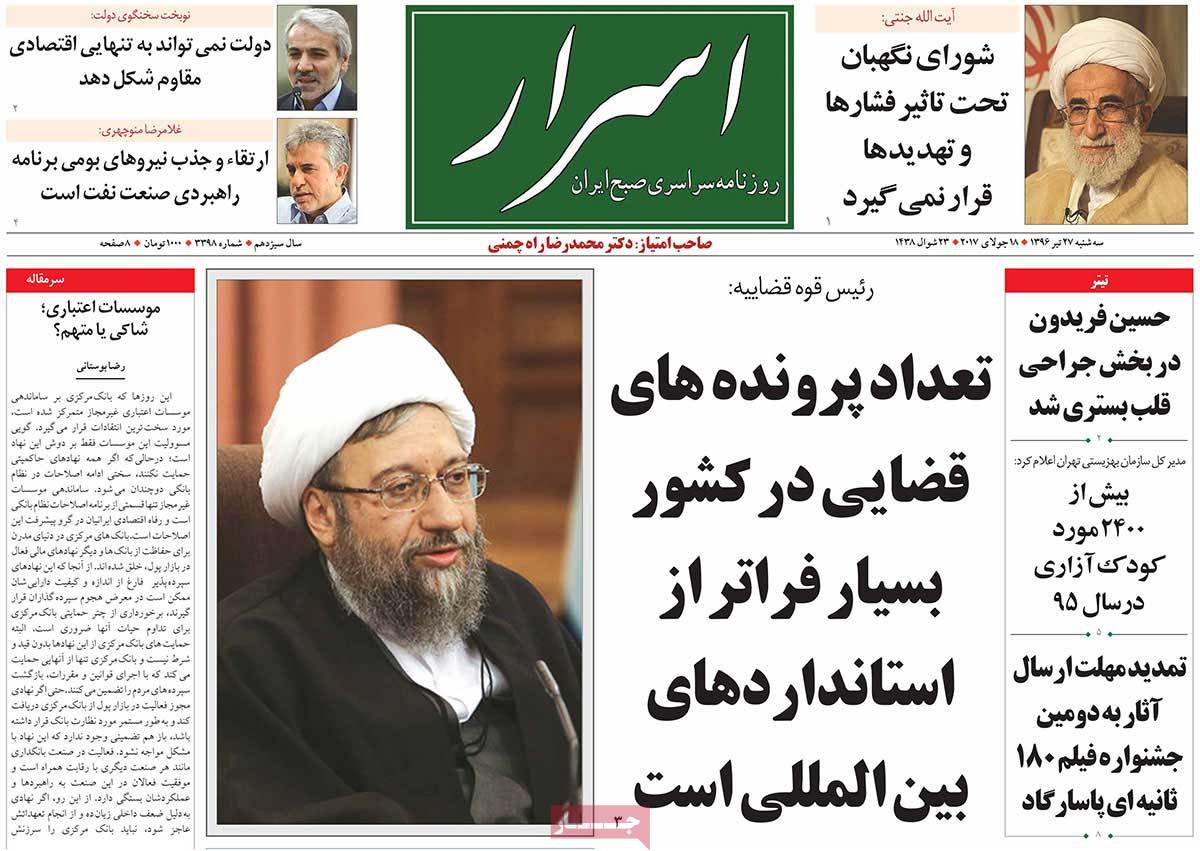 ---
Ebtekar:
1- Conservatives under Rubble of Brexit: Second Round of Brexit Talks in Brussels
2- Total Deal's Secrecy for Commercial Reasons, Not Political, Security Issues
---
Etemad:
1- Conservativism Needs Its Own Identity: Reformist Figure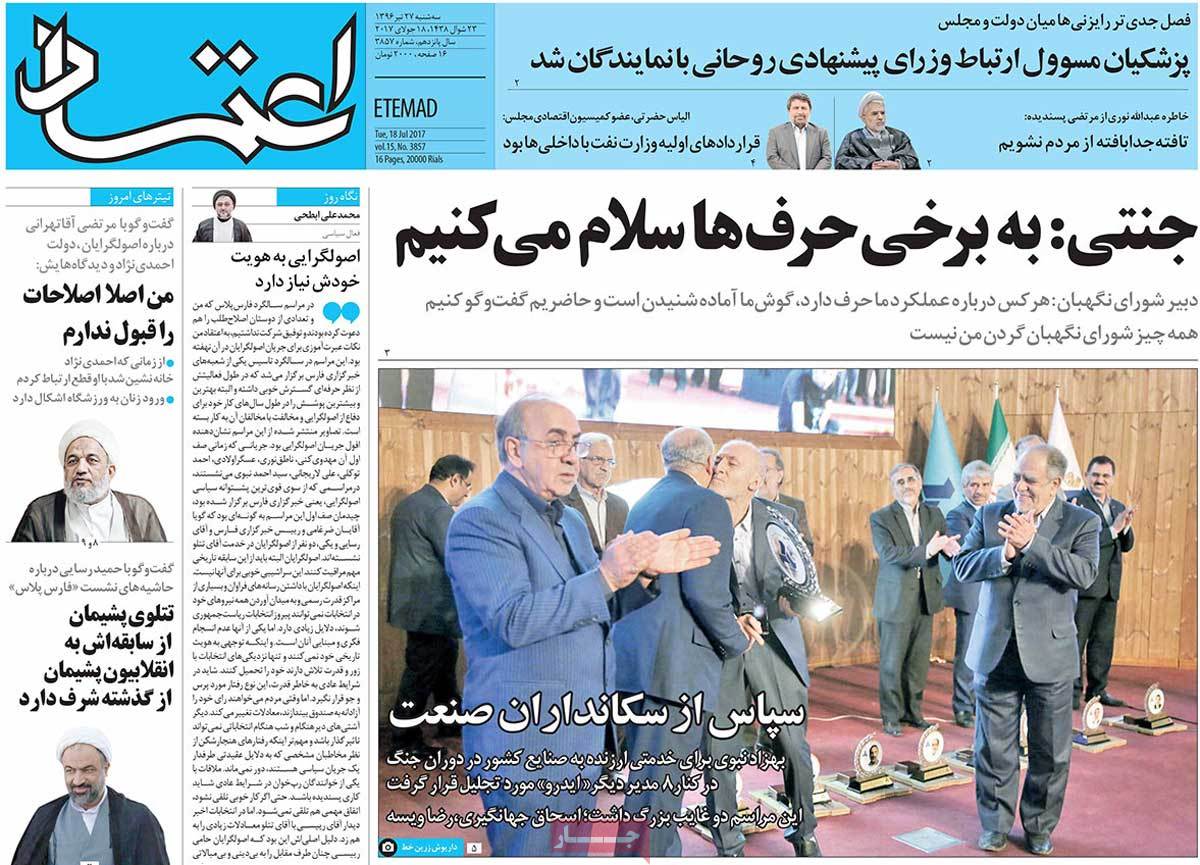 ---
Ettela'at:
1- Exports Only Way to Save Iran's Industry: Expert
2- Shamkhani: Kurdistan Independence Referendum to Weaken Iraq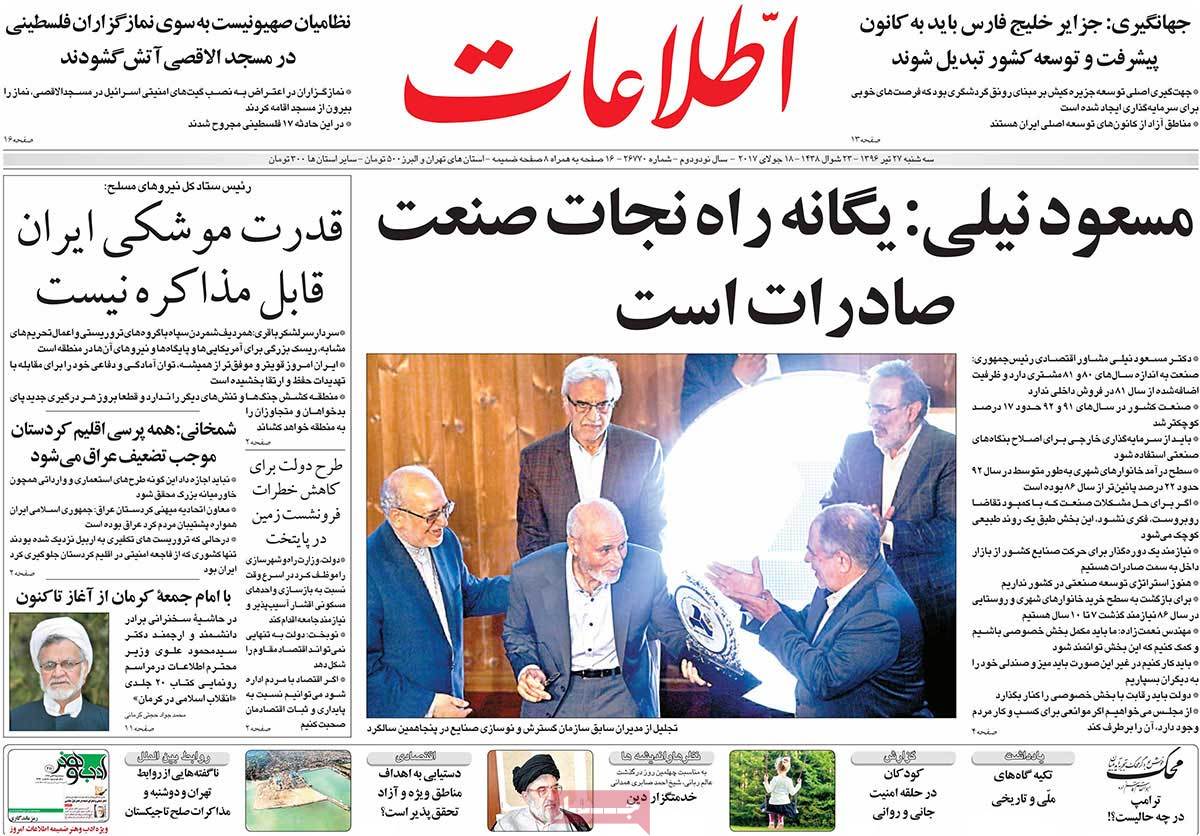 ---
Iran:
1- Iran Supports Iraq's Integrity
2- Garbage Mafia in Tehran: Chinese Businessmen Buying Iran's Plastic Garbage
3- Iran Replaces Saudi Arabia in Global Association of Exhibition Industry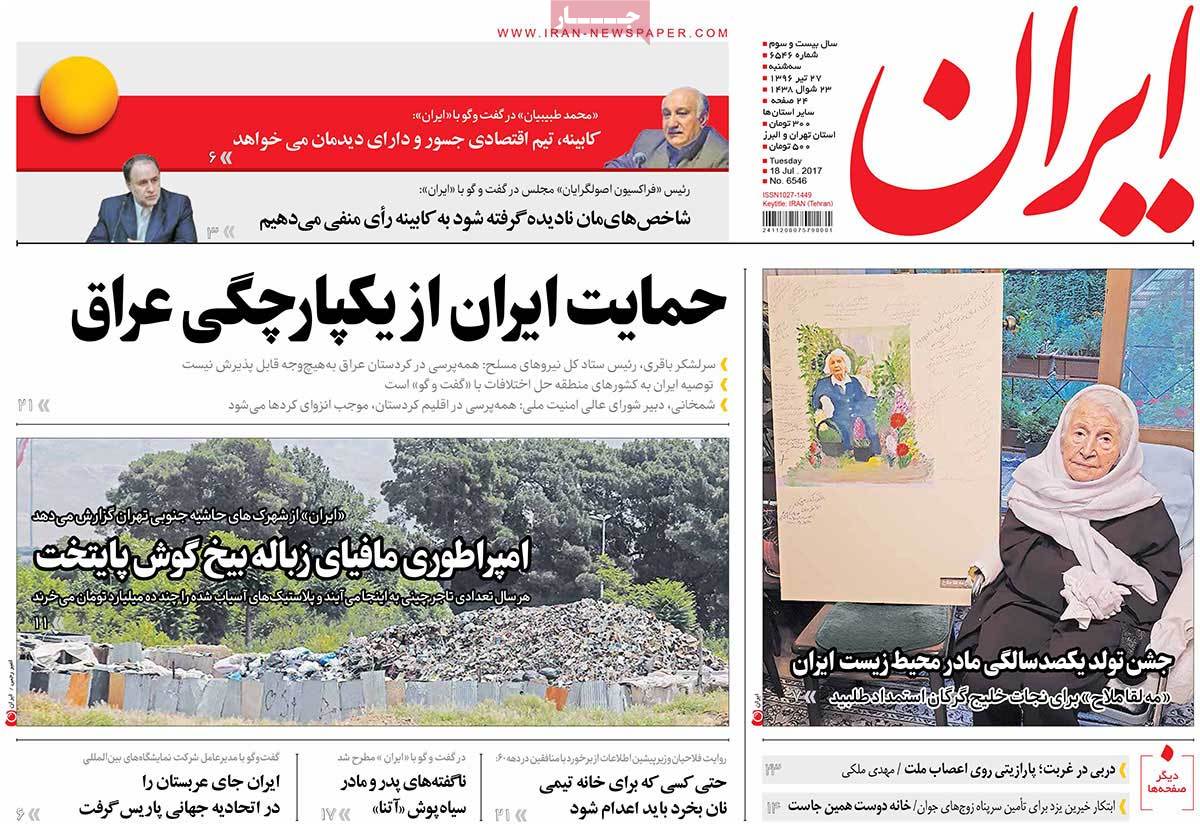 ---
Javan:
1- Rouhani's Aide: We'll Remain in Economic Downturn for Next 7 Years
2- US Shouldn't Put Its Bases at Risk: Iran's Top General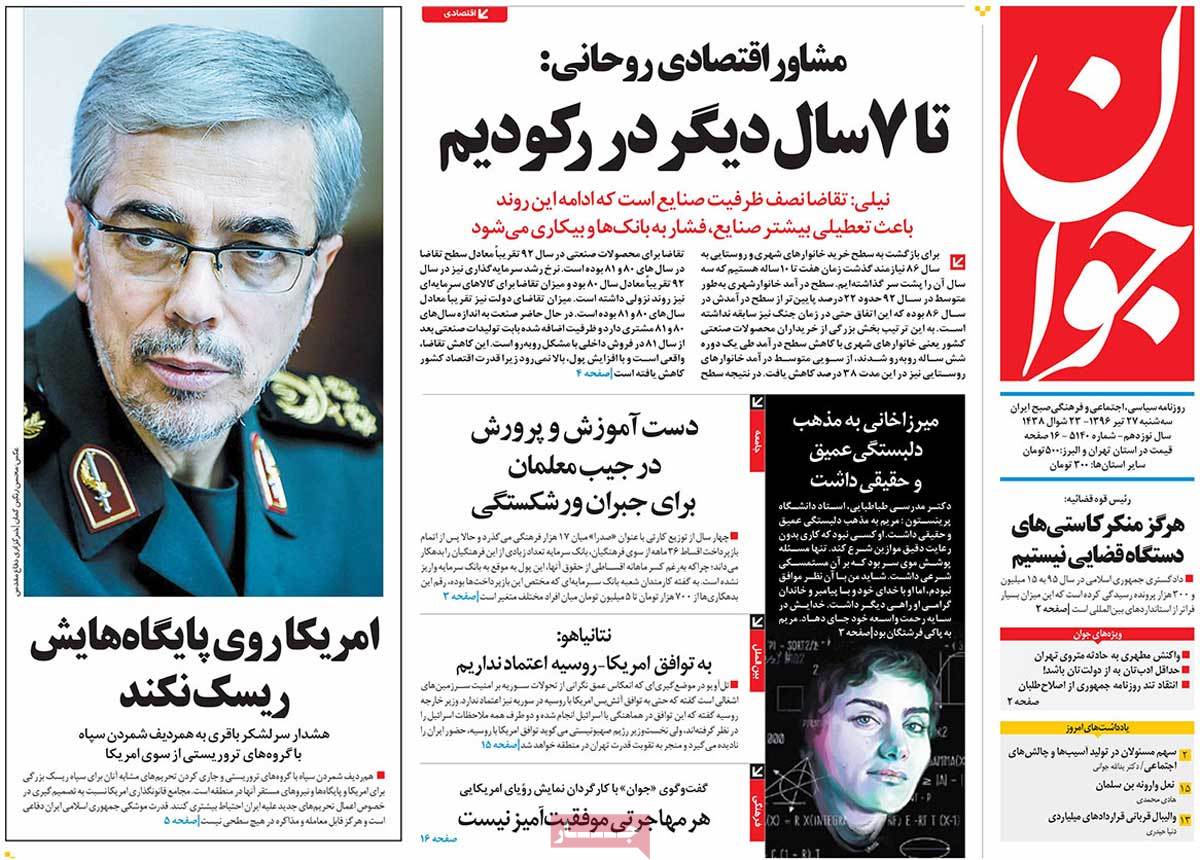 ---
Jomhouri Eslami:
1- Iran Envoy to Oman: Tehran-Muscat Ties Good Model for Persian Gulf States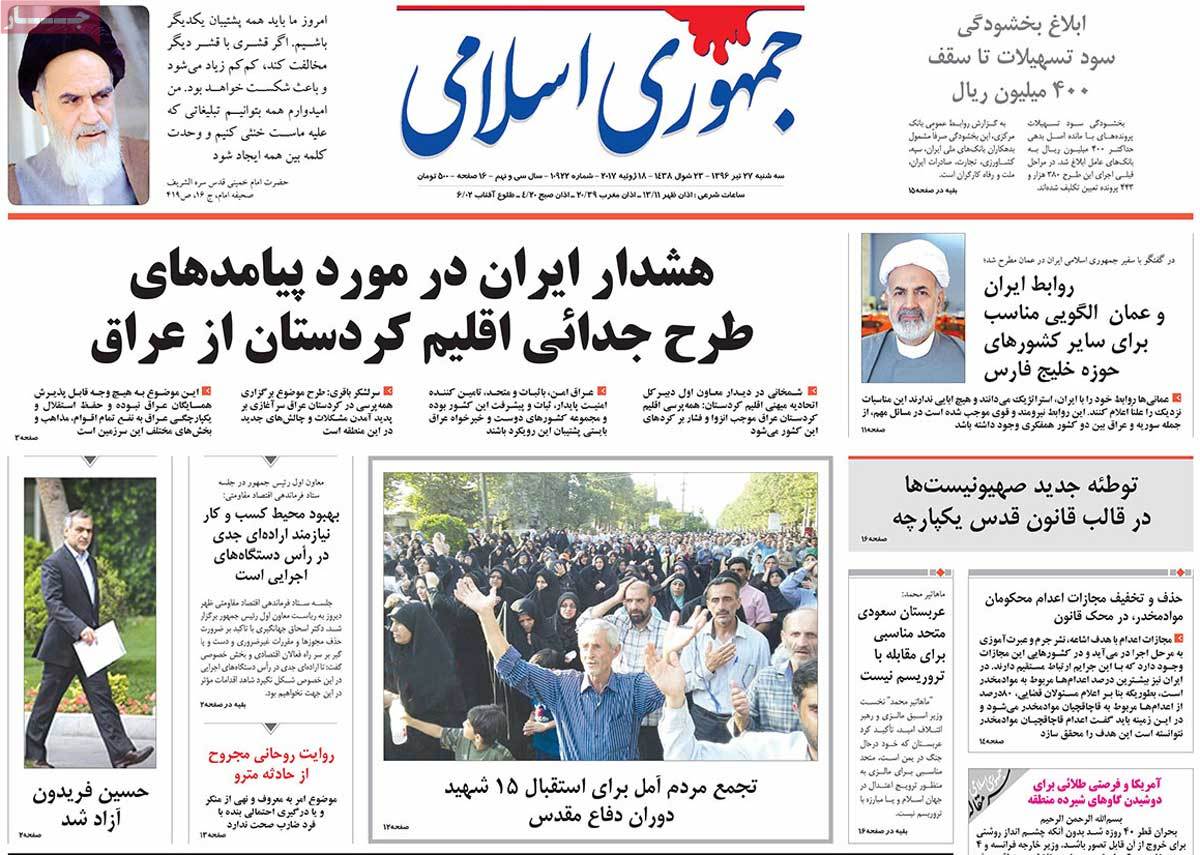 ---
Kayhan:
1- Rouhani's Next Cabinet to Serve People or Parties?!
2- FAO: 7 Million People in Yemen on Verge of Death
3- Acid Attacks in London, Shootout in Chicago: Security Missing in West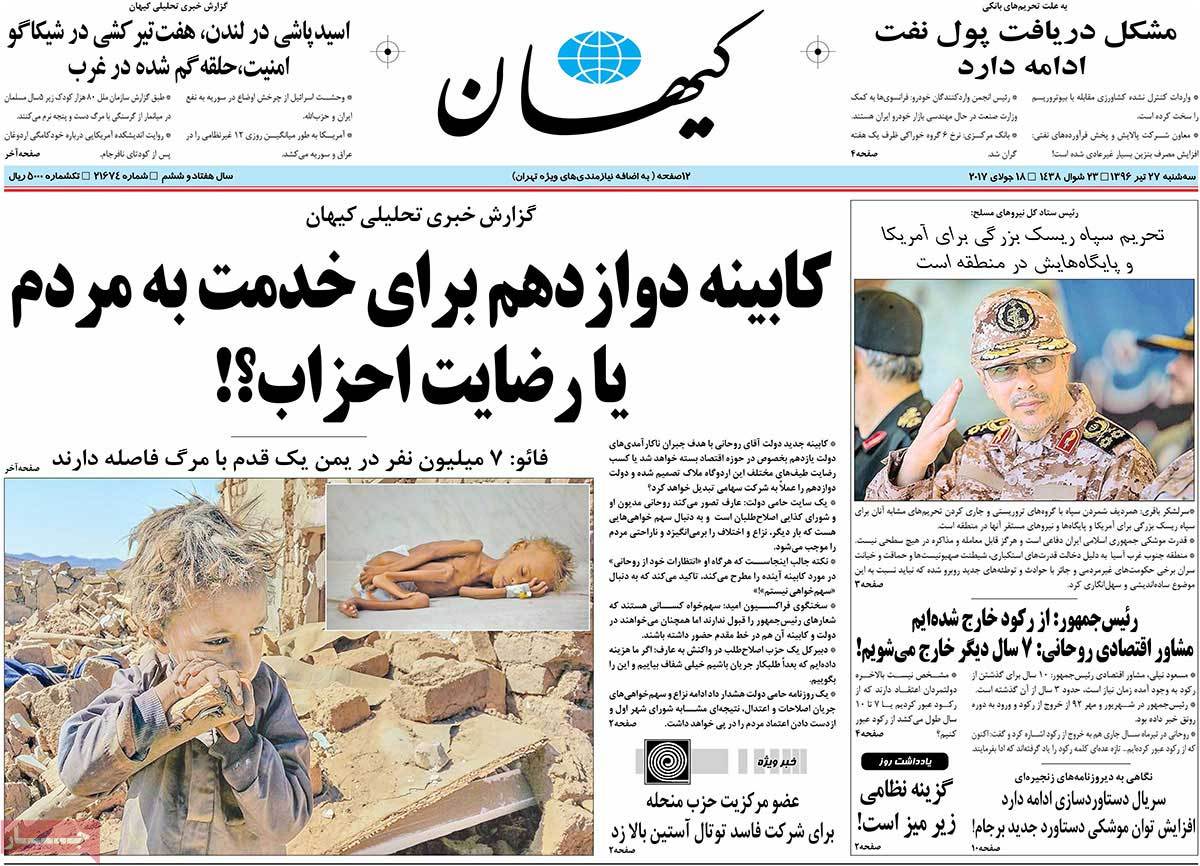 ---
Setareh Sobh:
1- Cabinet Should Be Accountable to People's Votes: Reformist Figure
2- 7 Million Venezuelans Say No to Chavez's Heritage
3- Oil Ministry Issues Statement in Response to Kayhan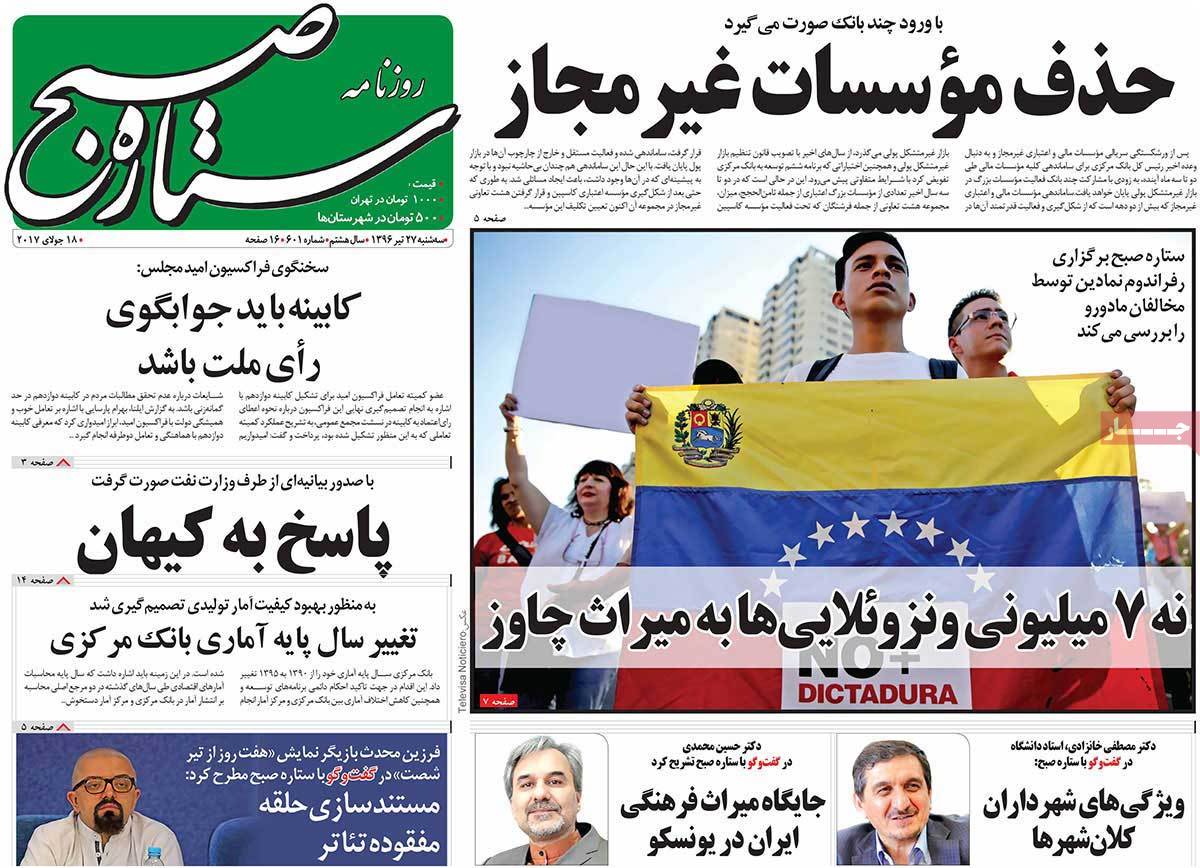 ---
Shahrvand:
1- Appointing Female Minister Minimum Expectation from Gov't: MP
2- Bill on Clean Air to Counter Disturbing Waves, Unpleasant Smells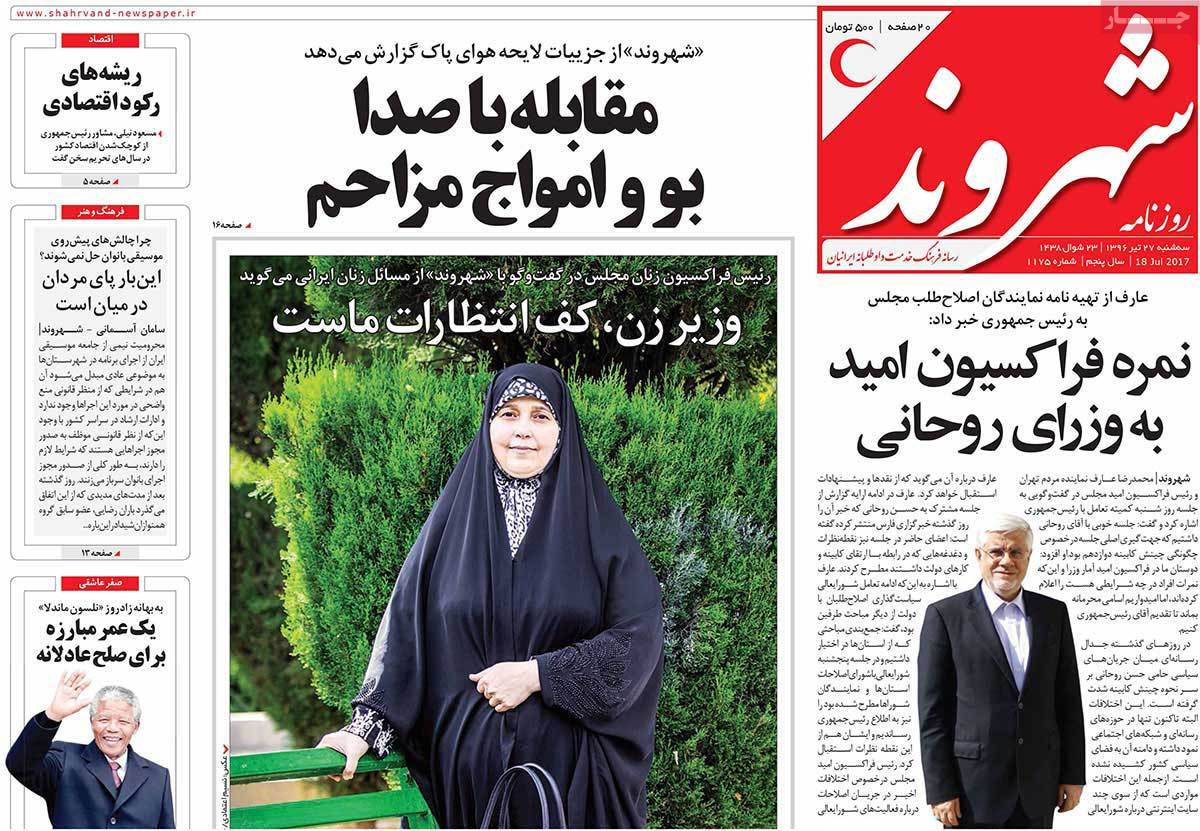 ---
Shargh:
1- Iran in Danger of Second Unemployment Tsunami