Tasnim – Leader of the Islamic Revolution Ayatollah Seyed Ali Khamenei called on Muslim intellectuals to stand up to the enemies of the Islamic world plainly and explicitly just as Iran does, and denounced the cruel aggressors who kept pounding Yemen in the holy month of Ramadan.
In a Monday address to a gathering of Iranian officials and people, held in Tehran after the Eid al-Fitr prayers, Ayatollah Khamenei referred to the situation in war-hit Yemen as a "big wound on the body of the Islamic Ummah", and also deplored the critical conditions in Bahrain and Kashmir.
"The Islamic world, particularly Muslim intellectuals and clerics, must in the same explicit manner that the Islamic Republic voices its stances against the enemies and aggressors express their stances in renouncing the oppressors and the cruel ones who assaulted the people of Yemen in the month of Ramadan," the Leader stressed.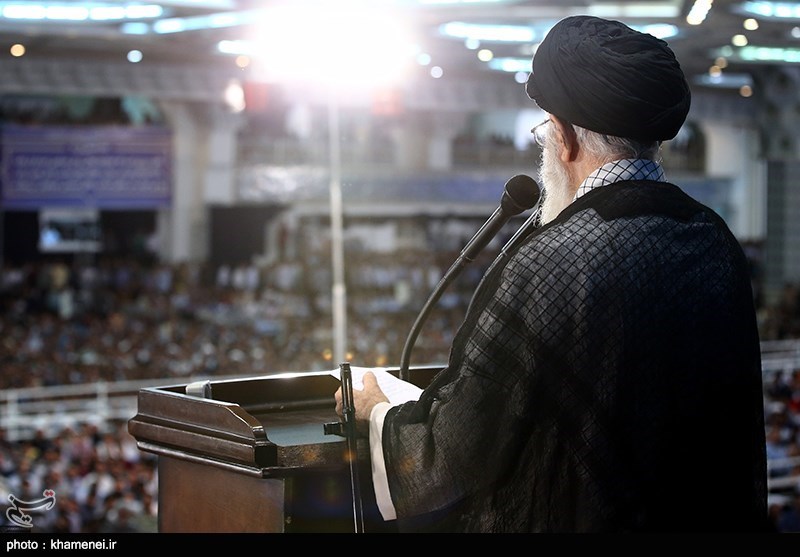 Imam Khamenei also urged clear-cut support for the oppressed people of Yemen and straightforward stances on the Islamic world issues even if they annoy tyrannical regimes.
Elsewhere in his comments, Ayatollah Khamenei hailed the Iranian nation for holding massive demonstrations on the International Quds Day on the last Friday of Ramadan, describing the rallies, as well as the huge turnout in the May 19 presidential election and the Islamic Revolution Guards Corps' mighty missile attack against terrorists in Syria as "precious social resources" that make the Iranian nation proud and hopeful.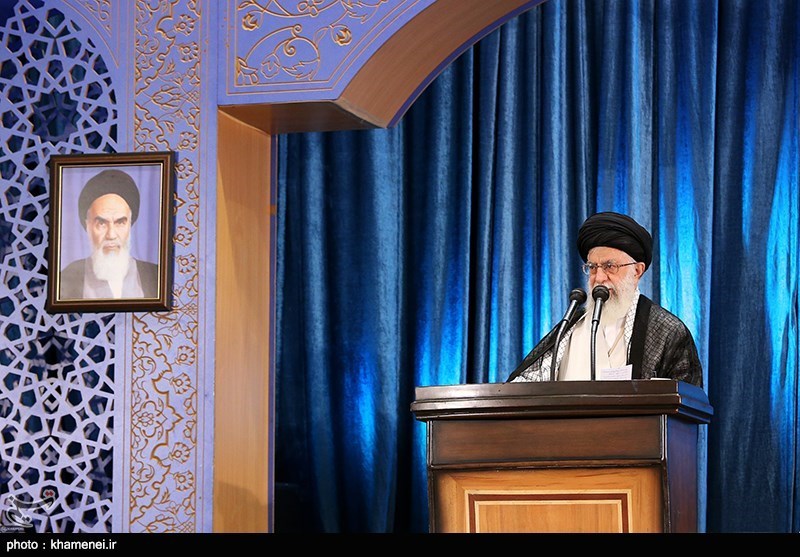 In order for those precious assets to be preserved, the Iranian people should maintain national unity and solidarity, keep up the revolutionary motives, and work toward the goals of the Islamic Revolution, the Leader underscored.
Prior to the speech, Ayatollah Khamenei led the Eid al-Fitr prayers, which was attended by senior officials and military commanders.
Eid-al-Fitr marks the end of Ramadan, the holiest month in the Islamic calendar.
Also called Feast of Breaking the Fast, Eid al-Fitr is an important religious holiday celebrated by Muslims around the world.