Iran Front Page- IFP has taken a look at the front pages of Iranian newspapers on Tuesday and picked headlines from 14 of them. IFP has simply translated the headlines and does not vouch for their accuracy.
The top story today was the Islamic Revolution Guards Corps' attacks on ISIS positions in Syria's Deir ez-Zor, and the worldwide reactions to the Sunday night's move.
Newspapers also covered the remarks made by Ayatollah Seyyed Ali Khamenei, the Leader of Iran's Islamic Revolution, about the slap Iran will give terrorists.
The above issues, as well as many more, are highlighted in the following headlines and top stories:
Abrar:
1- Aerospace Commander: Accuracy of IRGC Missiles Sends Clear Message to Enemies
2- Leader's Military Advisor: Iran-Russia-Syria-Iraq-Hezbollah Coalition Successful So Far
---
Abrar-e Eqtesadi:
1- First VP Tasks Economy Minister to Settle Iran's IMF Debts
2- Iran Signs Two Oil MoUs with Italians
3- Countdown Begins for Oil Extraction from Joint Field with Iraq
---
Aftab-e Yazd:
1- Hard Revenge: How IRGC Missile Attack on ISIS Was Covered Worldwide
2- Iran Leader: Islamic Republic Strongly Standing [against Enemies]
Nation to Slap Enemies in Their Faces: Leader
---
Arman-e Emrooz:
1- Shock of Fire: World Amazed by Iran's Decisive Fight against ISIS
---
Ebtekar:
1- Missile Slap: Reactions to IRGC's Attack on ISIS in Deir ez-Zor
2- Rouhani: Leader's Special Attention to Social Harms Leads to National Resolve
3- First VP: People's Security Is Iran's Red Line
---
Ettela'at:
1- World Reactions to IRGC's Missile Attacks on Terrorists
2- Many of ISIS Elements Killed in Attack; Their Equipment, Weapons Destroyed
3- Russia Gives US Ultimatum: We'll Shoot Any Object Flying in Syria Sky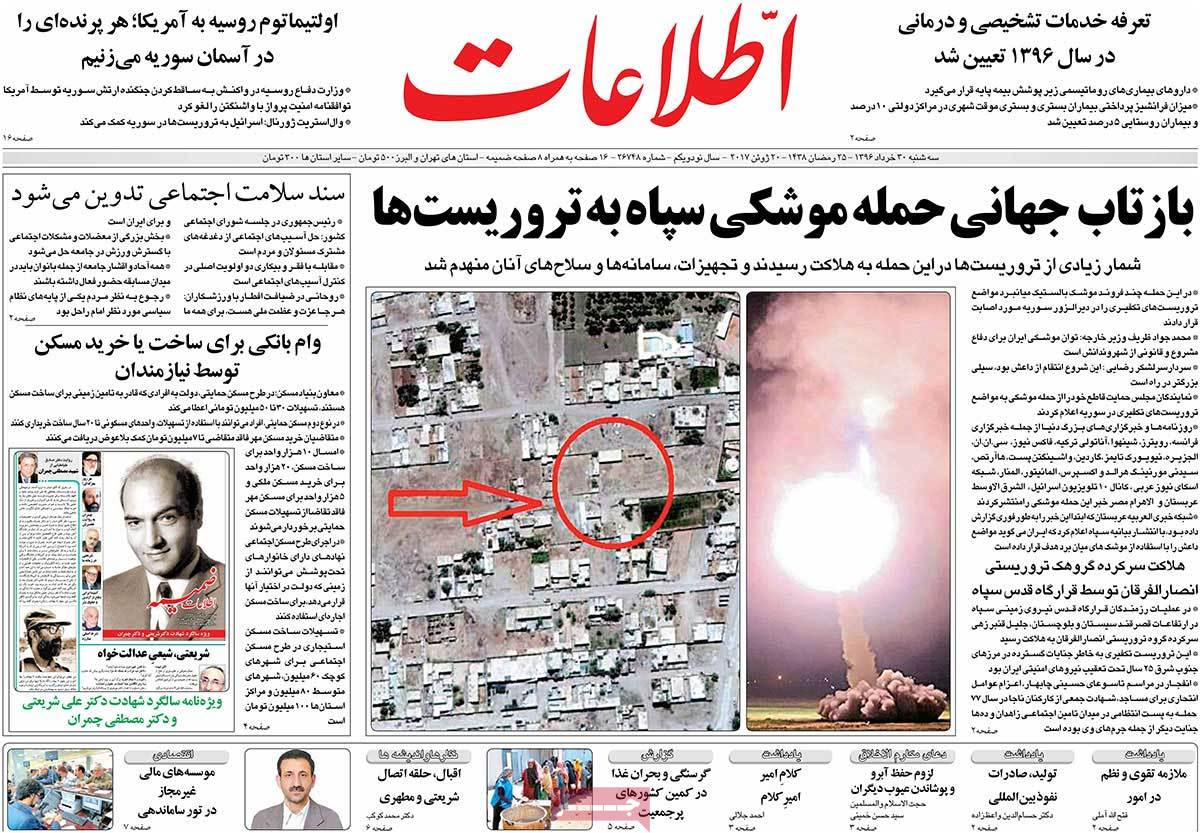 ---
Iran:
1- Shooting ISIS in the Head: Widespread Reactions to Iran Attacks
2- Iran's Top Officer: Hegemonic Powers Not Capable of Fighting against Iran for Now
3- Zarif: Iran's Missile Capability Used to Defend Citizens, Help Global Fight against Terror
---
Javan:
1- Nation Pride Maximised after Missile Attacks
2- Tehran Is Not London, Paris to Remain Passive: IRGC Aerospace Commander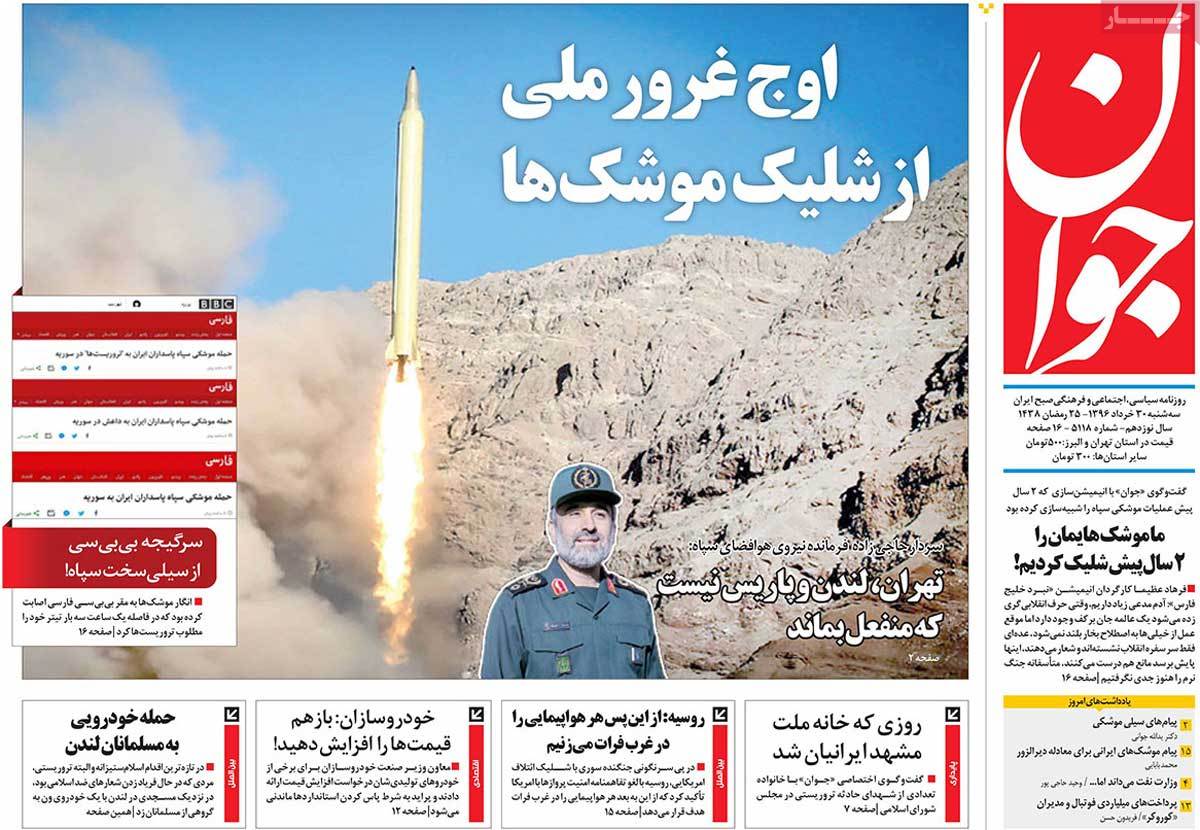 ---
Kayhan:
1- ISIS Slapped in Face; Tel Aviv, Riyadh Tremble
2- Ansarullah: Al Saud Bombing Yemen Thanks to UNSC Support
---
Rah-e Mardom:
1- President: Nothing More Rewarding than Reducing Poverty, Unemployment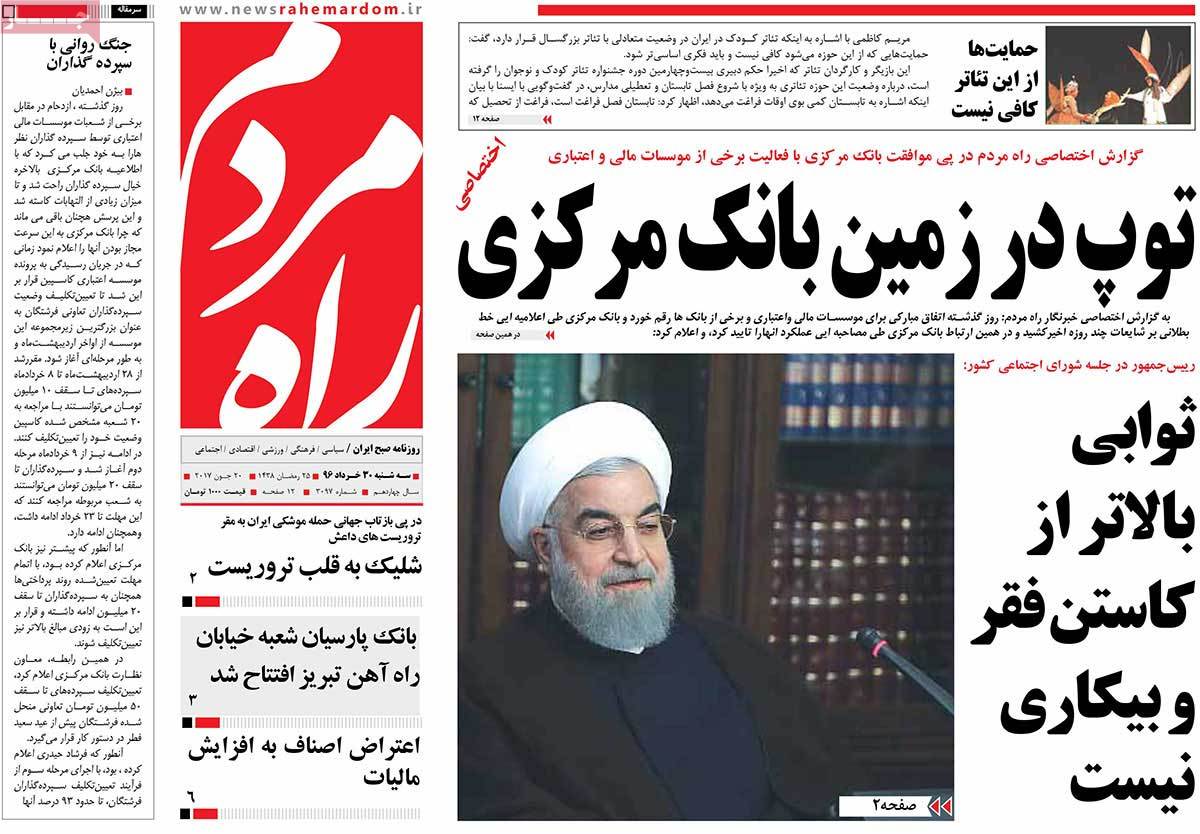 ---
Resalat:
1- IRGC Uses Missiles to Respond to Terrorists' Firecrackers
Soft Warning to Sponsors of American Terrorists
They Should Expect Stronger Response
2- Judiciary Chief Warns Those Who Cooperate with Enemies
3- Senior Kurdish Cleric: ISIS Sponsors Should Hear Sound of IRGC's Slap
4- Iran Foreign Ministry: Deir ez-Zor Operation Just a Warning
5- Top Officer: Iran among World's Top Missile Powers
---
Shahrvand:
1- Loud Sound of a Slap
Leader: Iran to Strongly Slap Enemies in Their Face
Zarif: Iran's Missile Capability Protects Its Citizens in Lawful Self-Defence
Aref: Iranian Nation Not to Give in to Aggressors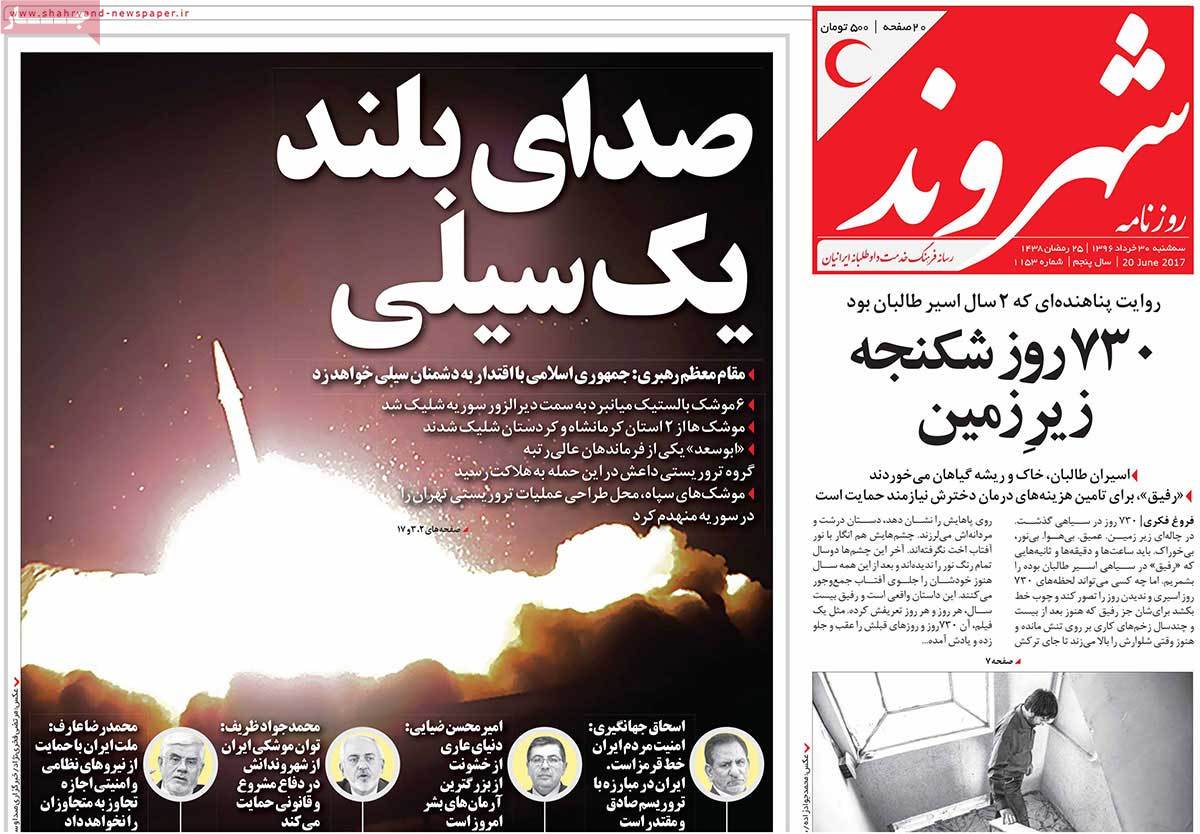 ---
Shargh:
1- Explosion Waves after IRGC's Missile Attack
ISIS Senior Commander Killed in Iran Attack on Deir ez-Zor
2- Leader: Those Who Wish to Change Islamic Republic Will Take Dream to Grave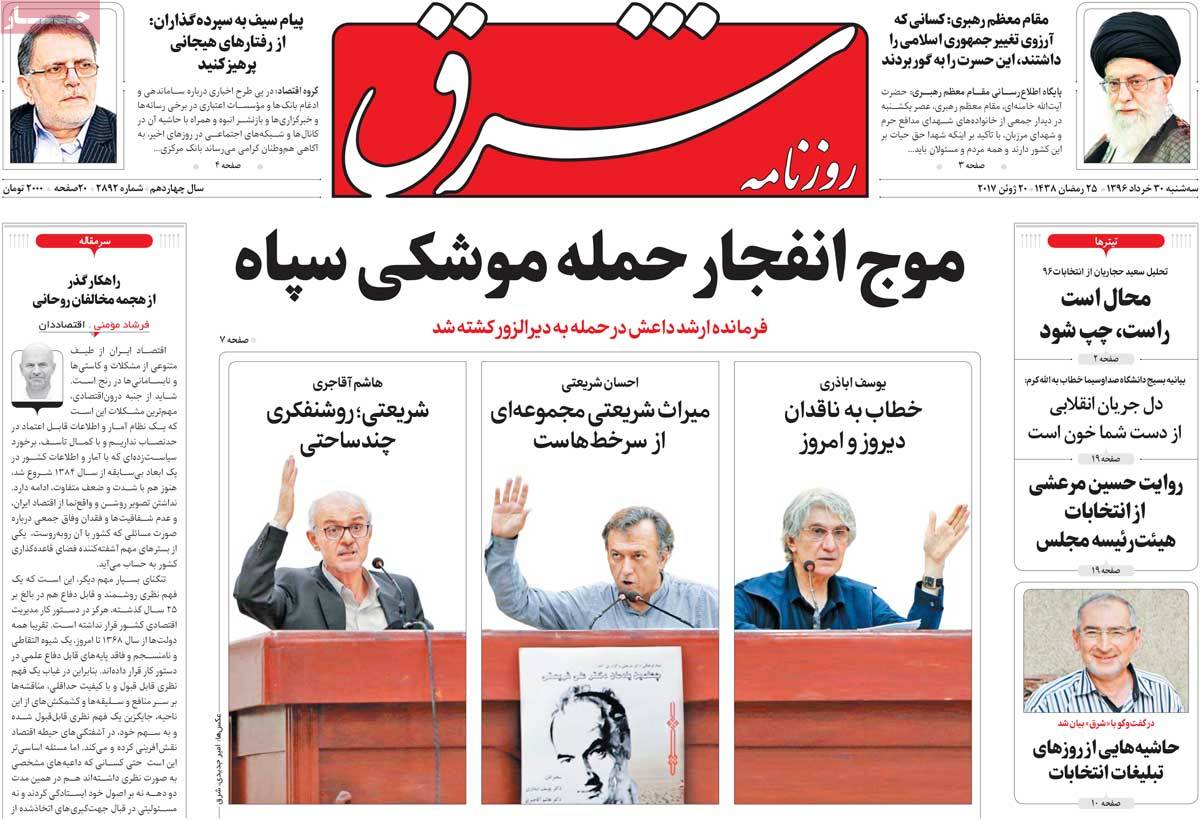 ---
Vatan-e Emrooz:
1- Rise [Qiyam] of Zolfaqar [Qiyam and Zolfaqar were two types of missiles IRGC used to attack ISIS positions in Syria]
2- Attacks on Syria's Deir ez-Zor Showed Iran's Deterrence Power, Resolve in Fight against Terror
3- Last US Envoy to Damascus: Game Is Over, US Was Defeated, Iran Won