IFP – IFP has taken a look at the front pages of Iranian newspapers on Wednesday and picked headlines from 22 of them. IFP has simply translated the headlines and does not vouch for their accuracy.
Almost all newspapers today covered the stump speeches delivered by the two main presidential candidates Ebrahim Raisi and Hassan Rouhani.
Reformist and pro-government papers hailed the warm welcome Rouhani received from people of Zanjan and Khuzestan provinces in his Tuesday speeches, and conservative media were highly excited about the huge gathering of Raisi fans in Tehran.
The government's criticism of rumours about the UNESCO 2030 Education Document also received great coverage. Both Rouhani and his spokesman blasted the rumours in their recent speeches.
The above issues, as well as many more, are highlighted in the following headlines and top stories:
19 Dey:
1- Concerns about UNESCO 2030 Document Relieved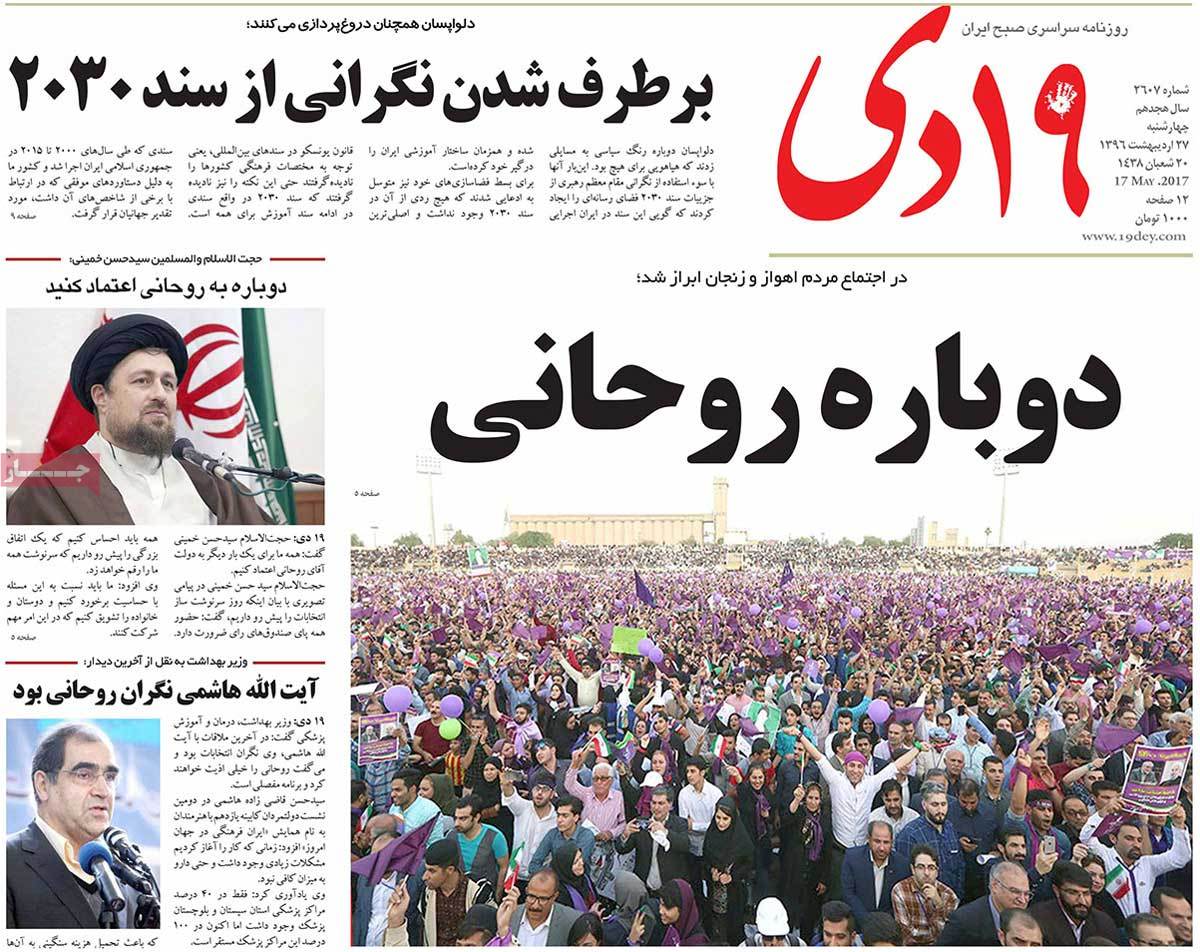 ---
Abrar:
1- White House: We're Ready to Work with Iran, Russia on Syria
2- Nateq Noori: Rouhani's Performance Shows He's Best Candidate
3- Judiciary: Over 60 Executives Have Committed Electoral Offences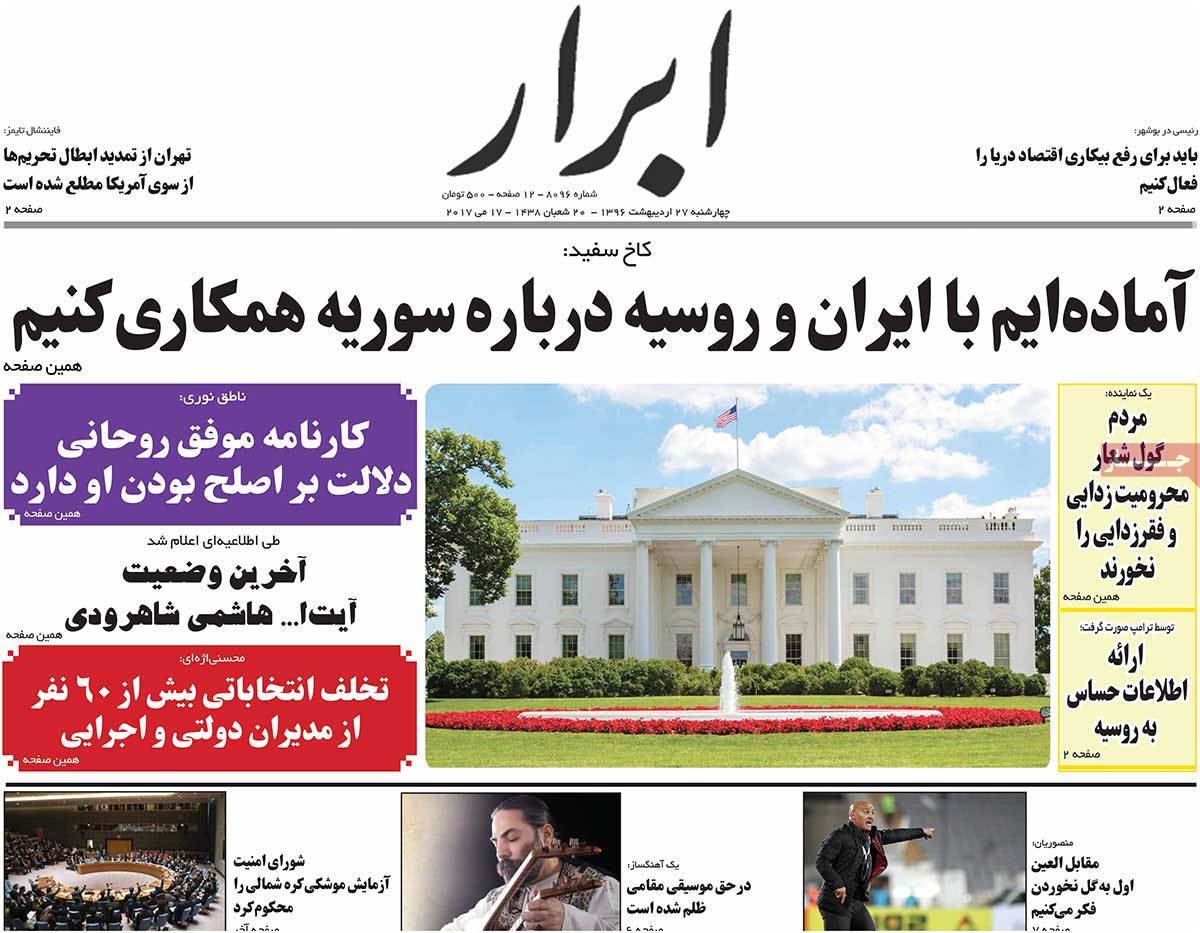 ---
Abrar-e Eqtesadi:
1- Iran to Hold First Oil Tender after Elections
2- India Offered to Buy Iran's Gas 3 Times More Expensive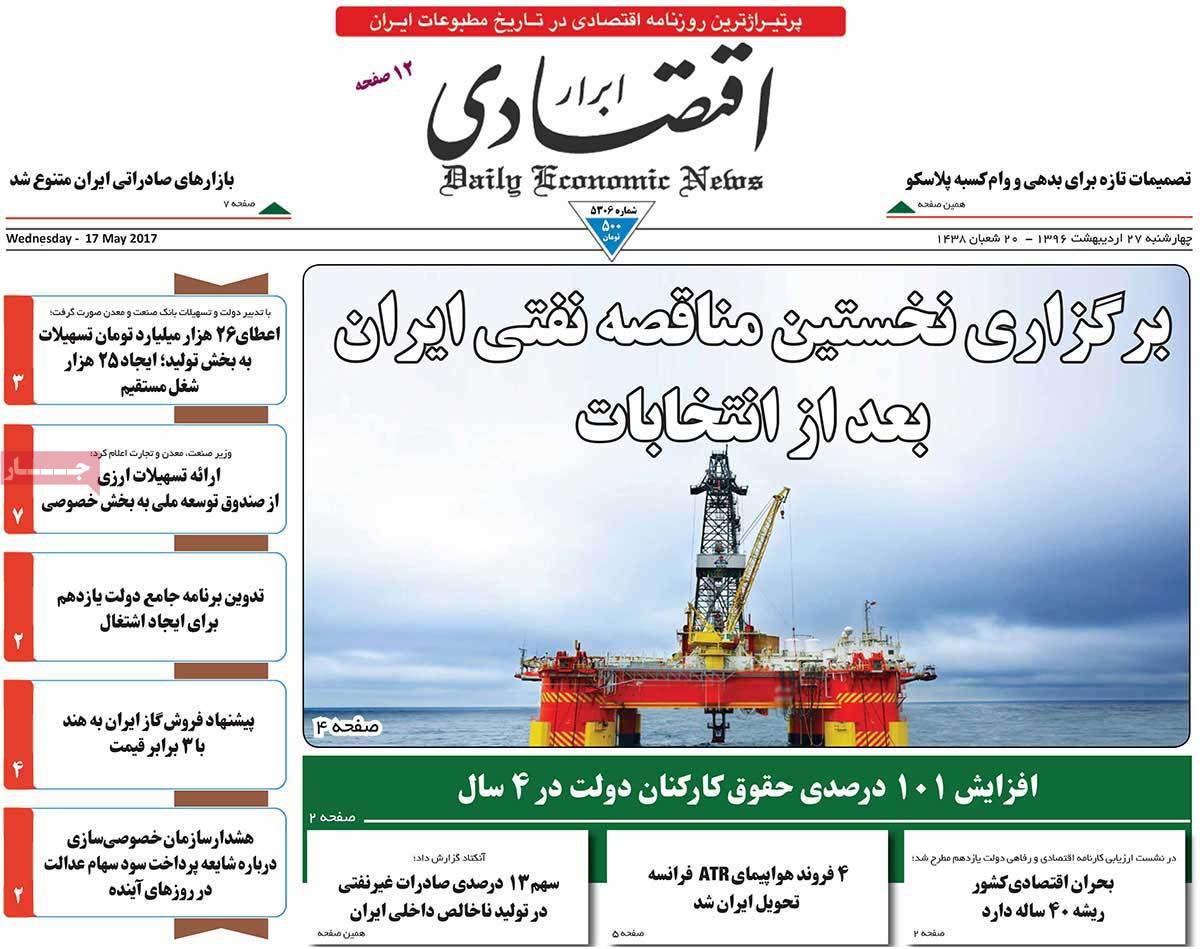 ---
Afkar:
1- 96-Magnitude Quake in Tehran
Raisi, Qalibaf Appear before 300,000 People
---
Aftab-e Yazd:
1- Repetition of Vote for Rouhani
2- Jahangiri Drops out in Favour of Rouhani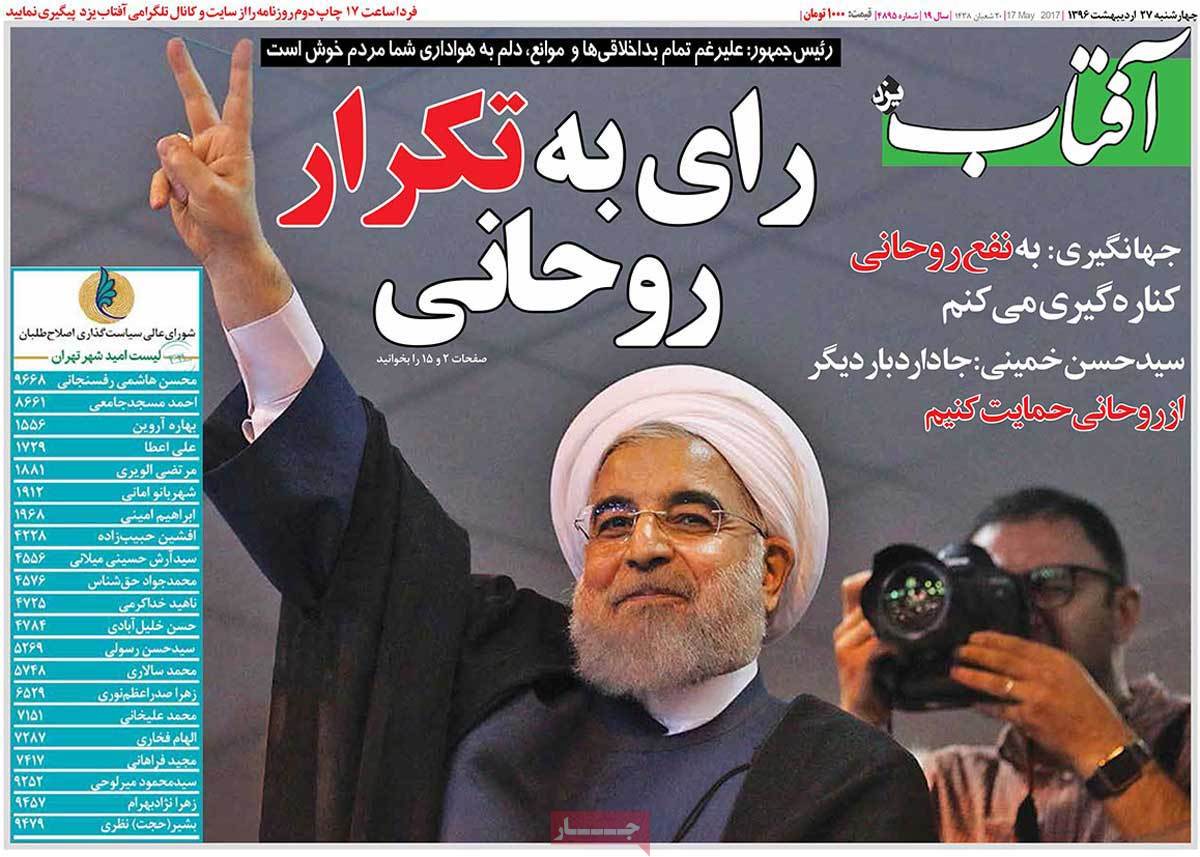 ---
Arman-e Emrooz:
1- Rouhani's Resurrection
Grey, Undecided Votes to Be Given to Moderate Candidate
2- End of Mission for Rouhani's Number One Man
3- 1,550 Journalists Voice Their All-Out Support for Rouhani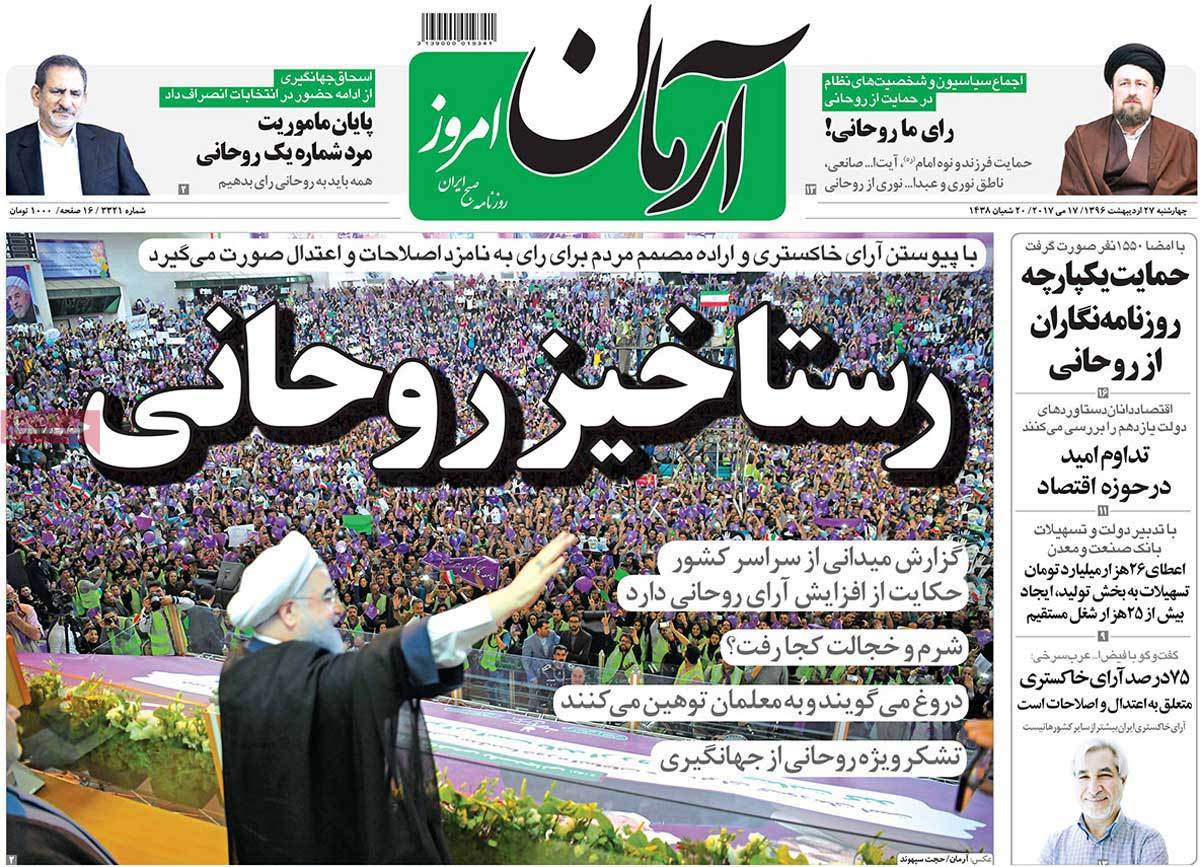 ---
Etemad:
1- Jahangiri's Sarifice
2- I Feel Embarrassed When Reading Rumours
Gov't Spokesman in Reaction to Criticisms against 2030 Document
---
Ettela'at:
1- Zarif: Negotiation Possible for Removal of Non-Nuclear Sanctions
2- Severing Ties with World Won't Improve Iran's Economy: VP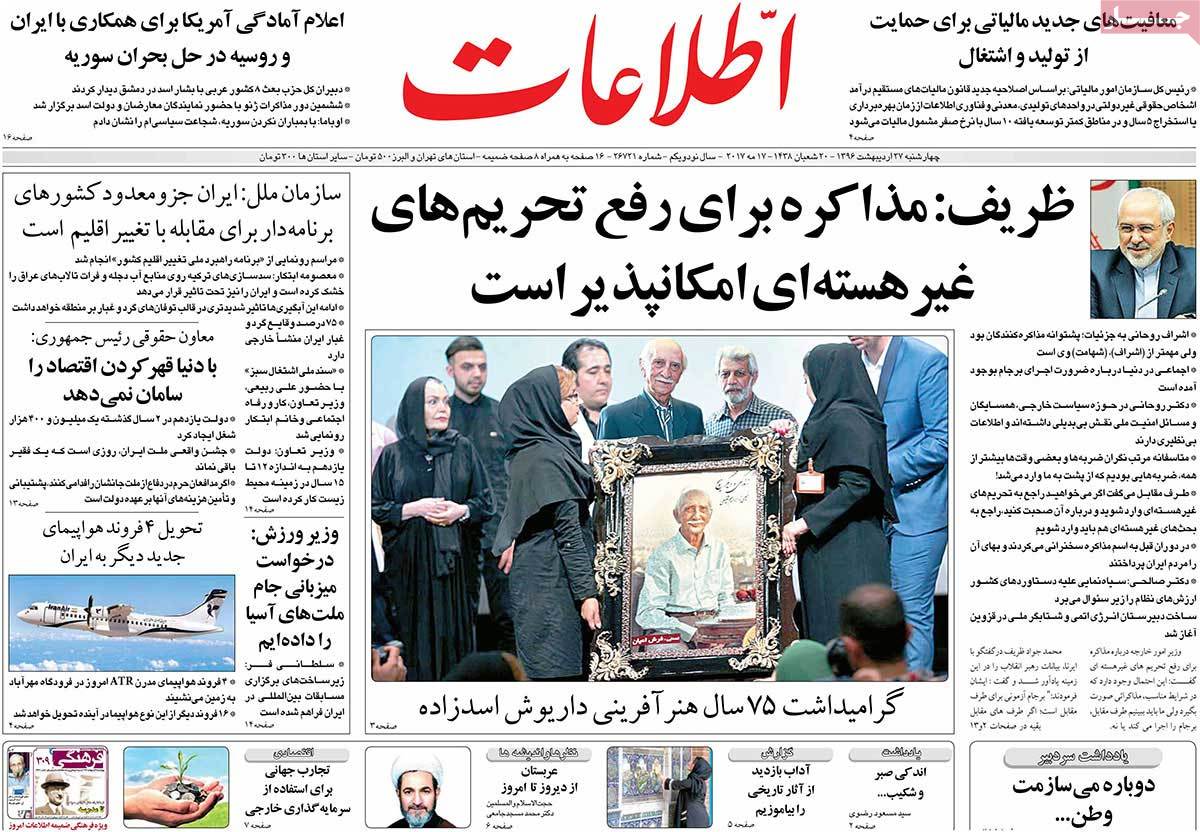 ---
Haft-e Sobh:
1- Last Supper in Mashhad
Rouhani, Raisi to Hold Last Campaign Meeting Simultaneously in Mashhad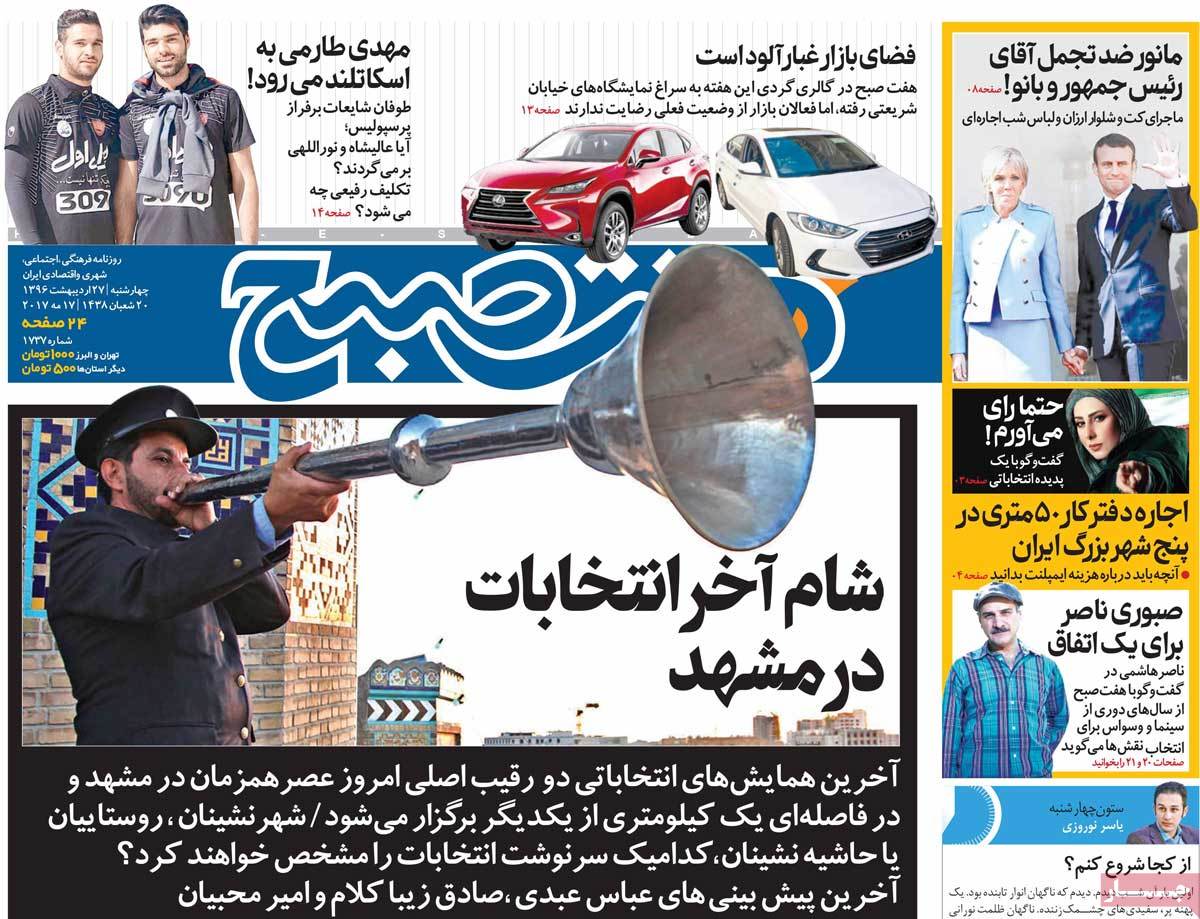 ---
Iran:
1- Which Way to Choose: Prudence or Change?
2- United Voice of Reformism and Moderation in Elections
---
Jame Jam:
1- Countdown for Revolutionary Epic
---
Javan:
1- Tsunami of Change in Tehran
Biggest Gathering of Iran's History Held by Raisi Fans in Tehran
---
Jomhouri Eslami:
1- ATR: First Passenger Plane Delivered to Iran
---
Ka'enat:
1- A Disaster Called Boycotting Election
2- Analyst: Experience Shows Not Casting Ballots Will Lead to Disaster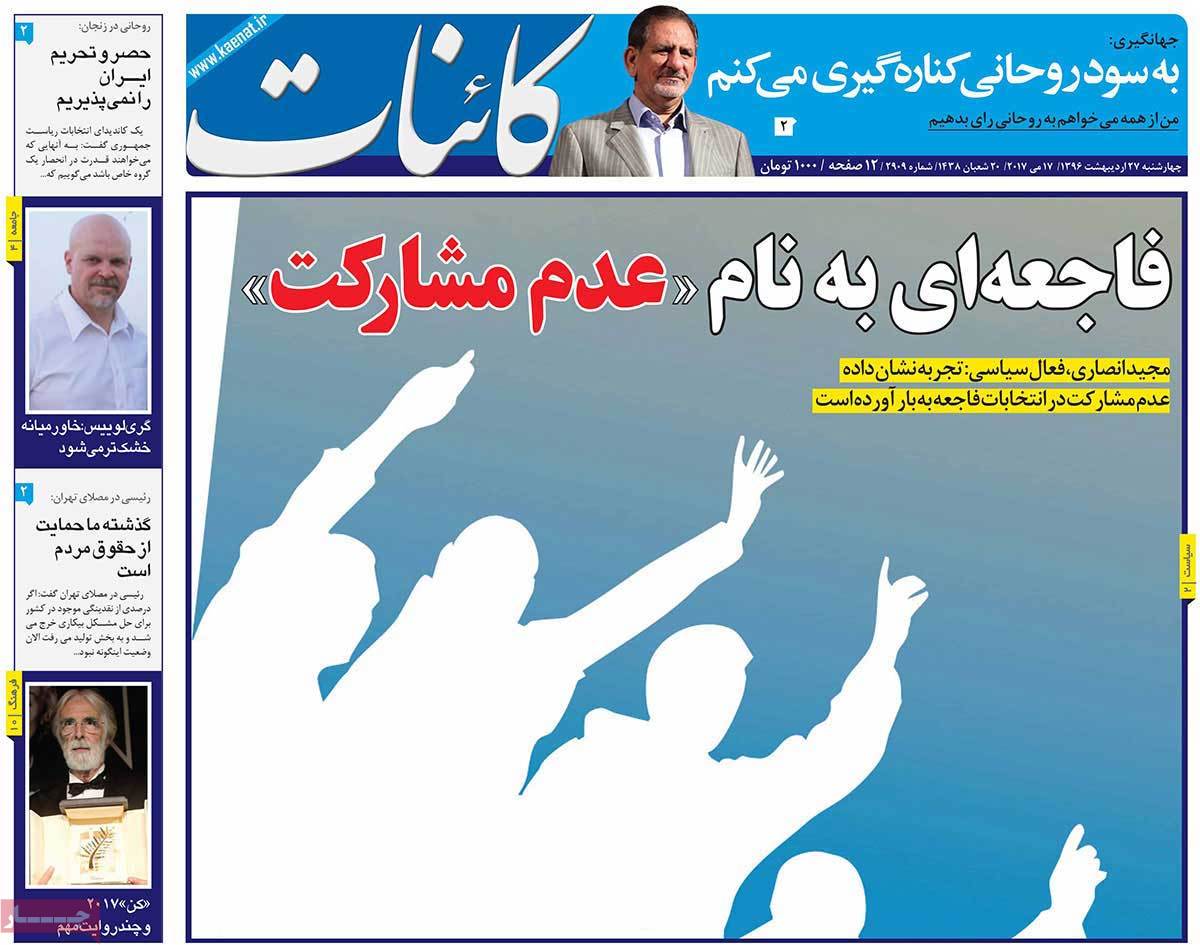 ---
Kayhan:
1- People's Great Tsunami in Support of Seyyed of Poor People [Raisi]
2- Reactionary Arabs, Europe, US Meet to Find Way to Counter Nasrallah
---
Khorasan:
1- Mashhad, the Peak of Campaign Marathon
Rouhani, Raisi Will Address People of Mashhad at Same Time
---
Resalat:
1- Tehran Shouts Allegiance to Raisi: Epic Support of Raisi
---
Roozan:
1- Once Again Khuzestan, Once Again Rouhani
Rouhani Warmly Received by People of Ahvaz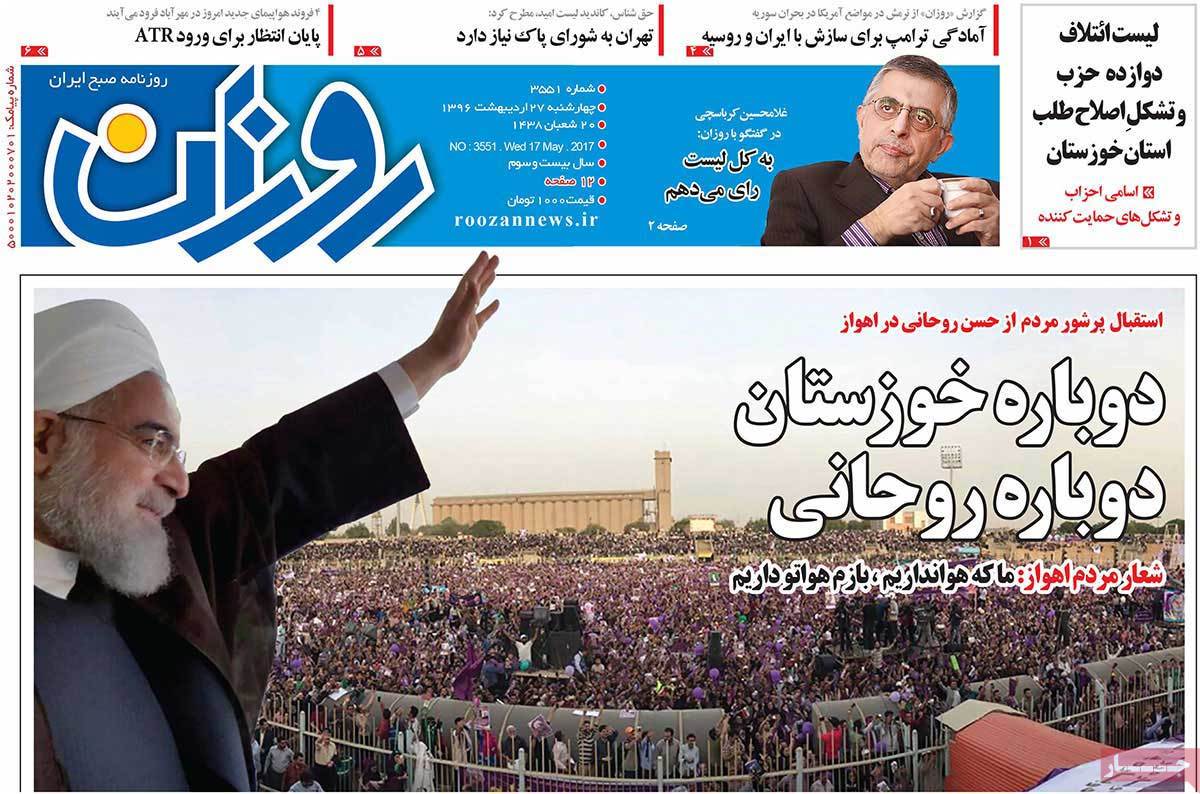 ---
Setareh Sobh:
1- People in Zanjan, Khuzestan Support Rouhani
2- Imam Khomeini's Grandson: We'll Trust Rouhani
---
Shargh:
1- Cornerstone of Victory: Jahangiri Withdraws, Reformists Support Rouhani
---
Siasat-e Rooz:
1- Tehran is Iranized: People's Electoral Passion in Grand Mosque of Tehran
---
Vaghaye Ettefaghieh:
1- Southern Iran Stands for Rouhani