BBC – The man suspected of killing 11 people by bombing a St Petersburg train is a native of Kyrgyzstan who obtained Russian citizenship, the Central Asian country's security service says.
Forty-nine people were injured in the explosion between two underground stations on Monday afternoon.
The Kyrgyz security service named the bomber as Akbarzhon Jalilov, who it said was born in Osh in 1995.
There are conflicting reports as to whether he was a suicide bomber.
Kyrgyz state media said the country's security service was "maintaining contact with the Russian secret service for further investigation".
Authorities in St Petersburg have declared three days of mourning.
Russian President Vladimir Putin, who was in St Petersburg – his home city – when the blast occurred, visited the scene on Monday evening and laid flowers at a makeshift shrine.
Russian investigators have given few details. No group has said it was responsible.
World leaders rallied behind Russia in condemning the blast.
The White House said President Donald Trump had spoken to Mr Putin by phone and offered "full support" in bringing those responsible to justice.
"Both President Trump and President Putin agreed that terrorism must be decisively and quickly defeated," a statement said.
German Chancellor Angela Merkel described the blast as a "barbaric act" and EU foreign policy chief Federica Mogherini said Europe's thoughts were with the Russian people.
First images from the scene showed a train at Tekhnologichesky Institut station with a hole blown in its side and wounded passengers on the platform.
Initial reports suggested there had been two explosions, one each at Sennaya Ploshchad and Tekhnologichesky Institut stations.
But the Russian National Anti-Terrorist Committee later confirmed there had been only one explosion, between the two stations, at about 14:30 local time (11:30 GMT).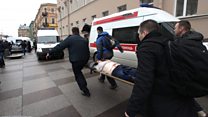 Health Minister Veronika Skvortsova said 10 people had died – seven at the scene, one in an ambulance and two in hospital. The death toll was later raised to 11.
Andrei Przhezdomsky, the head of the National Anti-Terrorist Committee, said the explosion was caused by "an unidentified explosive device".
The discovery of an explosive device at another station, Ploshchad Vosstaniya, also suggested a co-ordinated attack.
Interfax said the bomber was known to have links to radical Islam.
The news agency said he died in a suicide blast and was identified through his remains. But the president's spokesman, Dmitry Peskov, would not comment on reports a suicide bomber was to blame.
Another agency, Tass, reported that a woman may also have been involved in the explosion.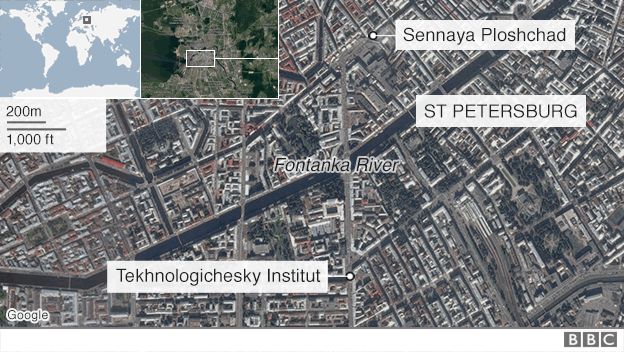 St Petersburg's metro system, which is used by more than two million passengers every day, has not suffered previous attacks.
Several transport hubs in Russia have, however, been attacked. In 2010, 38 people died in a double suicide bombing on the Moscow metro.
And a year later, a bomb exploded on a high-speed train travelling between Moscow and St Petersburg, killing 27 and injuring another 130.
Both attacks were claimed by Islamist groups.