Bloomberg| Weixin Zha and Kelly Gilblom: Iran is hard at work gaining a foothold in the global energy market, and it's not letting U.S. President Donald Trump's confrontational tone stop it from trying.
Political rhetoric is unlikely to turn into tangible impediments for Iran's ambition to join Russia and Norway in the ranks of major gas exporters, according to Deputy Oil Minister Amir Hossein Zamaninia.
The nation has about $7 trillion worth of gas reserves sitting underground, based on European benchmark prices, and its doors are open to those who will help it cash in on the fortune. Zamaninia thinks those sorts of figures mean the business case for Iranian energy is too tempting for the world to pass up, even as its supreme leader Ayatollah Ali Khamenei and Trump exchange barbs.
The country may need as much as $100 billion to develop its gas business, but estimates vary widely. Majors from Royal Dutch Shell Plc to Total SA agreed to assess oil or gas fields in Iran last year, but no deals have been signed yet. Total plans to sign a contract if Iran respects an international nuclear treaty and if the U.S. sticks to it, Chief Executive Officer Patrick Pouyanne said Tuesday in an interview. Austria's OMV AG has said Iran's gas market is "a big opportunity."
"There are concerns and the international capital is scarce, but our projects and our environment are so attractive that we don't think we will face a great deal of difficulty," Zamaninia said in an interview last week at the CWC Iran LNG & Gas Summit in Frankfurt. "We don't think that the new administration in the U.S. will pose a big problem in this department, in the oil and gas business."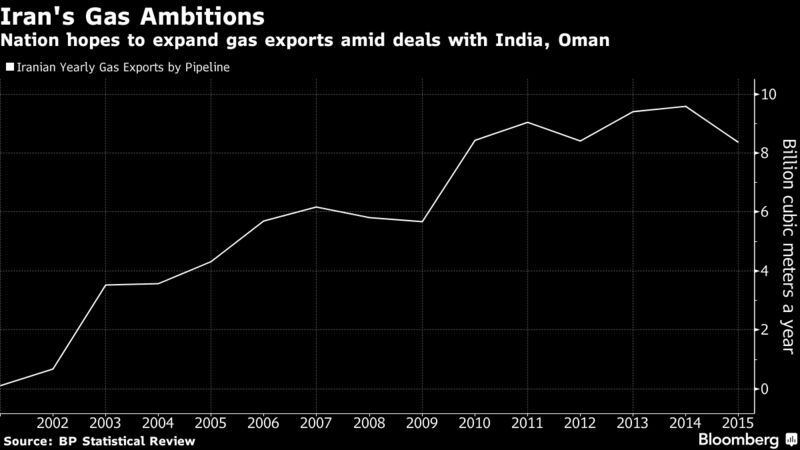 While Iran has the largest commercial volumes of natural gas in the world, the country is a smaller exporter than Bolivia. That may soon change. Last year, U.S. President Barack Obama lifted a decade of economic sanctions in exchange for Iran limiting its nuclear program. Growing populations and economies in nearby countries, including Turkey and India, mean gas demand is also set to rise.
But there's also reason for doubt. Competition from other suppliers is intensifying, European prices have dropped 25 percent in the past five years and Iran consumes almost as much as it pumps. There's an election around the corner and political challenges have forced the country to delay some gas projects for years.
"Iran's got just a huge amount of potential but I don't see anything major happening for some time," said Christopher Haines, head of oil and gas at BMI Research in London. "We need a lot more trust between operators and the government and confidence in the political environment."
Trump Impact
Then there's Trump. Through an executive order, the new U.S. president banned Iranians from entering the country for 90 days, citing the threat of terrorism. While that order was blocked by a court, he has said he will sign another one this week. He also put Iran "on notice" after it performed a missile test on Jan. 29, without clarifying what that meant.
International politicking is delivering a "temporary hiccup" to investment, but Iran's gas prize is big enough to motivate people to overcome their differences, Zamaninia said. The country has 56 gas fields with reserves of 33.7 trillion cubic meters, of which 40 are still undeveloped as a result of sanctions.
Hamid Soorghali, an energy analyst at Iran-focused consultant Energy Pioneers Ltd. in London, said that is probably true, and the country remains attractive to Russian and Chinese investors.
"Trump will not have an impact on this macro trend, but rather can only affect the quality of achieved goals," he said by e-mail. "Internal ambiguities and politicizations, such as over the price of gas for exports, can have more effect."
There are still debates within the country on how to make the best use of its natural gas. Using the fuel in oil fields or in power plants may benefit the economy more than exporting at current low prices, according to Ali Amirani, marketing director at the National Iranian Gas Export Co.
"In terms of the international market, the price is not so attractive right now, at least until 2024," Amirani said in Frankfurt. "This encourages us to think about these opportunities inside Iran."
With additional technology, Iran could export as much as 6 billion cubic feet (170 million cubic meters) of gas a day by 2030, mostly to Mideast countries, according to Siamak Adibi, head of Middle East gas at consultant FGE. That would make it the fifth-largest gas exporter in the world behind Russia and Norway, Canada and Qatar, according to 2015 figures in the BP Statistical Review.
Iran needs $70 billion to develop proposed oil and gas projects, and half of that could come through in a "few short months," according to Zamaninia. The first pipeline to Iraq is "ready" to ship natural gas and a second to Basra is expected to start in two or three months, Zamaninia said. Haines of BMI Research agreed that timeline was possible.
"Iran has huge potential to export due to its resources," said Adibi. "The question is only where the market is."
Iran's Gas Trade Projects
| | | | | |
| --- | --- | --- | --- | --- |
| Country | Contract | Start Date | Bcm/Year | Duration (Years) |
| Turkey | Export | 2001 | 10 | 25 |
| Azerbaijan | Swap | 2005 | 0.3 | 20 |
| Armenia | Barter | 2009 | 2.3 | 20 |
| Turkmenistan | Import | 1997 | 14 | 25 |
| Pakistan | Export | TBD | 7.8 | 25 |
| Iraq – Baghdad | Export | 2017 | 10 | 6 |
| Iraq – Basra | Export | TBD | 9 | 6 |
| Oman | Export/Tolling | 2019-2020 | Up to 15 | 15 |