Iran Front Page- Newspapers today covered President Hassan Rouhani and Judiciary Chief Ayatollah Sadeq Amoli Larijani's remarks about the issue of Palestine and the need for its liberation. The Iranian officials were addressing an international conference in Tehran to support Palestinian Intifada.
A report by Amnesty International in which it introduced Trump and Erdogan as threats to global security also received great coverage.
The anti-Iran stances held by Turkey and Saudi Arabia also remained a top story today.
The above issues, as well as many more, are highlighted in the following headlines and top stories:
Abrar:
1- Banks Clearly Practicing Usury by Receiving Late Payment Penalties
2- Palestine Is Most Important Issue of Muslim World: Rouhani
3- Iran to Purchase 12 Sukhoi-100 Super Jets from Russia
4- Iran Unveils First Rock Centrifuge: Nuclear Chief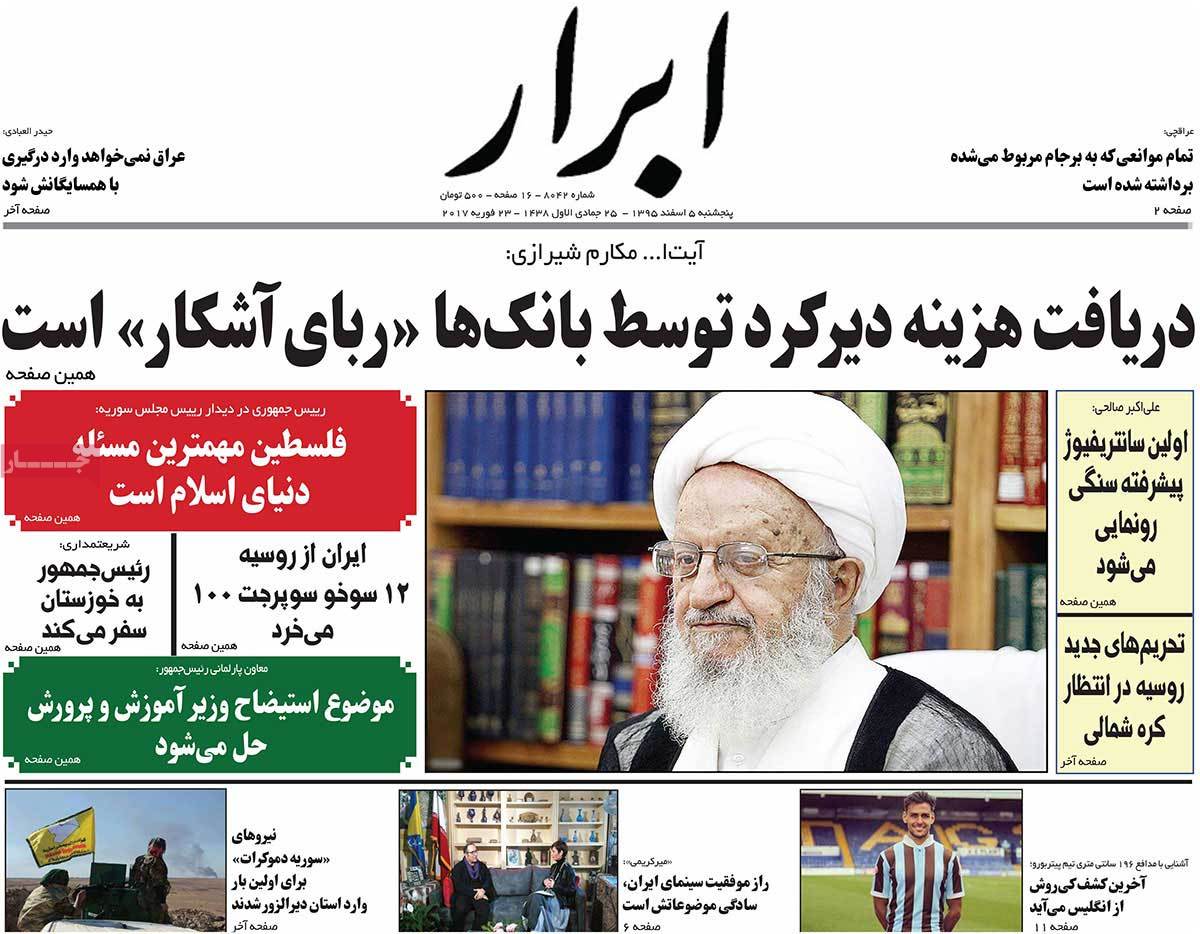 ---
Afkar:
1- Worrying Deficiency of Vitamin D among Iranians
2- Iran to Sign Deal with Russia in 15 Days to Sell 100 Barrels of Crude Oil per Day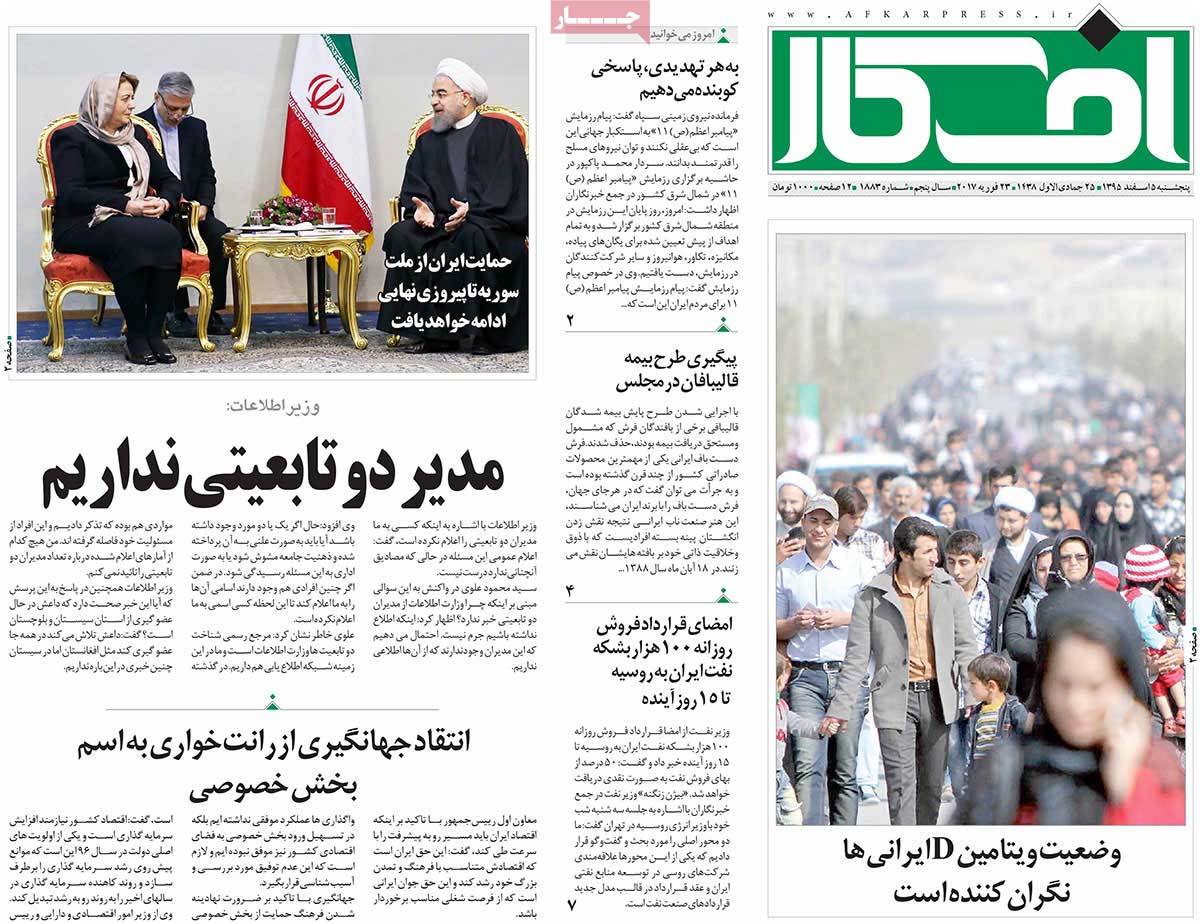 ---
Aftab-e Yazd:
1- General Rezaei Waiting for Invitation
IRGC General Mohsen Rezaei said he still doesn't want to run for presidential elections, but if conservatives ask him to run, he'll think about it, as it is hard to reject such a request
[Rezaei, a former commander of IRGC, has run for presidency in a number of previous presidential elections, but he has always failed]
---
Ebtekar:
1- Rouhani: Intifada, Symbol of Resistance; Resistance, Symbol of Human Conscience
[Iranian president made the remarks in an address to Int'l Conference to Support Palestinian Intifada in Tehran]
2- Good News for Khuzestan
300 billion rials [$7.8m] allocated to stabilising domestic origins of dust pollution
3- Clooney to Journalists: Continue Attacking Trump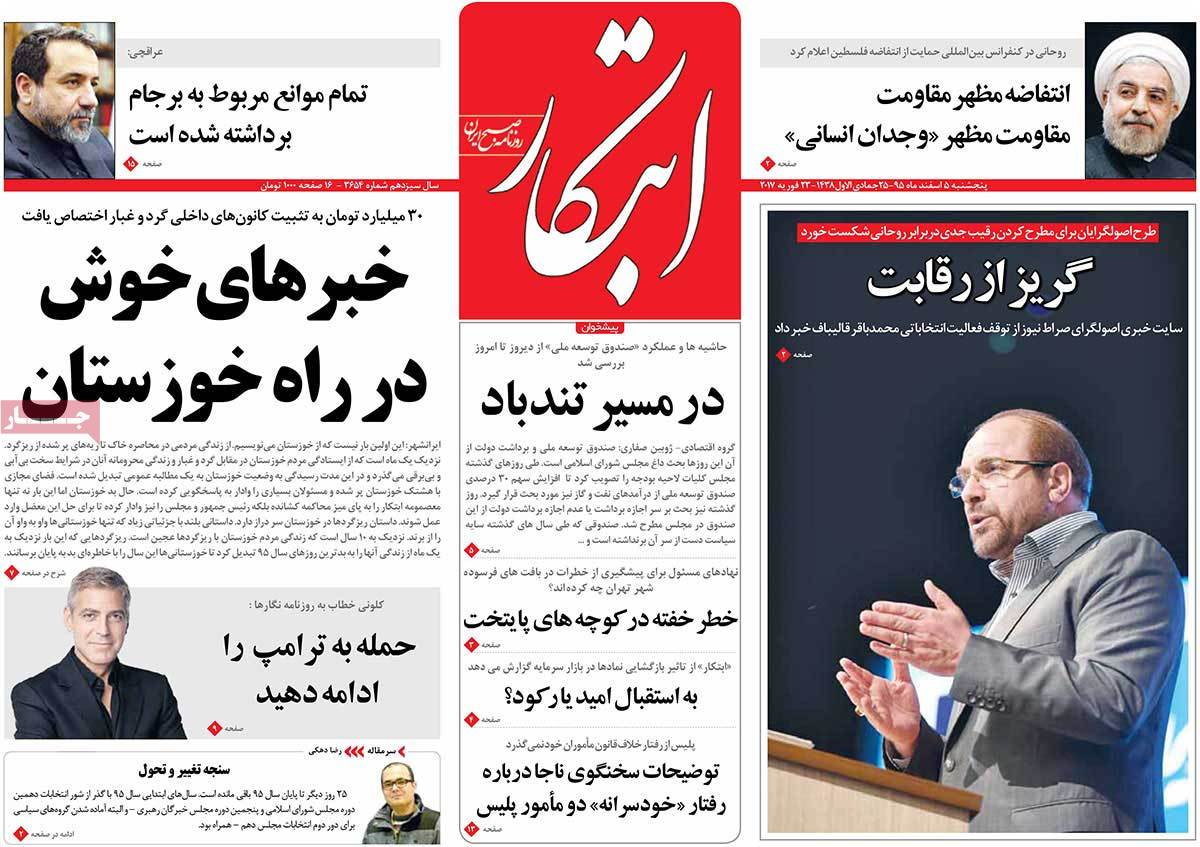 ---
Ettela'at:
1- Rouhani: Zionists Trying to Unite Arabs against Iran
2- UAE Army Commander Arrested for Coup Plans
---
Haft-e Sobh:
1- Strange number of conservative presidential candidates: From classics to newcomers
---
Hosban:
1- Judiciary Chief: Western Countries Not Expected to Help Resolve Issue of Palestine
2- High Oil Price in Medium-Term Harmful to OPEC Members: Iran's Oil Minister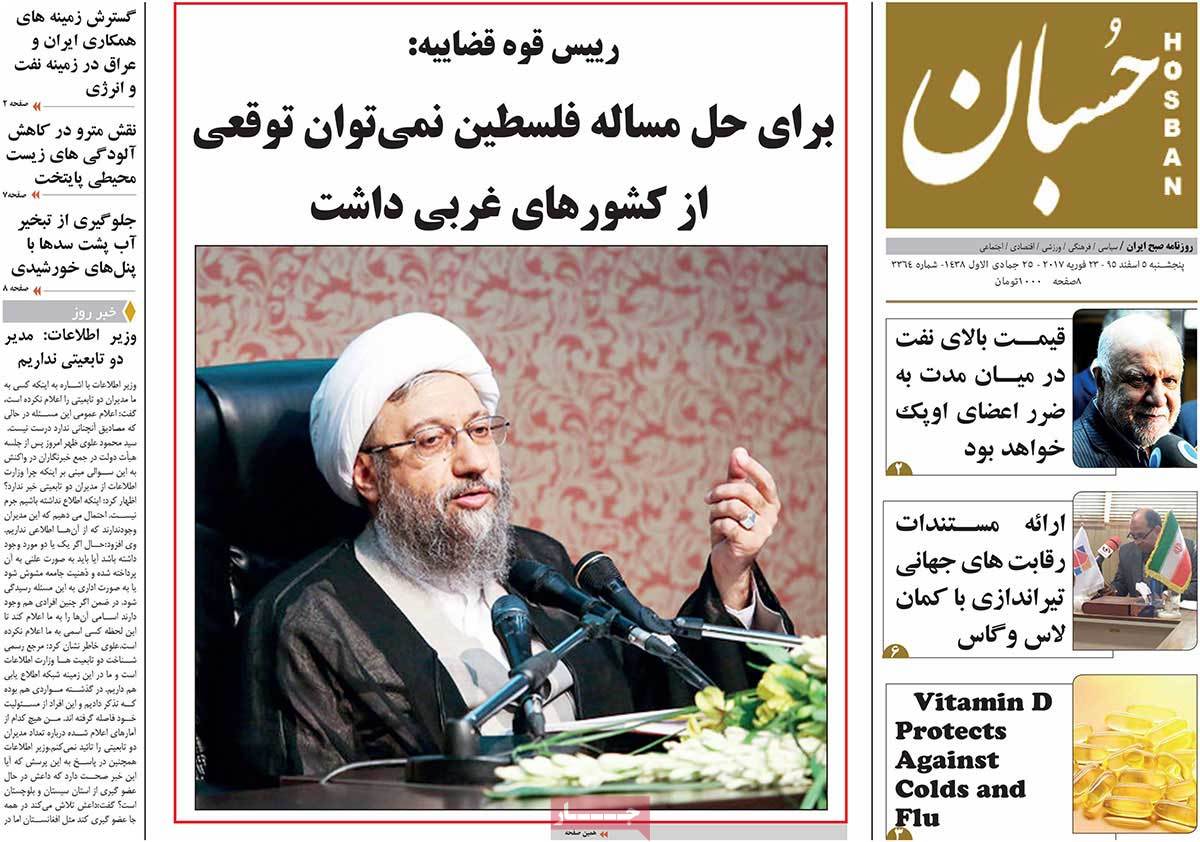 ---
Iran:
1- Issue of Palestine, a Disgrace to Certain Islamic Countries: Rouhani
2- Amnesty Int'l Introduces Leaders Who Threaten Global Security
Trump, Erdogan, Duterte are on top of the list
---
Jame Jam:
1- Shaky Seats of Executives with Dual Nationality: Judiciary spokesman underlined the need for taking action against executives with dual nationality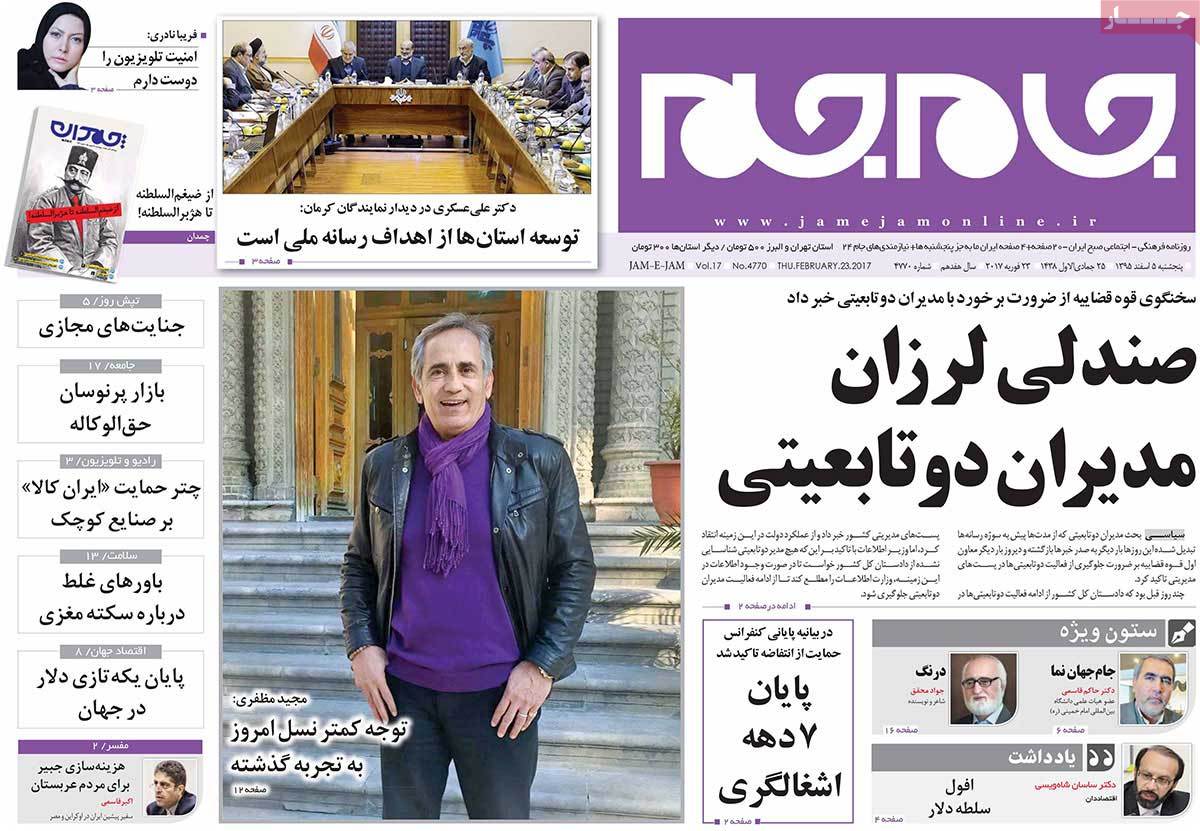 ---
Javan:
1- Mideast Peace Only Possible after Liberation of Palestine: Rouhani
2- Saudi Petrodollars Prevent US-Russia Cooperation in Syria; Trump prefers Arabs' money to fight against ISIS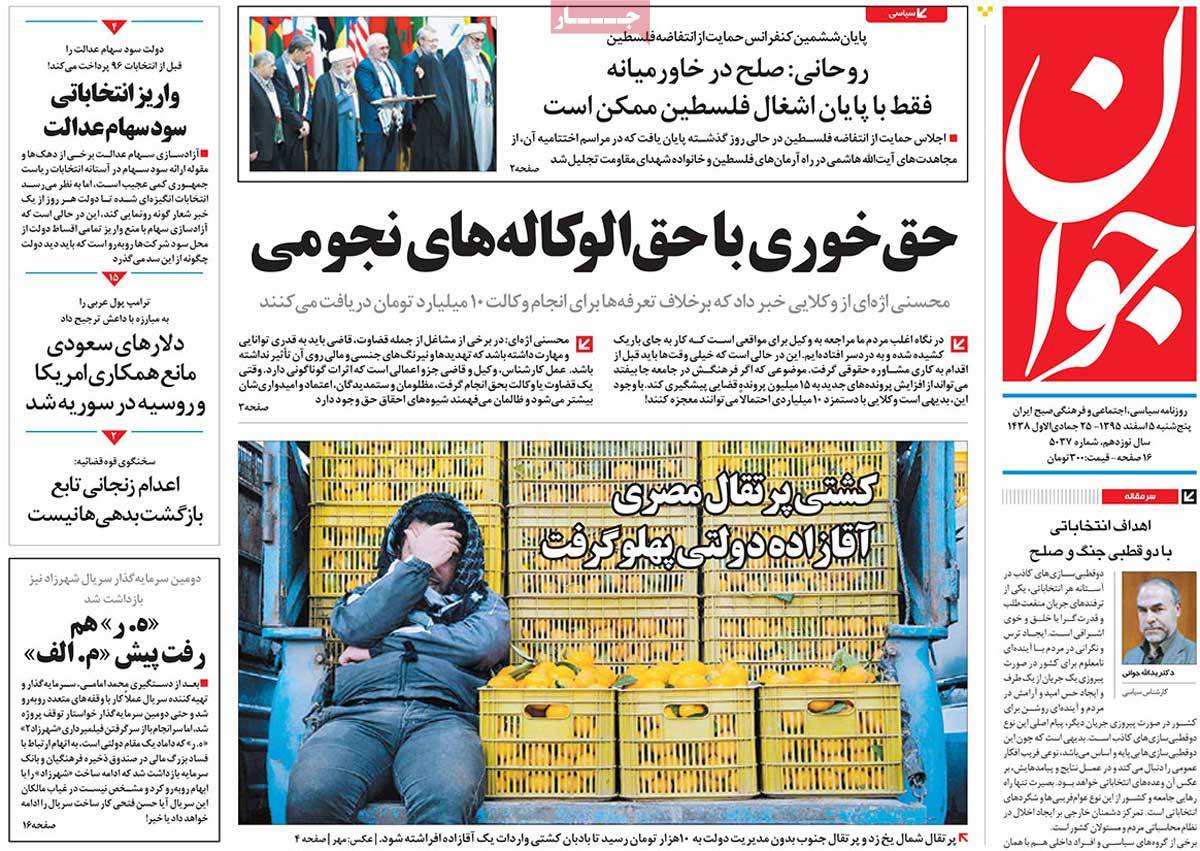 ---
Jomhouri Eslami:
1- Emphasis on Liberation of Palestine [in closing statement of sixth int'l conference to support Intifada of Palestinian people]
2- Deputy FM: All JCPOA-Related Sanctions Removed
3- Amnesty Int'l Warns about Destructive Behaviours of Trump and Erdogan
4- Indonesia Closes Its Airspace to Netanyahu's Plane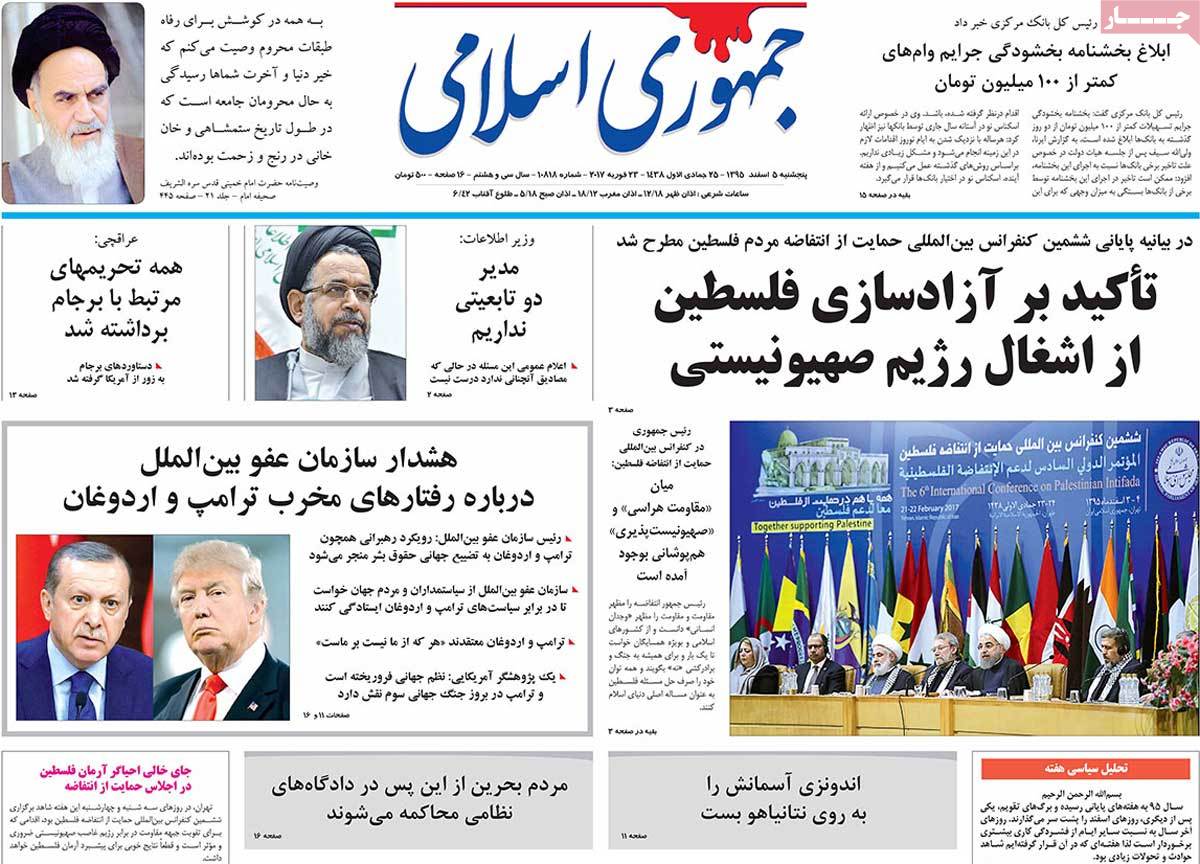 ---
Kayhan:
1- For Which Slap Are Erdogan and King Salman Moaning?
2- Riot and Unrest Begins in Sweden
3- Relentless War Waged by Media Outlets against Yemen Revolution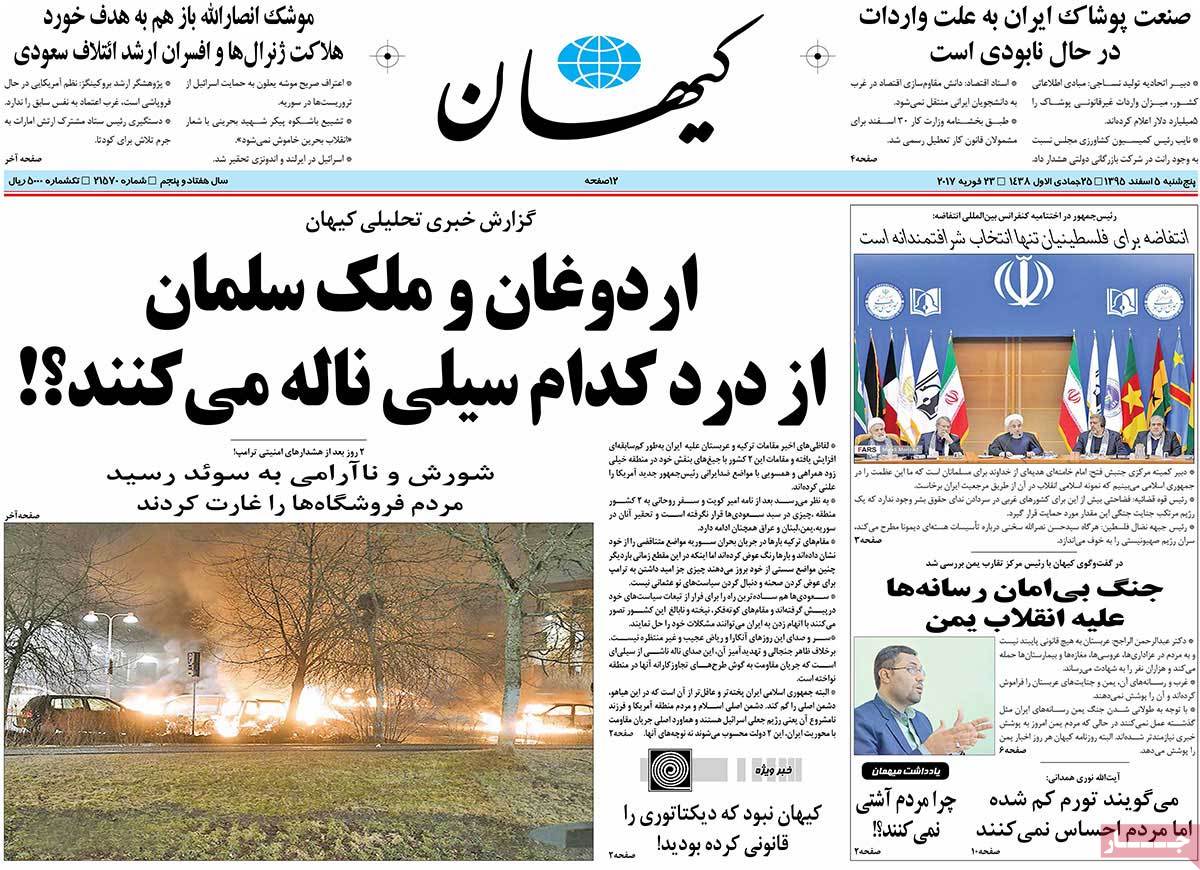 ---
Khorasan:
1- Intifada Only Honourable Choice of Palestinian Nation: Rouhani
2- Civil War between Northern and Southern White Houses: Increased clashes between power centres in Trump administration
---
Resalat:
1- Judiciary Chief: Issue of Palestine Litmus Test for Evaluating Human Rights Claims
2- Ayatollah Makarem Shirazi: Religious Funds Can Be Used to Help Flood-Hit People
3- Palestinian Ambassador to Tehran: US Not a Neutral Mediator in Issue of Palestine
4- Why Zionists Are Afraid of Intifada's Name? [Editorial]
---
Seda-ye Eslahat:
1- UN Inefficient in Resolving Issue of Palestine: Rouhani
---
Shahrvand:
1- Dust Removing Mission
Iranian president and his cabinet start efforts to resolve issue of Khuzestan province
Interior Minister: I won't return to Tehran before finishing the job
Power Minister: We'll resolve Khuzestan's water problem using Karun River