Iran Front Page- Almost all newspapers covered the visit of Yukiya Amano, the Director General of the International Atomic Energy Agency, to Tehran, and his meetings with President Hassan Rouhani, Foreign Minister Mohammad Javad Zarif, and nuclear chief Ali Akbar Salehi.
They also covered the upcoming meeting between Iran, Turkey, and Russia, which is due to be held on Tuesday in Moscow, on the ongoing crisis in Syria, and the latest developments in Aleppo.
Nomination of Mohammad Reza Bahonar, a former MP and a senior conservative, as the presidential candidate of a leading conservative party, was also a top story today.
The above issues, as well as many more, are highlighted in the following headlines:
19 Dey:
1- Rouhani: IAEA Should Remain Neutral
2- Guardian: Iran Was the Real Winner of Aleppo War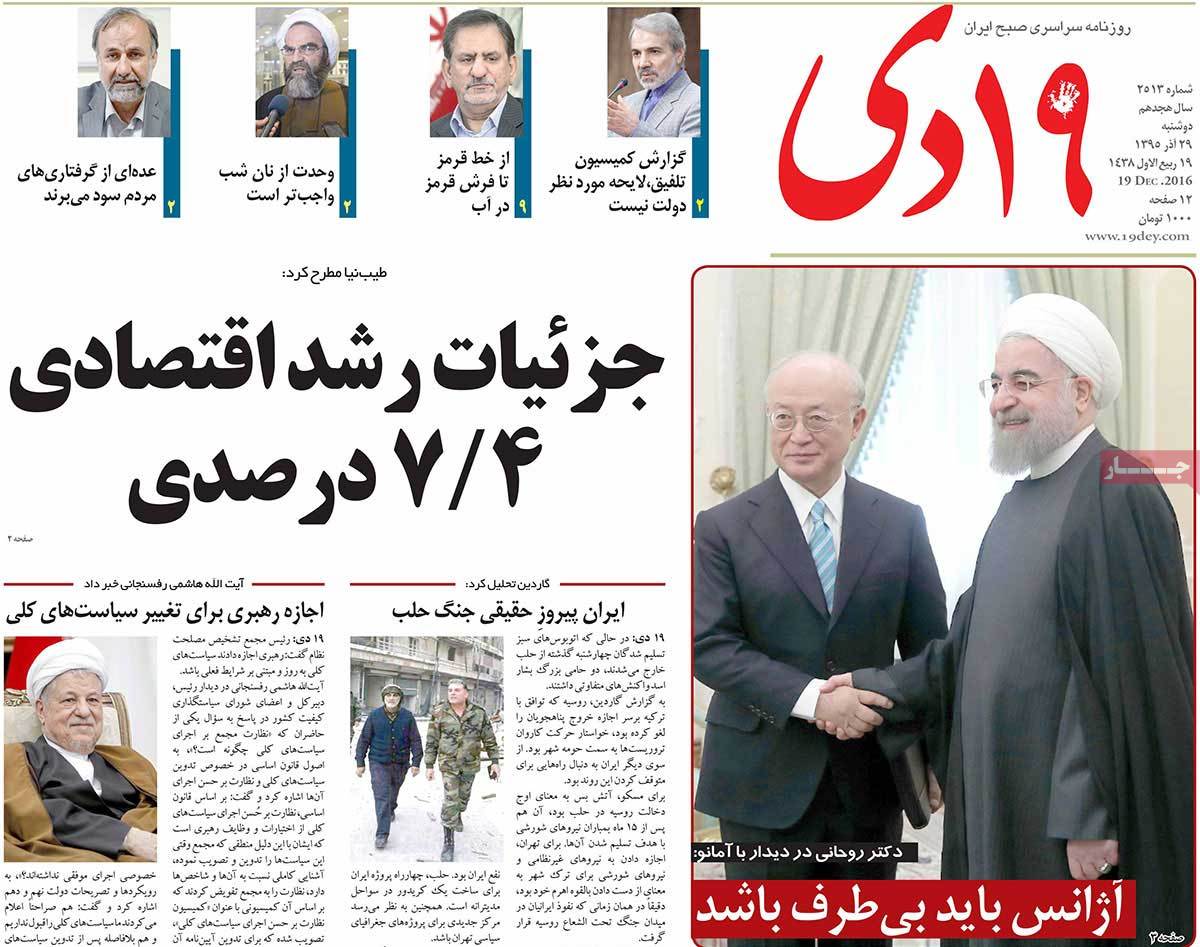 ---
Abrar:
1- Last Efforts to Prevent Trump from Getting into the White House
2- Rouhani to Visit Russia
3- ISIS Places $1 Million Bounty for Iranian Girl
4- Persian Gulf Cooperation Council Repeats Its Baseless Claims against Iran
5- Rouhani to Amano: We Won't Be the One Who Starts Violating JCPOA
---
Abrar-e Eqtesadi:
1- Iran Leads the World's Biggest Oil Market
2- Babak Zanjani, Iranian Billionaire, Owes $3.5 Billion to Iran Oil Ministry
3- Iran's Oil Price Exceeds $50
4- Russia Reveals Sale of Su-100 Planes to Iran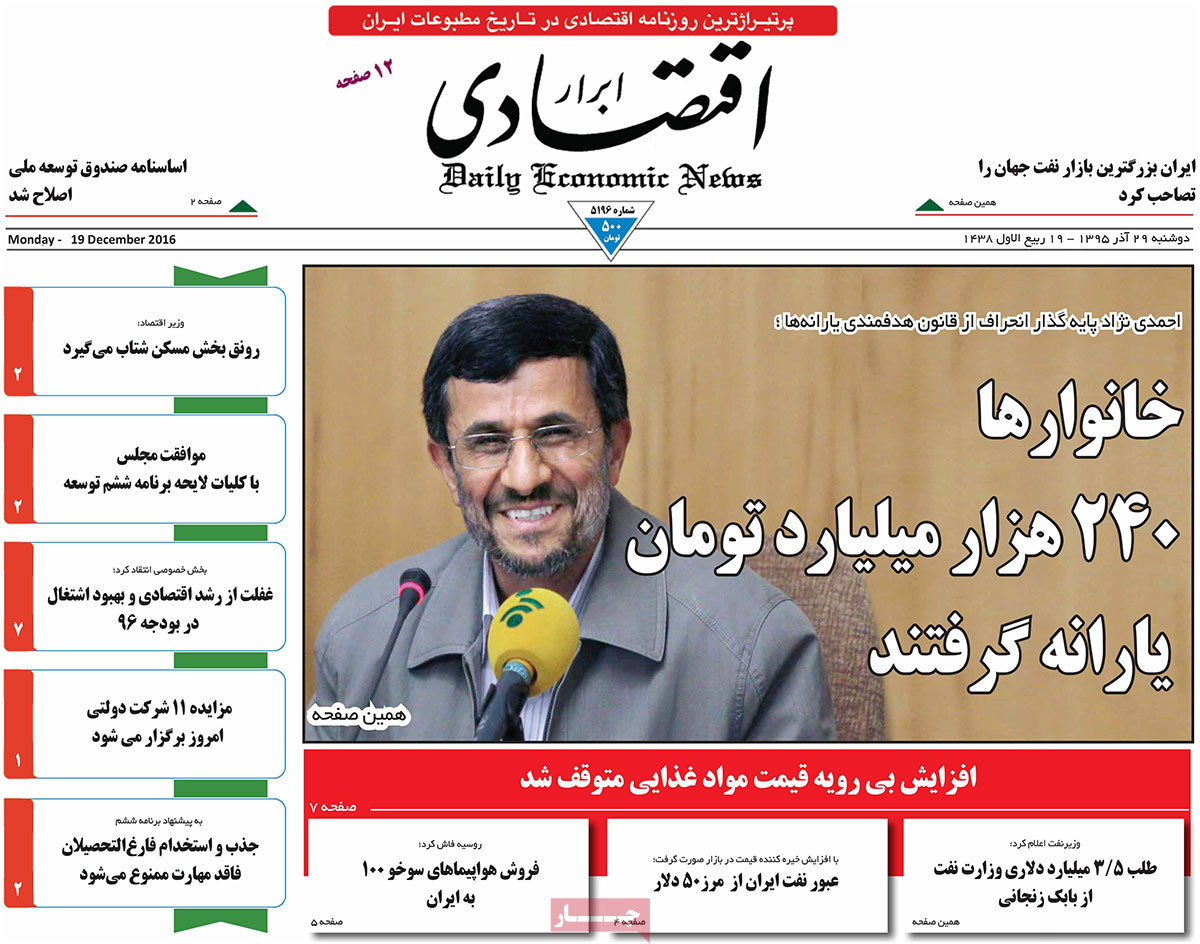 ---
Afkar:
1- Iran's Oil Record Is Broken
2- Iran Won't Violate Nuclear Deal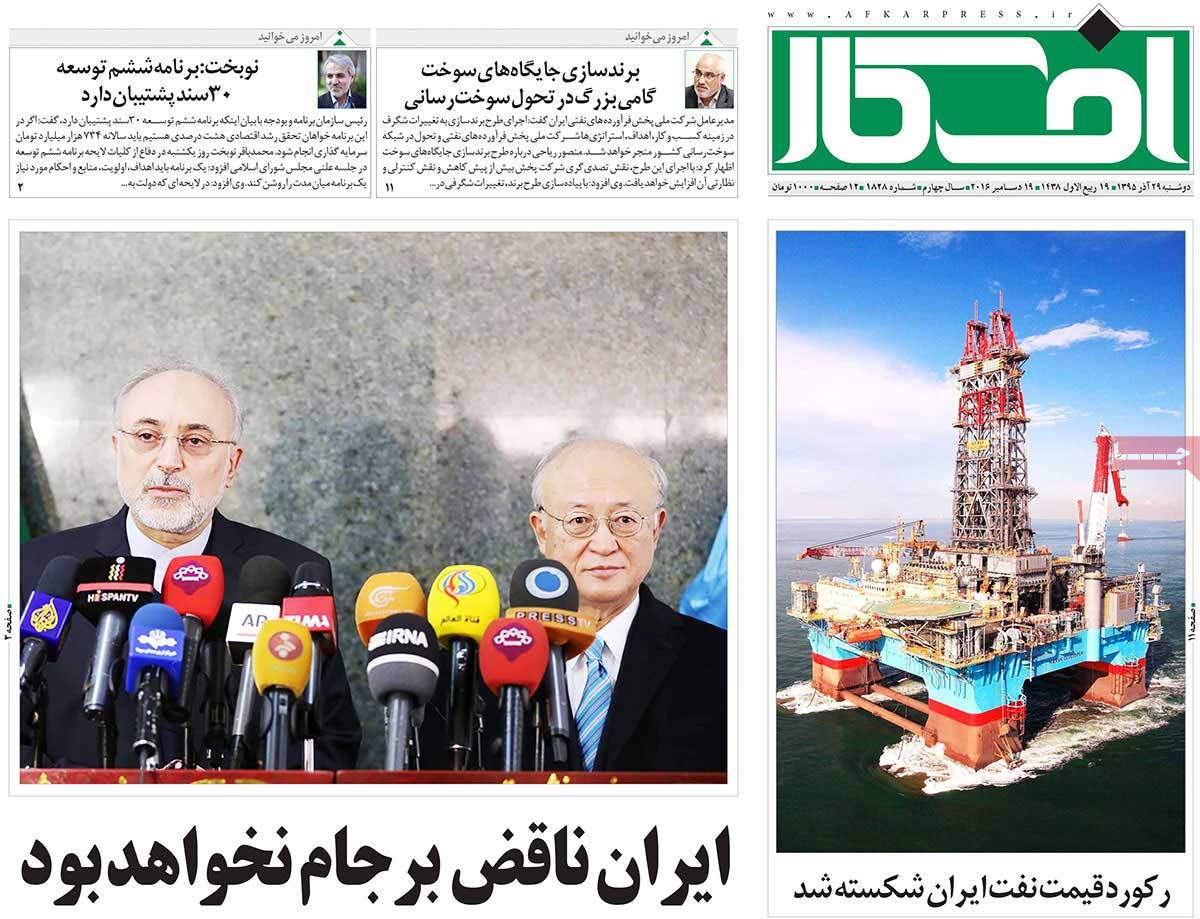 ---
Aftab-e Yazd:
1- Iran Preparing to Reconsider Minimum Age for Marriage of Girls
2- Finalization of Deal to Purchase 100 Airbus Planes
3- Conservative Politician Bahonar Wants to Direct, He Won't Run for Presidency: Analyst
4- How IRIB's Tribune Is Divided between Conservatives and Reformists? Inclination towards Right-Wingers
---
Arman-e Emrooz:
1- Amano: We're Satisfied with JCPOA Implementation Process
2- Academic: Rouhani Should Form Headquarters for Showing Reaction to Trump's Measures
3- Iran and Russia's Benefits in Battle of Syria [Editorial]
4- Putin's Representative Once Again Hold Talks with Iranian Officials
---
Asrar:
1- Economy Minister: Iran Has Middle East's Highest Economic Growth Rate
2- Tehran Governor: Action Will Be Taken against Any Illegal Gathering in Front of British Embassy
3- In Unprecedented Move, Australian PM Calls for His Country's Independence from Britain
---
Ebtekar:
1- Consultation with Amano in Tehran for Future of JCPOA: IAEA Chief Hold Talks with Rouhani, Zarif, and Salehi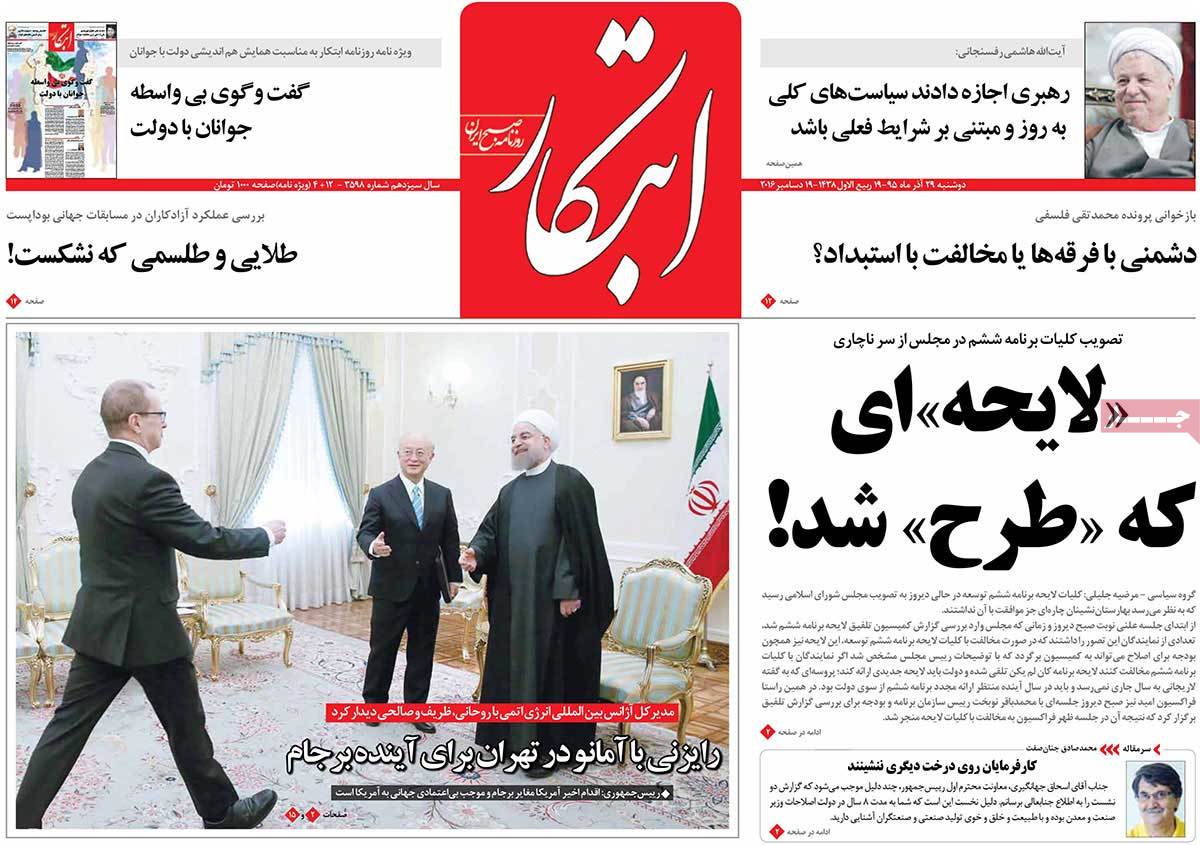 ---
Etemad:
1- Rouhani Urges IAEA to Cooperate with Iran in Nuclear Propulsion Project
2- Death and Starvation in Yemen, Negotiation in Saudi Arabia: Kerry and Johnson Talk about Peace in Riyadh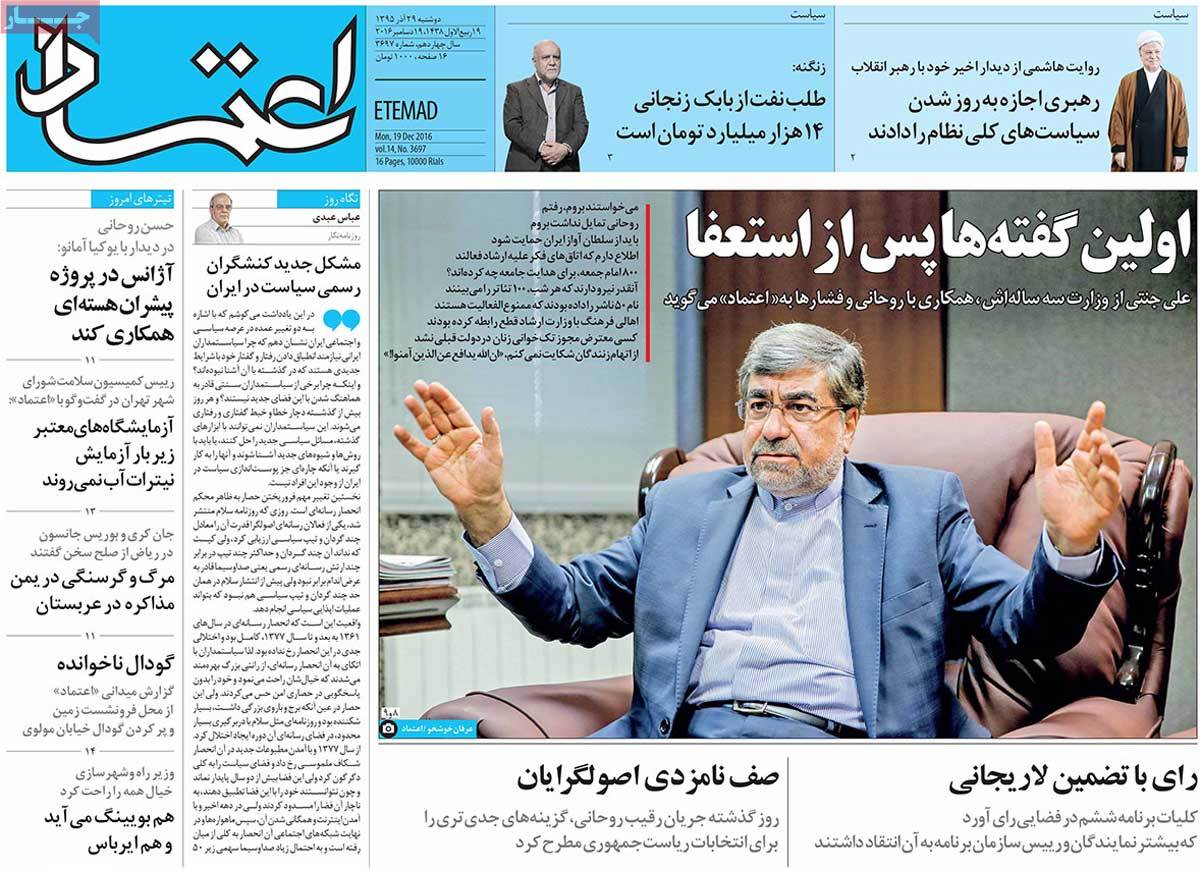 ---
Ettela'at:
1- President: We'll Continue Our Cooperation with IAEA; JCPOA Sustainability Depends on All Sides' Commitment to Their Obligations
2- Iran, Russia, and Turkey to Hold Trilateral Meeting on Syria Tomorrow
3- Airbus Deal to Be Signed This Week
4- 45 ISIS Elements Killed in Heavy Counterattack by Iraqi Popular Forces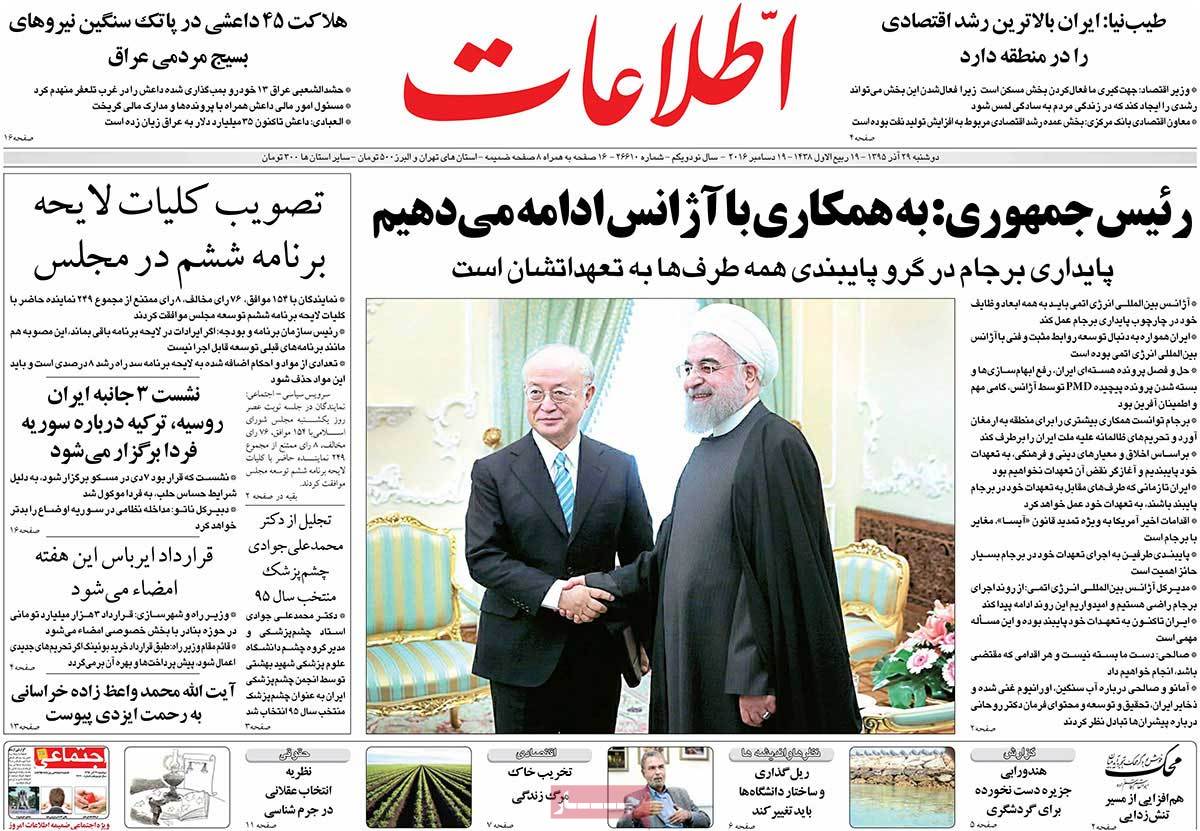 ---
Ghanoon:
1- Wetlands Are Shrinking: Founder of Ramsar Convention in Red List
2- Developments of Middle East These Days: Aleppo Becomes Gold, Yemen Becomes Important!
3- Erdogan Deviating from Right Path: Impact of Civil Wars and Foreign Conflicts on Fate of Turkey's Ruling Party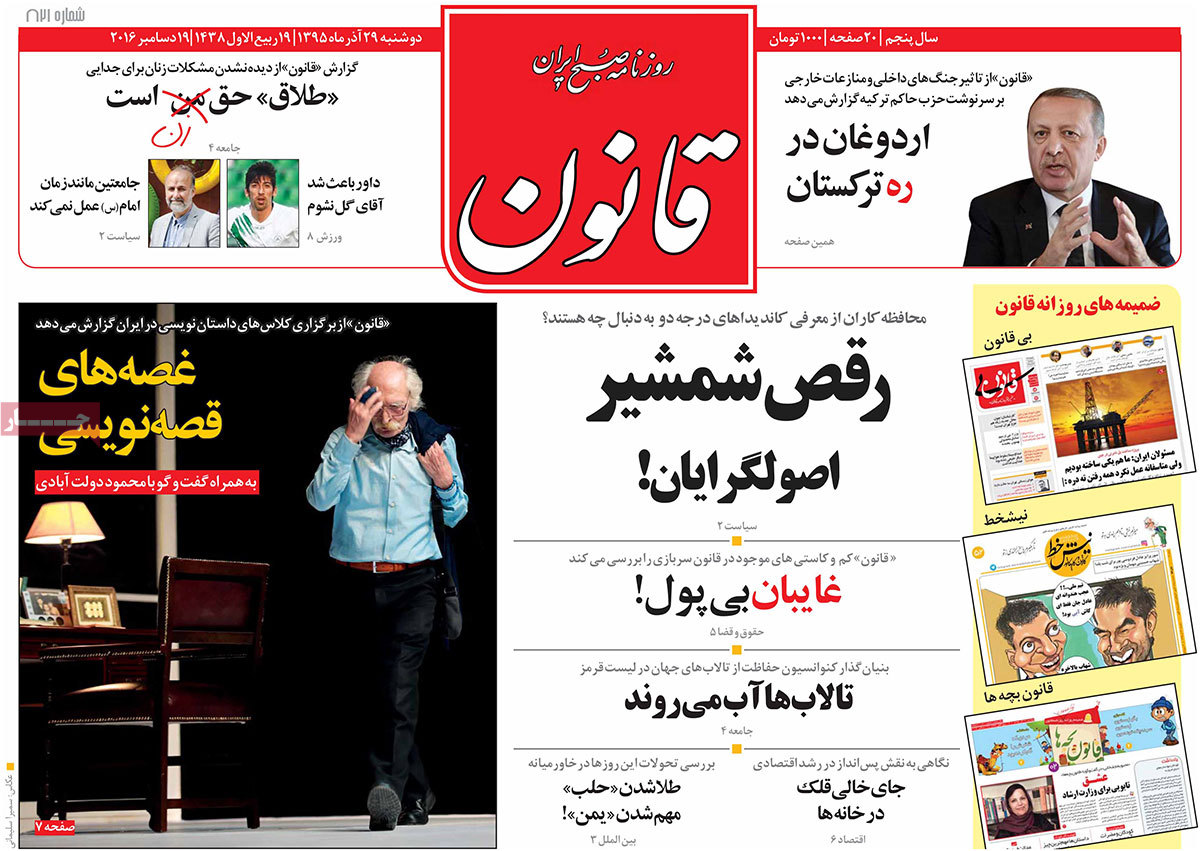 ---
Hemayat:
1- Prosecutor General in Meeting with Italian Delegation: Silence over Crimes of Takfiris [Extremists] Is a Sign of Paradox in Western Human Rights
2- IRGC Aerospace Commander: Iran to Continue Reinforcement of Its Missile Capabilities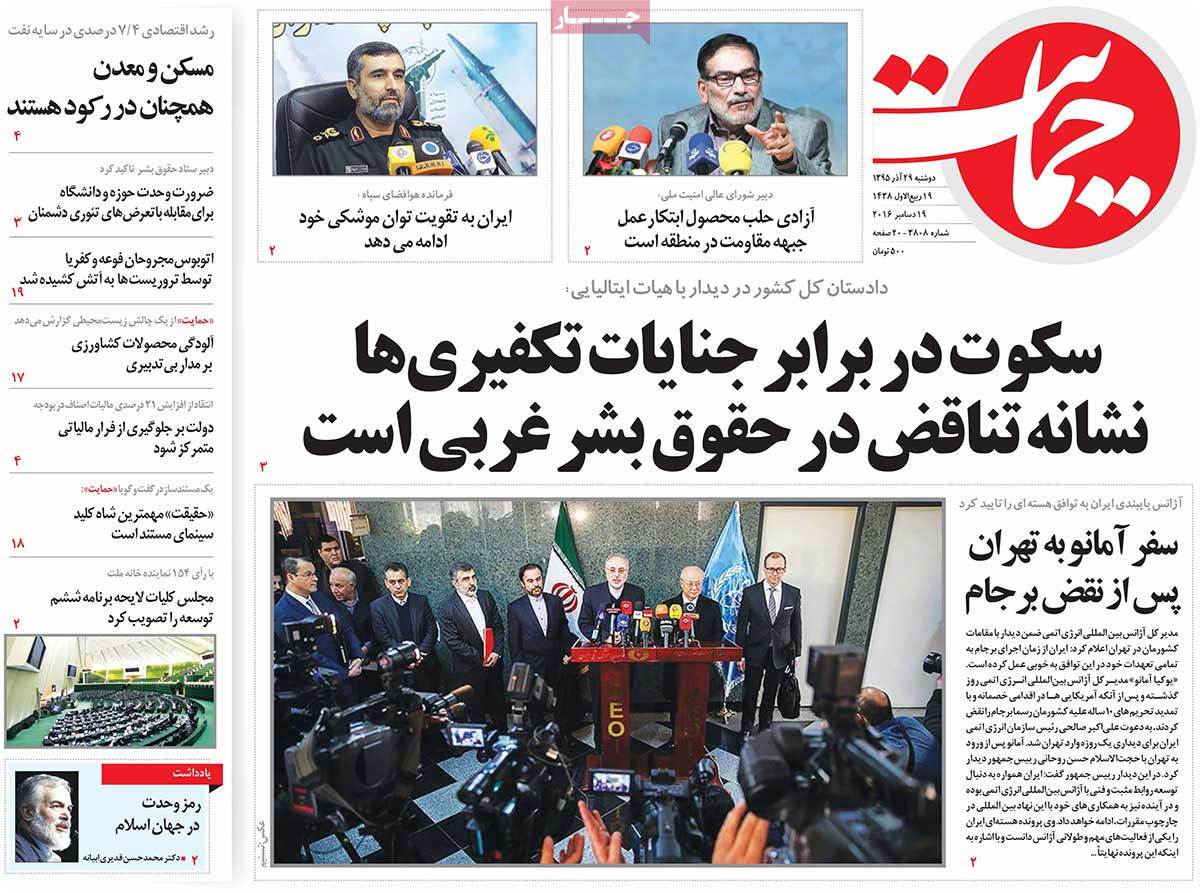 ---
Iran:
1- Amano's Busy Day in Tehran
2- Putin's Special Representative Hold Talks with Shamkhani and Velayati
Shamkhani (SNSC Secretary): Required Guarantees Should Be Taken for Continued Ceasefire in Aleppo
Velayati (Leader's Advisor): Current Ties between Iran and Russia Are Unprecedented in History of the Two Countries
---
Jame Jam:
1- West's Effort to Whitewash Al Saud's Scandal
2- Complaints about Nuclear Deal Raised in Meetings with Amano
---
Javan:
1- Iran's Nuclear Chief: Rouhani's Order Requires 90% Enrichment of Uranium; We're Ready to Do Whatever Decision Is Made by Iranian Authorities; Other Party Has Noticed Our Message and Knows It Is Serious
2- Media Outlets Supporting Terrorists Show Realities of Aleppo in the Opposite Way: Arab and Western Media Have Started a Big Media War to Blame Syrian Army, rather than Terrorists, for Aleppo Devastation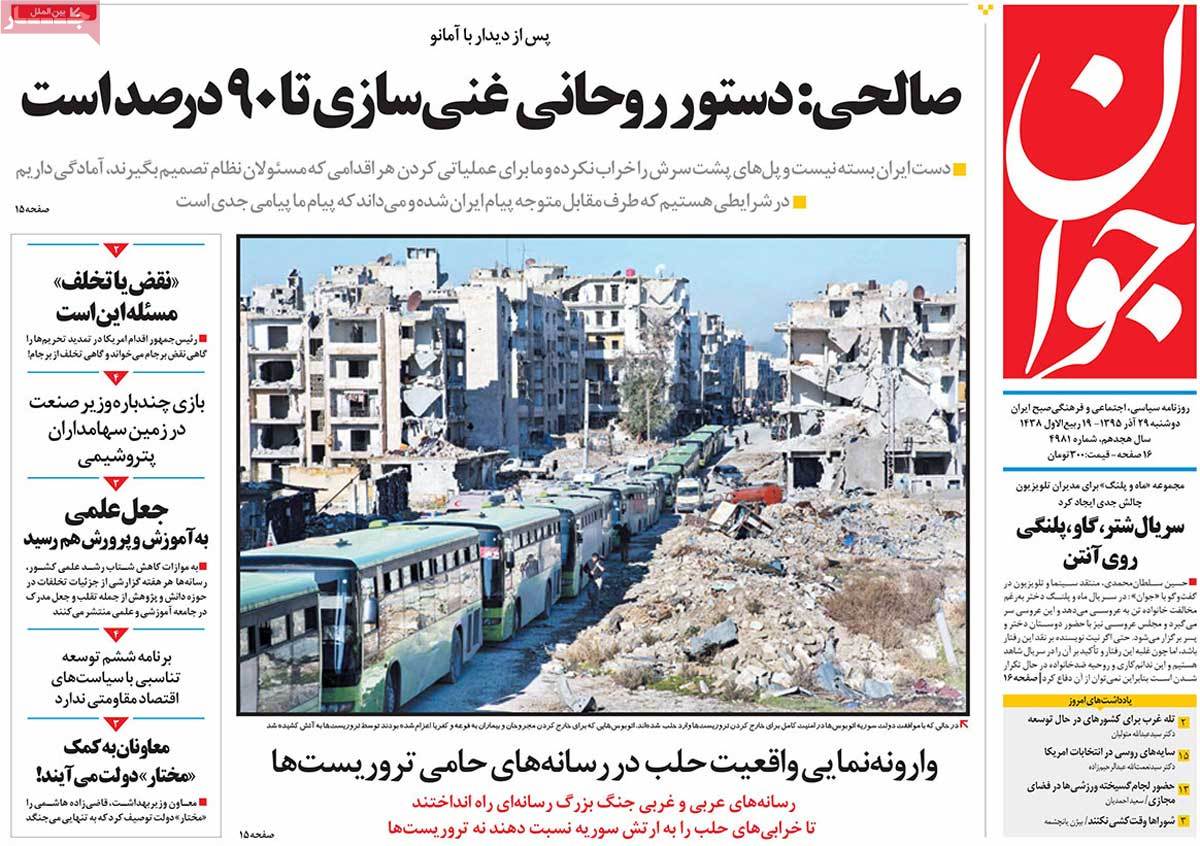 ---
Jomhouri Eslami:
1- Oil Minister: We've Not Promised Total to Give Them Azadegan Oilfield
2- Terrorists Prevent Transfer of Wounded People in Shiite-Majority Towns of Foua and Kefraya
3- Member of US Congress: US Armed Al-Qaeda to Topple Assad
4- UN: Yemen Has Become Paralyzed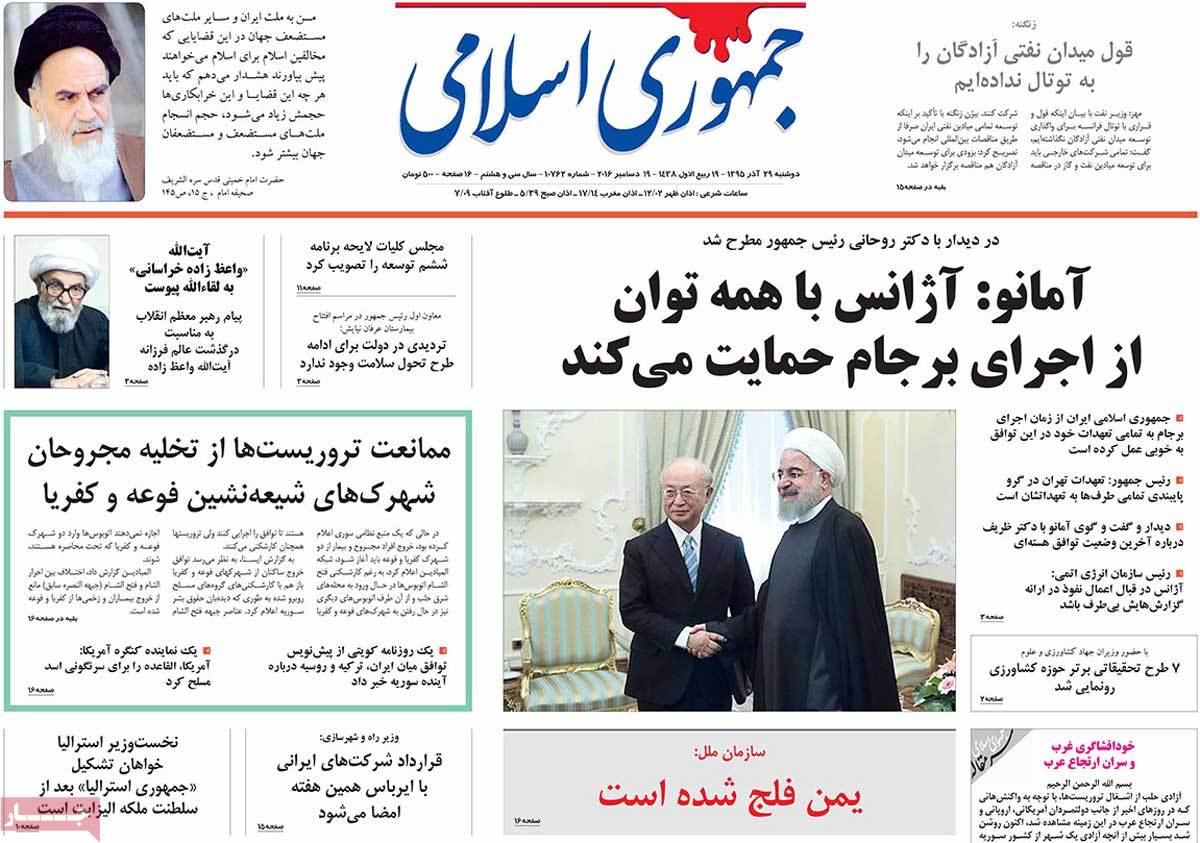 ---
Kayhan:
1- Hezbollah: Lebanon's New Government to Be Formed in Coming Days
2- Takfiris [Extremists] Set Fire on Buses Dispatched to Transfer Children and Wounded People
3- Sheikh Isa Qassim's Representative: Al Khalifa Regime's Crimes in Bahrain Committed with Britain's Plots and US Green Light
---
Payam-e Zaman:
1- Rouhani: US Moves Are against Nuclear Deal
2- Iran's Nuclear Chief: Iran Can Take Reciprocal Measures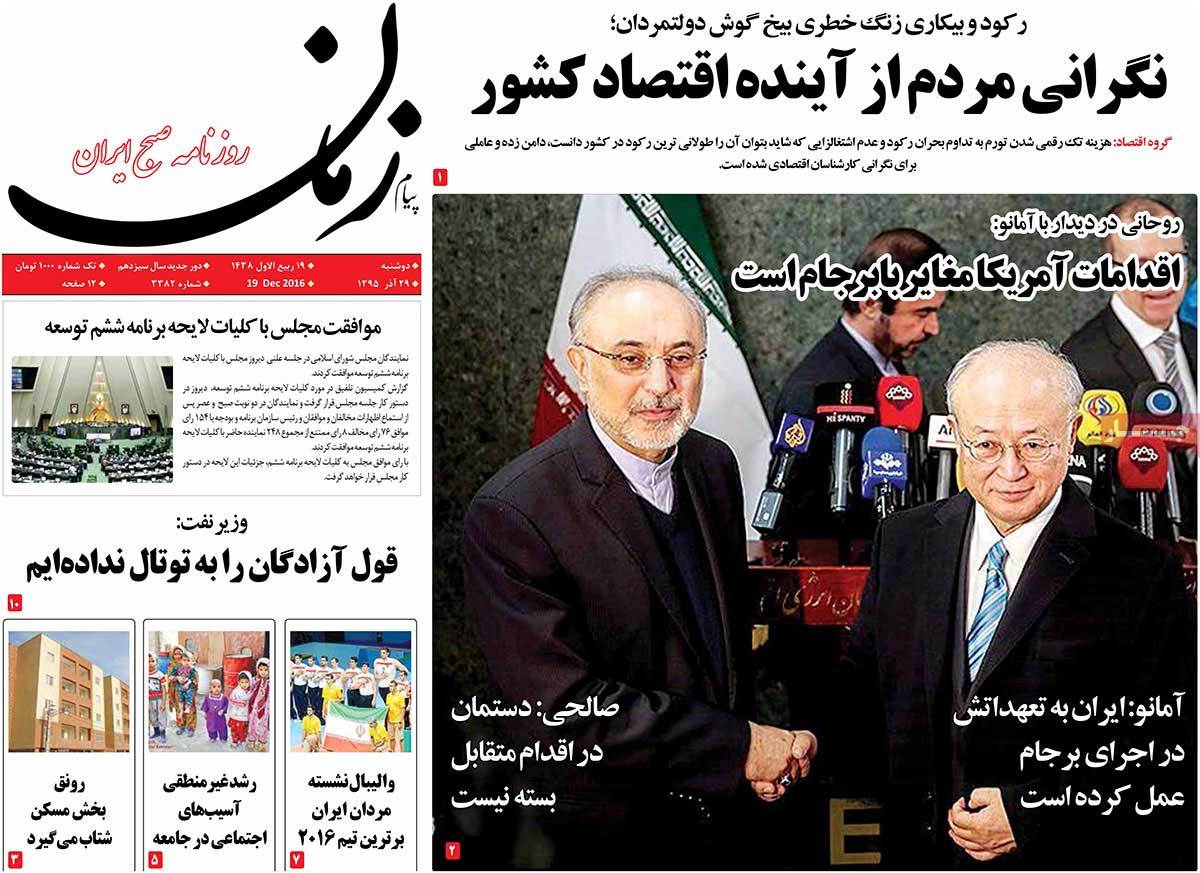 ---
Saheb Qalam:
1- IRGC General: US Plot to Disintegrate Syria Totally Failed with Aleppo Defeat
2- Ordinary Businesspeople Can Now Export Petrol
---
Shahrvand:
1- Black Market of Visa: Some Foreign Embassies Don't Treat Iranians Respectfully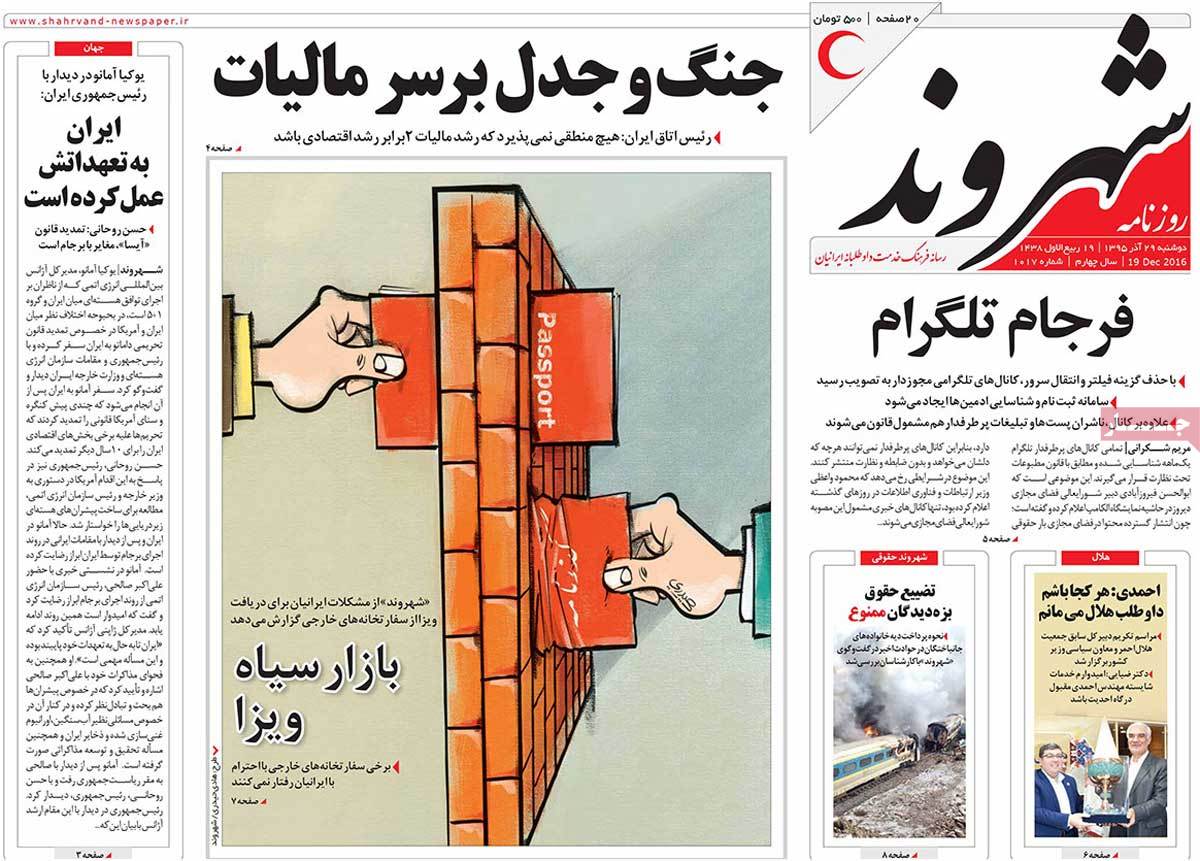 ---
Shargh:
1- Iran Gives Nuclear Warning to IAEA
2- It's Now Bahonar's Turn: New Names in Camp of Conservatives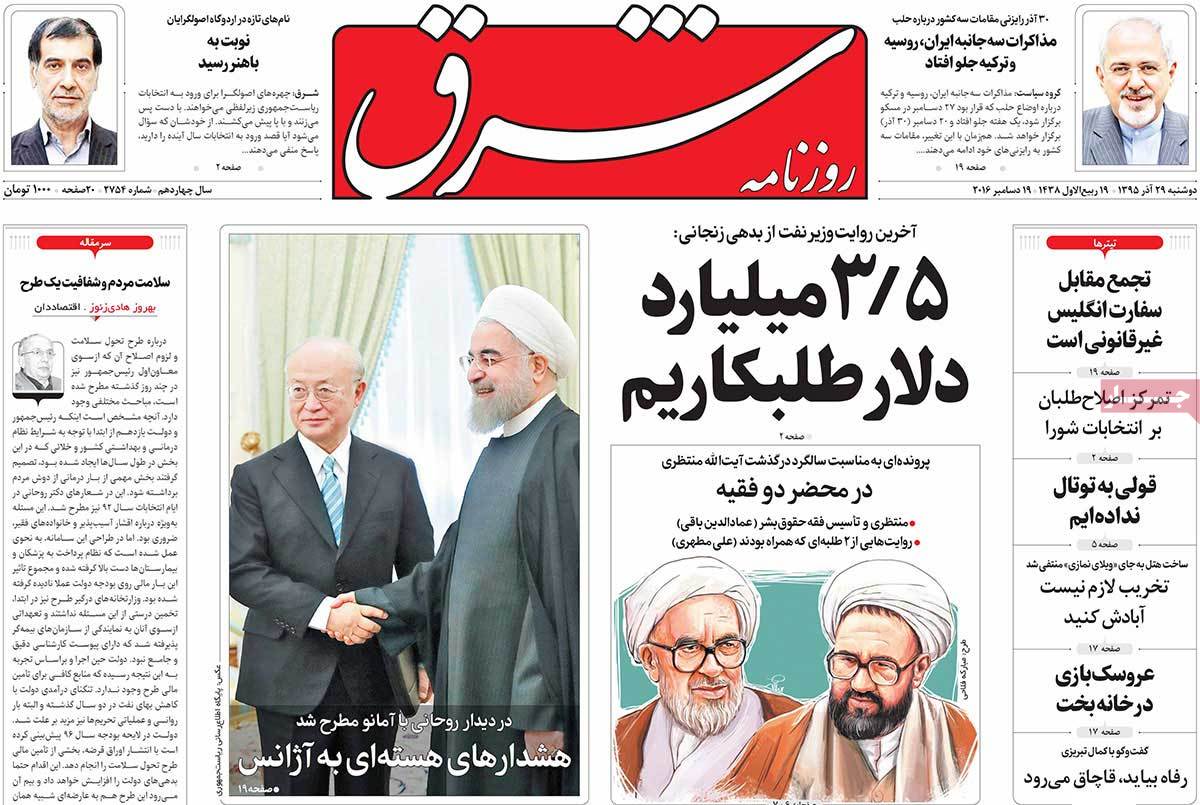 ---
Vatan-e Emrooz:
1- Amano: I'm Satisfied; Rouhani: ISA Extension Violates Nuclear Deal, World's Trust in US Decreaes
2- Nuclear Chief Salehi's Account of Talks with Amano in Tehran: The Other Side Got the Message!
3- What Are US Security Strategies in Western Asia? Middle East Divided into 1,000 Pieces