Bloomberg| Anthony Dipaola, Sam Wilkin: Saudi Arabia's dominance of OPEC isn't what it once was. 
Iraq and Iran, shaking off shackles of sanctions and war, have raised oil output to record highs and are asserting themselves within the Organization of Petroleum Exporting Countries. Together they produce more than 8 million barrels of oil a day, nearly a quarter of the oil pumped by the group, and both want to boost their output further.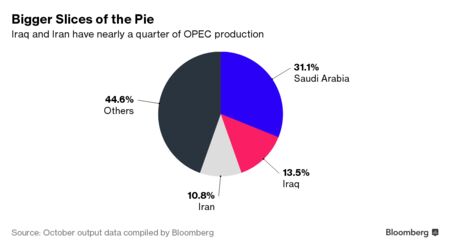 The ambitions of OPEC's second- and third-largest producers are the main obstacle to the Saudi-backed effort to trim the group's output and buoy prices. Even if members reach a deal next week and accept production quotas, the reluctance of Iraq and Iran to cut output bodes poorly for their long-term cooperation with the kingdom — and for stability in global oil markets.
"Iran and Iraq want an equal relationship with Saudi Arabia within OPEC," Jaafar Altaie, managing director of Abu Dhabi-based consultant Manaar Group, said Monday. The two are "in a coincidental collusion in OPEC because it suits their common interest of getting as high a quota as possible."
OPEC ministers will meet on Nov. 30 to work out a shared cut in production to between 32.5 million and 33 million barrels a day. Trimming output could help balance an oversupplied market and reverse a price slide that's rupturing budgets from Venezuela to Saudi Arabia. Benchmark Brent crude has tumbled from more than $115 a barrel in June 2014 to less than $50 this week.
The group's members granted special consideration to Iran in September, when they reached a framework agreement in Algiers, to help the country recover from international sanctions that were eased in January. With Iran now pumping almost as much as it did before sanctions, OPEC has yet to specify a level at which it will try to limit the nation's output.
Iraq too is pressing for an exemption from cuts, citing the urgency of its offensive against Islamic State. Oil Minister Jabbar Al-Luaibi said last month that Iraq would not pump any less than its official September output figure of 4.7 million barrels a day. OPEC disputes that figure and puts Iraq's production for that month at less than 4.5 million barrels daily.
An OPEC committee convened on Monday and Tuesday in Vienna to decide how to share the burden of the Algiers agreement, but decided to defer the issue of Iraq and Iran's participation to the ministerial meeting on Nov. 30, according to two delegates.
Iran and Iraq have grown in importance within OPEC as their production has increased. Iran has added about 880,000 barrels per day since the loosening of sanctions. Iraq has boosted output by about 50 percent over the past three years, to a record high in October.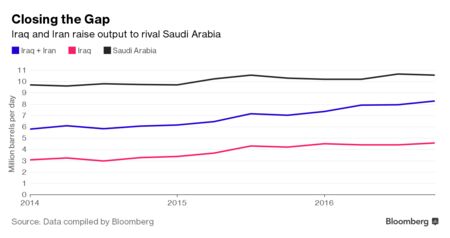 Both countries need the higher prices that could result from a deal to attract foreign investment vital to their long-term production plans. They also want to sell as much oil as possible in the short term to bolster their depleted budgets. By securing exemptions to any cuts, Iran and Iraq could duck this dilemma.
That would leave Saudi Arabia to shoulder the biggest burden of a collective decrease, OPEC's first in eight years, and cost the kingdom market share as its two biggest OPEC competitors keep their output unchanged. The Saudis vetoed an earlier deal in April when Iran, a political as well as an economic rival, refused to join in cutting.
OPEC is working toward a six-month agreement, delegates said this week. Such a short time frame could make it easier for Iraq and Iran to accept limits, if not cuts, in their own production, Manaar's Altaie said.
Setting output limits now may create benchmarks for more permanent production caps for individual OPEC members, according to Tushar Tarun Bansal, director at Singapore-based consultant Ivy Global Energy.
"Iraq is looking to the future," Bansal said. "They are trying to agree to a higher level of production for any halt so that they will be in a better position down the road."