Iran Front Page- The majority of newspapers today covered the ongoing visit of Slovenian President Borut Pahor to Iran and his meetings with the Leader of the Islamic Revolution Ayatollah Seyyed Ali Khamenei and President Hassan Rouhani.
They also continued covering the reactions to the cancellation of Parliament Vice-Speaker Ali Motahari's speech in Mashhad.
The US President-elect Donald Trump's opposition to the nuclear deal with Iran also remained a top story, with several articles and developments covered about it today.
The above issues, as well as many more, are highlighted in the following headlines:
Abrar:
1- President Says Slovenian Embassy in Tehran Will Be Reopened
2- Rouhani: Iran Is Resolved to Expand Its Ties with Friendly Countries, Particularly in EU
3- US State Department: We Don't Know Who Buys Iran's Heavy Water; Iran's Nuclear Chief: Oman Buys Heavy Water from Iran
4- Persian Gulf International Relations Council Raises Accusations against Iran
---
Abrar-e Eqtesadi:
1- Funding of Iran's Purchase of 77 Airbus Planes Finalized
2- Britain's Oil Giant Forms Committee for Entering Iran's Market
3- Parliament OK's Iran's Economic Cooperation with Hungary, Slovakia, and Lithuania
4- Industrial Investment in Iran Has Been Doubled
---
Afkar:
1- Iran's Nuclear Chief: Letter Was Received from Other Side for Purchase of Iran's Heavy Water; Iran Has Exported 11 Tons of Heavy Water to Oman
2- Intelligence Ministry Smashes a Terrorist Cell in Eastern Iran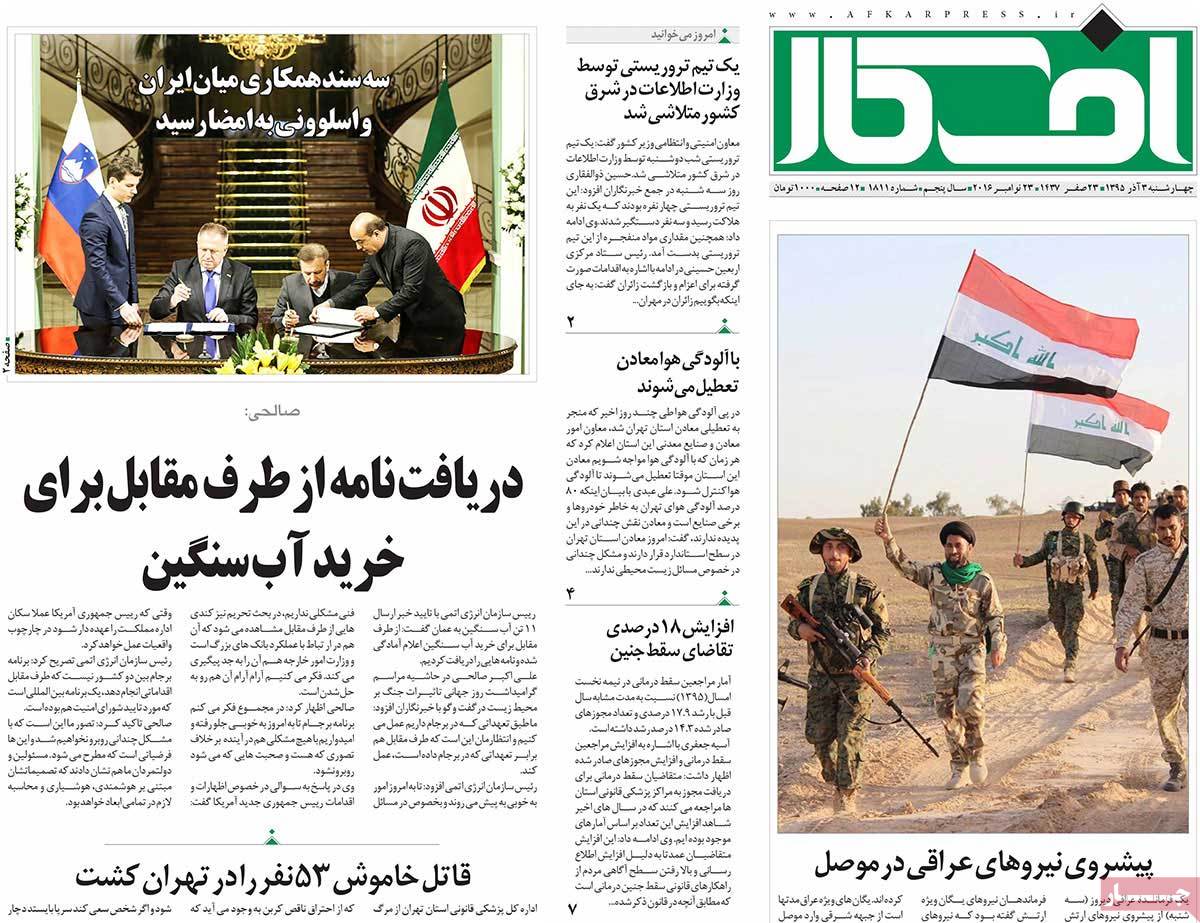 ---
Aftab-e Yazd:
1- Day of Motahari [outspoken vice-speaker] in Iran's Parliament: Parliament Speaker Larijani Says What Happened in Mashhad [cancellation of Motahari's speech] Was Regrettable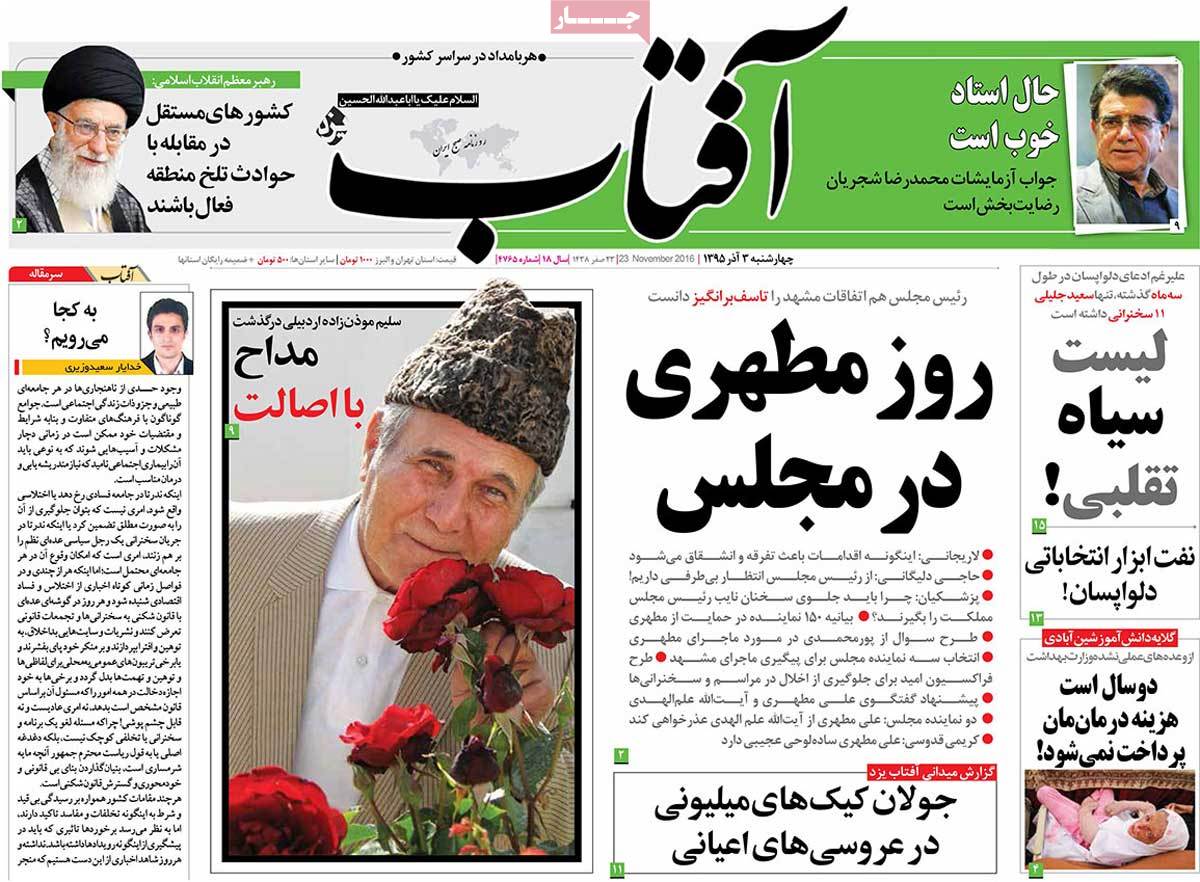 ---
Arman-e Emrooz:
1- Leader: US Has No Plan for Eradication of ISIS
2- 28 MPs to Ask Question from Justice Minister
3- Trump Announces Plan for First 100 Days: No Talks of Cancelling or Revising JCPOA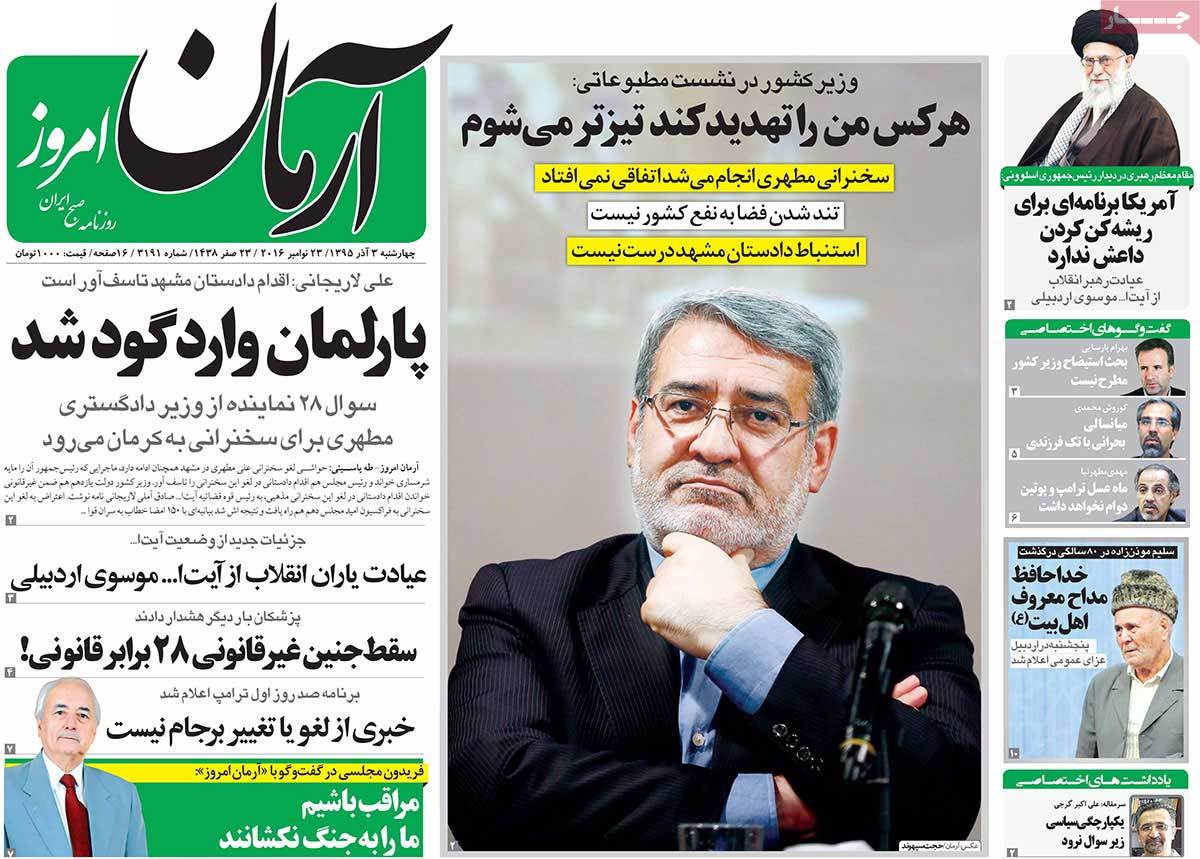 ---
Asrar:
1- Deal for Purchase of 112 Airbus Planes Is Finalized
2- US Navy Helps Three Iranian Sailors in Persian Gulf
3- Interior Minister Warns against Increasing Use of Harsh Rhetoric in Iran's Politics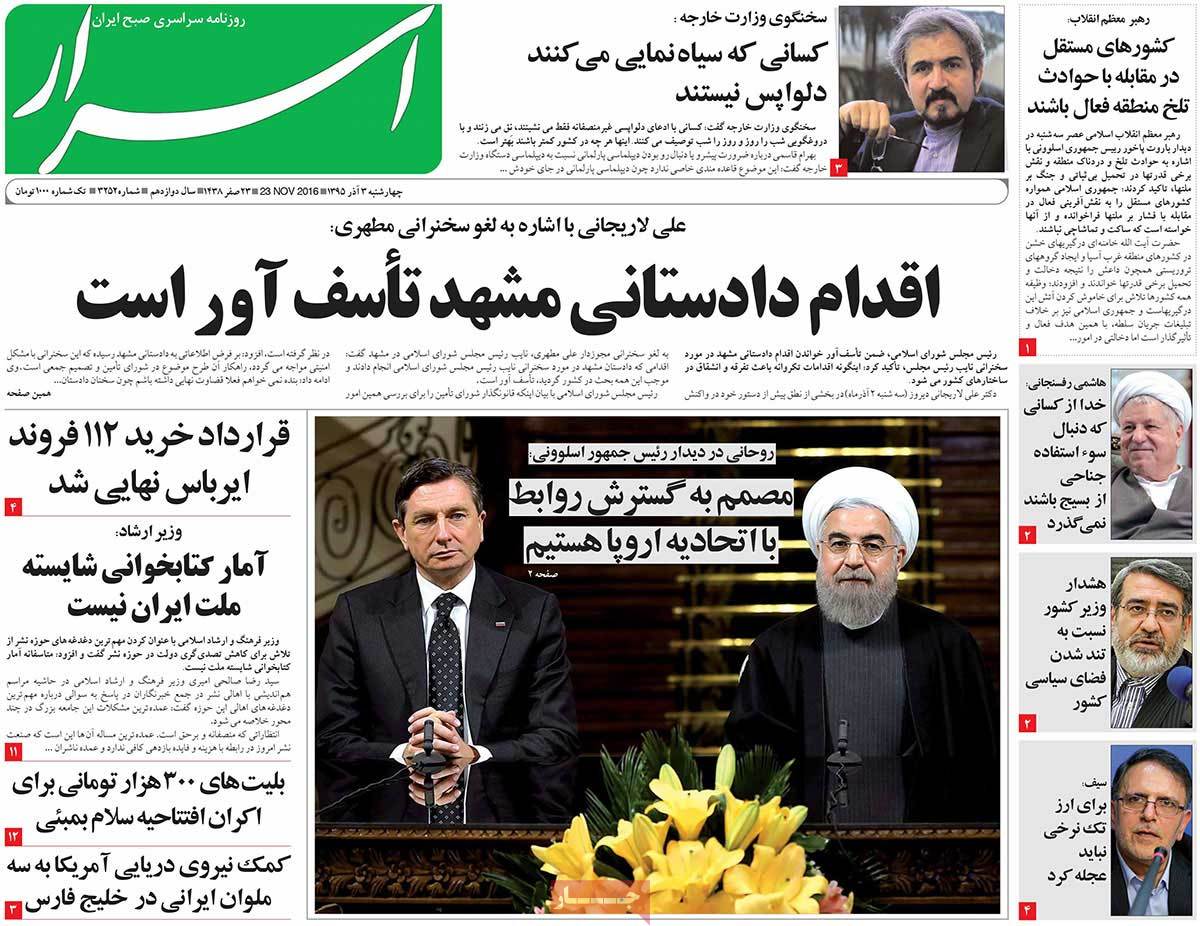 ---
Besharat-e Now:
1- Sociologist Explains Why Government Has Become Inefficient: We Have Three Governments in Iran at the Same Time; Government Only Has 30% of the Country's economy in Its Hands, It Cannot Reform It
2- Women Still Record-Holder in Life Expectancy Rate
---
Ebtekar:
1- Renovation of OPEC in High-Ranking Committee
2- Economy Trapped in Swamp of Political Inhomogeneity
3- Spinoza Was a Philosopher Focused on Ethics: Birthday Anniversary of First Liberal Democracy Thinker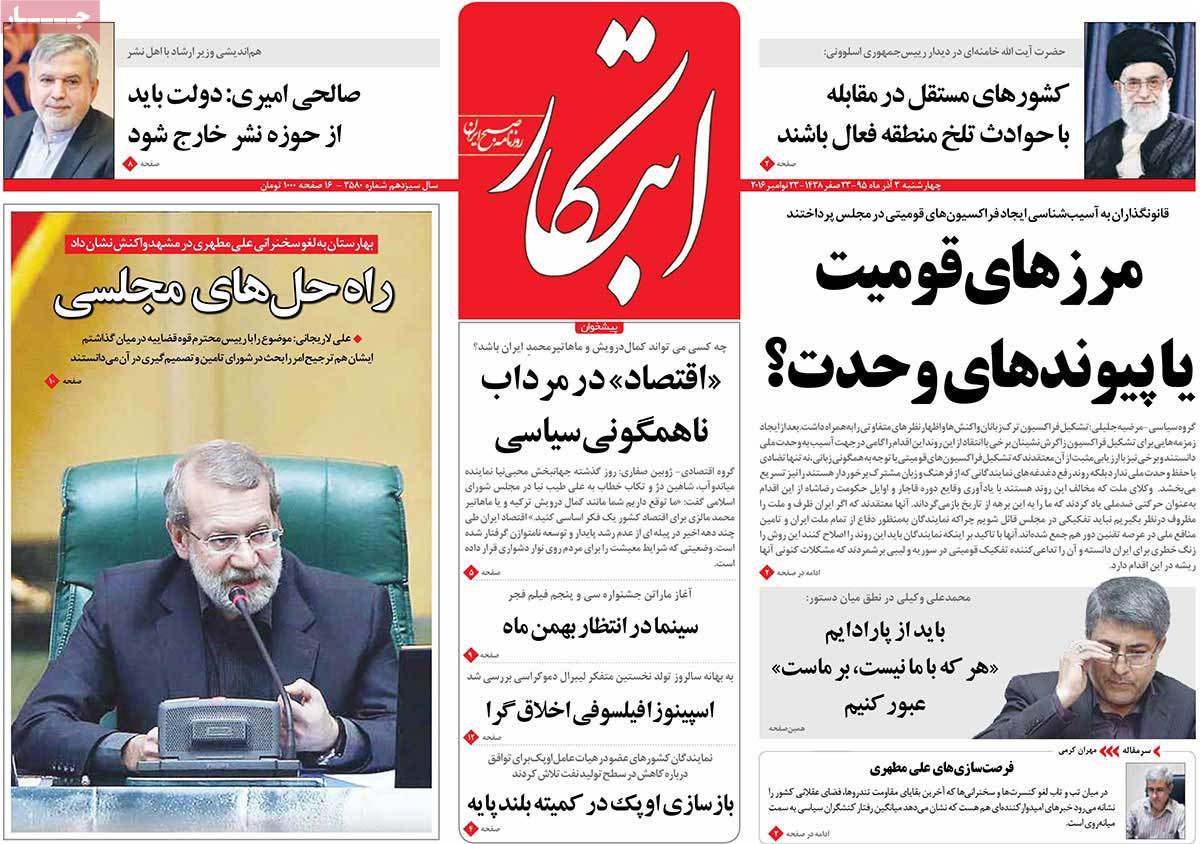 ---
Etemad:
1- Economy Minister: No Imminent Economic Revolution in Iran
2- Iran's Economy Needs Kemal Derviş and Mahathir Mohamad: MPs
3- Parliament Supports Its Vice-Speaker [Motahari]
---
Ettela'at:
1- UN's Vote of Majority that Gives Palestinian Nation the Right to Choose Their Destiny
2- Iran and Slovenia Sign Three Documents and Three MoUs
---
Haft-e Sobh:
1- These Two Wealthy Men: General Soleimani and Zarif Still Enjoy Highest Rates of Public Trust
2- Instagram Hits the Last Nail on TV's Coffin: Most Popular Social Network Introduces Its Live Video Feature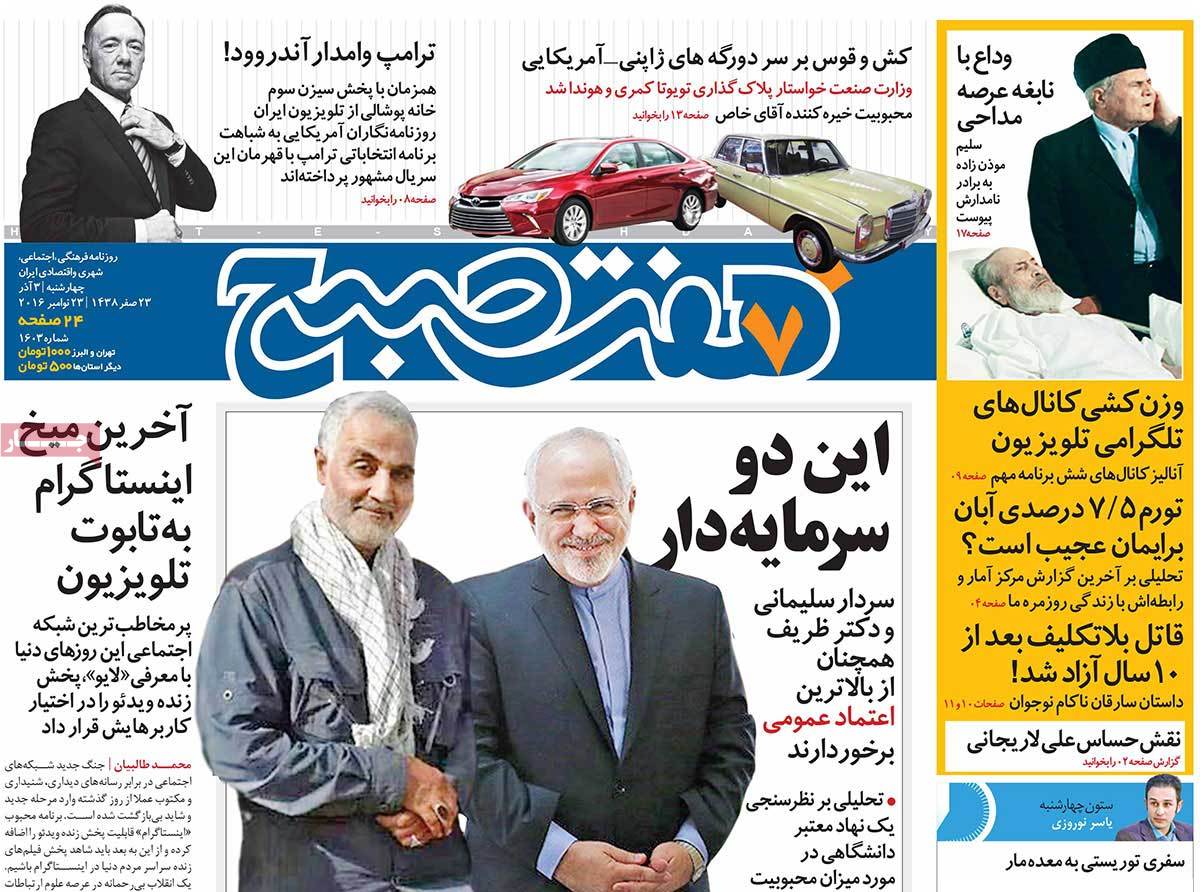 ---
Hemayat:
1- Leader Harshly Criticizes Other Side's Failure to Fulfil Its Nuclear Commitments
2- 220 MPs Call for Government's Action against US Extension of Anti-Iran Sanctions
3- Syrian Army Continues Progress in Eastern Aleppo
4- ISIS' Counterattack for Re-Occupation of Tal Afar Airport Is Defused
---
Iran:
1- Rouhani and Slovenian Counterpart: Iran and Europe Seek to Use Post-JCPOA Opportunities
2- Sub-Zero Temperature in 20 Iranian Provinces
---
Jame Jam:
1- Iran's Leader Urges Independent Countries to Be Active against Bitter Regional Developments
2- Global Concern for Trump's First 100 Days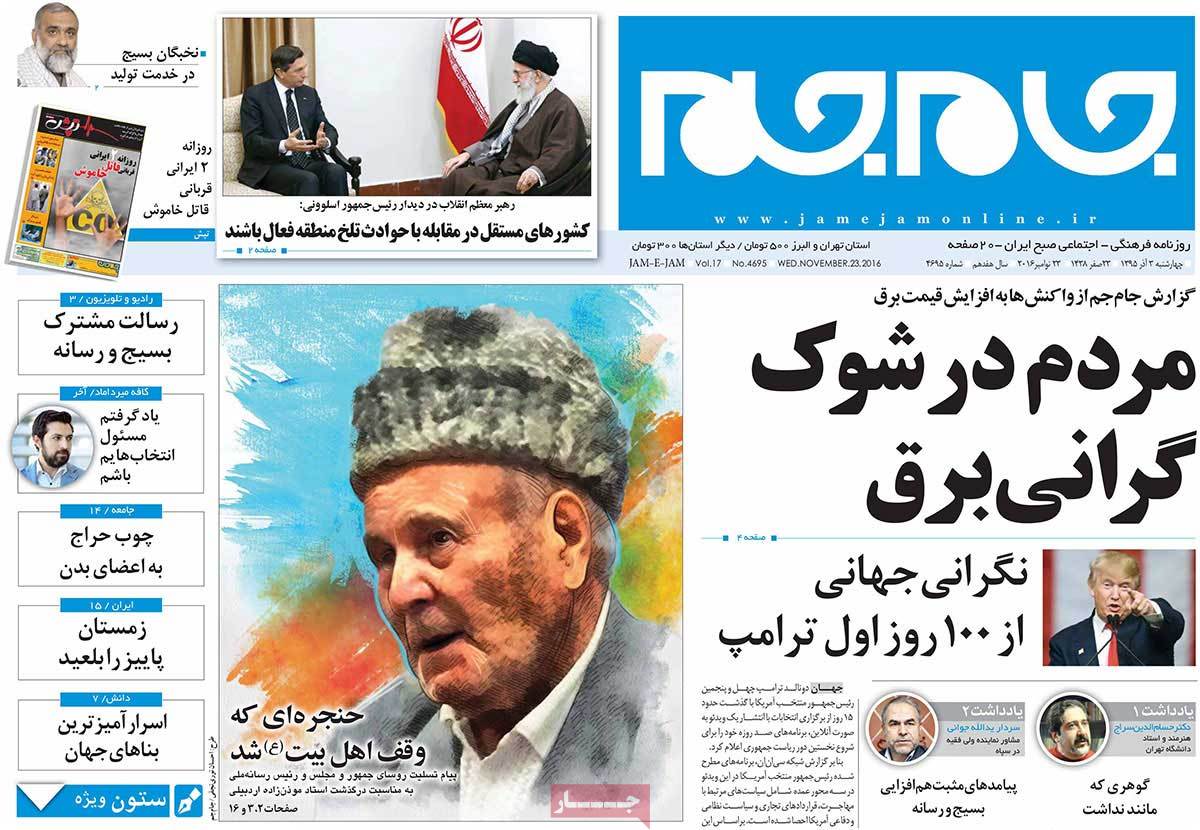 ---
Javan:
1- 50 Plans in US for Countering Nuclear Deal; Iran's Parliament Speaker: Leader Repeatedly Warned that We Can't Rely on Them and Their Promises
---
Jomhouri Eslami:
1- Leader: Violent Conflicts in Western Asia and Emergence of Such Terrorist Groups as ISIS Are Results of Interference and Imposition of the Will by Certain Powers
2- Former Italian FM Reveals West's Role in Equipment of Terrorists in Syria
---
Kayhan:
1- Leader: US Either Doesn't Want to Fight ISIS or It Can't Do So
2- Which One's Embarrassing: Cancellation of Speech or the Fact that Rouhani's Government Has Done Nothing?
3- People's Cooperation with Armed Forces, the Secret behind Army's Amazing Progress in Mosul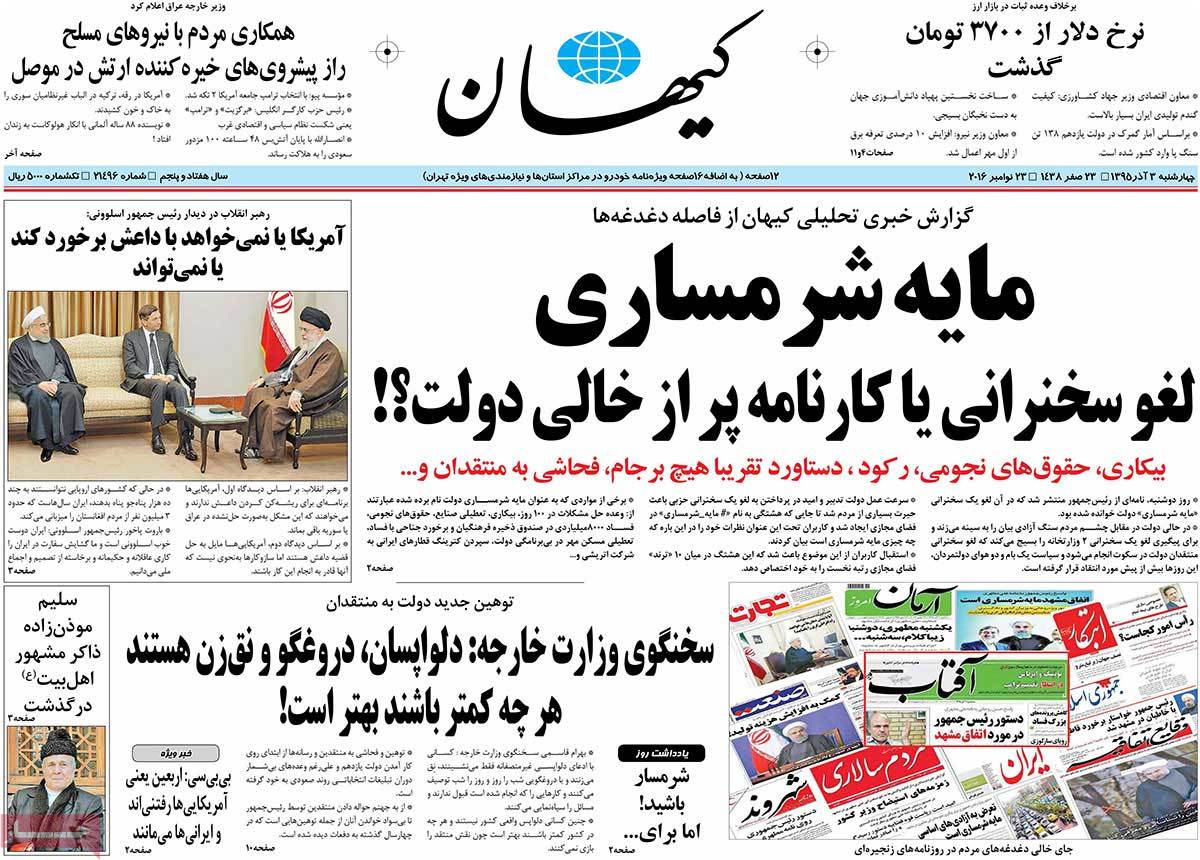 ---
Resalat:
1- Leader: US Wants to Keep ISIS like an Open Woundl European Countries Failed to Give Asylum to Thousands of Refugees, But Iran Is Now Hosting 3 Million Asylum-Seekers
2- US Starts Breaking Its Promises in Int'l Accords: Trump Says US Will Exit Trans-Pacific Partnership; Japanese PM Says TPP Is Meaningless without US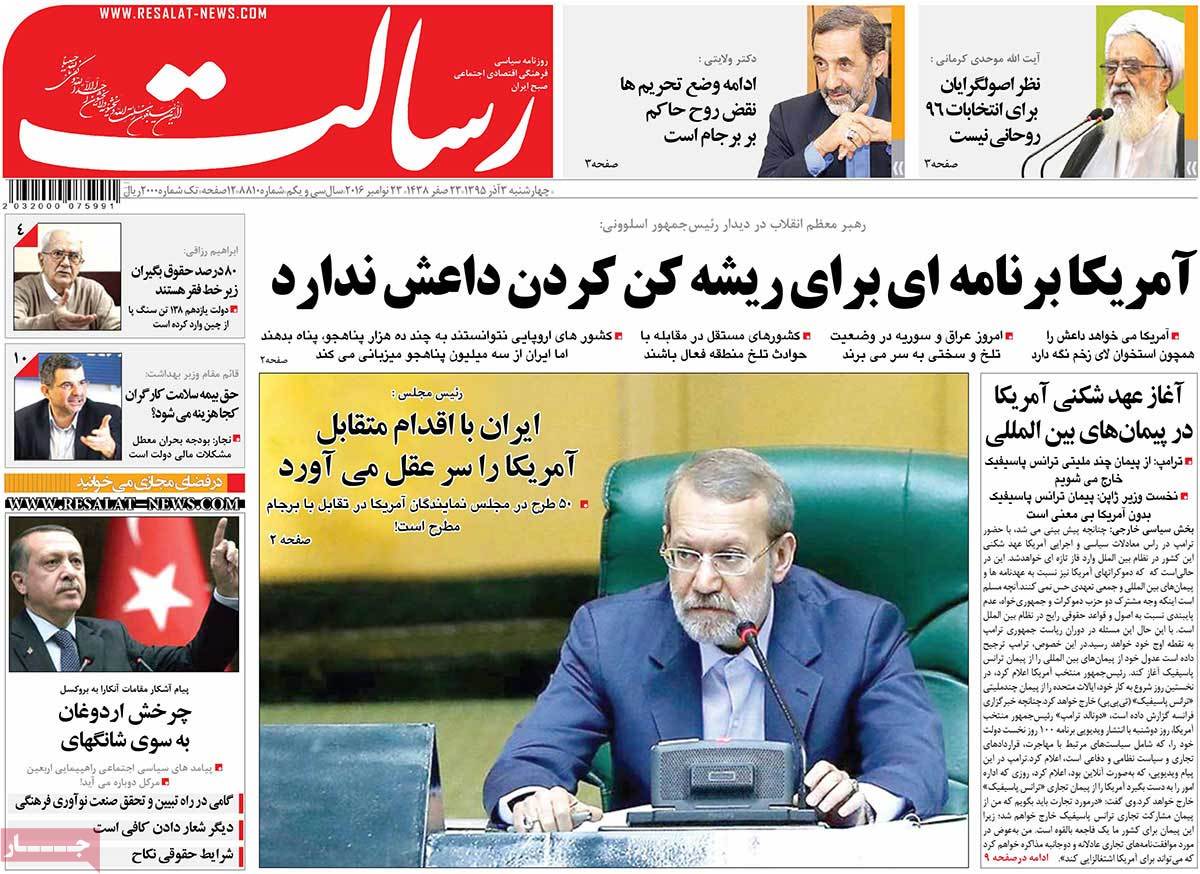 ---
Shahrvand:
1- Renovation of Ties in a Snowy Day: Iran's President Meets His Slovenian Counterpart; Ljubljana's Embassy in Tehran to Be Reopened after 4 Years
2- Airbus' Trade Delegation Is in Tehran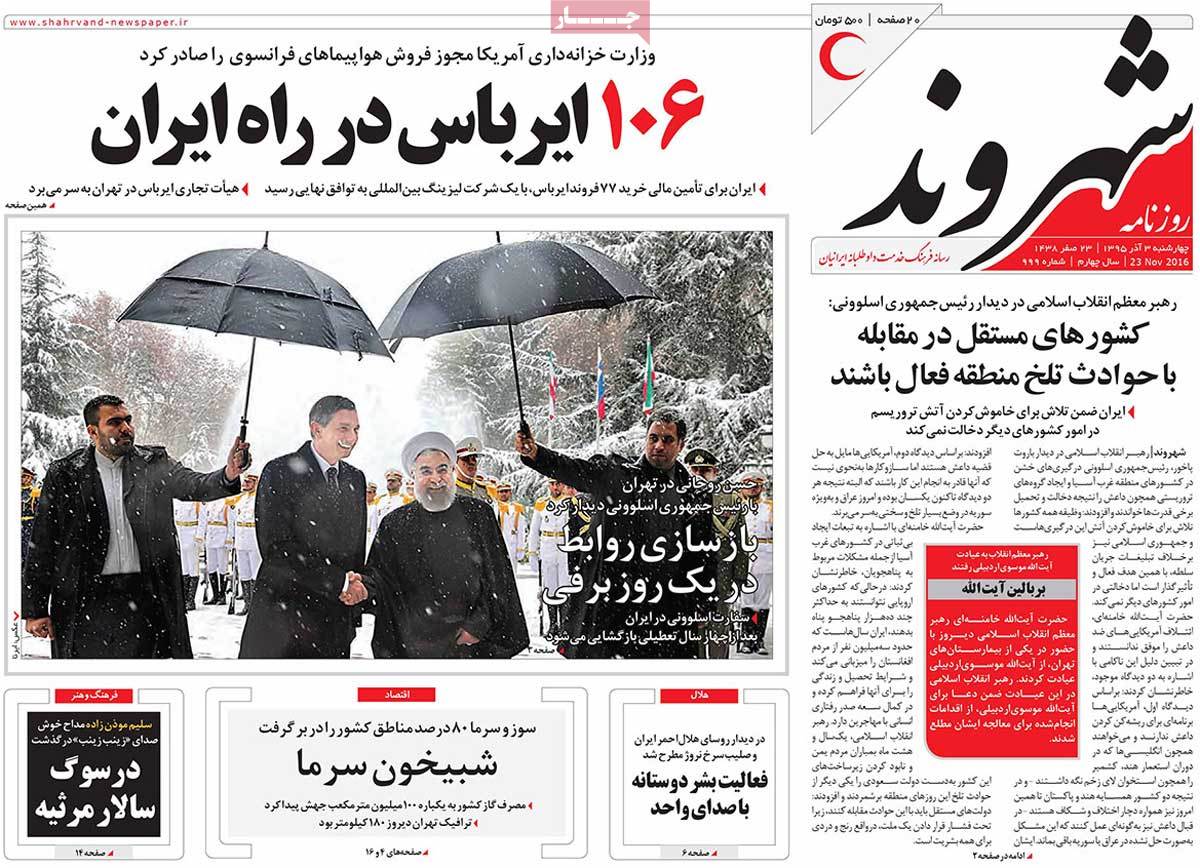 ---
Shargh:
1- Hamas' Problem Is Not Money: Senior Official Talks about Palestinian Group's Ties with Iran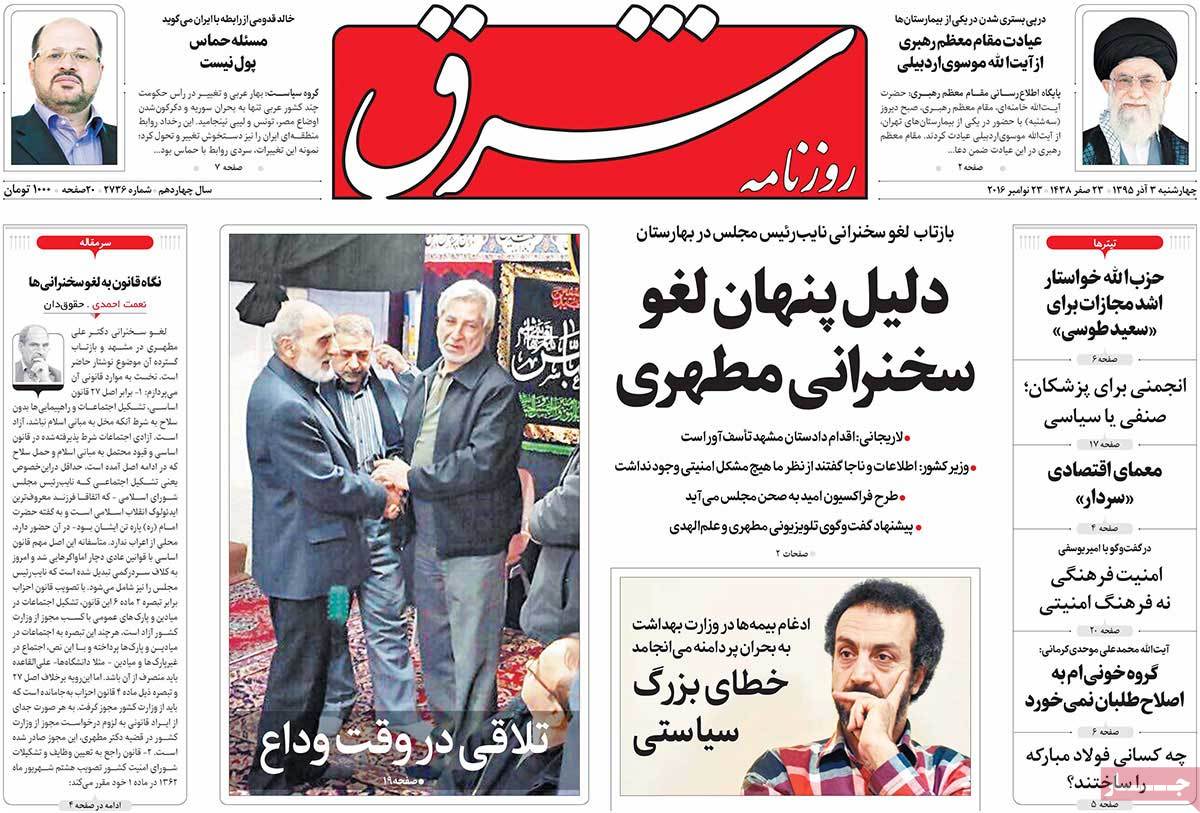 ---
Sobh-e Now:
1- Trump to American Media: You're Liars! US President-Elect to CNN Chief: I Hate You! You're All Liars! Shame on You!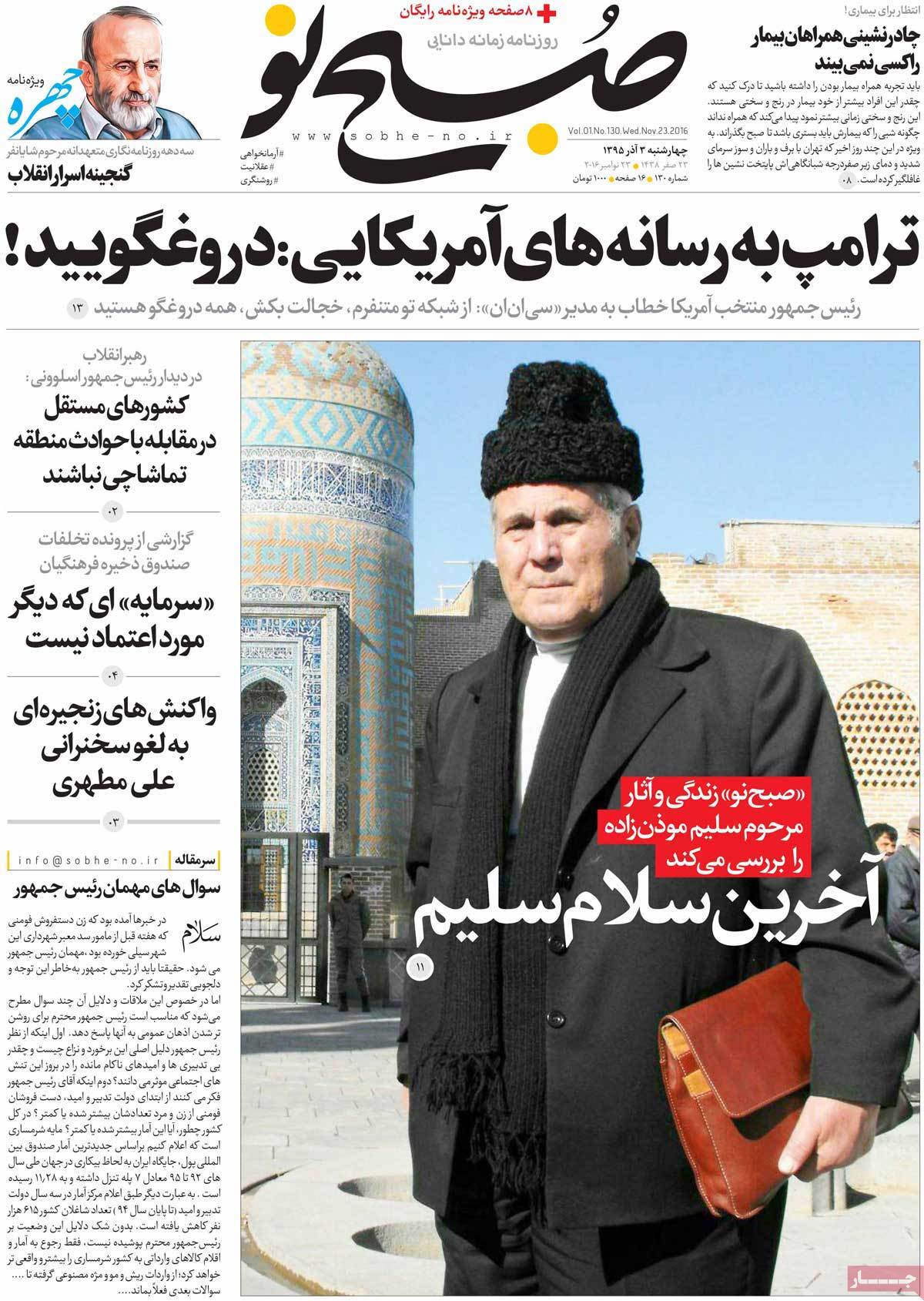 ---
Vaghaye Ettefaghieh:
1- Shooting the Nature: A Look at the Impact of War on Dust Crisis on International Day of "Environment in War"
2- Environment Chief: ISIS' Attack on a Big Sulphur Warehouse near Mosul Caused a Sulphur Blooming that Could Lead to Acid Rain in Iran
3- Iran's Nuclear Chief: There's a Relationship between War and Environment