TEHRAN, Sep 17 (Shana) — Energy has a significant share in providing the necessary finance for other industries and sectors of Iran's economy. That is why Iran's petroleum industry has been focused upon more than any other sector of the economy.
Energy has a significant share in providing the necessary finance for other industries and sectors of Iran's economy. That is why Iran's petroleum industry has been focused upon more than any other sector of the economy following the implementation of Iran's nuclear agreement with world powers, dubbed the Joint Comprehensive Plan of Action (JCPOA).
Meantime, the oil sector has been presented with new opportunities after the agreement took effect last January. Some of these opportunities will materialize in the short-term and some others in the long- term.
Thanks to JCPOA, other countries and big oil companies have had a golden chance for investment in Iran's oil sector and buying oil from Iran.
This article aims at reviewing the ramifications of implementation of JCPOA on Iran's petroleum industry on one hand, and on oil companies and oil consumers on the other.
JCPOA; Multiple Chances
Not only is JCPOA considered as a big achievement in the international political domain, but also it presented major economic opportunities for Iran and other countries in the economic sector, mainly energy sector.
Among the JCPOA's effects on Iran's petroleum industry, oil companies and oil consumers, the following could be singled out:
1. Oil Sanctions Relief: The JCPOA removed sanctions on Iran's oil sector. That benefited Iran, a top producer and exporter of oil, and oil consuming countries. Iran's absence from global markets during years of sanctions had created major difficulties because some countries were not able and willing to replace Iran's oil with oil from other countries due to the lack of infrastructure. The petroleum industry and petrochemical structure of some countries were compatible with Iran's crude oil and any change for compatibility with other countries would have proven difficult and costly. That is why some countries refused to endorse Iran's oil sanctions. However, the implementation of JCPOA created a new chance for Iran, oil companies and consumers so that they could resume their trading like in the past without any fear for penalties.
2. Crude Oil Output Hike: Iran's oil production has increased following the implementation of JCPOA. Iran's crude oil, which stood at 3.13 mb/d in July 2015, soared to 3.61 mb/d in April 2016. According to plans, Iran's oil production hike is expected to take place in two phases; in the first stage which will cover the first half of the calendar year 1395, Iran's crude oil production will be back to the pre-sanctions levels of 4 mb/d. In the second phase, attraction of domestic and foreign financing and investment is planned to bring Iran's oil production to 5.4 mb/d and the country's gas production capacity to 1.3 bcm/d. Under this plan, which is envisaged for the 6th Five-Year Economic Development Plan, Iran's crude oil exports are to reach 2.8 mb/d, while great potential is expected to be created for the country's gas exports.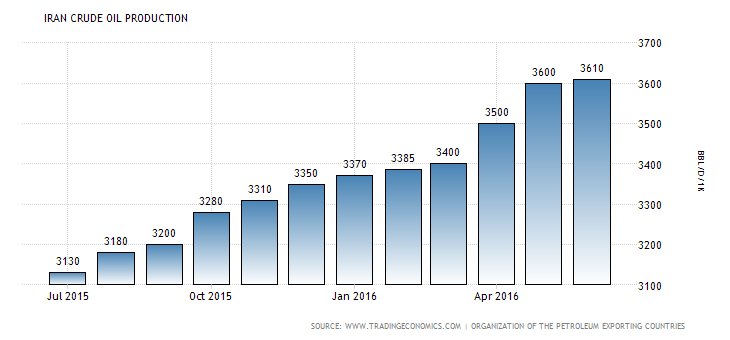 3. Higher Oil Exports and Iran's Return to World Markets: Iran's oil exports picked up speed after the nuclear deal came into force. It was good news for global markets and oil consumers across the globe. Six months after the JCPOA implementation, Iran's crude oil exports hit 2.667 mb/d. It shows that the nuclear agreement brought back Iran to its traditional position in the global markets. Over the past one year, Iran's exports to countries like China, India, South Korea, and South Africa and European countries have been on the rise.

4. Enhanced Cooperation with Oil Majors: After the nuclear deal was implemented, major oil companies rushed to seek cooperation with Iran. Iran's Deputy Minister of Petroleum for International Affairs and Trading Amir-Hossein Zamani-Nia said at least 150 rounds of talks were held in Iran with foreign companies for investment after the nuclear deal took effect. That is a big figure which indicates the willingness of oil companies to benefit from a new chance of investment in Iran. Based on new mechanisms, foreign companies can establish and register a company in Iran or have an Iranian partner for getting more facilities for operating projects in Iran. This issue provides a good opportunity mainly for oil giants who have faced serious challenges and problems due to oil price fall.
5. Investment Attraction and Technology Transfer: The JCPOA results in attraction of more investment and transfer of technology for oil exploration. In other words, the JCPOA has provided the chance for benefiting from foreign capitals and Iran's blocked assets. Before the nuclear deal had been signed, most leading financial bodies in the world refused to cooperate with Iran due to fear of US penalties. Under sanctions, attraction of foreign investment made no sense while ordinary economic operations like money transfer and sale of products faced tough restrictions.
With the implementation of the JCPOA, some oil equipment whose delivery had been blocked due to the sanctions was supplied to Iran. For example, refrigeration, gas condensate stabilization compressors, electro-compressors and thermal transducers, which Iran had purchased from Germany's Siemens for South Pars gas field, were delivered to the country and development of this jointly operated offshore reservoir took a new lease on life.
The fact is that Iran's petroleum industry seeks to benefit from superior technology and the implementation of the nuclear agreement facilitated transfer of modern oil technology to Iran. Purchase of equipment from main vendors without resorting to intermediaries also reduced costs of technology transfer. Before implementation of the JCPOA, Iran had to pay higher sums for the purchase of equipment. Therefore, one of the most significant impacts of JCPOA implementation on oil projects was Iran's quicker access to foreign contractors, reduction of costs of implementation of projects while benefiting from modern technologies due to enhanced rivalry between contractors. For their part, major oil companies are benefiting from the JCPOA implementation due to direct investment and purchase of technical equipment.
Iran Oil Outlook
The JCPOA enhanced the export of Iran's crude oil and petroleum products in the short term. It also contributed to reducing costs of crude oil and petroleum products export. Furthermore, development and operation of hydrocarbon fields would cost lower after the JCPOA implementation. The removal of sanctions on Iran facilitated Iran's access to international financial markets in order to purchase equipment for the petroleum industry. Banking transactions and insurance cover at international level became possible. Therefore, Iran has clawed back its status in world markets in the short term after the JCPOA implementation.
The JCPOA could also have mid-term and long-term achievements for Iran's energy industry, chief among the achievements are as follows:
1. Facilitating financing of development projects;
2. Expanding exploration activities in order to further underpin oil and gas production and development of oil and gas resources;
3. Increasing gas production capacity and enhancing the rate of recovery from oil and gas fields in the country;
4. Maximum development and operation of joint oil and gas fields;
5. Preventing associated petroleum gas from being flared off;
6. Enhancing refining capacity in the country;
7. Enhancing petrochemical production capacity;
8. Improving the quality of petroleum products;
9. Creating a secure and sustainable market for Iran's crude oil;
10. Bolstering Iran's effective role in international bodies;
11. Enhancing Iran's share in world oil and gas markets; and
12. Improving the capacity of Iranian contractors, manufacturers and suppliers in cooperation with foreign companies.
The aforesaid points show that the JCPOA has not only benefited Iran but also has provided advantages for many oil companies and consumers. Major oil companies can now invest in Iran's development and exploration projects. Furthermore, Enhancing production capacity and enhancing the rate of recovery from oil and gas fields and increasing Iran's share of oil and gas markets will benefit consumers and guarantee their energy supply security.
This article was written by Shuaib Bahman for SHANA on Sep 17, 2016.