Newspapers on Tuesday covered the remarks by Iranian Foreign Ministry Spokesman Bahram Qassemi about the cooperation between Iran and Russia, and Moscow's use of Iranian airbase, which has 'ended for now'.
They also highlighted the Defence Minister Brigadier General Hossein Dehqan's criticism of Russia for revealing the military cooperation.
An ongoing visit by Iranian Foreign Minister Mohammad Javad Zarif to Cuba also received great coverage.
The above issues as well as many more are covered in the following headlines:
Abrar:
1- Iran's DM Criticizes Russia's "Unfriendly" Move to Reveal Their Secret Use of Iranian Airbase
2- Suicide Kids, Terrorists' Instrument of Killing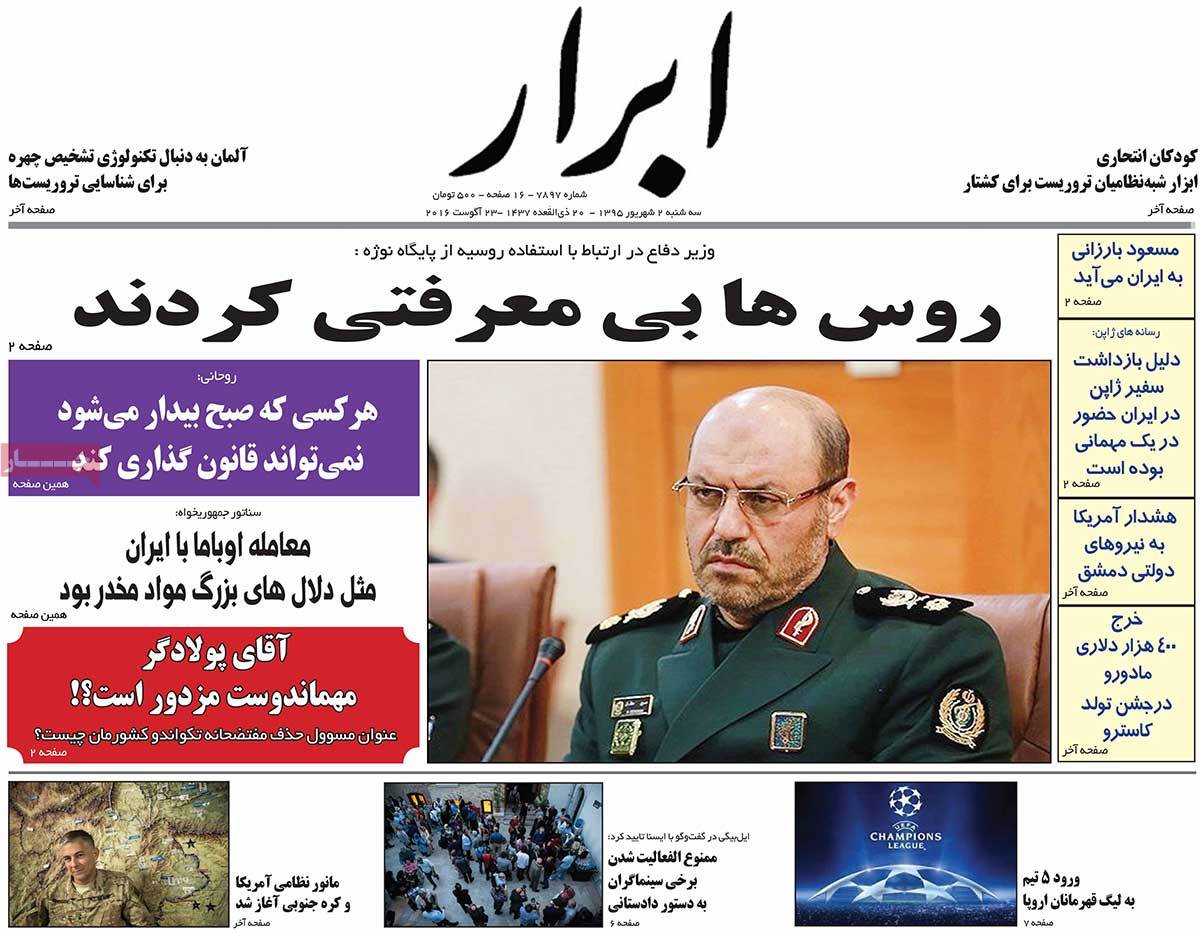 ---
Abrar-e Eqtesadi:
1- Iran Not to Halt Manufacturing Peugeot 405 and KIA Pride: 4 New Foreign Contracts to Be Signed by Mid-March
2- South Africa's Offer for Establishment of Joint Bank with Iran
3- Iran's New Oil Contracts Were Communicated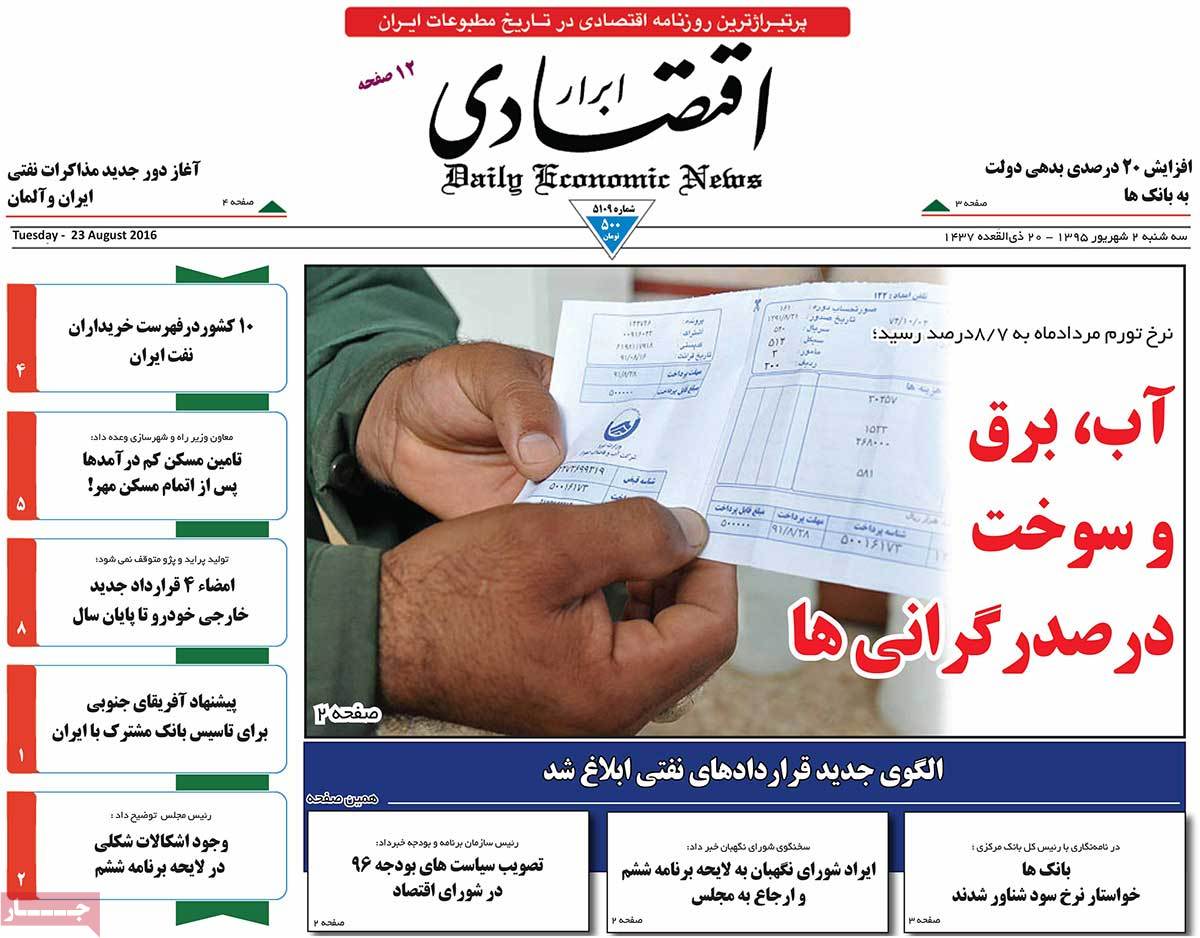 ---
Aftab-e Yazd:
1- Iraq Ignores Oil Freeze: Baghdad Increases Its Oil Exports by 150,000 Barrels per Day
2- Inflation Rate in Past Month Down to 8.7%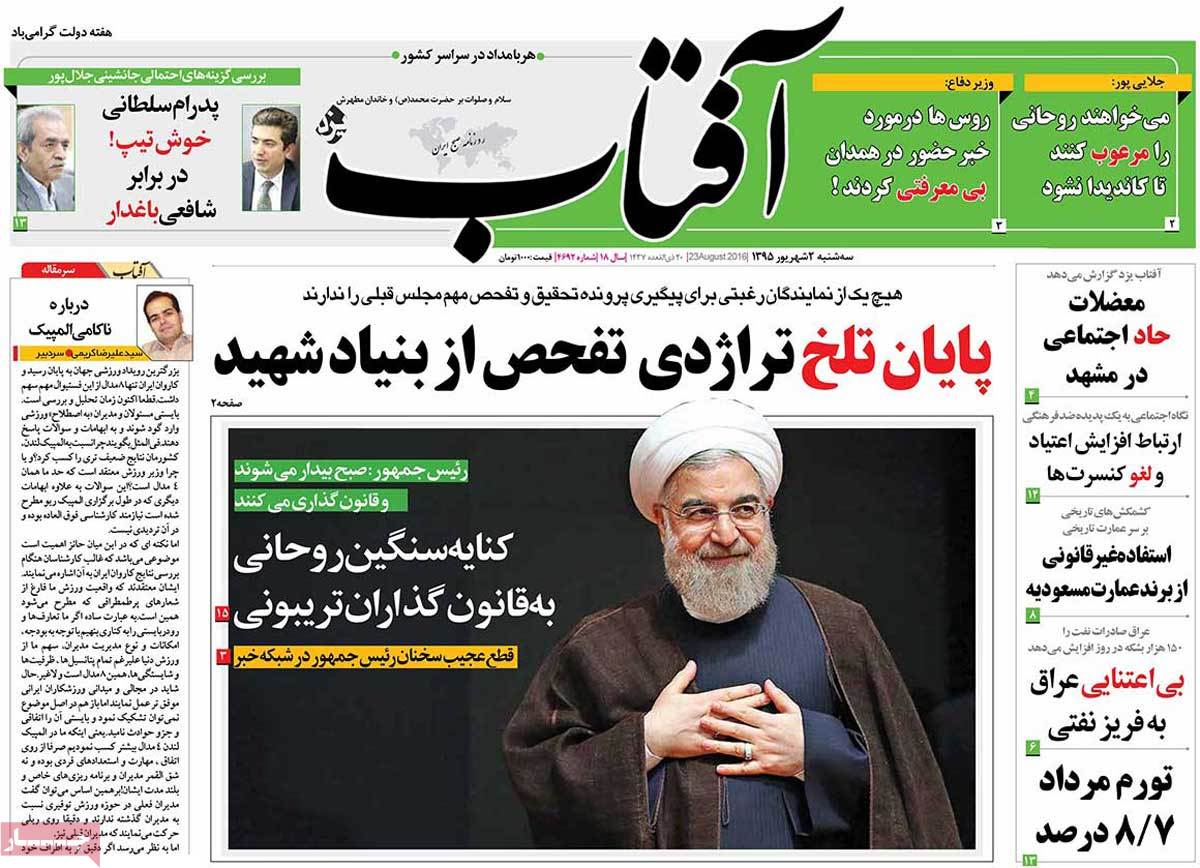 ---
Arman-e Emrooz:
1- 80 Myanmar Nationals Begging in Tehran
2- Drug Kingpin Arrested with 800 Tons of Illicit Drugs
3- Judiciary Chief: Many of Problems Remaining from Previous Governments.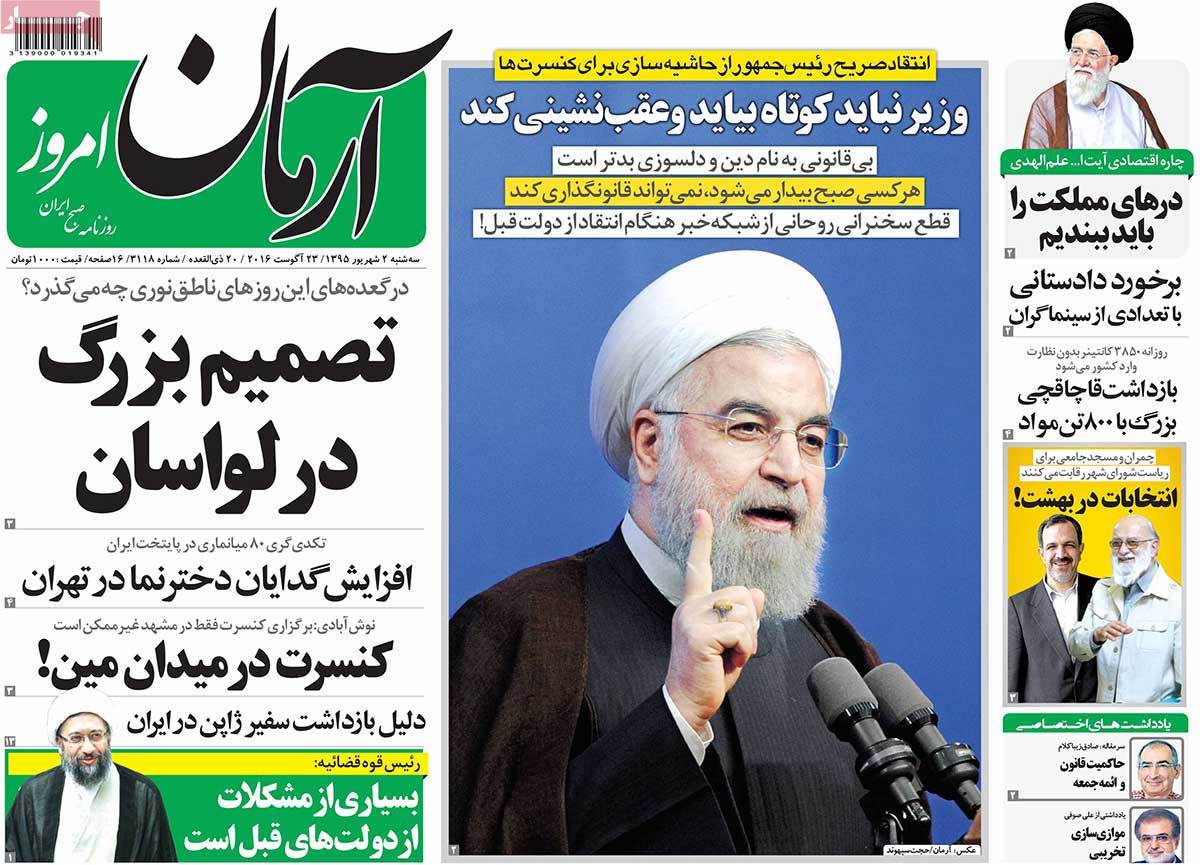 ---
Asr-e Rasaneh:
1- Government Spokesman: Inflation Rate in Mordad [mid-July to mid-August] Was 8.7%
2- Education Ministry's Literacy Campaign for 420,000 Illiterate Iranians
3- Oil Minister: Iran's Gas Extraction to Equal Qatar's by Year-End [mid-March]
---
Asrar:
1- Foreign Ministry Spokesman: Iran Hopes to Upgrade Its ties with Britain to Level of Ambassadors
2- Judiciary Chief: Government Should Not Be Attacked under Any Pretext
3- Larijani Urges Diplomats to Help Attract Foreign Investment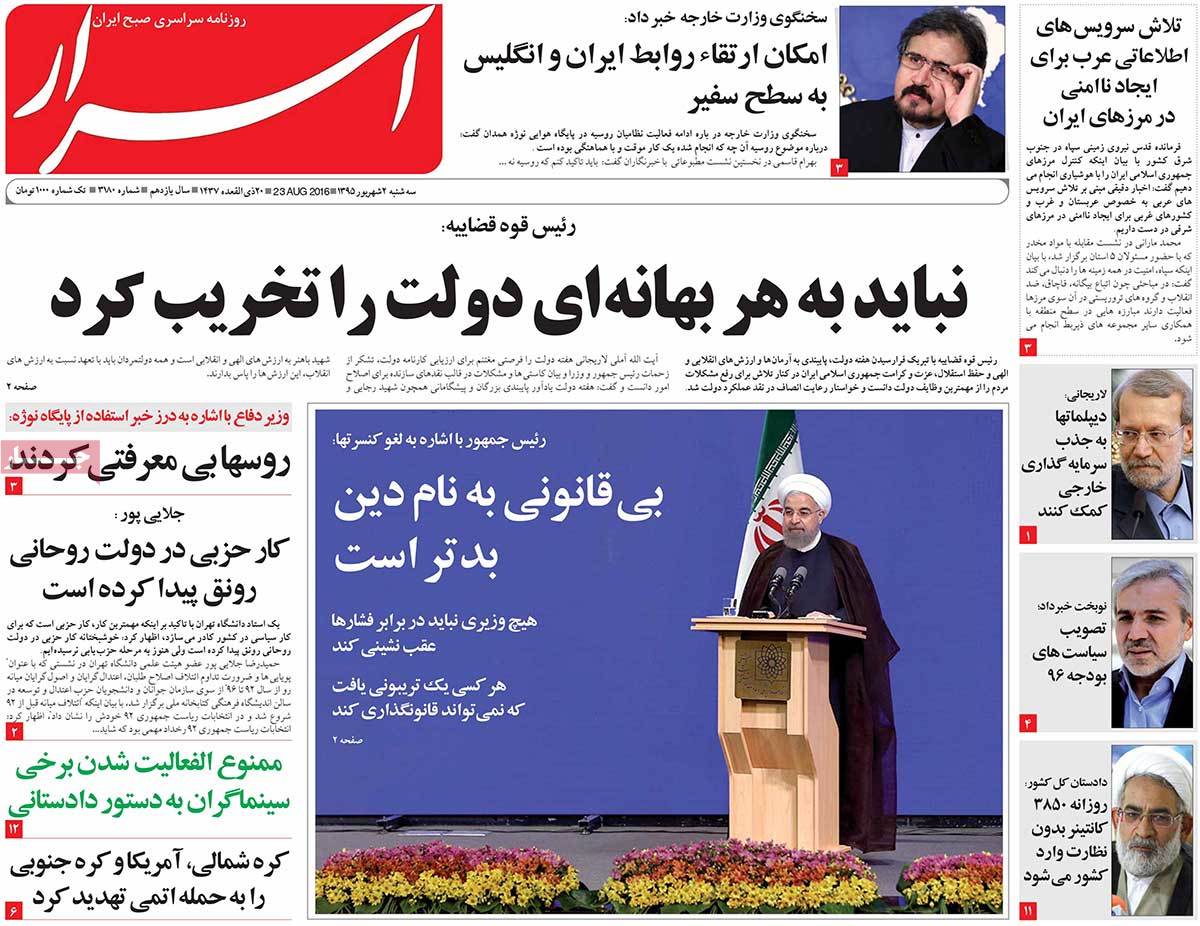 ---
Besharat-e Now:
1- Rouhani in Reaction to Illegal Cancellation of Concerts in Khorasan Razavi Province: Whoever with a Tribune Cannot Legislate
2- Music House Asks for Leader's Help
3- Music Official: Political Fights Should Not Influence Art and Music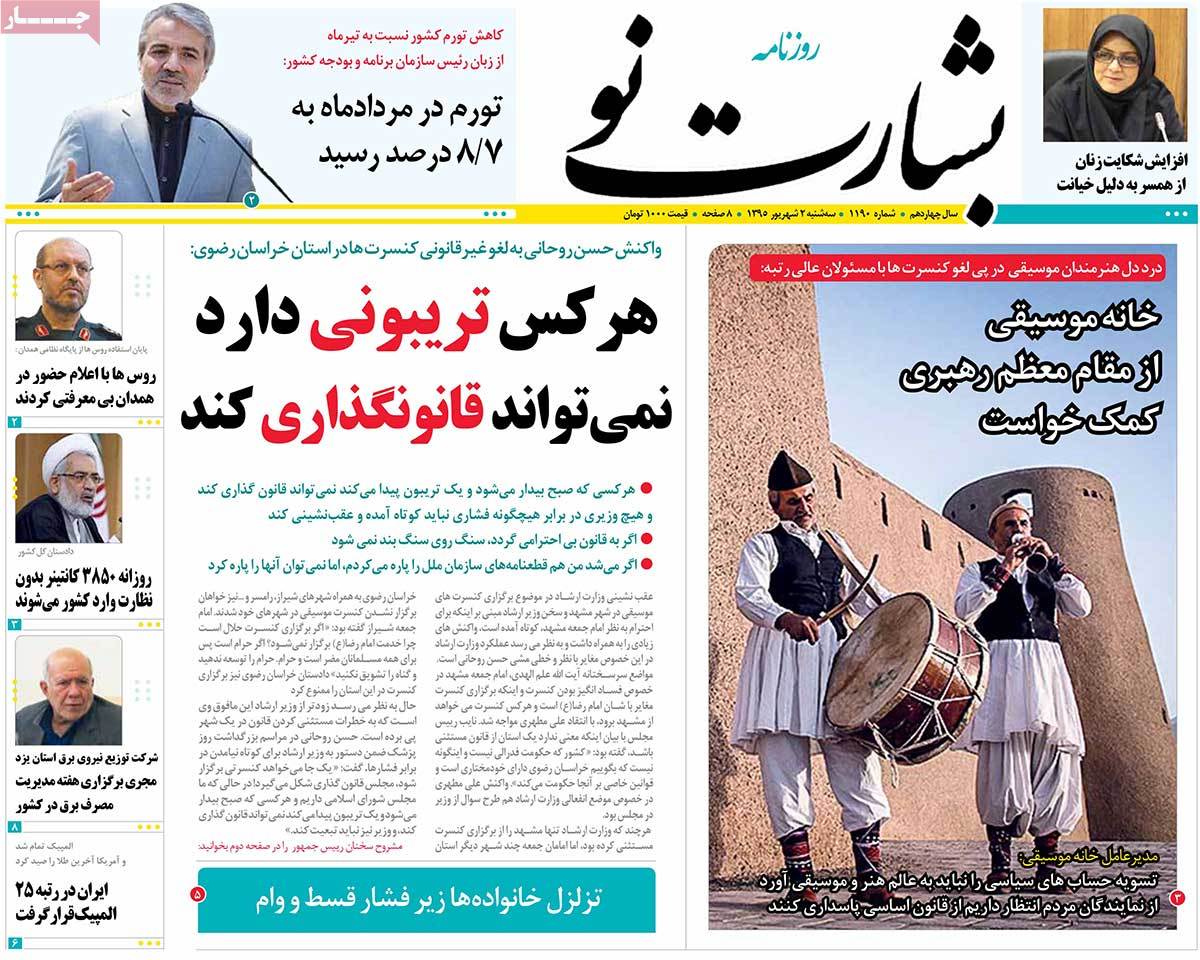 ---
Ebtekar:
1- Celebrities in City Councils: Athletes and Artists' Candidacy in City Council Elections
2- Russia's Use of Hamadan Airbase Is Over: Foreign Ministry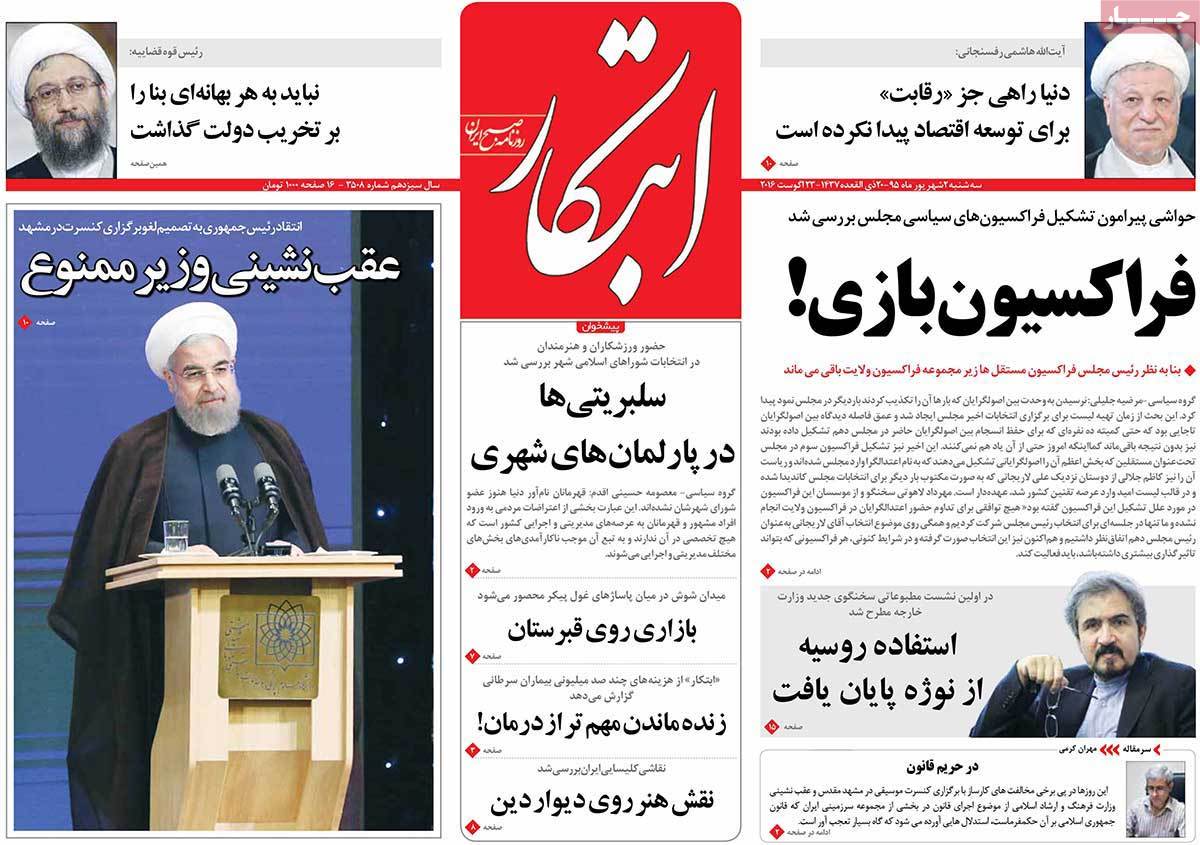 ---
Etemad:
1- Zarif in Cuba: I', Happy to Be in Havana during the Days When Commander Fidel's Birthday Is Celebrated
2- Iran's El Chapo Arrested: He Has Confessed to International Transit of 800 Tons of Drugs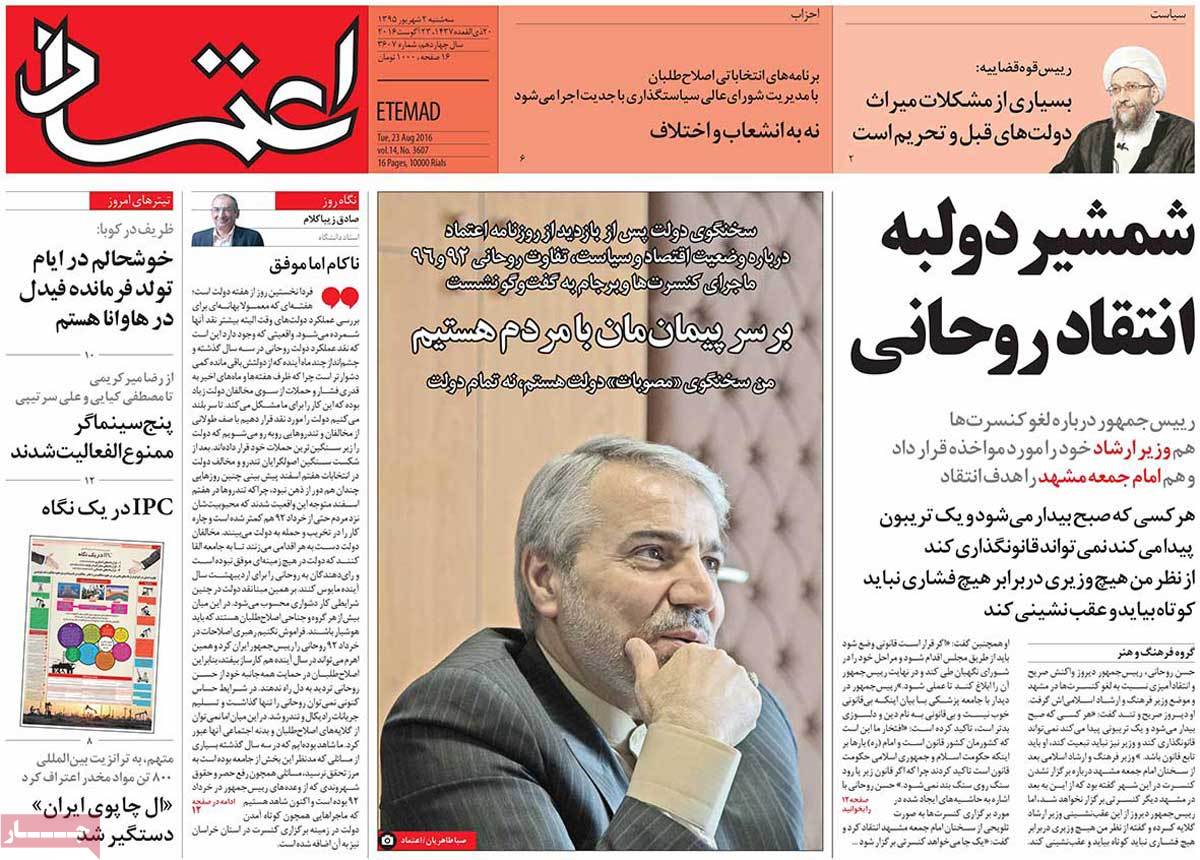 ---
Ettela'at:
1- 4.2% Growth in Iran's Industry Sector: Minister
2- Every Day, 3,850 Containers and Trucks Get into Iran without Inspection: Prosecutor-General
3- Zionist Regime [Israel] Launches 60 Airstrikes on Gaza in One Day
4- Changes in Laws on Banning Bank Debtors from Exiting Iran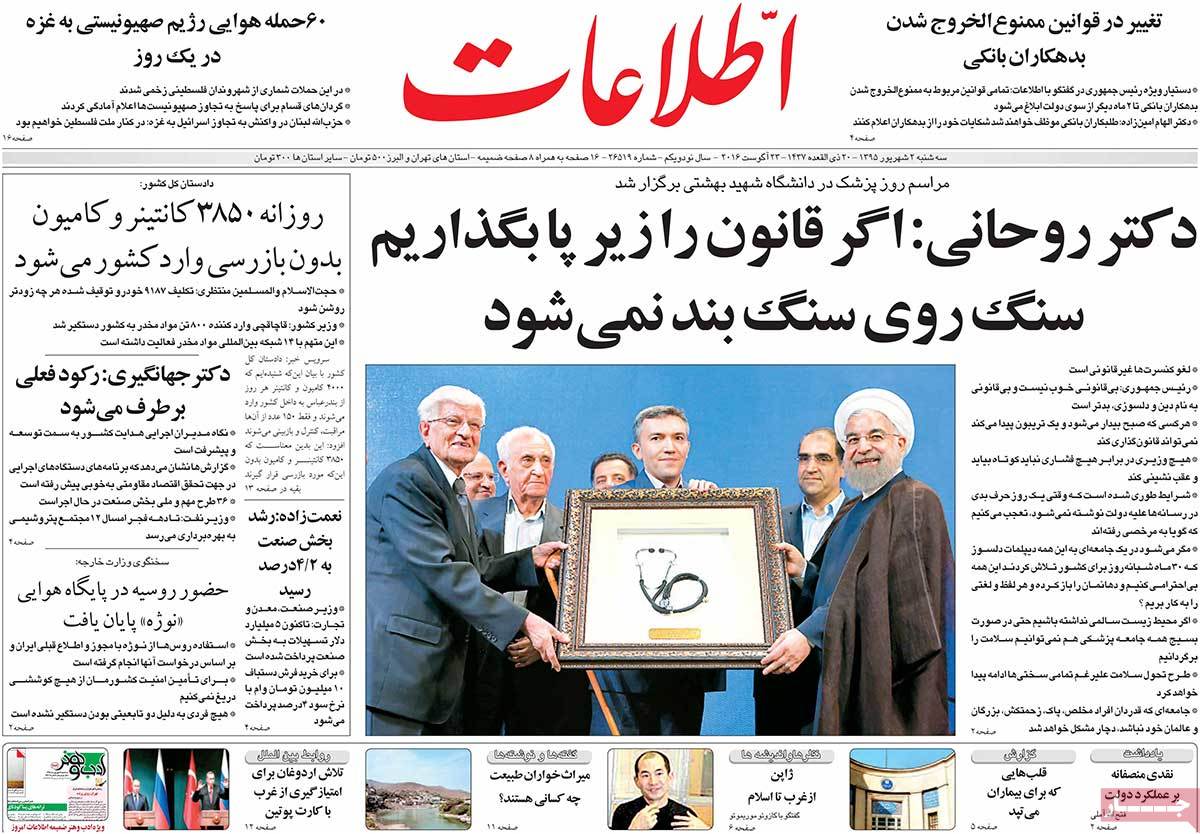 ---
Javan:
1- 70 Elite Students Gift Their Olympiad Medals to Leader of the Islamic Revolution
2- Zarif in US Backyard: Iran's FM Reminds Cuban People of White House's Violation of Its Commitments
---
Jomhouri Eslami:
1- Number of Iran Oil Customers Increased to 10 Countries after JCPOA
2- Doctors without Borders: Saudi Arabia Bombing Yemeni Hospitals Intentionally and Knowingly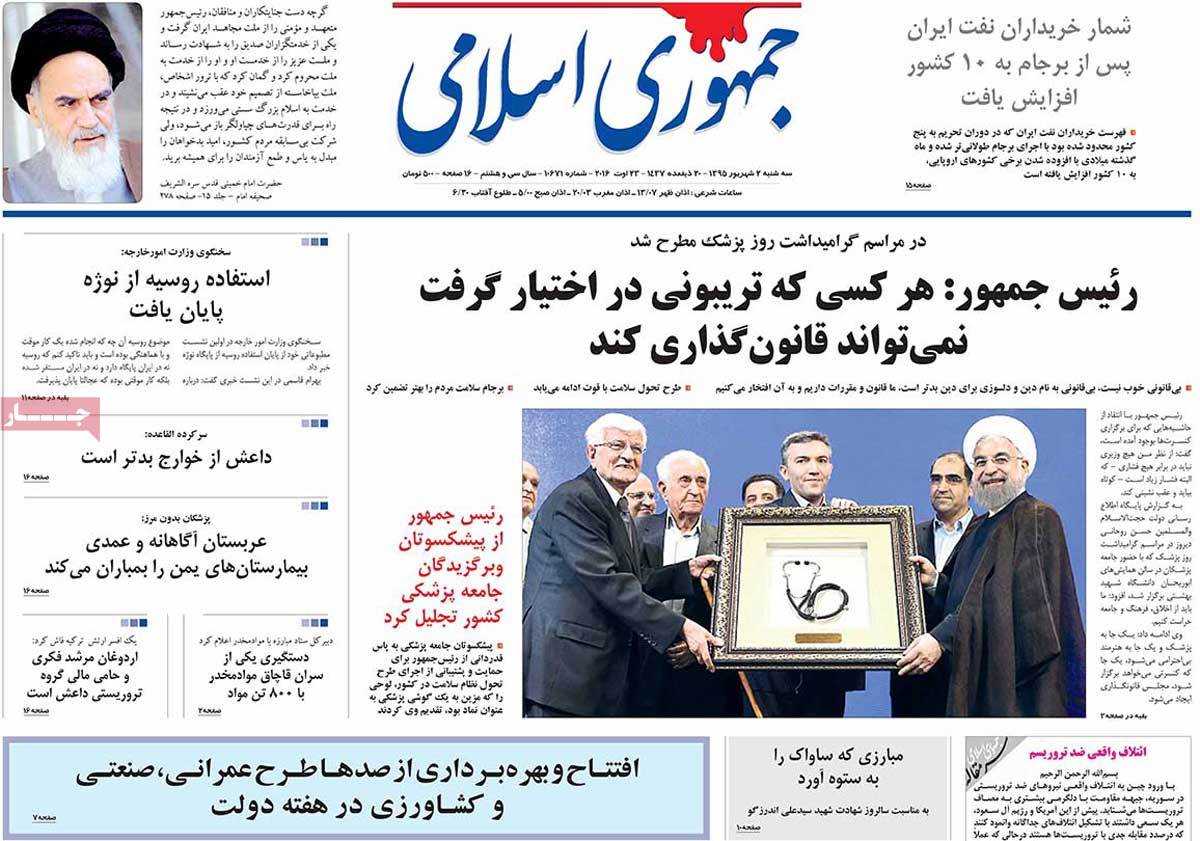 ---
Kayhan:
1- Job or Concert? Which One Is People's Main Concern? Is 1% of Concerts More Important than 60% of Production?
2- Zarif: Cuba and Iran Suffering from US Hostilities
3- Iraqi Politician: Iran, Top Clerics, and Voluntary Forces Prevented Iraq from Fall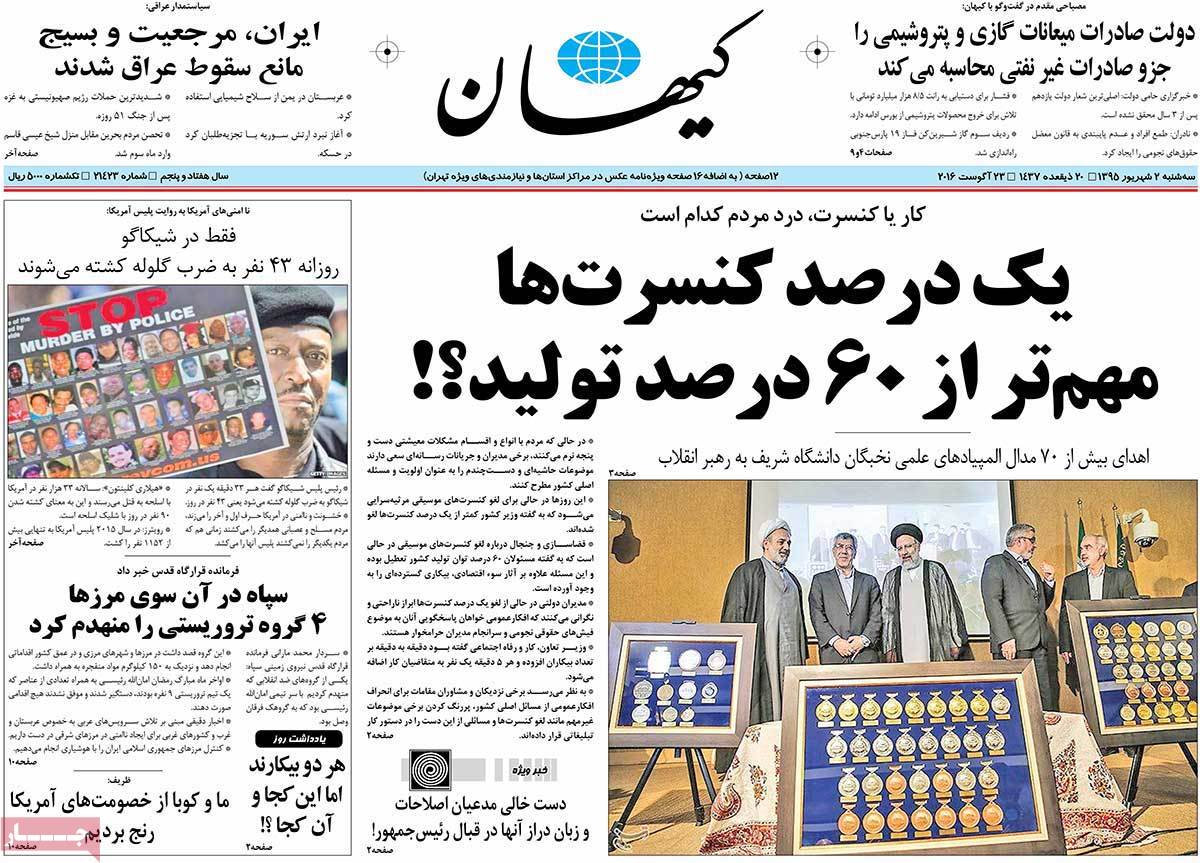 ---
Payam-e Zaman:
1- Arabs Sabotaging Iran's WTO Accession
2- End of Olympic Games for Iranian Athletes with 8 Medals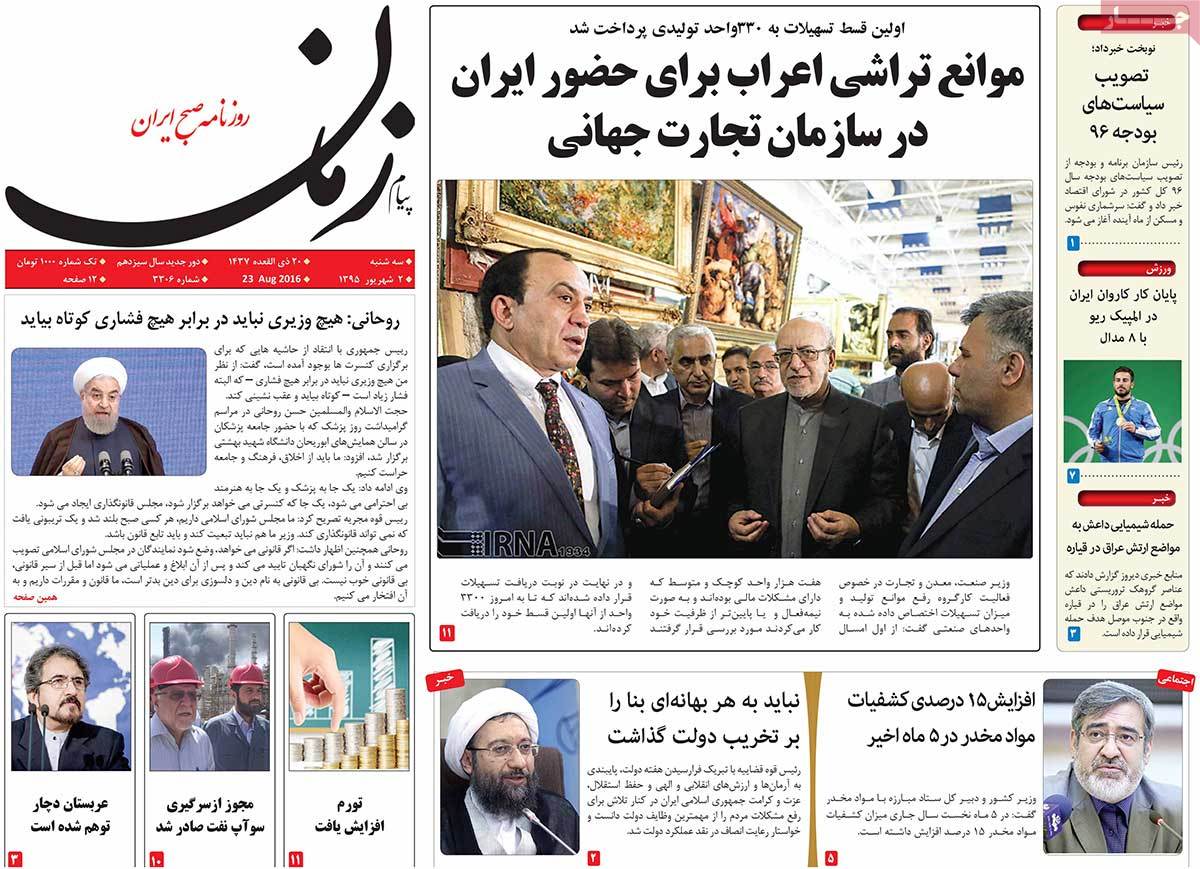 ---
Resalat:
1- Iran's Economy Needs Fundamental Surgeries: Parliament Speaker
2- Cleric: Conservatives Have No Choice but Consensus for Next Year's Presidential Elections
3- Human Milk, a Vaccine with 3,000 Anti-Microbial Factors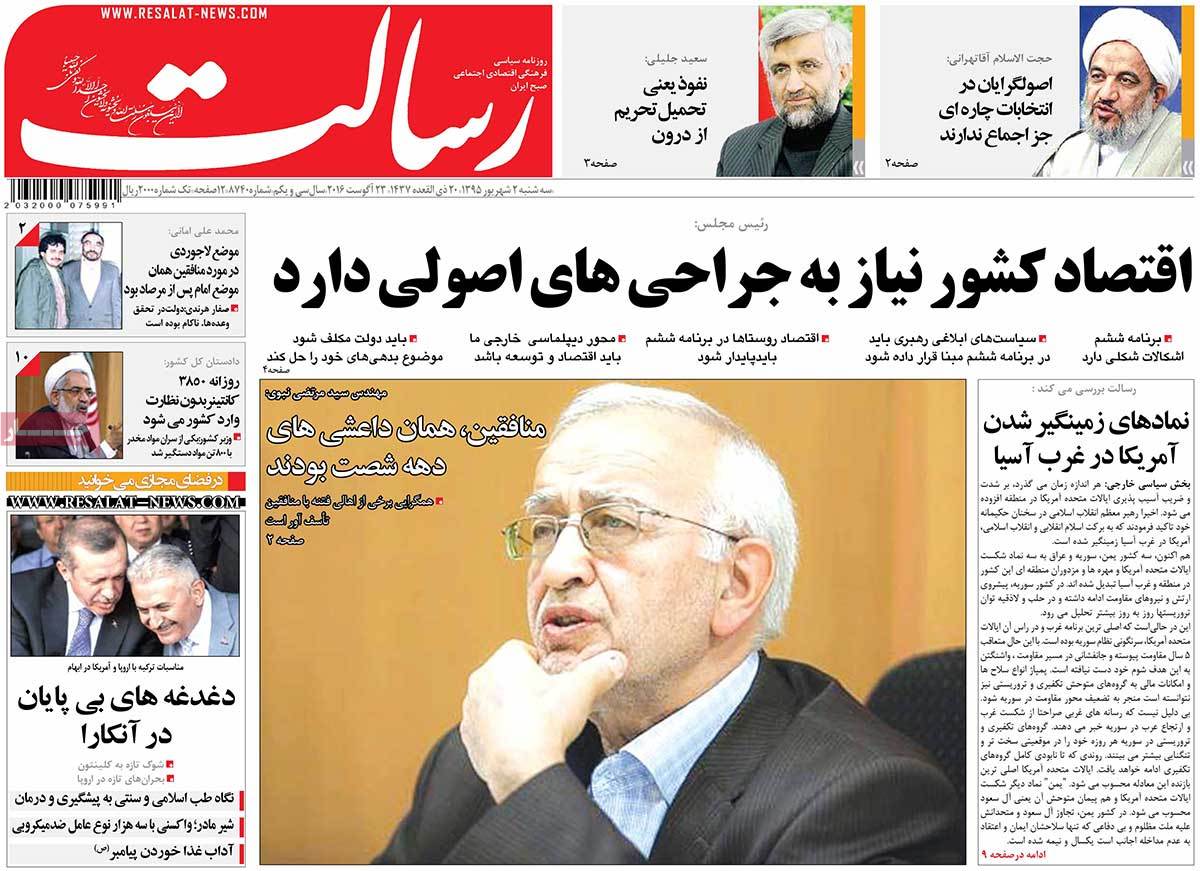 ---
Shargh:
1- Kimia Alizadeh [Iranian taekwondo player], along with Phelps and Bolt, Named as Impressive Olympic Figures
2- Analyst: Majority of Rouhani Voters Are Reformists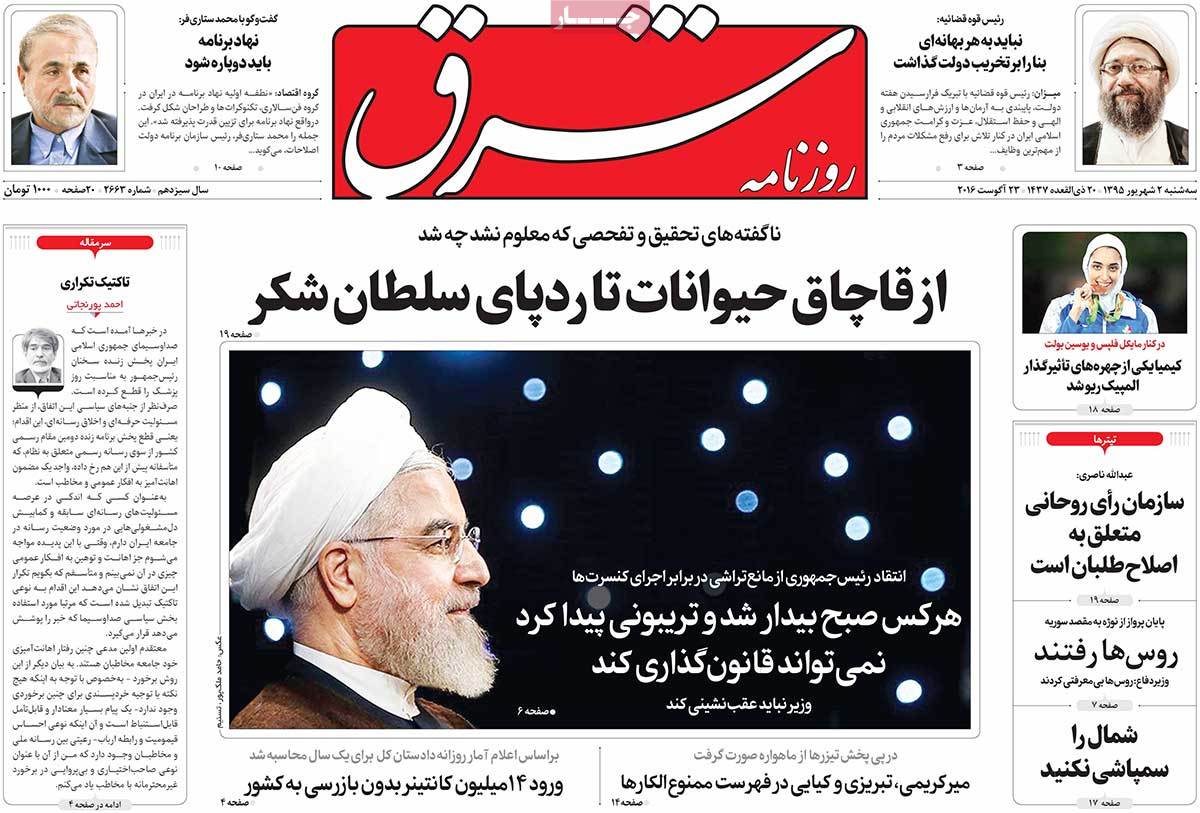 ---
Ta'adol:
1- Economic Growth Was Achieved Thanks to Termination of Anti-Iran Sanctions: Government Spokesman
2- Health Ministr: Drug Is No Longer Smuggled through Official Routes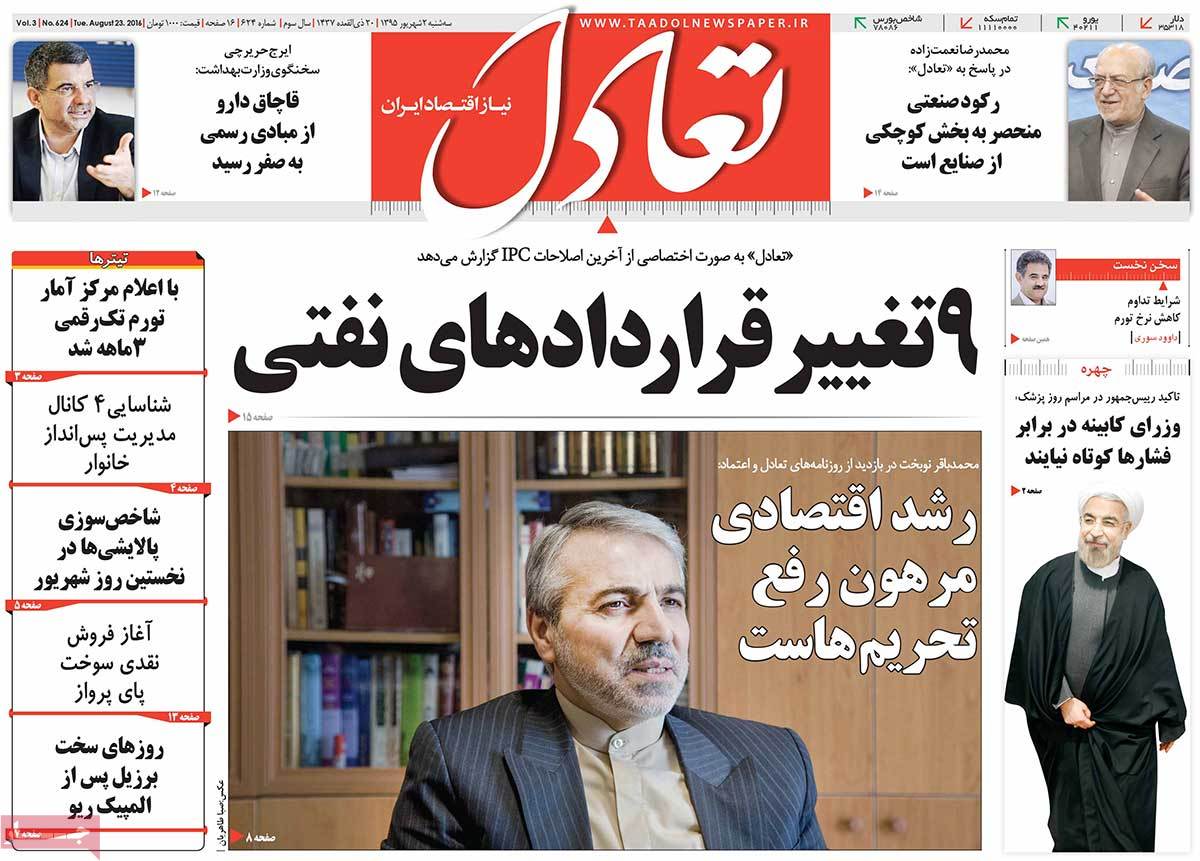 By Iran Front Page