Iranian newspapers on Wednesday covered the recent operations by Iranian security forces in West of the country in which several terrorists were killed and arrested.
They also highlighted Russia's use of an Iranian airbase to target ISIS positions in Syria.
The remarks made by Mohammad Javad Larijani, the head of Iranian Judiciary's Human Rights Office, about ex-President Mahmoud Ahmadinejad also received great coverage.
The above issues as well as many more are covered in the following headlines:
Abrar:
1- UN: 2m People in Aleppo Are in Adverse Conditions
2- Deputy FM: Iran Will Take Serious Action against Other Side of Nuclear Deal in Case of Violation
3- Russia's Request from Iran and Iraq for Use of Their Airspace
---
Abrar-e Eqtesadi:
1- Iran Signs MoU with China's EximBank
2- $28m Export of Iran's Hand-Woven Carpets to the US
3- Indonesia, New Customer of Iran's Petchem Products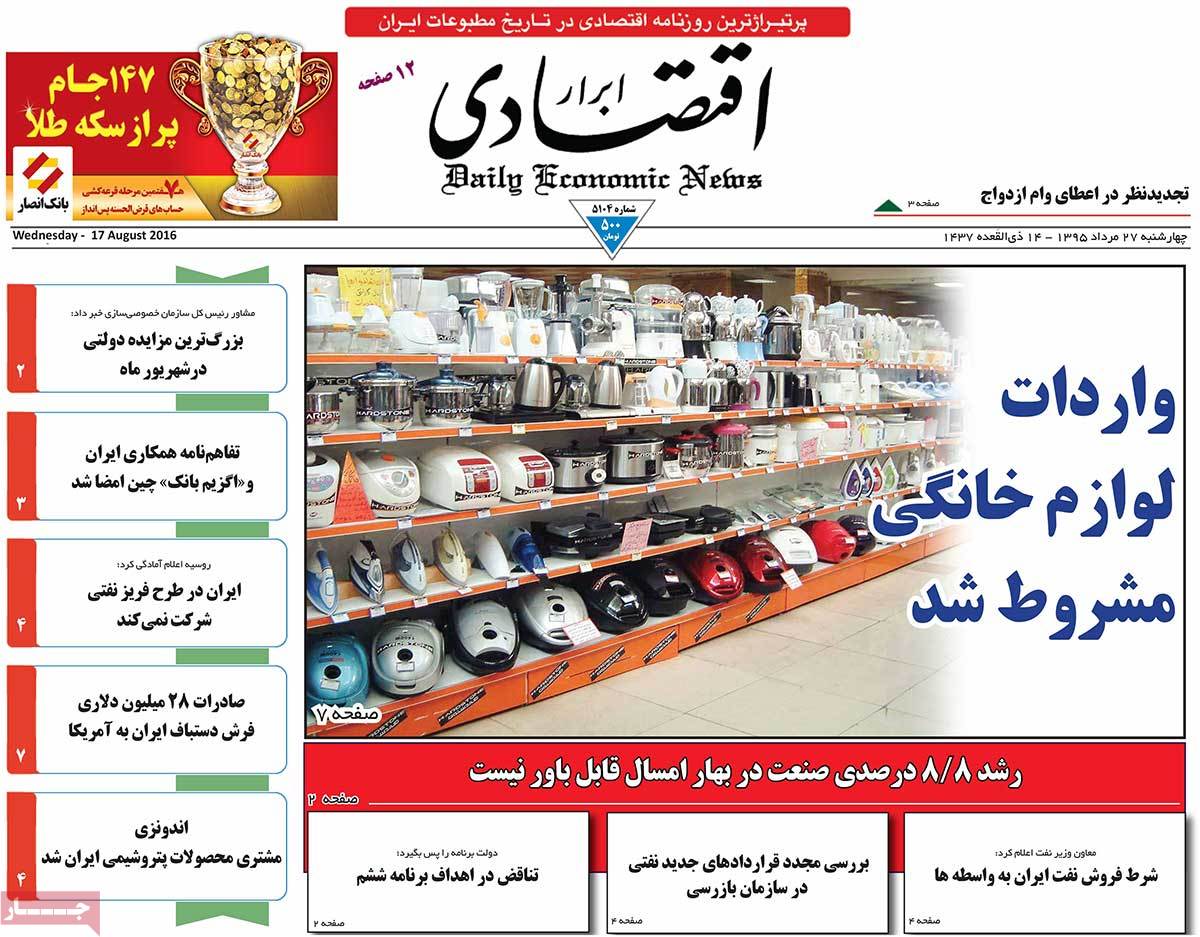 ---
Aftab-e Yazd:
1- Ahmadinejad's Weird Offer for Nuclear Talks with Obama: We'll Give Away Our Enriched Nuclear Materials All at Once!
2- Russian Jet Fighters in Hamadan: Tehran-Moscow Ties Becomes Warmer
3- Individual Linked with MI6 Arrested: Prosecutor-General
---
Arman-e Emrooz:
1- Shamkhani: Iran and Russia Have Strategic Cooperation in Fight against Terrorism
2- 13-Year-old Girls Want to Get Married: Cleric Says Marriage Should Be Promoted among High School Students
3- Development Not Possible without Democracy: 3 Economists Discuss Iran's Development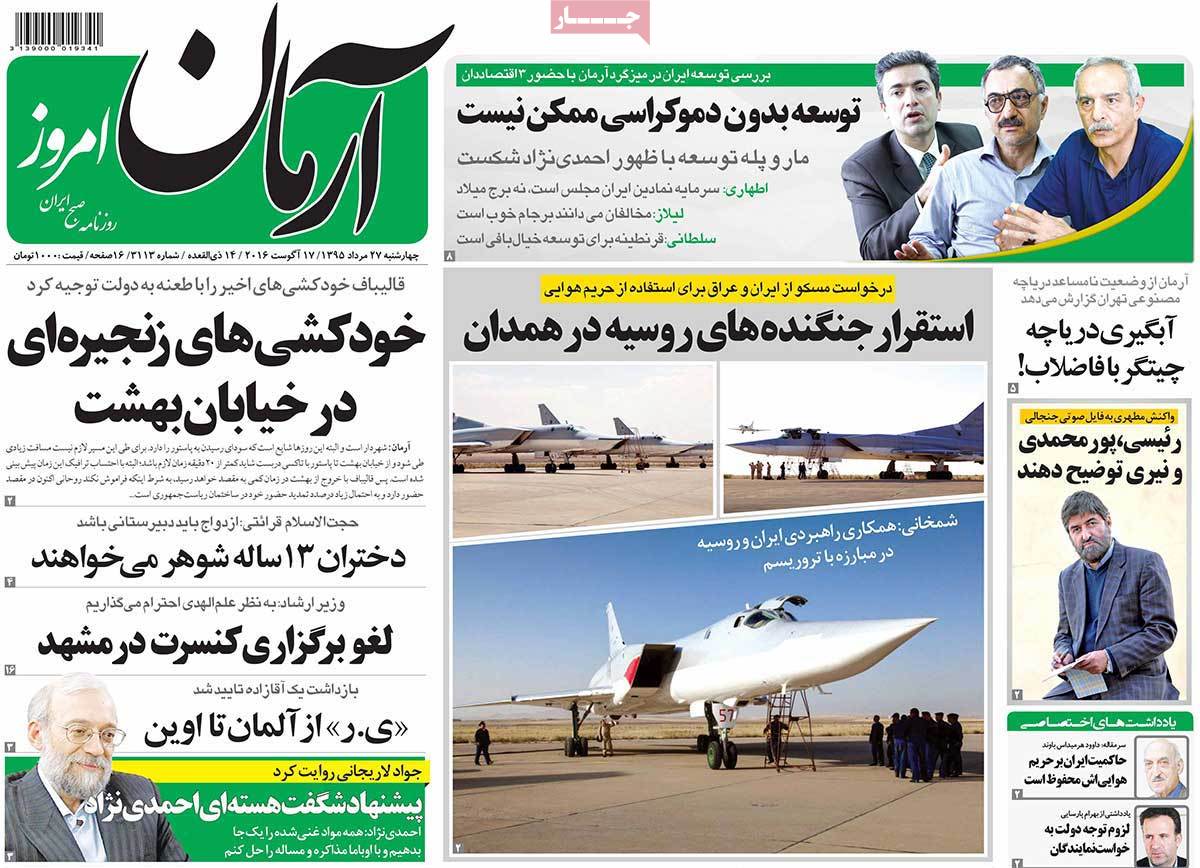 ---
Asrar:
1- Javad Larijani: Ahmadinejad Wanted to Negotiate with Obama
2- Rouhani Will Have No Rival in Next Year's Presidential Elections: Analyst
3- Iran's Income in Foreign Exchanges Doubled since JCPOA Was Implemented: CBI Governor
4- Son of a Former Official Arrested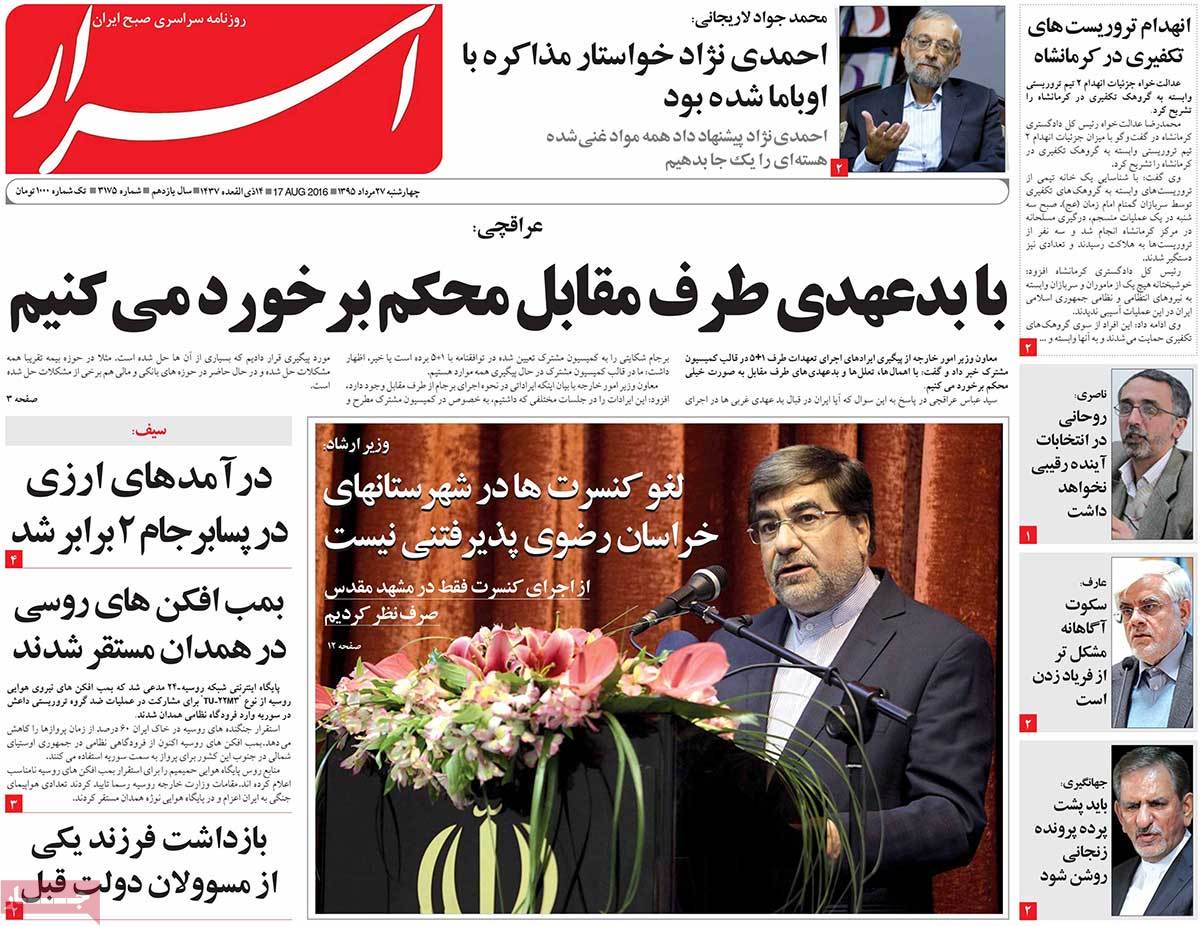 ---
Ebtekar:
1- Zarif: We'll Put US under Pressure for Implementation of Its Commitments
2- Aref's Opinion about Reformists' Performance in Elections: People Voted for Change
---
Ettela'at:
1- VP for Legal Affairs: Insult to President in Insult to All Bodies of Establishment
2- Rouhani's Chief of Staff: Time of Military Coups and Confrontation with People's Votes Is over
3- Rouhani: NAM States Should Play Roles in Int'l Arena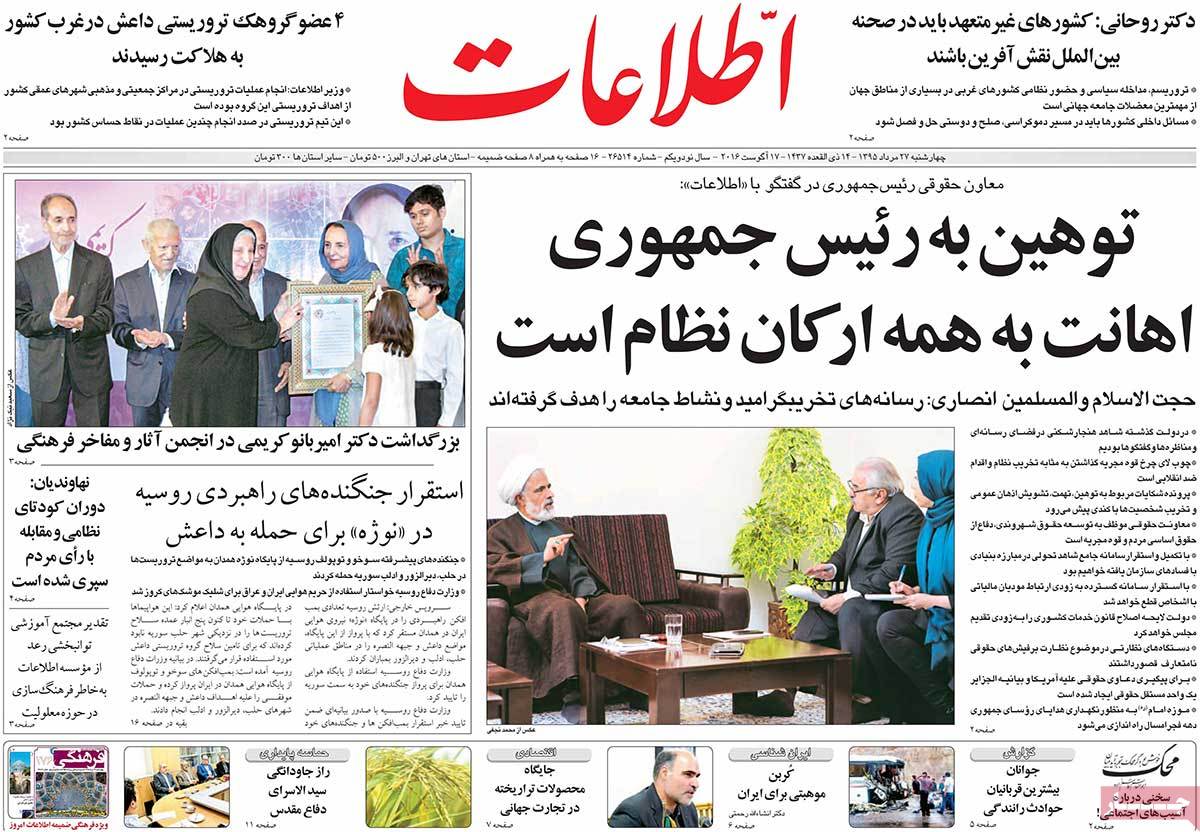 ---
Emtiaz:
1- Iran Ready to Start Exporting Natural Gas to Baghdad
2- 234% Increase in Discovery of Smuggled Goods in Iranian Airports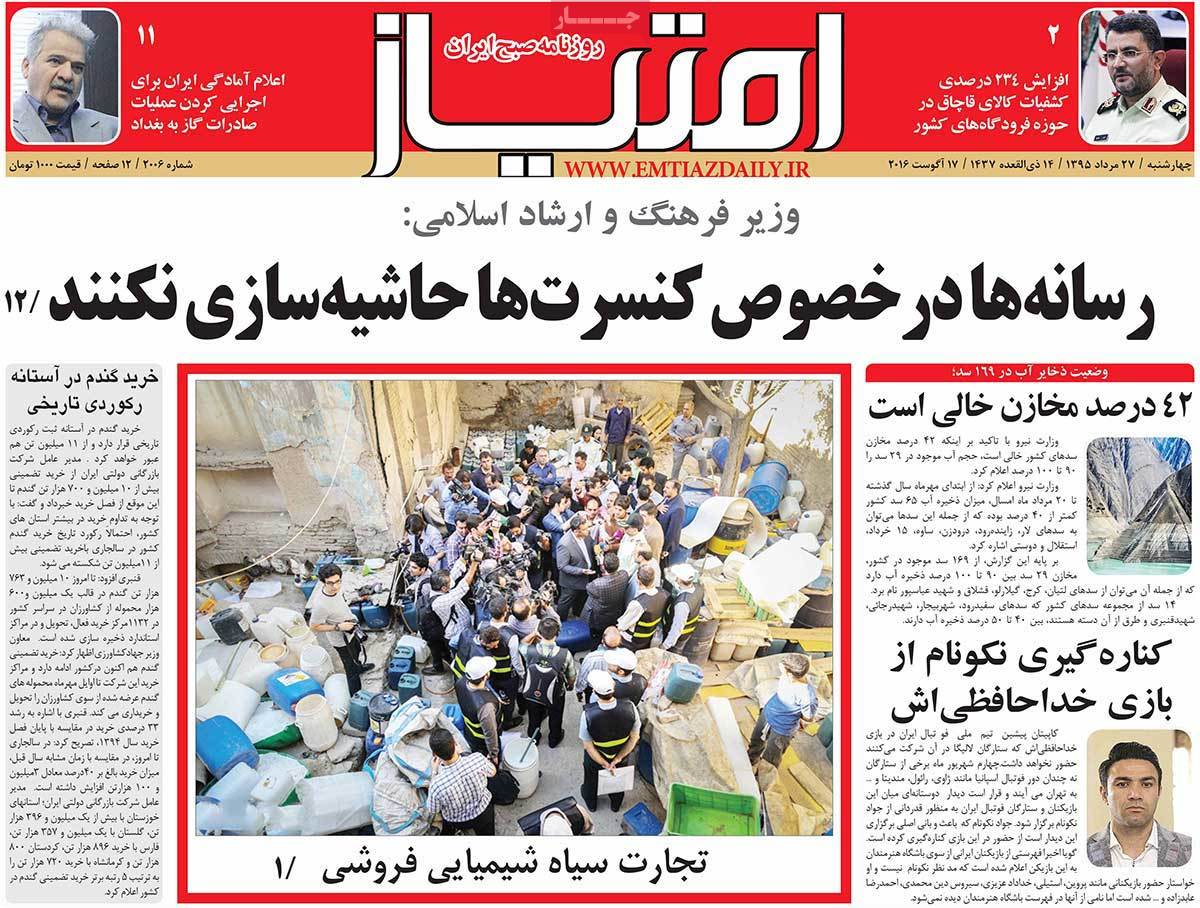 ---
Haft-e Sobh:
1- Samsung in One Hand and Apple in the Other: A Report on Mobile Phones Used by Iranian Politicians and Existing Security Holes
2- Does Instagram Have a Problem with Iranians? Spokesman Explains about Rumours of Blocking Iranian Users' Access
---
Javan:
1- Britain and France's Eye on Kordestan's Sensitive Areas: Iranian Official Says 2 French and British Diplomats Were Stopped While Filming Military Centres, But They Escaped, and Refused to Give Their Photos and Documents When Stopped Again
2- US Is Weak in JCPOA Implementation, and Should Provide Guarantee that JCPOA Is Not Just on Paper: Zarif
3- Interior Ministry's Deputy for Security: 4 Takfiri Terrorists Killed in Kermanshah [West of Iran]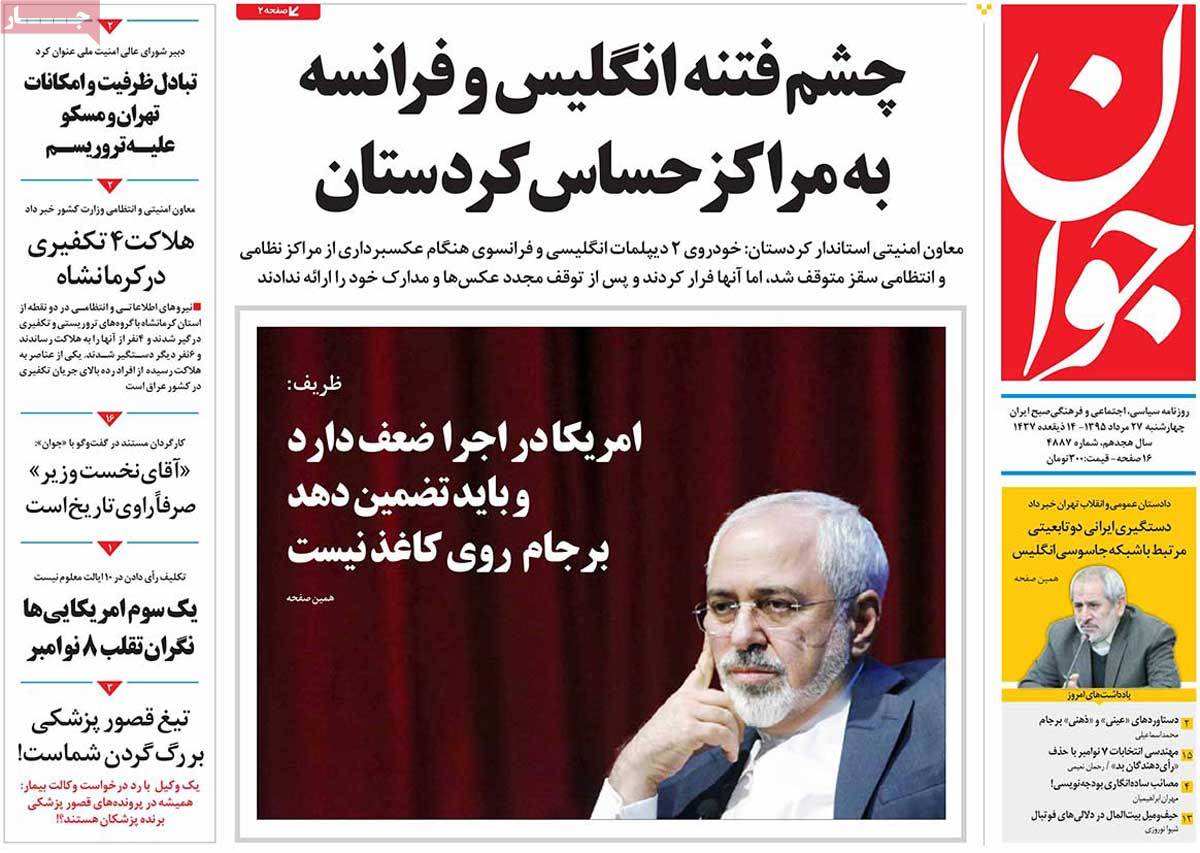 ---
Jomhouri Eslami:
1- Health Minister: $283m Allocated to Public Health Insurance Plan [RouhaniCare]
2- Historical Record of Wheat Production in Iran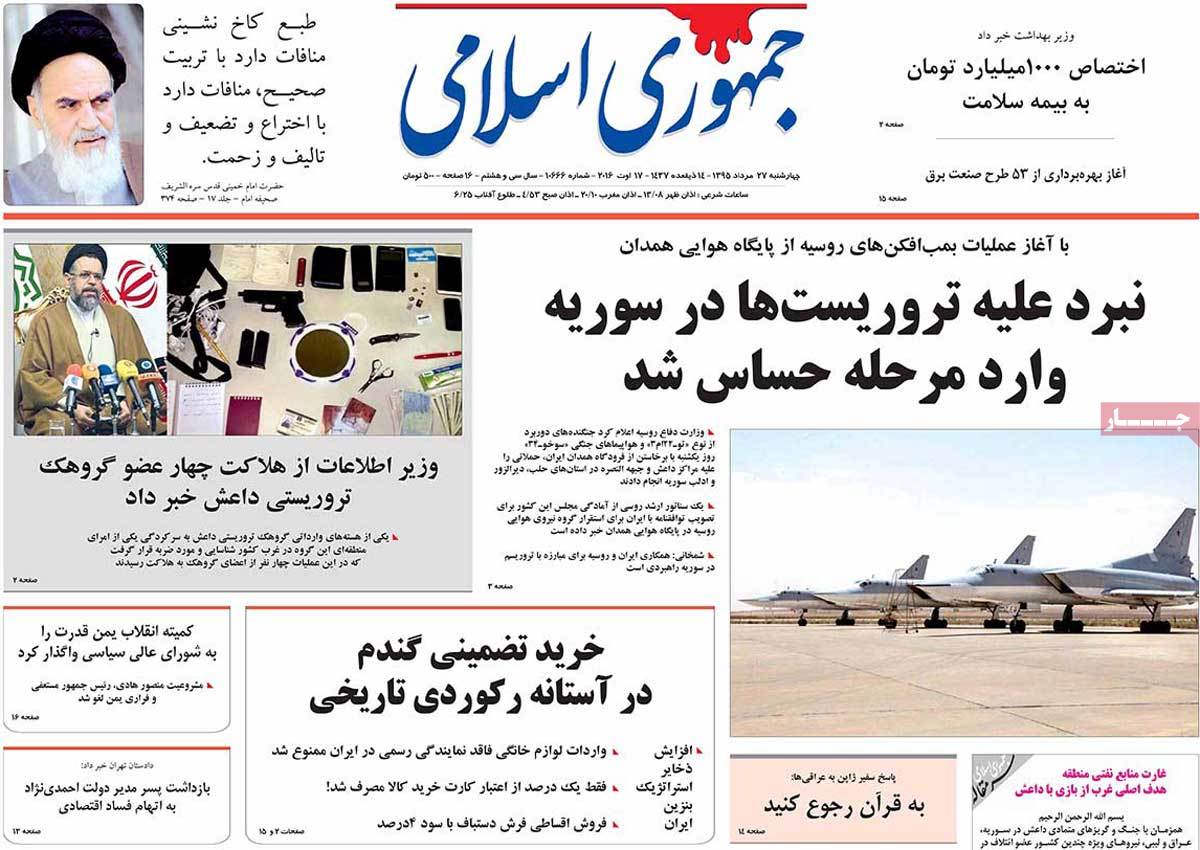 ---
Kayhan:
1- 70% of ISIS Members Don't Know Anything about Islam: Daily Mail
2- Government's Policies in Contradiction with National Production and in Support of Imports: Analyst
3- USA's Anti-Iran Moves Increased after JCPOA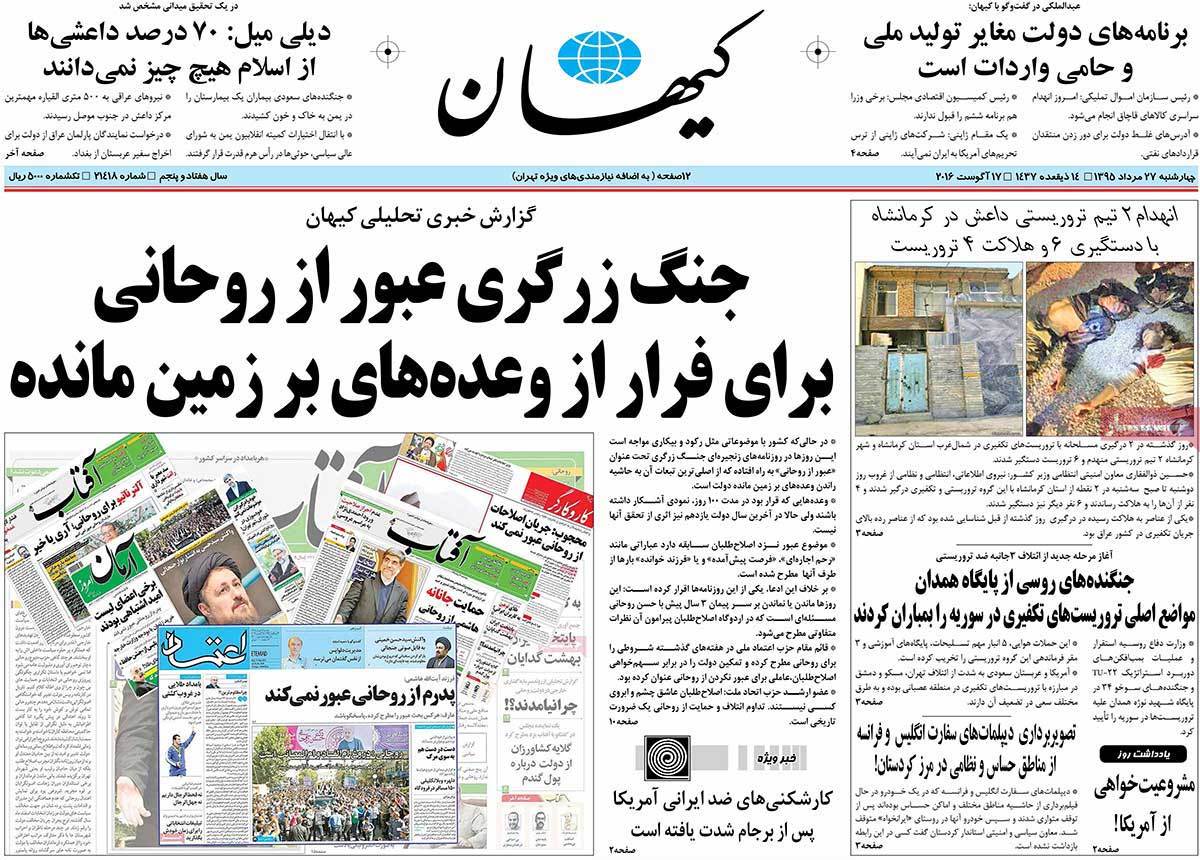 ---
Khorasan:
1- Iran Produces Medicine for Absolute Treatment of Migraine
2- Aref: We Can't Expect People to Vote for Us If We Don't Do Anything in Our 4-Year Term
---
Mardom Salari:
1- Iran's FM in Parliament: US Commitments Should Not Remain on Paper: JCPOA Implementation Successful in Different Fields
2- Saudi Allies Sheltered by Israel: Israel to Hold Joint Drills in US under Riyadh's Supervision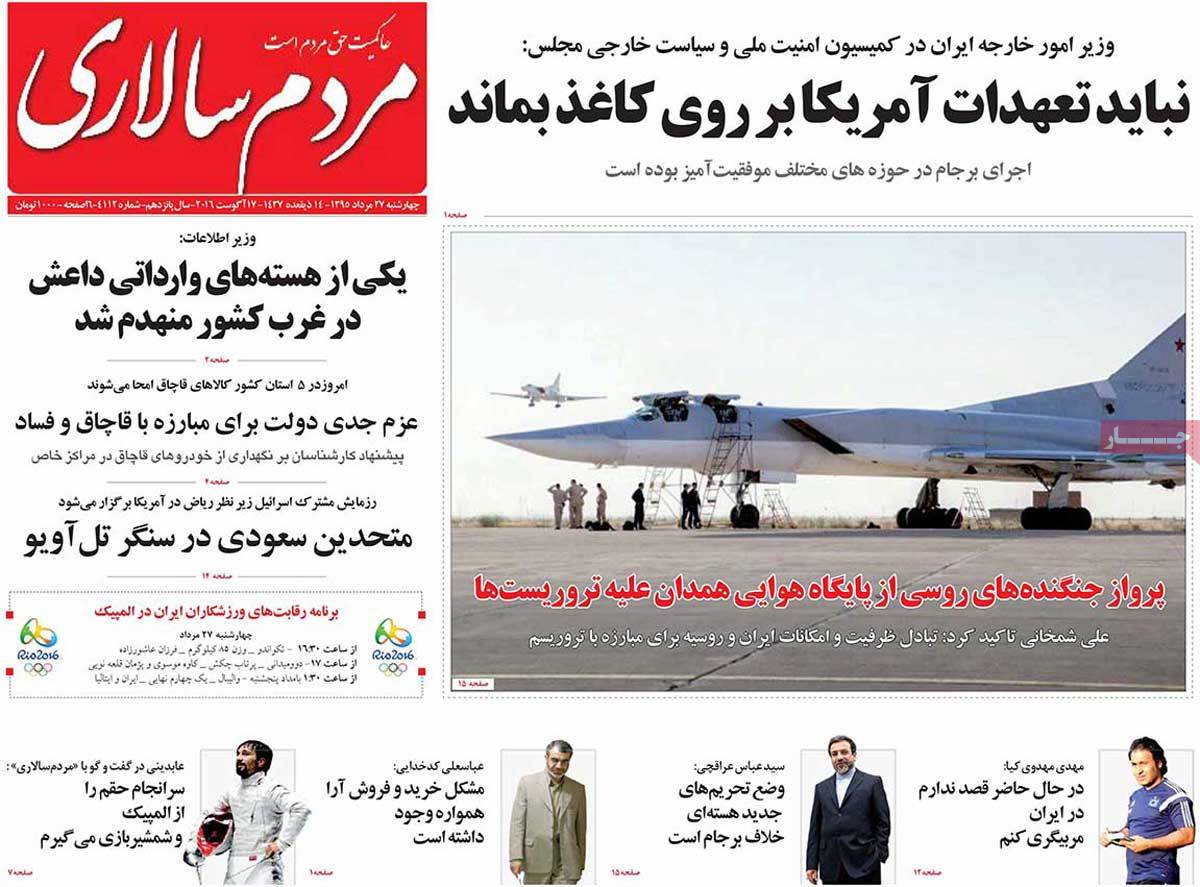 ---
Rah-e Mardom:
1- Iran's Advantages for Investors
2- Aerial Transport Still Gripped by Sanctions: Supply of Plane Parts Becomes More Difficult
3- Rouhani: Terrorism Is One of the Most Important Issues of the World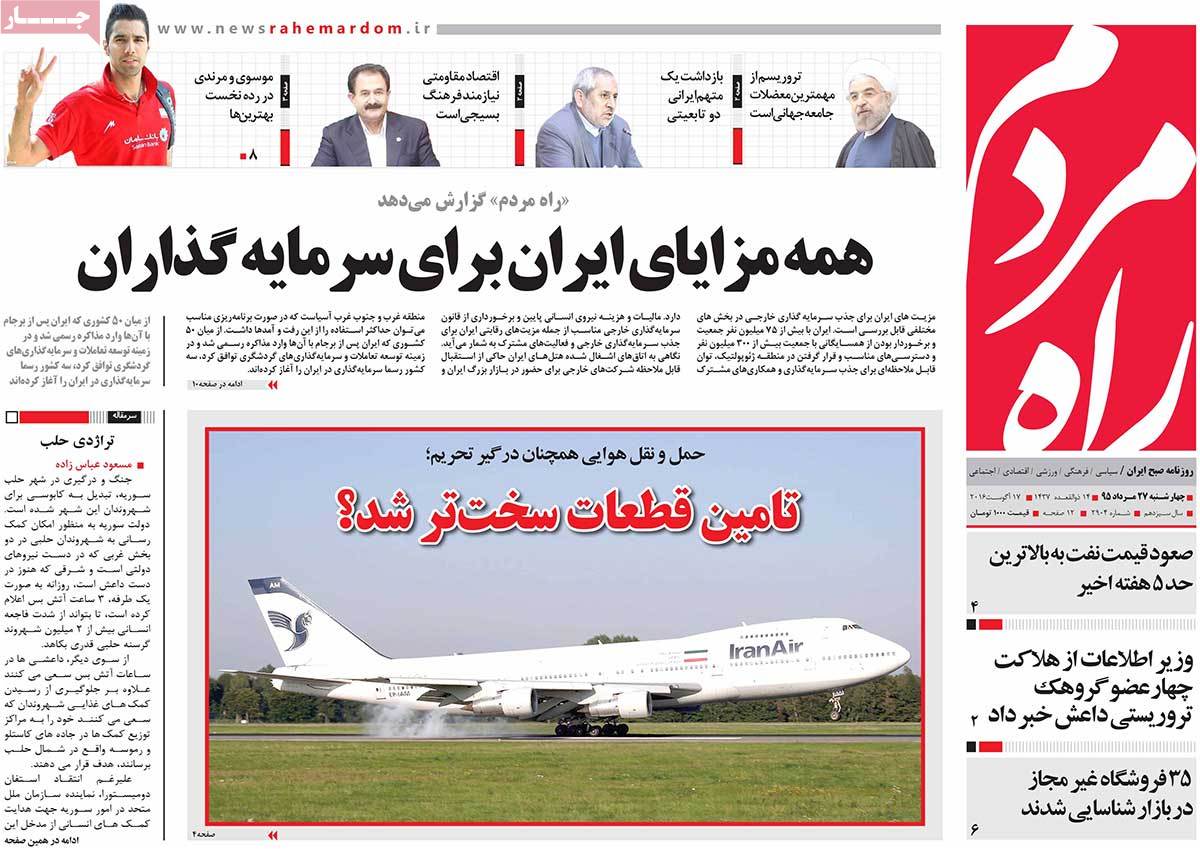 ---
Resalat:
1- Some inside and outside Iran Want to Revive MKO: Cleric
2- IRGC General: Some Arab Countries Looking for Insecurity in Iran
3- Javad Larijani: We Should Build New Nuclear Organization
---
Shahrvand:
1- ISIS Trapped in Iran's Security Net: Takfiri Terrorists' Operational Team Identified and Disbanded in Kermanshah
2- Takfiri [extremist] Terrorists Wanted to Launch Multiple Simultaneous and Mixed Operations in Different Parts of Iran: Intelligence Minister
3- Smuggling Destroys 20,000 Job Opportunities Each Year
• 60 Luxury Cars to Be Crushed
• Smuggling of Clothes Down by 60% under Rouhani's Government
---
Vaghaye Ettefaghieh:
1- Culture Minister: There's No Problem with Concerts, But Government Decided to Stop Holding Concerts in Mashhad
2- DM: Nuclear Talks Were Not a Loss
By Iran Front Page