Iranian newspapers on Wednesday reported the arrest of a former bank executive by the Islamic Revolution Guards Corps (IRGC) Intelligence Organization on charge of financial corruption.
They also covered the second court held for those who attacked Saudi embassy in Tehran.
The report by the UN Secretary General Ban Ki-moon on the JCPOA implementation and the reactions also remained a top story.
Newspapers also highlighted the Iranian Foreign Minister Mohammad Javad Zarif's reaction to a secret JCPOA document recently disclosed by the Associated Press.
These issues, along with many more, are covered in the following headlines:
Abrar:
1- Judiciary Official: We'll Extradite Fugitive Khavari Banker from Canada
2- EU Once Again Warns Turkey against Reviving Death Penalty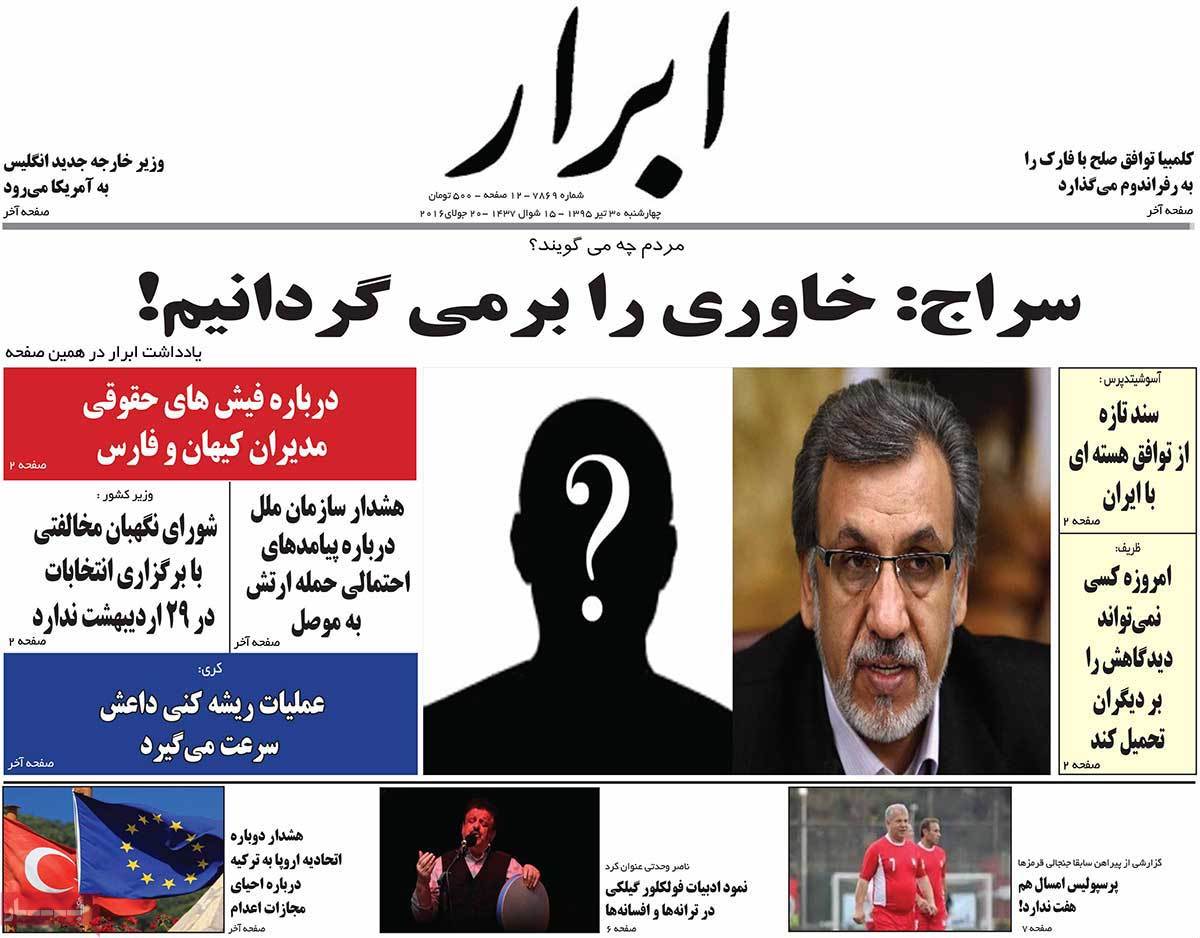 ---
Abrar-e Eqtesadi:
1- Iran Starts Talks with German Oil Giant
2- Iran Ready to Export Technical Engineering Services to Africa
3- Reinforcement of Iran-China Industrial Cooperation
4- Russia's $2.4bn Loan to Iran
5- Europe Can Prepare Grounds for Generation of 30 Gigawatts of Power in Iran
6- Iran and Austria to Sign Railway MoU
7- Foreign Investments Change Their Path from Turkey towards Iran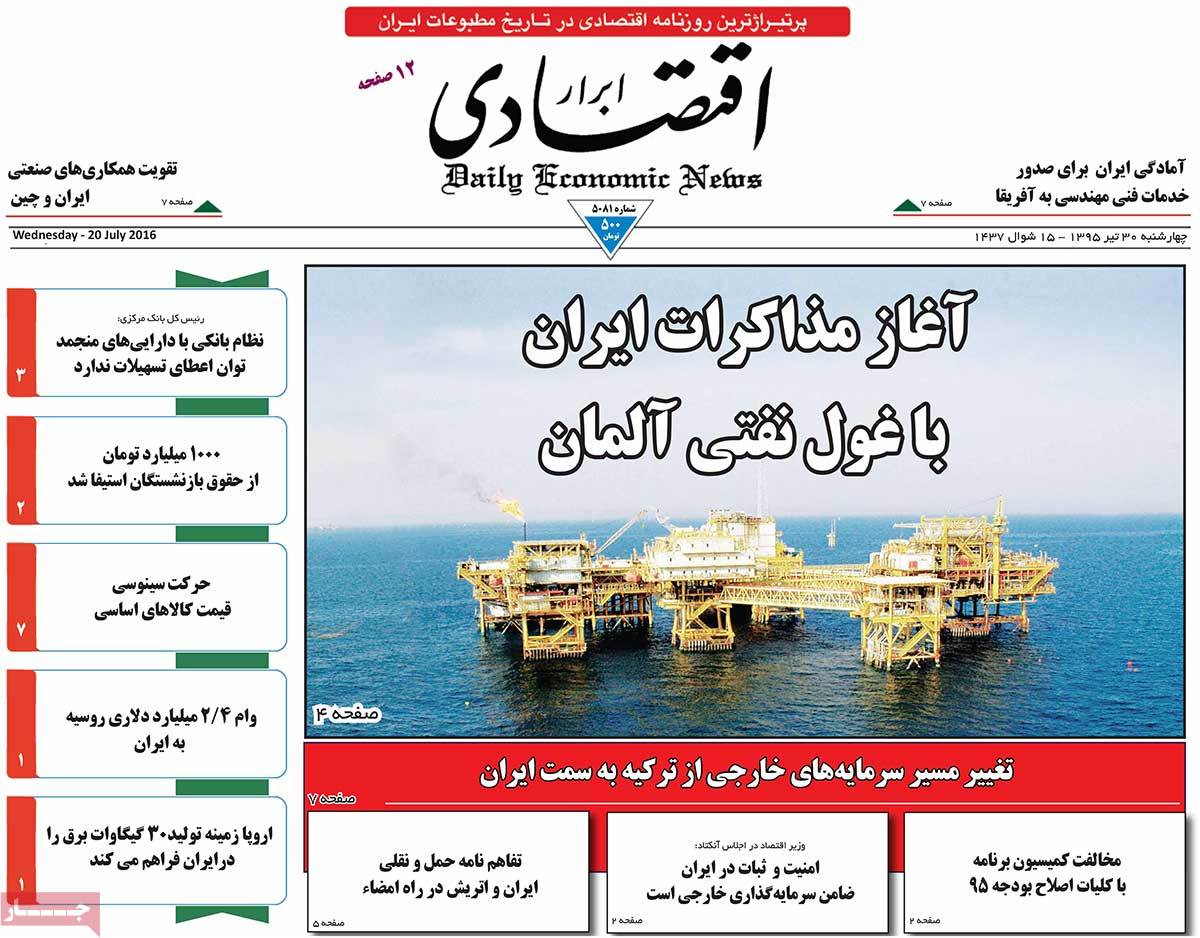 ---
Aftab-e Yazd:
1- AP's Good News for Iranians: Duration of Iran's Nuclear Limitations Decreased
2- Touchy Suspects [those who attacked Saudi embassy in Tehran, addressing the court]: If We Go to Prison, We'll Die!
3- Zarif: I Don't Like to Talk about Ahmadinejad
---
Arman-e Emrooz:
1- Zarif: These Days, Many People Claim to Be My Relatives!
2- Each Day, 53 Iranians Are Killed in Road Accidents
3- We Should Send Musicians to Seminaries: Culture Minister
4- Opponents of Gov't Expect to See Miracles!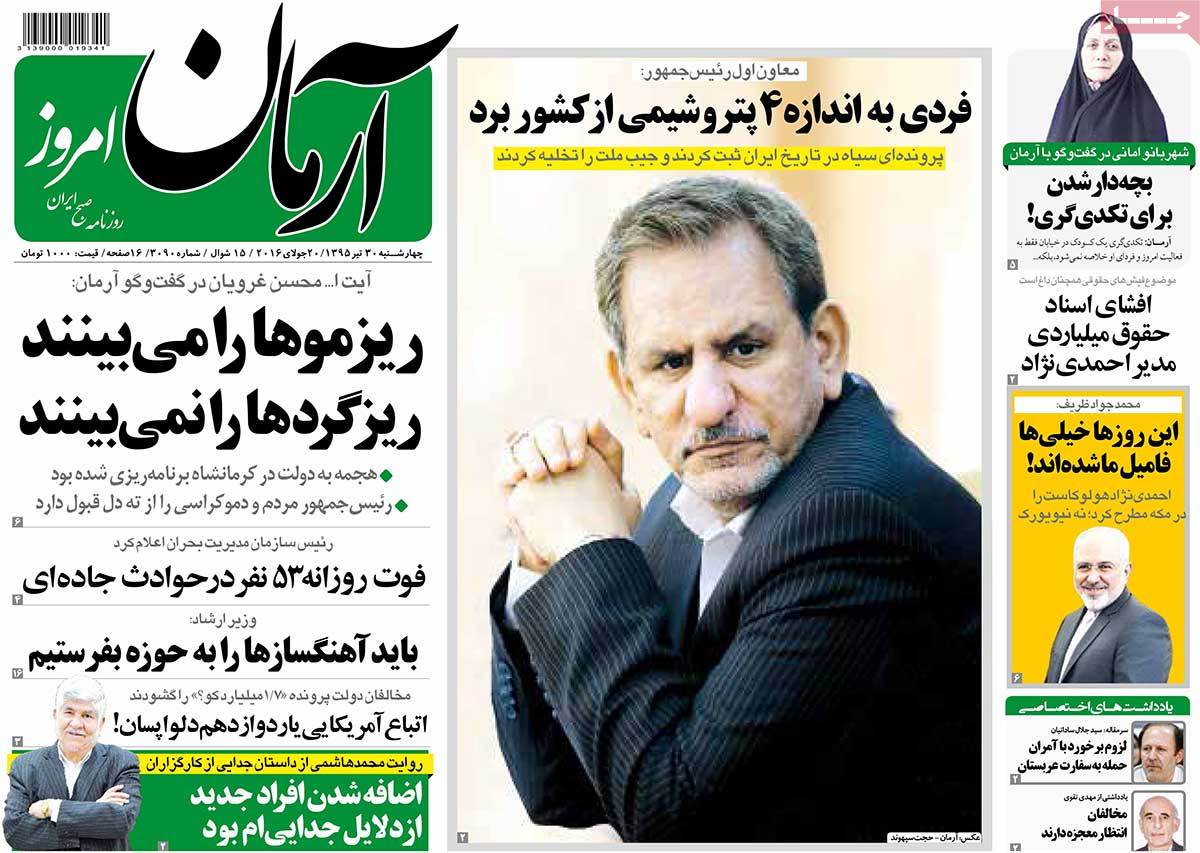 ---
Asrar:
1- Nuclear Talks Were Imposed on the US, Not on Iran: Salehi
2- Opponents of Arak Reactor Are Now Purchasing Heavy Water from Iran: Zarif
3- 120 Civilians Massacred in US Coalition Airstrikes on Aleppo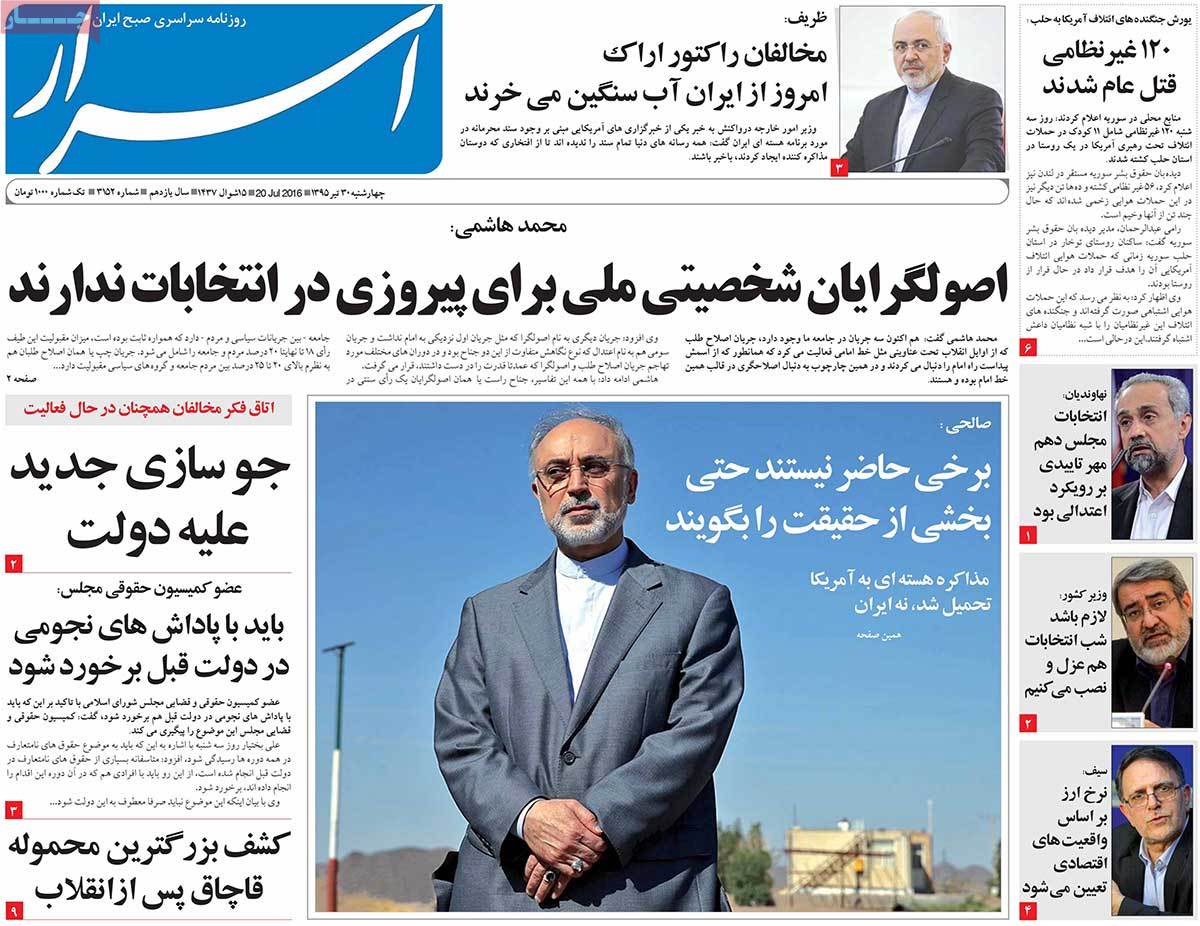 ---
Etemad:
1- 2 Financial Corruptions Revealed: They Belong to Previous Gov't
2- Iran Expresses Regret over Tensions in Kashmir
3- Expert: India Will Accept Iran's Mediation on Kashmir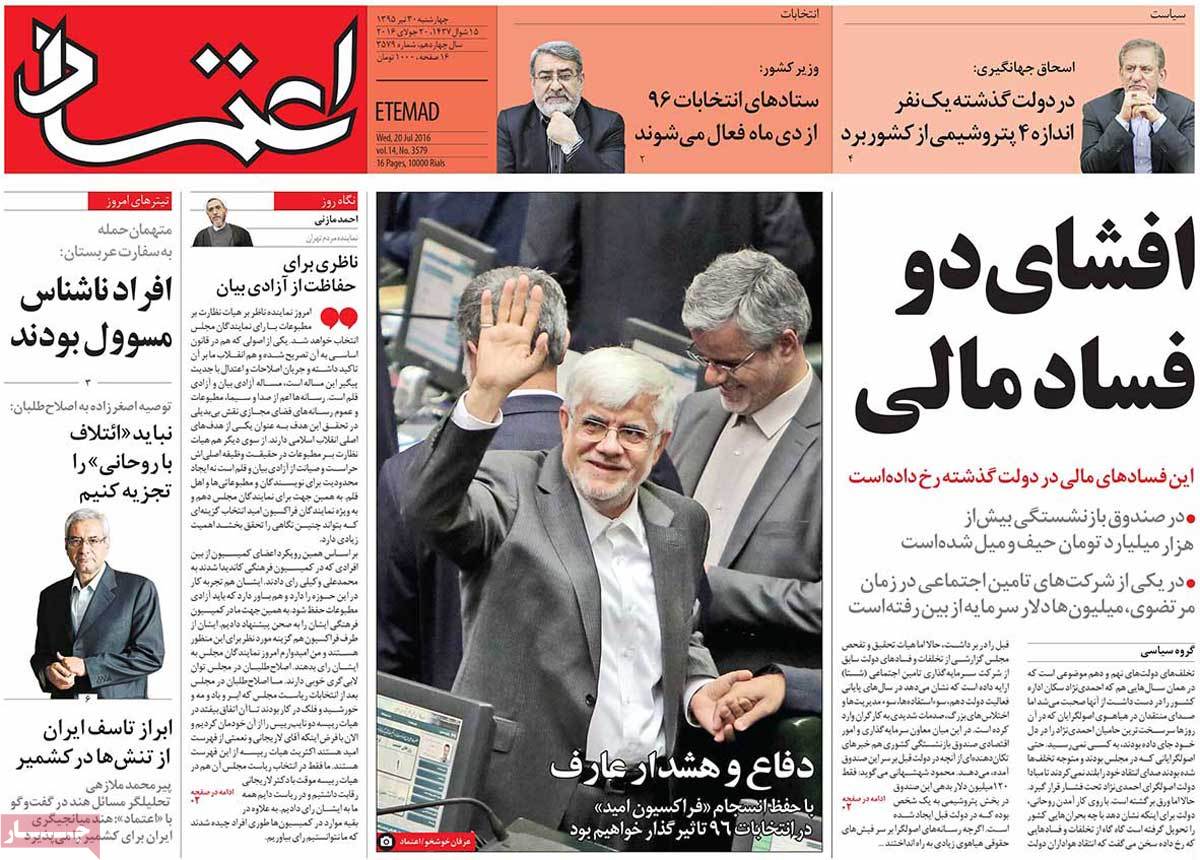 ---
Ettela'at:
1- UN Urges Group 5+1 to Fully Implement JCPOA
2- Government Voices Its Support for Power Generation Using Clean Methods
3- ISIS's Attack on German Train
---
Haft-e Sobh:
1- Futile Fuss for a Kindergarten [The report criticizes the shut-down of a kindergarten with mixed swimming pool, after Tasnim broke the news]
2- Seizure of Biggest Smuggled Cargo in Iran's History
3- A Report on Iranian Actors Who Have Immigrated to Play in GEM TV
---
Hamshahri:
1- World Mayors and City Councils to Convene in Tehran's Milad Tower
2- US Worried about Its Nuclear Bombs in Turkey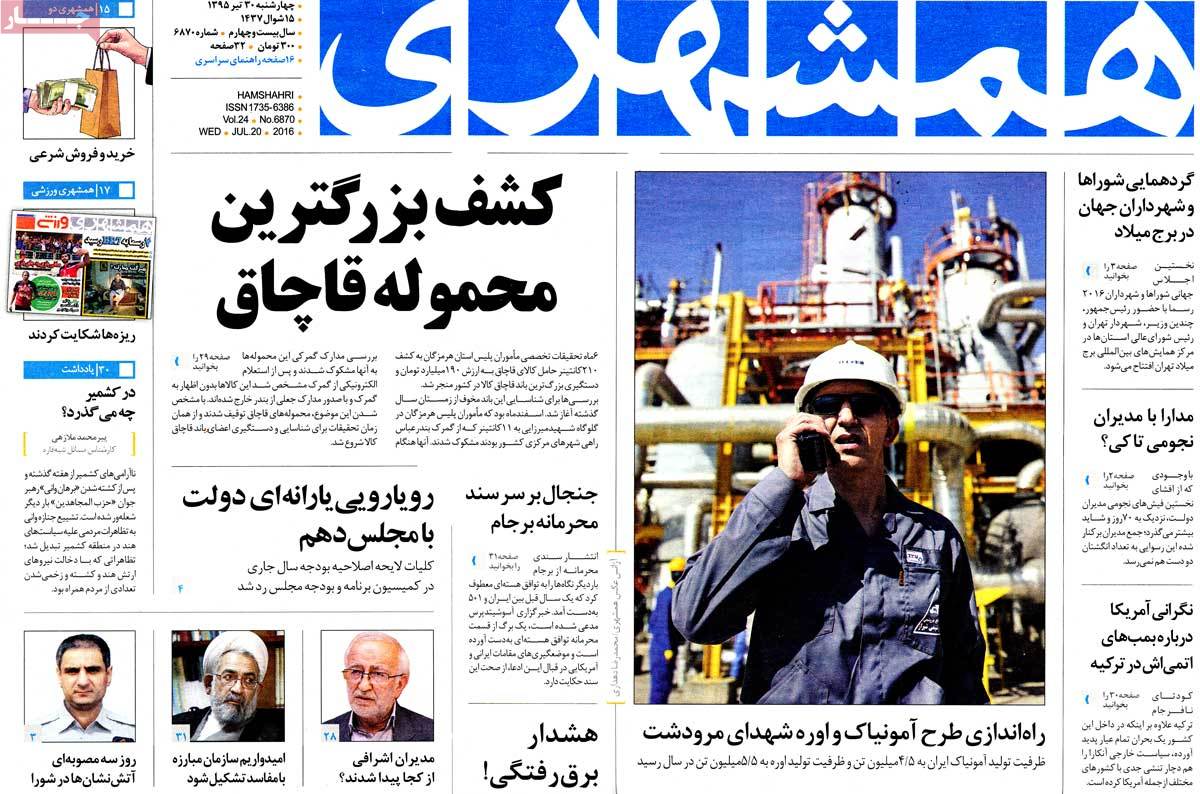 ---
Iran:
1- Seminary Students Who Go to Iran's Northern Beaches for Islamic Guidance
2- Ban's Deputy Admits: We've Received No Information on Iran's Violation of UNSC Resolution 2231
3- UN Calls for Sending Observers to Turkey in Reaction to Erdogan's Purges after Coup Attempt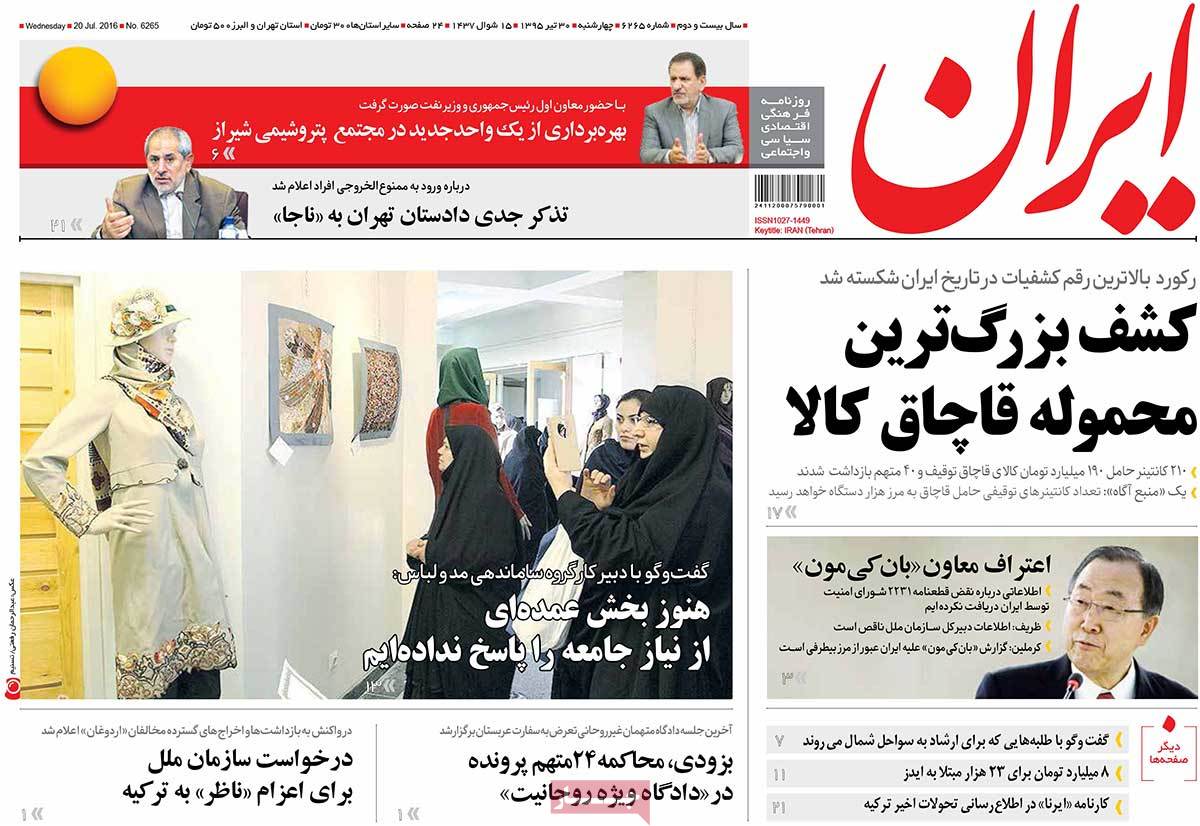 ---
Jame Jam:
1- Iran Complains about US Violation of Its Commitments in Vienna Meeting of JCPOA Commission
2- Iranian Silicon Valley
3- 6 Inmates Escape Prison in Hollywood Style
---
Javan:
1- Day of Actions against Corruption: IRGC's Operation Leads to Arrest of Top Banking Executives
2- Ban Ki-moon's Report Written by American Pen
3- American Brands Gradually Increasing in Iranian Markets
4- Zarif's Satisfaction with [AP's] Disclosed Document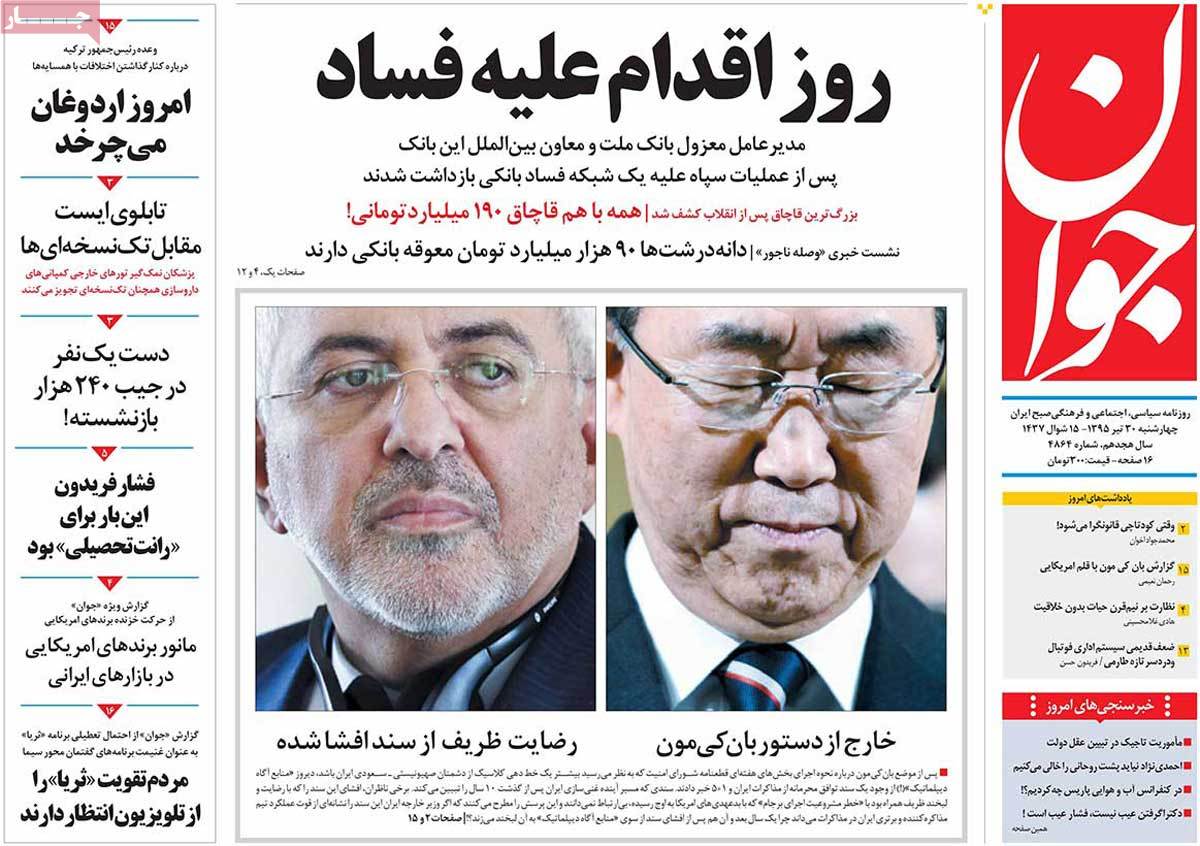 ---
Jomhouri Eslami:
1- Iran, Russia, China, and the US Show Reaction to Ban's Anti-Iran Report on JCPOA Implementation
2- Iran and France Sign Oil Cooperation Deal
3- Indian Police Slaughtering Kashmiri Muslims
4- $3.5bn Foreign Contract Signed in Energy Industries after JCPOA
5- Erdogan Has Changed His Approach Not as Sign of His Power: He Was Forced to Do So
6- From Where UN Secretary-General Receives Orders [Editorial]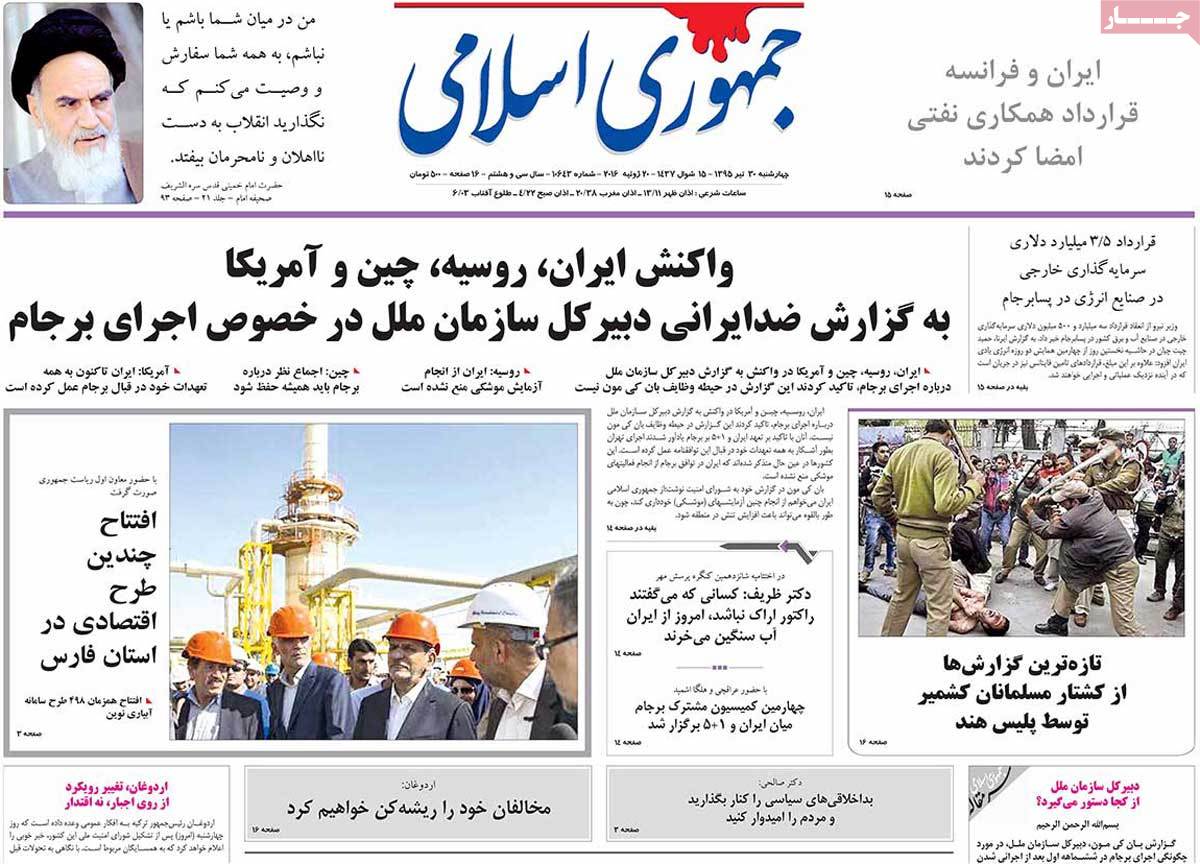 ---
Kayhan:
1- Result of One-Sided Implementation of JCPOA Commitments: US Claims Iran Has Violated JCPOA!
2- Will Erdogan Call for Assad's Help after 5 Years of Futile Adventure?
3- Women Hold Protest Rallies in 10 Pakistani Cities against Slaughter of Shiites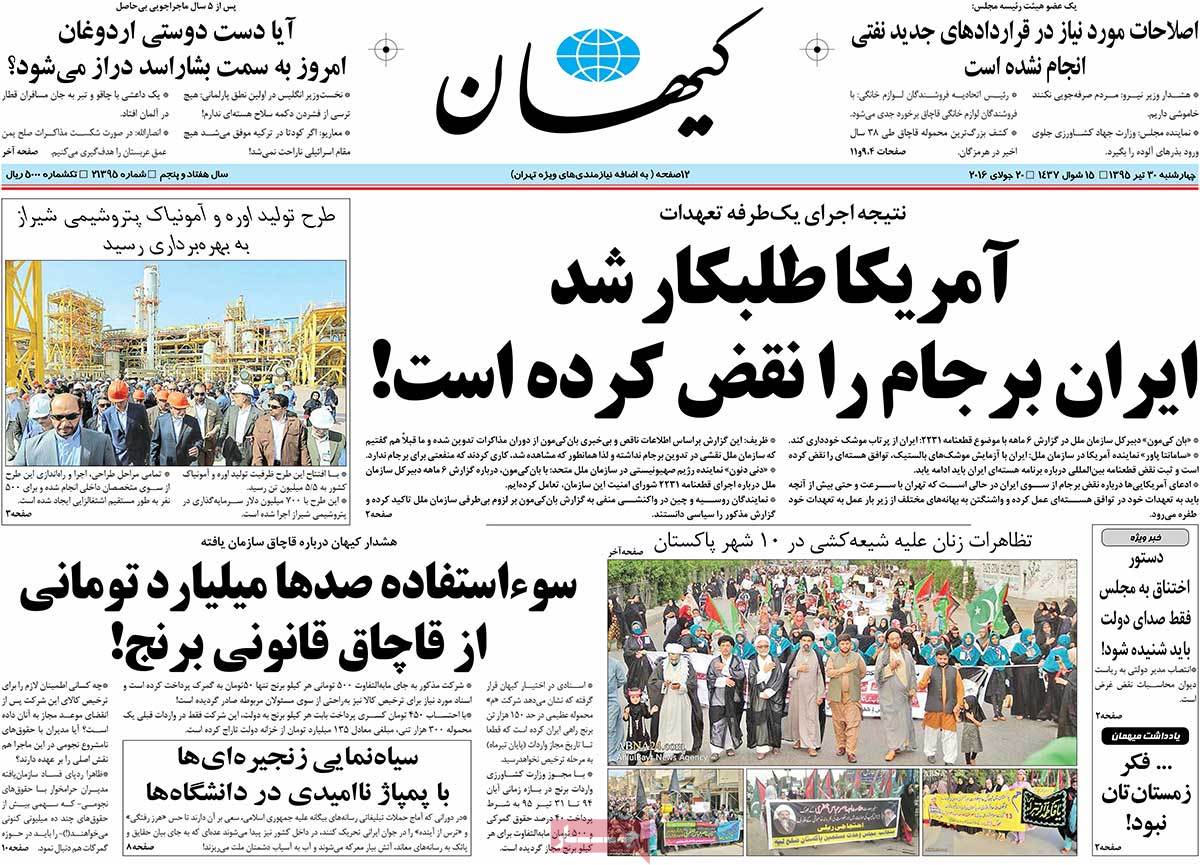 ---
Khorasan:
1- 110 Villages in North of Sistan and Baluchestan Province [in Southeastern Iran] Surrounded by Sand Dunes
2- Ms Prime Minister's Yes to Atomic Bomb
3- Lut Desert Delights the World: A Report on Inscription of Lut Desert in UNESCO World Heritage List as Iran's First Natural Site in the List
---
Resalat:
1- Key to Resolution of Economic Problems Lies in Iran: Expert
2- Results of West's Proxy Wars: Security Crisis in Europe
3- Ban's JCPOA Report Compiled Based on Flawed Information: Zarif
---
Sayeh:
1- Oil Contract Signed with France's IFP
2- Erdogan: People Want These Terrorists Dead!
---
Sepid:
1- Final Shot on Cancerous Cells: 29-Year-Old Iranian Scientist Has Made $500m Investment on Fight against Cancer
2- Getting Rich Is Most Stupid Motivation for Becoming a Doctor: Iranian Professor
---
Shargh:
1- We're Victims: Claim Raised by Those Who Had Attacked Saudi Embassy in Tehran
2- Iran, Russia, and US on Same Boat against Ban's JCPOA Report
3- IRGC Intelligence Organization Makes Economic Arrests
4- Saeid Jalili and Ahmadinejad Are Symbols of the Same Way of Thinking
---
Sobh-e Now:
1- [Deadly] Clash over Water in Boldaji [southern Iranian city]
2- American News Agency Unveils Secret JCPOA Document
3- Apple Forced to Establish Representative Office in Iran: Telegram and iPhone Servers En Route to Iran?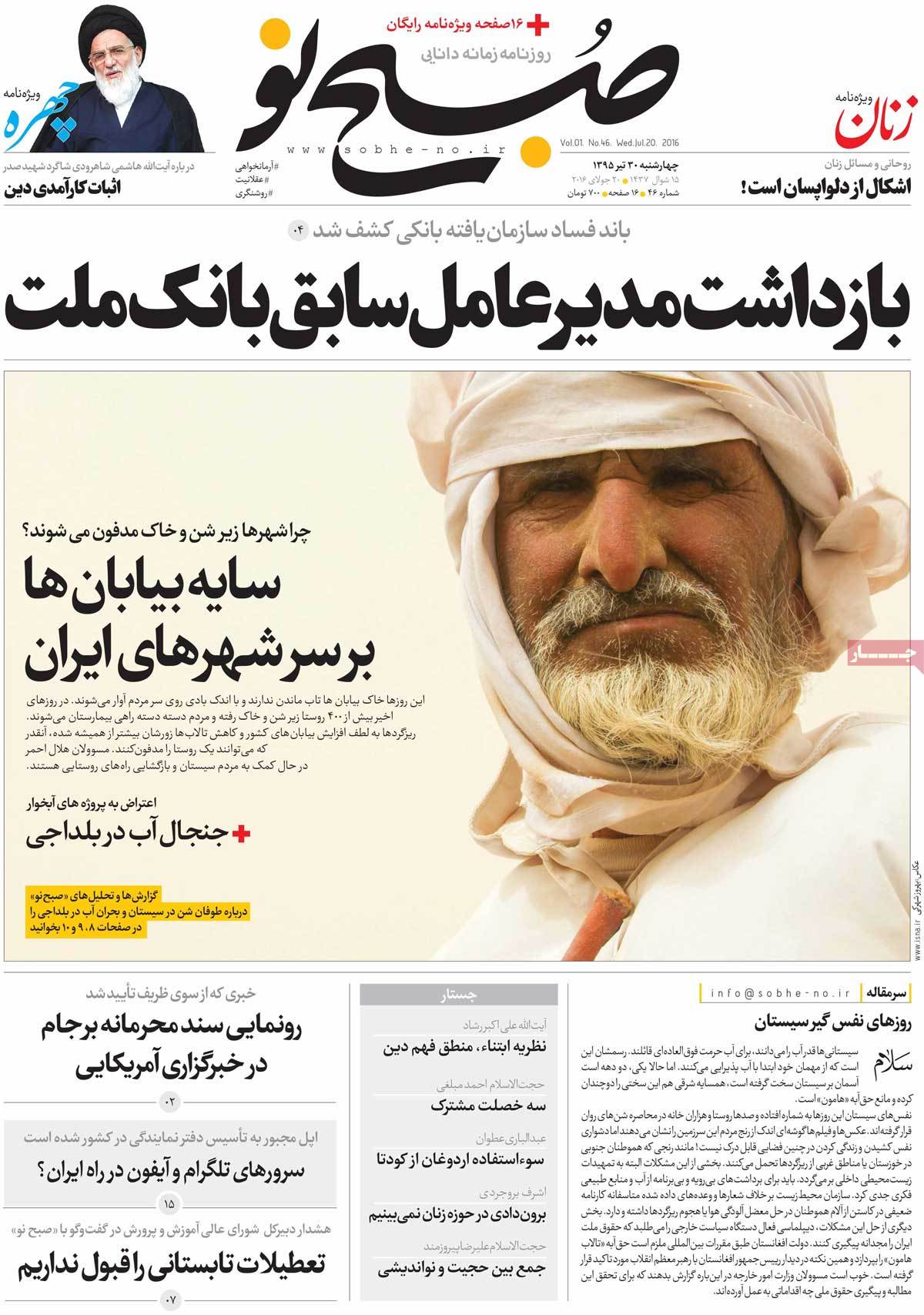 ---
Vaghaye Ettefaghieh:
1- Bloody Clash over Water [in Boldaji]: Have Officials Taken Environmental Crises Seriously?
2- Here Is Aleppo: A City That Is Used to War
3- No One Knows about Honours Achieved [by Iranian nuclear negotiators]: Zarif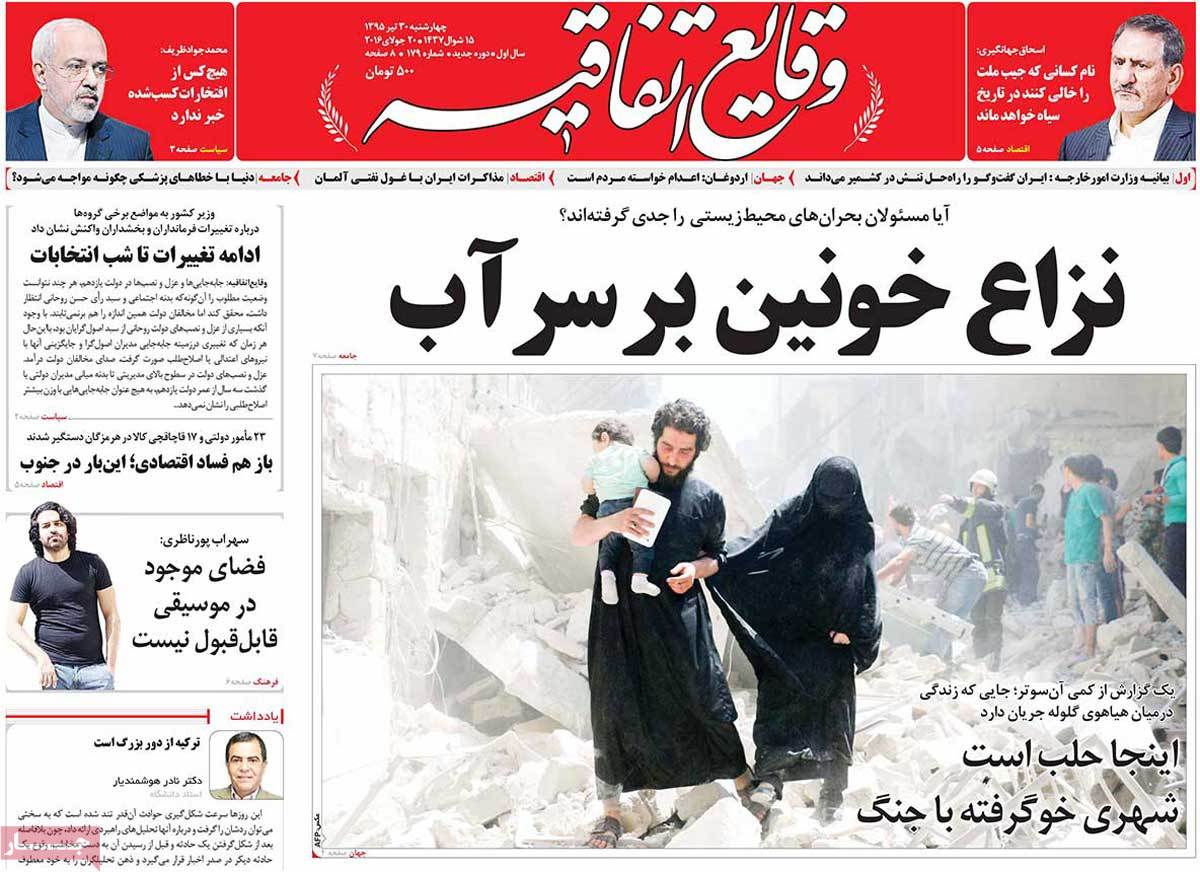 ---
Vatan-e Emrooz:
1- Dr Fereydoun? Illegal Admission of Rouhani's Brother to Shahid Beheshti University
2- Those Who Harassed 3 Iranian Teenagers in Jeddah Have Not Been Tried Yet
3- Why Saudi Arabia's Name Was Removed from Confessions of Terrorists Recently Arrested?
4- Erdogan Becomes Friendly with Neighbours!
5- Curfew Continues in Kashmir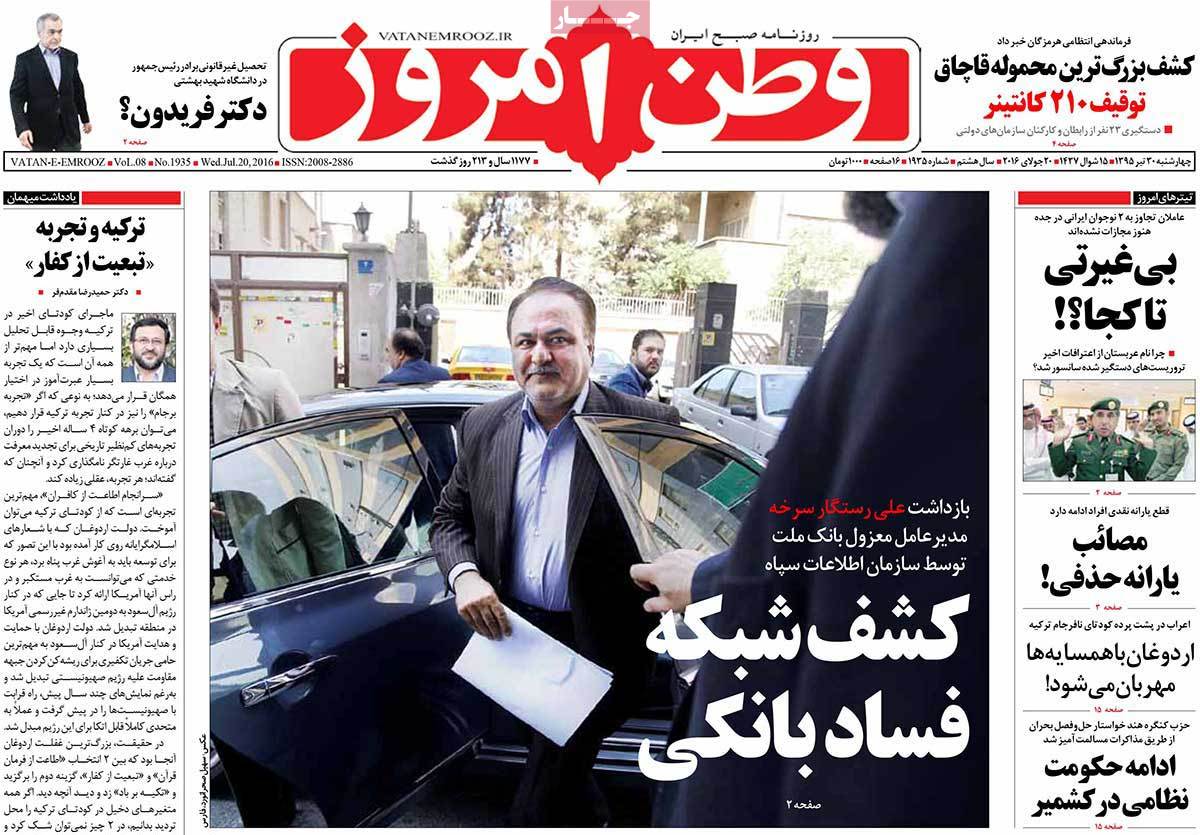 By Iran Front Page