Newspapers on Tuesday widely covered the recent remarks by Iranian Foreign Minister Mohammad Javad Zarif who had criticized the UN Secretary General Ban Ki-moon for his 'biased' report on JCPOA implementation.
They also highlighted the first court hearing of those who attacked the Saudi embassy in Tehran.
The post-coup developments in Turkey including the Turkish President Recep Tayyip Erdogan's purge of his opponents were also a top story today.
The abovementioned issues as well as many more are highlighted in the following headlines:
Abrar:
1- Mr President! People Should Talk!  [In reaction to people's complaints about economic conditions, Rouhani had told them 'you don't listen to me!']
2- Economic Prosperity and Employment Are Government's Top Priorities: Rouhani
3- Was Turkey Coup a Fake One?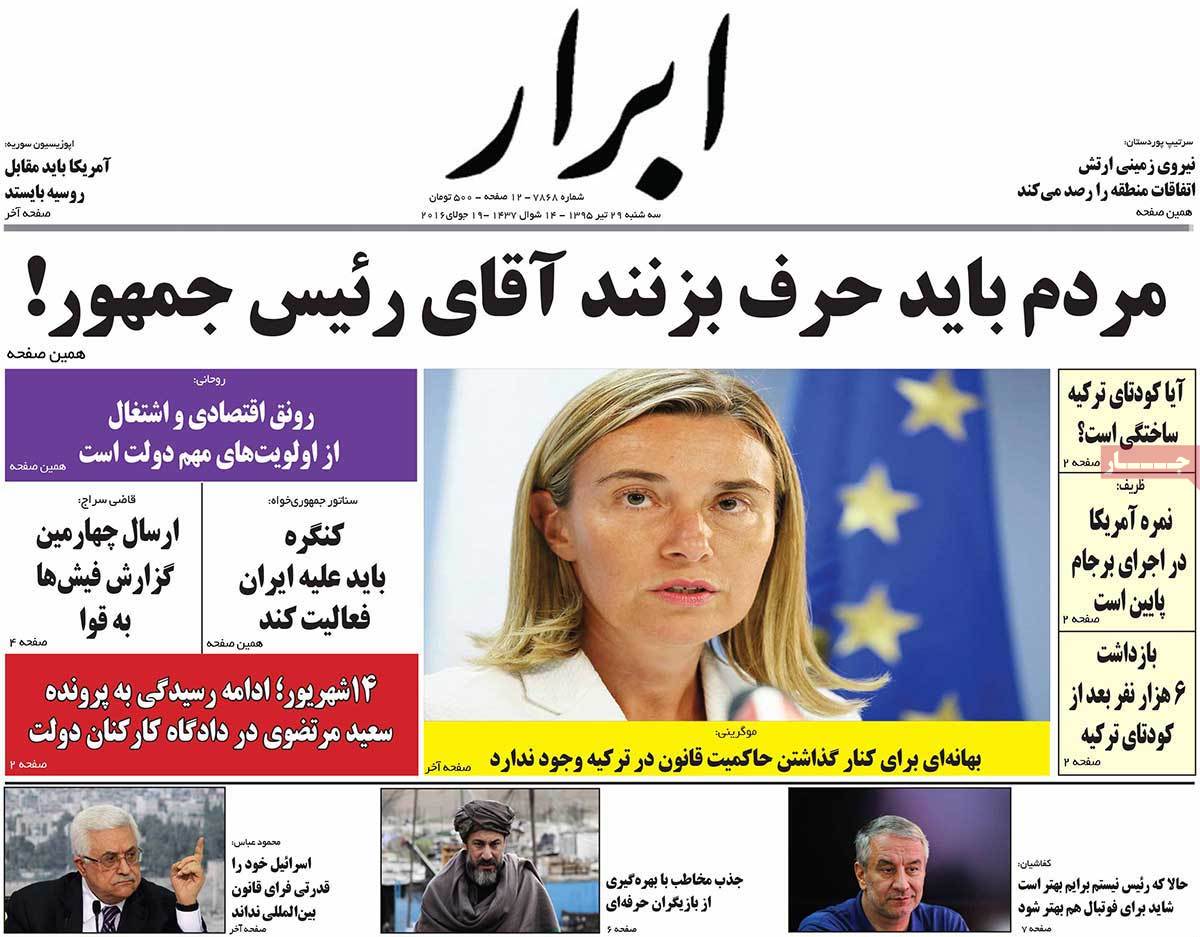 ---
Abrar-e Eqtesadi:
1- Iranian Carpet Breaks Dam of US Markets
2- Iran-EU Trade Talks Enter Second Phase
3- 50 New Planes Added to Iran's Cart
4- Draft of Iran's New Oil Contracts in Final Stages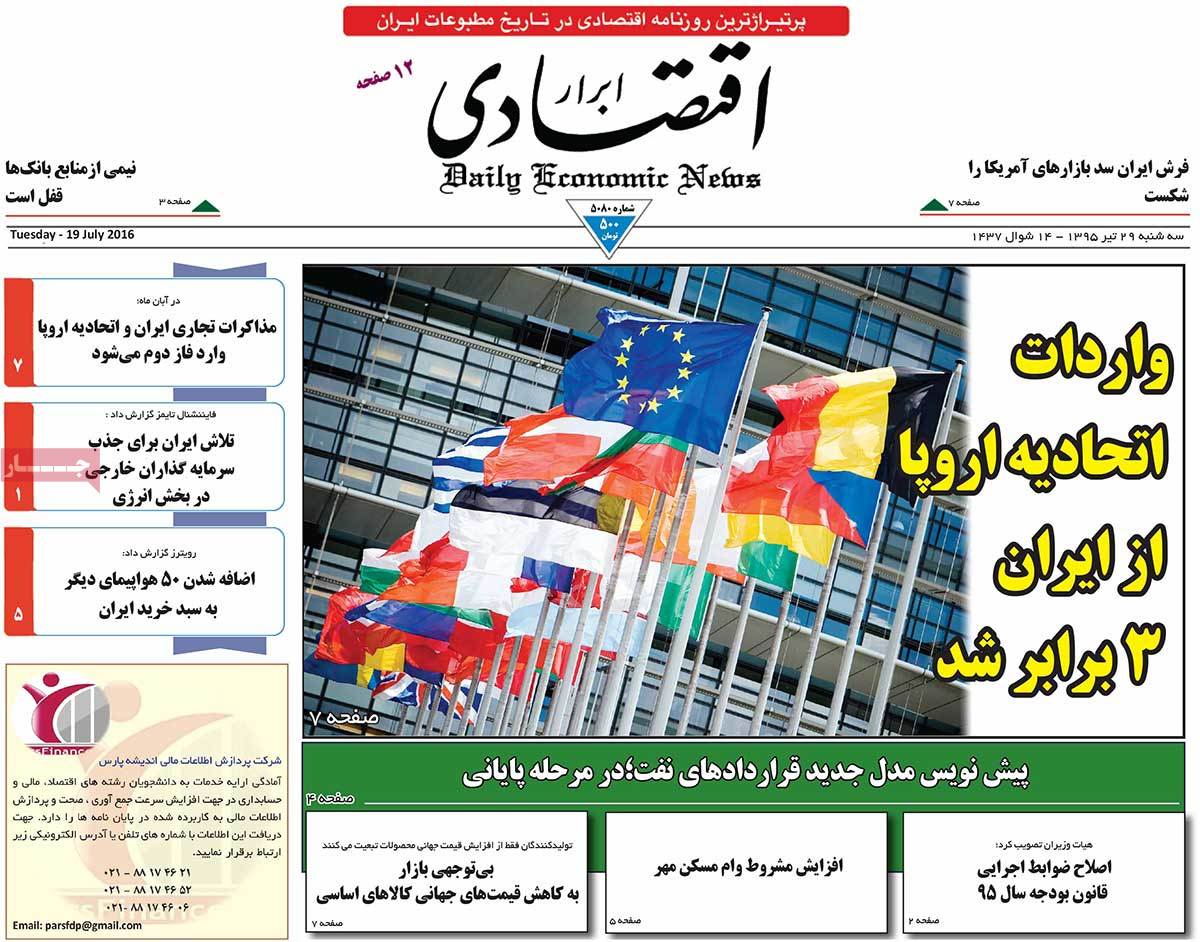 ---
Aftab-e Yazd:
1- Names of Those Who Attacked Saudi Embassy Should Be Disclosed: MP
2- Mogherini Warns Turkey against Execution of Putschists: Forget about EU Accession
3- 110 Iranian Passengers Planes Are Practically Crippled: MP
4- First S-300 Batch Arrives in Iran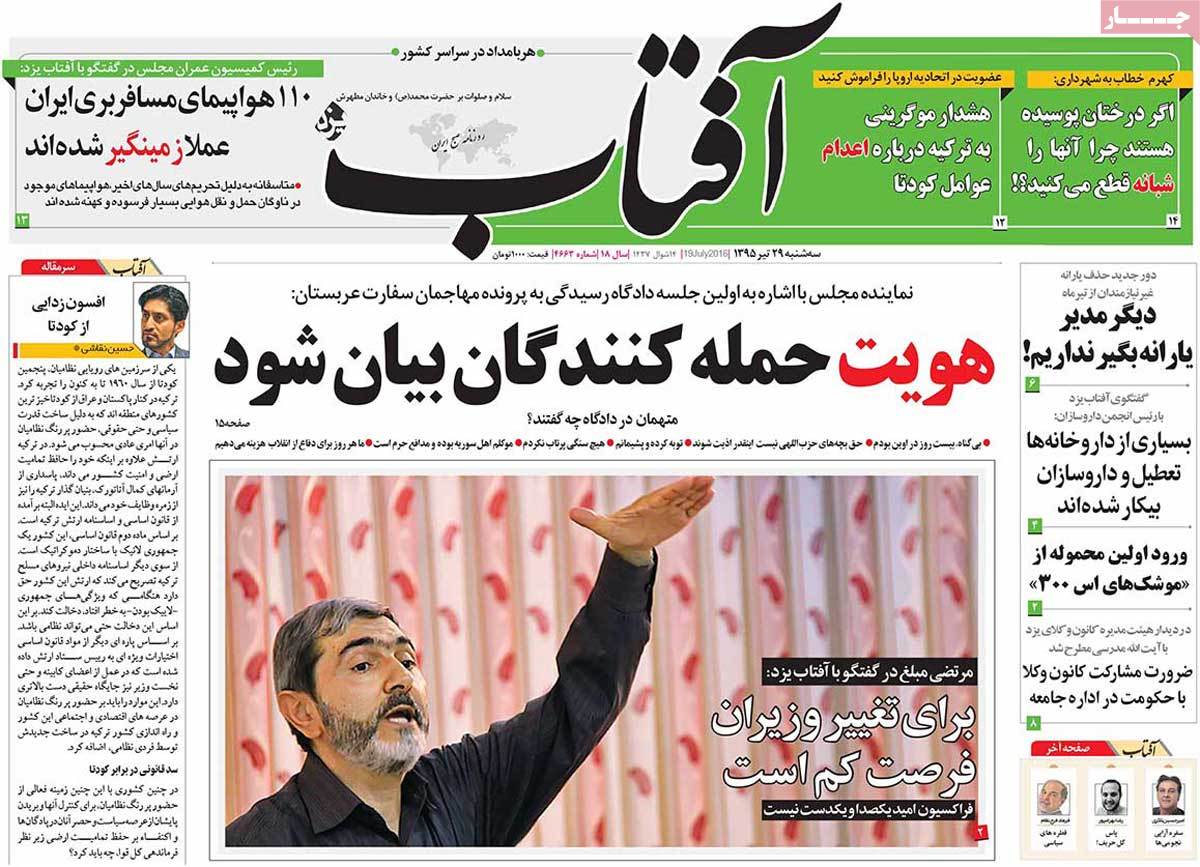 ---
Arman-e Emrooz:
1- Rouhani Hails Return of Stability to Turkey in Phone Call with Erdogan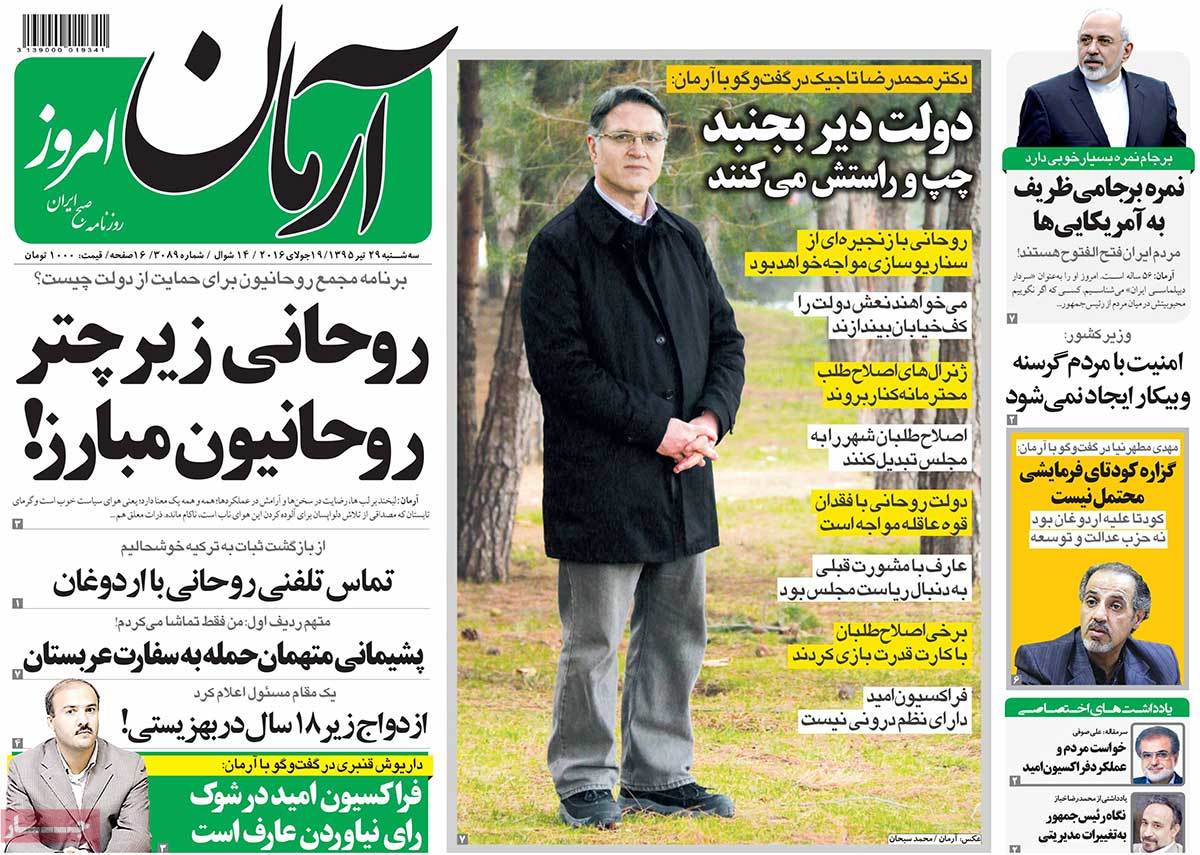 ---
Asia:
1- US and Europe Urge Turkey to Observe Democracy and Human Rights
2- Grounds Are Prepared for Iran's Accession to WTO: Minister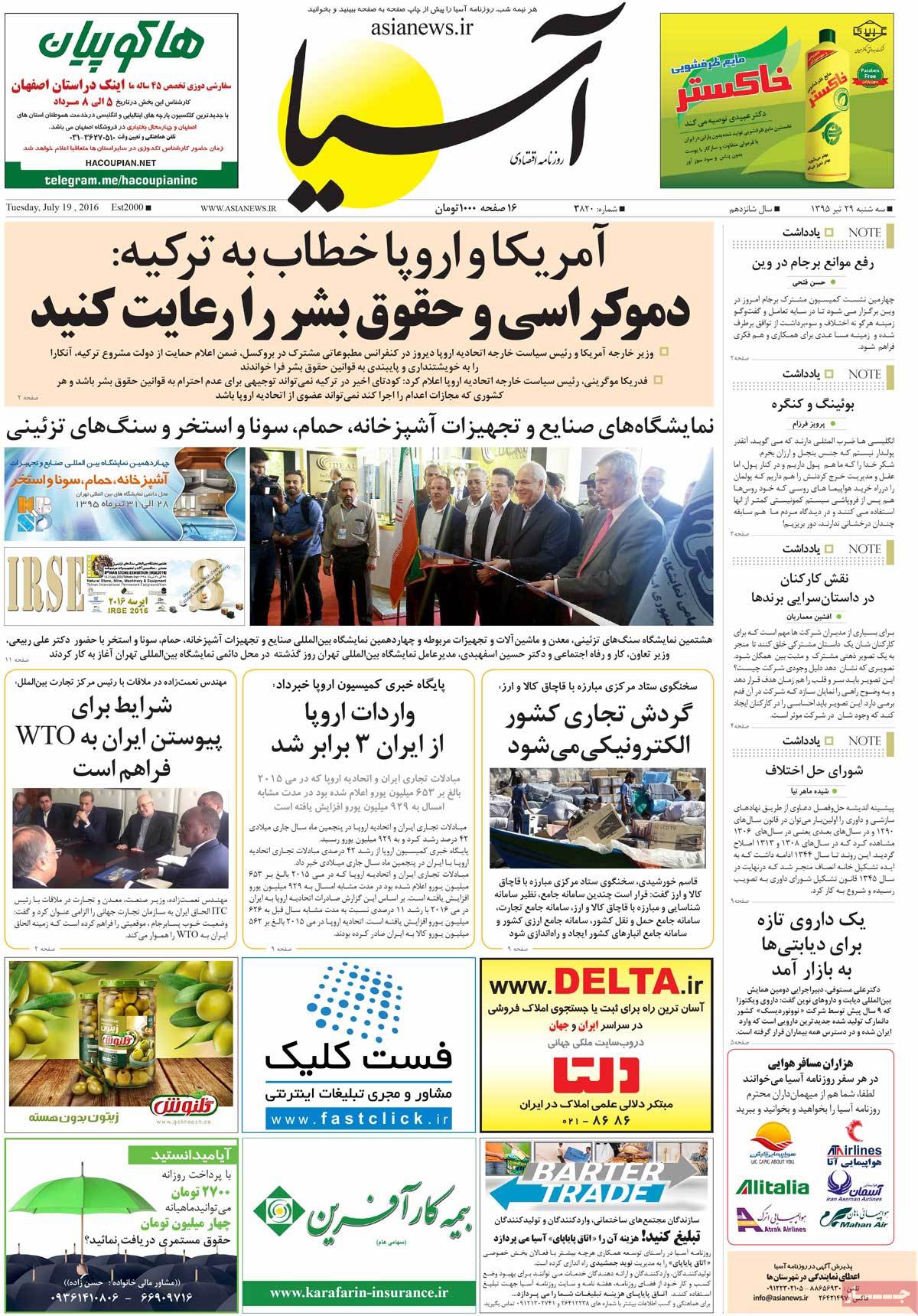 ---
Ebtekar:
1- First Court Hearing: Those Who Attacked Saudi Embassy Pins the Blame on Law Enforcement
2- True Islam Has Nothing to Do with Terrorism: Judiciary Chief
3- Poor Conditions of Iranian People in Storm-Hit Sistan and Baluchestan
4- Zarif Criticizes Ban Ki-moon's Report as Being Detrimental to JCPOA
5- Troubles for the Popular "Apple": Iran to Start Mobile Phone Registration Plan to Confront Smuggling of Goods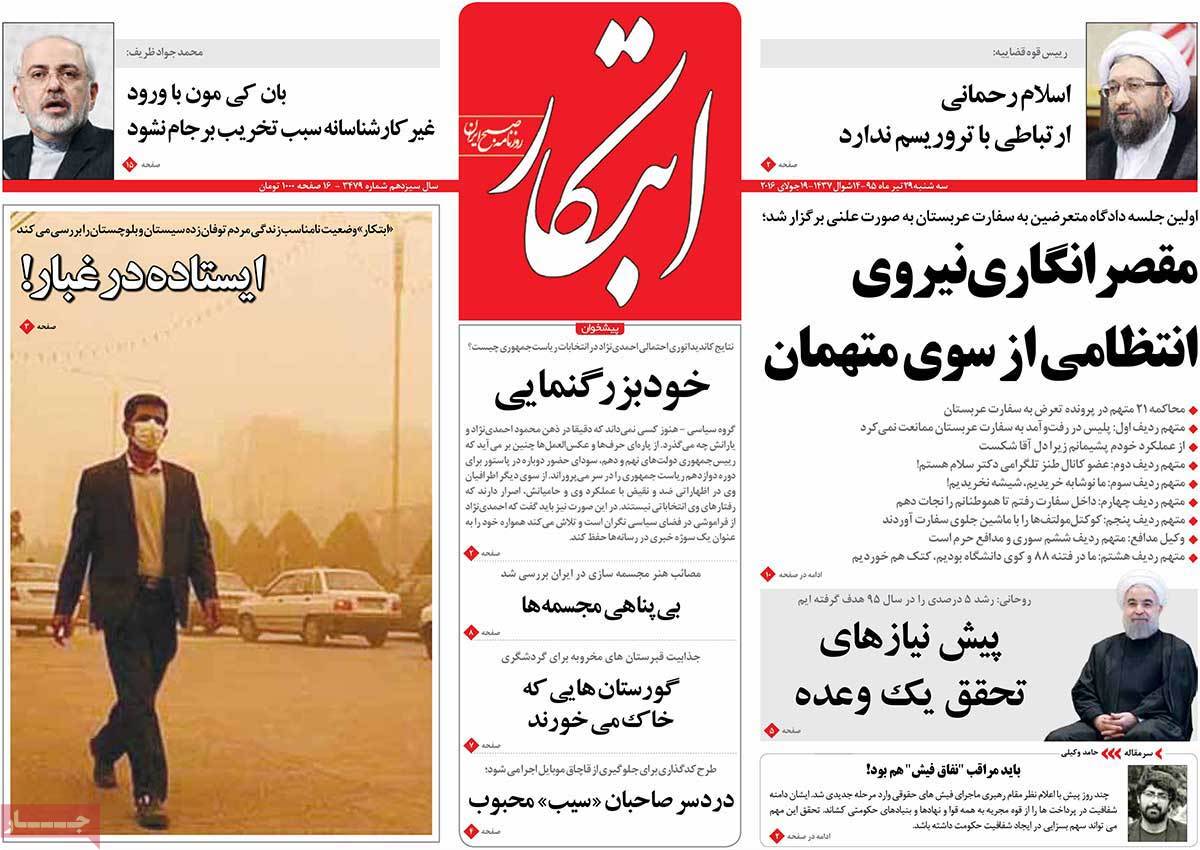 ---
Emtiaz:
1- 1.5m Iranian Men Have Refused to Do Their Military Service
2- Increase in Tendency of Iranians towards Alcoholic Drinks
---
Etemad:
1- Those Who Attacked Saudi Embassy: We Regret What We Did
2- Secretary-General's Political Dance: A Report on Ban's Report on JCPOA Implementation
3- CBI Governor Once Again Promises Iran Will Achieve 5% Economic Growth: We're Ready for Economic Boom
4- Violent Crimes Growing among Iranian Teenagers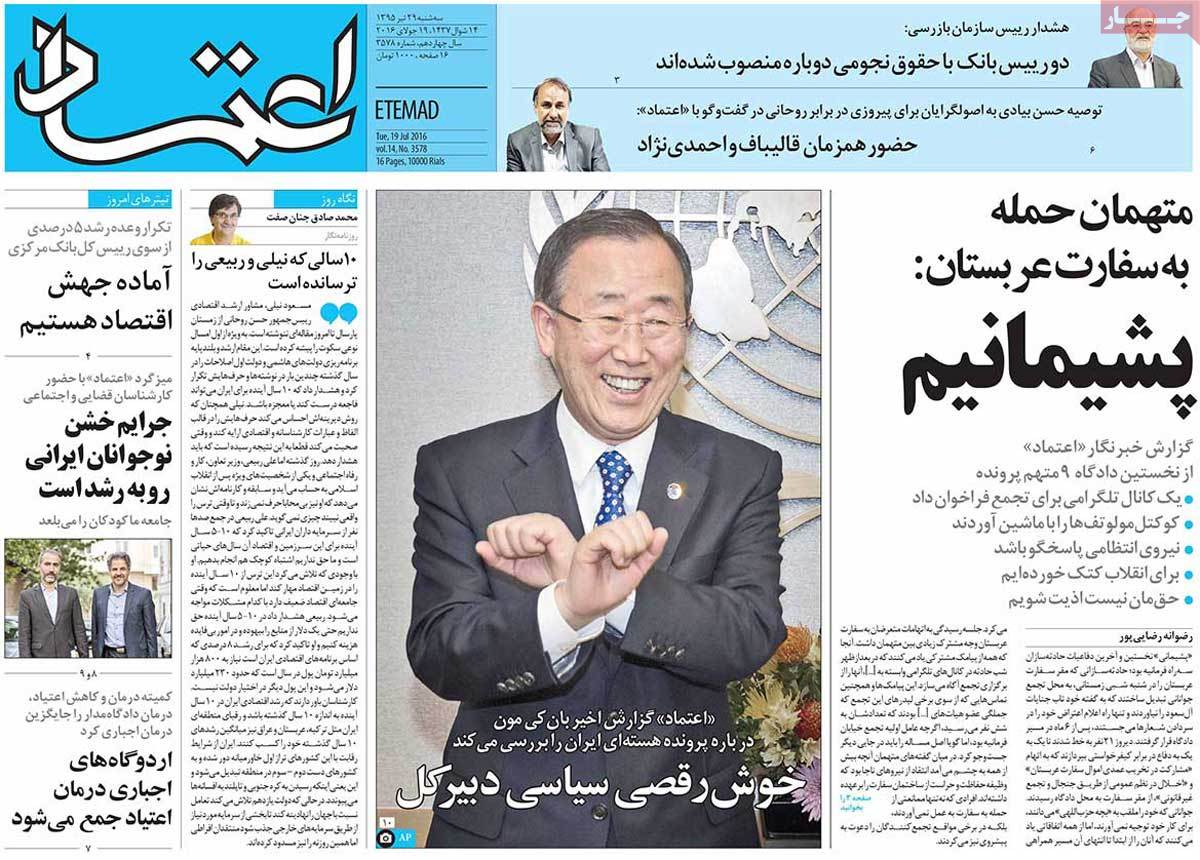 ---
Hemayat:
1- Use of the Word "Islamic Terrorism" Aimed at Promoting Islamophobia: Judiciary Chief
2- Assad Warns of Erdogan's Abuse of Coup
3- All Terrorist Groups Identified and Confronted: Intelligence Minister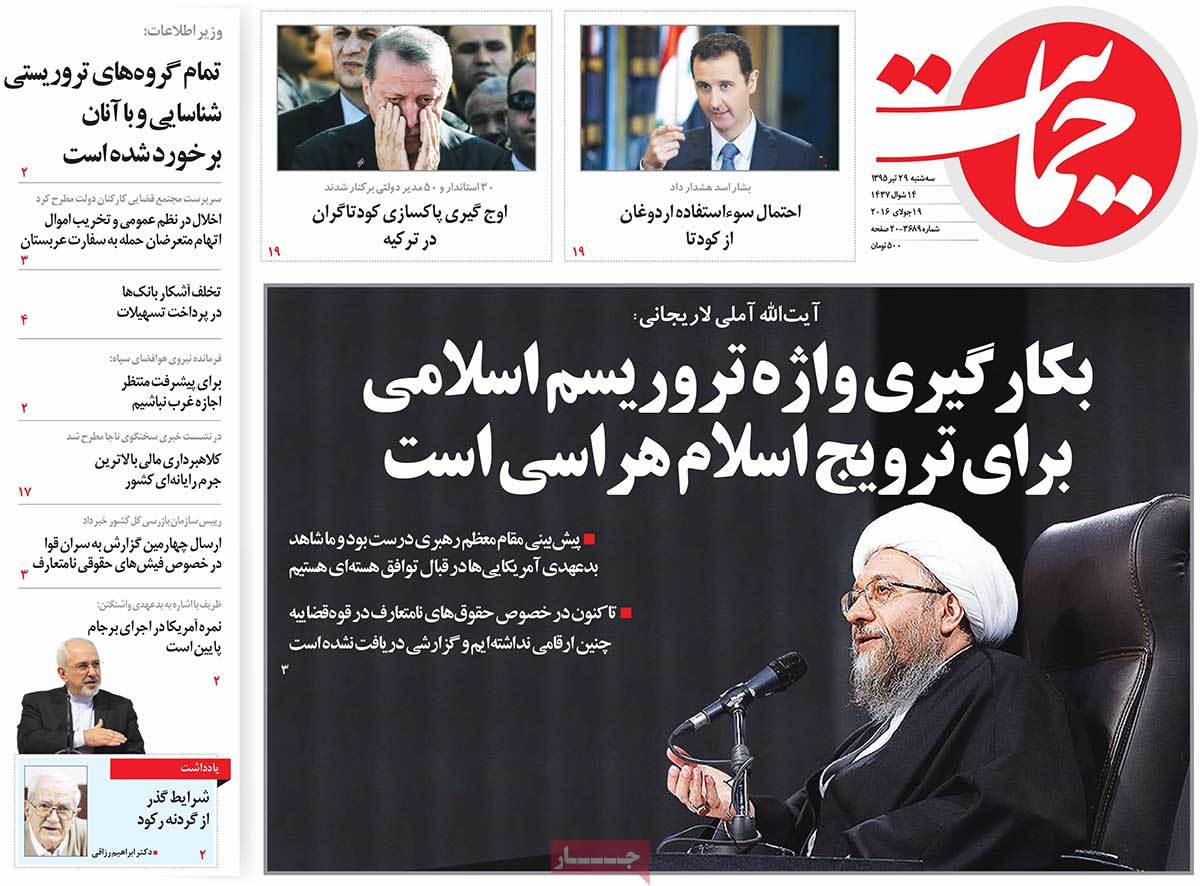 ---
Jame Jam:
1- Tsunami of Arrests in Turkey
2- Al Saud's Dirty Hands: Riyadh's Role in 9/11 Attacks Revealed
3- The Old Wound of Racism, the Historical Pain of the US
4- USA's Low Grade in JCPOA Implementation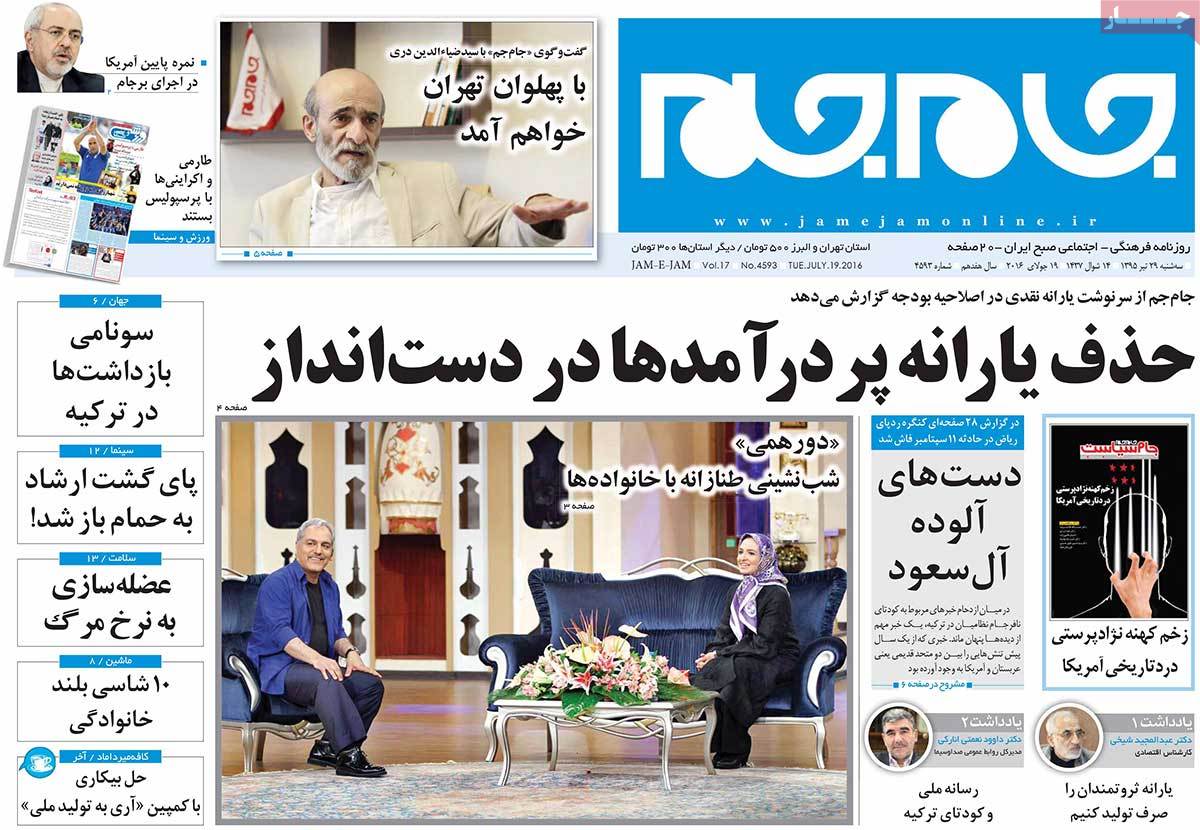 ---
Javan:
1- 2 Executives, Who Had Received Astronomical Salaries, Became Presidents of 2 Banks!
2- No One in Judiciary Receives Huge Salaries: Chief
3- EU: Erdogan Had Prepared List of Opponents in Advance
4- Iranian Government's Plan to Prevent Reduction in US Dollar Price
5- IRGC to Build Houses for 20,000 Deprived Iranians This Year
6- Leader of Kashmir's Muslims Calls for Islamic Countries' Help: 45 Killed and 3,100 Wounded in Past 10 Days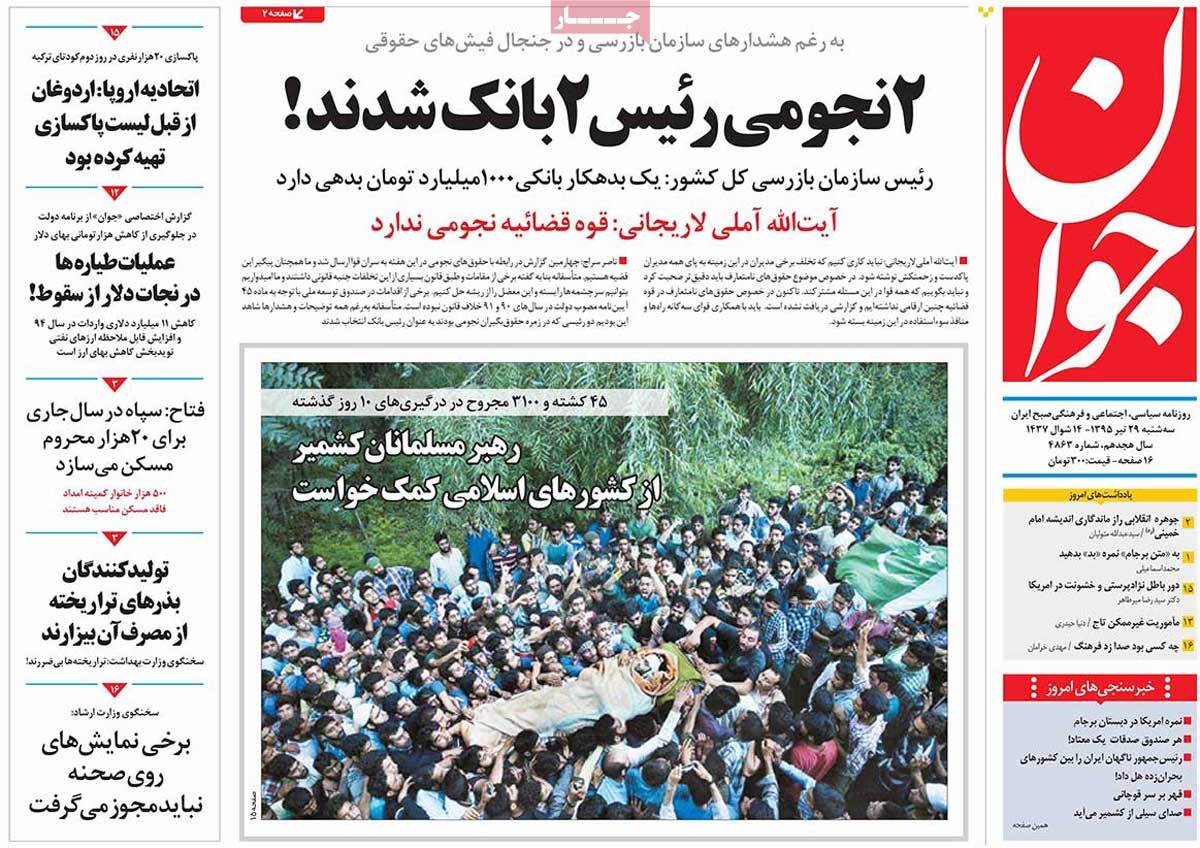 ---
Jomhouri Eslami:
1- Bahraini People Hold Protest Rallies against Dissolution of Al-Wefaq Society
2- Erdogan Begins All-Out Coup against His Opponents
3- 11 Oil MoUs Signed after Nuclear Deal
4- Value of EU's Imports from Iran Tripled
5- JCPOA Maintained Iranian Nation's Honour and Prevented Imposition of New Sanctions: Zarif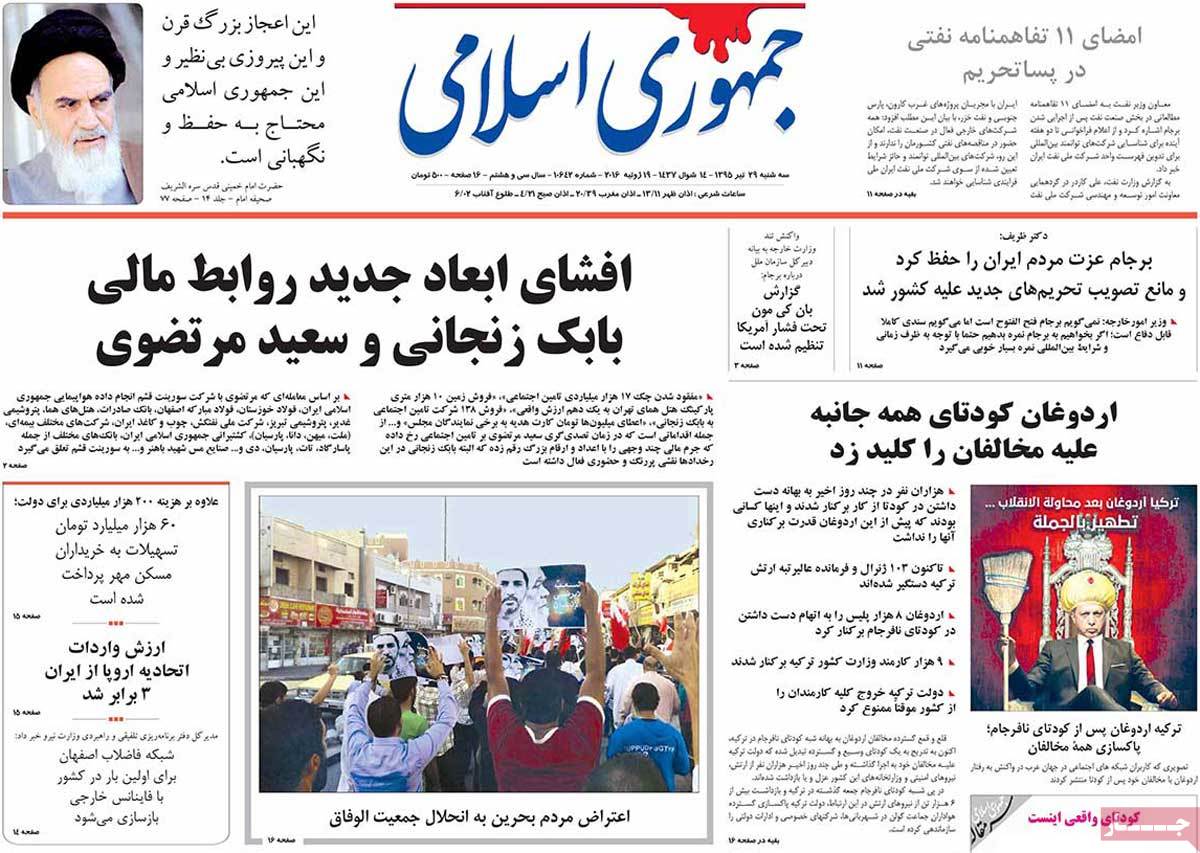 ---
Kayhan:
1- French Security Official: We're on Verge of Civil War
2- Erdogan Starts Purging Tens of Thousands
3- Innocent Muslims of Kashmir Cry for Help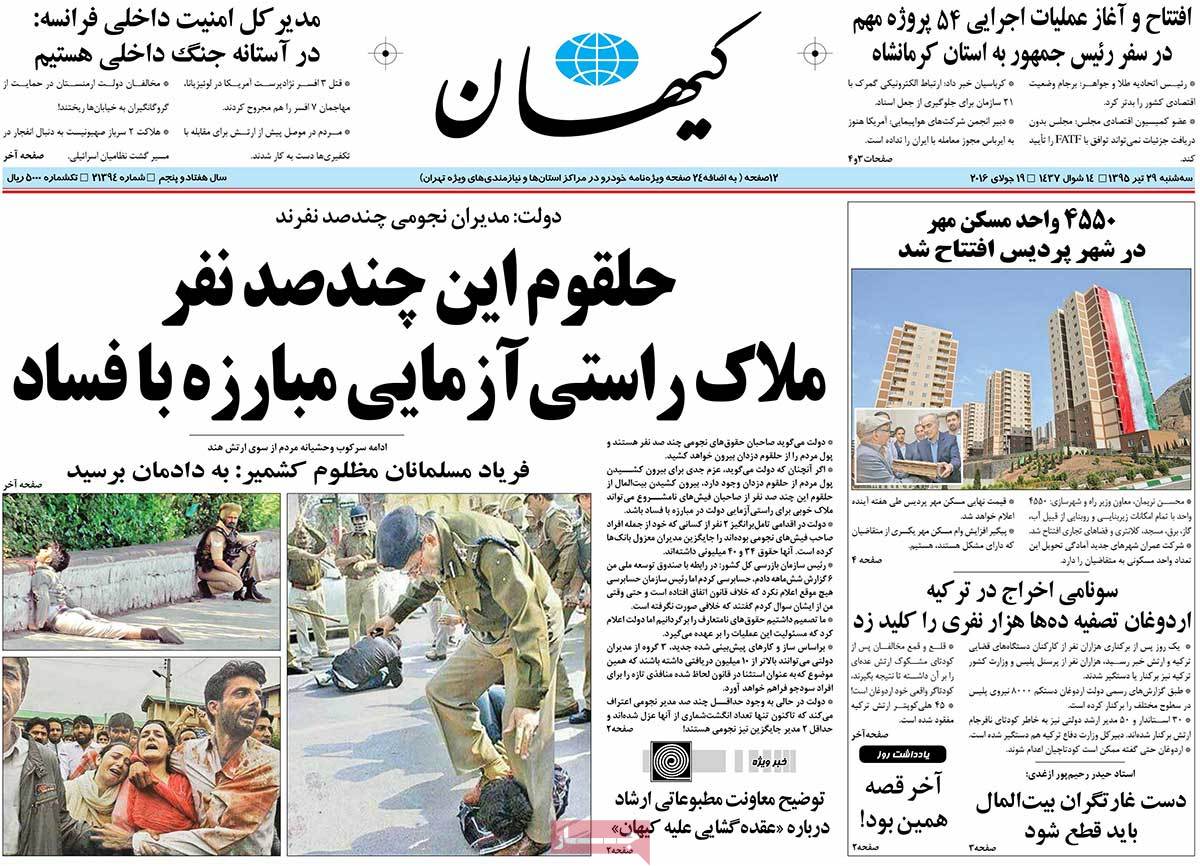 ---
Khorasan:
1- Zarif Urges UN's Ban Not to Damage JCPOA
2- The Route That Will Change Face of Syria's War [Editorial]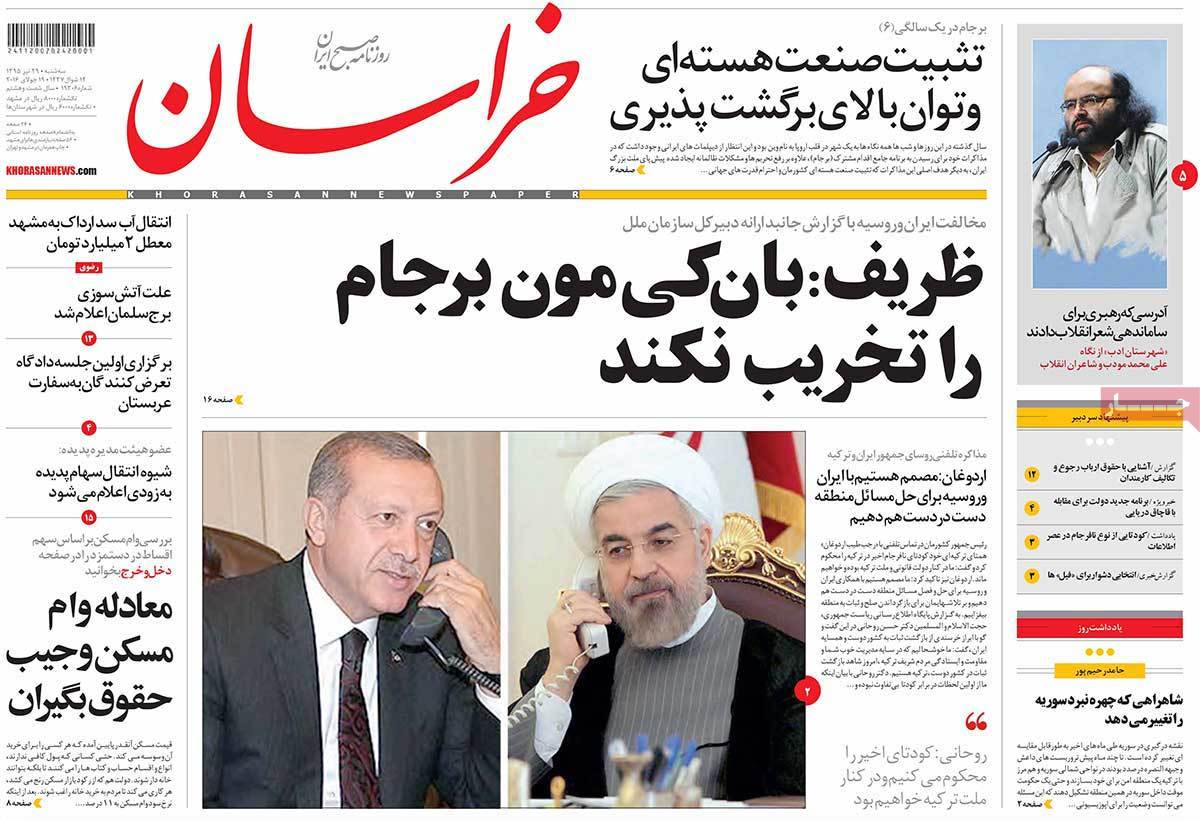 ---
Quds:
1- Poisoned Atmosphere of Telegram Channels and Groups Threatening Iranian Teenagers
2- 400 Villages in Iran's Southeastern Province of Sistan and Baluchestan Buried under Sand
3- Canada Is Serving to Israel by Raising Human Rights Accusations against Iran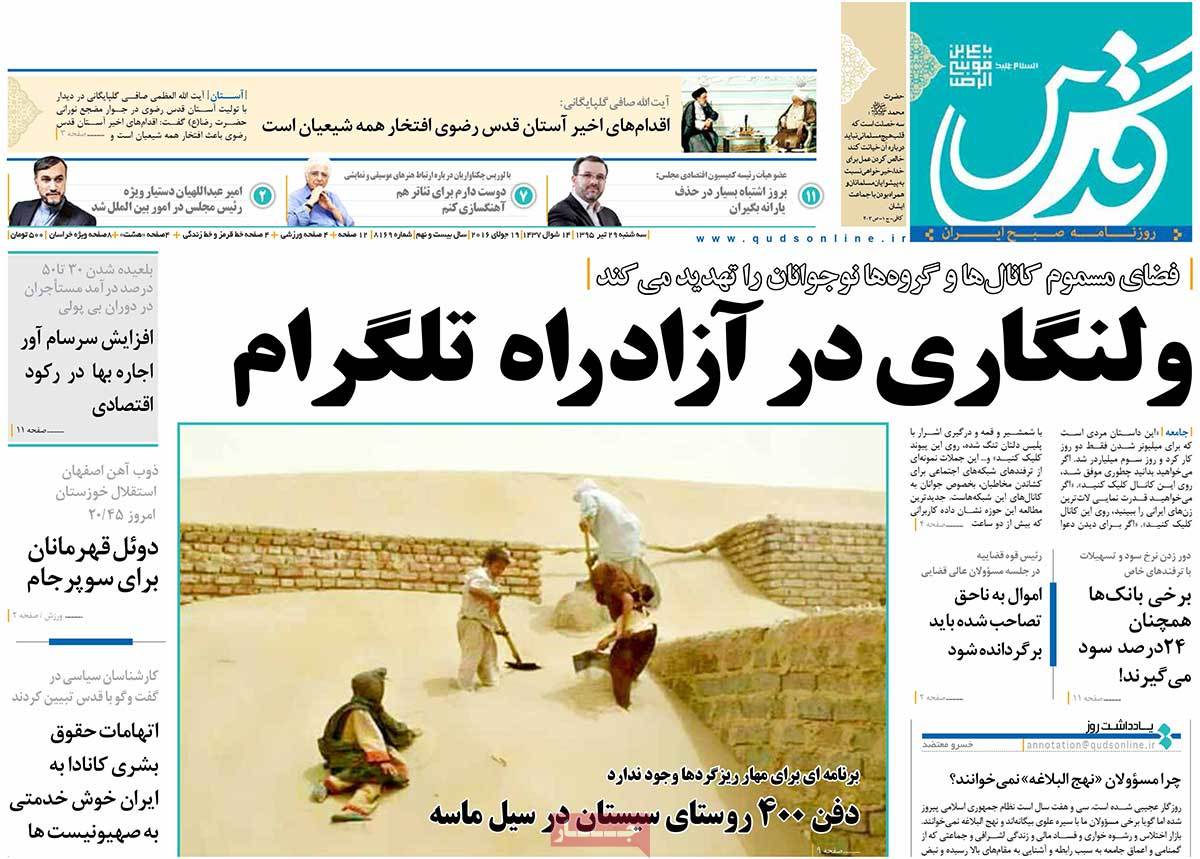 ---
Resalat:
1- Leader's Aide: Repercussions of Proxy Wars Have Reached Europe
2- US Main Suspect of Turkey Coup: What Are Coup Plotters Doing in the US?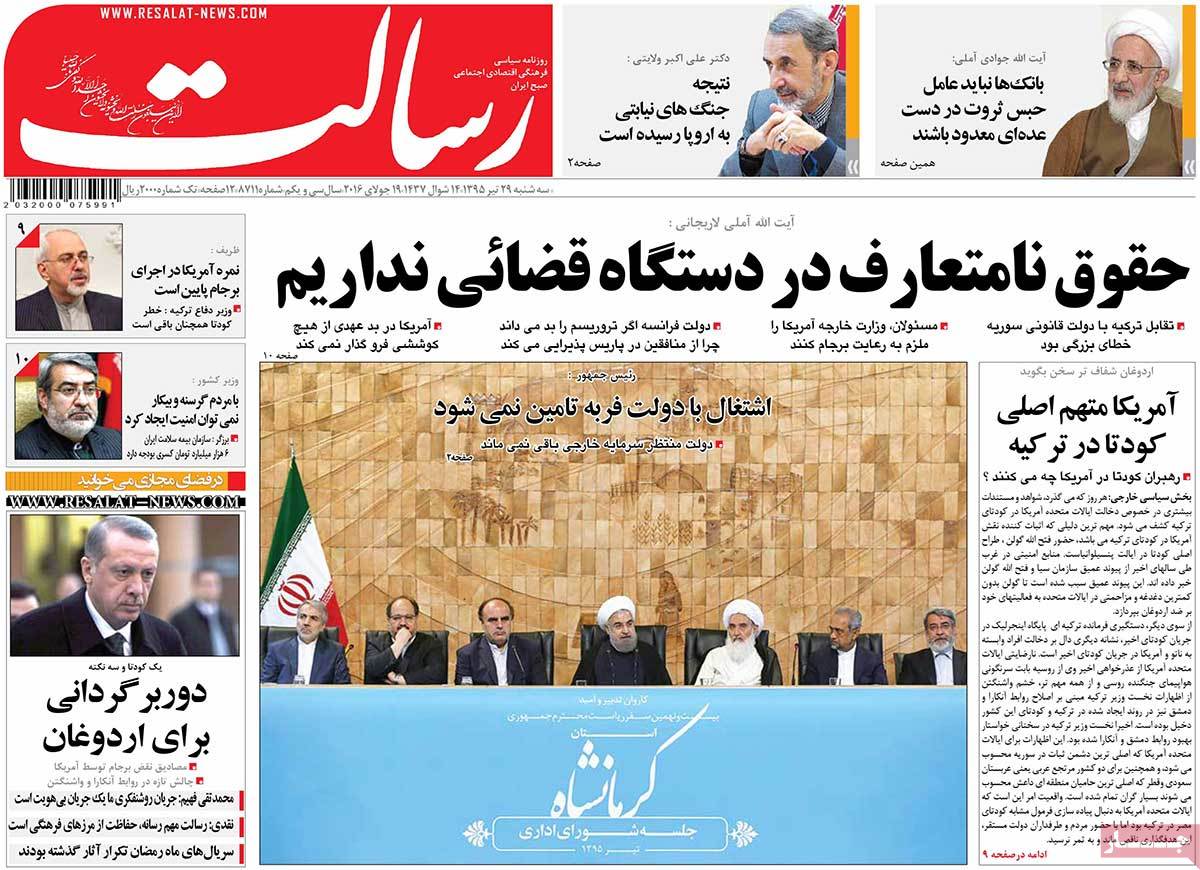 ---
Shahrvand:
1- Pokémon Go in Streets of Tehran
2- We've Signed a Nuclear Deal, Not a Submission Deal: Zarif, Criticizing US Performance
3- Cause of Kiarostami's Death to Be Announced Tomorrow, 15 Days after His Demise
---
Shargh:
1- Iran Has Stood and Will Stand by Nation and Legitimate Government of Turkey: Rouhani
2- Trump's Presidency Will Give Iran More Bargaining Power
3- JCPOA Is Not a Great Victory, But Is Totally Defensible: Zarif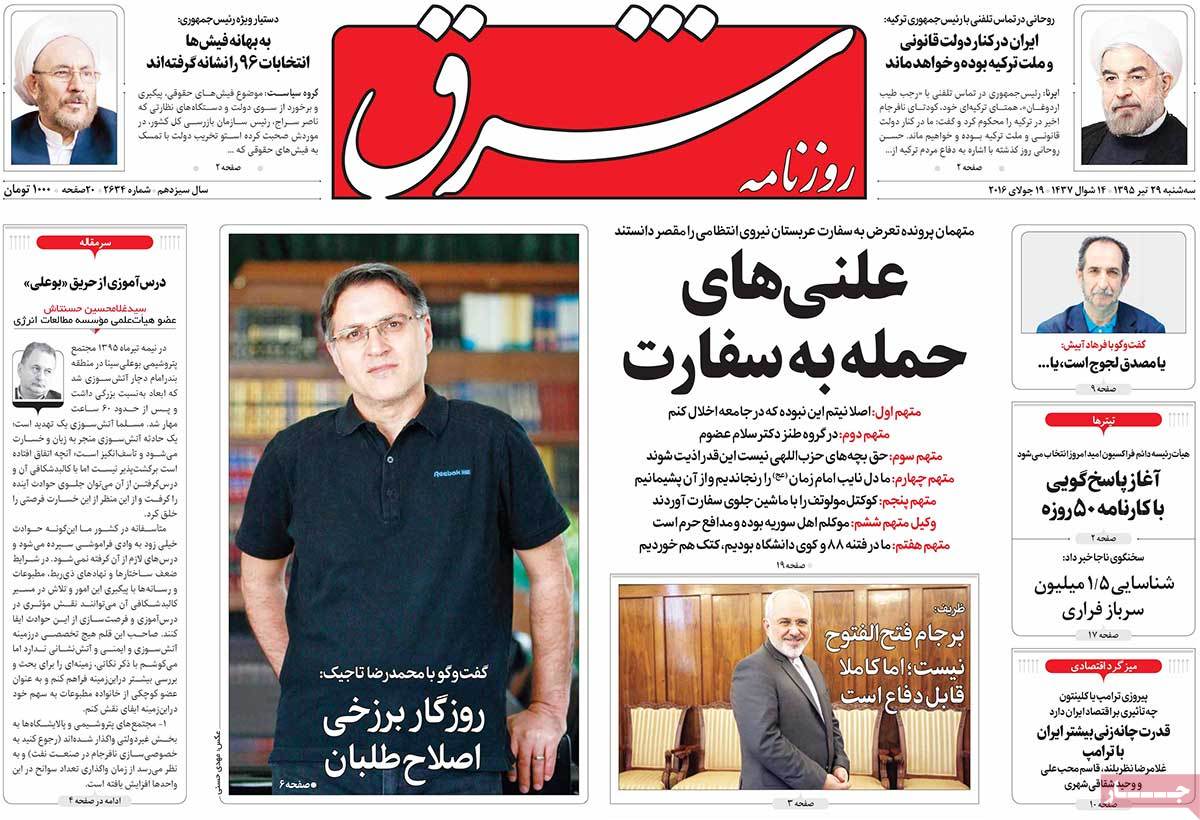 ---
Sobh-e Now:
1- Mr Ban! No Intervention!
2- Je Suis Kiarostami: How People Deal with Medical Errors
3- Kashmir's Eye and Cry of Foua and Kefraya [Editorial]
4- Strange Increase in Number of Applicants and Price of Visiting Turkey: Selfie with Tanks and Turkish Dialect
By Iran Front Page