The heads of Iran's trio of government branches, President Hassan Rouhani, Parliament Speaker Ali Larijani, and Judiciary Chief Sadeq Amoli Larijani, attended a judiciary conference in Tehran on Tuesday, June 28. The remarks made by the three politicians, particularly those of President Rouhani, were widely covered by all newspapers on Wednesday.
Newspapers, particularly the conservative ones, also covered the remarks by the Head of Iran's General Inspection Office Nasser Seraj, who revealed the role of President Hassan Rouhani's Brother, Hossein Fereydoun, in the appointment of the Bank Refah manager, who was recently dismissed for receiving huge salary payments.
The thaw in Turkey-Israel relations also remained a top story in many newspapers.
These headlines, as well as several other issues, are highlighted as follows:
Abrar:
1- Iraqi Army Continues Its Operations South of Mosul
2- Opposition Group in Kordestan Fully Smashed: Kordestan's IRGC Commander
3- On Issue of Astronomical Salaries, We'll Dismiss Offending Executives and Inform People of the Results: Rouhani
4- Jubeir Urges Iran to Stop Exporting Its Revolution: Tehran Is behind Crisis in Lebanon
5- Iran Has No Frozen Money in Turkey: Turkish Ambassador
---
Abrar-e Eqtesadi:
1- Iran's Stock Exchange Moves in Opposite Direction of Global Markets
2- Italy Makes $2bn Investment in Maku [city in northwest Iran]
3- Iran and Turkmenistan Agree on Exchanging $30bn of Natural Gas
4- Georgia a Major Route for Exporting Iranian Oil Products to Europe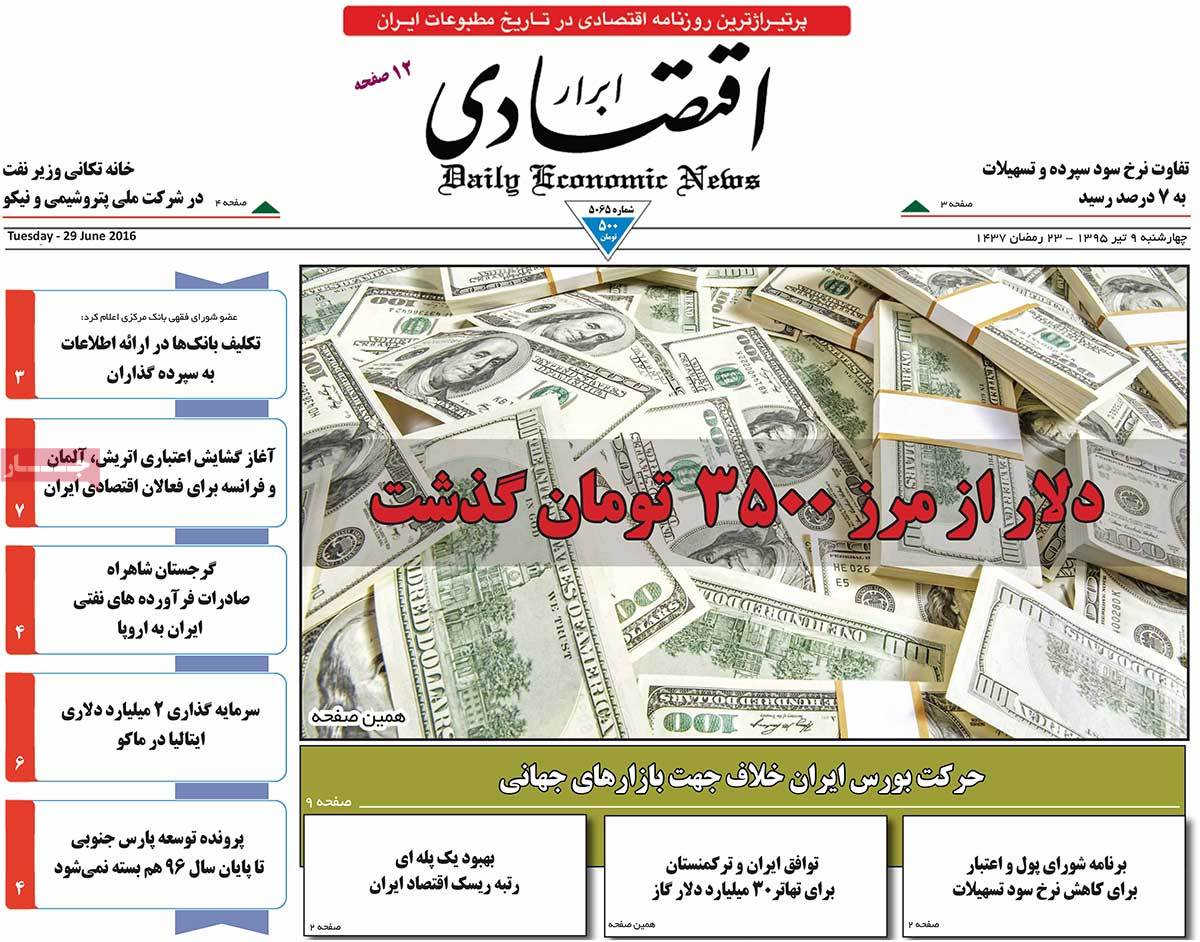 ---
Aftab-e Yazd:
1- Imam Khomeini's Grandson Seyyed Hassan Invited to Visit Japan
2- 95% of Those Who Visit Fortune Tellers Are Female: Women More Superstitious than Men?
---
Arman-e Emrooz:
1- President: People Should See How Judiciary Takes Action against Those Who Attacked Saudi Embassy
2- Receiving Taxes from Holy Shrines on Government Agenda: Official
3- Lifetime Salaries for MPs?
---
Asia:
1- Economic Risk in Iran Decreased: OECD
2- Foreign Investors Should Feel Safe and Secure in Iran: Rouhani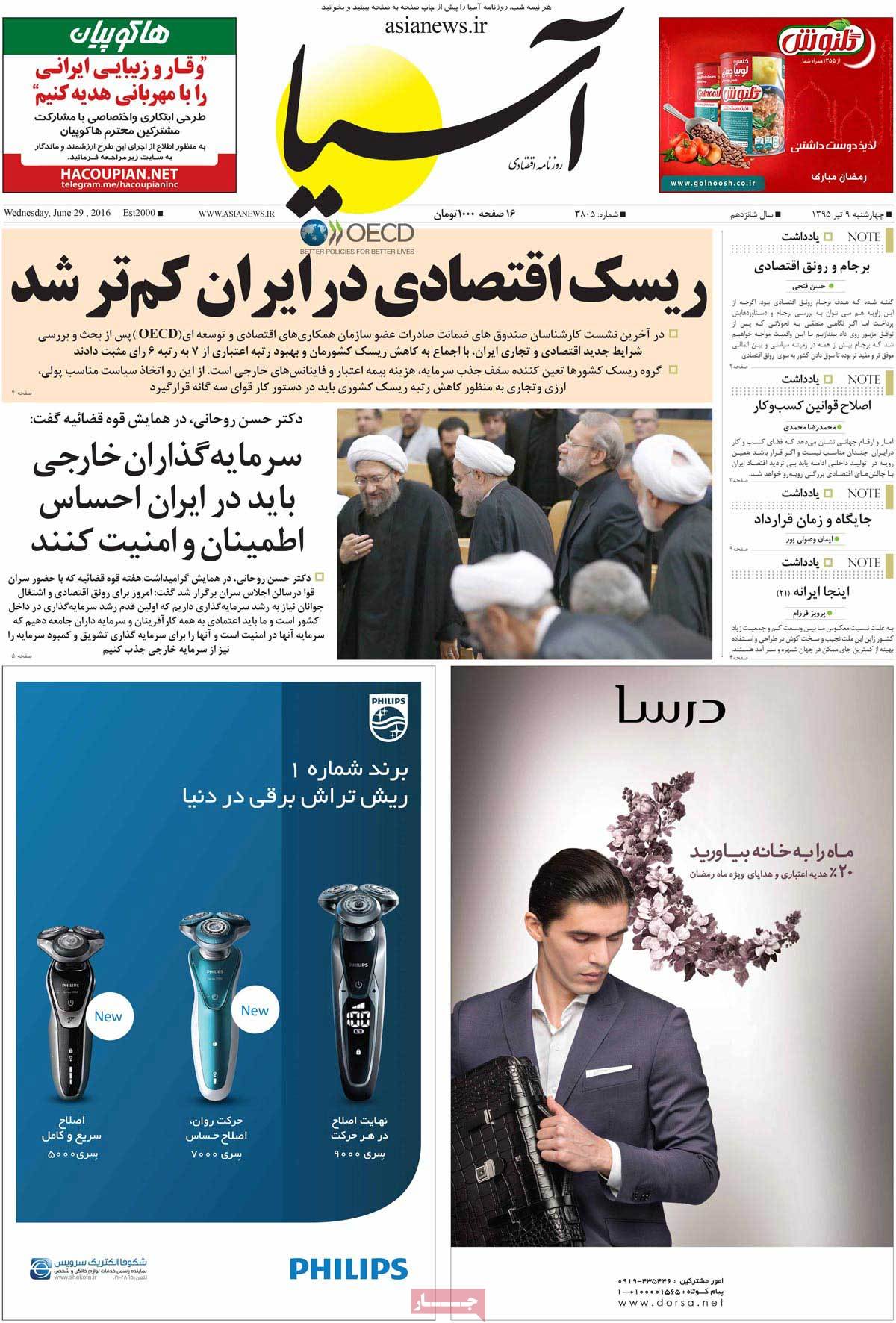 ---
Asrar:
1- Justice Minister: Courts Ordered to Move toward Alternatives to Incarceration
2- Iran Will Resume Uranium Enrichment If Other Side Violates JCPOA: Senior MP
3- European Parliament Calls for Immediate Exit of Britain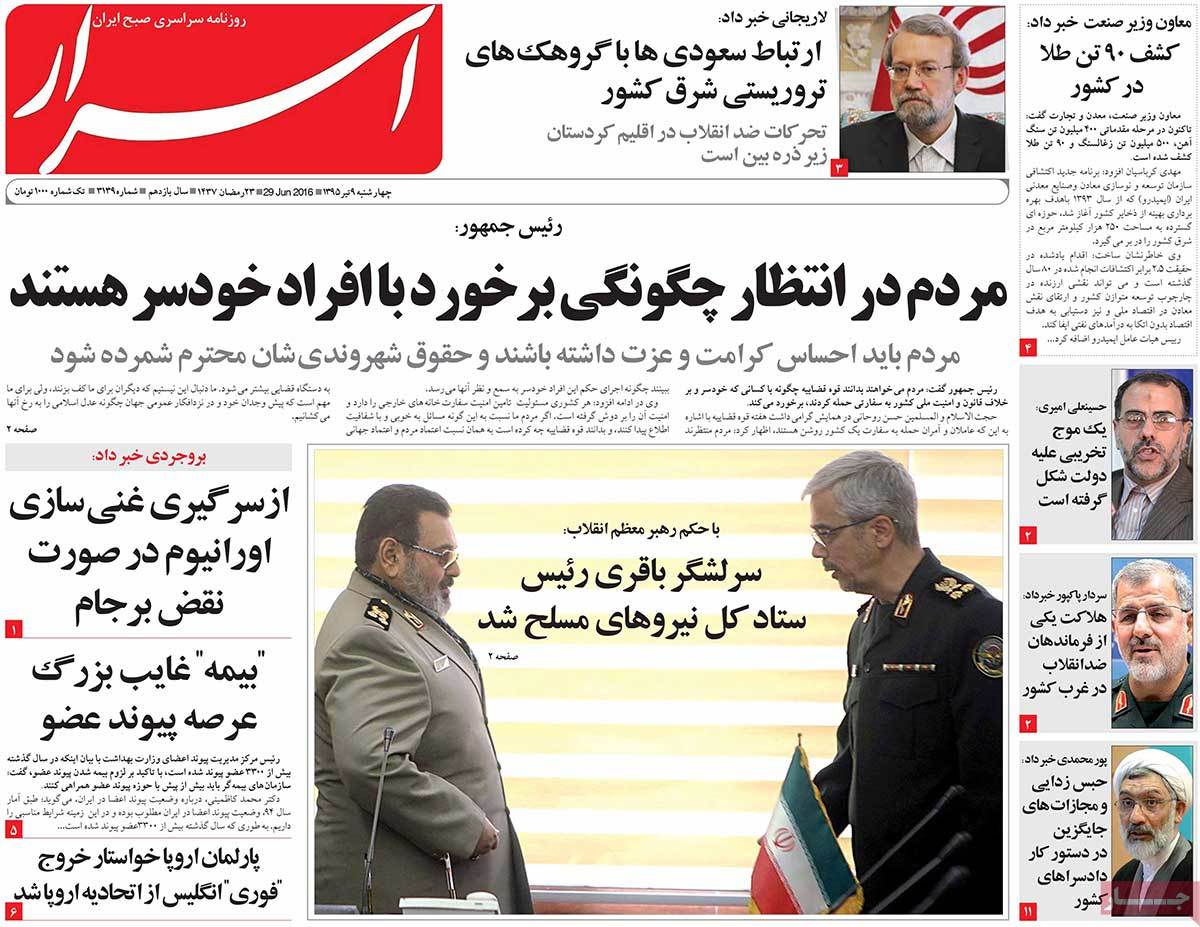 ---
Emtiaz:
1- Evin Prison to Be Turned into a Park
2- Most Prisoners in Iran Are from 26 to 32 Years Old
3- Required Infrastructure Provided for Power Exchange with Azerbaijan Republic
4- 2-Fold Increase in Capacity for Accommodating and Receiving Arbaeen [Mourning ceremony on 40th day after Imam Hussein's martyrdom] Pilgrims
---
Etemad:
1- Court Rulings Should Satisfy Public Opinion: Rouhani
2- Morsi Was Not Interested in Revolutionary Moves: Ex-Head of Iran's Interests Section in Egypt
3- 3-Month Box Office Breaks Record of 4 Years under Ahmadinejad: Cinemas Full 24/7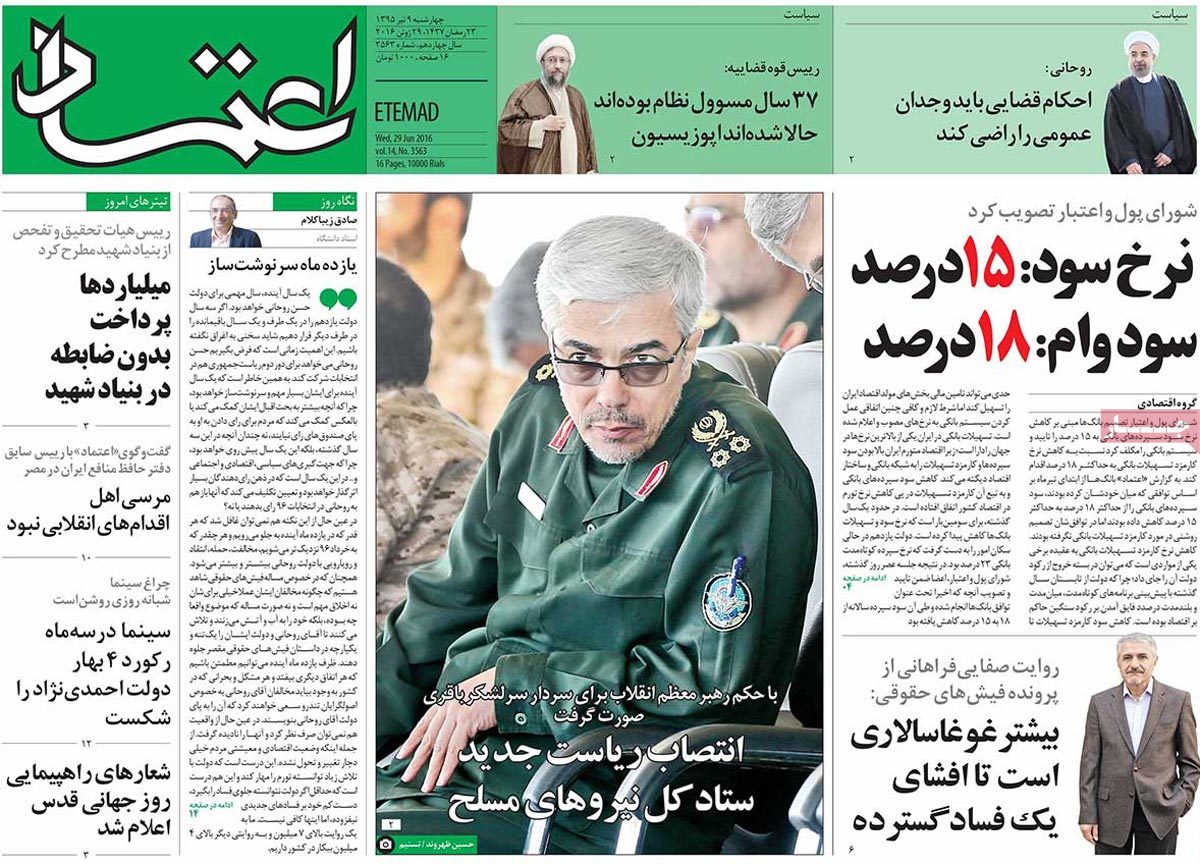 ---
Ettela'at:
1- Iran's Security Hinges on Having a Neutral and Efficient Judiciary: President
2- Production of Incandescent Lamps to Cease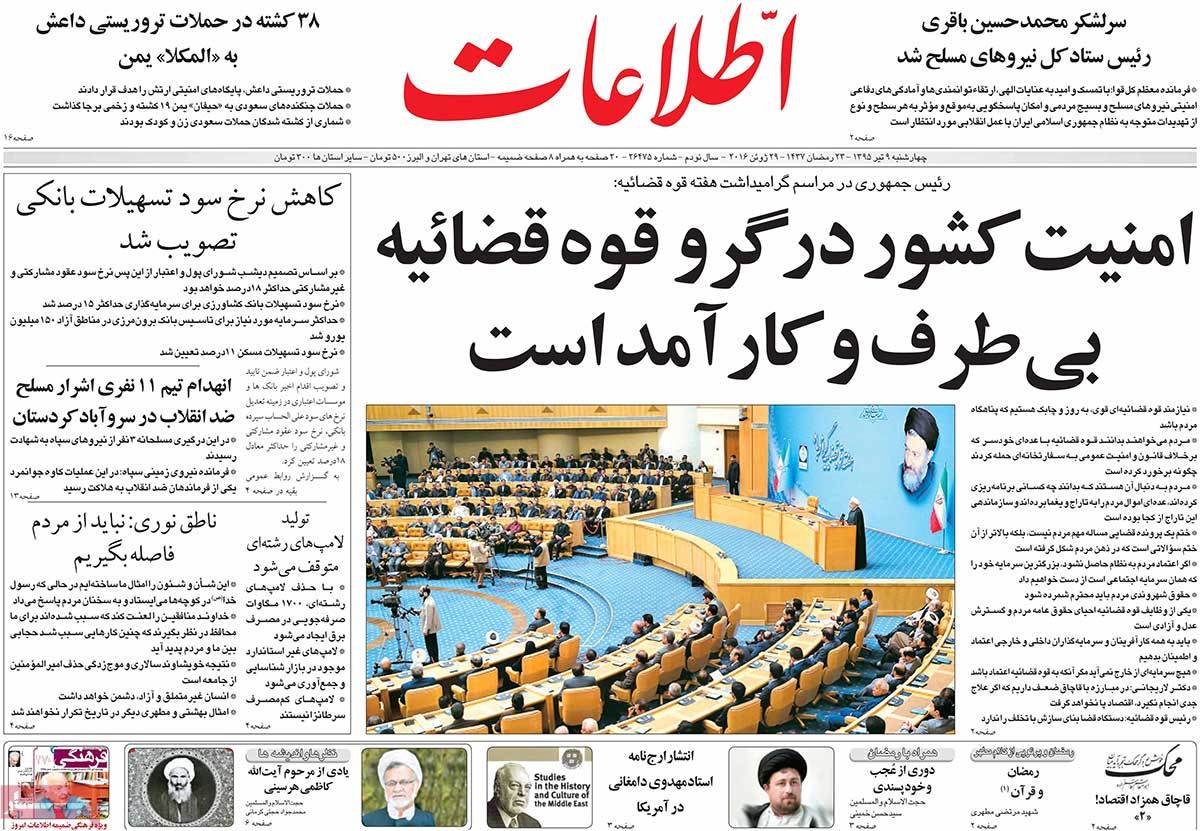 ---
Haft-e Sobh:
1- Help My Amir! Interview with a Girl Who Got Married to a Man on Death Row
2- In Praise of His Highness Buffon
3- Iranian Footballers Rezaeian and Taremi Are Making a Mistake by Joining Turkish League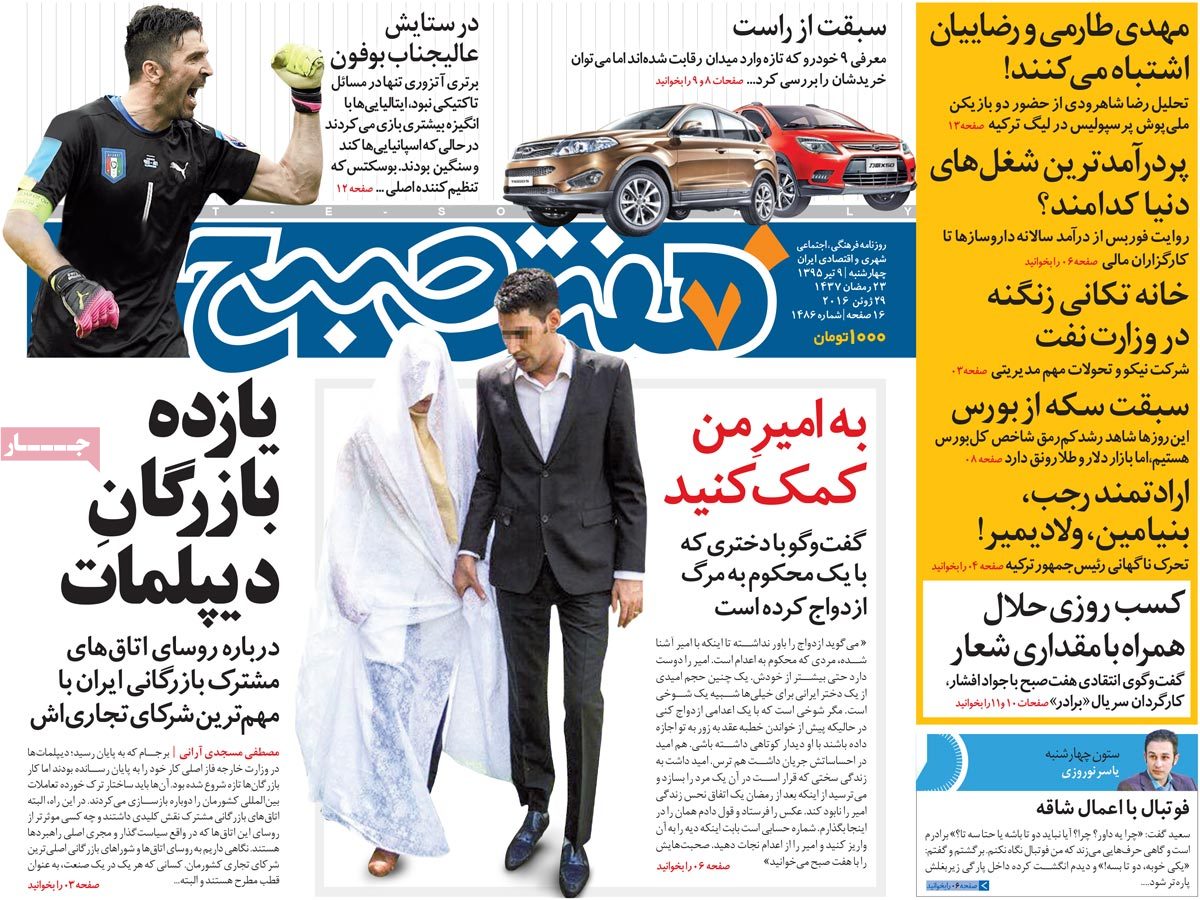 ---
Hamshahri:
1- Each Judge Spends 15 Minutes on Each Case: Judiciary Chief
2- 16m-Year-Old Footprint Discovered in Iran's Alamut
3- Hospital Beds More Expensive than Hotel Beds
4- Leader of Britain's Labour Party Dismissed
---
Iran:
1- Some Are Abusing the Issue of Astronomical Salaries: Rafsanjani's Office
2- Iran's 3-Month Exports More than Its Imports: China, UAE, Iraq, South Korea, and India Were the Five Major Export Destinations
---
Jame Jam:
1- Turkey Embraced by the Child-Killer Regime [Israel]
2- Resistance Front Seriously Opposed to Normalization of Ties with Zionist Regime
3- Call for Sit-In at Al-Aqsa Mosque
4- Iranian Homegrown Search Engines to Compete with Google and Yahoo
5- Relations with Israel to Compensate for Failure in Europe [Editorial on Turkey-Israel ties]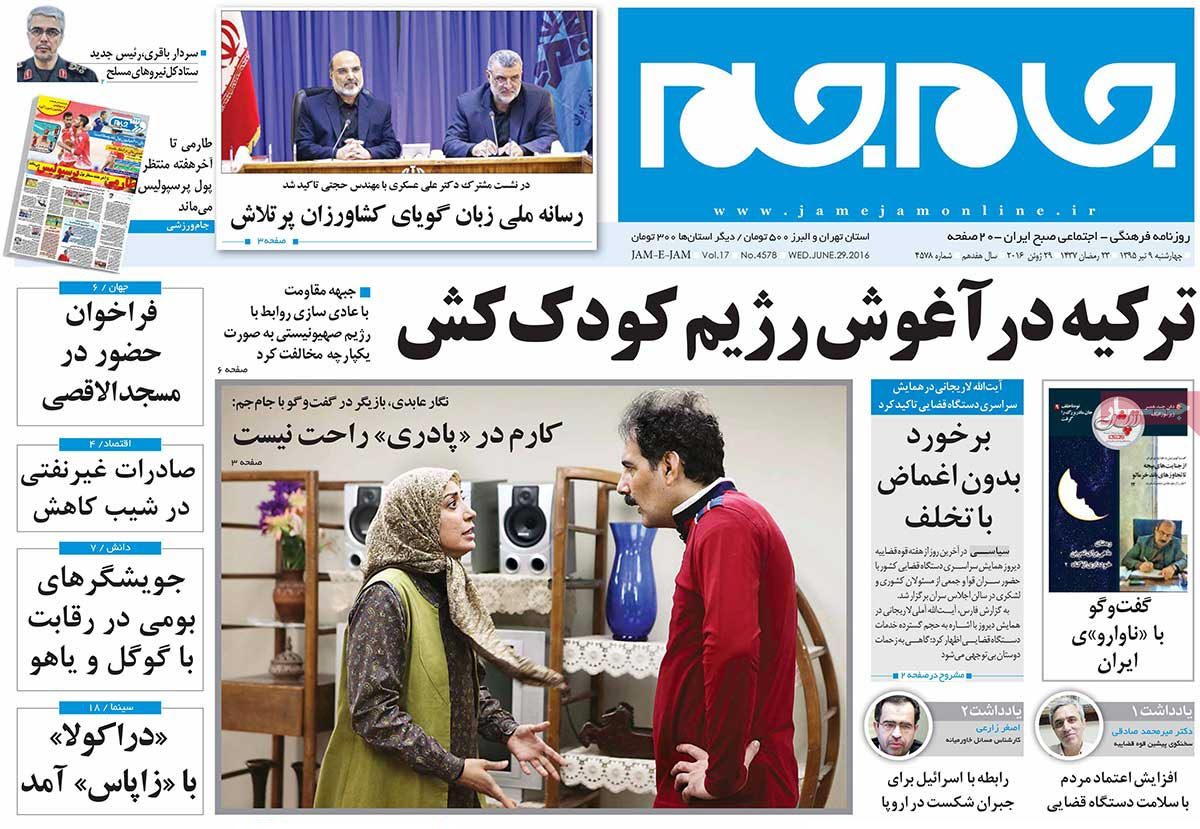 ---
Javan:
1- Procrastination of Legal Action over Astronomical Salaries
2- White House Builds Bridge between JCPOA and Hezbollah: Iran to Benefit from JCPOA If It Stops Supporting Hezbollah
3- Major General Mohammad Bagheri Appointed as Chief of Staff of Iran's Armed Forces
4- Who Signed Permission for Decreasing Taxes on Import of Luxury Hotel Goods?
5- End of "Democratic Peace" Age in Europe [Editorial]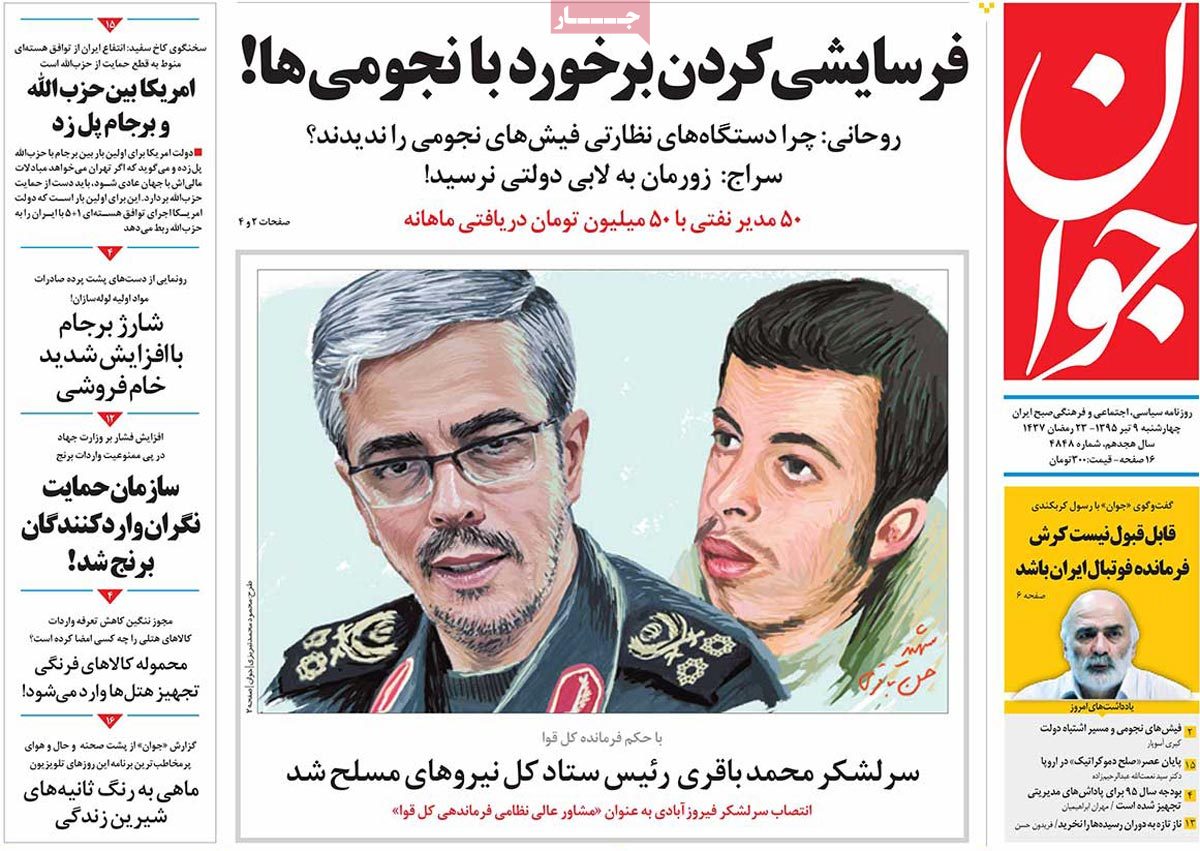 ---
Jomhouri Eslami:
1- US Makes 3 New Moves for JCPOA Implementation
2- Muslim World Getting Prepared to Hold a Glorious Int'l Quds Day
3- Int'l Quds Day, the Day for Restoration of Islam's Greatness [Editorial]
4- 3 European States Open LCs for Iran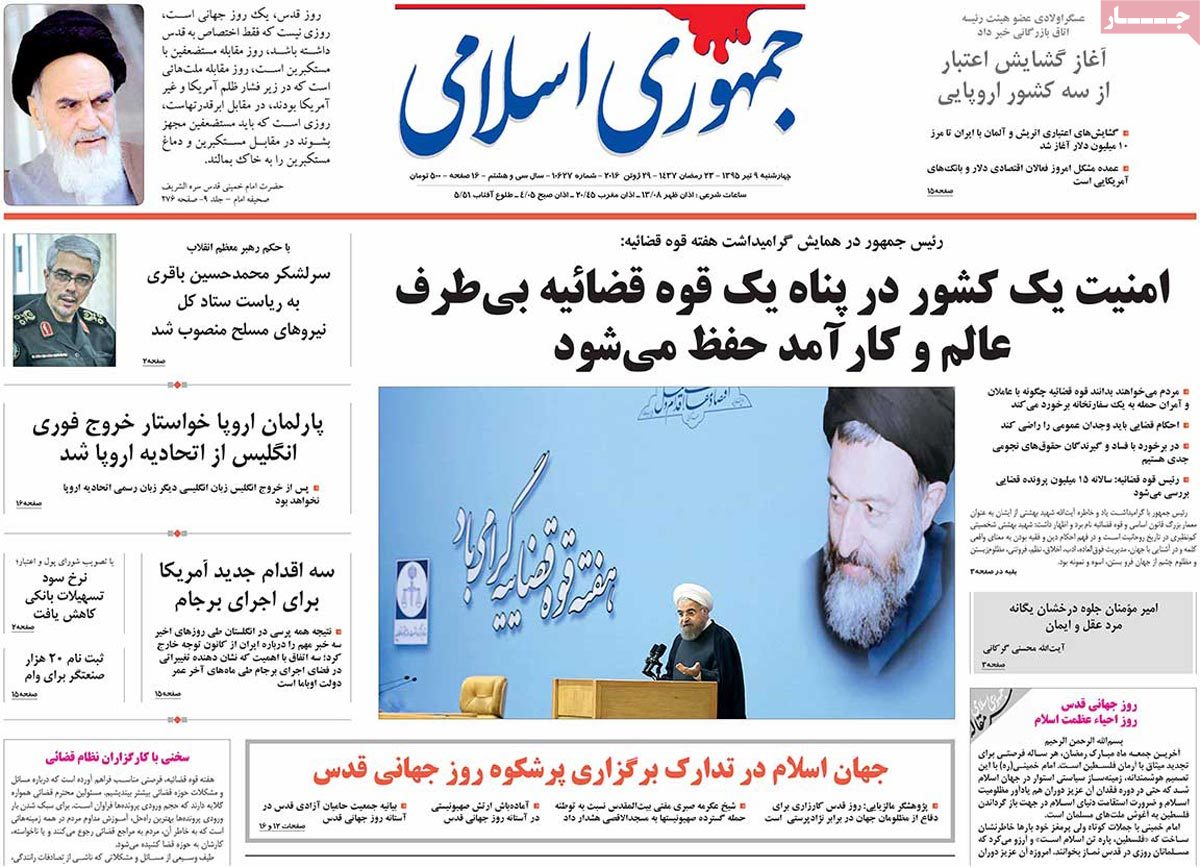 ---
Kayhan:
1- Bank Refah Manager, Who Received Astronomical Salary, Was Appointed under Pressure of Rouhani's Brother
2- 80m-High Tower Built in Iran for Bushehr Petchem Plant
3- British People Replied to EU Leaders' Lies and Deceit with Brexit: Party Leader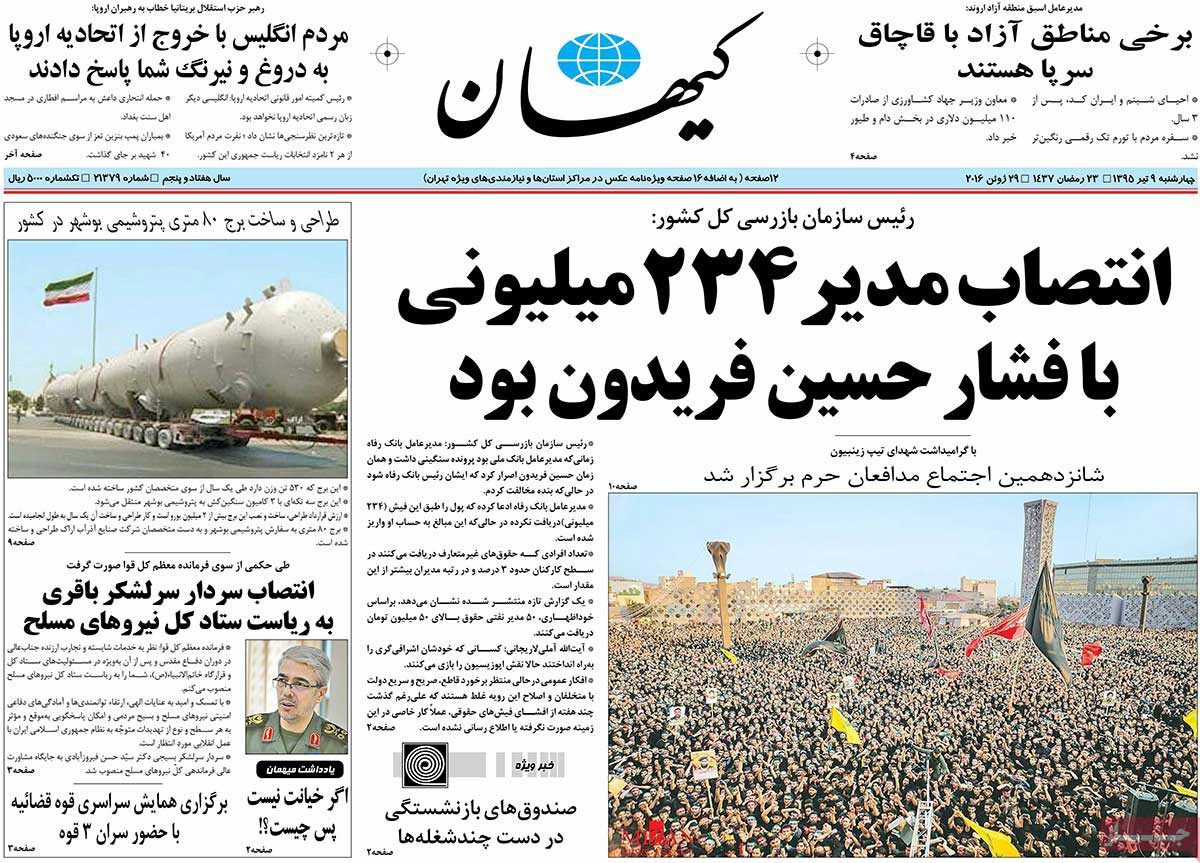 ---
Khorasan:
1- Iran's Cooperation with FATF on Money Laundry and Financing Terrorism: Joining Global Agreement on Fight against Money Laundry on 2 Conditions
2- 111 Days of Takfiri Torture: War Veteran's Account of 1 Year in Terrorist Captivity
3- Objectives behind US Pressure on Lebanon's Hezbollah [Editorial]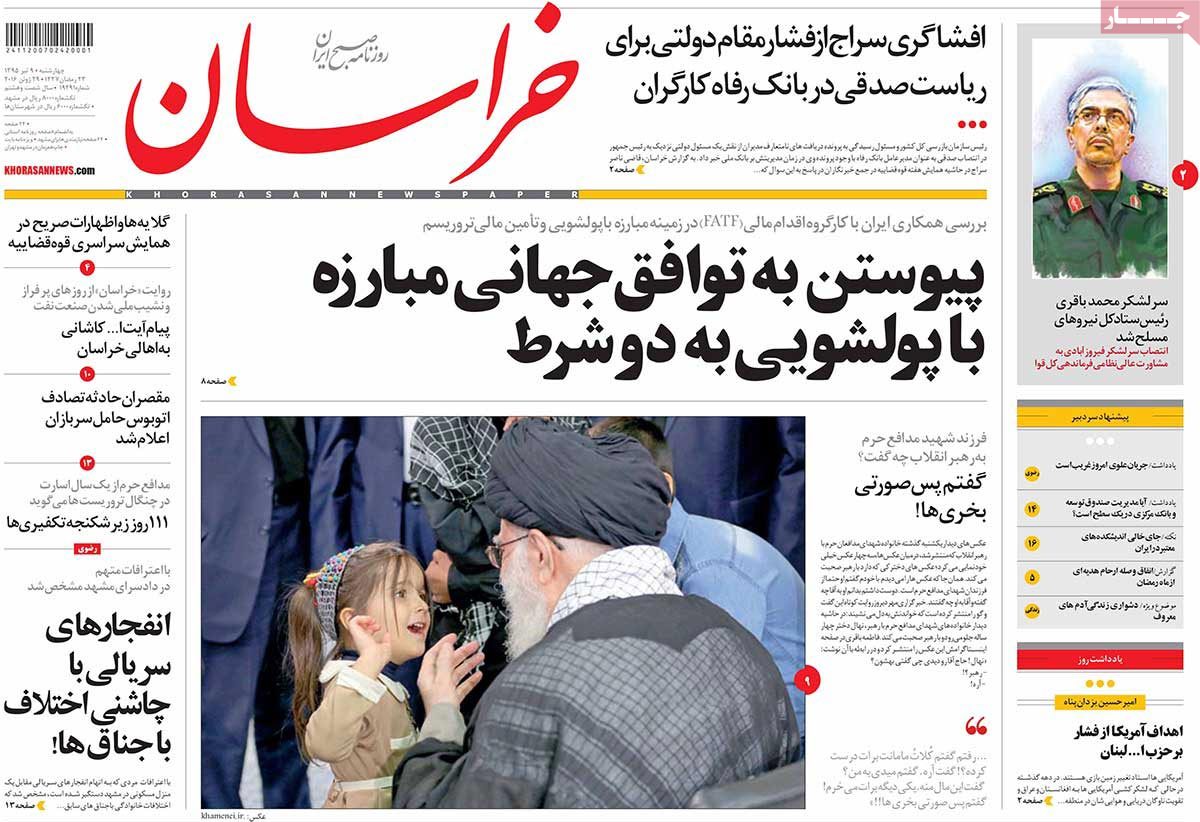 ---
Resalat:
1- Judiciary Chief Slams Aristocracy of Certain Political Figures
2- West Seeking to Prevent Iran's Influence: Larijani
---
Roozan:
1- Beast of Far-Right Politics Awakens in Europe
2- President Urges Judiciary to Determine Sentences of Those Who Attacked Saudi Embassy
3- England Eliminated from Euro Twice in a Week
---
Shahrvand:
1- "Industrial Soldiers" Instead of Military Service in Barracks
2- Transparency in Judiciary Is More Important than Judgement: President
---
Shargh:
1- Government Resolved to Prevent Payment of Unconventional Salaries by Filling Legal Holes: Spokesman
2- Those Who Once Were Officials in Iran's Establishment Have Now Changed and Become Opposition Figures: Judiciary Chief
3- People Want to Know Who Planned Theft of Iran's Oil Money: President
4- Abbas Kiarostami Transferred to Paris [to continue medical treatment]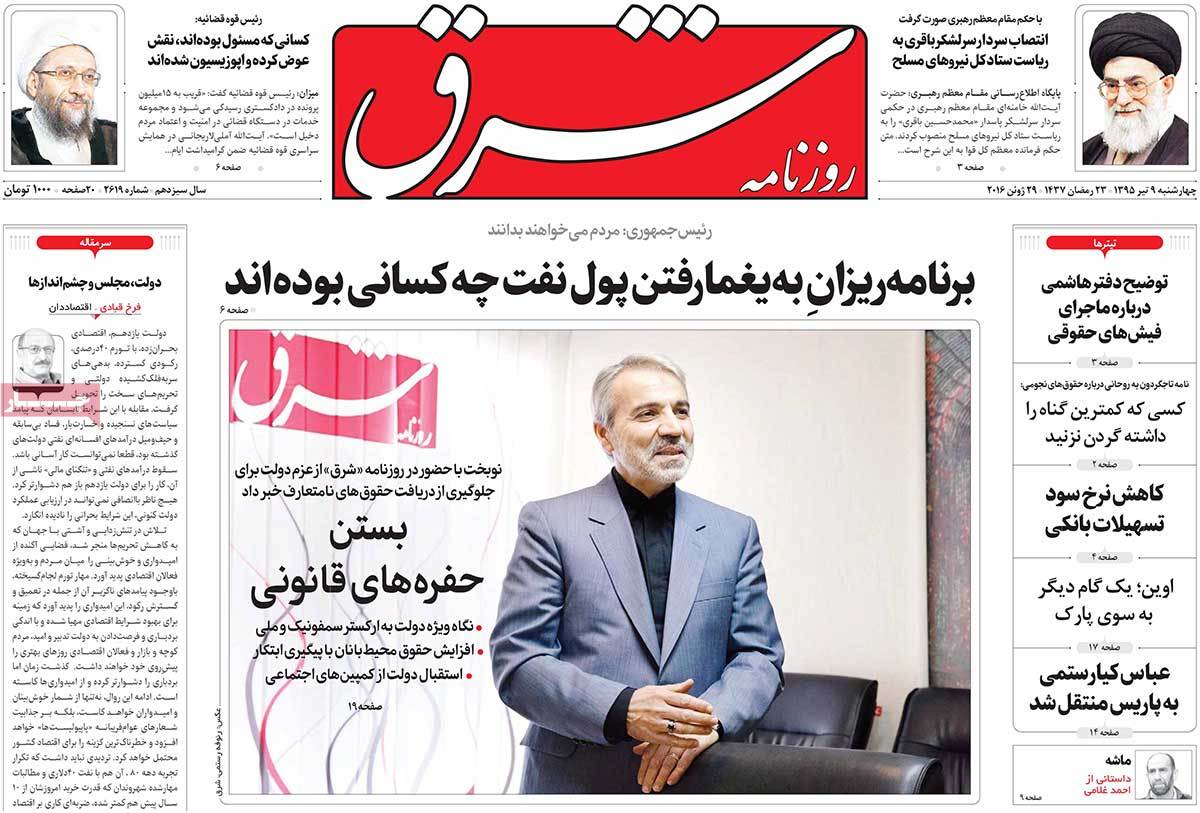 ---
Shorou:
1- Biological Time-Bomb under Tehran: Issue of Burying Infectious Waste in Capital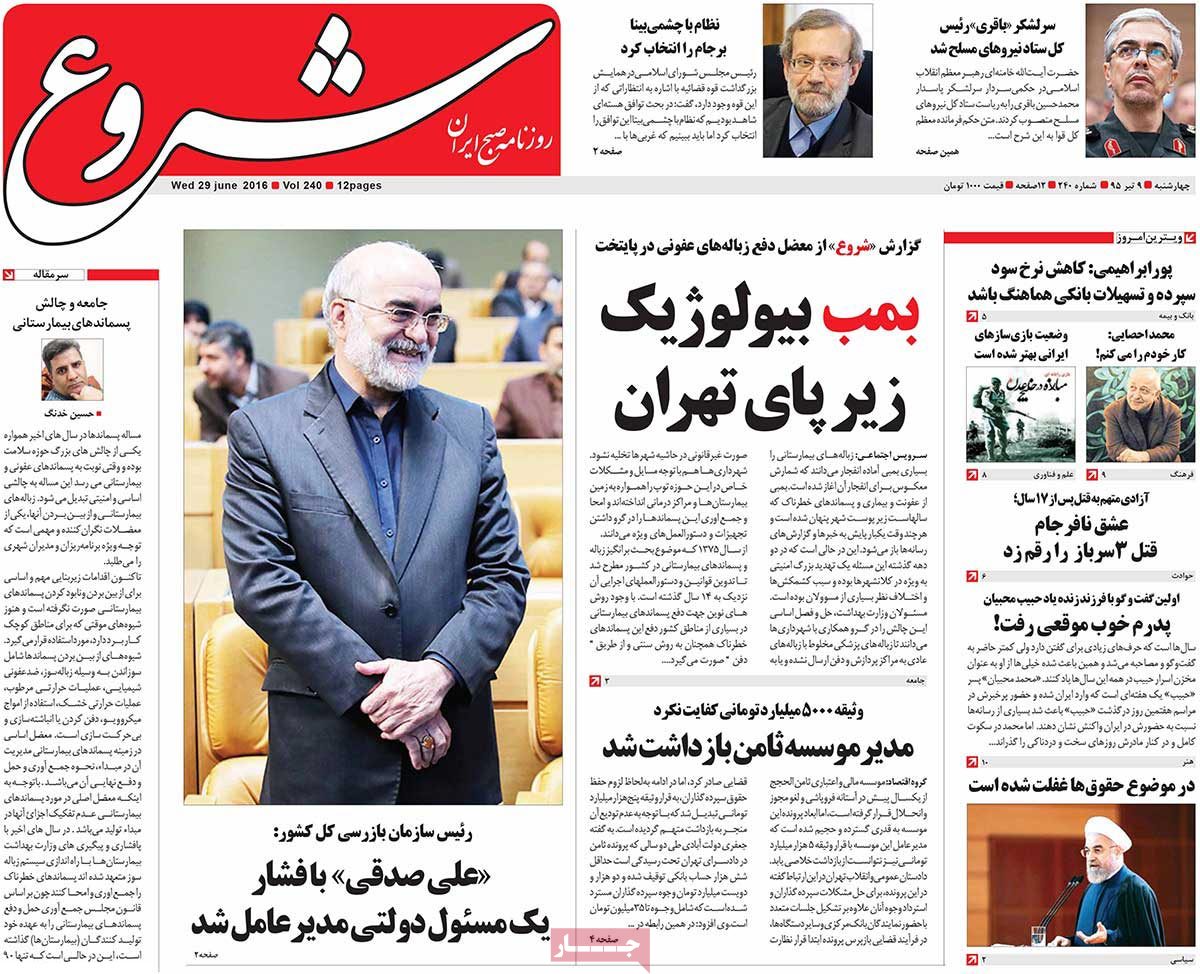 ---
Sobh-e Now:
1- We Expelled Zionists with Iran's Help: Hamas Figure
2- English Language Loses Popularity in EU
3- Change in Highest Rank of Iran's Armed Forces: General Bagheri Replaces General Firouzabadi
4- Fingerprint of President's Relatives: Bank Refah Manager Was Recommended [by Rouhani's Brother]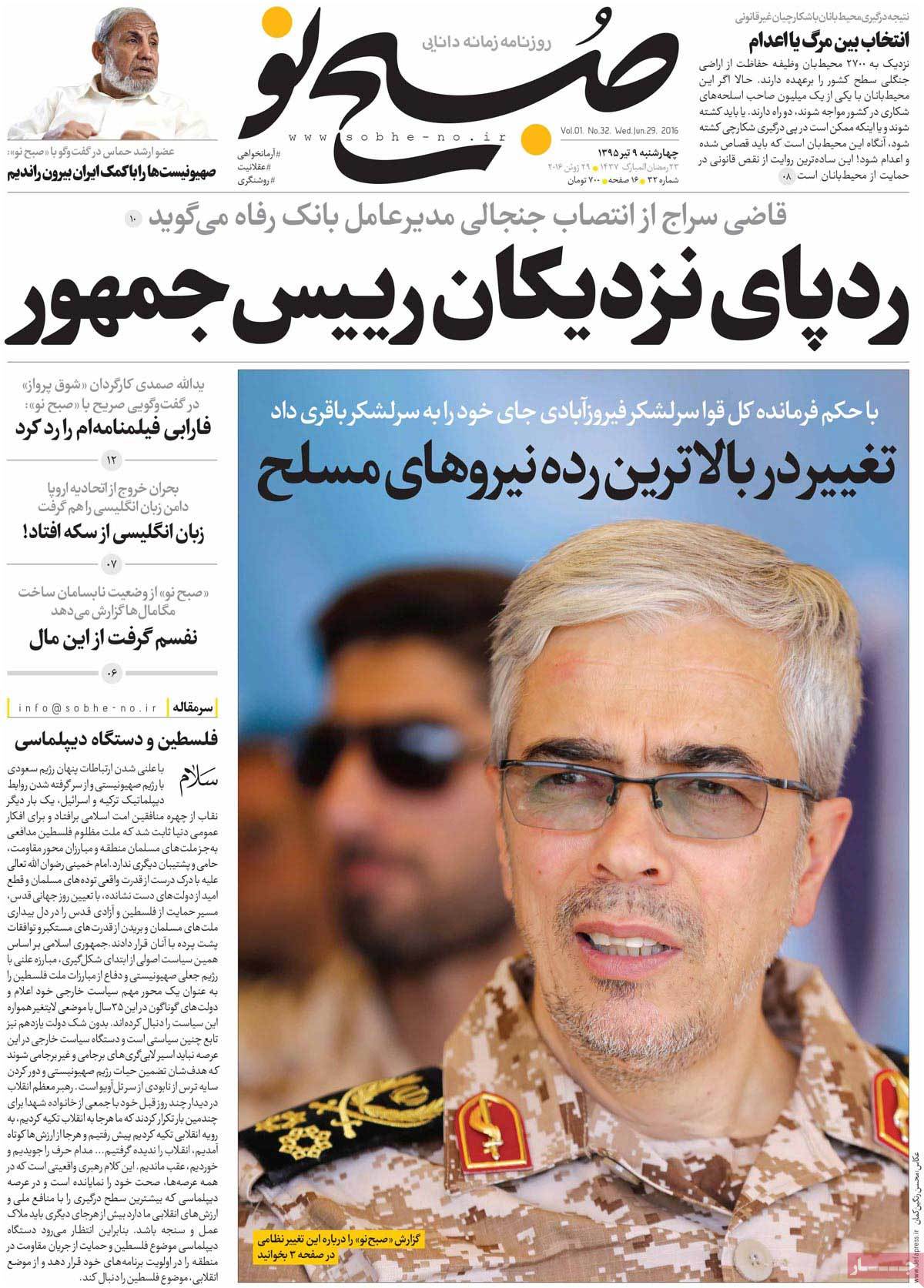 ---
Vatan-e Emrooz:
1- EU to Remove English from Its Official Languages
2- Government Whitewashing Issue of Astronomical Salaries by Resorting to Lies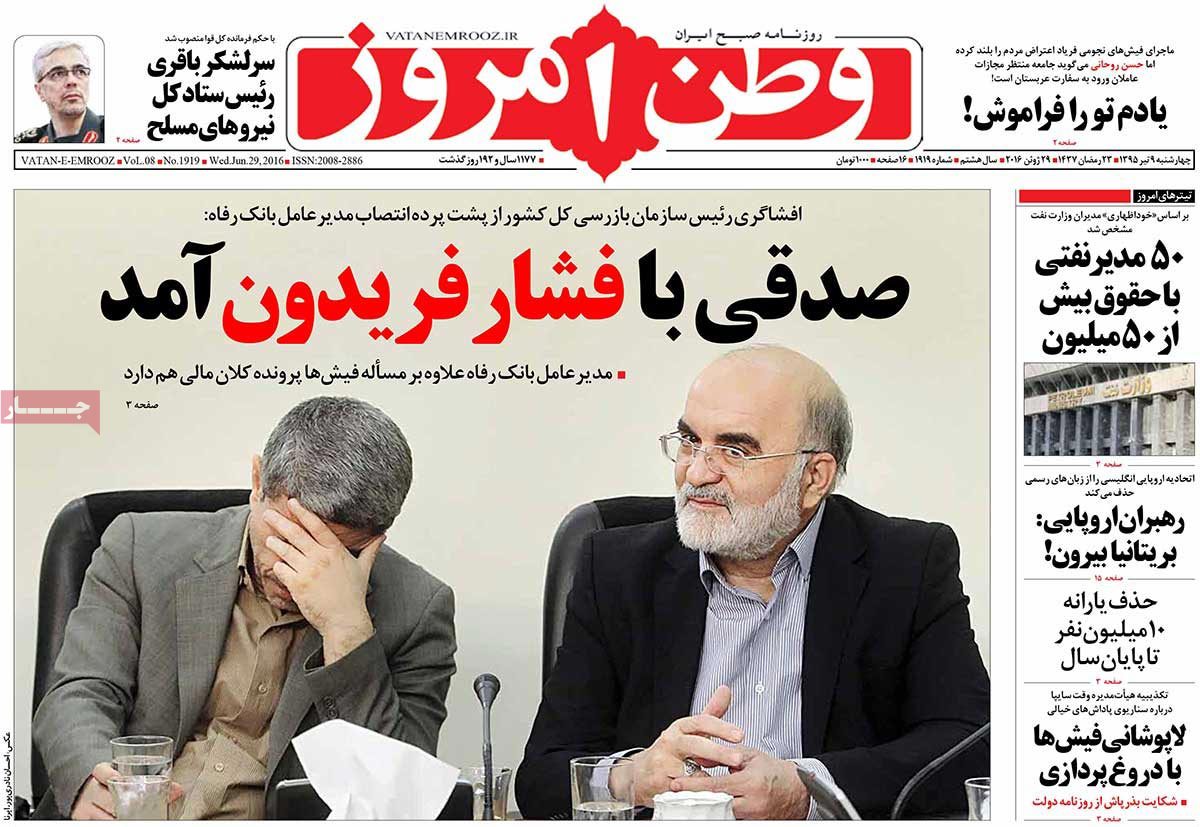 By Iran Front Page