IFP has taken a look at the front pages of Iranian newspapers on Wednesday and picked headlines from 23 of them. IFP has simply translated the headlines and does not vouch for their accuracy.
Iranian newspapers on Wednesday focused on President Rouhani's remarks on the country's determination to reclaim its rights in the legal dispute with the US.
They also covered an interview with Gholam-Hossein Mesbahi Moqaddam, a member of parliament, who has revealed a controversial nuclear report by former president Mahmoud Ahmadinejad to the Supreme Leader.
Another top story was the statements by Atomic Energy Organization of Iran (AEOI) Chief Ali Akbar Salehi, who said the country will proceed with caution in dealing with the US, particularly the sale of heavy water to Washington.
Abrar:
1- Rouhani: Report to Be Published on Negligence of Certain People in Seizure of Iran's Assets
2- Iran to Exercise Caution in Selling Heavy Water to US: Salehi
---
Abrar-e Eqtesadi:
1- Iran to Exchange Its Crude Oil with Switzerland's Petrol
2- [French automaker] Citroen and [Iran's second largest car manufacturer] Saipa Sign Contract
3- Ahmadinejad's Wrong Policies Weakened Iran's Banking System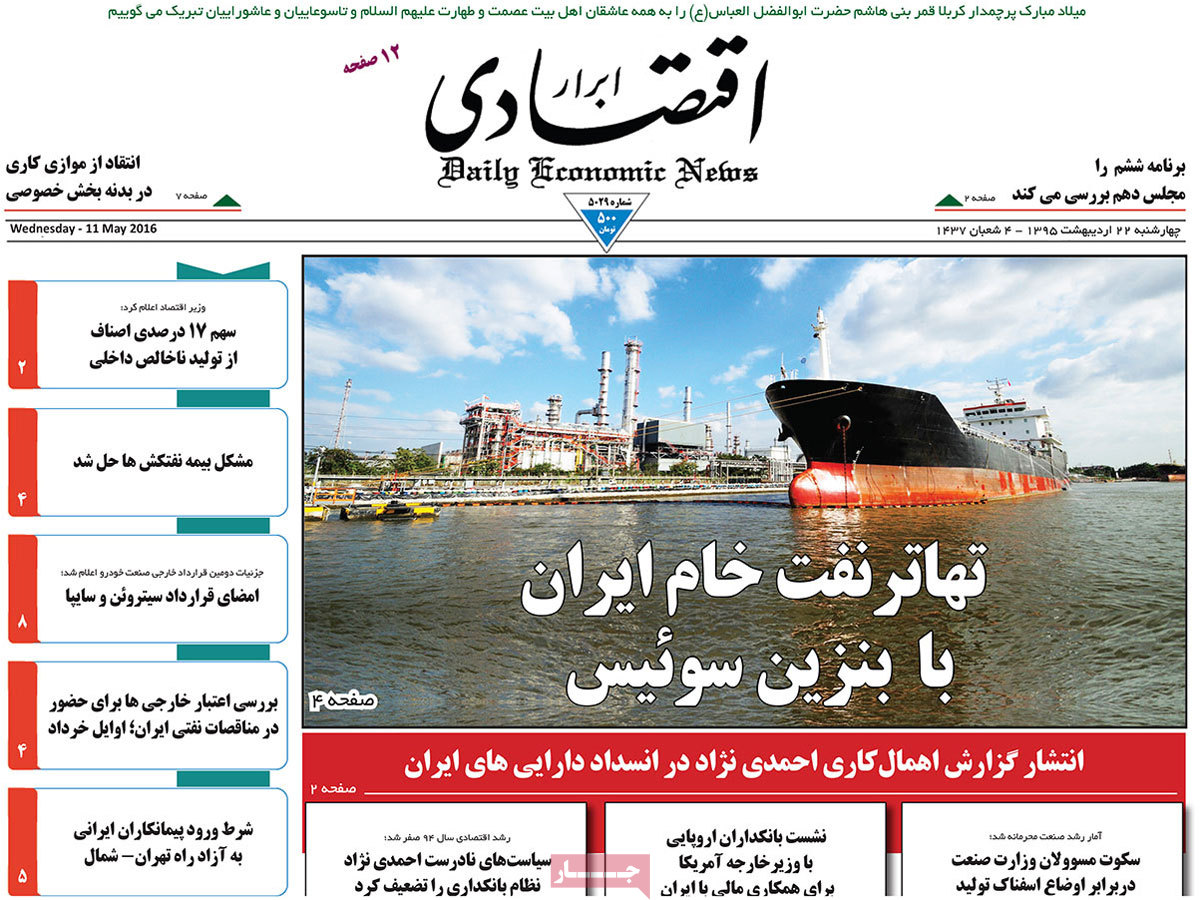 ---
Aftab-e Yazd:
1- $3bn Business of Illicit Drugs in Iran
2- 10% of Abortions Performed on Parents' Will
3- Prosecutor-General: If Athletes Take Part in Vulgar Gatherings, We'll Publish Their Names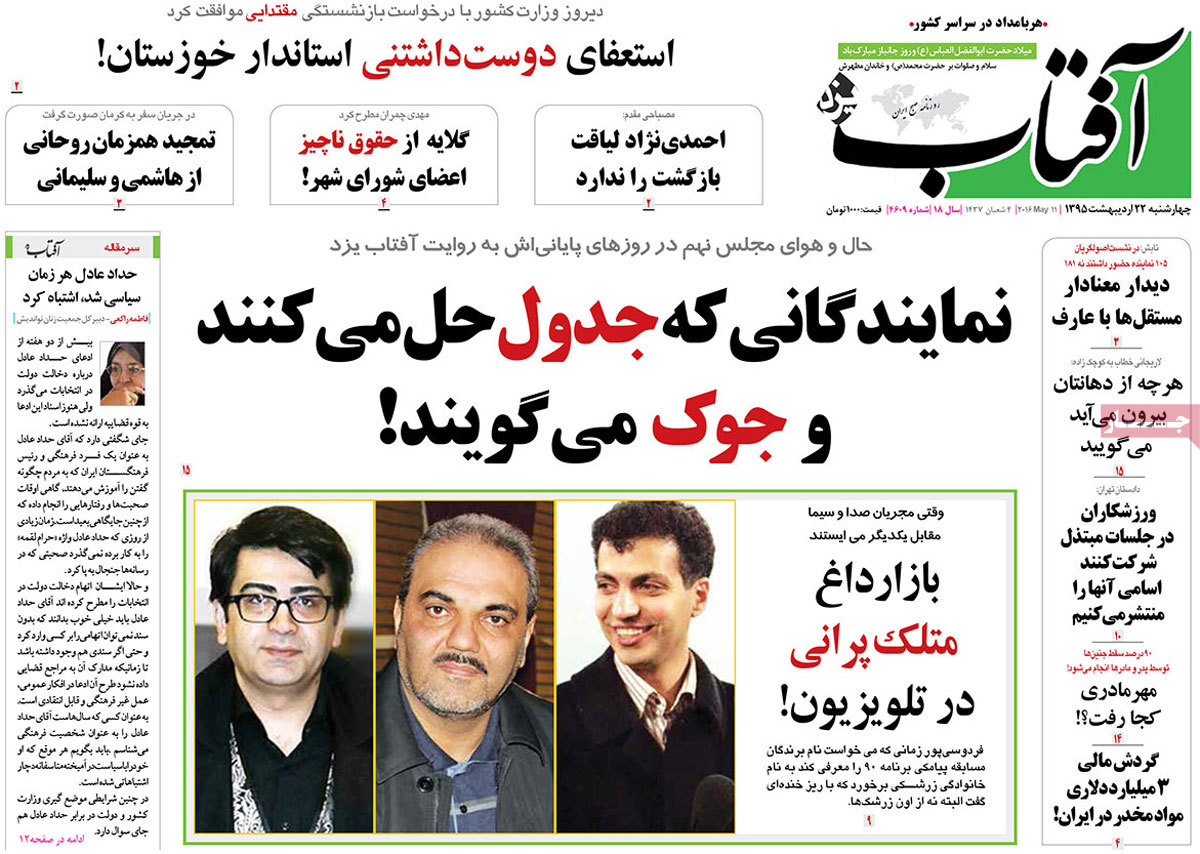 ---
Arman-e Emrooz:
1- Victims of Abortion 15 Times More than Those of Car Accidents: 220,000 Illegal Abortions per Year in Iran
2- IRIB Keeps Silent on Speculations about Change of Its Chief
3- Takfiri Terrorists Hold Bodies of 12 Iranian Advisors Killed in Syria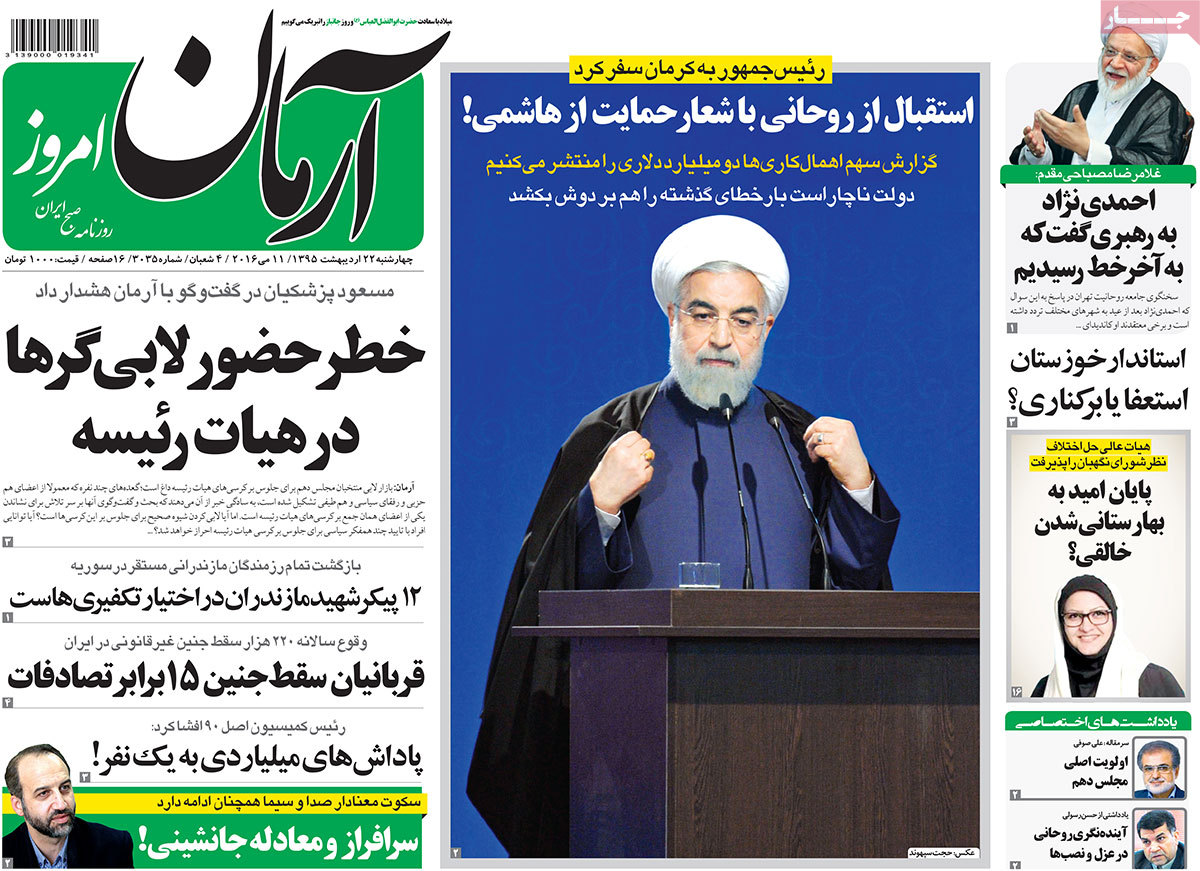 ---
Asia:
1- John Kerry to Convince European Bankers into Cooperation with Iran
2- Istanbul Mayor Praises Tehran's Beauty, Modernity, and Development
3- Gov't Not Satisfied with Babak Zanjani's Death Penalty: Lawyer
4- Heads of Free Trade Zones of Indian Ocean to Convene in Iran's Chabahar
5- JCPOA, a Model for Interaction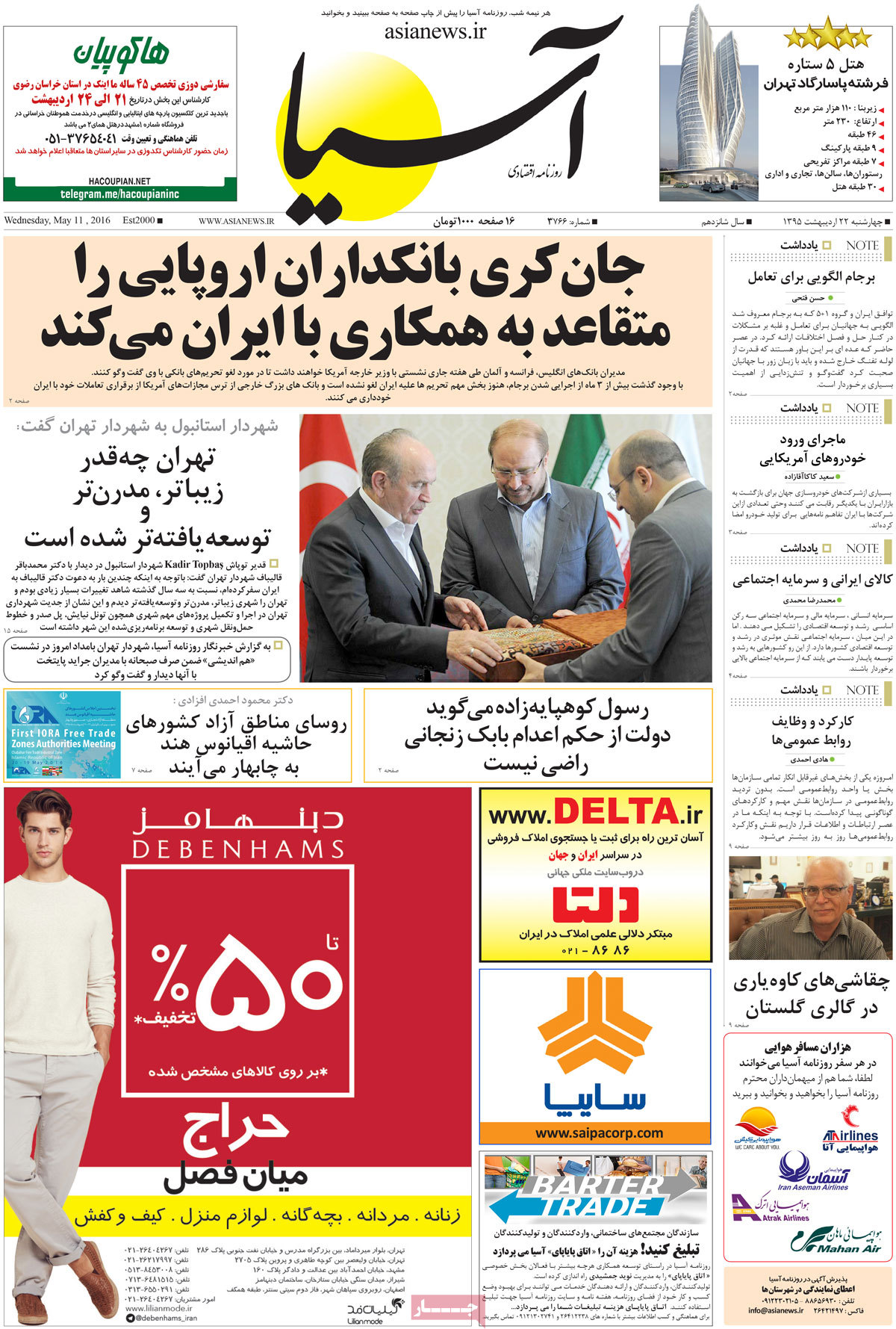 ---
Asr-e Rasaneh:
1- Iran's LPG Export Capacity to Reach 5 Million Tons per Year
2- Iran Provides World's Third Cheapest Mobile Internet
3- $3.4bn of Foreign Investments Attracted to Iran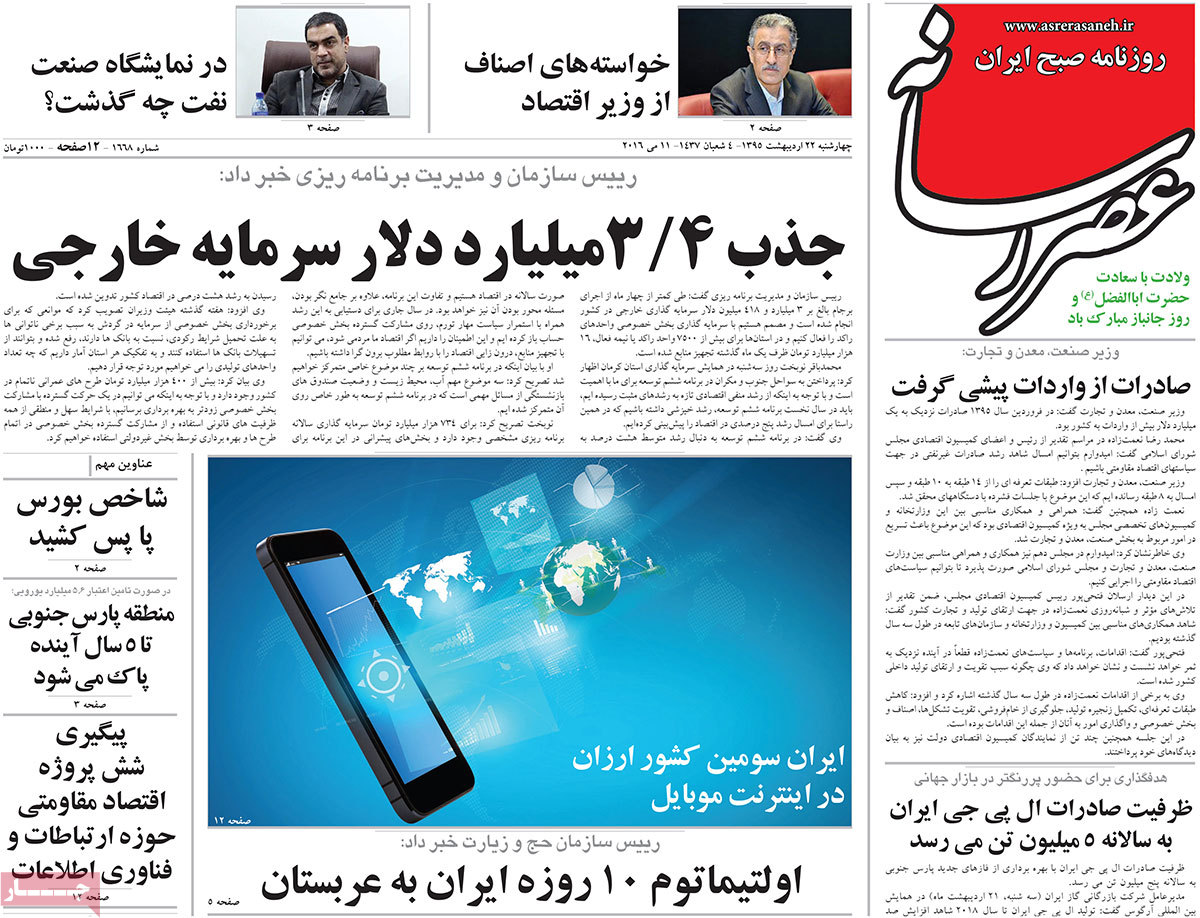 ---
Asrar:
1- Ahmadinejad Does Not Deserve to Return: MP
2- Iran's Mahdavikia Invited to Play for FIFA's All Star Team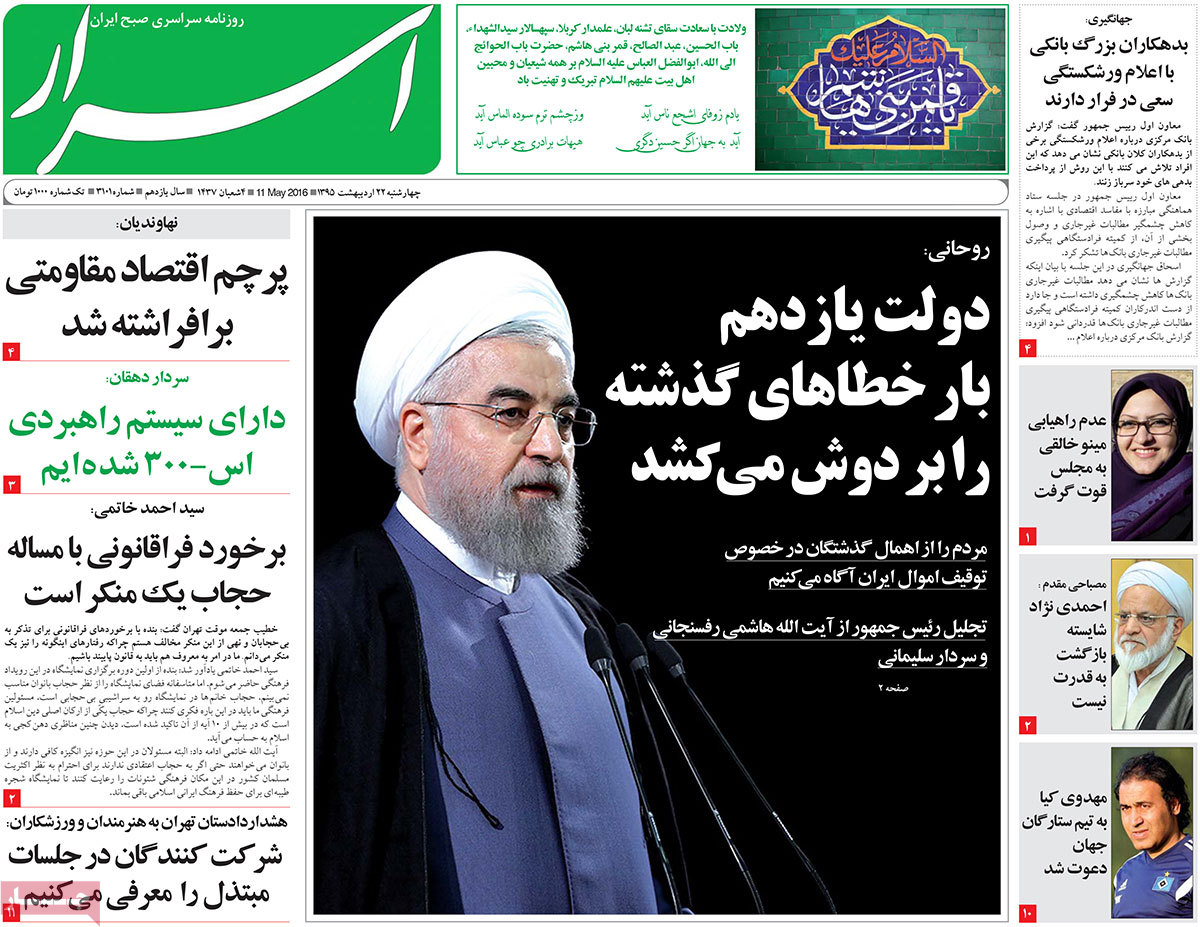 ---
Ebtekar:
1- Ayatollah Rafsanjani and General Soleimani, Honours of Iran and Kerman: President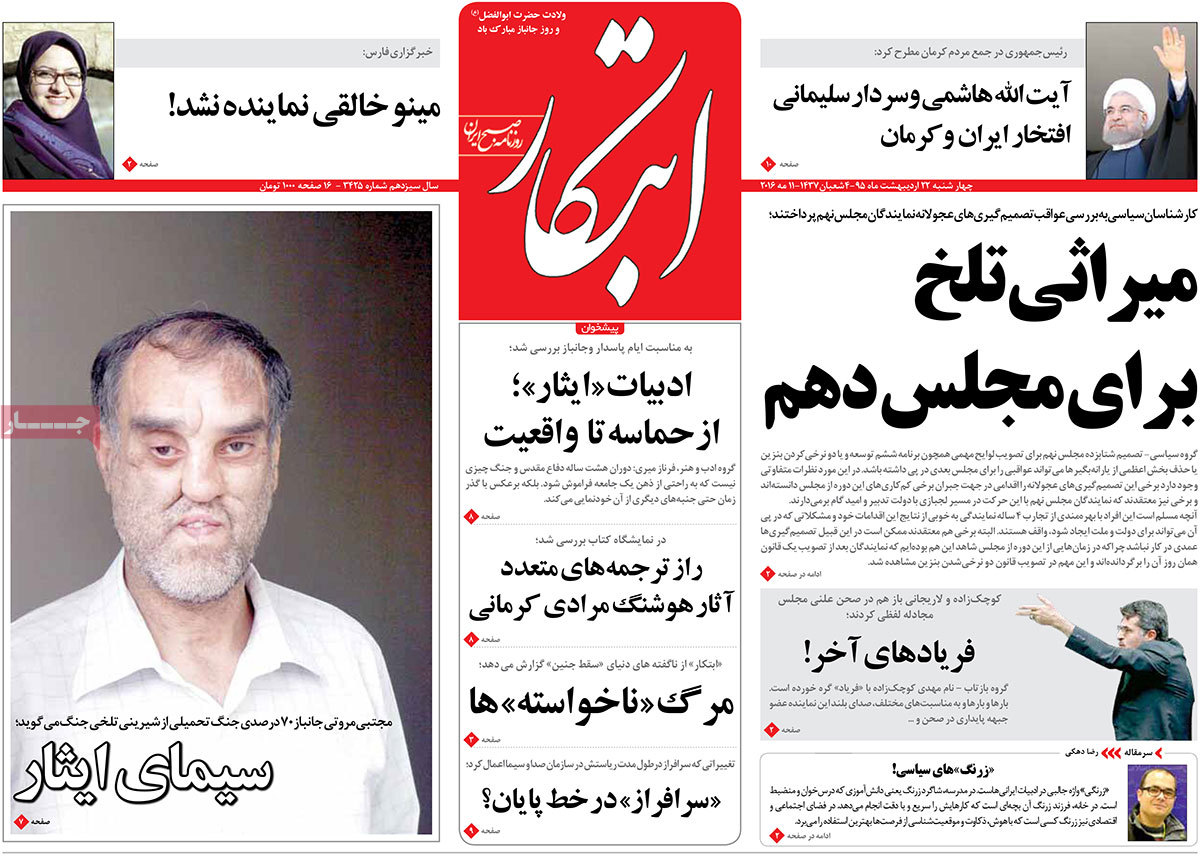 ---
Emtiaz:
1- Worrying Statistics of Increase in Age of Marriage in Iran
2- 30 Tons of Medicine Used per Year for Treatment of Drug Addiction
3- Book Sales in Tehran Book Fair Break the Records
---
Etemad:
1- Babak Zanjani's Debts More than Wealth of World's 1,000 Billionaires
2- Cleric MP Reveals Ahmadinejad's Controversial Nuclear Report to Leader
---
Ettela'at:
1- Iran to Sue US in Int'l Court: President Rouhani
2- Big Change in Iran's Taxation System to Begin in Early 2017: Minister
3- Syrian Jet Fighters Pound Terrorists' Positions in Khan Touman
4- "Friendship" Satellite Ready to Be Launched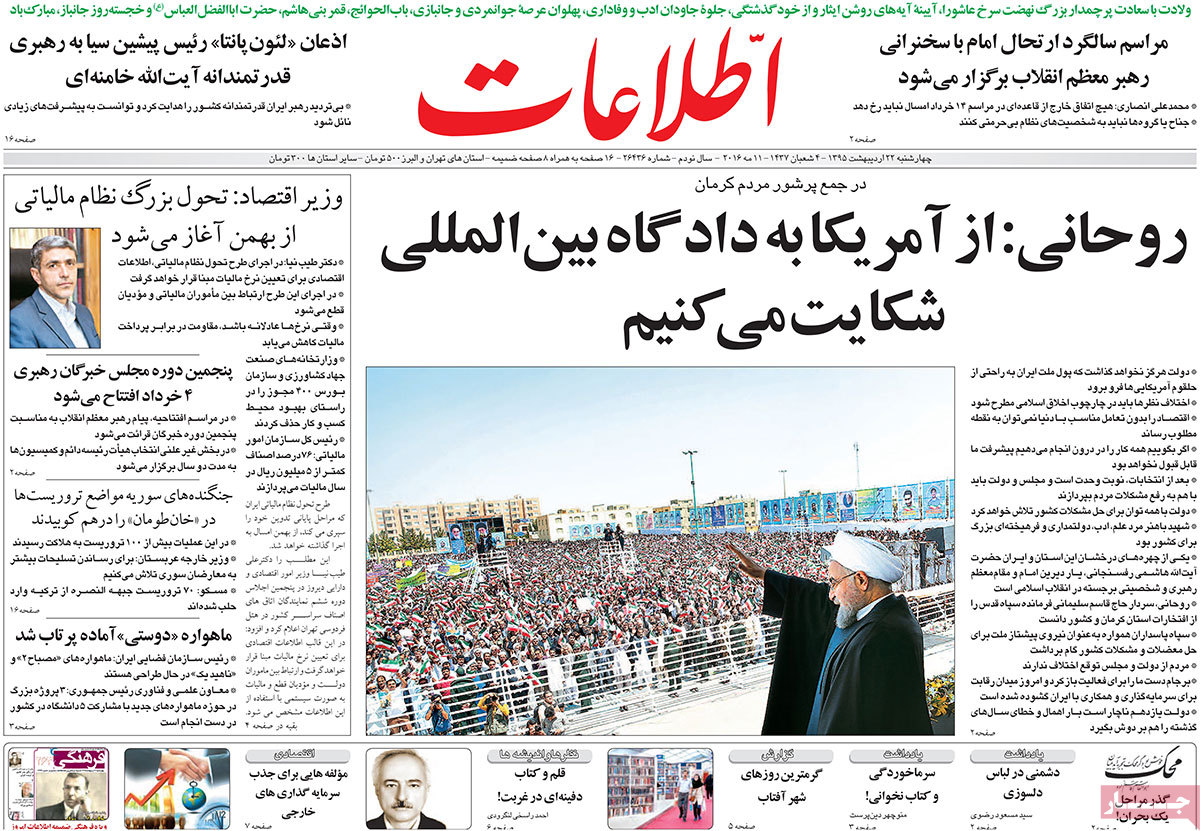 ---
Ghanoon:
1- Hush! Listen to Neda's Silence! [A 9-year-old girl in a village in Zanjan has been harassed by her teacher for several times. She finally informed her mother, and now the case is being pursued]
2- Iranians Have Become Kinder to Wildlife
3- President Rouhani Vows to Reclaim Iran's Money from US: We'll Spare No Effort in Restoring Our Rights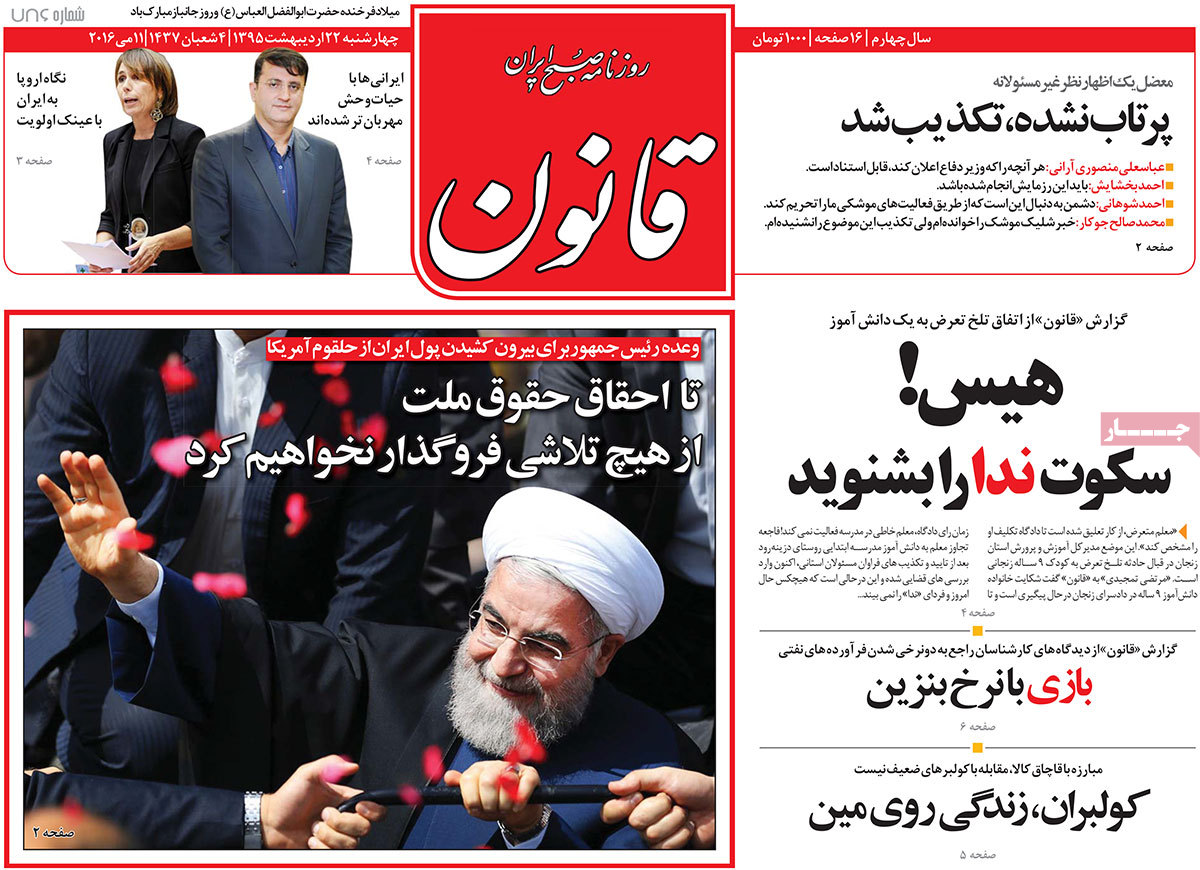 ---
Hamshahri:
1- Iran-US Dispute in The Hague
2- War of Words between Mayor of London Sadiq Khan and Donald Trump
3- Water Crisis in Tehran Still Serious
4- Secrets behind Khan Touman Plot
---
Hemayat:
1- If US Makes Any Mistake [in Persian Gulf], Its Warships Will Be Sunk: IRGC Navy Commander
2- Iran Ready to Host Int'l Conference of Fight against Corruption
3- Increase in European Countries' Willingness to Exit European Union
---
Honarmand:
1- Asghar Farhadi's "Salesman" Starts Competition with 20 Films in Cannes Festival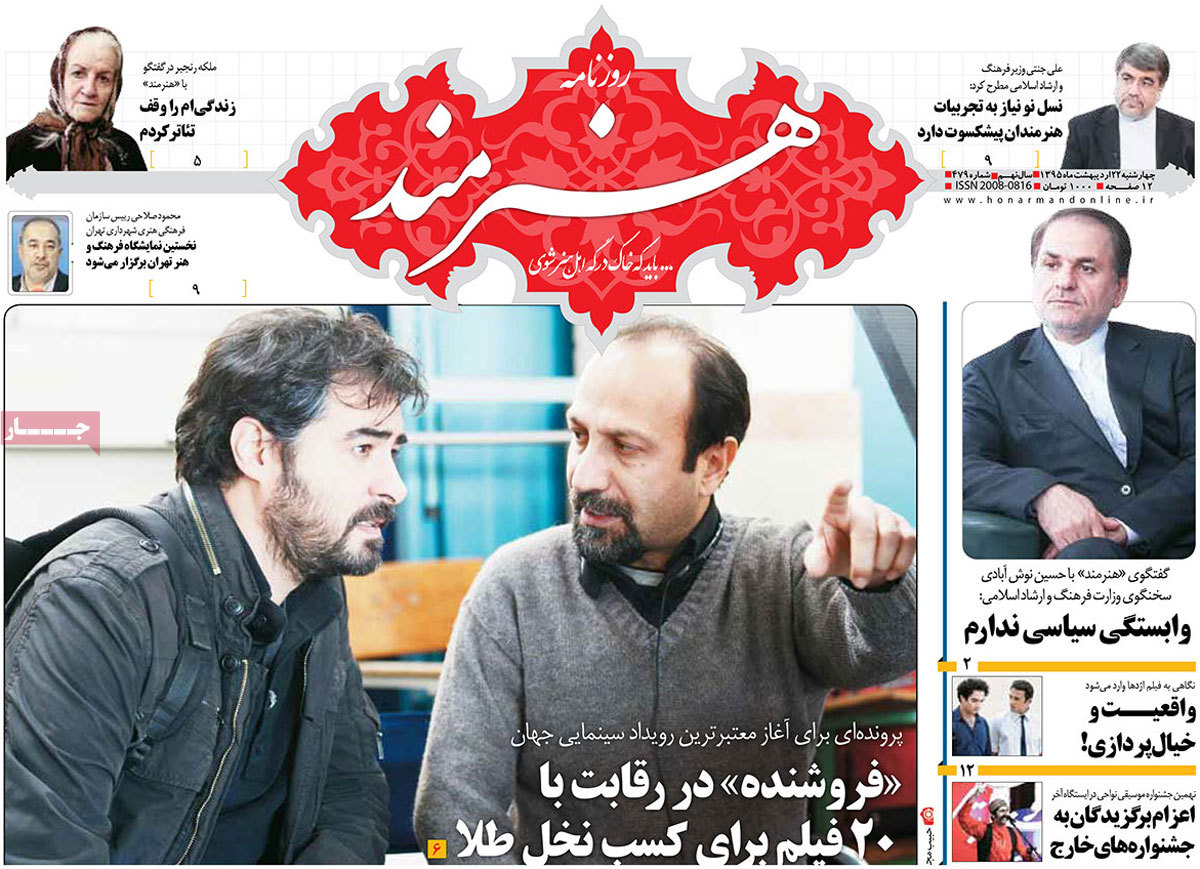 ---
Jam-e Jam:
1- Test of Iran's Legal Defence Capabilities: Will Iran Manage to Take Back the $2bn?
---
Javan:
1- In Reaction to US Stonewalling: Cautious Implementation of JCPOA on Iran's Agenda
2- Iran to Proceed with Caution in Selling Its Heavy Water to the "Thief"
3- Afghan Immigrants Enjoy Unique Facilities in Iran
4- IRGC Always a Pioneer in Settling Iran's Problems:  President
5- IRGC, from Assaluyeh [southern Iranian town, home to giant gas fields] to Aleppo [where Iranian advisors are helping Syrian army in their fight against terrorism]
6- Iran's Arbitration Board Backs Guardian Council's Vote, Approving Disqualification of Minoo Khaleghi from Parliament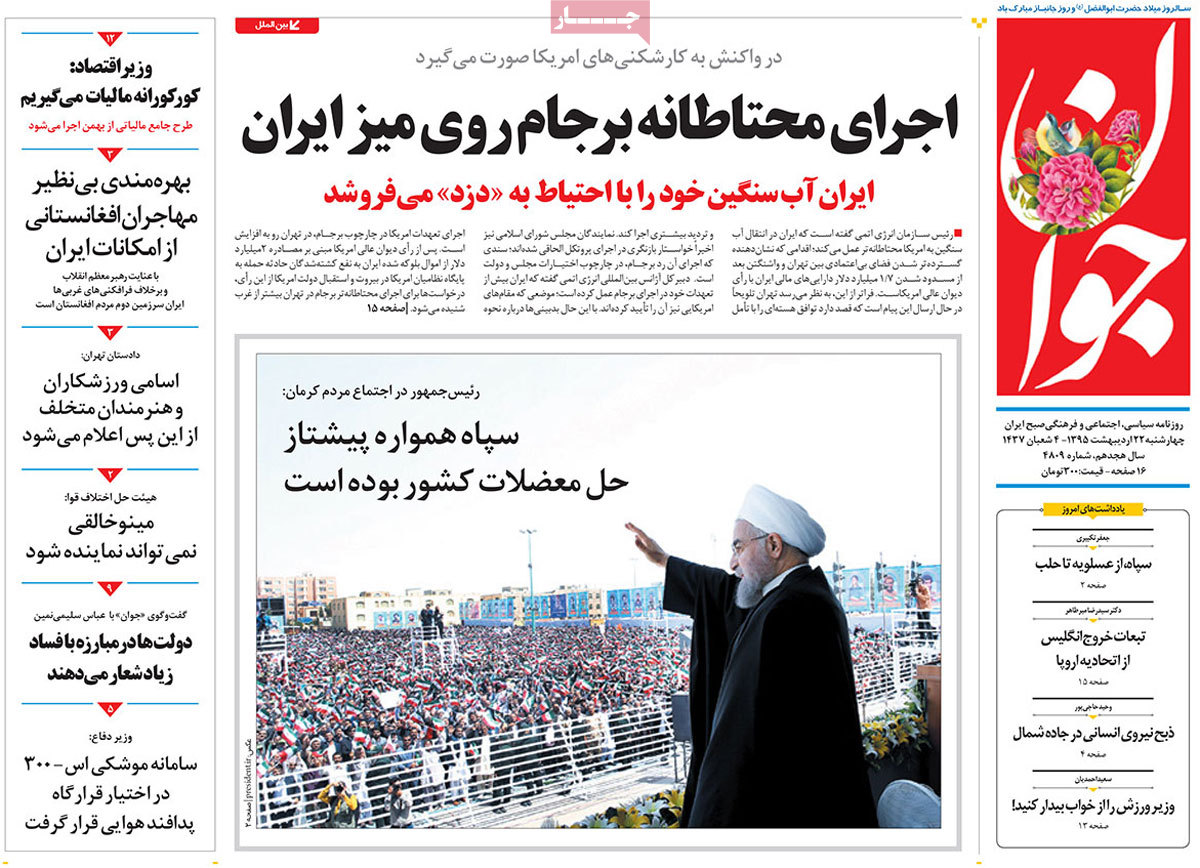 ---
Jomhouri Eslami:
1- Government's Extensive Plans for Accelerated Development of Kerman
2- Israeli Officers Train Emirati Forces
3- American Military to Stay in Yemen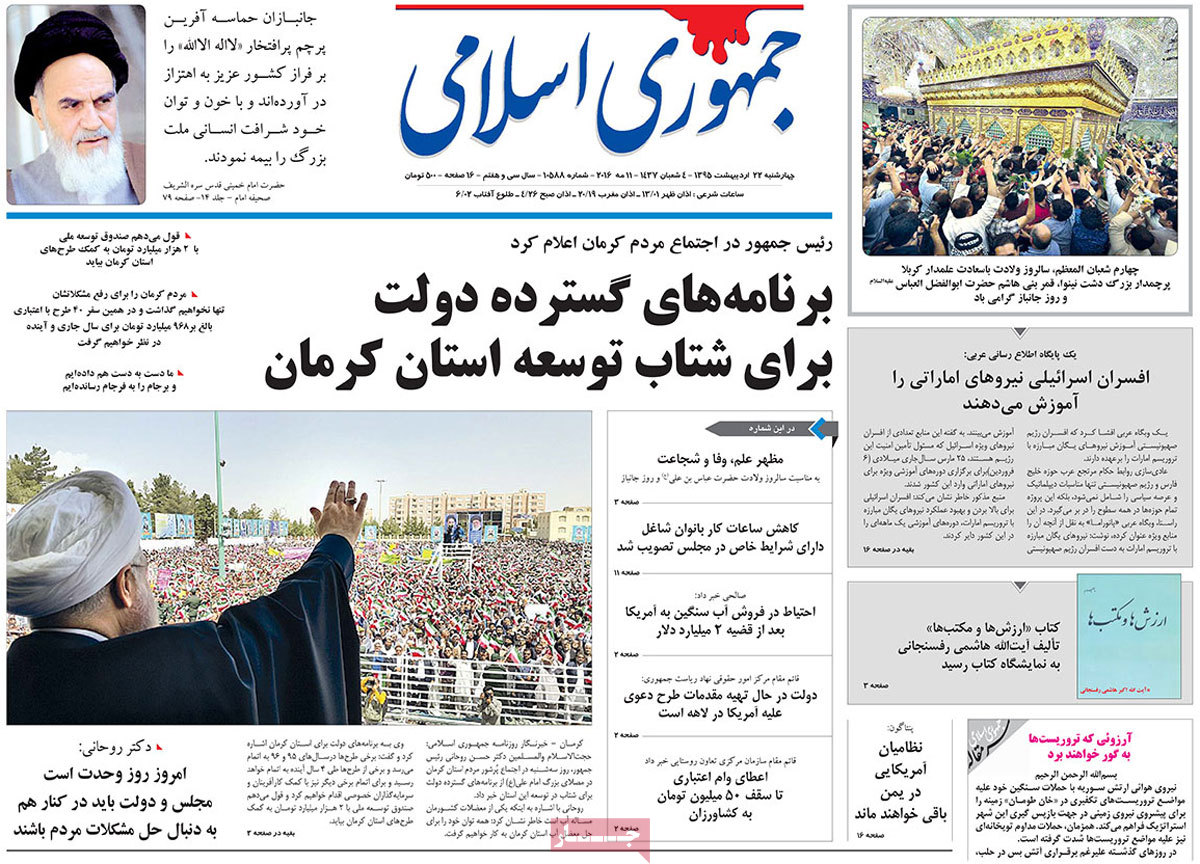 ---
Kayhan:
1- Obama Hopes JCPOA Would Liberalize Iran
2- Resistance Front Takes Revenge: 500 Terrorists Killed in Khan Touman
3- Saudi Gov't to Go Bankrupt in 3 Years: Western Analyst
4- Retired US General: We Created ISIS to Fight Hezbollah
---
Khorasan:
1- Tehran's Prosecutor-General Warns Celebrities against Attending Vulgar Gatherings
2- Iran Gives 10-Day Ultimatum to Saudi Arabia for Hajj Issue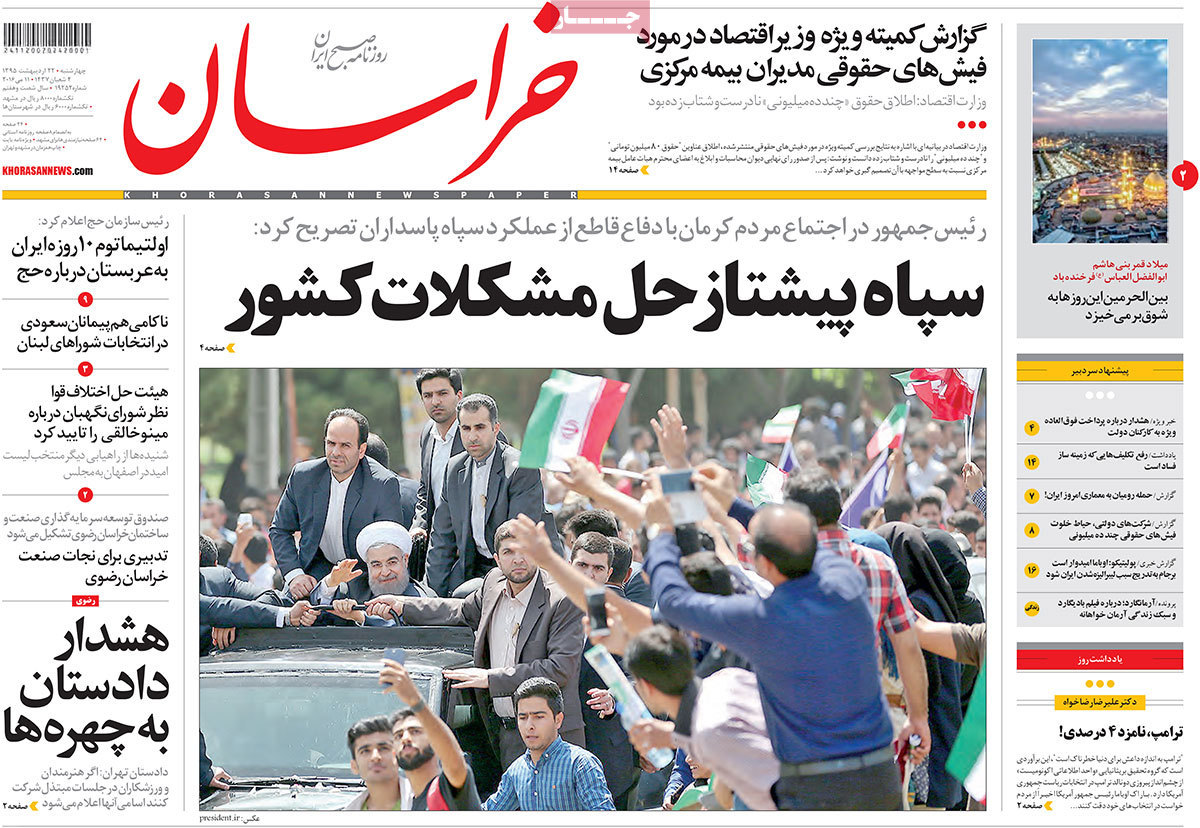 ---
Sayeh:
1- Iranian Users Breaking Records: Iran Ranks 13 in World's Internet Use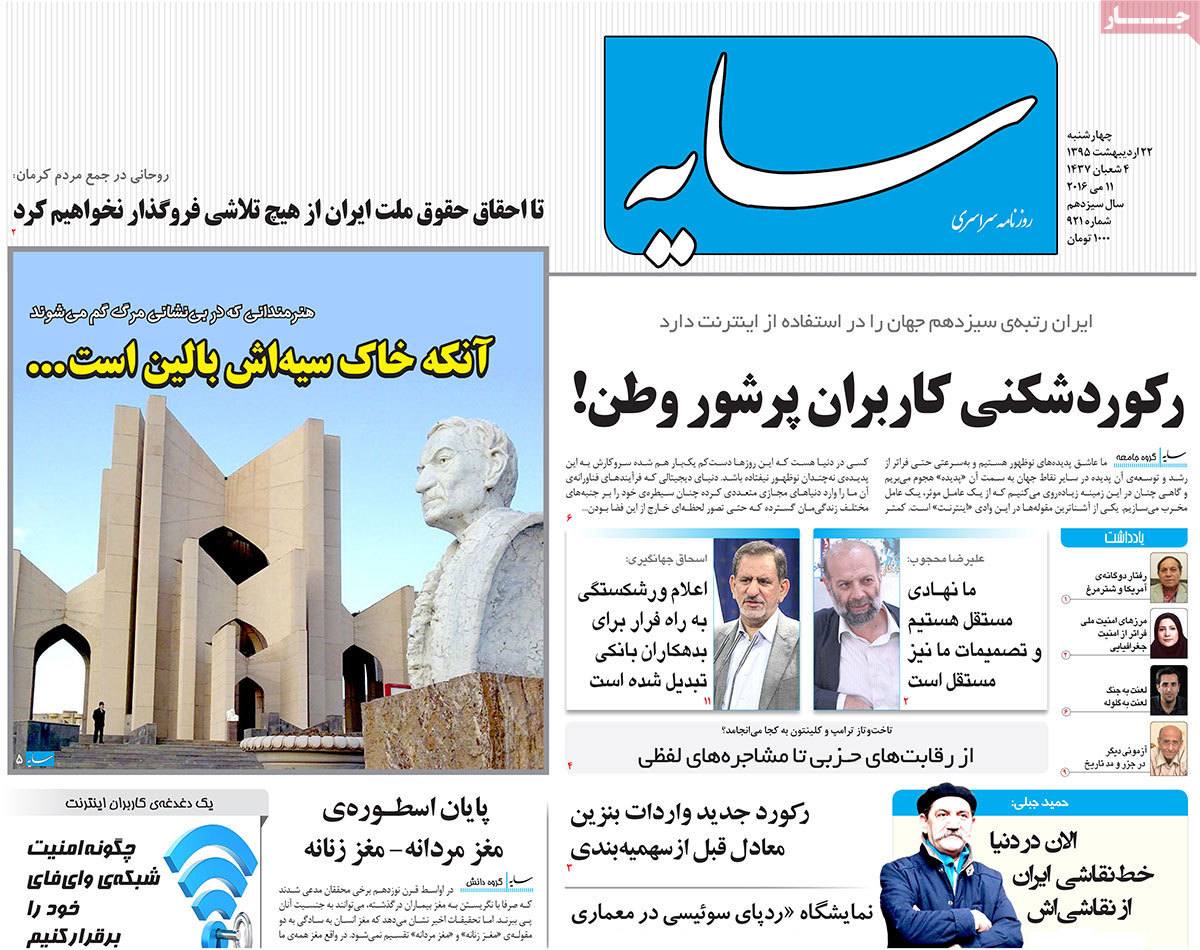 ---
Shahrvand:
1- Women and Children Die in Accidents 14 Times More than Men
2- Double-Standard Attitudes of Brands towards Iranians and non-Iranians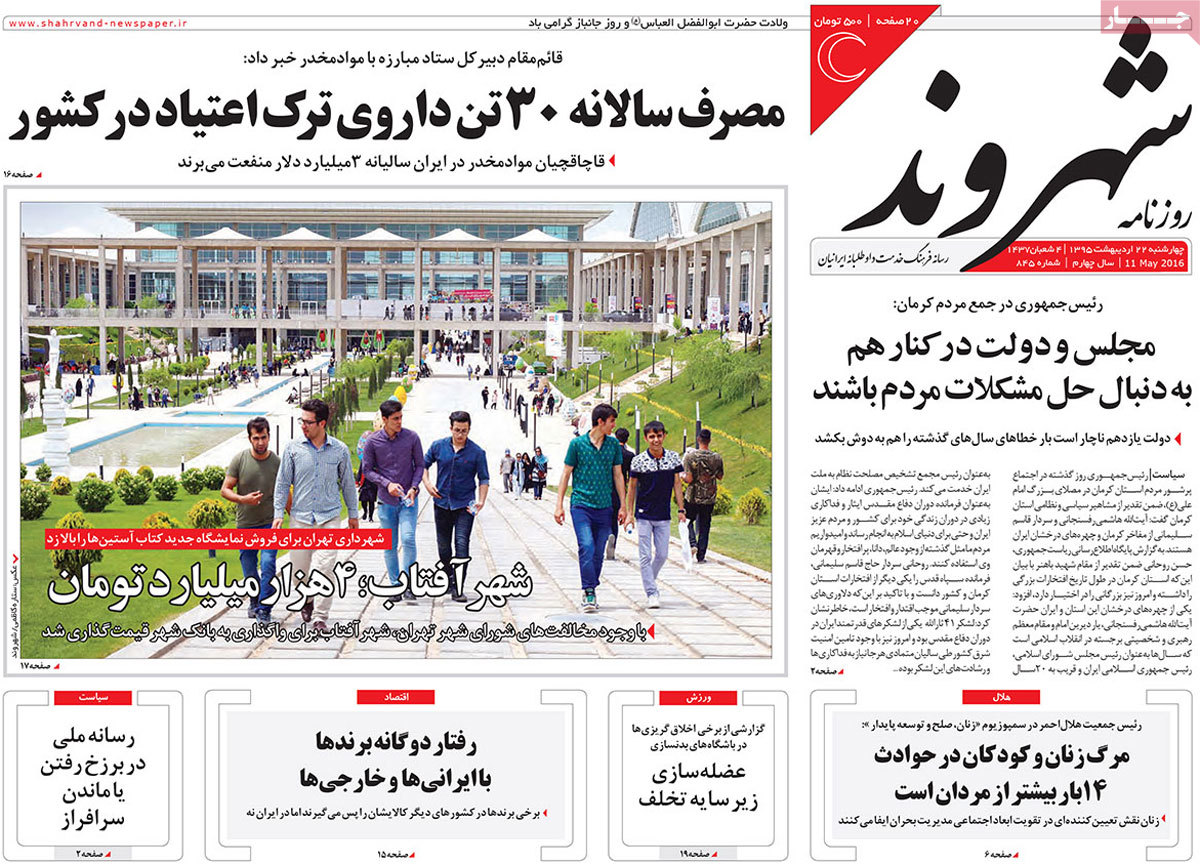 ---
Shorou:
1- [Afghan 6-year-old girl] "Setayesh" [who was recently raped and murdered] Fell Victim to Viewing Immigrants as 2nd-Class Citizens: Analyst
By Iran Front Page