Tehran, December 14, The Iran Project- Along with the Iranians' altruistic moves in the past months in different cities, a number of anonymous youth in Shiraz and earlier in Mashhad have recently acted to help the poor through clothes hanging out on the walls  while winter approaches.

They designed a wall in Ghadamgah Street in Shiraz; turning it to a donation center where citizens can throw out the clothes they don't need any longer without actually throwing it out.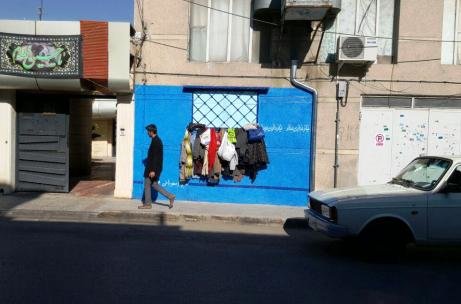 The wall which is called "the wall of kindness" by the organizers is now a good resource for discarding not only the different kinds of clothes but also food stuff by those who care about the welfare of other people and act to help them.
The writing on the wall reads: "If you don't need it, leave it. If you need it, take it."
Speaking to a reporter, a donator says the move is "admirable", adding that "this is the least we could do for our poor fellow citizens". Another donator also noted the upcoming cold winter, explaining that this is a good way to actively care for the poor.
The same measure also has taken place in Mashhad where people can donate clothes to those living in need. A number of youth in Sirjan, Kerman province also designed different locations so that the people can drop off the clothes.
Earlier, a number of anonymous people in Tehran, Ghazvin and Rasht had installed a fridge in some neighborhoods to feed the needy people. The move helped citizens to donate the extra food, letting the poor to come and eat.