Weekly Report: 24-30 August, 2015
August 24, 2015:
Iran reopens embassy in London as Britain does the same in Tehran
Iranians celebrated the long-awaited reopening of their London embassy on Sunday with Qur'anic verses, soft drinks, expressions of florid goodwill and relentless hopes for a better future for the often stormy relationship between the Islamic Republic and the UK.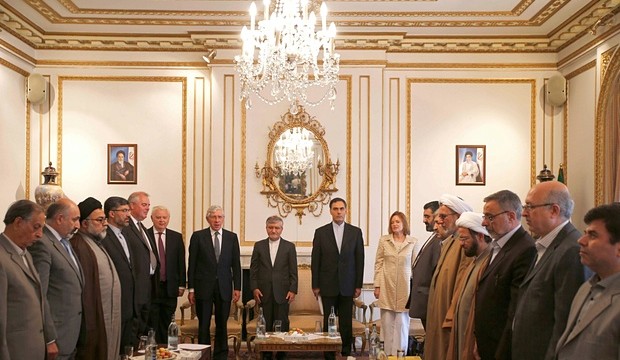 Reid says he's going to support obam's Iran nuclear deal
Senate Democratic leader Harry Reid on Sunday threw his full support behind President Barack Obama's nuclear agreement with Iran, saying "it is the best path to stop Iran from obtaining a nuclear weapon."
Iran's Rouhani receives Britain's Hammond
Iran's President Hassan Rouhani has received British Foreign Secretary Philip Hammond in Tehran.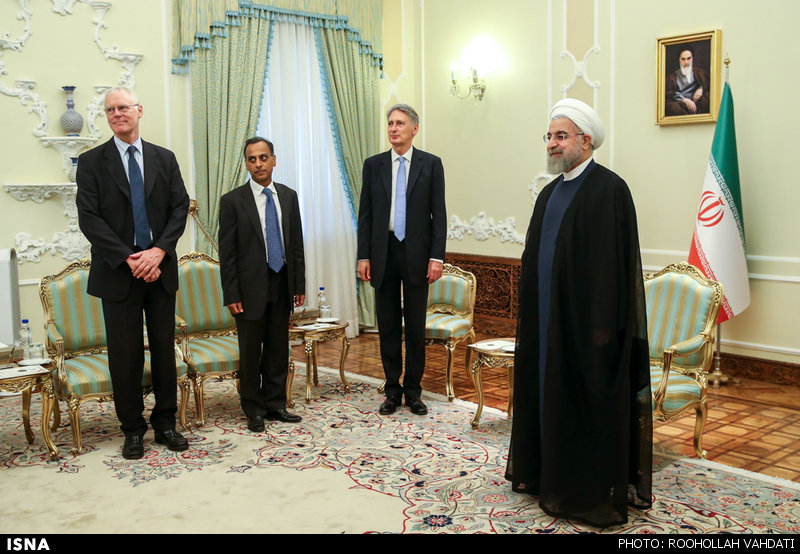 Hammond: UK stance is independent of US
British Foreign Secretary Philip Hammond said in Tehran on Sunday that the UK stance on the Joint Comprehensive Plan of Action (JCPOA) are fully independent of the US.
Shamkhani, Hammond call for boosting all out ties
Secretary of the Supreme National Security Council Ali Shamkhani and visiting British Foreign Secretary Philip Hammond on Monday held talks on ways to boost all-out ties.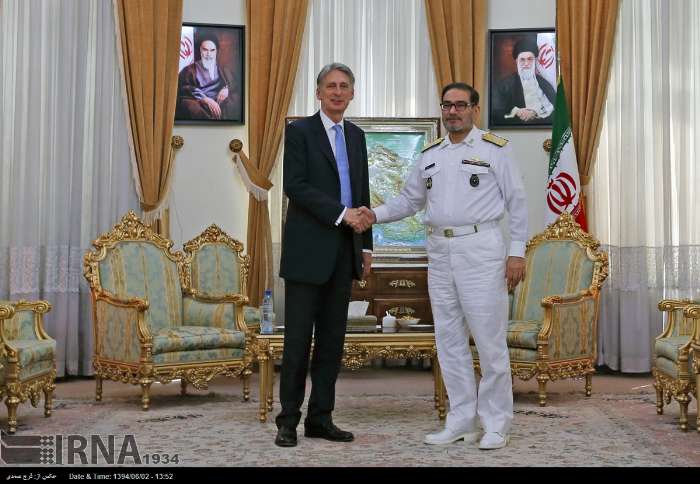 Britain should cease interventionist policy toward Iran: Larijani
Iran's Parliament Speaker Ali Larijani has called on the British government to drastically change its interventionist approach toward Iran's domestic issues if it really seeks a new beginning in relations with Tehran.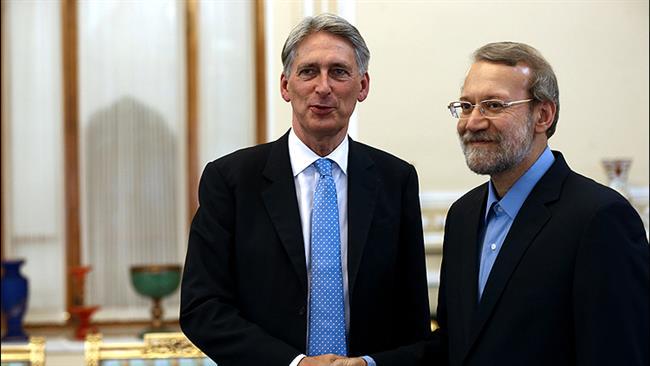 August 25, 2015:
Tehran, Manila to review banking cooperation
Iranian and Philipino officials in a meeting on Tuesday discussed ways to remove obstacles to further economic ties, banking cooperation in particular.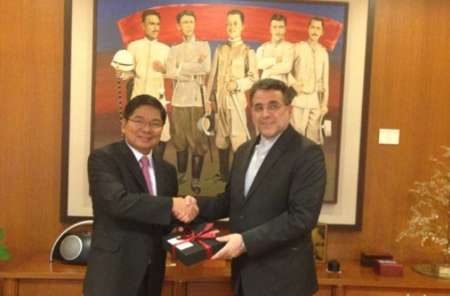 Iran sanctions to be lifted one after another: President Rouhani
Iranian President Hassan Rouhani says the sanctions against Iran will be lifted one after another with the conclusion of the recent agreement between the Islamic Republic and the P5+1.
Fighting extremism in Iran, Saudi Arabia's interest: Zarif
Iranian Foreign Minister Mohammad Javad Zarif has emphasized the need for regional efforts against violence and extremism, saying it is in the interest of both Iran and Saudi Arabia to fight terrorism in the region.
IAEA says needs more money to implement Iran nuclear deal
The U.N. nuclear watchdog needs more money to carry out its role under a deal to curtail Iran's nuclear program, its chief Yukiya Amano said on Tuesday, putting the annual cost for the agency at 9.2 million euros ($10.63 million).
Air-launched cruise missile's production line opened in Iran
The production line of the Nasr air-launched cruise missile (ALCM) was inaugurated here Tuesday in a ceremony attended by Defense Minister Brigadier General Hossein Dehqan.
August 26, 2015:
Leading Senate opponent of Iran nuclear agreement concedes defeat
The chairman of the US Senate Committee on Foreign Relations has acknowledged that the Obama administration's lobbying campaign for the Iran nuclear accord has generated results.
Spokeswoman rejects reports on Iranian-British officials' talks on Israel
Iranian Foreign Ministry Spokeswoman Marziyeh Afkham rejected media reports on talks between Iranian and British officials about Iran's attitude towards the Zionist regime of Israel during a recent visit to Tehran by Britain's foreign secretary.
Patty Murray, top senate democrat, backs Iran deal
Sen. Patty Murray (D-Wash.) announced her support for the Iran nuclear deal on Tuesday, becoming the final member of the Senate's main Democratic leadership team to weigh in on the agreement.
Iran ready for talks with Persian Gulf states
Iranian Foreign Minister Mohammad Javad Zarif said on Tuesday that Iran has always been ready to talk with the Persian Gulf states.
Iran's Zarif: No talks on EU office in Tehran
Iranian Foreign Minister Mohammad Javad Zarif said the country has not discussed possible establishment of an EU office in its capital, Tehran.
Iran, China to ink MoU on small multi-dimensional power plants: Salehi
Head of the Atomic Energy Organization of Iran (AEOI) Ali-Akbar Salehi said he is going to negotiate with Chinese officials on Arak heavy water reactor.
VP Sattari meets with Russian Pres. Putin
Iran's VP for Science and Technology Affairs Sorena Sattari met with Russian President Vladimir Putin on Tuesday.The meeting took place in the venue of MAKS-2015 Aerospace Exhibition, western Moscow.
President, cabinet meet with Supreme Leader
President Hassan Rouhani and members of his cabinet met with the Supreme Leader of the Islamic Revolution Ayatollah Seyyed Ali Khamenei here on Wednesday.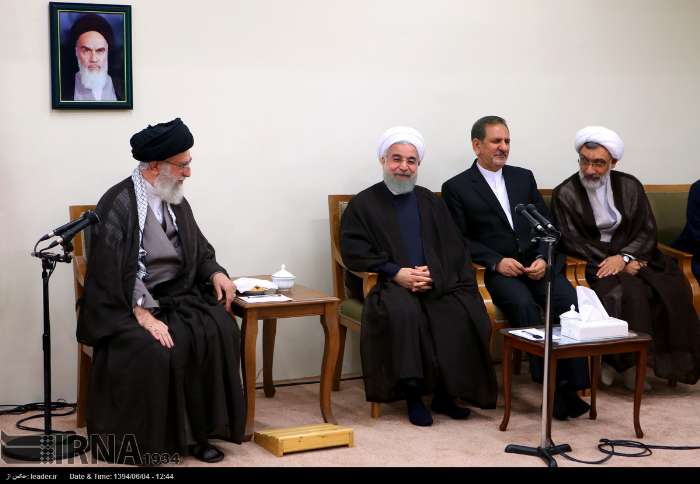 Supreme Leader lauds govt's good economic, political performance
Supreme Leader of Islamic Revolution Ayatollah Seyed Ali Khamenei on Wednesday appreciated the government for successful performance to cut inflation, provide economic stability and tranquility and health services and resolving the nuclear dispute.
Ayatollah Makarem: Nuclear negotiators turned Iran to a global power
Ayatollah Naser Makarem Shirazi said on Wednesday that Iranian nuclear negotiators turned Iran to a global power.
August 27, 2015:
Rouhani visits Vice President Jahangiri at hospital
Iranian President Hassan Rouhani has paid a visit to his deputy, Eshaq Jahangiri, who has been in hospital due to a heart condition.
A powerful video has been released by Veterans Against the Deal, aimed at influencing undecided lawmakers to vote against the nuclear deal with Iran. According to the Administration, the parties have achieved a "long-term comprehensive nuclear deal with Iranthat will verifiably prevent Iran from acquiring a nuclear weapon and ensure that Iran's nuclearprogram will be exclusively peaceful going forward". Most Republicans in the House and Senate oppose the deal.
Iran deal: Susan Davis announces support
San Diego-area U.S. Rep. Susan Davis (D-CA)4% announced her support for the Iran deal Wednesday in an op-ed published by the San Diego Union-Tribune that will run in Thursday's print edition.
White House says focused on keeping Congress from 'spoiling' Iran deal
he White House said on Wednesday that the Obama administration is focused on building enough support for the Iran deal to keep Congress from "spoiling" the agreement.
US refuses to issue visa for parliament speaker entourage
The United States has reportedly refused to grant visa to some Iranian officials who are to accompany the parliament speaker on his New York visit, raising the possibility that Ali Larijani's trip can be cancelled.
Iran admits interest in Russian Superjet
An official has admitted Iranian aviation companies' interest in Russia's Superjet passenger planes amid Tehran's quest for new aircraft to build up the country's aging fleet, the Fars news agency says.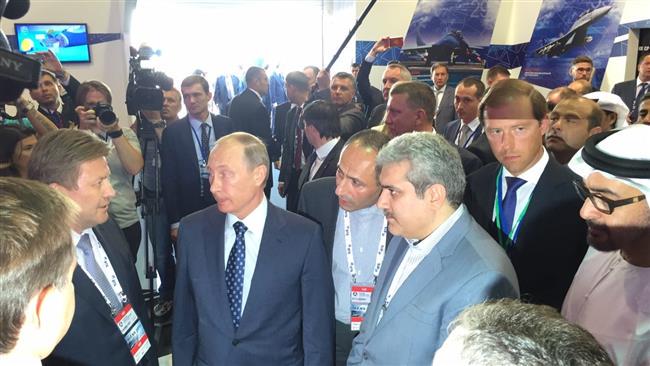 Moscow, Tehran sign roadmap for S-300 deal implementation
A memorandum on the implementation of the agreement to supply Russian S-300 missile defense systems to Iran was signed, according to a senior official from the Russian Federal Service for Military-Technical Cooperation.
IAEA reports Iran broadly complying with nuclear accords
The International Atomic Energy Agency reports that Iran is broadly complying with agreements on curtailing its nuclear program in its first update since last month's deal between Tehran and world powers.
Iran minister blasts 'certain OPEC members'
Iran's Minister of Petroleum Bijan Zangeneh says some countries in OPEC are trying to harm other members by driving crude oil prices lower through flooding the market.
August 28, 2015:
Iran's atomic chief, Chinese FM discuss bilateral ties
Head of the Atomic Energy Organization of Iran (AEOI) Ali Akbar Salehi in a meeting with Chinese Foreign Minister Wang Yi in Beijing on Thursday discussed bilateral ties.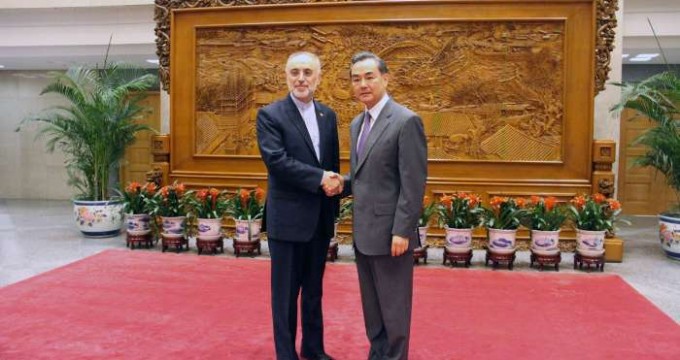 Democrats confident Iran deal will survive in Congress
Democrats are confident they will have enough votes to protect the Iran nuclear deal in the U.S. Congress, but they face an uphill task to avoid President Barack Obama having to use his veto power to ensure the agreement's survival.
US treasury official to discuss Iran nuclear deal in Israel
The Acting US Under Secretary for Terrorism and Financial Intelligence will travel to Israel to discuss the Iran nuclear agreement with Israeli officials.
Senior cleric hails Rouhani cabinet's performance
Interim Friday Prayer Leader Kazem Seddiqi appreciated the incumbent government's endeavors in the past two years, saying that it has taken proper measures in various fields.
Swiss conference: Iran 'pole of stability' for business
Switzerland, which became the first nation to lift sanctions on Iran last month, has arranged a major conference for its business owners, urging them to make the most of business opportunities in the energy-rich country.
Indian naval fleet docks at Iran's Bandar Abbas port
An Indian navy fleet has docked at the southern Iranian port city of Bandar Abbas, as the two countries work to boost friendly maritime relations.
Parchin not a nuclear site: US State Department
The US Department of State has acknowledged that Iran's Parchin site is a "conventional" military facility, marking a departure from allegations about nuclear activities there.
August 29, 2015:
Obama: US-Israel ties will improve after Iran deal in place
President Barack Obama is comparing tensions between the U.S. and Israel over the Iranian nuclear deal to a family feud and says he expects quick improvements in ties between the longtime allies once the accord is implemented.
Iranian schools enroll thousands of undocumented Afghan students
48 thousand undocumented Afghan students have registered for entering the Iranian schools, says Vice Education Minister and Head of Centre for International Affairs and Schools Abroad.
Iran speaker to attend World Conference of Parliament Speakers in New York
Majlis Speaker Ali Larijani left Tehran for New York Saturday morning to attend an international meeting.
Iran unveils new missile, radar systems
Iran's commander of air defense base unveiled new missile and radar systems including Bidar loop system, Talash missile defense system and Fath 14 radar system.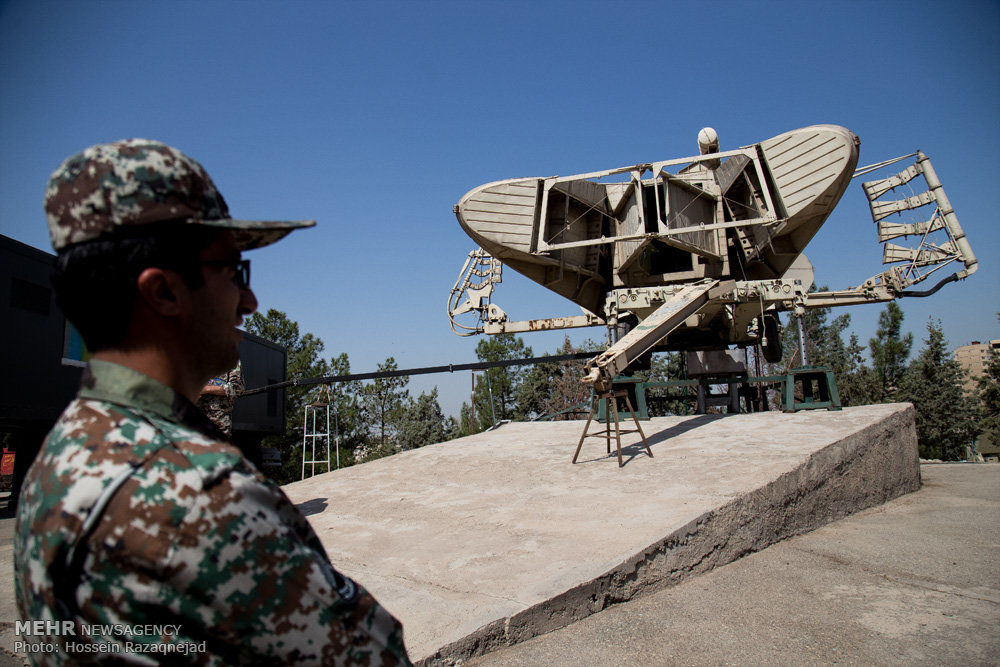 Iran, India to stage joint military drill
A senior Iranian Navy commander announced that Iran and India will stage joint naval exercises in the near future.
Iran's Rouhani says military power not affected by nuclear deal: state TV
Iran's military capability has not been affected by its nuclear deal last month with six world powers, President Hassan Rouhani said on Saturday, moving to reassure hardliners that the deal was no sign of Iranian weakness.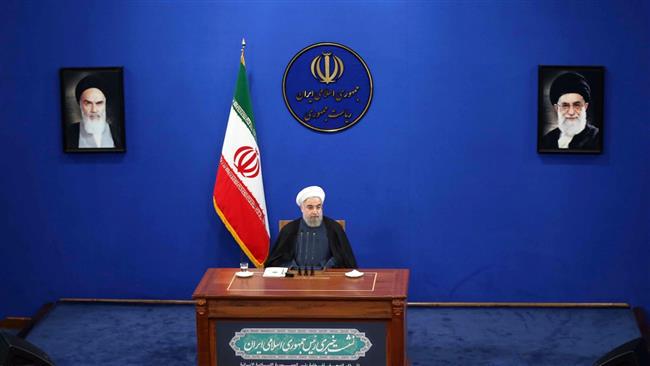 Iranophobia on deathbed: President Rouhani
Iranian President Hassan Rouhani says efforts by his administration have resulted in the weakening of Iranophobia, saying attempts to portray Iran as a threat are now falling flat.
August 30, 2015:
ICAO regional confab underway in Kish
A two-day confab on the International Civil Aviation Organization (ICAO) regional bureau was launched in Kish Island on Saturday.
Iran, China, US likely to cooperate on Arak heavy water reactor: Rouhani
Iran's President Hassan Rouhani announced on Saturday that the country will improve its Arak heavy water reactor with the cooperation of China and probably the United States.
Iran, Russia's top science centers sign MoU
Iran National Science Foundation (INSF) and the Russian Foundation for Basic Research (RFBR) signed a memorandum of understanding on close scientific cooperation for 10 years.
Iran premieres top-budget epic film 'Muhammad', wins praise worldwide
Iran's most expensive ever movie, "Muhammad", which chronicles the childhood of the Muslim prophet, was release nationwide on Thursday, winning praise from early audiences
Iran, Mongolia enjoy vast untapped capacities: President Rouhani
President Hassan Rouhani said here on Sunday that Iran and Mongolia enjoy a vast untapped economic potential.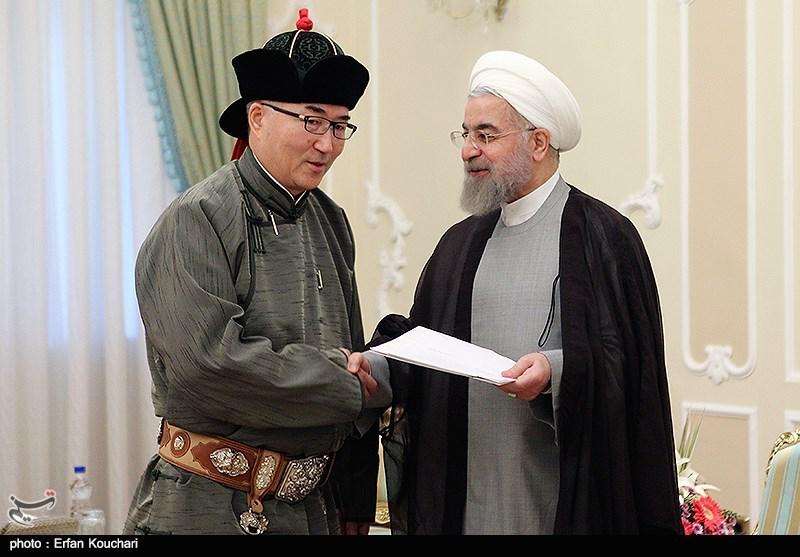 Call for expansion of Iran, Ireland ties
President Hassan Rouhani expressed hope here on Sunday that the ground could be prepared for activities of Irish private sector in Iran.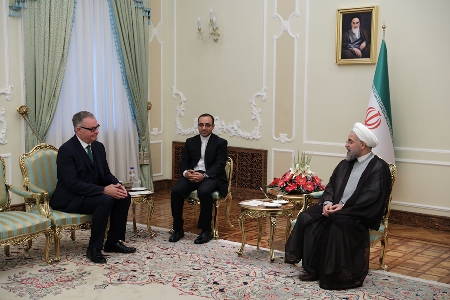 JCPOA prelude to Iran's enhanced international ties: Rouhani
Iranian President Hassan Rouhani says the nuclear agreement with the P5+1 group of countries has paved the way for the expansion of Iran's relations with other countries.
Iran, Germany eye closer economic ties
Officials from Iran and Germany expressed the hope that the promising prospect of a lasting deal on Tehran's nuclear program would help the two countries rebuild their economic relations.